If you're thinking of celebrating Christmas in Thailand, let's take a look at what's usually on and how to make the most of it.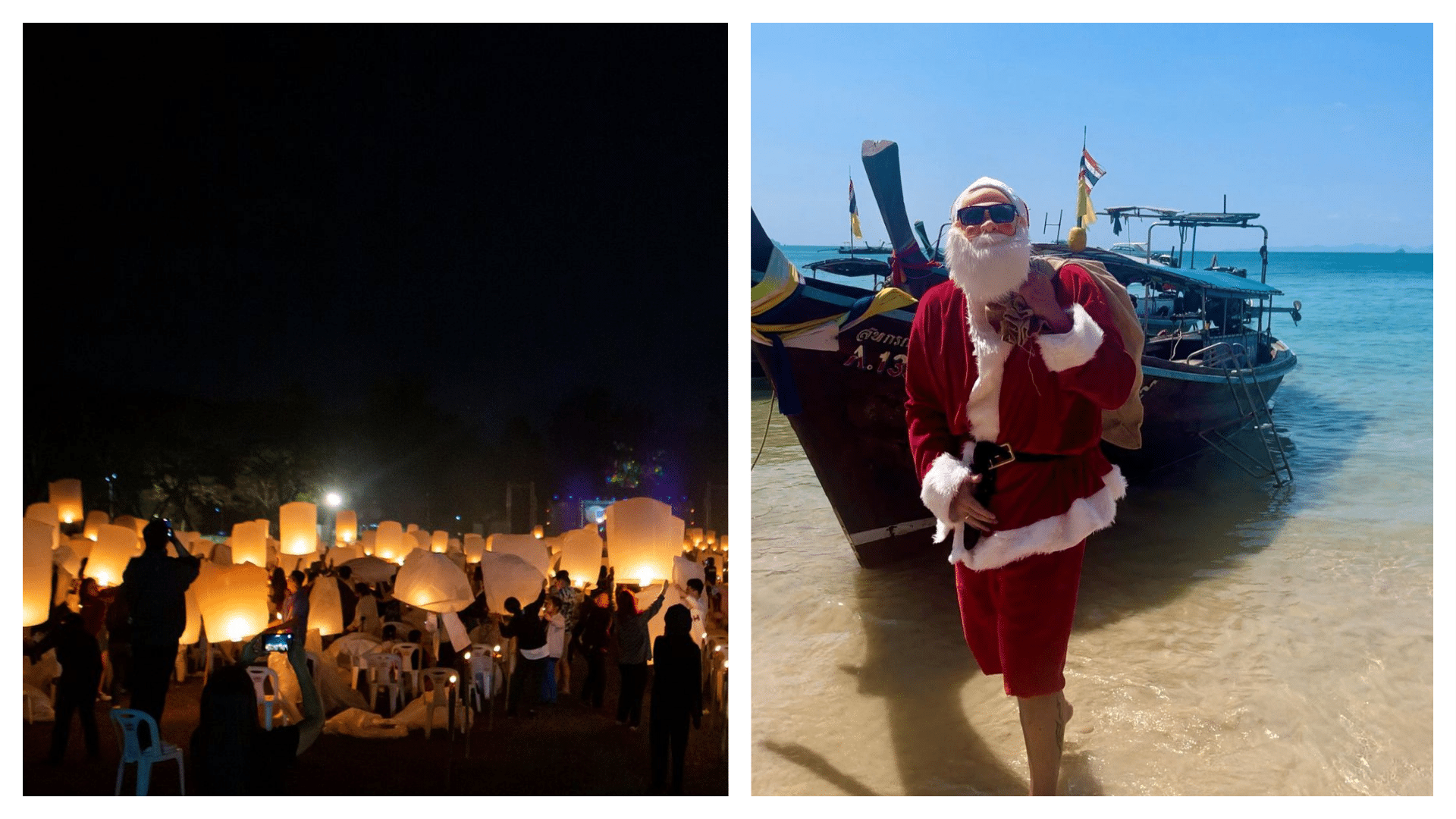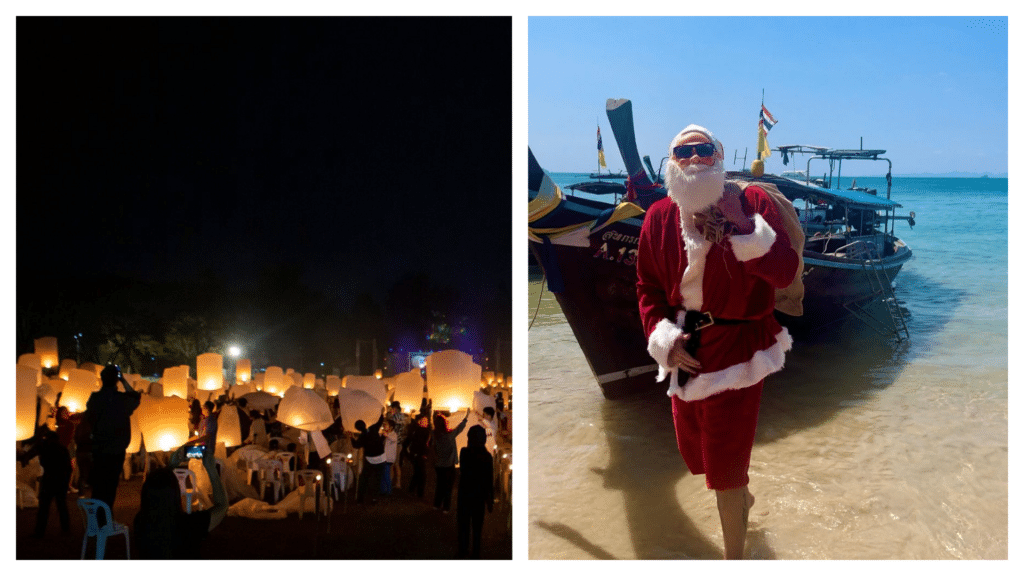 Thailand is a primarily Buddhist country. Therefore, Christmas is not a key celebration. However, with the huge number of tourists visiting every year and expats calling Thailand home, you will spot Christmas celebrations in certain places around the country.
For many, celebrating Christmas in Thailand comes as a shock, thanks to the heat, unless you come from somewhere like Australia.
While Christmas probably won't feel the same as it does at home, there are a number of events that take place every year to check out if you visit during the Christmas period.
The World Bucket List's top tips for spending Christmas in Thailand:
Make the most of the pleasant weather by spending Christmas Day on one of Thailand's beautiful beaches. You could even take part in some surfing or scuba diving.
Keep abreast of important customs in Thailand.
Check out our list of things not to do in Thailand to make sure you don't fall foul of any unexpected charges.
Eschew the traditional Christmas dinner in favour of some excellent Thai dishes.
Keep an eye out for gifts at local markets.
Christmas in Thailand – a welcome celebration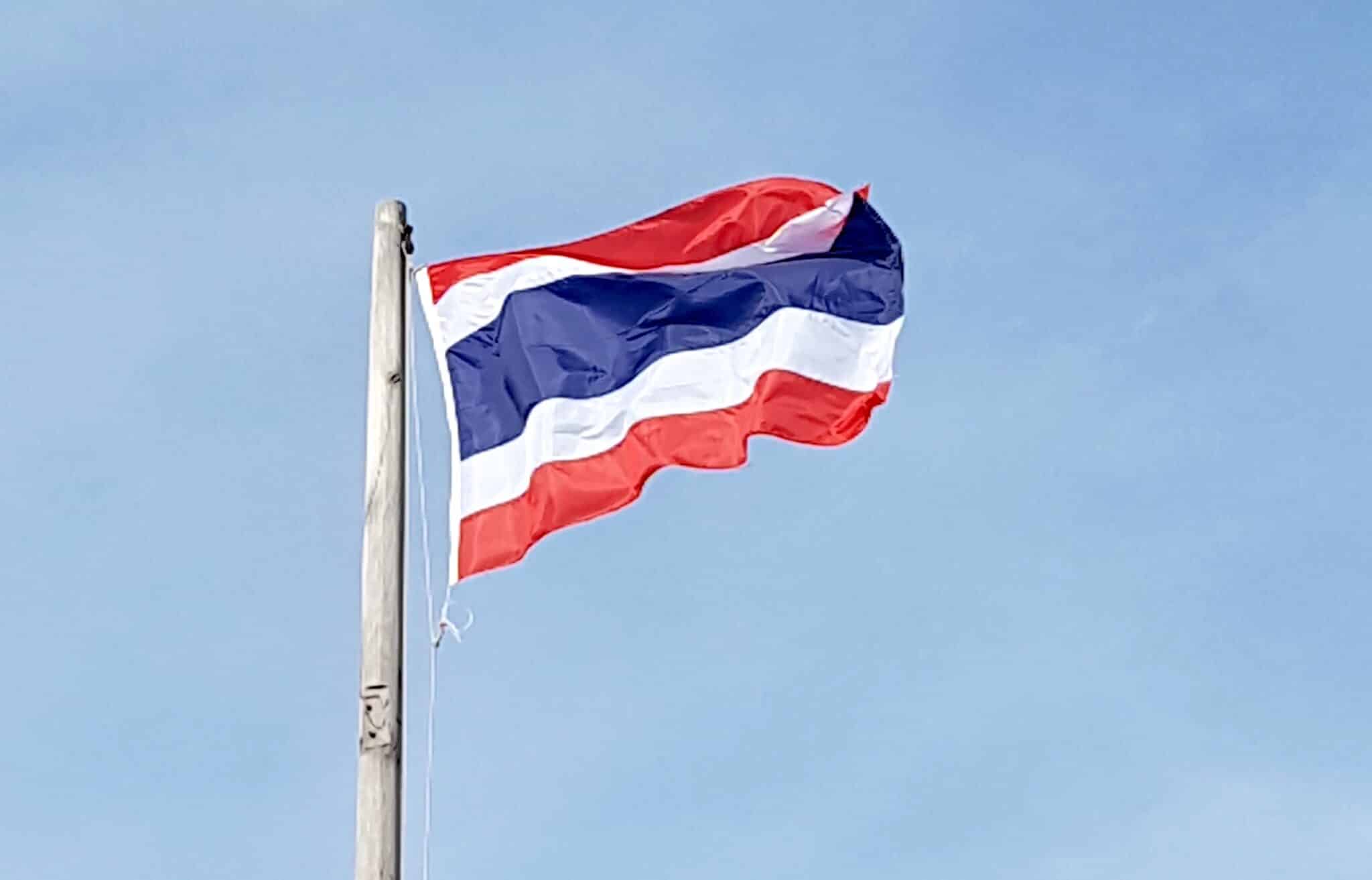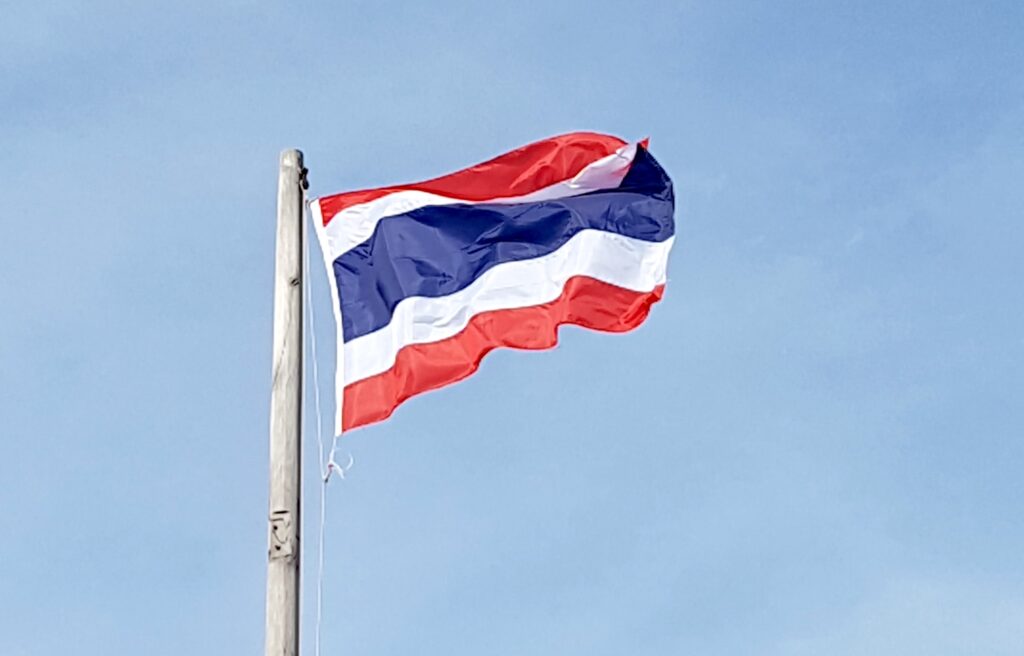 Thailand is a primarily Buddhist country, and it averages 32 C (89.6 F) degrees in December, so celebrating Christmas here will feel a little bit different.
Christmas isn't recognised as an official holiday in Thailand. However, certain schools will get a two-week break during the Christmas period. So those teaching in Thailand will have some time off.
Buddhism is a very accepting religion, so Christmas celebrations are welcome in Thailand. You will see kids being taught Christmas songs like 'Jingle Bells' and bringing home festive paintings and creations from their teachers during this time.
If you find yourself in Thailand over the Christmas period, you will find that there is more going on festive-wise in the bigger, more touristy areas, like Bangkok.
READ: The World Bucket List's guide to the most unique Christmas traditions around the world.
Christmas in Bangkok – things to see, where to visit, and places to eat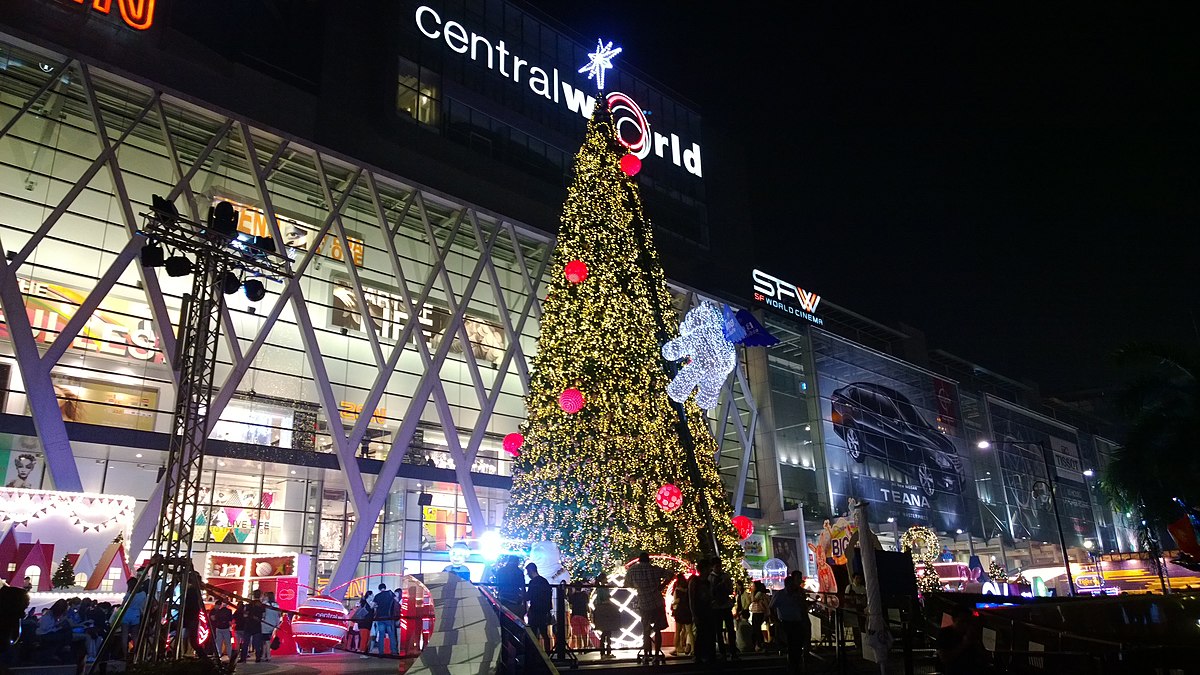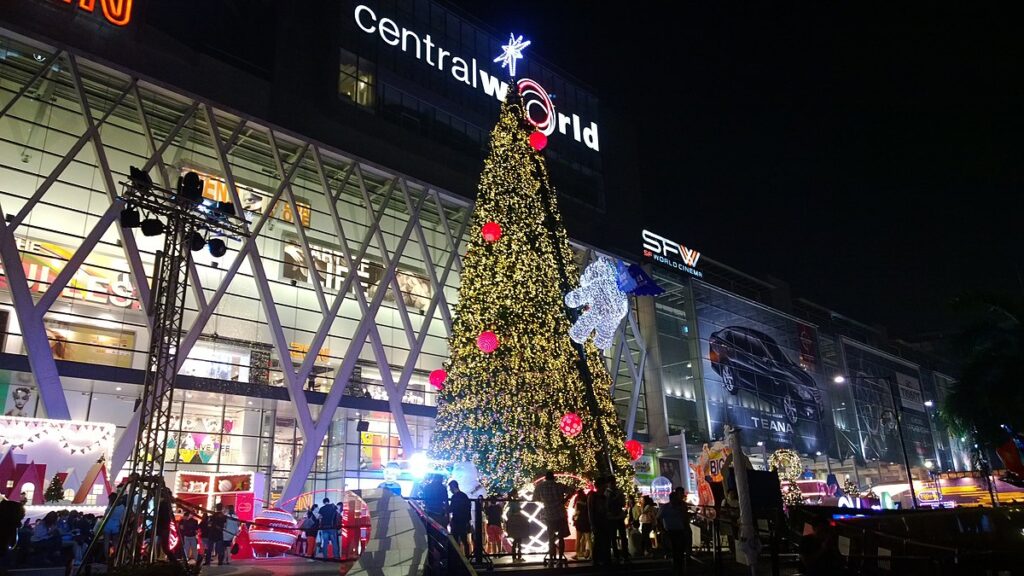 One thing you'll notice when you visit around Christmastime is that all the major shopping malls in Bangkok are decorated for the occasion.
There are trees, lights, presents, and elements of Santa Claus dotted around the shopping malls. You might even hear festive tunes, and certain malls have pop-up ice rinks around this time.
CentralWorld shopping mall's New Year's Eve countdown event is one of the best things to check out in Bangkok at this time. They set up a huge beer garden at the large plaza out front where live bands play, and the food and drink are flowing.
Tourists love to check out the lights at the front of the All-Season's Place, Grand Hyatt Erawan, and all around the Rajaprasong intersection. Hotels here all have Christmas trees and light displays for the occasion.
When it comes to sitting down for a Christmas-style dinner in the city, you have to check out one of the city's English or Irish pubs, all of which serve a fantastic Sunday dinner that's fit for Christmas.
Aloft Bangkok also put on a great Christmas lunch on 24 and 25 December for 1,699 THB ($50).
For something a little bit more up-market, enjoy a delectable Christmas dinner with a side of carolling at the Anantara Siam Bangkok hotel for a cool 2,500 THB ($72.75).
RELATED READ: The World Bucket List guide to spending Christmas in Italy.
Christmas on the islands – celebrate Christmas in style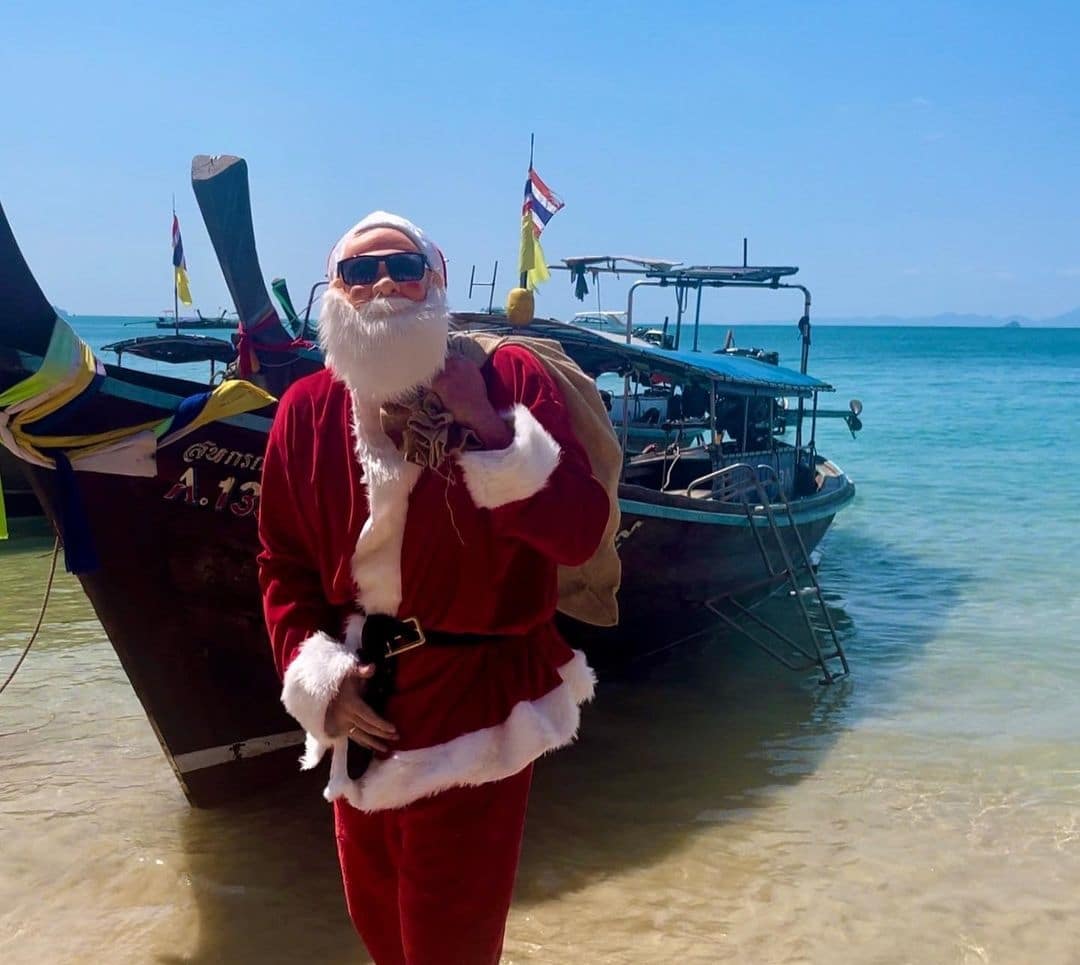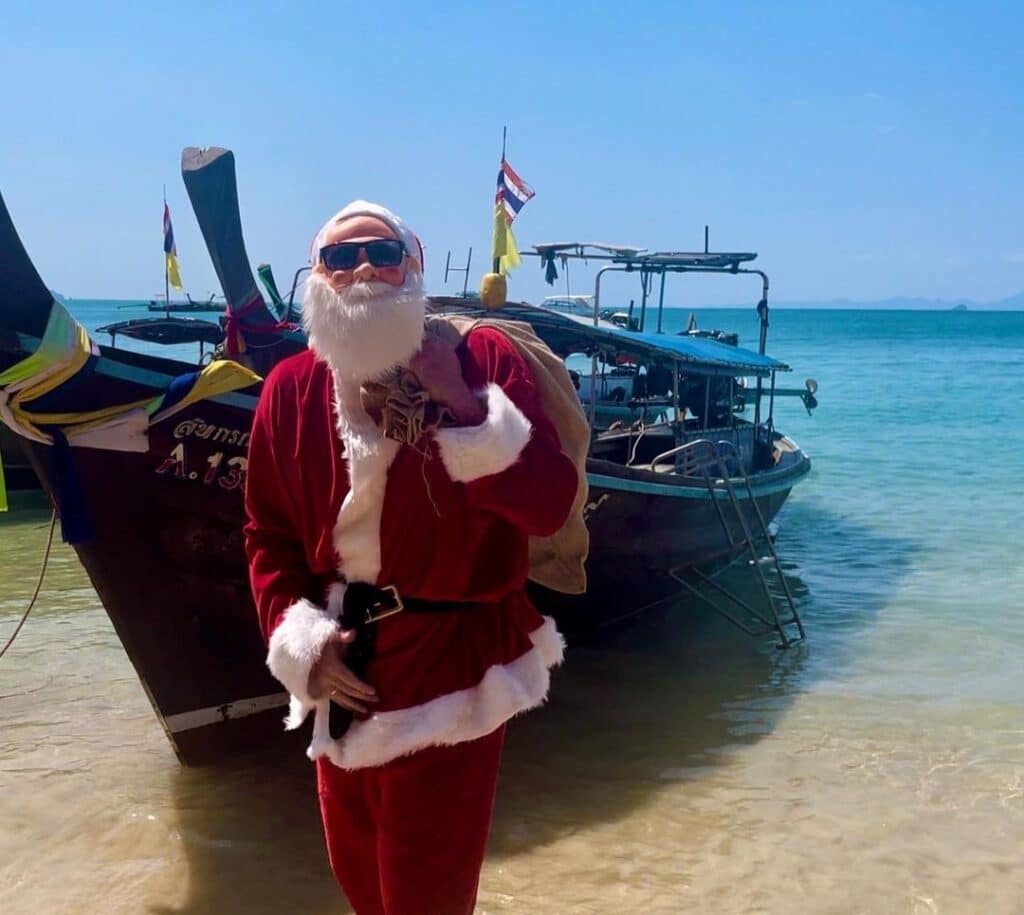 Swap out the cold winters you might be used to for soaking in the rays with your friends and locals on the white sand beaches Thailand has to offer.
If you're travelling or working in Thailand in December, you will find that a lot of tourists or 'farang' (foreigners), as you will often be referred to, will take to the islands to enjoy Christmas on the beach.
This is one of the best things about celebrating Christmas in Thailand. You can enjoy some of the most delicious, freshest Thai food with a cocktail in hand on the beach.
If you're not bothered about Christmas trees and finding a little piece of home when celebrating, the islands are the way to go. You'll meet like-minded people travelling through and can enjoy a truly unique Christmas experience.
The biggest day of the year in Thailand – Songkran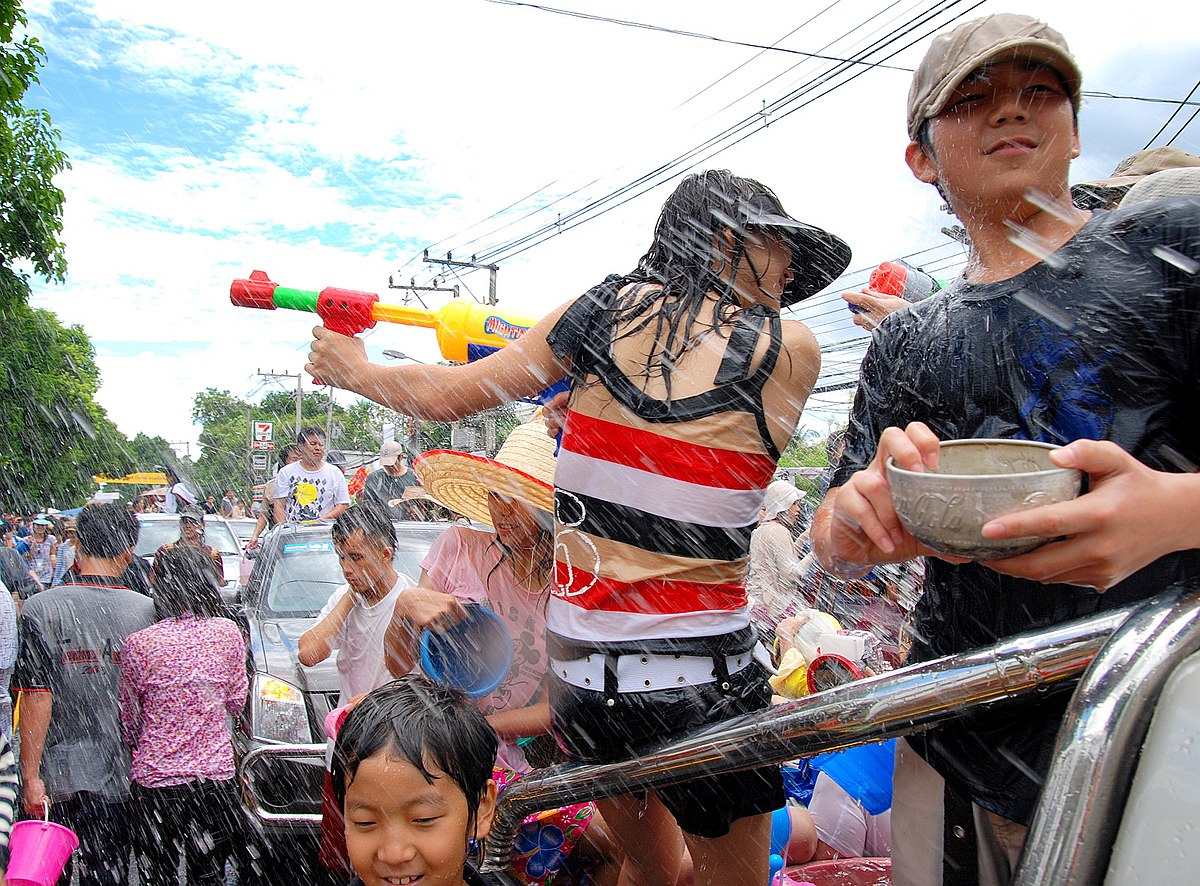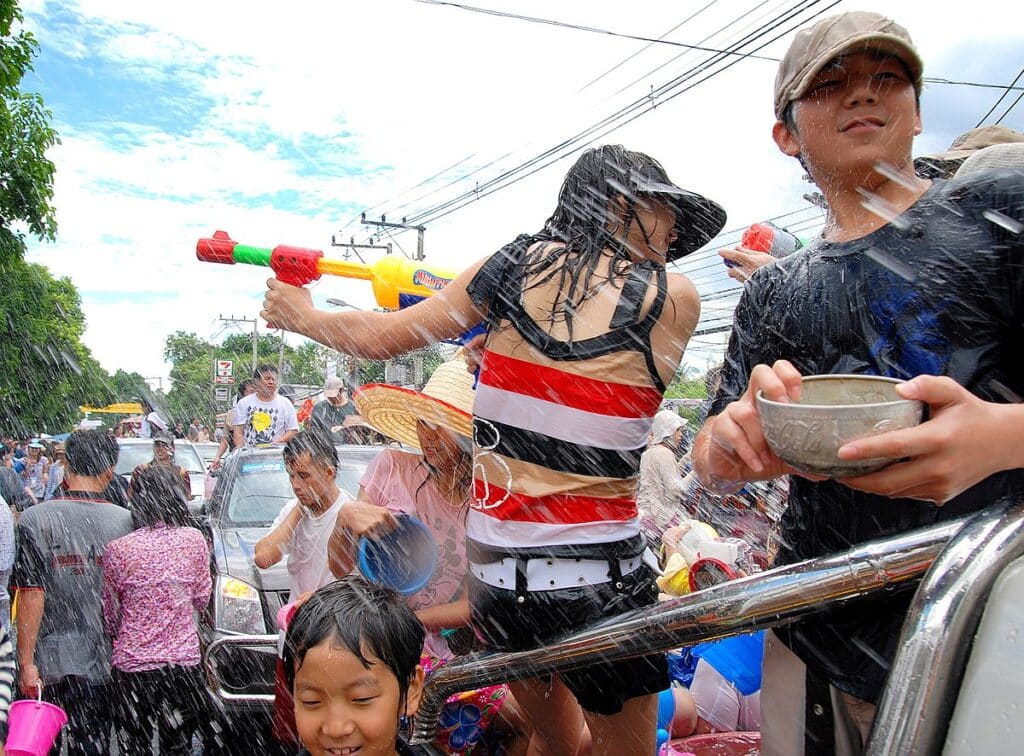 While Christmas is arguably the biggest holiday or celebration in the Western calendar, Songkran, also known as Thai New Year, is the most celebrated occasion for Thai people.
Songkran occurs every year from 9 April, and celebrations last until 15 April. The celebration occurs with the rising of Aries on the astrological chart and is in keeping with the New Year of Buddhist and Hindu calendars in Southeast and South Asia.
Songkran was the original Thai New Year, but in 1940, this date shifted to 1 January. Songkran then became a national holiday.
As April is one of the hottest months of the year in Thailand, Songkran is celebrated throughout the country as one massive water fight. You will hear and see music and dancing in the streets, water being thrown at passers-by, and celebrations lasting long into the night.
If you visit Thailand during Songkran, be very careful as people will often spray water at taxis and motorbikes passing through. This has resulted in many accidents and new sanctions over the years.
READ ALSO: Thailand Bucket List: 15 things to do in Thailand before you die
Other notable mentions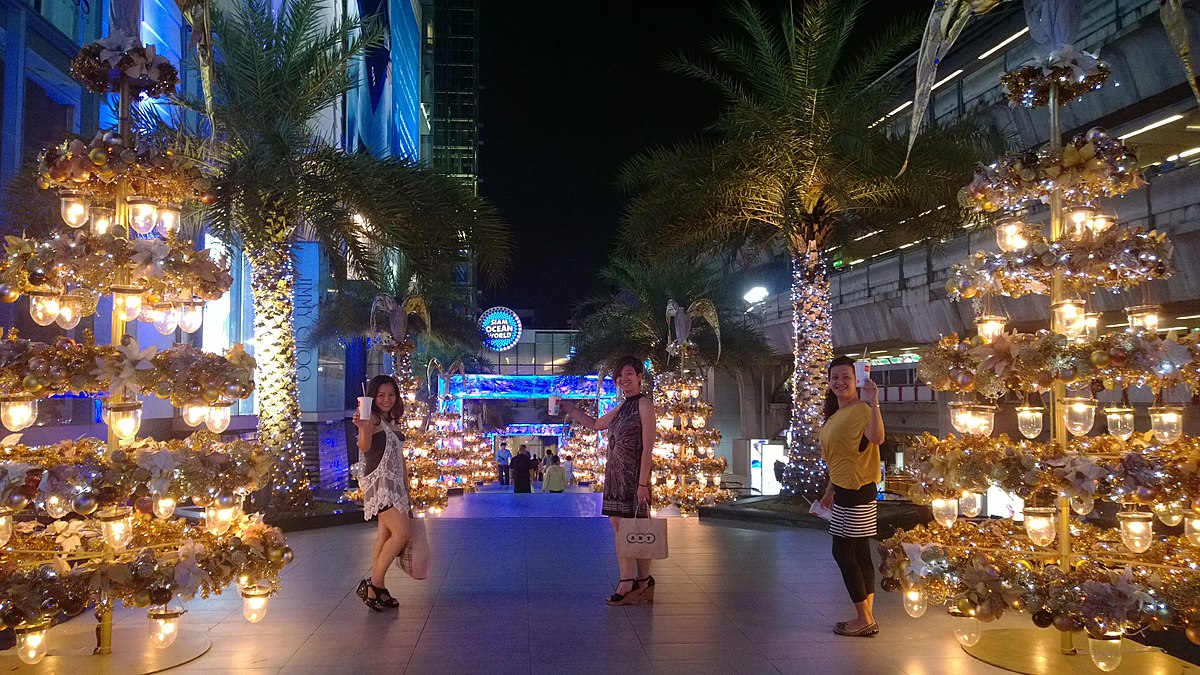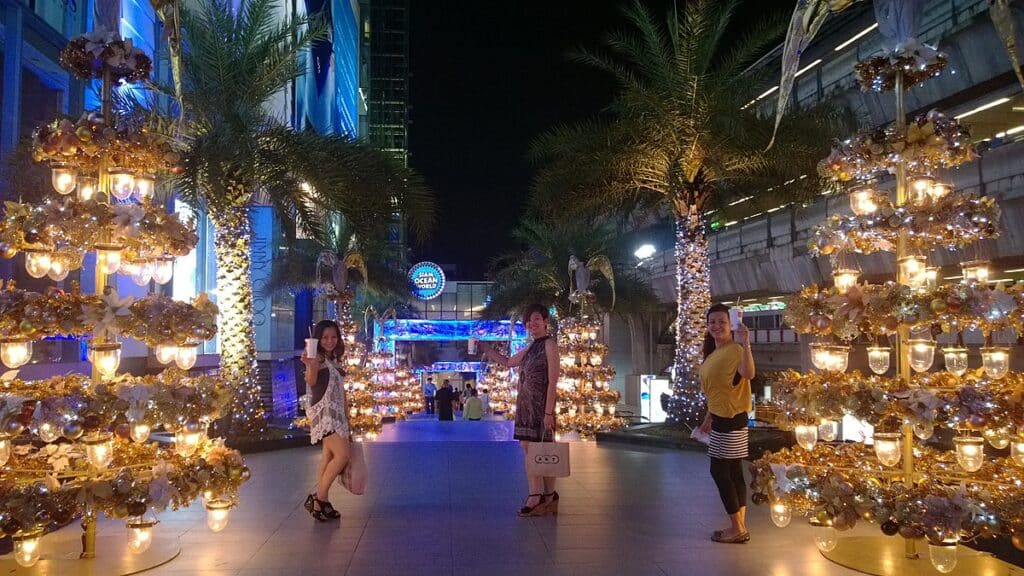 Chiang Mai: For a cultured Thai Christmas, head up north to Chiang Mai. Chiang Mai is known for its lush greenery, beautiful mountains, elephant sanctuaries, and some of the best Thai food you'll find.
Pai: Another great spot for celebrating Christmas in Thailand is Pai. Pai is a region in the north that is full of cool people, delicious food, and incredible surroundings.
Loy Krathong: Loy Krathong is a stunning cultural event in Thailand that is celebrated every year on 8 November. Thai people use this ceremony to celebrate the Goddess of Water or to worship Buddha's hair pagoda in heaven.
If you find yourself in Thailand during this time, you will see locals floating little candle-lit paper boats in the water to celebrate, and it's one of the most mesmerising sights you'll ever see.
MORE ON CHRISTMAS: Our guide to common Christmas traditions in France.
Your questions answered about Christmas in Thailand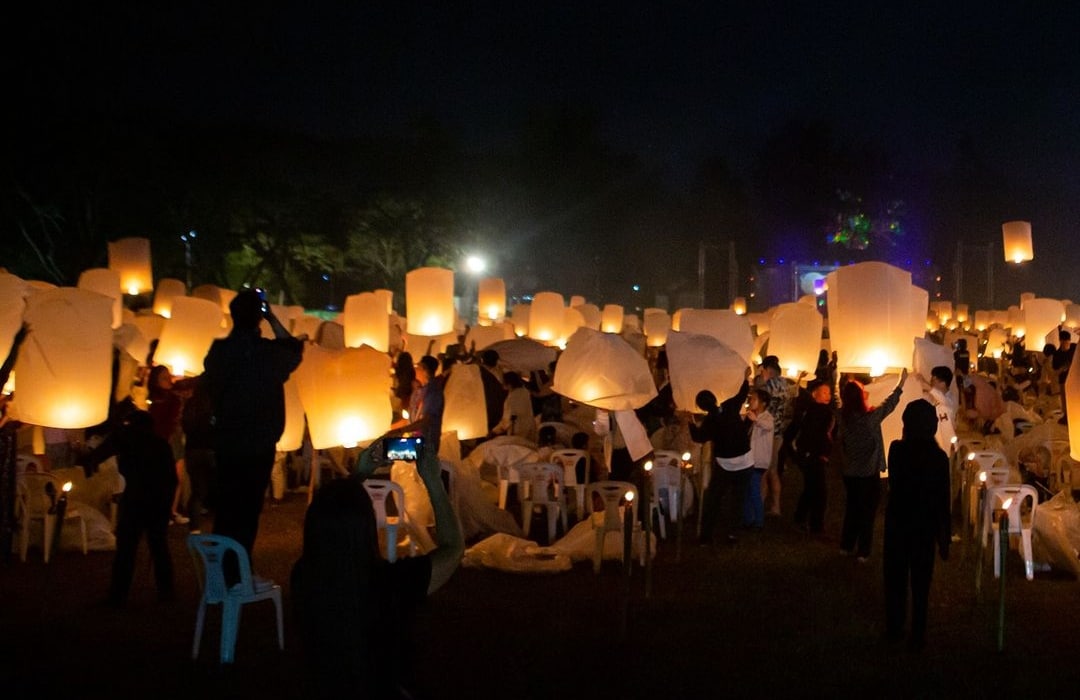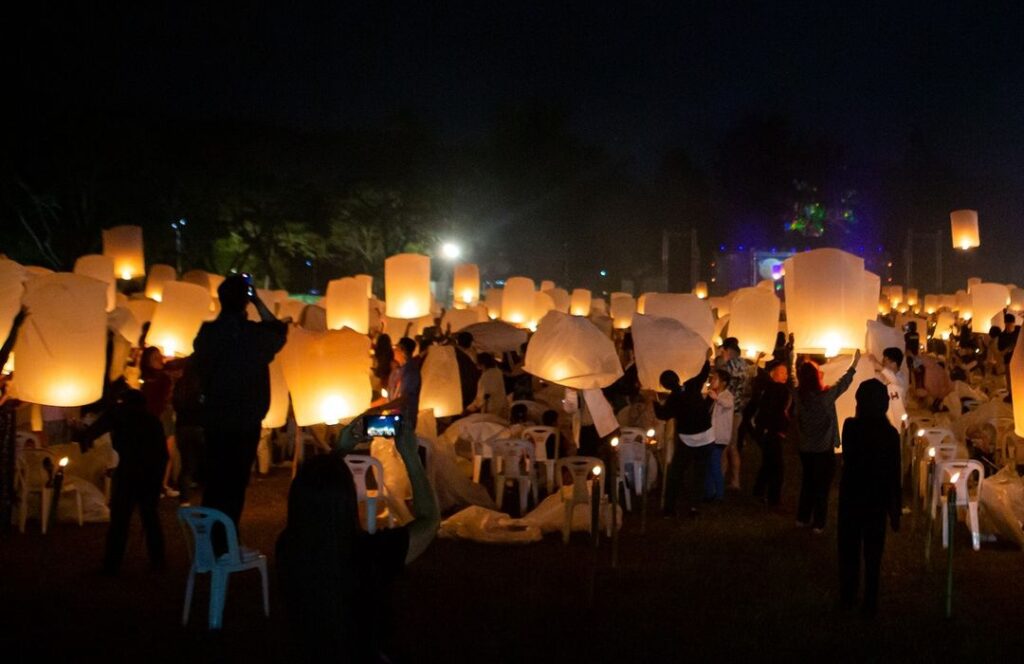 In this section, we answer some of our readers' most frequently asked questions on this topic, as well as those that appear most often in online searches.
How do they celebrate Christmas in Thailand?
Christmas is not widely celebrated in Thailand due to it being a Buddhist country. However, you will find Christmas trees and lights in the bigger, more touristy areas like Bangkok.
Is Christmas a big thing in Thailand?
Christmas is not a recognised holiday in Thailand. However, with the number of different people from around the world residing there and the influx of tourists every year, you will find hints of festivities around the country.
What is Thai Christmas called?
There is no Thai Christmas. However, perhaps the closest celebration would be Songkran or Thai New Year.