The vast and beautiful country of Australia is known for its wines, kangaroos, and beaches. With so much to see and do on this magnificent country, we have narrowed it down to the ultimate Australian Bucket list with 20 things to do in Australia before you die!
Whether it is a working holiday visa, a round-the-world trip or just a plain old holiday, Australia is a country accustomed to visitors. With beautiful sandy beaches, turquoise blue waters, super friendly locals and wildlife you won't find anywhere else, what's not to love?
Admittedly, as Australia is the sixth-largest country in the world it can mean deciding where to spend your precious time can be difficult, from Perth day trips to driving the Great Ocean Road. Fear not! We have compiled the ultimate Australia Bucket List with 20 things you must do in Australia before you die.
Our 6 Top Tips for Visiting Australia
Ensure you have the necessary visa for your stay in Australia. Apply well in advance to avoid any last-minute complications.
Australia experiences varied climates, so pack accordingly. Check the weather forecast for your destination and pack appropriate clothing, including sunscreen and hats for sun protection.
The Australian sun is strong, so use sunscreen, wear a hat, and use sunglasses to protect yourself from harmful UV rays.
Australia is home to unique and sometimes dangerous wildlife. Respect their habitat, follow safety guidelines, and be cautious when encountering wildlife.
While cities like Sydney and Melbourne offer fantastic experiences, don't miss out on exploring the stunning national parks, coastal regions, and outback landscapes that lie outside them.
As Australia is in the Southern Hemisphere, the seasons are the opposite of those in the Northern Hemisphere. Keep this in mind when you are planning what time of year to visit Australia.
20. Drive the Great Ocean Road – one of the world's most scenic coastal drives
On your South-West Australia road trip you need to drive this road! Spanning 400km this breath-taking drives allows you to experience one of the world's most scenic coastal drives. Take in the views of the 12 Apostles, old volcanoes, rainforests, and vineyards. Get your Great Ocean Road itinerary and hop in the car as this is not to be missed on your Australia Bucket List!
READ ALSO: Top 20 longest ROADS in the WORLD, ranked
19. Spot some quokkas at Rottnest Island – mingle with the friendly animals
Affectionately known as the "happiest animals on the planet" there are very few places to spot these adorable marsupials, but Rottnest Island is one of them. These friendly Australian animals roam freely about the picturesque island.
18. Enjoy Melbourne's coffee scene – good coffee guaranteed
In Melbourne, it is said that it is harder to find a bad coffee than a good coffee. With speciality coffee shops galore and highly skilled baristas the coffee in Melbourne is top-notch!
However, there is so much more than coffee in this beautiful city. 3 days in Melbourne would allow you to squeeze in some key attractions!
17. Do the Bondi to Coogee Coastal Walk – from the coast to cliff tops
Start by watching surfers take to the waves of Bondi before continuing on your 6km walk. Stop for a dip at the ocean pool at Bronte Beach before drying off as you walk along the cliff tops.
Address: NSW 2026, Australia
READ ALSO: Top 10 best places to surf in the world
16. Grab a drink outside the Sydney Opera House – watch the skyline light up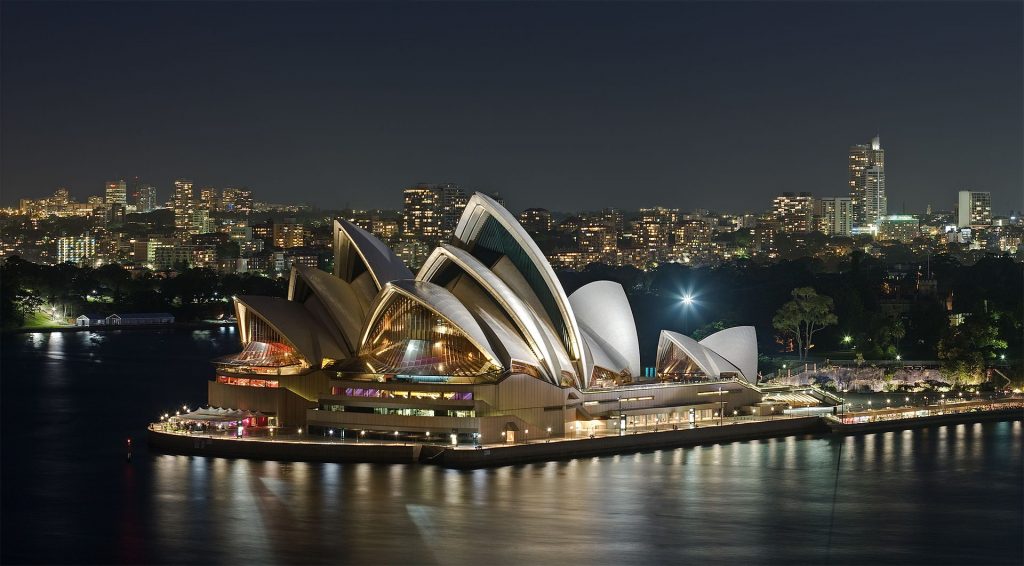 A must-do activity in Sydney is taking in the views of the bustling city, Sydney Harbour and the Sydney Harbour Bridge from the many bars dotted along outside the Sydney Opera House.
We recommend doing this in the evening as you see the skyline light up from one of the most famous landmarks in Sydney.
Address: Bennelong Point, Sydney NSW 2000, Australia
15. Visit a vineyard – some of the world's best wine
With over 2,500 wineries dotted all over Australia, a visit to a vineyard has to be on your Australia Bucket List! Take part in a wine tasting, learn about the process of winemaking, and take in the beautiful scenery.
14. Cruise the Whitsundays – paradise of island-hopping

A total of 74 islands make up the beautiful Whitsundays. With turquoise blue waters, diverse coral reefs and white sand beaches this is a truly magical experience. There is a range of boat trips available lasting from one-day trips to overnight.
13. Watch an Aussie rules game – a taste of the indigenous sport
A trip to Australia would not be complete without watching a game of Aussie rules football. The atmosphere in the stadiums is electrifying as the crowd get behind their team as they battle it out in this fast-paced contact sport.
12. Watch the sunrise/sunset from the top of Mount Wellington – for stunning panoramic views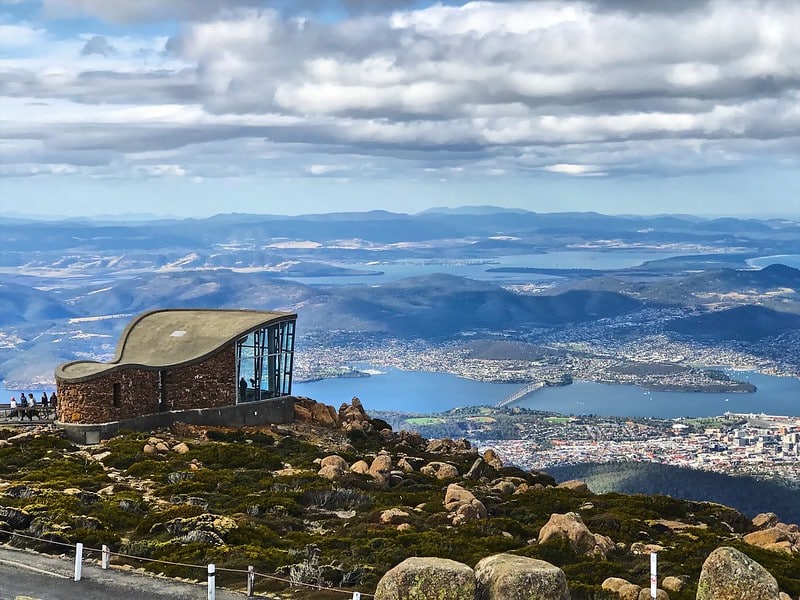 This often-snow-capped mountain has beautiful views overlooking the Tasmanian capital of Hobart and the surrounding countryside. This is one of the most beautiful spots in Australia to watch the sunrise or set.
Address: Wellington Park, TAS 7054, Australia
11. Spot some roos at Kangaroo Island – a haven for wildlife
Although this bushland is known most notably for its kangaroos, sea lions can be found basking in the sun on the many beaches, while koalas can be found in the plentiful eucalypts. Kangaroo Island is a haven for wildlife. To get the best out of your trip, plan the perfect Australian itinerary before you go!
Address: Kangaroo Island, Australia
10. Learn about the local Indigenous population – delve into Australian history
The indigenous population have lived and worked the land of Australia for over 50,000 years. There are many centres, particularly in the Northern Territory and North Queensland where you can learn about their traditions, beliefs, art and history.
9. Cross Australia by train – a tour of the Australian outback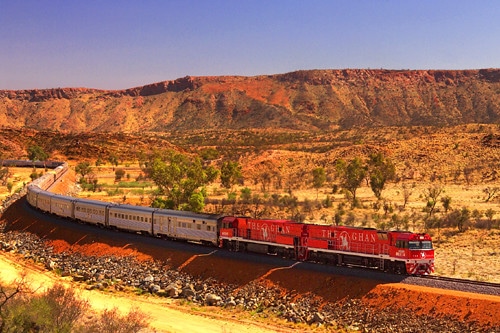 Go on an unforgettable journey across the Australian outback by train. Passing through mountain ranges, deserts and goldfields this is a once in a lifetime experience not to be missed.
READ ALSO: Top 10 amazing deserts in the world to visit
8. See the penguins at St. Kilda – smallest species of penguin in the world
Just a short seven kilometres from the city of Melbourne you will find the smallest species of penguin in the world. Watch them as they swim in and waddle to their nests among the rocks.
Address: Victoria 3182, Australia
7. Visit the Blue Mountains – for hikes, sights and wildlife
This beautiful region of mountains in New South Wales appears to be the colour blue! It is a truly spectacular phenomenon to witness, but if that's not enough there are lots of hikes to be had and local wildlife to spot.
Address: New South Wales, Australia
READ ALSO: Top 10 best beaches in New South Wales, ranked
6. Admire the beauty of Uluru – cornerstone of Aboriginal culture
Uluru is a sacred rock is very important in Aboriginal culture. This magnificent sandstone rock formation is unlike any other. When the sun rises you get to witness this rock change into a bright red colour.
Address: Petermann NT 0872, Australia
5. Walk barefoot in Byron Bay – catch the Aussie vibes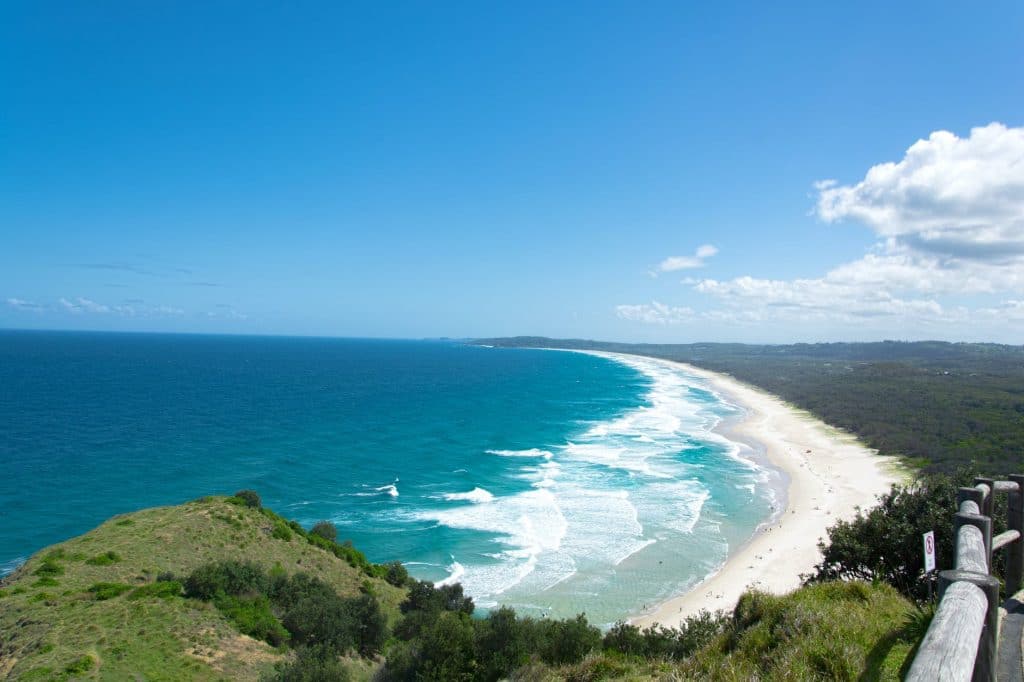 Chill vibes, beautiful beaches, good music and vibrant community spirit makes Byron place the ultimate destination for a vibey few days. Byron Bay is the perfect weekend getaway from Sydney.
Address: New South Wales 2481, Australia
READ ALSO: Top 10 MOST incredible Airbnbs in Byron Bay
4. Snorkel at the Great Barrier Reef – one of the best things to do in Australia
No Australia bucket list would be complete without a visit to the Great Barrier Reef. One of the most beautiful ways to explore the reef is from Fitzroy Island, where you can swim from the shore and be surrounded by hundreds of sea creatures just a few metres from the shore!
Please be safe and keep an eye out for some dangerous fish!
Address: Queensway, Australia
3. Visit Wineglass Bay – one of the best beaches in the world
Rated one of the best beaches in the world, this piece of paradise is a must-visit and is one of the best things to do in Bicheno. This beach is curved like the rim of a wineglass and its waters are worthy of a Disney movie. Although it involves a bit of walking to get to, it is definitely worth the trek.
Address: Coles Bay, Tasmania 7215, Australia
2. Go whale-watching in Hervey Bay – spotting the humpback whales
From mid-July to November thousands of humpback whales make their way into the bay for a stopover before continuing on their migration to their Antarctic feeding grounds. Whales and their calves can sometimes be spotted from the shore but the best way to get up close and personal is to go on a whale-watching trip!
Address: Queensland 4655, Australia
1. Go an East-Coast road trip – the ultimate trip on your Australian Bucket List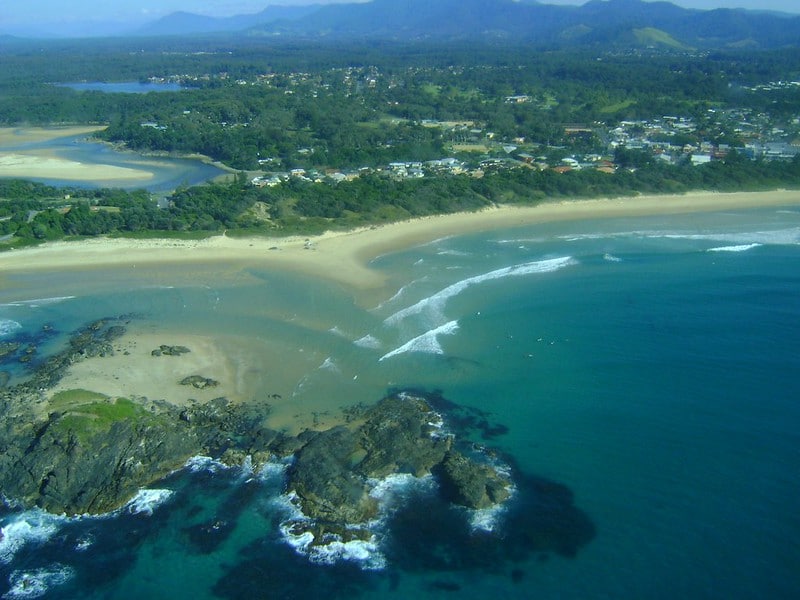 Number one of the list of 20 things to do in Australia before you die will be of no surprise to anyone who has spent some time in this stunning country. No Australia bucket list is truly complete without the infamous East-Coast road trip. It is by far the best way to experience and explore the East-Coast!
Your questions answered about Visiting Australia
If you're planning a trip to the Land Down Under and still have questions, we've got more useful information for you! In the section below, we've put together some of our readers' most frequently asked questions about this topic online.
Do I need a visa to travel to Australia?
Yes, most visitors to Australia require a visa. The type of visa you need depends on the purpose and duration of your visit. The most common tourist visa is the Electronic Travel Authority (ETA), which allows for short-term stays.
What is the best time to visit Australia?
Generally, the summer months of December to February are popular times to visit beach destinations in Australia, while the milder months of spring (September to November) and autumn (March to May) are brilliant times to visit if you plan to do activities like hiking and wildlife spotting.
Is Australia expensive to visit?
Australia can be relatively expensive to visit, especially when it comes to accommodation, dining out, and transportation. However, with careful planning, budgeting, and seeking out affordable options, it is still possible to have an enjoyable and cost-effective trip to Australia.