Arizona is a fantastic desert oasis which has an array of incredible natural hot springs pools, and here are the best ones to visit.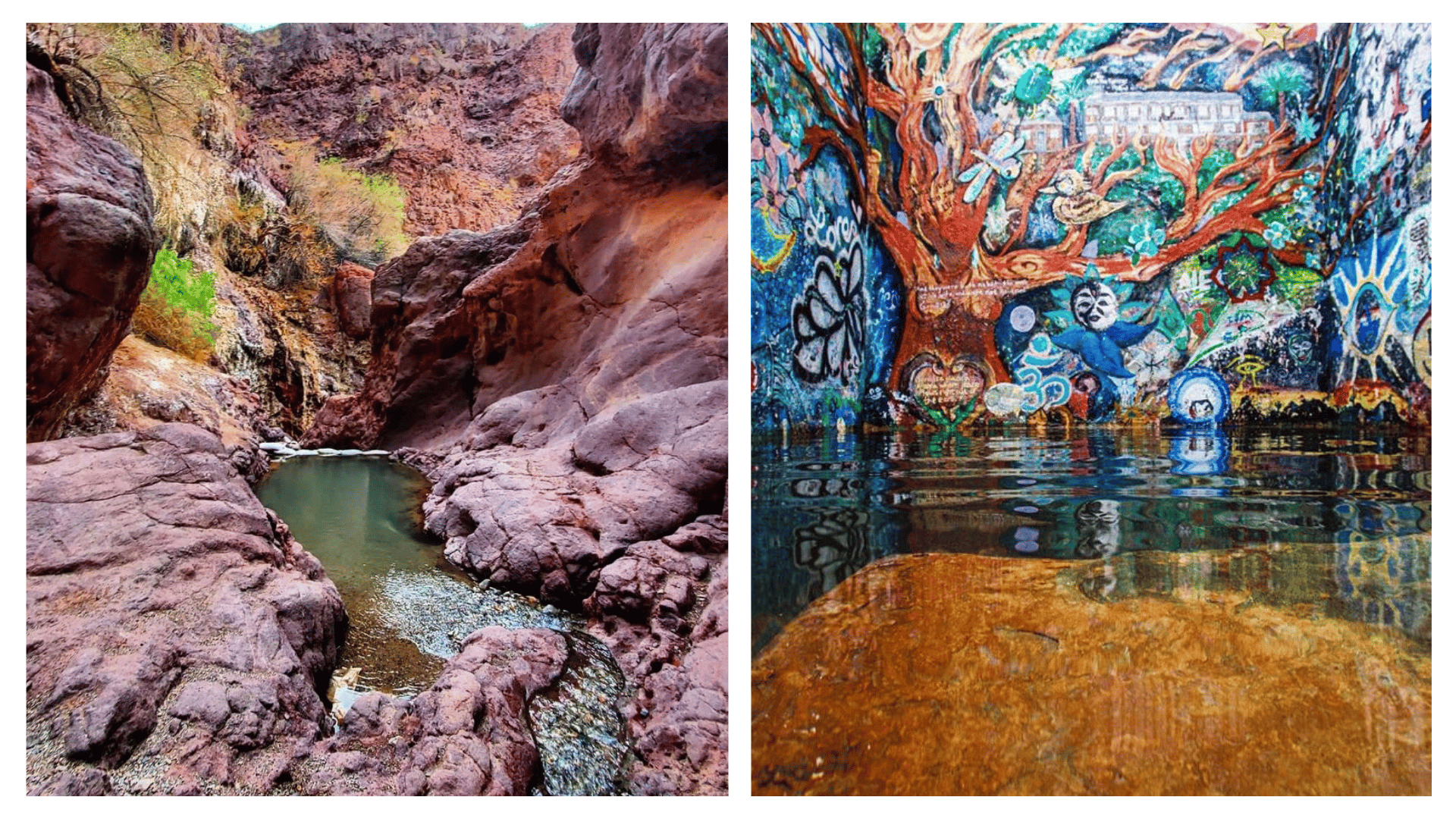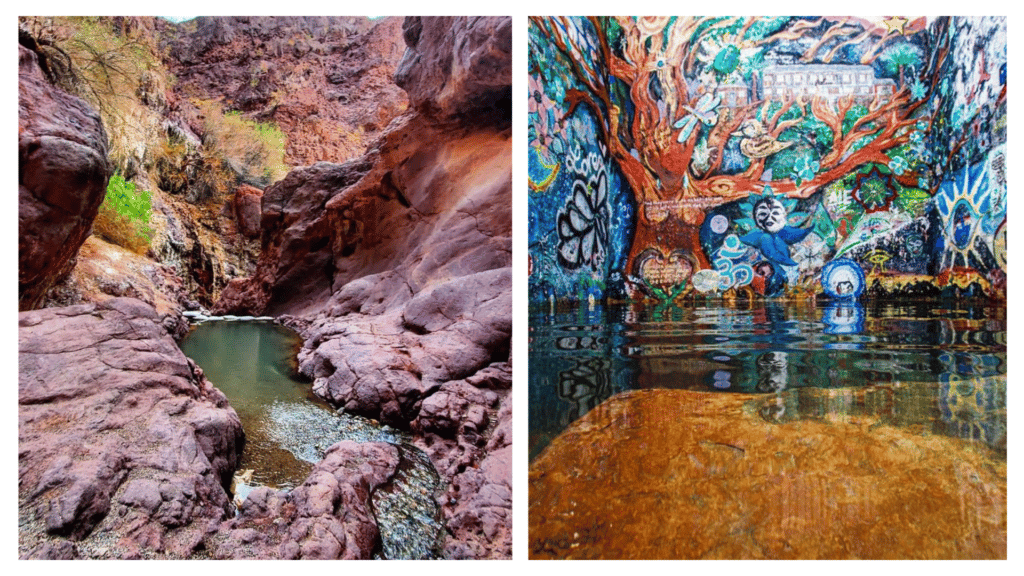 Arizona is well known for the Grand Canyon National Park as well as cities such as Phoenix and Tuscon, but if you didn't know that Arizona is also home to some incredible natural hot springs, then you are in for a treat.
Nothing beats the feeling of soaking up the healing waters that come from beneath the earth, and there are plenty of places to do this around the globe, including the state of Arizona in the USA.
Together with its iconic desert landscape and the range of unique hot springs on offer here, Arizona is one of the best places you can imagine for a relaxing soak amongst nature. So, please sit back and let us unveil the five best hot springs in Arizona you need to visit.
The World Bucket List's top tips for visiting the best hot springs in Arizona
Hot springs can change in temperature, so make sure to check this out and see if it is suitable for bathing in before you get in.
As well as water temperature, be mindful of the weather changes in Arizona. The desert climate can also vary, so dress appropriately for this, too.
Keep hydrated! Drink plenty of water, especially during your hike if your plan is to take a dip afterwards in the hot spring as a reward.
Have all necessary and essential supplies with you, such as water, food, clothing for afterwards, towel, and other necessities.
Lastly, respect other users of the hot springs. Be mindful of them and respect their time in the springs. too.
5. Verde Hot Springs – an adventurous hot spring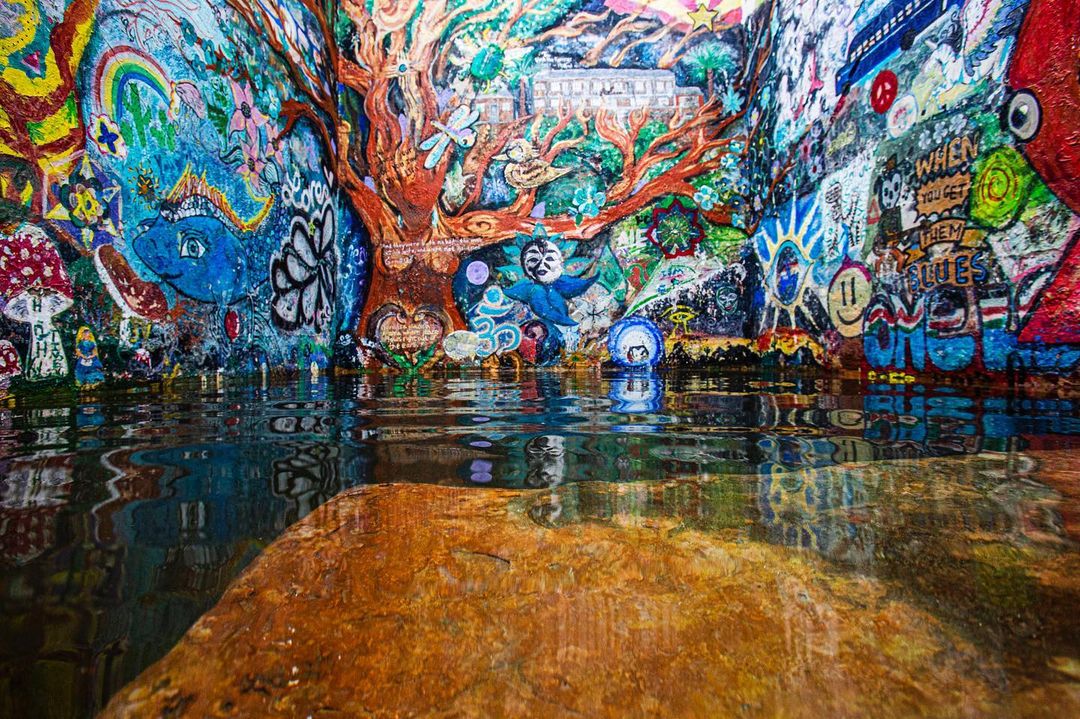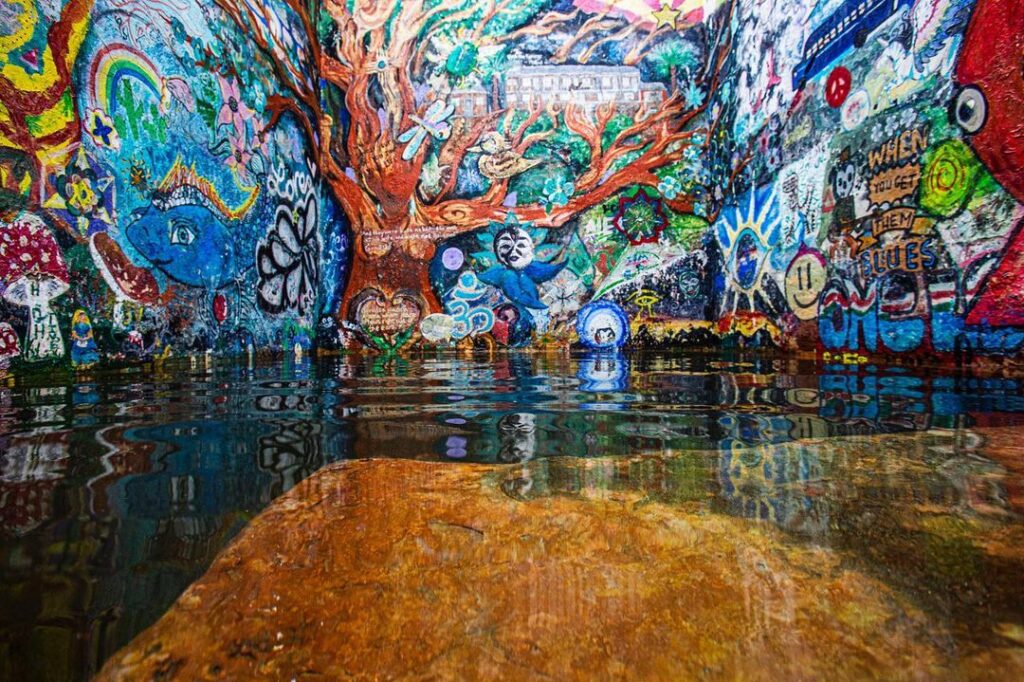 For those looking for a real challenge, rewarded with two ideal hot spring pools located along the River Verde in Yavapai County, Verde River Hot Springs needs to be considered.
There are a few things to plan when visiting these springs; since access is difficult, you will need to be prepared with food, water and adequate hiking gear for the journey.
The small cliffside pools have an average temperature of 37 C (98 F) and make for a popular place to relax and unwind, especially if you are soaking in your birthday suit. The hot spring offers a one-of-a-kind riverside experience, and you will notice this as soon as you set off on the trek.
It is worth noting that to access the springs, you will need an off-road car, which will take you some of the way, and be prepared to traverse a river and trek the rest of the way.
Address: Arizona 86322, United States
Read more: Check out the WBL's article on the top 5 BEST hot springs in Utah, RANKED
4. El Dorado Hot Springs – for an invigorating soak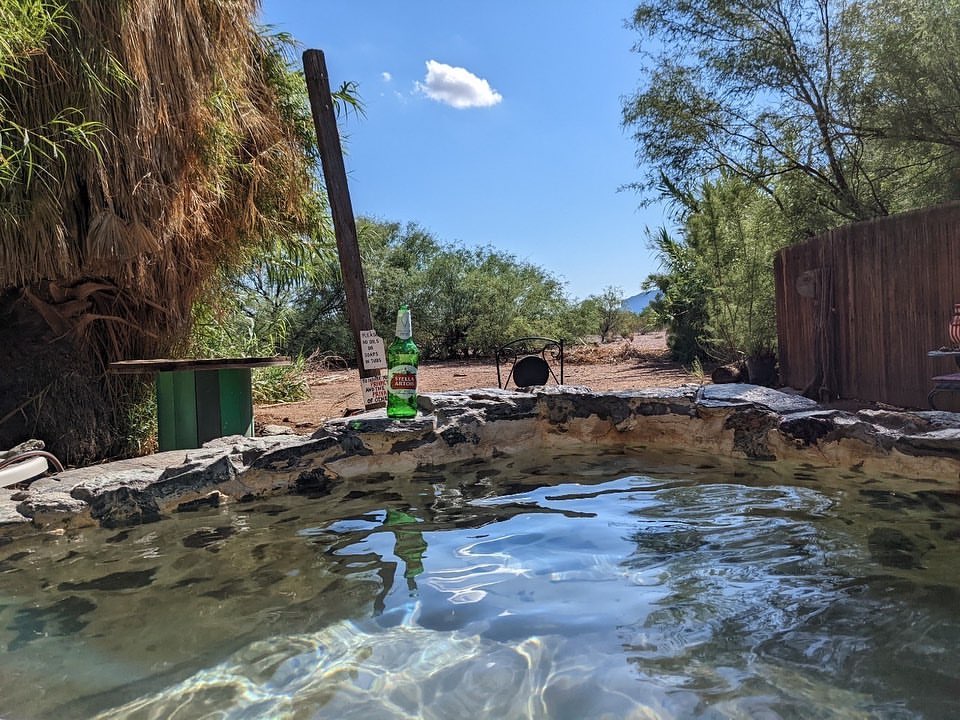 Known as a real oasis in the desert, El Dorado Hot Springs has to be one of the best hot springs in Arizona and is a fantastic choice for those who want to soak without clothes.
It's also great if you want the option to stay overnight in the resort, not to mention that the mineral water does not have a smell of sulfur like many other springs, which is an added bonus.
There are both public and private areas to choose from here, and since this is a seasonal hot spring area, it is best to book in advance, especially if it is the peak season and you require accommodation. You can expect water temperatures to vary, but average temperatures are around 41C (107 F).
Address: 41225 Indian School Rd, Tonopah, AZ 85354, United States
3. Kaiser Hot Springs – a remote and rustic hot spring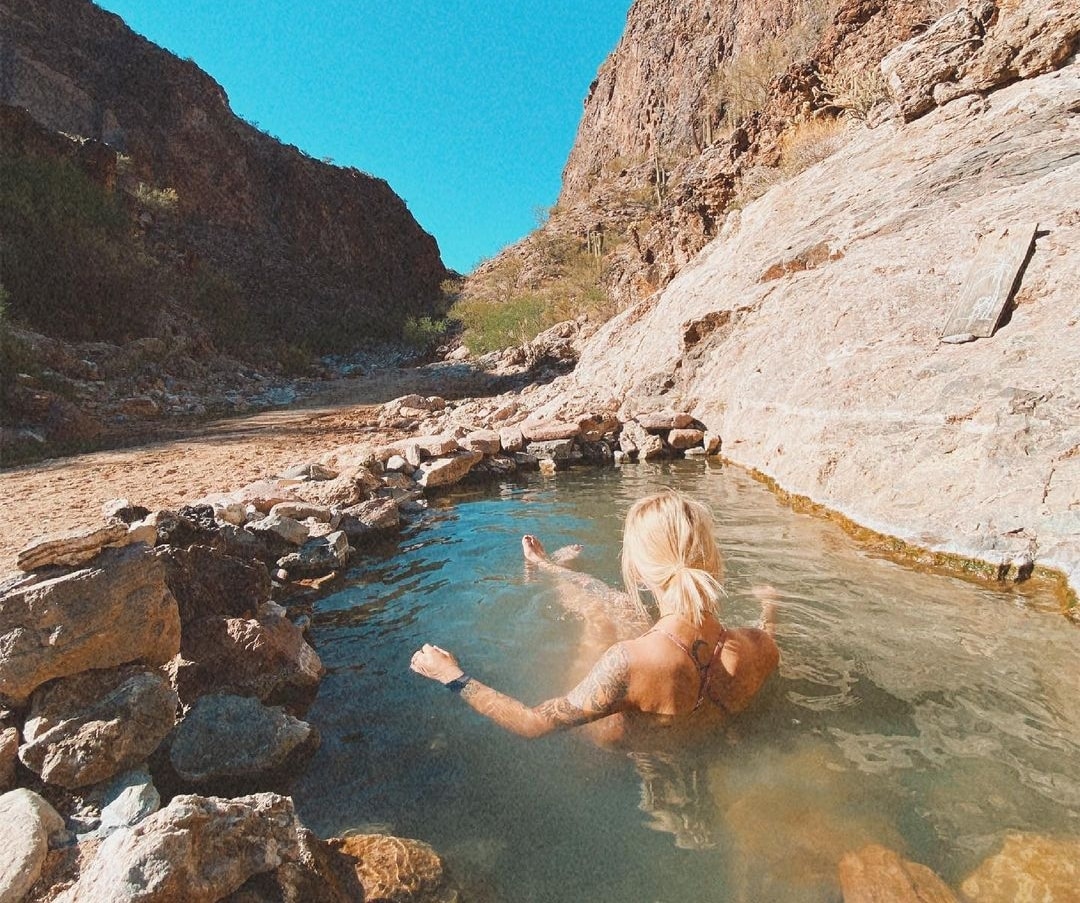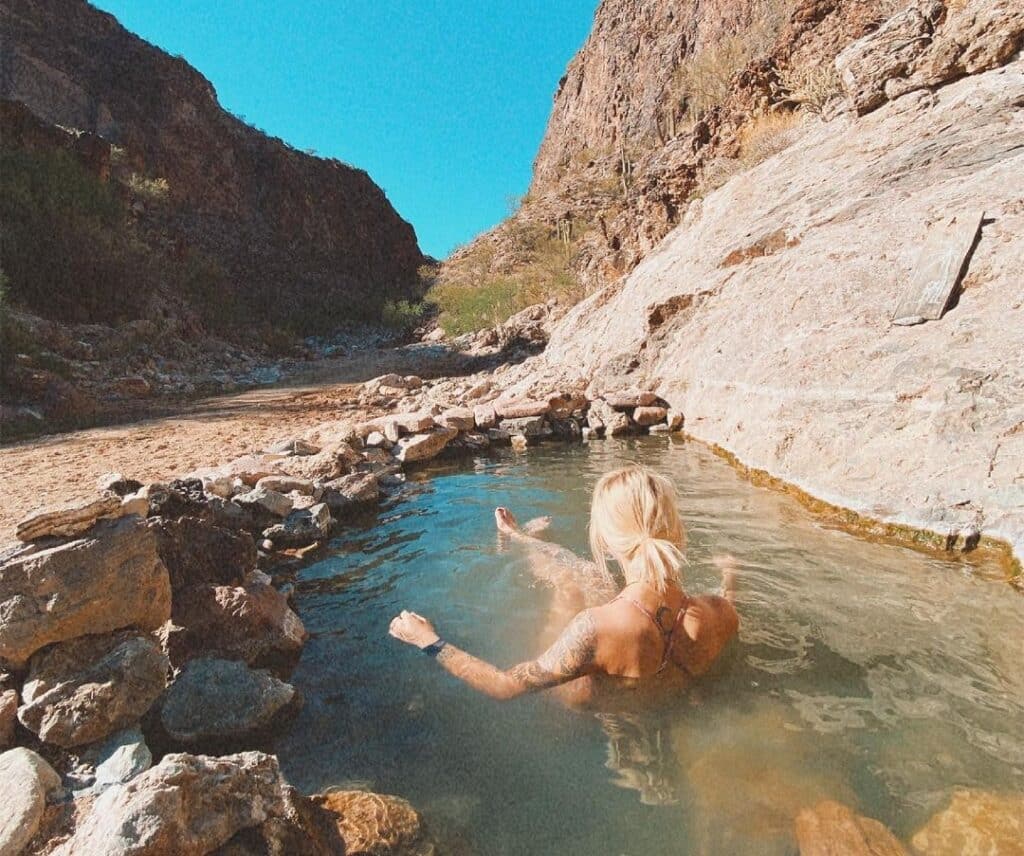 One of the greatest things about Kaiser Hot Springs in Arizona is the fact that it is completely free and only reached by trekking since it is located in the remote area of Burrow Creek.
The 4.8 km (3 mi) return hike is open to everyone, and once you arrive, you can soak your weary muscles in the 37 C (100 F) temperatures.
This idyllic desert swimming hole features a gravel-bottomed rock-soaking pool, and since it is in the middle of nowhere, there will be chances to spot wildlife in the region, too, so keep your eyes peeled. It is recommended to bring adequate food and water when embarking on this hot spring trail.
Address: Wikieup, AZ 85360, United States
Related: The top 5 best hot springs in Banff, ranked
2. Castle Hot Springs – hot springs with a rich history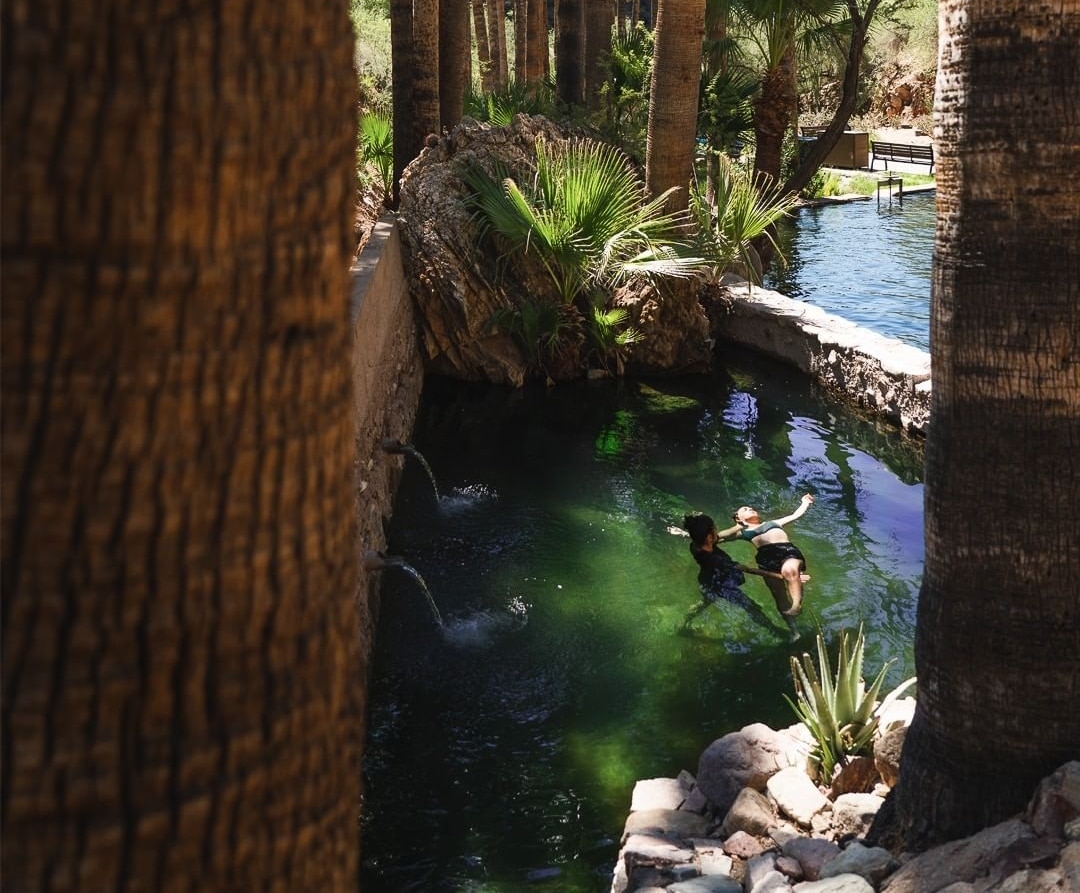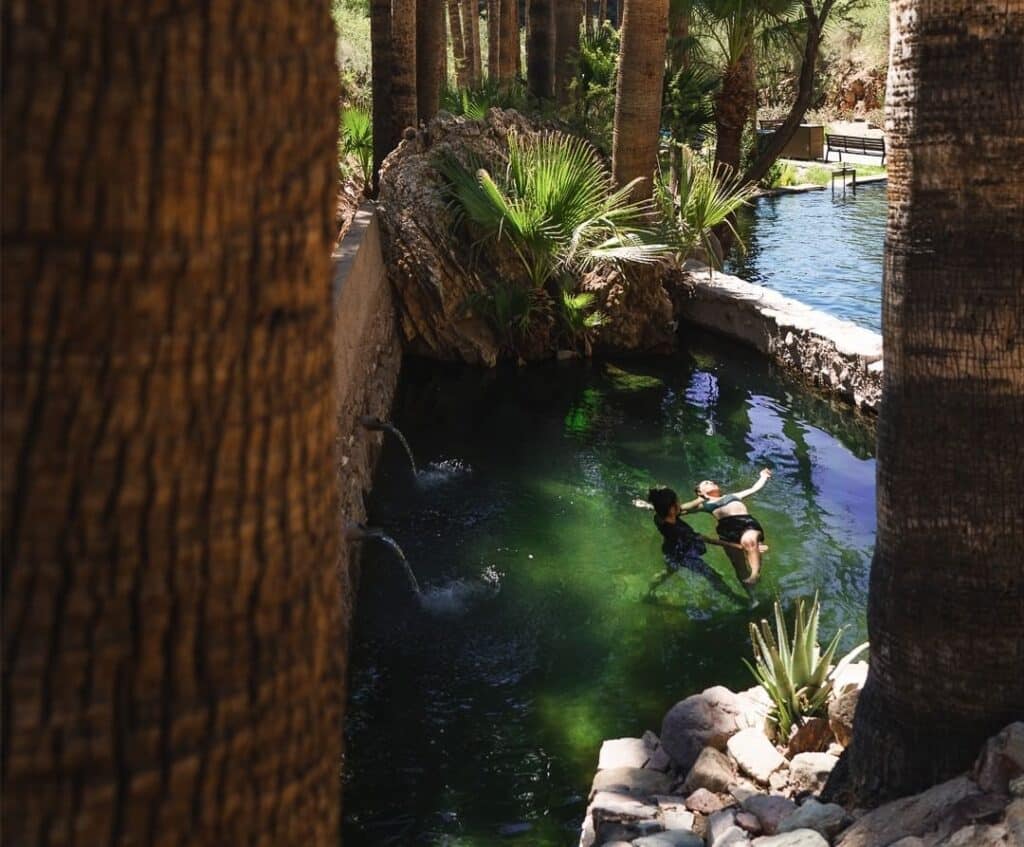 This incredible area is one of the best hot springs in Arizona, given its historical significance and the fact that it is a non-volcanic hot spring.
Long before the Castle Hot Springs Resort existed, local tribes of indigenous people reaped the benefits of these rich mineral waters, which are located in the heart of the Bradshaw Mountains.
The historic resort has been visited by many celebrities over the years, and today is as popular as ever with tourists from all over the globe. You travel along a dusty dirt road to explore this magical oasis, and you won't regret it.
Here you can not only soak in the mineral-rich springs, but you can take part in various activities such as paddleboard yoga and mindfulness sessions, making it a place to fully unwind and relax in a unique environment.
Address: Castle Hot Springs, Arizona 85342, USA
1. Arizona Hot Springs – one of the most unique hot springs in Arizona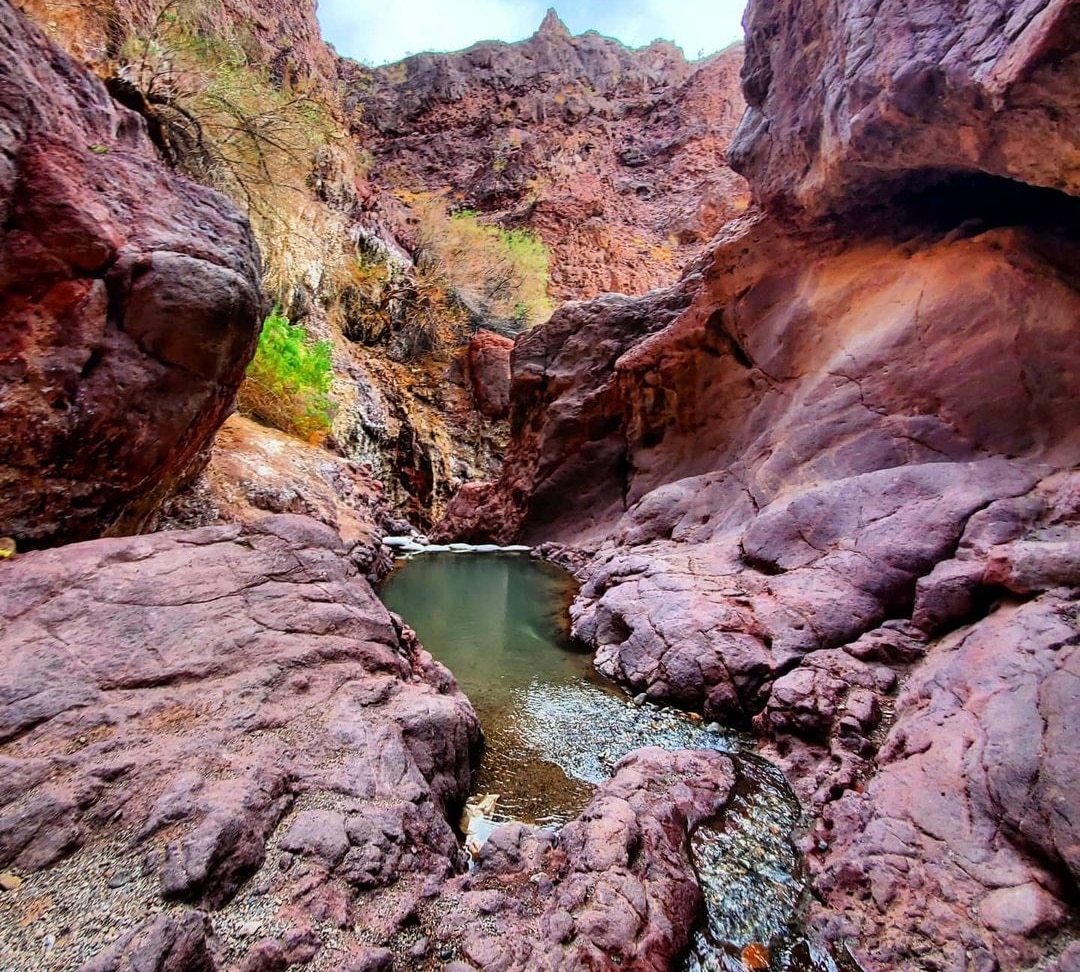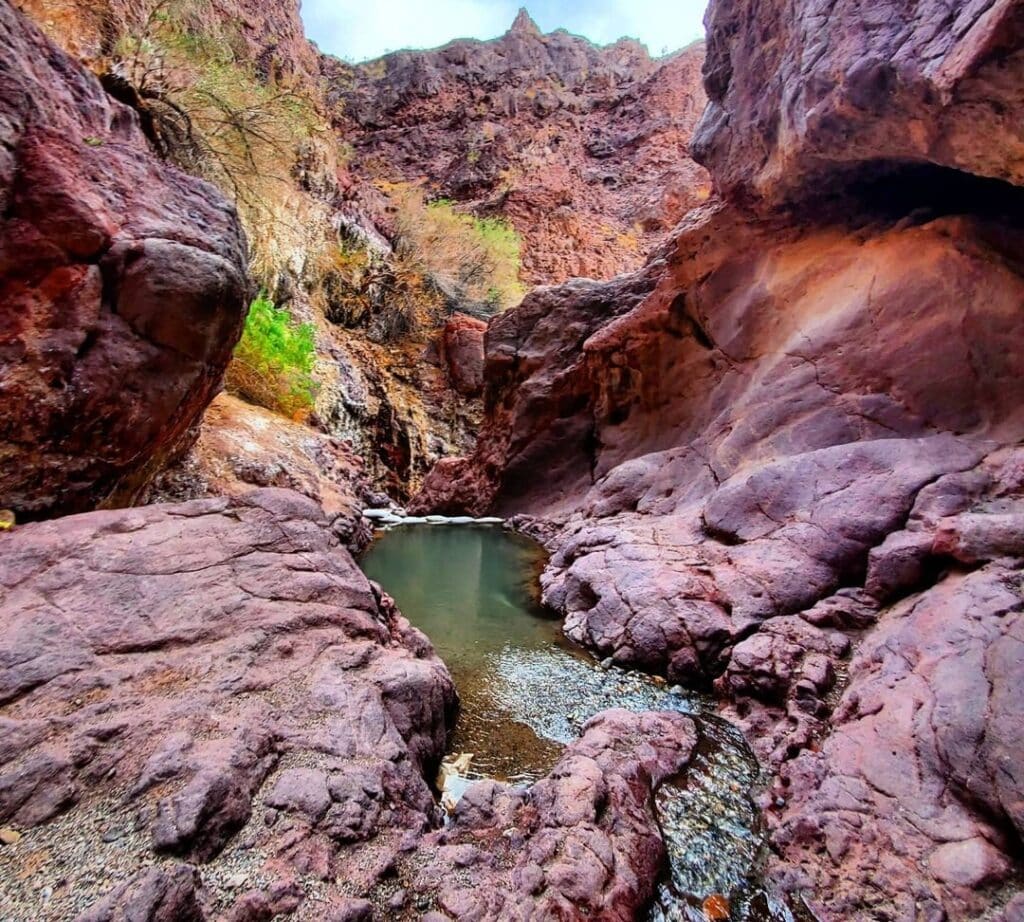 Also known as Ringbolt Hot Springs, Arizona Hot Springs is one of the most well-known mineral springs to visit in the area, and it is ideal if you want to take on a hike with a relaxing reward at the end.
The journey to this hot spring is what makes the region so special, and you can choose to hike the Hot Spring Canyon Trail or the White Rock Canyon Trail when planning the adventure.
Arizona is well known for its otherworldly landscapes, and this is an experience that will captivate you with the iconic canyons, red rocks and natural springs, which make Arizona a desert oasis which everyone needs to experience.
The trip begins at Lake Mead Visitor Centre, where you will drive towards the trailhead of your choice.
Address: Arizona 86445, United States
Read: The World Bucket List's choices for the 5 best hot springs in Florida
Notable mentions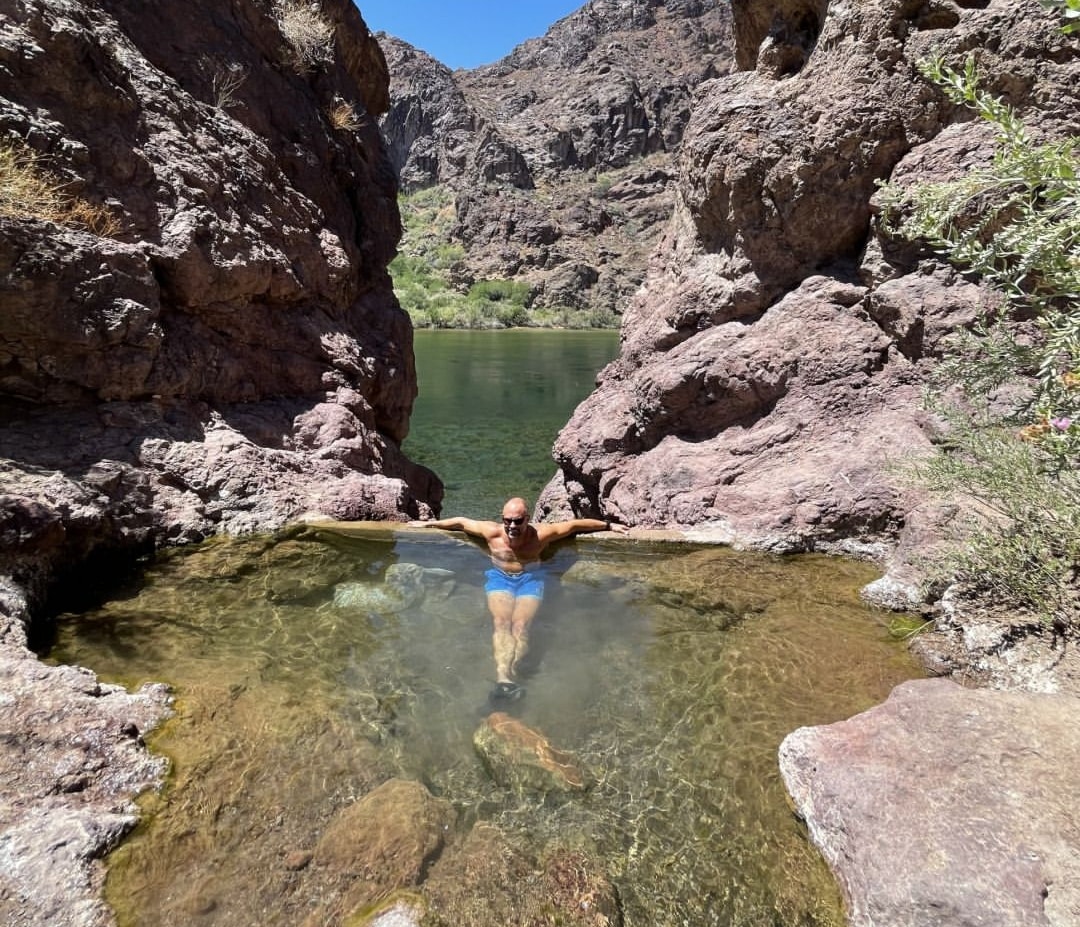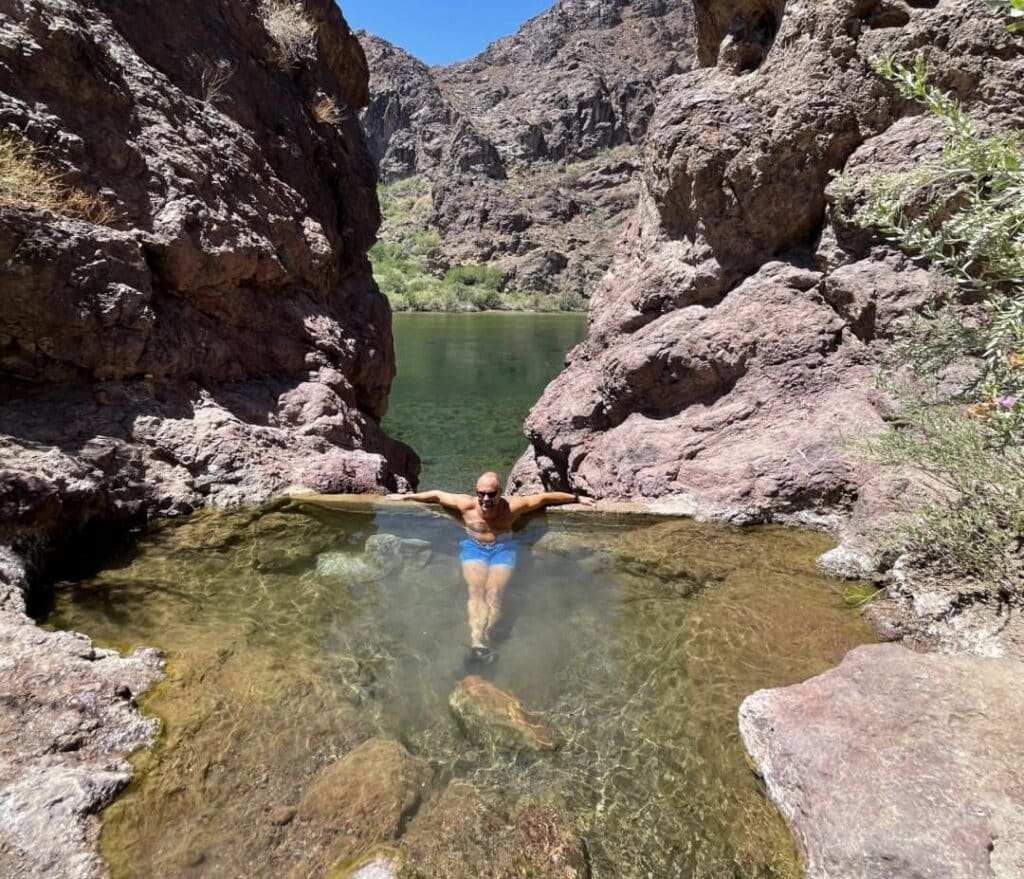 Hot Well Dunes Hot Springs: This hot spring which was discovered in 1928 when drilling for oil, is one that is worth a visit when in Arizona and features a variety of hot pools to enjoy.
Cofer Hot Springs: This hidden gem in Arizona is one that is known to be one of the best hot springs in Arizona, US and makes for an off-the-beaten-track adventure.
Lost Man Hot Spring: At Lake Mead Recreational Centre, you can take the Lost Man Springs hiking loop trail to discover these hot springs just a few miles from Hoover Dam.
Pumpkin Spring: This unusually named hot spring in Arizona is one of the most dangerous hot springs located inside the Grand Canyon, and while you can't go inside, you really need to witness these and take some photos.
Clifton Hot Springs: This is an under-the-radar gem in Arizona. First open for business in 1929, these thermal springs are a must-visit.
Your questions answered about the best hot springs in Arizona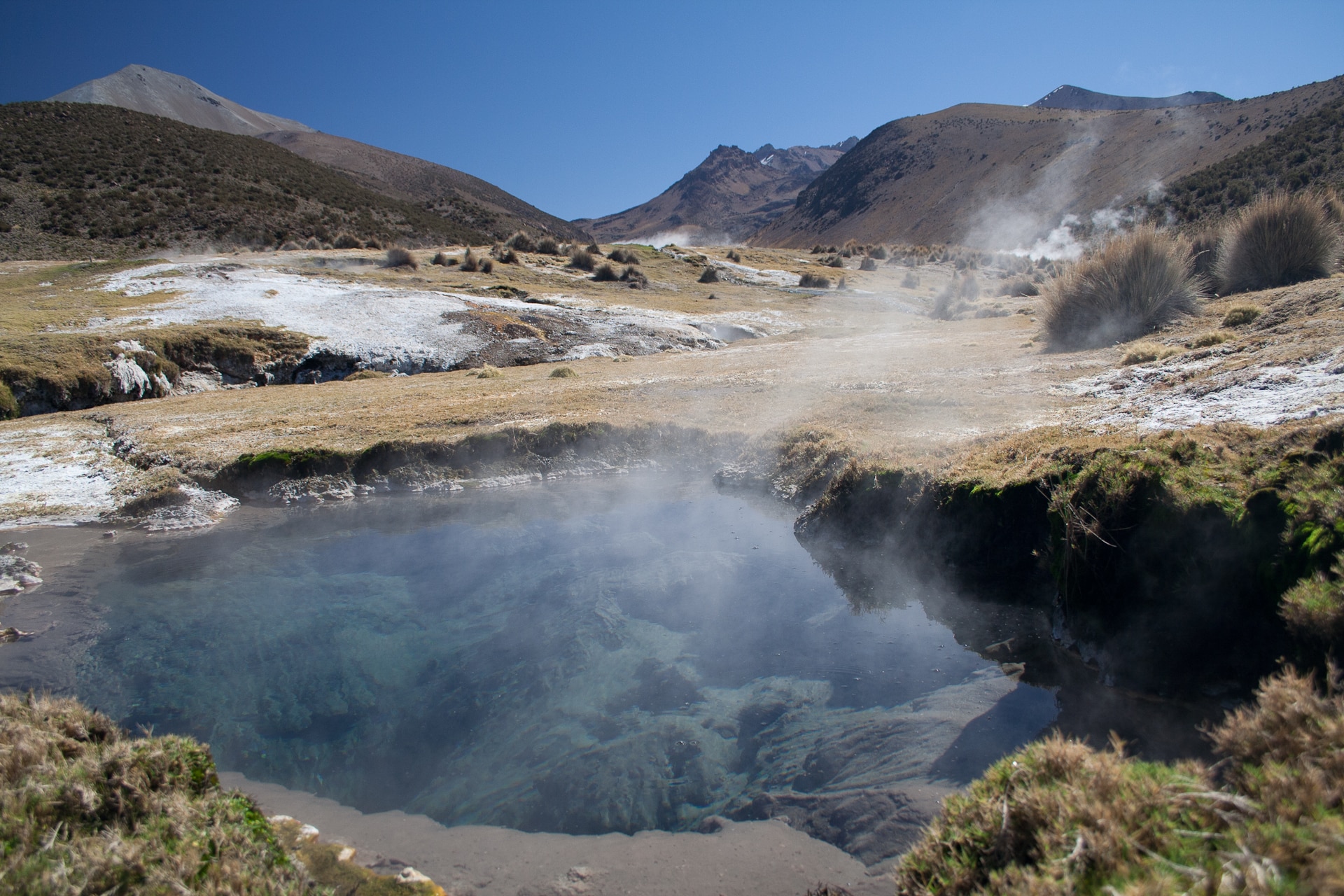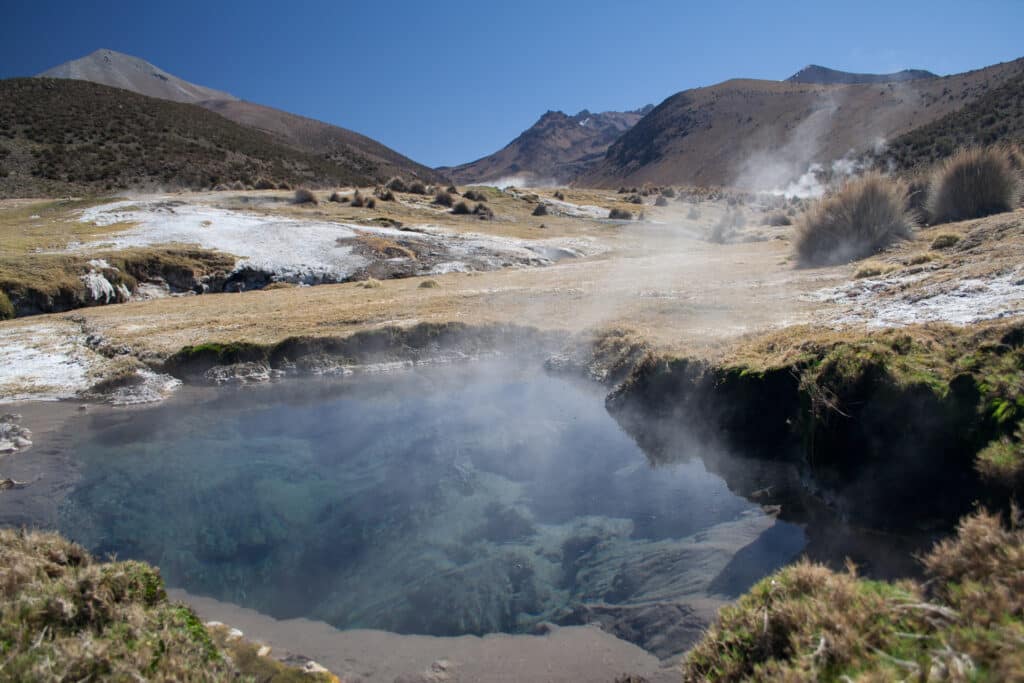 Read our article on the best hot springs in Arizona and still have some outstanding questions? Not to worry, for we have you covered! In this section, we have compiled some of the most frequently asked questions both to us and from online about this topic.
What to bring on an Arizona hot spring hike?
Always bring enough food, plenty of water, hiking gear and protection from the strong Arizona sun while you bask in the warm waters.
Can you swim in Arizona Hot Springs?
Yes, swimming is permitted, but it is best not to put your head below the water.
Are Arizona hot springs safe?
Unless there are signs warning about safety – which you should follow, then you can rest assured that the springs are safe to soak in.
NEXT: While you are on the topic, check out the 5 best hot springs in New Mexico, or across the continent, the top 5 best hot springs in Spain