Spain has some incredible thermal baths scattered around the region, and we can't wait to tell you where the best ones are.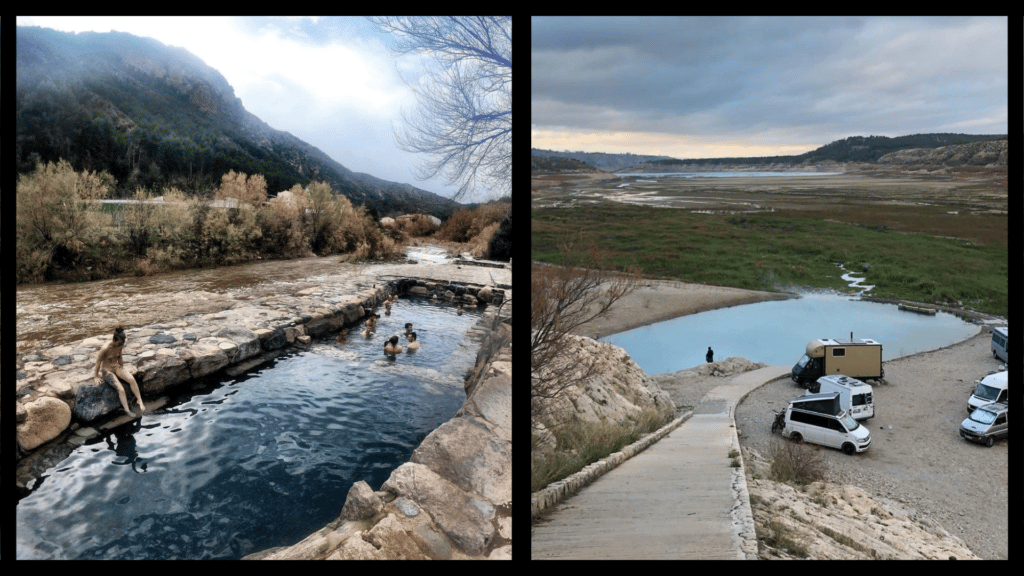 If you thought Spain was just known for its beautiful mountain landscapes and stunning beaches, you would be wrong. There are also some fantastic hidden gems worth knowing.
Spain is, in fact, home to some of the most relaxing and healing hot springs, which are outdoor pools known for their thermal waters and healing properties. Sound interesting? We'll fill you in on exactly which thermal springs are worth venturing to.
With many of these thermal springs located around the country, from Galicia in the northwestern region to Granada in the south, there will be many opportunities to treat yourself to a natural spa day in these healing waters.
So, if you love nature, a good soak, and ultimate relaxation, stick around for the best hot springs in Spain you need to visit.
The World Bucket List's tips for the best hot springs in Spain
Consider accessibility when choosing a hot spring.
Verify the opening hours to plan your visit accordingly.
Bring essentials like towels, swimsuits, and water shoes.
Time your visit during quieter periods for a more tranquil experience.
Combine your hot springs visit with nature hikes or spa treatments for a holistic experience.
5. Termas de Arnedillo, La Rioja – natural pools in the wine region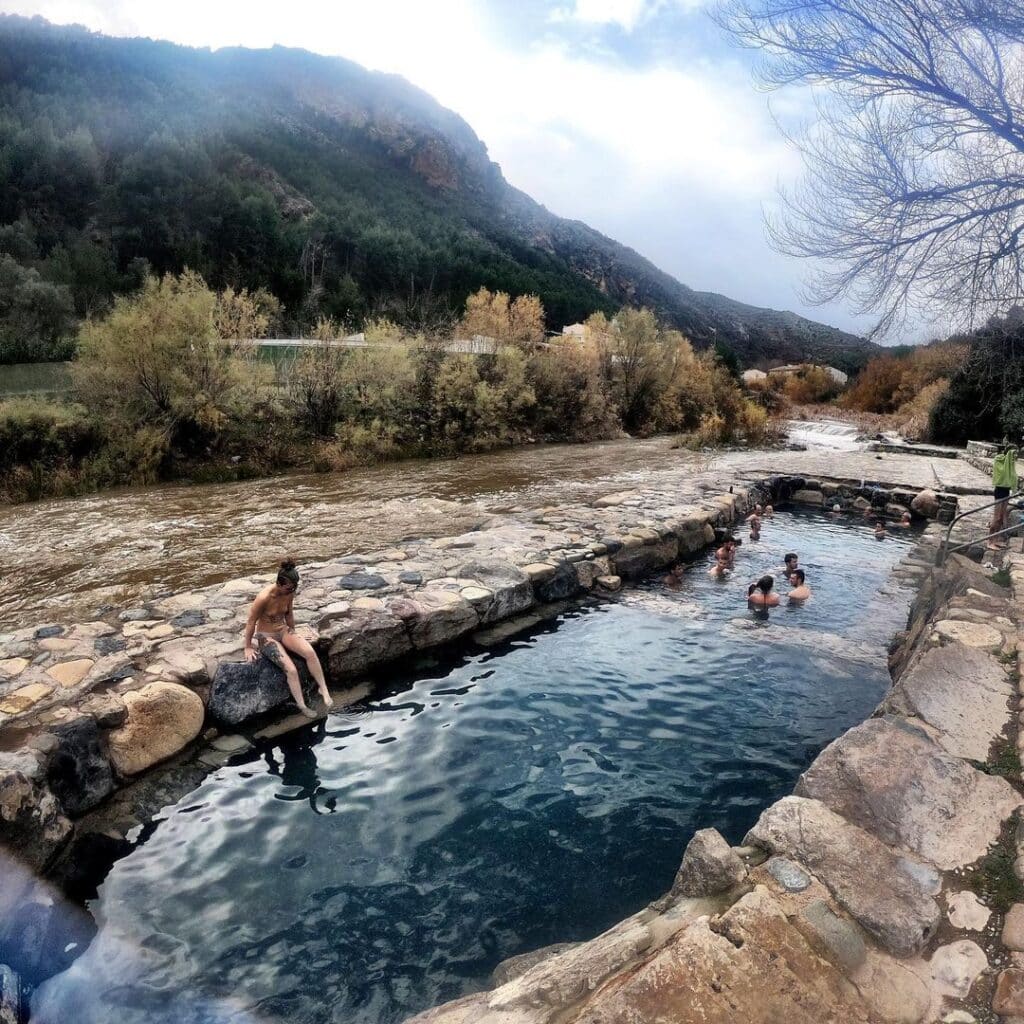 La Rioja is known for its wine, but what about its hot springs? When in the region, you must pay a visit to these natural wonders, a favourite of the locals, who love to spend hours soaking, all the way until after midnight – and get this, they're free!
The landscape of this area is fantastic to marvel at during the day, but if you wait until dark, you are in for a real treat. Pair this experience with a local wine glass, and you hit the jackpot.
You can expect temperatures between 35 C and 53 C (95 F and 127.4 F), so choose your spot wisely. Boasting beneficial properties, a relaxing bath here is one you won't soon forget.
Address: Río Cidacos, Spain
4. Baños de Zujar, Granada – a warm retreat to the mountains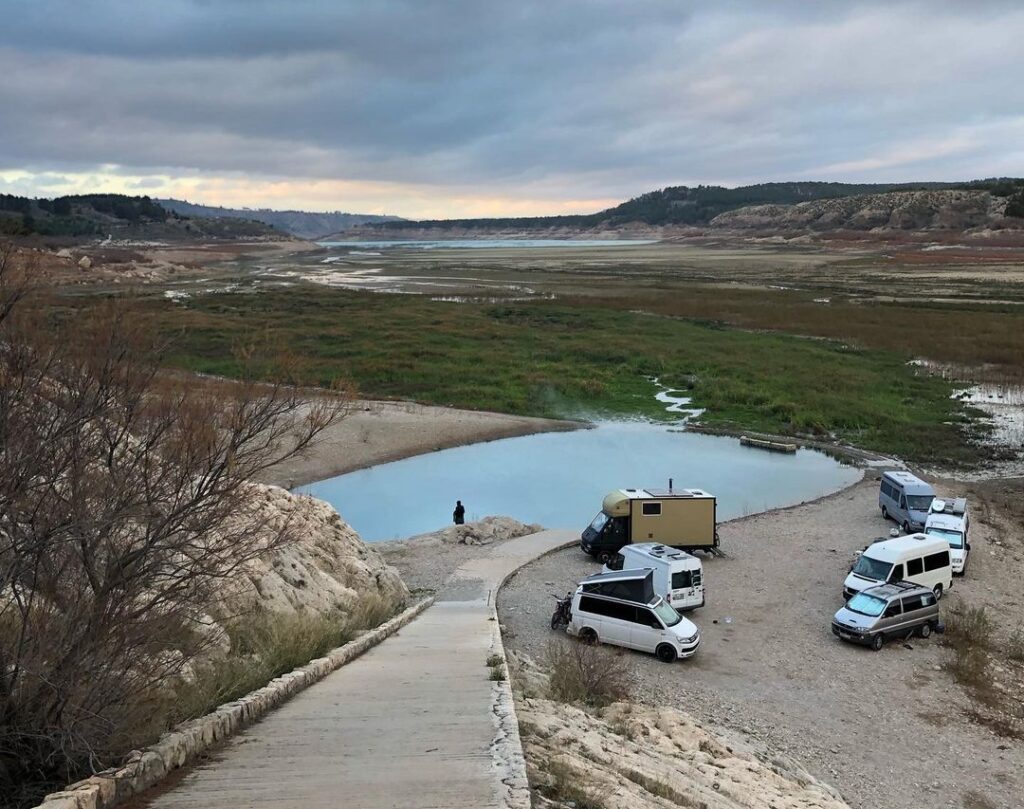 Located along the shores of the turquoise blue lake known as Embalse del Negratin, you will find Baños de Zujar, a naturally warm thermal bath that merges with the lake. The views here are just stunning, making it a place you could stay all day long,
Surrounded by rugged mountains, this is also an excellent area for hiking, where you can look down over the springs from nearby viewpoints.
Get here early to enjoy the complimentary hot springs before the crowds arrive. Remember that the path leading down is very steep and can be slippery, so take great caution.
Address: Granada, Spain
3. Caldas de Lobios, Galicia – a natural hot pool to use all year round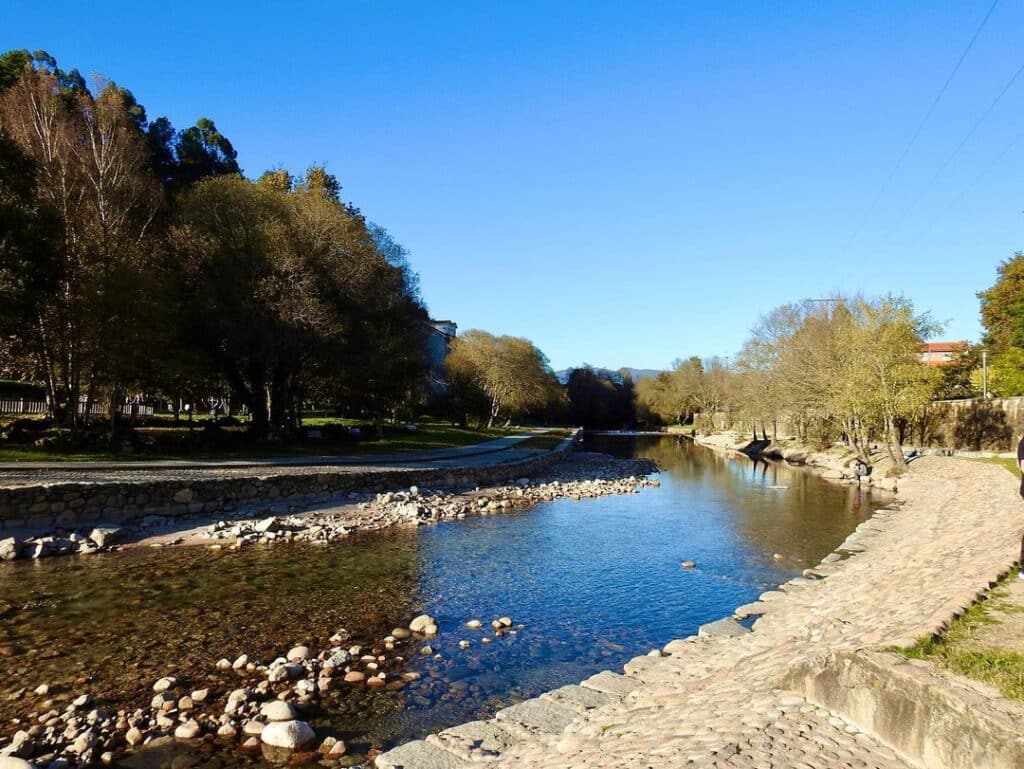 Situated perfectly along the Rio Caldo, very close to the Portuguese border, the hot water of Caldas de Lobios flows. The waters run hot, so if you feel yourself burning up, just take a dip in the nearby cold water river, which makes a great activity.
This free outdoor thermal pool is one of the best hot springs in Spain, making it hard to believe that it is entirely 'gratis' (free). So, if you are in the area, you need to check them out.
The temperature varies, so it is best to move around to find the perfect place to relax, noting that the hottest area will be closest to the source. We cannot recommend this place enough for Galicia's relaxing outdoor spa day.
Address: 32895 Os Baños, Province of Ourense, Spain
2. Baños de Lodo, Murcia – one of the largest outdoor mud baths in Europe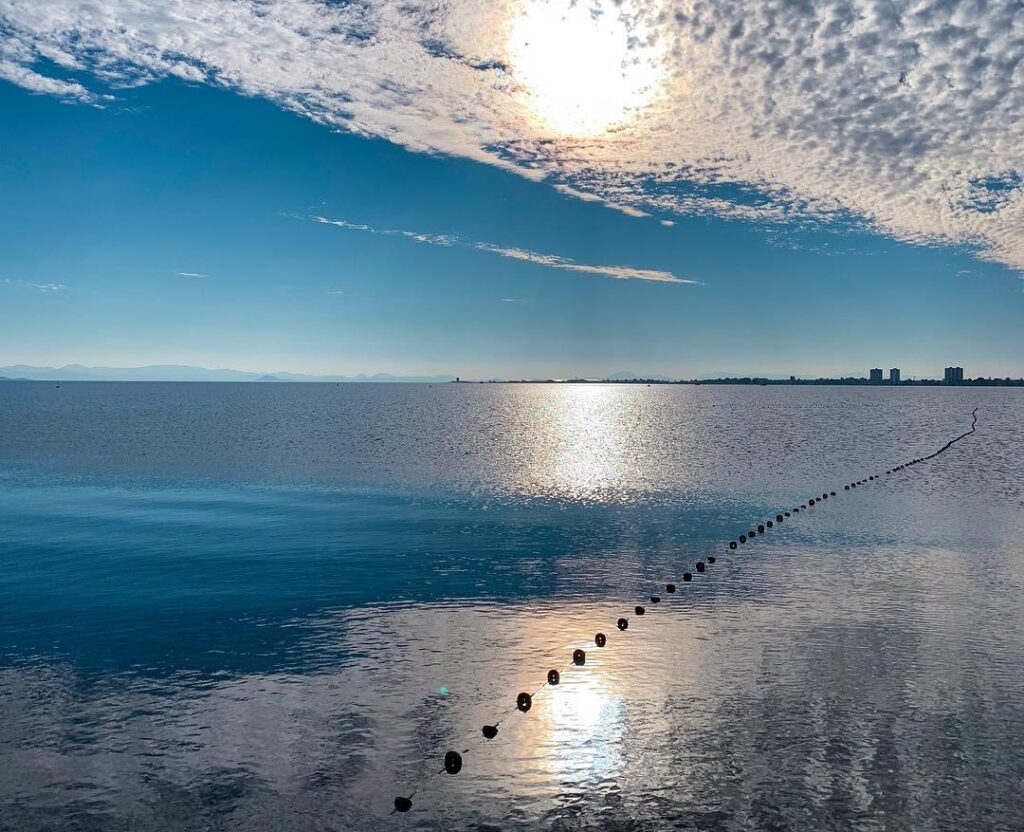 What if we told you that the region of Murcia is home to some of the best mud baths around? Well, it's true.
Baños de Lodo is, in fact, one of the most expansive outdoor mud bath areas in Europe. So, it is no wonder that it draws both locals and visitors here every year.
The incredible warm waters of Baños de Lodo come from Mar Menor, a huge saltwater lagoon known as the Sea of Health, making this one of the best hot springs in Spain worth visiting.
It is known for being shallow, having high amounts of saline, and healing mud, which just sounds idyllic.
Address: Carr. Camino Quintin, 10, 30740 San Pedro del Pinatar, Murcia, Spain
1. Alhama de Aragon, Zaragoza – one of the best hot springs in Spain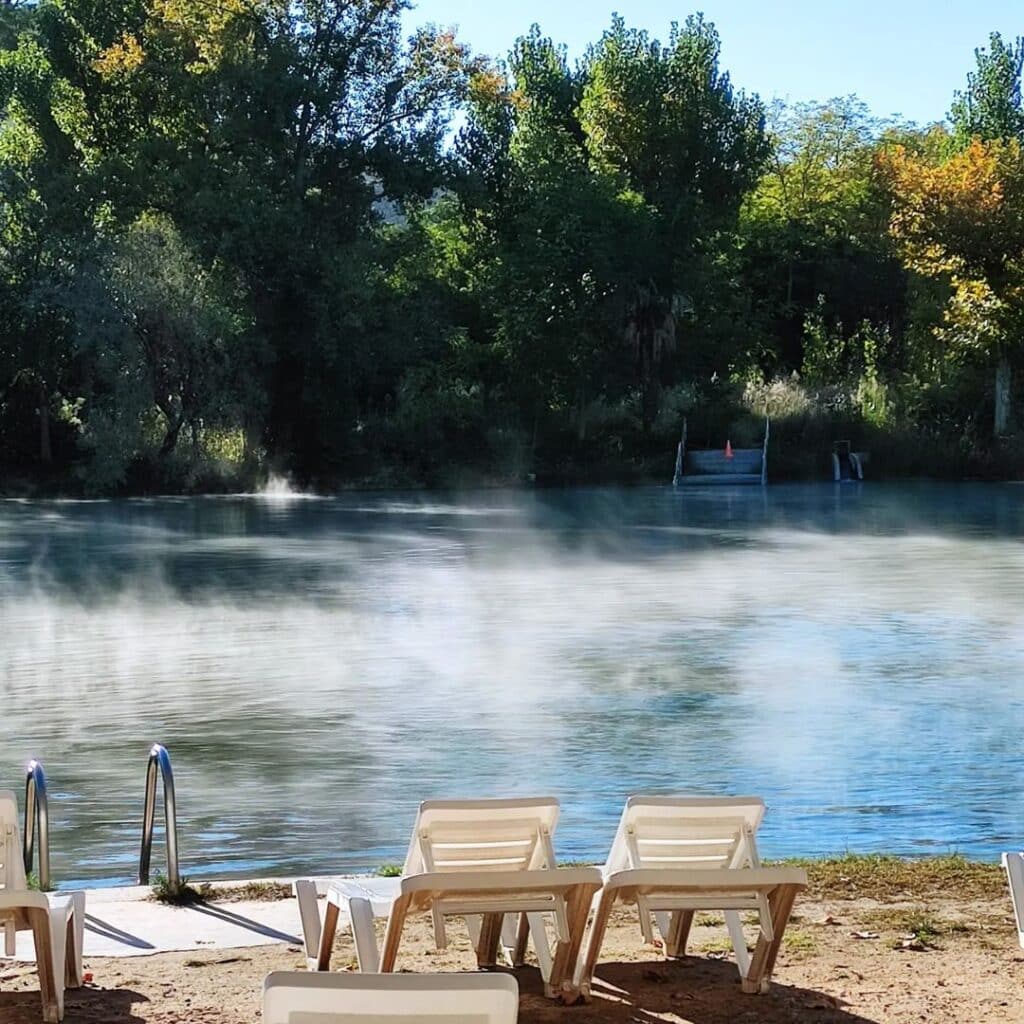 What can we say? This lake has a unique feature and is a true hidden gem, making it one of the best hot springs in Spain you need to visit.
The thermal lake, known locally as El Lago, maintains a constant water temperature of 32 C (89.6 F) all year long. So, even in the depths of winter, this will be a perfect place to venture for a warm water bath.
Tickets are priced at €21 per person for the entire day, and children under four enter for free; however, if you stay at one of the surrounding hotels, it is included in your package.
If you want to go that step further, don't hesitate to take advantage of the spa treatments available at the surrounding spas, which make a perfect addition to a day at El Lago.
Address: Lago Termal, 50230 Alhama de Aragón, Zaragoza, Spain
Check out: Top 10 best Spanish island holidays.
Read also: Hot Springs Utah.
Read more: Hot Springs New Mexico.
Notable mentions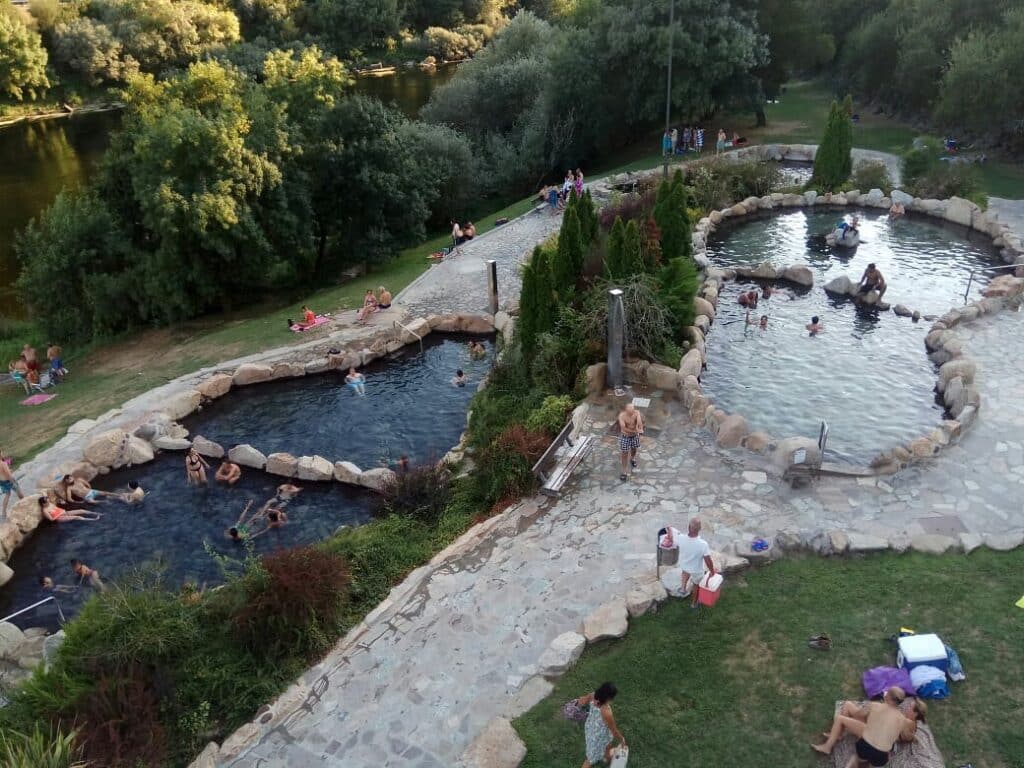 Caldas de Outariz, Galicia: These Japanese-inspired hot springs overlooking the Miño River must be in Galicia.
La Fontcalda, Tarragona: Featuring a nearby restaurant and plenty of hiking and biking trails in the region, this is a hot spring that can be perfectly combined with a day of adventure.
Aigües Termals de Montanejos:Located in the Montanejos hiking region, these are one of the hot best hot springs in Spain for their location and natural surroundings.
Aire de Barcelona: These luxurious thermal springs in Barcelona are a must for those seeking to experience ancient baths and treatments.
Muiño da Veiga: Filled with abundant phylum and curative properties, Muiño da Veiga is an excellent choice when it comes to high-temperature hot springs in Spain.
Your questions answered about the best hot springs in Spain
Are there natural hot springs in Spain?
Yes, many are scattered all over the country. So, no matter where you are in Spain, you will never be too far from a hot spring.
Can you go underwater in hot springs?
Unfortunately, due to the variety of bacteria and organisms sometimes found in hot springs, it is not recommended to put your head underwater.
Are there hot springs in Galicia, Spain?
Yes, Caldas de Lobios and Caldas de Outariz are both located in Galicia.
With these five best hot springs in Spain, you will have every opportunity to relax, revitalize, and rejuvenate. You can find an outdoor swimming pool at these stunning natural spots, no matter where in the country you are.
So be sure to add these to your list to experience another side of Spain that will captivate you.