Portugal just got a whole lot more enticing, with these five best waterparks guaranteed to provide endless hours of aquatic entertainment for the entire family.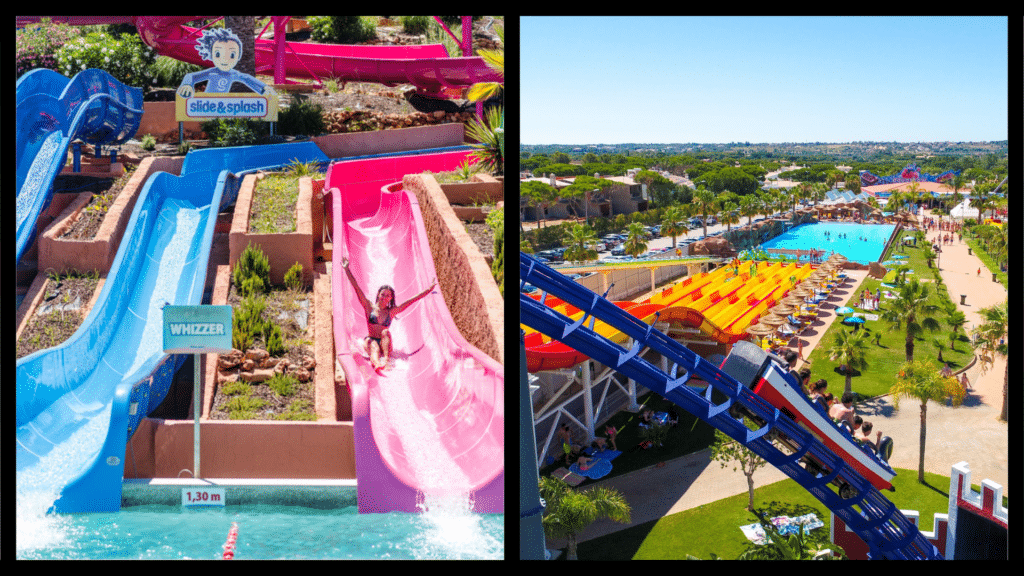 Portugal is a top destination for many reasons, including its serene beaches, great climate, fantastic cuisine, and various activities for people of all ages.
If you are travelling with children and are looking for an outdoor water adventure, then you need to take a look at these incredible waterparks in Portugal, which guarantee a wet and wild experience for the entire family.
So, if you are looking for some inspiration this summer, here are the five best waterparks in Portugal, ranked.
The World Bucket List's tips for the best waterparks in Portugal
Pack appropriate swimwear, towels, and sunscreen to ensure you have everything you need for a day at the water park.
Consider purchasing tickets online in advance to save time and potentially benefit from discounted prices.
Plan your visit on weekdays or during non-peak hours to avoid long queues and crowds.
Check if the water park offers locker rentals or storage facilities to secure your belongings.
5. Zoomarine Algarve, Guia – more than just a waterpark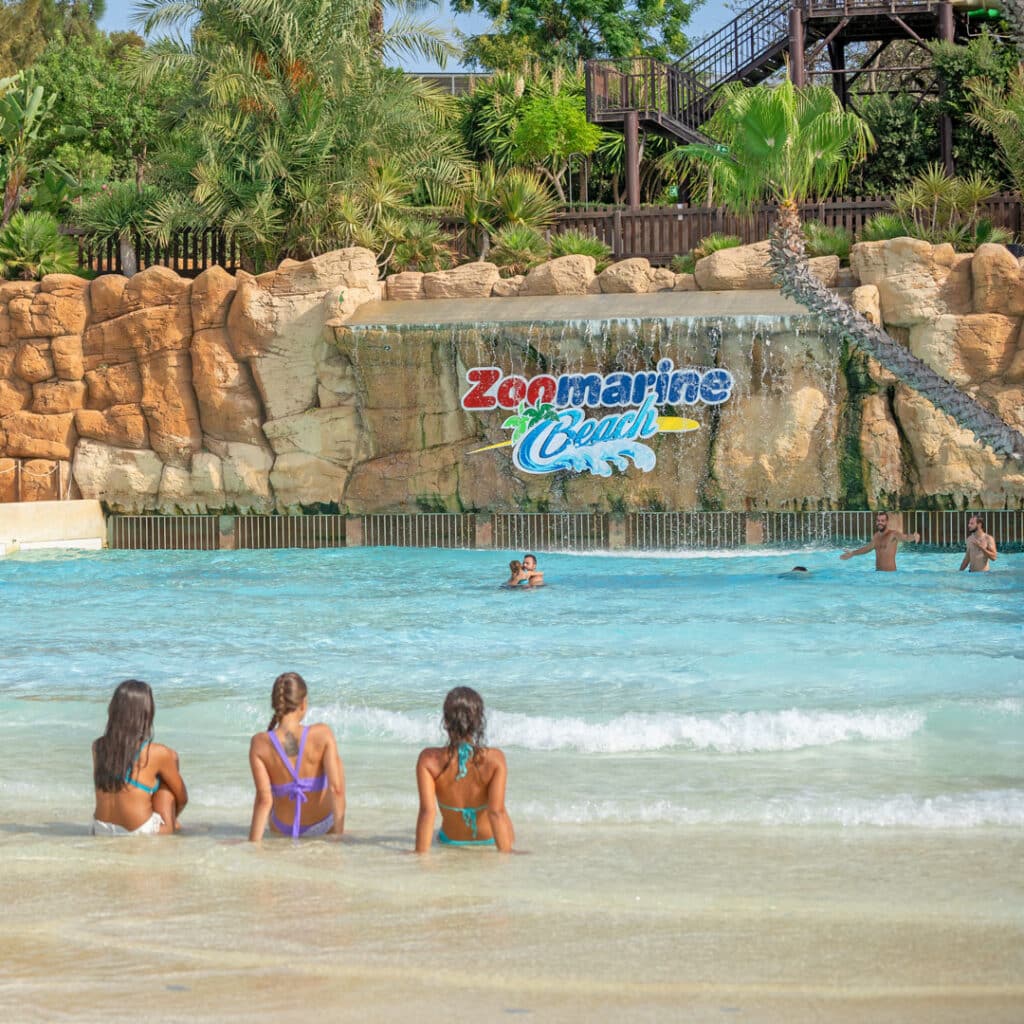 One of the best waterparks in Portugal has to be Zoomarine, which is located on the Algarve coast. It is the perfect place for a wide range of fun and adventure, especially if you or your kids are animal-lovers.
Here, you can find zoological attractions as well as aquatic attractions, and if this is not enough, there is even a 4D cinema, an aquarium, and, of course, a wide range of captivating water activities to choose from.
If you plan a visit to Zoomarine Algarve, time will fly by with all the fun and excitement that is on offer here. The park is open from April to October, so you have plenty of time to visit.
Address: N125 KM 65, 8201-864 Guia, Portugal
Read also: 5 warmest places in Europe in March.
4. Norpark, Nazaré – one of the best waterparks in Portugal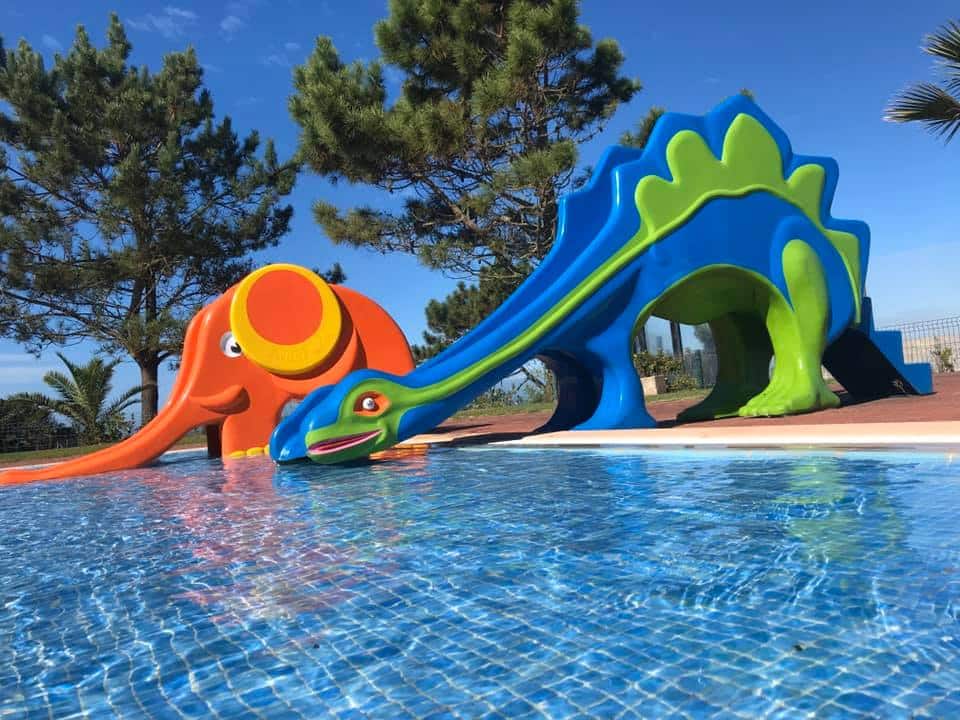 Located in Nazare, Portugal, home of the biggest waves in the world, Norpark, which is situated next to the Northern beach of Nazaré, is a hub for entertainment and fun.
From their giant jacuzzi and semi-Olympic pool to their dedicated children's area and an array of waterslides, there is something great to be said about Norpark and its awesome natural setting.
One of the coolest things about this park is that while you are taking a break from your water adventures, you can opt to check out the world-class surfers at Nazare Beach, who come from all over the world to take on the giant waves.
You have entertainment all around you at this popular waterpark, which is open from June to September.
Address: R. Praia do Norte, 2450-065 Nazaré, Portugal
3. Aqualand Water Park Algarve, Alcantarilha – ideal for everyone with a sense of adventure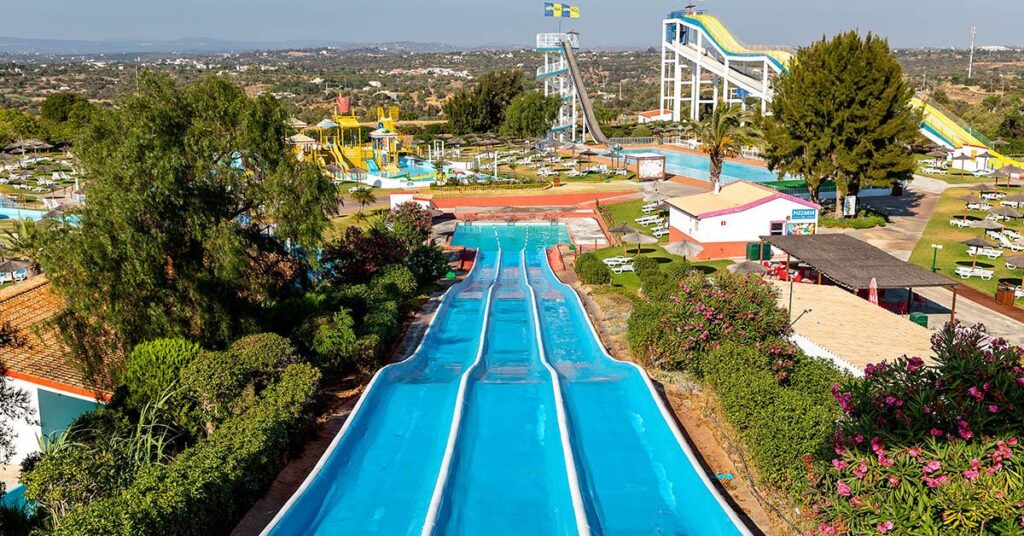 Whatever your energy level, Aqualand Algarve has it all, making it one of the best waterparks in Portugal.
Featuring a super long lazy Congo River, a range of shallow pools, fun for little ones, and a host of more adrenaline-filled options for those that dare take it on, there are endless hours of fun on offer here.
Here, you can opt to enjoy the waves at the Surf Beach, skim the water on a Banzai, experience the thrill of white-water rapids, test out the flying carpets, or even just relax on one of the many sun loungers and soak up the Portuguese sun.
You will certainly be kept busy here at Aqualand, and that is a guarantee. The park is open from June to September.
Address: Aqualand Algarve, Estrada Nacional 125 – Sítio das Areias, 8365-908 Alcantarilha, Portugal
2. Aquashow Park Hotel, Quarteira – featuring the thrilling Free Fall waterslide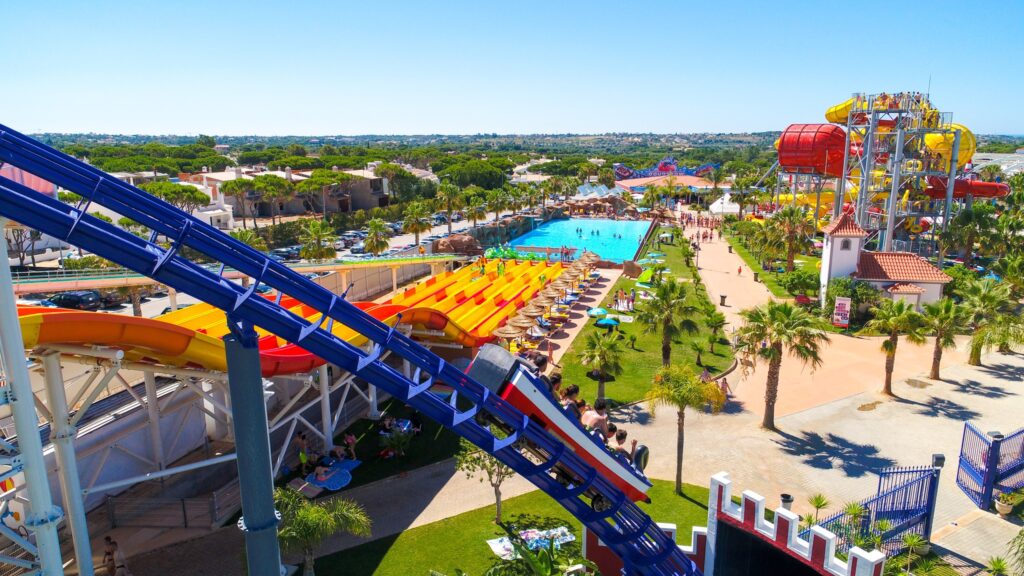 This waterpark hotel is the ideal place to create your base and make sure you can spend as much time in the water as possible.
Located on the Algarve, which has sunshine all year round, this popular waterpark and hotel offers a range of thrilling water attractions.
As the closest water park to Albufeira, this is a popular spot with holidaymakers. They even offer fun activities, such as reptile shows and parrot shows to keep everyone entertained throughout their stay.
If you are up for the challenge, make sure to give the 'Free Fall' a try, which is the tallest free-falling water slide in Europe – and is not for the faint-hearted. Oh, and it even has the biggest wave pool in Portugal, so you can enjoy a memorable experience.
The park is located close to Faro and close to many coastal landmarks. So, if, for whatever reason, you want more out of your holiday, you have it all on your doorstep at Aquashow.
The park is open from June to September. This family-friendly hotel and waterpark is a must-visit for families with kids.
Address: Aquashow Hotel, Semino, E. N. 396, 8125-303 Quarteira, Portugal
1. Slide & Splash, Estômbar – a top choice for all ages as the biggest water park in Portugal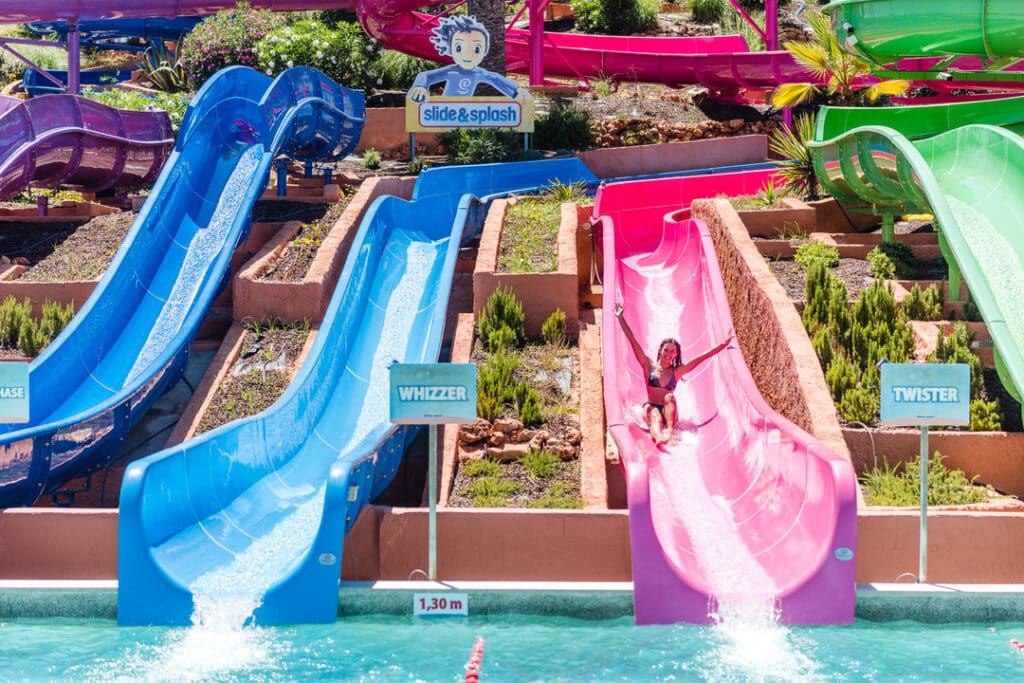 As the largest waterpark in Portugal, and one of the best in Europe, this has to be the number one choice for a wet and wild adventure on the Algarve.
The park is a whopping ten hectares large, with an array of entertainment for all ages. There are also sun loungers, a fish spa, eateries, and so much more, keeping the whole group satisfied.
With 35 years of aquatic experience under their belt, making it the oldest waterpark in Portugal, you can be sure that Slide & Splash offers a safe and comfortable spot to spend your time.
There are plenty of fun slides, lots of onsite parking, and a direct shuttle service to make your visit even easier and hassle-free. The park is open from June to September.
Address: Slide & Splash, Portugal PT, Vale de Deus 125, 8401-901 Estômbar, Portugal
Read also: Best theme parks in Europe.
Read also: Top 10 best things to do in Sintra Cascais natural park.
Check out: Top 10 incredible caves in Portugal.
Read more: 10 best spots for surfing in Lagos.
Notable mentions

Amarante Waterpark: The largest mountain waterpark on the Iberian Peninsula.
Sportage: The closest waterpark to Lisbon, located in the popular area of Peniche.
Mariparque Water Park: A popular theme park and waterpark featuring toboggans and several outdoor pools. Located halfway between Lisbon and Porto, Mariparque Water Park is one of the best waterparks in Portugal.
Aquaparque Santa Cruz: Featuring seawater swimming pools, a saltwater lazy river, and live animal shows.
FAQs about the best waterparks in Portugal
What is the coldest month in Portugal?
January is the coldest month in Portugal, with average daily temperatures of 11 C (51.80 F).
What is the cheapest time to fly to Portugal?
The cheapest time to fly to Portugal is the colder months of January and February. At this time, crowds are fewer and the season is still very much off-peak.
What is the best area to stay in Portugal?
This depends on what you plan to do. If it is wine tasting, we recommend Douro Valley. Suppose it is to explore the cities, visit Porto or Lisbon. If it is for a beach holiday, check out The Algarve region. Or, if you want good surf, visit Nazare or Peniche.
What is the most beautiful part of Portugal?
The Algarve is considered to be one of the most beautiful and most popular areas to visit. It offers stunning beaches, high cliffs, turquoise waters, and year-round sunshine. It will be one of the warmest places in Europe in March.