Plant-based pizza lovers are in for a treat in the UK's capital. Check out our favourite spots for the best vegan pizza in London below.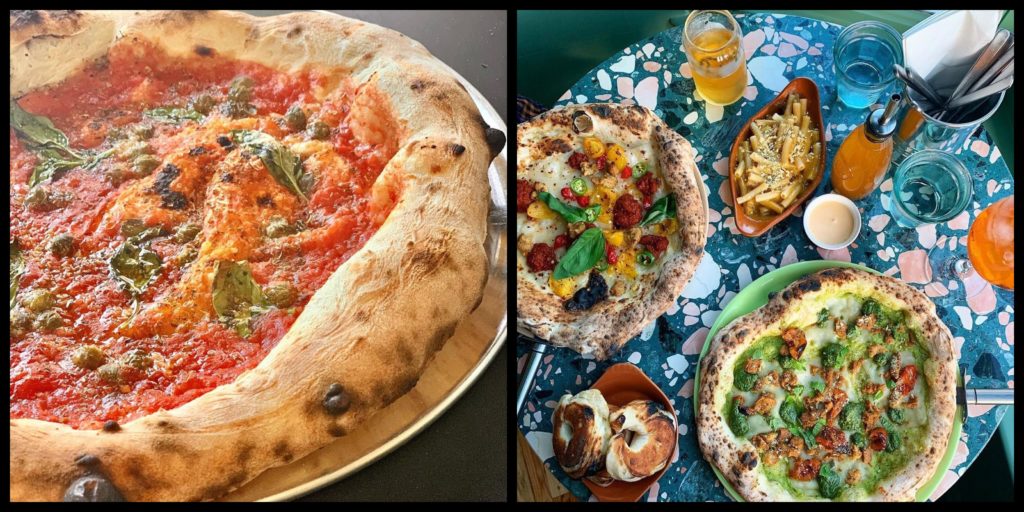 Fancy a pizza? With London's vegan scene booming and more and more people jumping on the plant-based train, it has never been easier to find Italian food in the city that is 100% animal-free.
And it's not just people on an entirely plant-based diet that gather at the cafes and restaurants –several chefs we talked to confirmed that most of their guests are non-vegans.
So, no matter if you have wholly joined the plant-based club or just want to try out something new, we have got you covered.
London is a haven for vegan restaurants, but today we are talking all things pizza. Have a look at our list of the best vegan pizza in London – and let us know your favourite.
WBL's top 4 things to look for in a good vegan pizza
A good vegan pizza starts with a high-quality crust. Some vegan pizza crusts may be made from traditional dough ingredients, while others may incorporate whole grains or alternative flour for added nutrition.
Look for a vegan cheese that melts well and has a creamy texture. Popular vegan cheese options include those made from nuts, soy, or tapioca starch.
Look for a sauce that is rich and well-balanced. Traditional tomato-based marinara sauce is a common choice, but variations like pesto or creamy sauces are also becoming more popular.
A good vegan pizza should have a variety of fresh and flavorful toppings with a diverse selection of vegetables, herbs, and plant-based protein options that complement each other.
5. PizzaExpress – a UK institution with many vegan options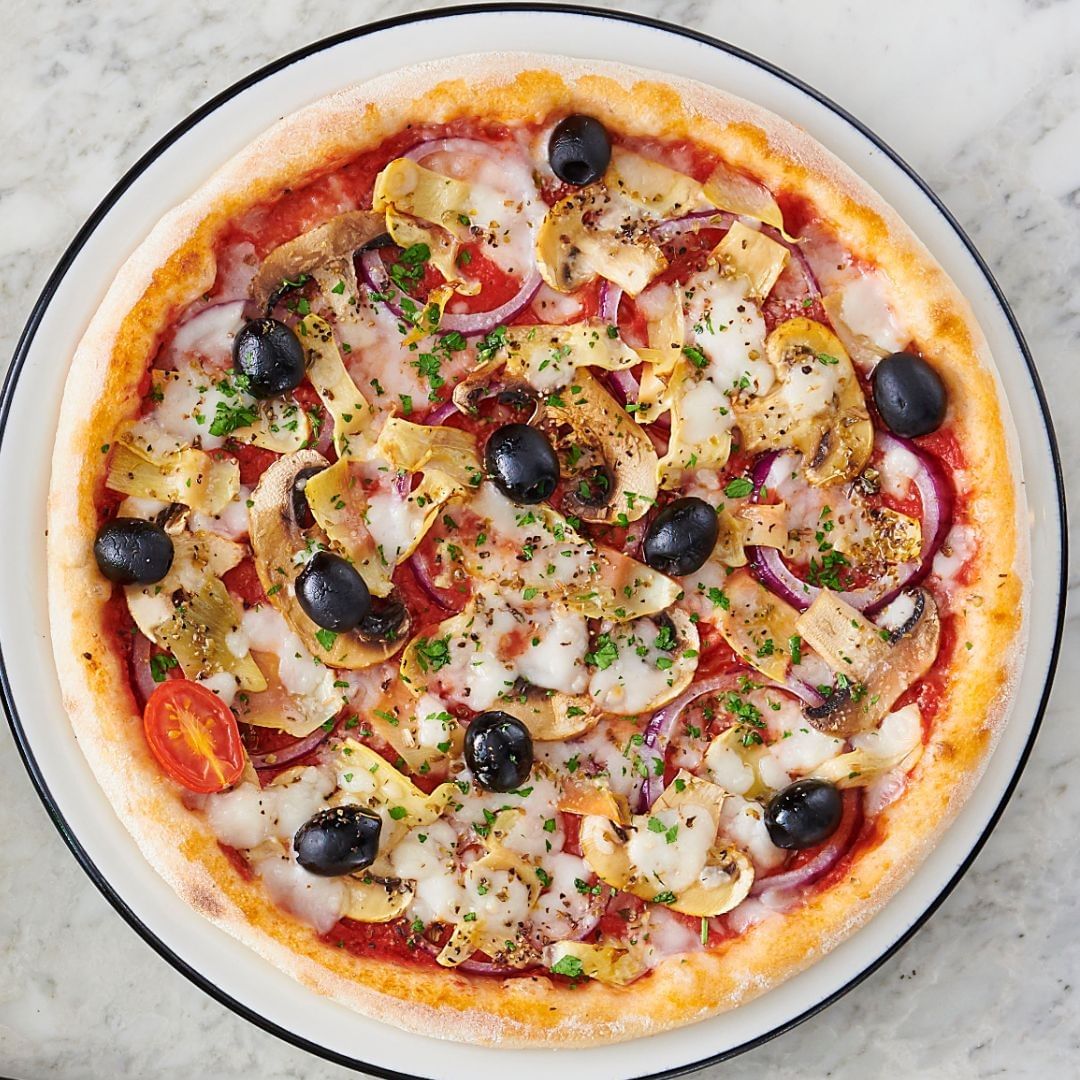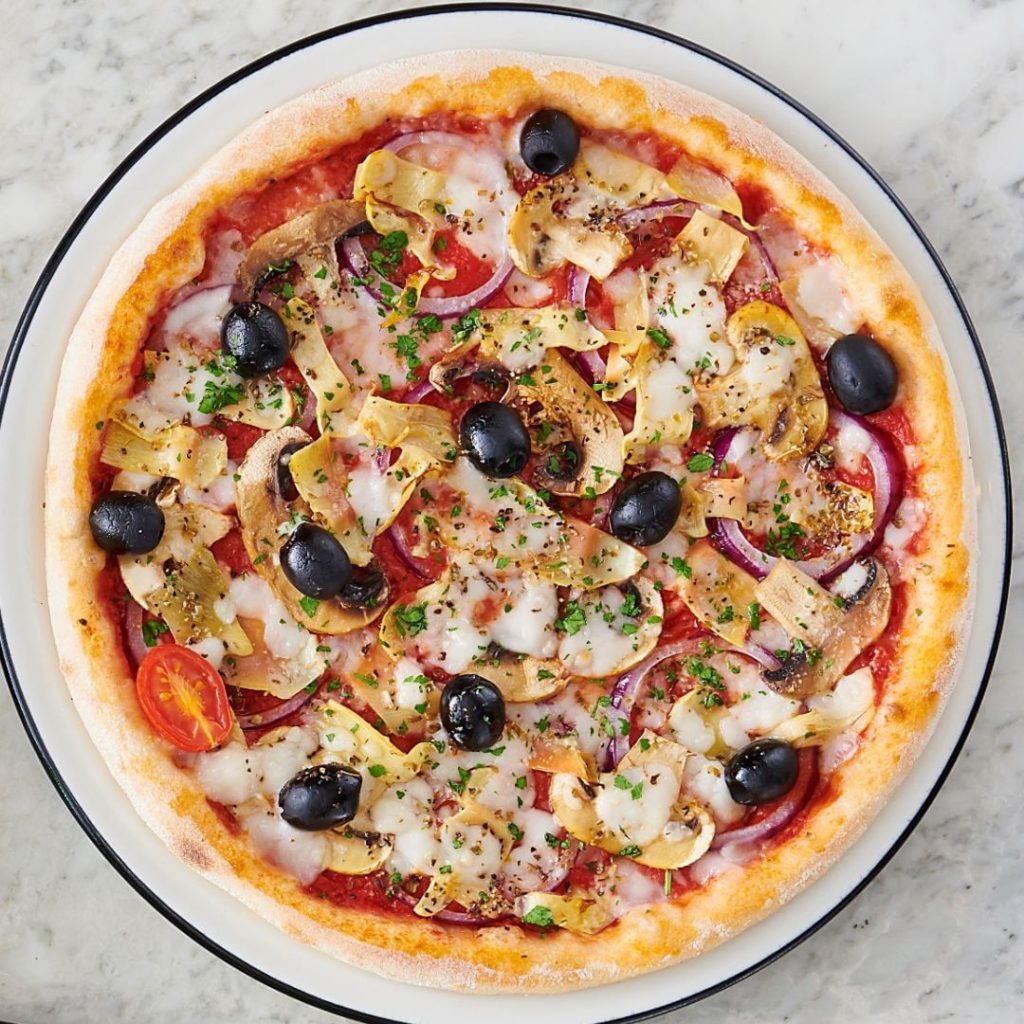 Founded in London's Wardour Street by Sicilian chef Peter Boizot, PizzaExpress has been around since 1965 and has quickly turned into an institution for fans of Italian cuisine.
Luckily for vegans, they were also among the first chains in the UK to implement a permanent plant-based menu.
Vegans can choose between the Margherita, the popular Giardiniera loaded with different vegetables, and the Veneziana (pine kernels, onions, capers, olives, sultanas, vegan mozzarella) among others, with the vegan cheese being coconut-based.
PizzaExpress has over 470 restaurants in the UK, so chances are there's one around the corner no matter where you are in the capital – making it not only an excellent option for a spontaneous Italian feast but also one of the best places for vegan pizza in London.
Address: various locations throughout London
More info: HERE 
READ ALSO: Top 10 weirdest pizza toppings and combinations, ranked
4. Plant Powered Pizza – for vegan pizza at London's most famous food markets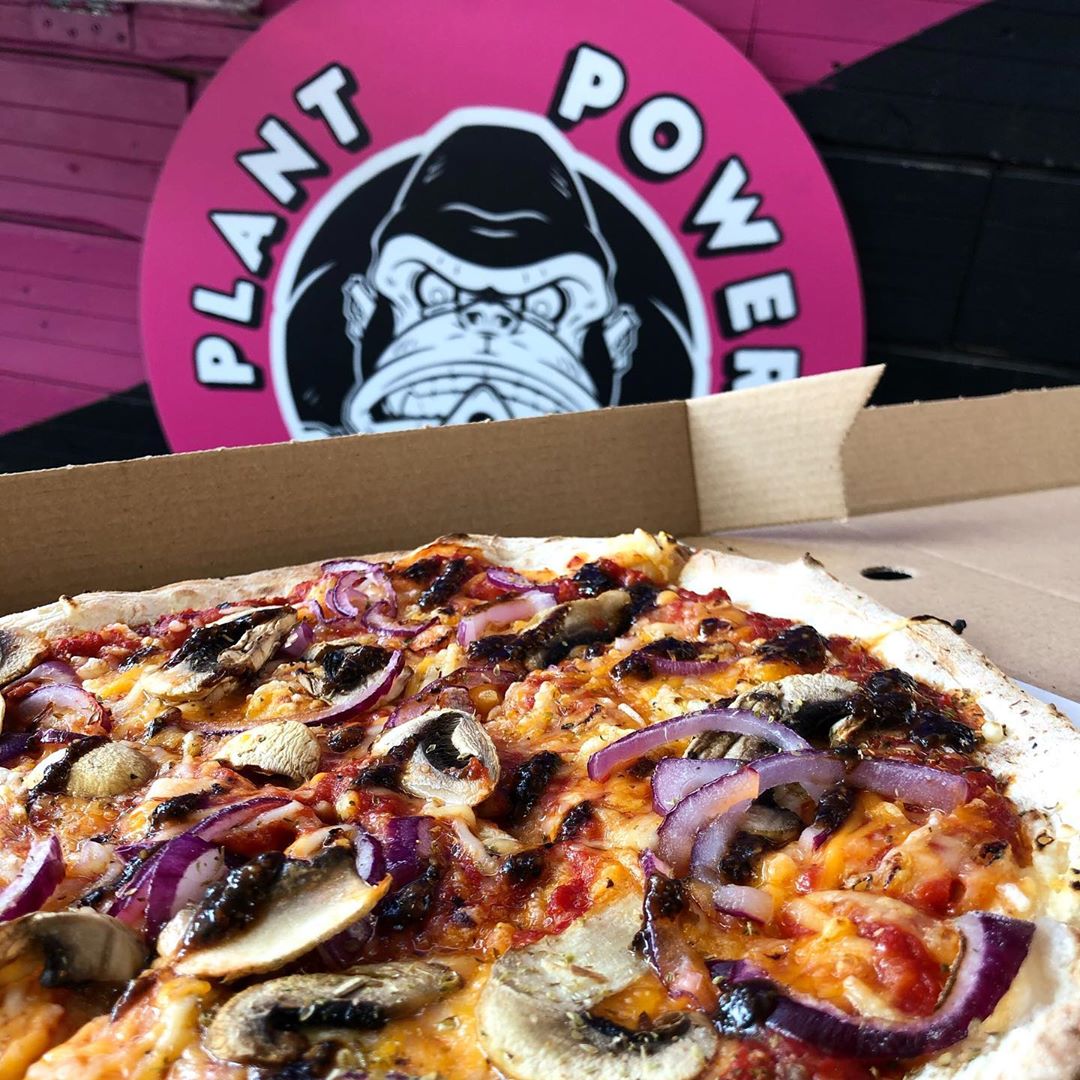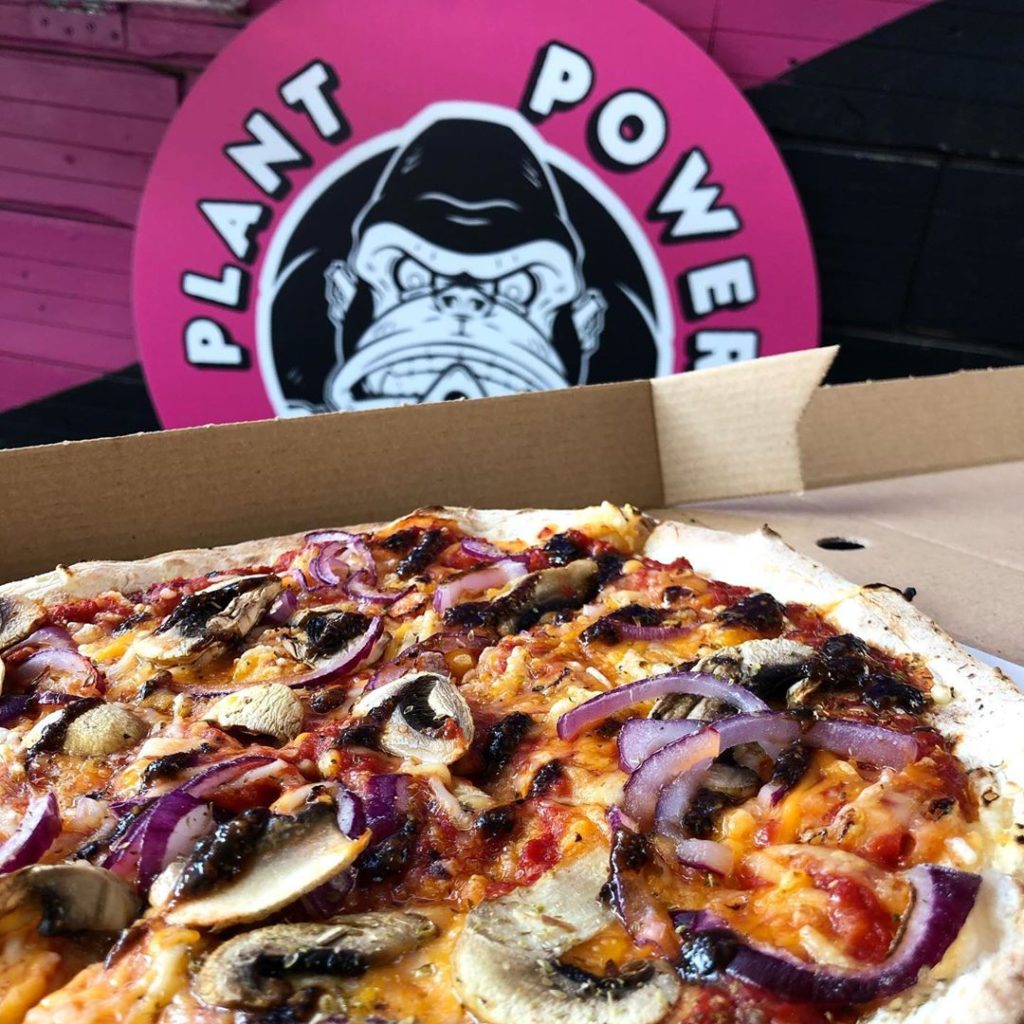 This pizza company doesn't have a permanent restaurant but the guys running it can be found at some of London's most popular foodie hotspots, including Greenwich Market, all year round (check their Instagram for location updates!).
They love to experiment with their ingredients, so it's best to show up with an open mind and taste your way through the menu.
Expect everything to land on their pizzas, from garlicky layered potatoes to smoked vegan ham and sausages to jalapenos.
And, just in case you are wondering, yes, there's pizza Hawaii with pineapples, too – and while some Napolitanas might argue pineapples and pizza really aren't a match made in foodie heaven, we challenge them to try this one!
Address: street food markets throughout London (check their Instagram!)
More info: HERE
3. Young Vegans Pizza Shop – for yummy Holy Ghost and Dead Barbie pizzas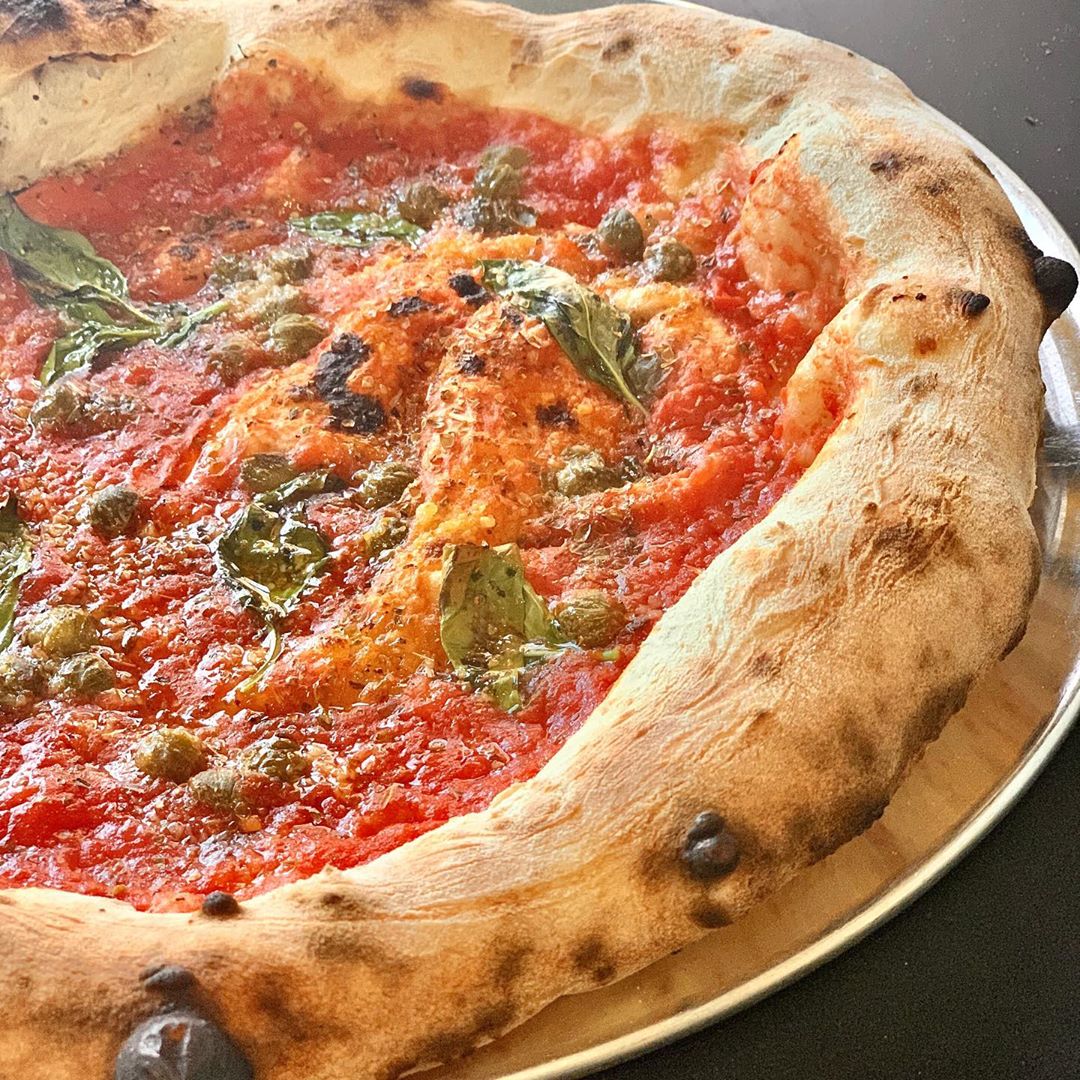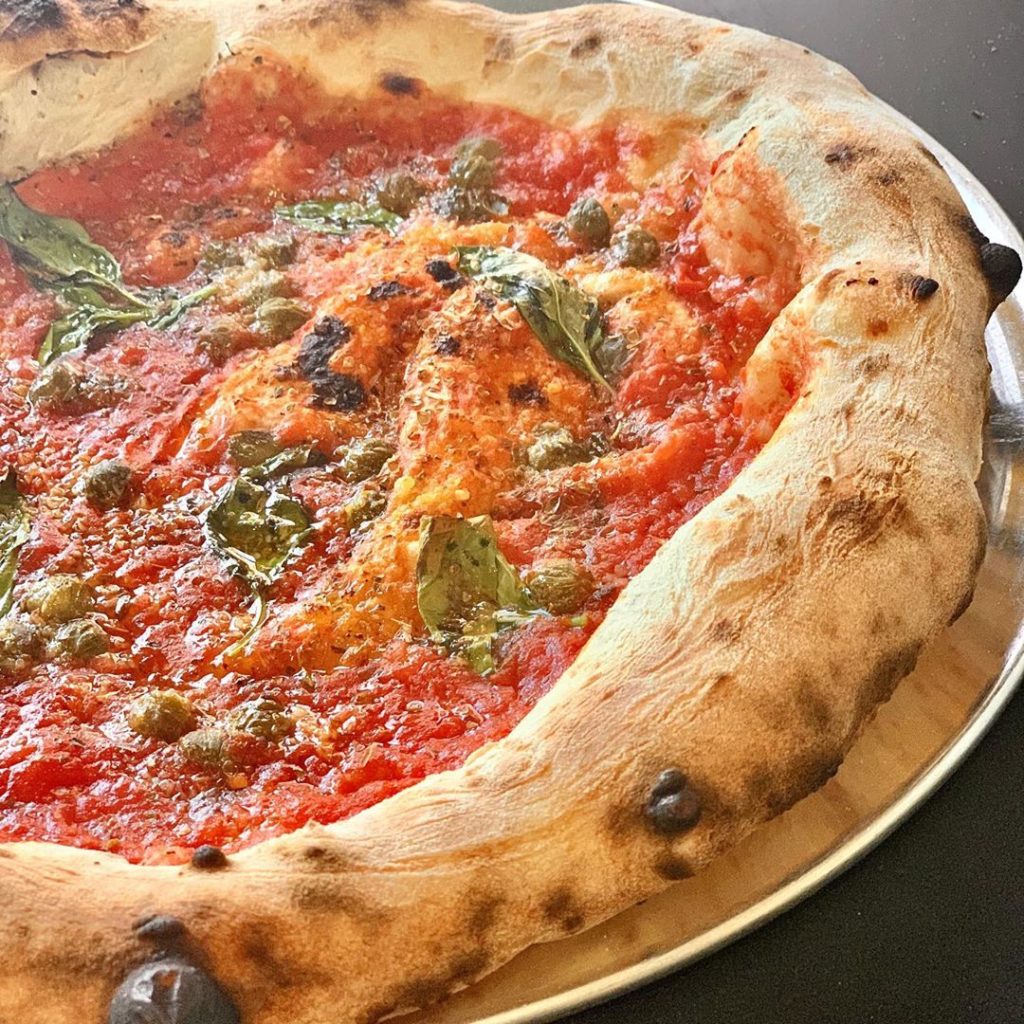 The Young Vegans started out as a guerrilla takeaway pizzeria in Eastern London before moving to a permanent home in hip Bethnal Green.
There's a hilarious story involving a brand-new pizza oven arriving from Italy only for the shop owners to discover it was too big to fit through the door – the problem was solved by dismantling the whole front to get it in.
The hassle was worth it, though.
Tasty and coming with fun names such as Holy Ghost (whipped vegan ricotta and mozzarella, red onions, spinach, and marinara sauce), Filthy Weekend (seitan ham, pineapple, vegan mozzarella, onions, marinara sauce), and Dead Barbie (seitan chicken, vegan mozzarella, BBQ sauce, onions), this is a must-visit for vegan pizza fans.
Wondering where the yummy mozzarella comes from? Their very own kitchen!
Address: 393 Cambridge Heath Rd, Cambridge Heath, London E2 9RA
More info: HERE 
READ ALSO: 10 best pizza styles you need to try at least once, ranked
2. Purezza – the first fully plant-based pizzeria in the UK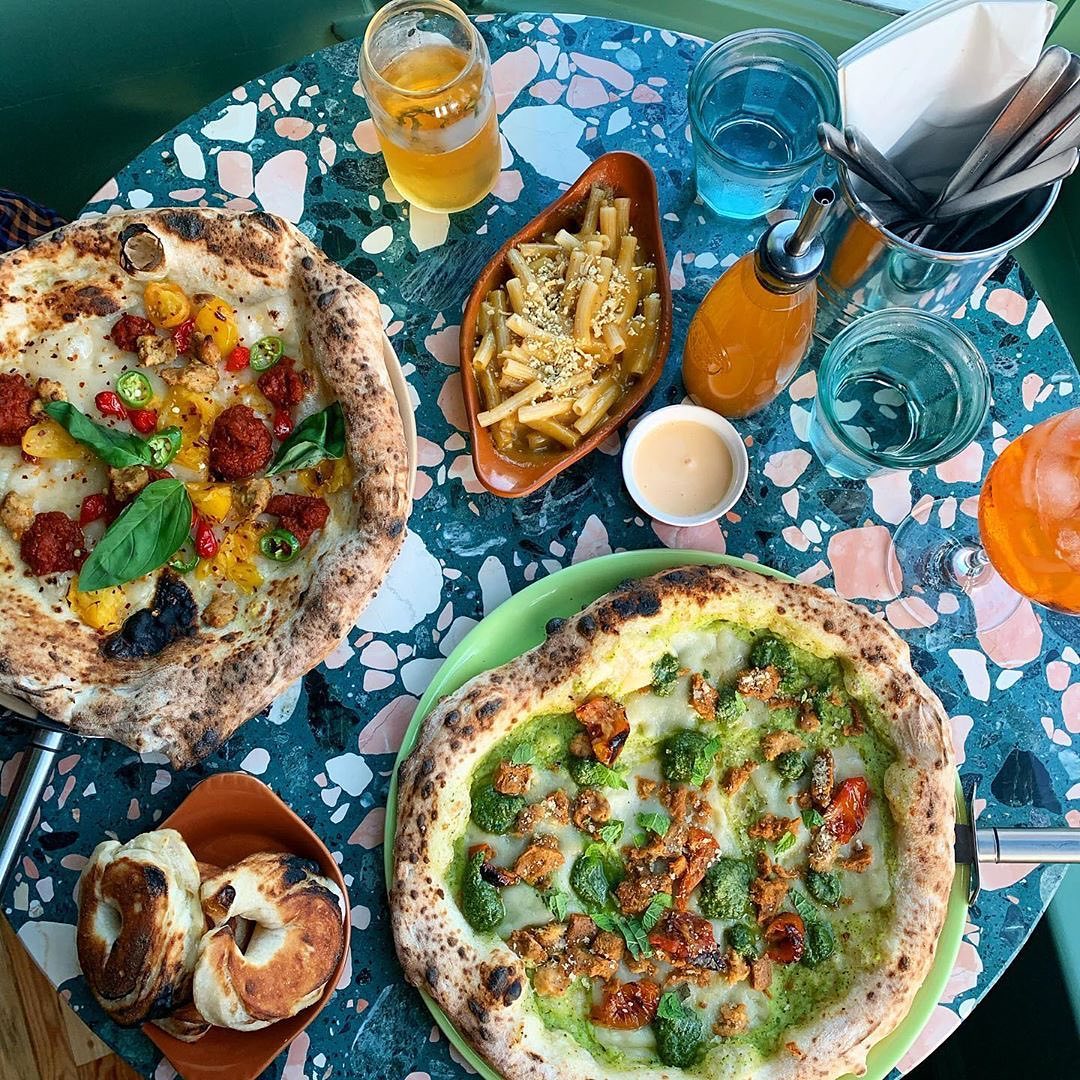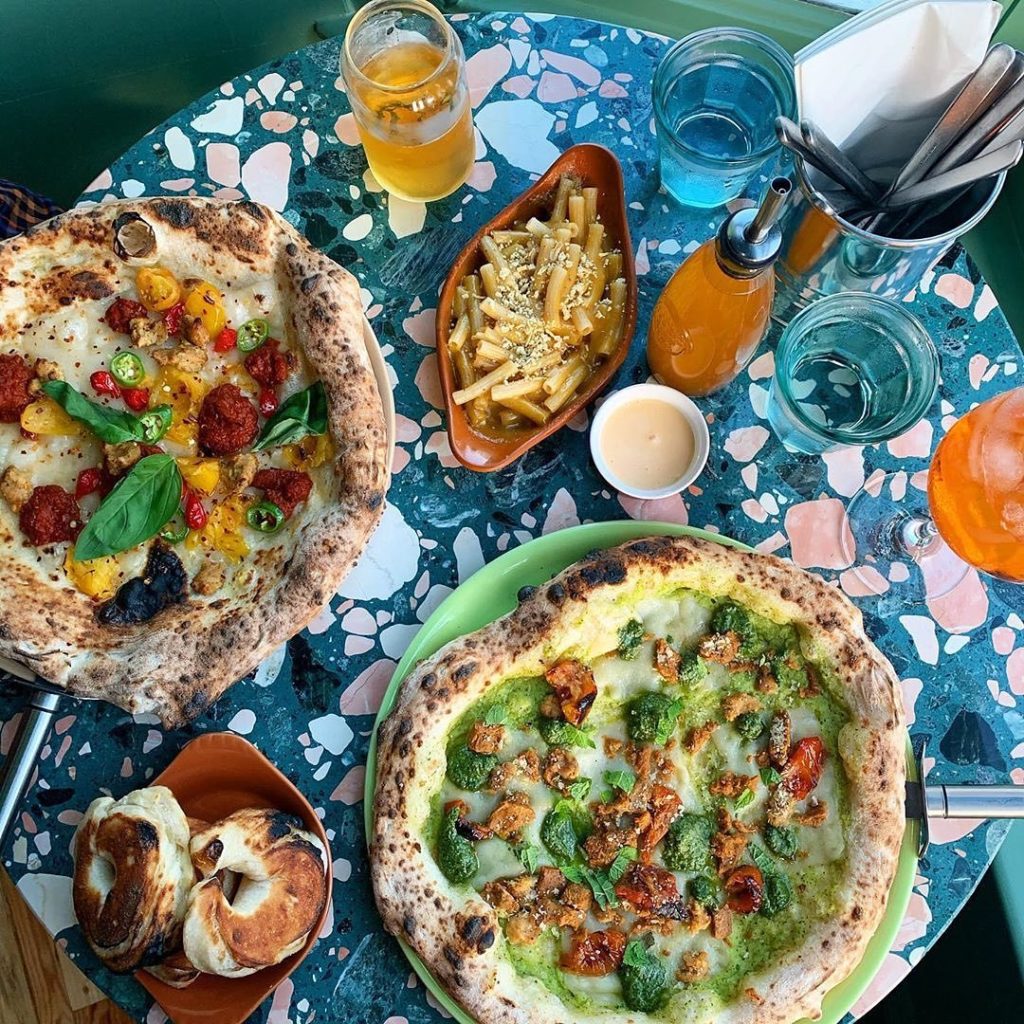 Founded in Brighton in 2015, Purezza proudly calls itself the first fully vegan pizzeria in the UK – and with an additional flagship restaurant in the capital since 2018, there was no doubt we had to put it on our list of the best vegan pizza in London.
The owners, an Italian-British vegan couple, spent over two years developing their signature mozzarella made of Italian brown rice, stressing that "it is not only tastier than traditional mozzarella, it's also less than half the calories and fat, meaning you can eat double the amount."
They also use raw cashew cheeses, a ricotta style cheese, and a coconut cheese.
The menu ranges from the classic Margherita to pizzas with oven-baked potatoes, shredded seitan, and crumbled sausages on top.
Address: 45-47 Parkway, Camden Town, London NW1 7PN, UK
More info: HERE
1. PickyWops – our winner of the best vegan pizza in London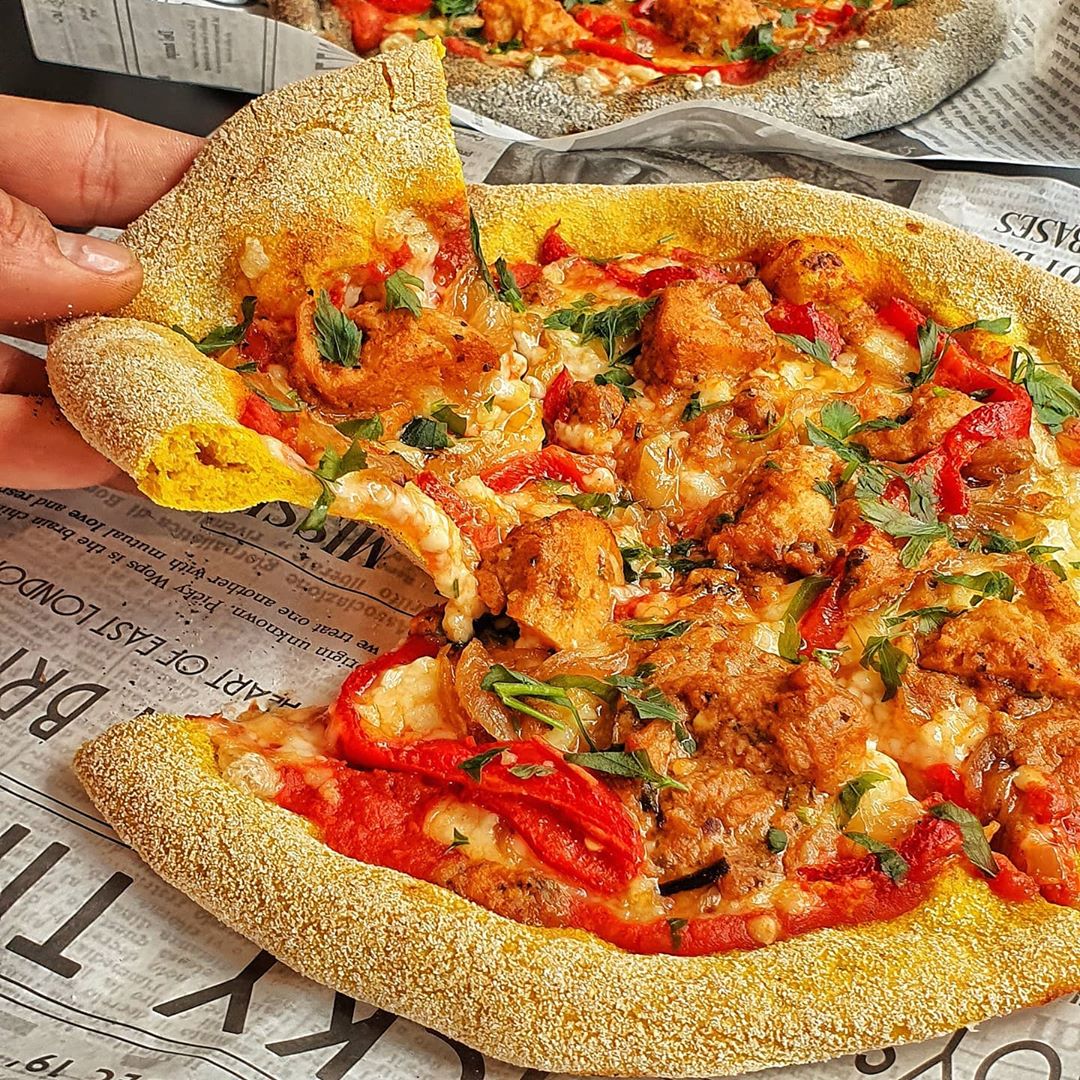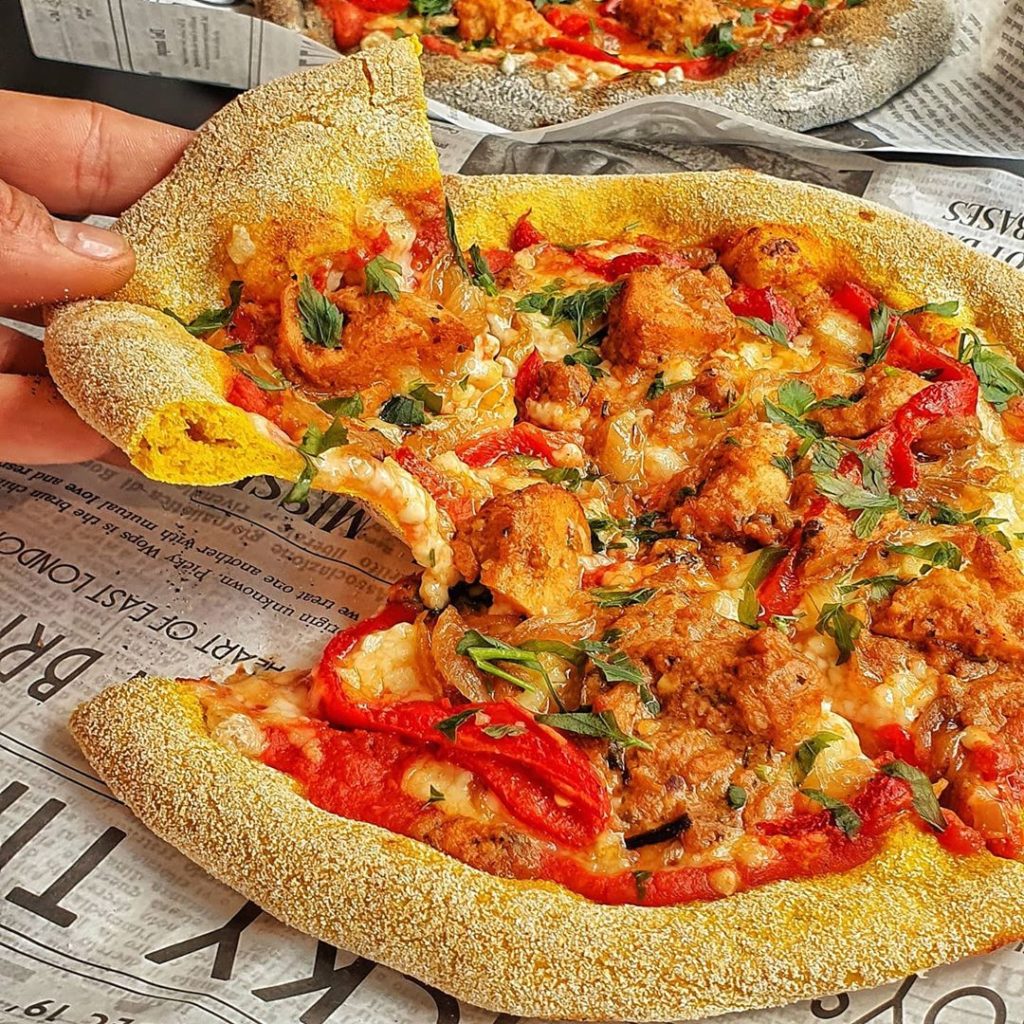 Competition for the best vegan pizza in London is tough, but PickyWops on trendy Brick Lane takes Italian plant-based cuisine to a whole new level.
Run by Italians Cristiano and Andrea, this is the place to enjoy crispy pizzas loaded with everything from veggies to (vegan) chicken and ham, homemade pesto and BBQ sauce in a fun and homey atmosphere.
Pizza lovers can choose between different bases ranging from multi-grain to burned wheat (our favourite!), hemp, turmeric, and gluten-free, while the cheese on top is coconut-based.
PickyWops regularly collaborates with other vegan businesses, so keep your eyes peeled for specials such as Indian-Italian fusion pizzas (Friday to Sunday in collaboration with Omkara). And if you are unsure what to order, just ask the owners or one of the (many) regulars for their favourites.
Address: 53 Brick Lane, London E1 6PU, UK
More info: HERE
RELATED READING: Top 10 best vegan restaurants in Rome
Your questions answered about vegan restaurants in London
If you still want to know more about Vegan Pizza in London, worry not! In the section below, we've compiled and answered some of the most commonly asked questions about this topic to us and from our readers online.
Which Restaurant has the best vegan pizza in London?
Brick Lane's trendy restaurant PickyWops is our pick for the best vegan restaurant in London.
Is London a vegan-friendly city?
London is one of the most vegan-friendly cities in the world and has one of the most diverse food scenes in Europe. ​
How many vegan restaurants are in London?
As of 2022, there were over 400 vegan and vegan-friendly restaurants across England's capital city.
MORE ARTICLES ON LONDON:
BRUNCH close to London Bridge: 10 EPIC spots
Top 10 best BEACHES near London for a day trip, RANKED
Top 10 best HOTELS with a VIEW in London
Top 10 iconic filming locations in London
Top 10 hidden gems in London that tourists never see
Top 10 best day trips from London by train
Top 10 best hotels in London with a balcony, RANKED
Top 10 best hidden gems in London, ranked