From the party island of Mykonos to the dramatic backdrop of Santorini, the cool shores of Koufonisia to the pristine beaches of Zakynthos, these are the ten most beautiful Greek island villas to rent.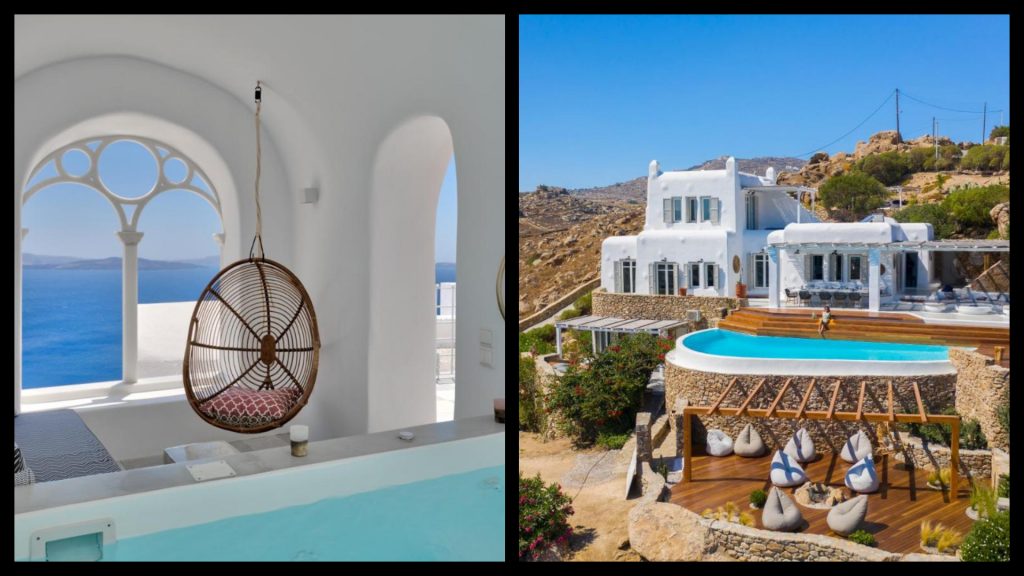 Greece is a longstanding destination for travellers world-over. There's certainly much to love about Greece with its rare fusion of culture and history, party towns, and stunning beaches.
With up to 6,000 islands that stretch across the Aegean Sea, you'll be spoiled for choice when it comes to where to stay. To make matters all the easier, we've rounded up our top ten Greek island villas to rent.
10. Glyfada's Villa, Naxos – the beachfront escape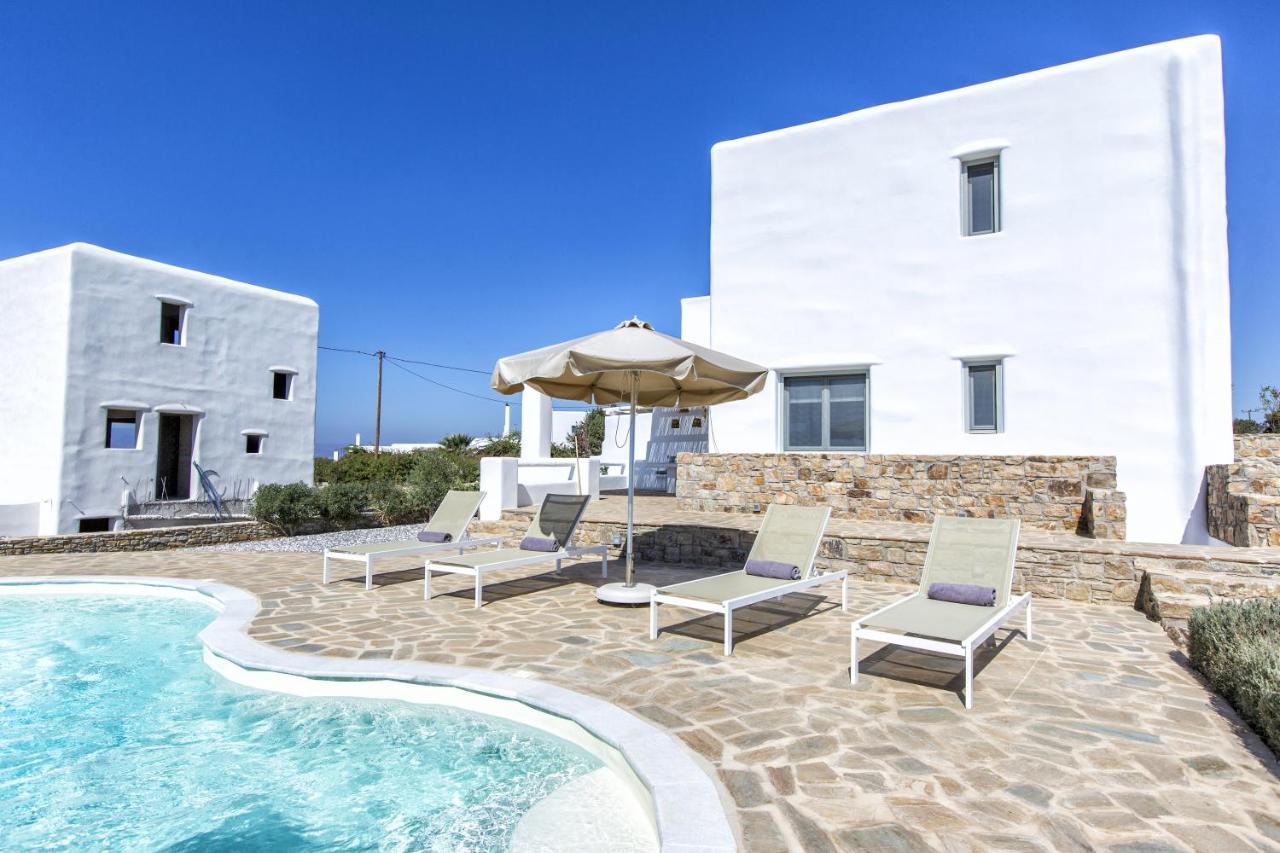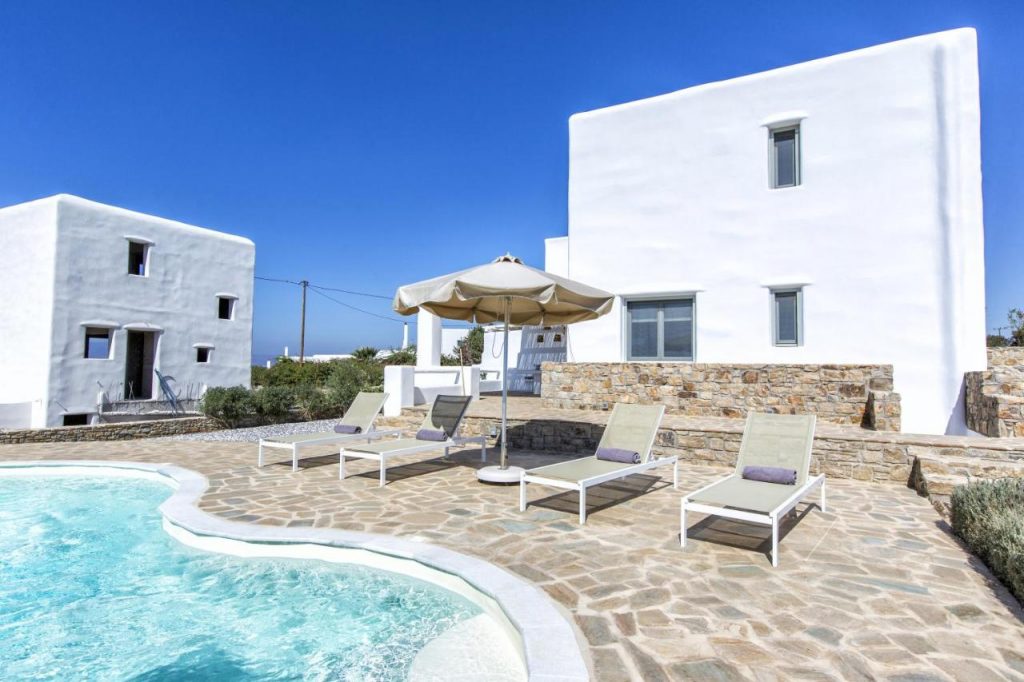 For those who crave a remote oasis, detached from the rest of the world, head to Naxos. This idyllic island is known as a low-key paradise for those who like to live on island time.
This villa oozes authentic charm but is equally fresh and modern. There's much to love about this villa with its five bedrooms, three bathrooms, terrace, pool, and garden.
Address: Naxos Greece, Kastraki Naxou, 84302, Greece 
More info: HERE
9. Villa Artisti, Mykonos – the one to fit friends or family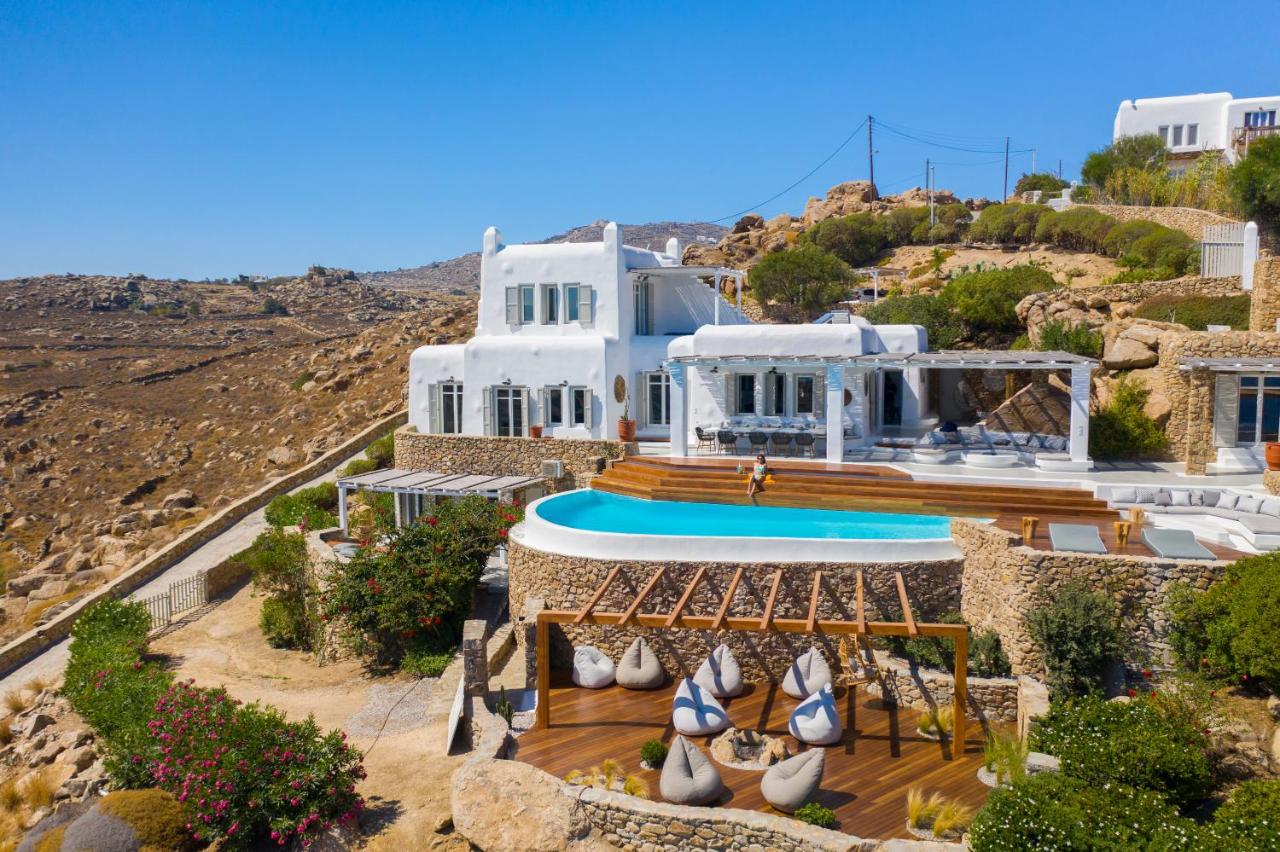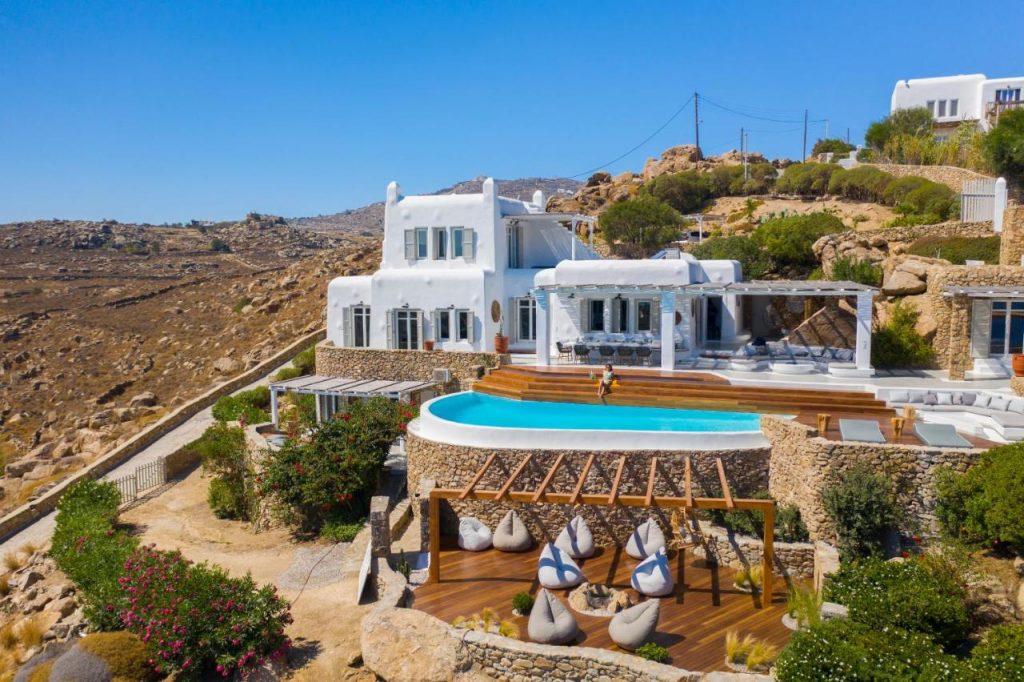 If you're travelling in a group, Villa Artisti in Mykonos might be best for you. This stunning villa sleeps up to twelve guests across six large bedrooms.
Sitting atop Agrari Village, guests can enjoy bird's eye views over the sea and town below as they stretch out on sun loungers beside the pool.
Located just over 8 kilometres (5 miles) from the centre of Mykonos, this is an ideal base if travelling to enjoy all this vibrant island has to offer.
Address: Μύκονος 846 00, Greece
More info: HERE
8. Agostenga, Zakynthos – for old-school traditional vibes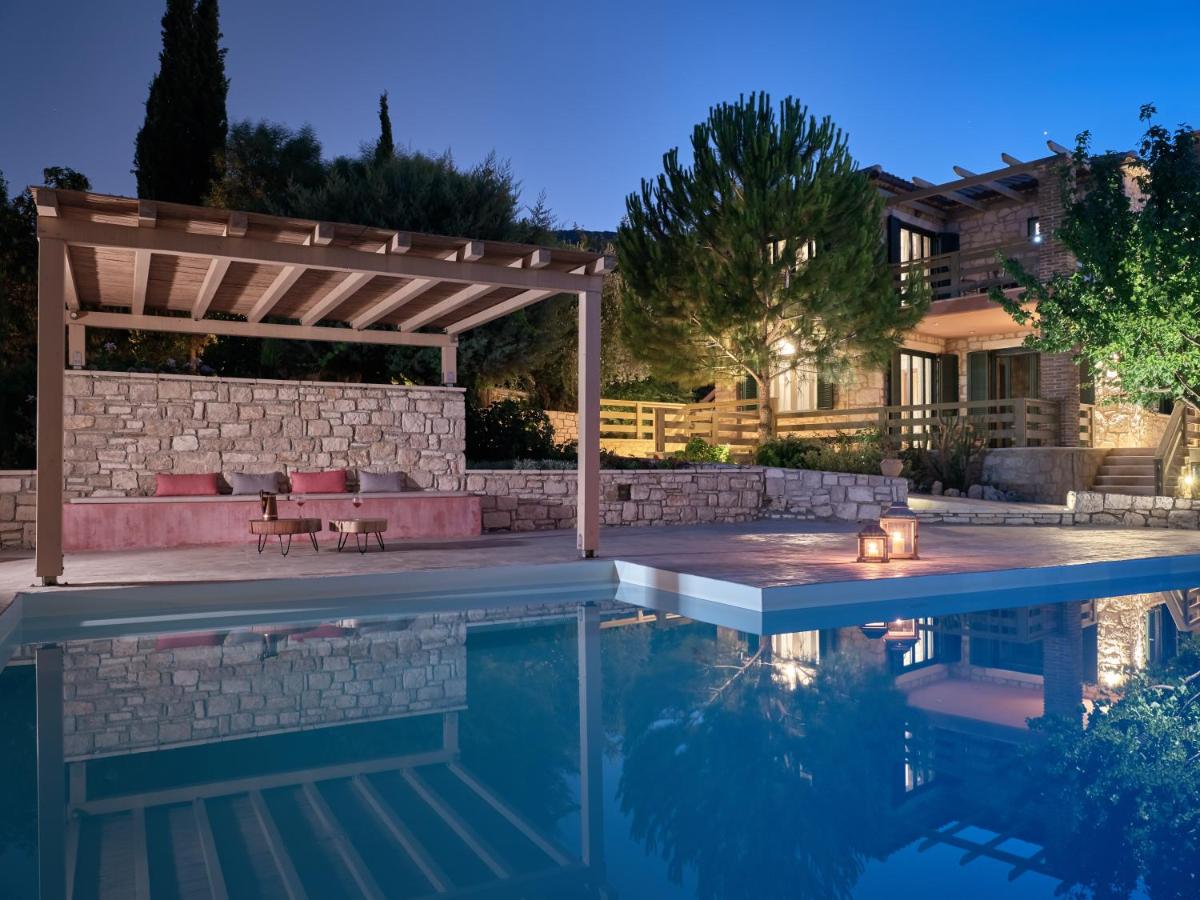 Located on the stunning island of Zakynthos is Agostenga, this is a four-bedroom stone villa furnished in traditional style. Think exposed brick, raw wood, and a warm ambience.
Hidden in the hills, this villa is the epitome of privacy, with beaches and major towns all but a short 20-minute drive away.
Address: Lagopodo, 290 92, Greece
More info: HERE
7. Ammos Oia Mansion, Santorini – for small groups with style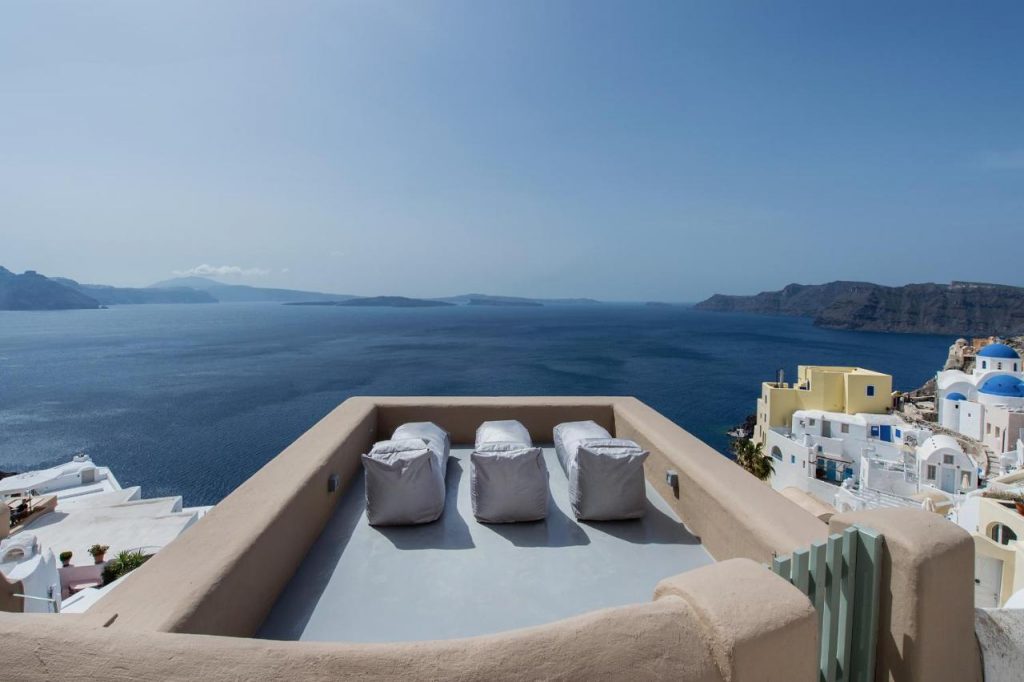 Ammos Oia Mansion in Santorini is one of the slickest and most stylish villas you will find on the island.
While paying homage to its traditional roots and honouring Grecian architecture, this island villa offers contemporary minimalism bound to bode well with urbexs (urban explorers).
Address: Epar.Od. Firon-Ias, Oía 847 02, Greece
More info: HERE
6. Cycladic Gem, Mykonos – for breathtaking sunset
If you're dreaming of postcard-worthy moments when you consider your Greek holiday, look no further than Cycladic Gem in Mykonos. This villa boasts four double rooms, four bathrooms, and sleeps up to eight.
Bright and airy, this villa hits the mark on design and amenities in equal measure. Make sure to enjoy the sunset from the pool during your stay!
Address: Kolitsani, Ios Island 84001, Greece
More info: HERE
5. Kalathos Dream Villas, Kalathos – a charming Grecian villa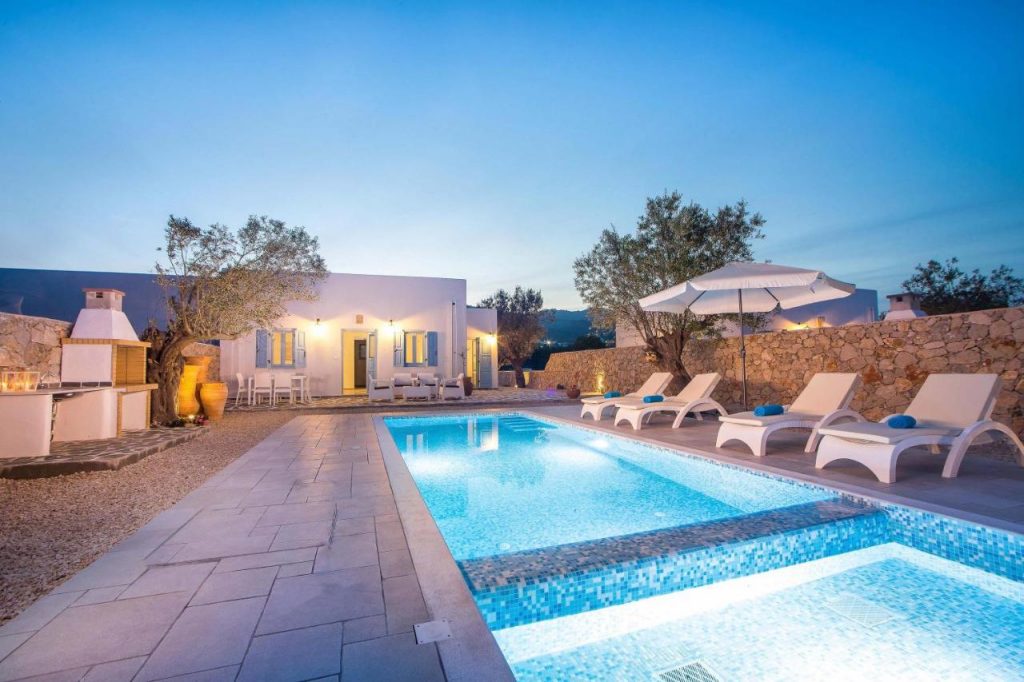 Those looking to stay at a quintessential Grecian villa: we've got the one for you. Think stark white walls punctuated by raw wood and turquoise blue hues throughout.
Kalathos Dream Villas are as charming as they come and is located just over one kilometre (700 metres) from the sand, making it one of the most beautiful Greek island villas to rent
Address: Λίνδος, Ρόδος 851 02, Rodos 851 02, Greece
More info: HERE
4. Villa South Key, Rhodes – for a touch of luxury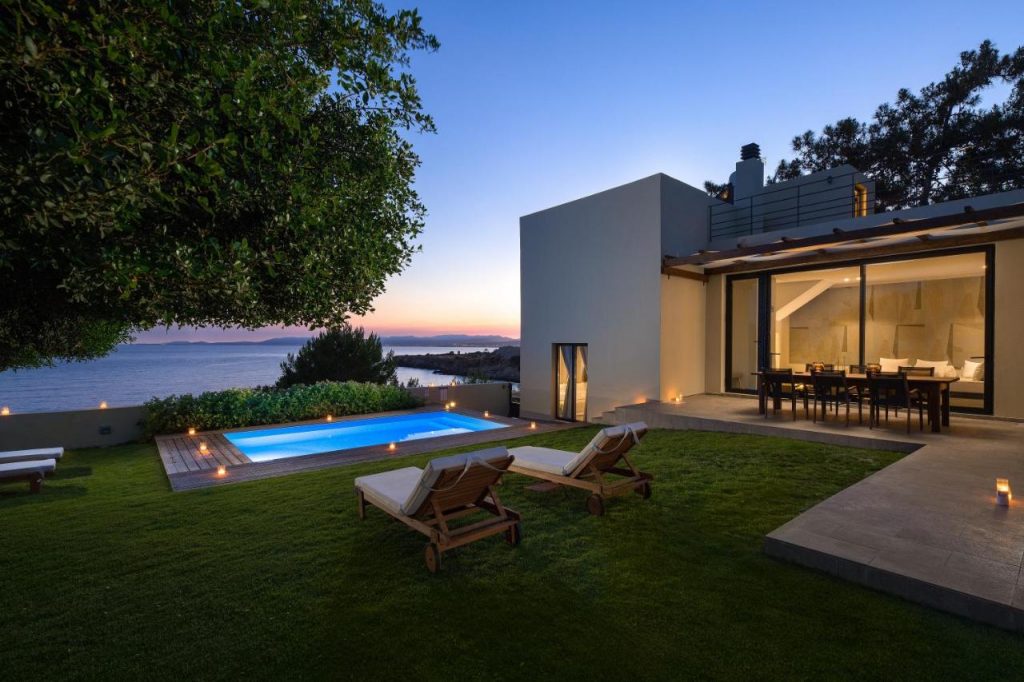 Clean lines, tonnes of natural lights, fresh furnishings, and contemporary minimalism to boot, all while staying true to its Grecian roots – this is Villa South Key in Rhodes.
Perfect for those seeking that added touch of luxury on their Greek island adventure, this villa sleeps up to seven people across three bedrooms.
Address: Pefki 851 07, Rodos 851 07, Greece
More info: HERE
3. Villas Anemi House, Santorini – the photo-op villa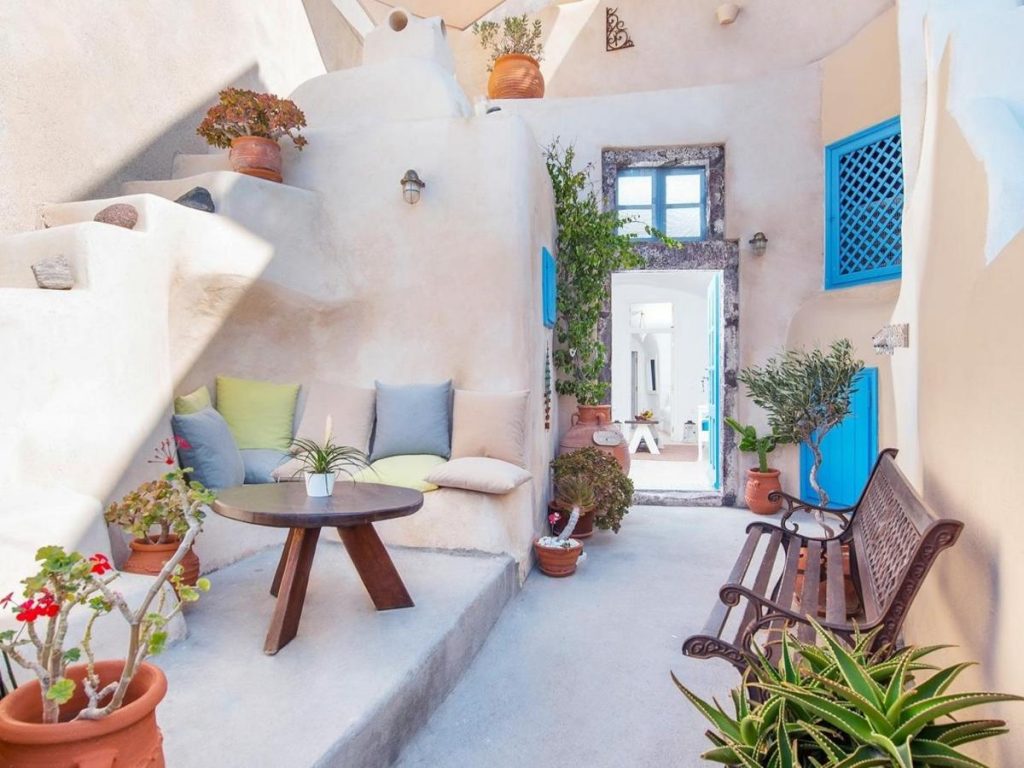 Many come to the island of Santorini for its stunning vistas, sunsets, and awe-inspiring backdrops. For those who seek to have those elements spill over into their accommodation, Villas Anemi House may be just the ticket.
This villa is photo-op ready with pops of colour, rooftop views, and traditional architecture presented in a modern way.
Address: Oia, Santorini, Oia santorini 847 02, Greece
More info: HERE
2. Villa Nelleas, Milos – a rustic villa with contemporary charm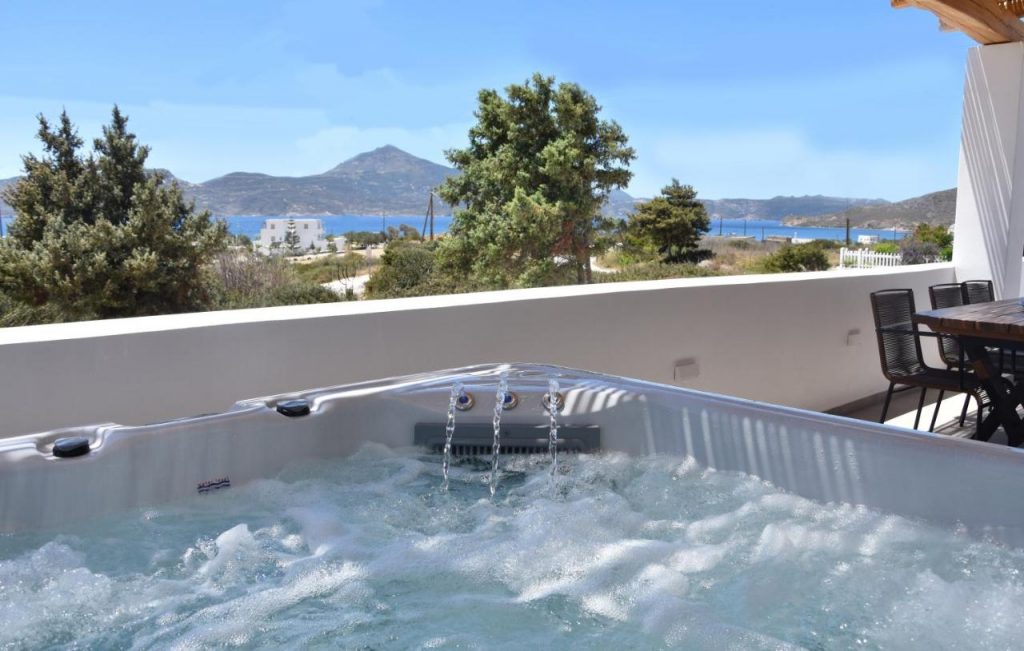 If the thought of exposed wooden beams and authentic charm sounds to your liking, this is without a doubt one of the most beautiful Greek island villas to rent.
Located in Milos, this villa comprises three bedrooms (sleeps six), a hot tub and sea views.
Address: ΠΑΡΑΣΠΟΡΟΣ ΑΔΑΜΑΝΤΑΣ ΜΗΛΟΣ, 848 00, Greece
More info: HERE
1. Villa Namaste Suites by Caldera Houses, Santorini – the fairytale stay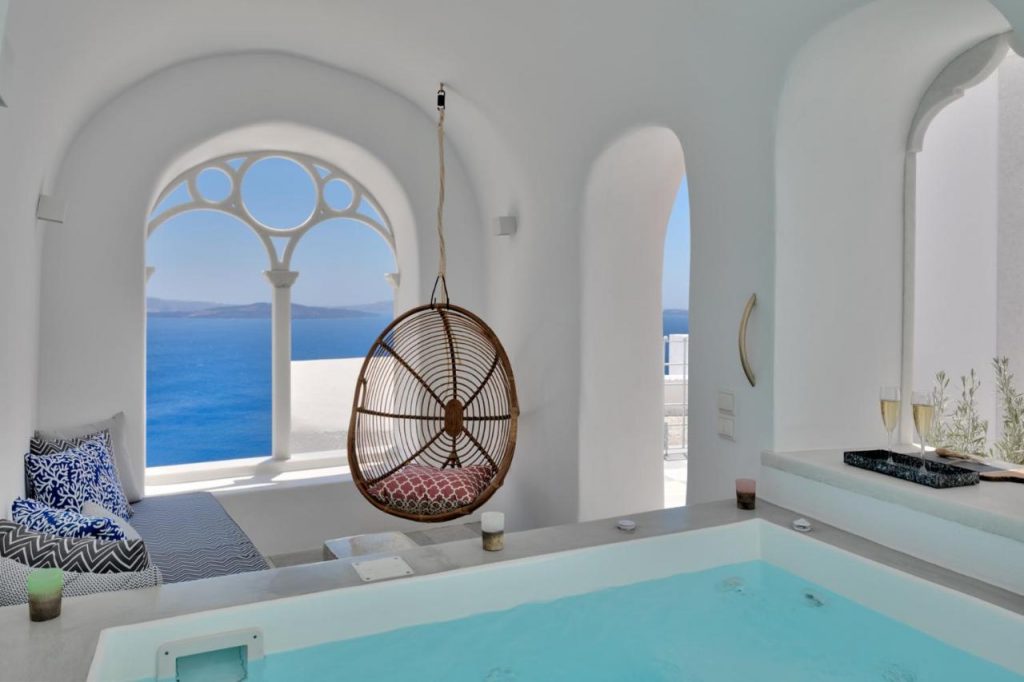 Villa Namaste Suites are undoubtedly one of the most beautiful Greek island villas to rent on the market. Rich in traditional decor, with a freshness and modernity that would suit all sorts of travellers, a visit here is truly like stepping into a fairytale.
Breathtaking views over the ocean are just one of this villas many merits. In addition, it boasts two bedrooms, a private pool, balcony, terrace, and a hot tub to top it off.
Address: Unnamed Road, 847 02, Greece
More info: HERE