Known as the party island of the Cyclades, Mykonos welcomes thousands of beautiful people every year looking to soak up the sun and have a good time.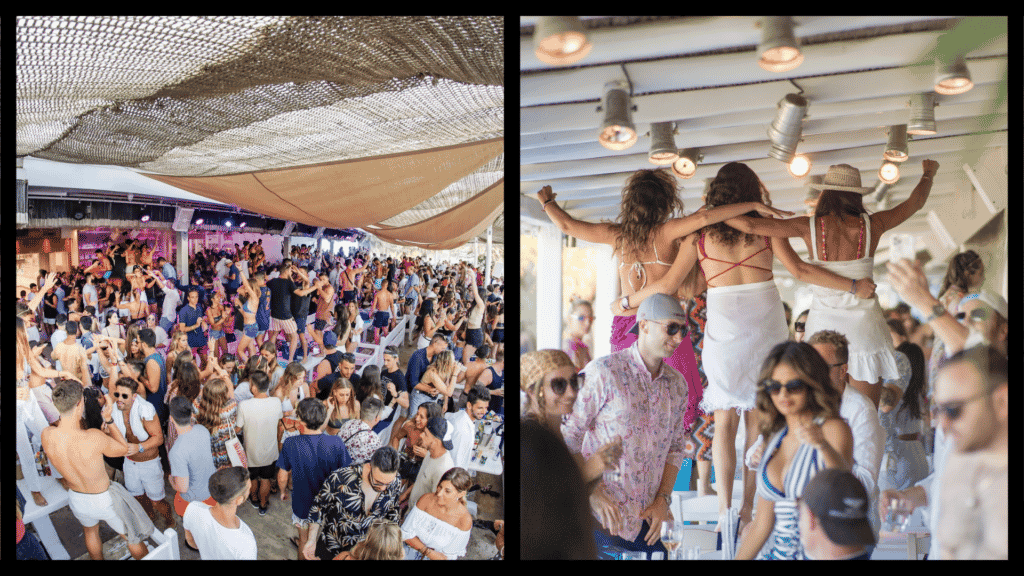 As one of the most beautiful and lively Greek islands, Mykonos welcomes party animals of all ages, from fresh-faced guests in their 20s to people who are more mature.
Home to plenty of white sand beaches, tourists congregate every year at the island's beautiful beach clubs, where they can enjoy amazing music, delicious food, and all-night-long parties.
So, if you're looking to discover what all the fuss is about, then read on. Here are the ten best beach clubs in Mykonos you need to check out for an amazing experience.
10. Tropicana Beach Club and Restaurant, Paradise Beach – one of the 'sexiest beach clubs in the world'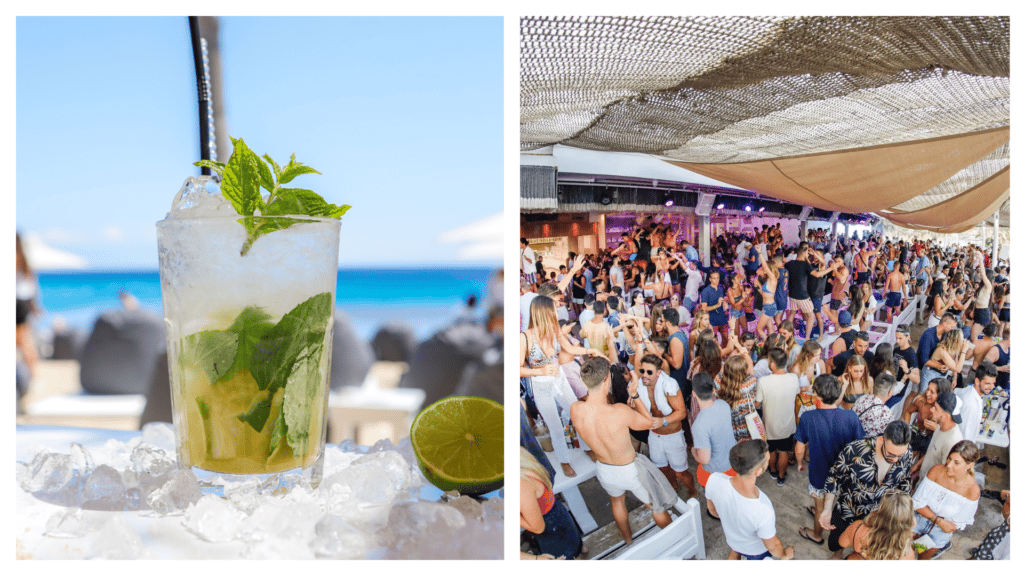 Located on the famous Paradise Beach, Tropicana Beach Bar and Restaurant offers a fun and friendly party atmosphere. Rivalling the Ibiza party scene, you're sure to have an amazing time here.
Enjoy a late lunch, then head to this legendary spot where the parties begin daily at 4:30 pm. Set on a picturesque stretch of sand, you won't forget the lively atmosphere here.
Address: Paradise beach Post Box 506, Mikonos 846 00, Greece
9. Super Paradise Beach Club, Super Paradise Beach ‒ grab a lounger on an idyllic spot of sand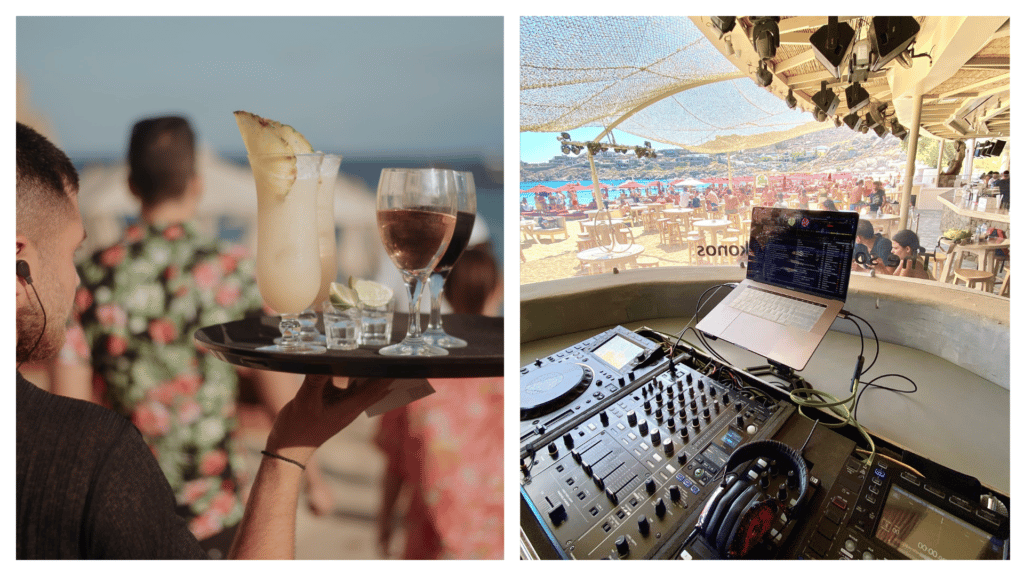 Among the best beach clubs in Mykonos is undoubtedly the iconic Super Paradise Beach Club, located on a beautiful sandy beach of the same name.
Just 7 km (4.35 miles) southeast of Mykonos Town, you won't have to travel far to visit this amazing spot. This is the place to go for dreamy summer parties, and you can even enjoy some tasty Greek food at Paraj Restaurant nearby.
Address: Super Paradise Beach, Mikonos 846 00, Greece
8. Alemagou Beach Club, Ftelia Beach ‒ for a chilled-out beach club experience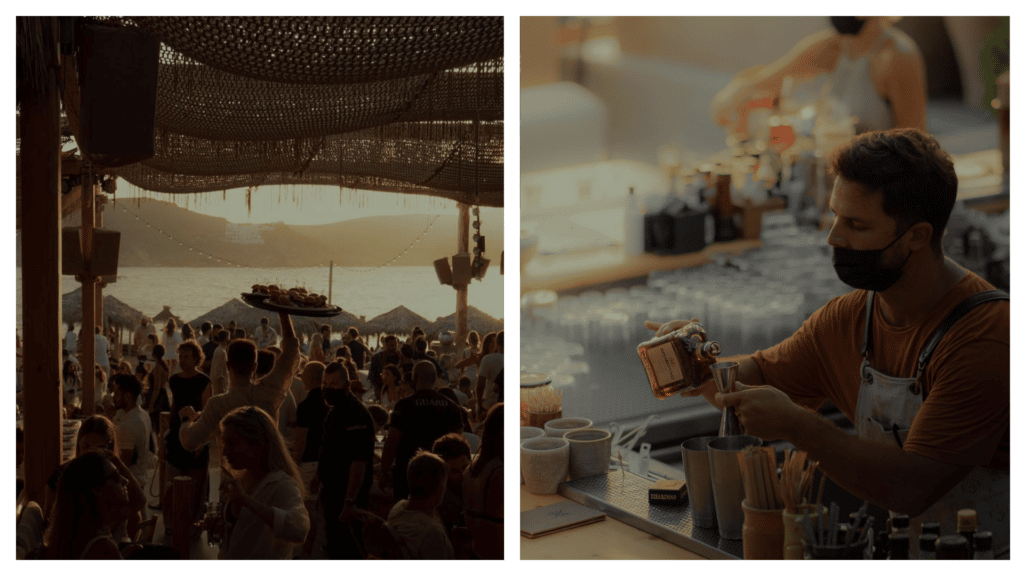 Set on one of the many amazing beaches Mykonos has to offer, Alemagou Beach Club is located in the north of the island.
A real hidden gem, this spot offers an upscale atmosphere and a stunning bohemian feel. Enjoying a prime location at one of the island's most secluded beaches, you can make the most of the chilled vibe here.
Address: Greece, Mikonos, Greece
7. Hippie Fish, Agios Ioannis Beach – for a relaxed beach club experience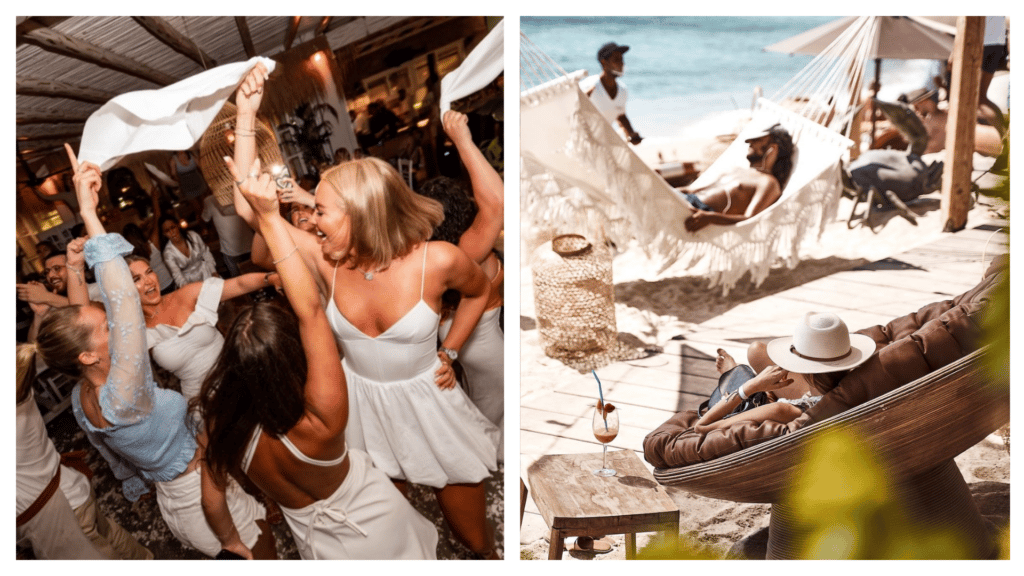 Really playing on the name, Hippie Fish is a truly chilled-out beach club that allows guests the opportunity to truly enjoy their surroundings, with the sandy beach and turquoise water around.
Whether you want to enjoy a live music event, delicious food, or simply chill in a hammock, there is sure to be something for you to enjoy here.
Address: Agios Ioannis, Mikonos 846 00, Greece
6. Pasaji, Ornos Beach ‒ for an upscale beach club experience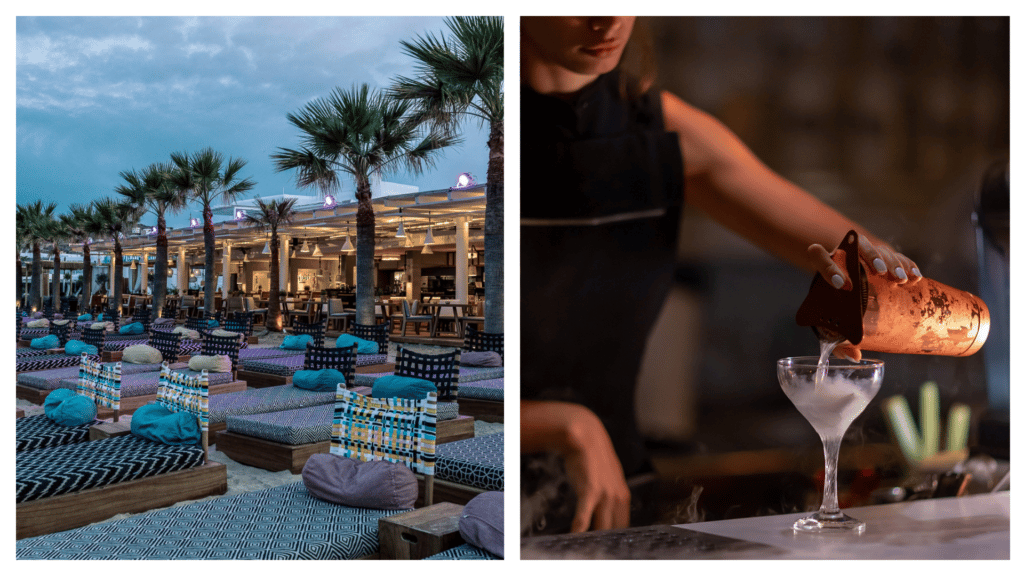 Set on the incredibly popular Ornos Beach, Pasaji is an incredibly popular beach club among those who are looking for a more upscale and luxurious experience.
With delicious food, refreshing cocktails, and a beautiful beach setting, we can guarantee you'll never want to leave.
Address: Ornos Beach, Mikonos 846 00, Greece
5. Jackie O', Super Paradise Beach ‒ popular among the LGBTQ+ scene on the island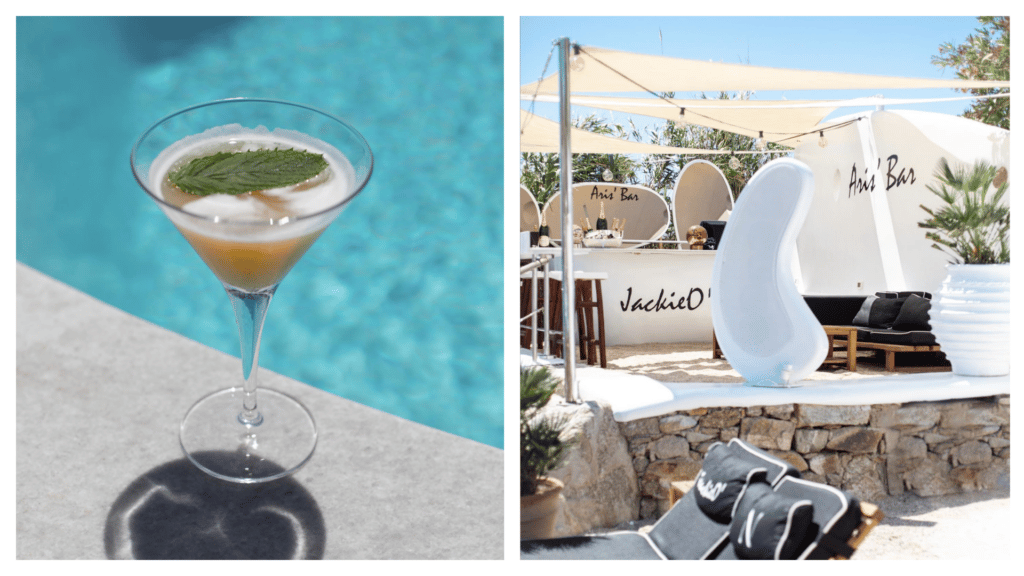 Another popular spot on the iconic Super Paradise Beach, Jackie O' is certainly one of the very best beach clubs in Mykonos.
Popular among the island's LGBTQ+ scene, guests can enjoy panoramic views of this picturesque beach from the fabulous 360-degree open bar.
Address: Μύκονος 846 00, Greece
4. Cavo Paradiso, Paradise Beach ‒ a celebrity hotspot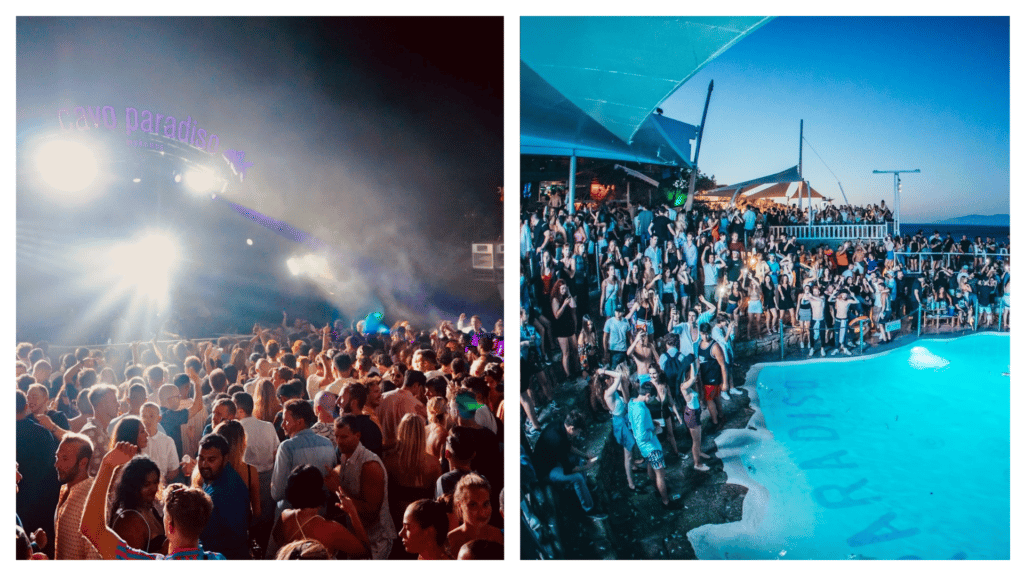 With celebrity guest DJs, a fantastic outdoor pool, and incredible sea views, a night at Cavo Paradiso is sure to be a night you won't forget.
Located at the ever-popular Paradise Beach, you can be sure this club will be busy all summer long. Its places like this that give Mykonos its name as one of the best party islands in Greece.
Address: Paradise beach, Mikonos 846 00, Greece
3. SantAnna Beach Club, Paradise Beach ‒ home to a massive pool surrounded by 'islands'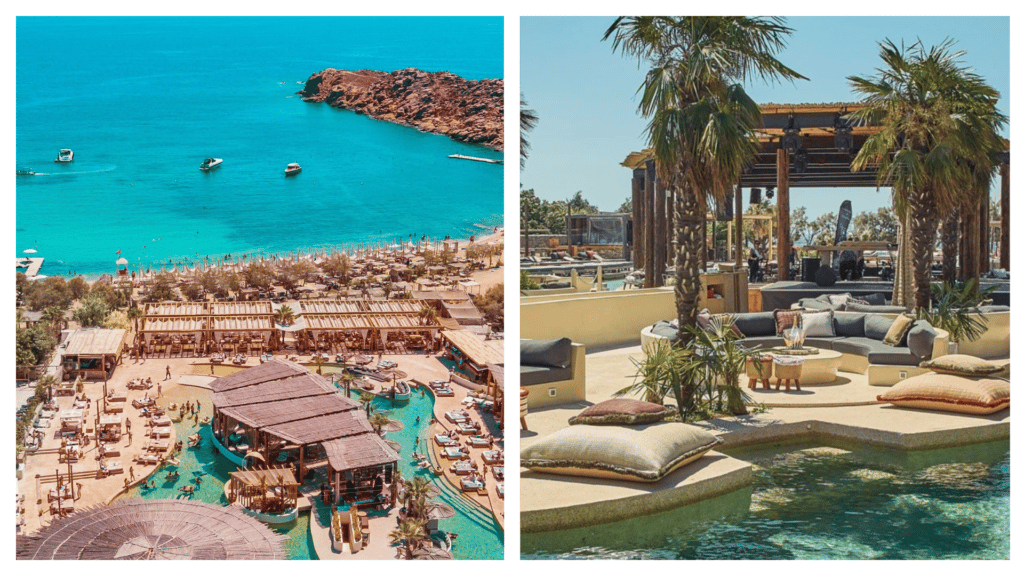 Home to a large saltwater pool surrounded by seven private 'islands', each serviced by a butler, SantAnna Beach Club is an absolute must-visit for a truly luxurious experience.
Those who visit Sant'Anna Beach Club gush about the amazing pool, live music, delicious lunch options, and five-star service.
Address: Paraga Beach, Platis Gialos 846 00, Greece
2. Branco Beach Club, Platis Gialos – for one of the most iconic spots on the island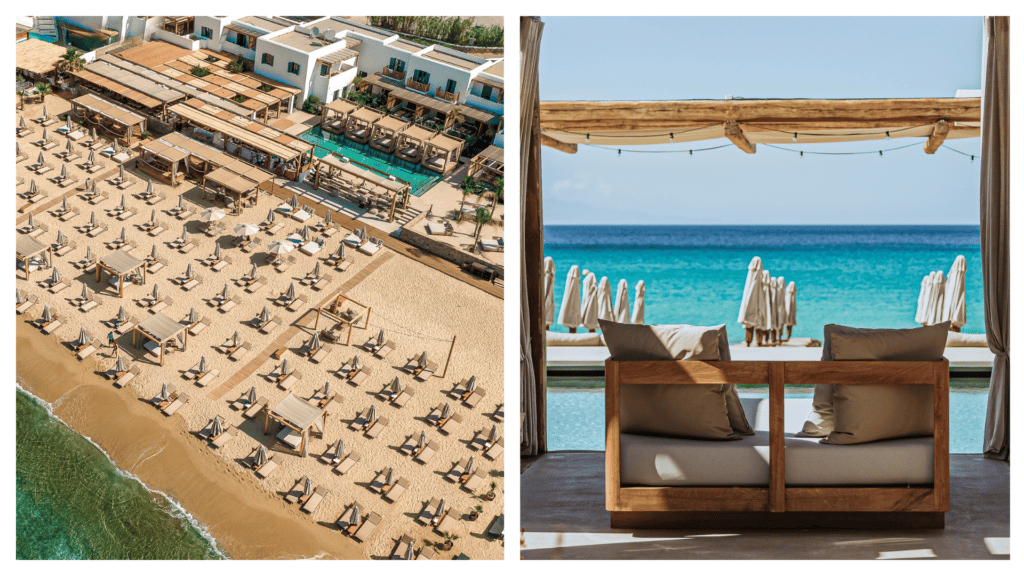 Perhaps one of the most iconic beach clubs on the entire island, no visit to Mykonos is complete without checking out Branco Beach Club.
Located on the stunning Platis Gialos, guests can enjoy delicious food, great drinks, and luxurious furnishings.
Address: Πλατύς Γιαλός 846 00, Greece
1. Scorpios, Paraga Beach – one of the most chic beach clubs in Greece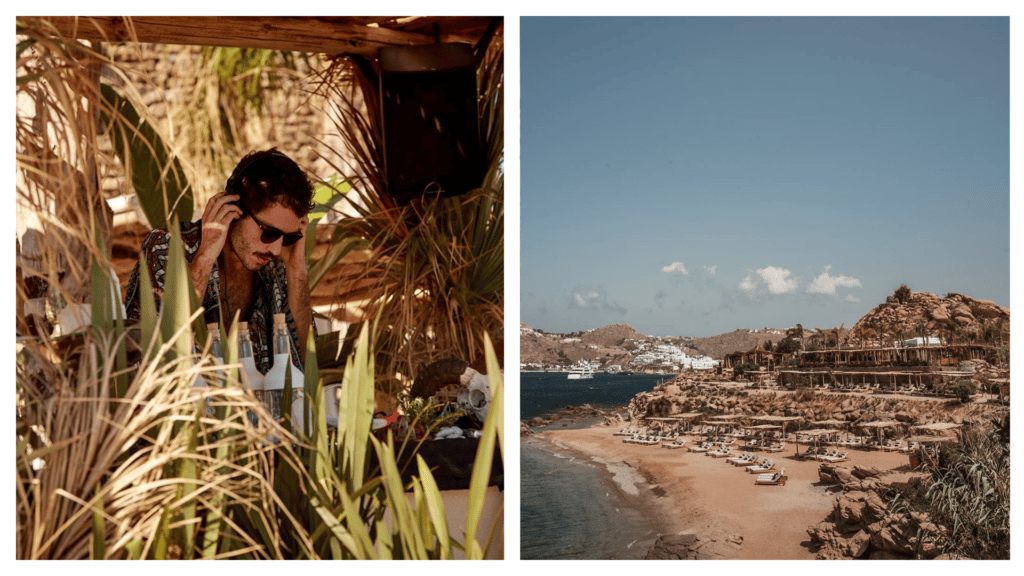 Make sure to book in advance if you want to enjoy the vibes at this bohemian beach bar and private beach club. With great music, excellent service, and unrivalled views, time really does run away with you here.
Sunset Beach is the place to visit for unrivalled views of the water. You can experience the music rituals that take place on Mondays, Wednesdays, Fridays, and Saturdays.
Address: Paraga, Mikonos 846 00, Greece
Notable mentions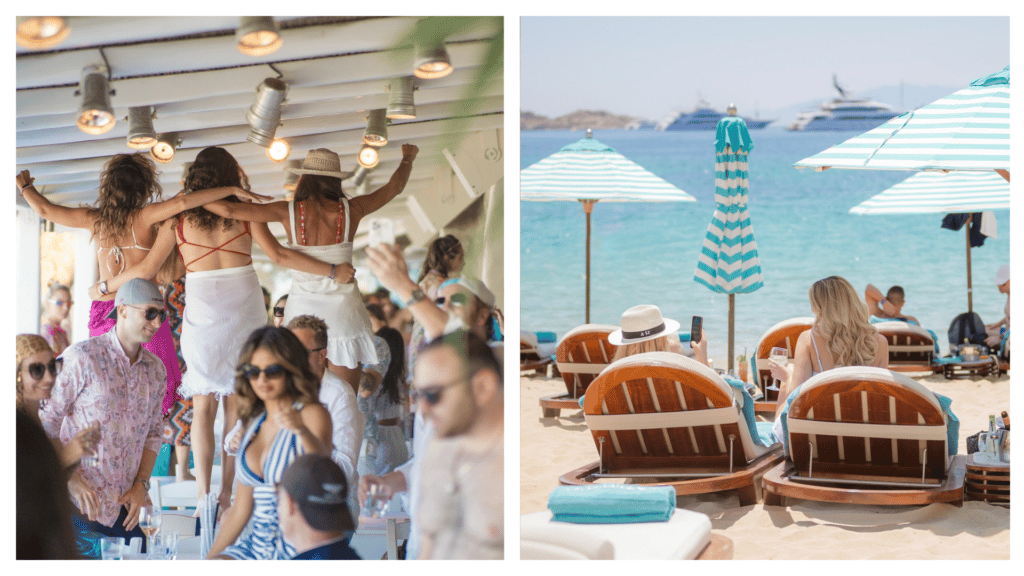 Kalua Beach Bar, Paraga Beach: One of the most beautiful beach clubs in the south of the island, Kalua Beach Bar enjoys stunning cream décor to give a truly luxury vibe.
Nammos Beach Club, Psarou Beach: Set on Psarou Beach, Nammos Beach Club is home to a fancy seafood restaurant and plenty of sun loungers for you to put your feet up.
Principote Mykonos, Panormos Beach: Principote Beach Club is a must-visit for both opulent parties and a laid-back island feel.
FAQs about the best beach clubs in Mykonos
Which is the best beach club in Mykonos?
For us, Scorpios at Paraga Beach is the best beach club in Mykonos. However, each beach club has a very different atmosphere, so choosing your favourite is really up to personal preference.
How much do beach clubs cost in Mykonos?
The cost of beach clubs can vary widely in Mykonos. At some, you can claim a lounger for free just by buying drinks at the bar. Meanwhile, others will charge you an entry fee with varying costs depending on the experience you choose.
What should I wear to Mykonos beach club?
Swimwear with a beach coverup and sandals is perfect for a Mykonos beach club.