The Greek islands are a dream destination for many. From morning cruises to beautiful sunset cruises, we outline the top five best boat tours in Santorini.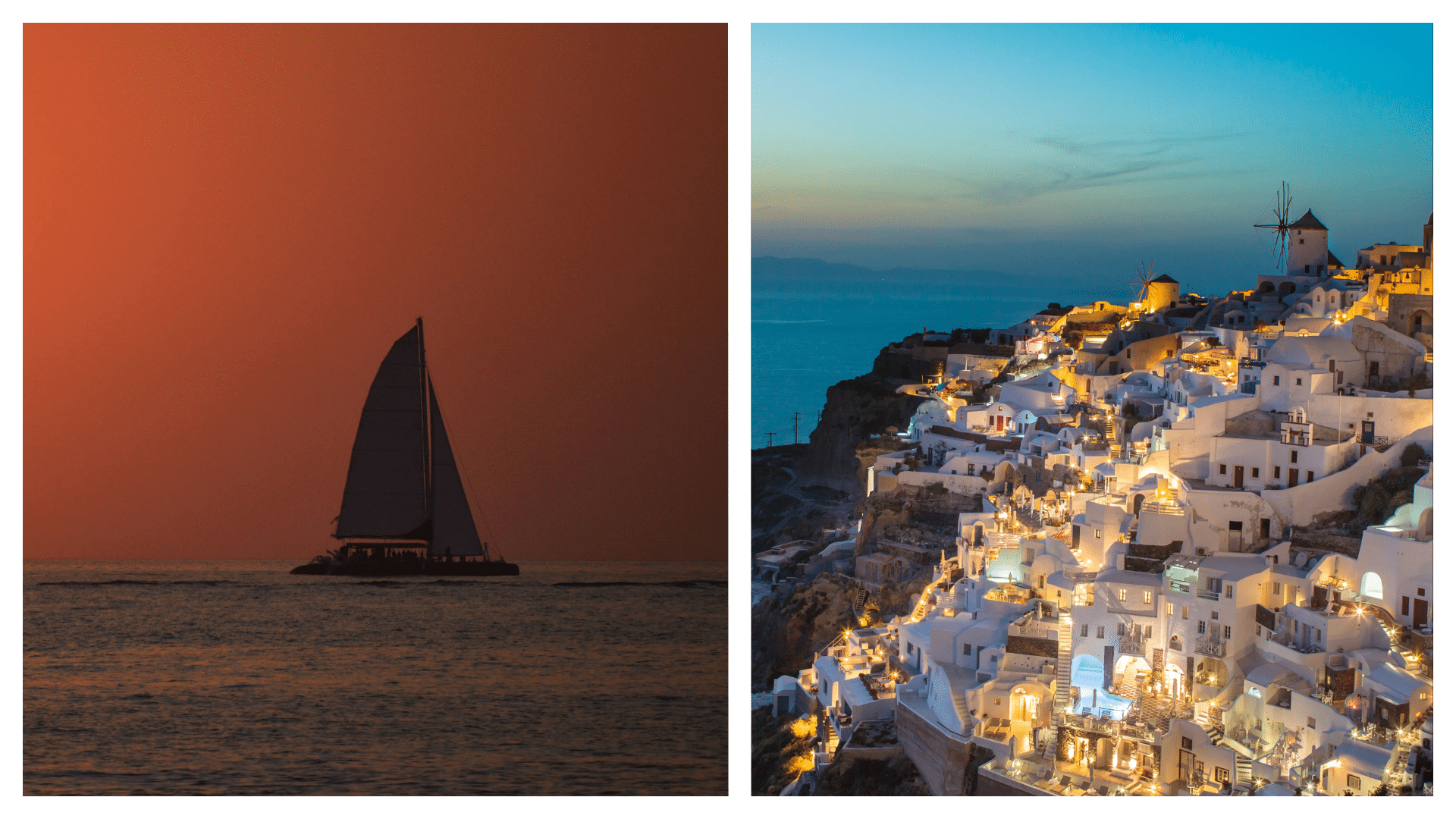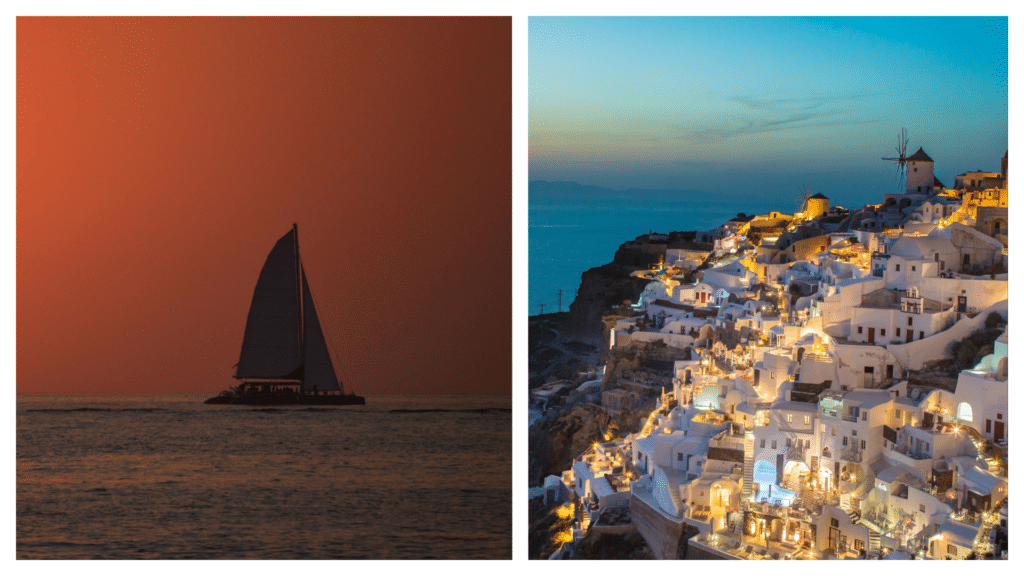 Santorini, a dreamy island in Greece, is a popular choice with every kind of traveller. With its volcanic landscape, whitewashed hillside houses, and unbeatable cuisine, there is no reason not to love Santorini.
However, everyone who has ever visited this magical island will agree on one activity that needs to be undertaken. A boat tour around the famous Santorini caldera is unmissable.
Here you will witness gorgeous waters and panoramic views, have time to enjoy some of the most beautiful beaches on the Greek islands, and taste the local wine and delicacies.
Let us inspire you with our list of the five best boat tours in Santorini you need to experience.
5. Santorini Gold Sunset Cruise – one of the best romantic sunset cruises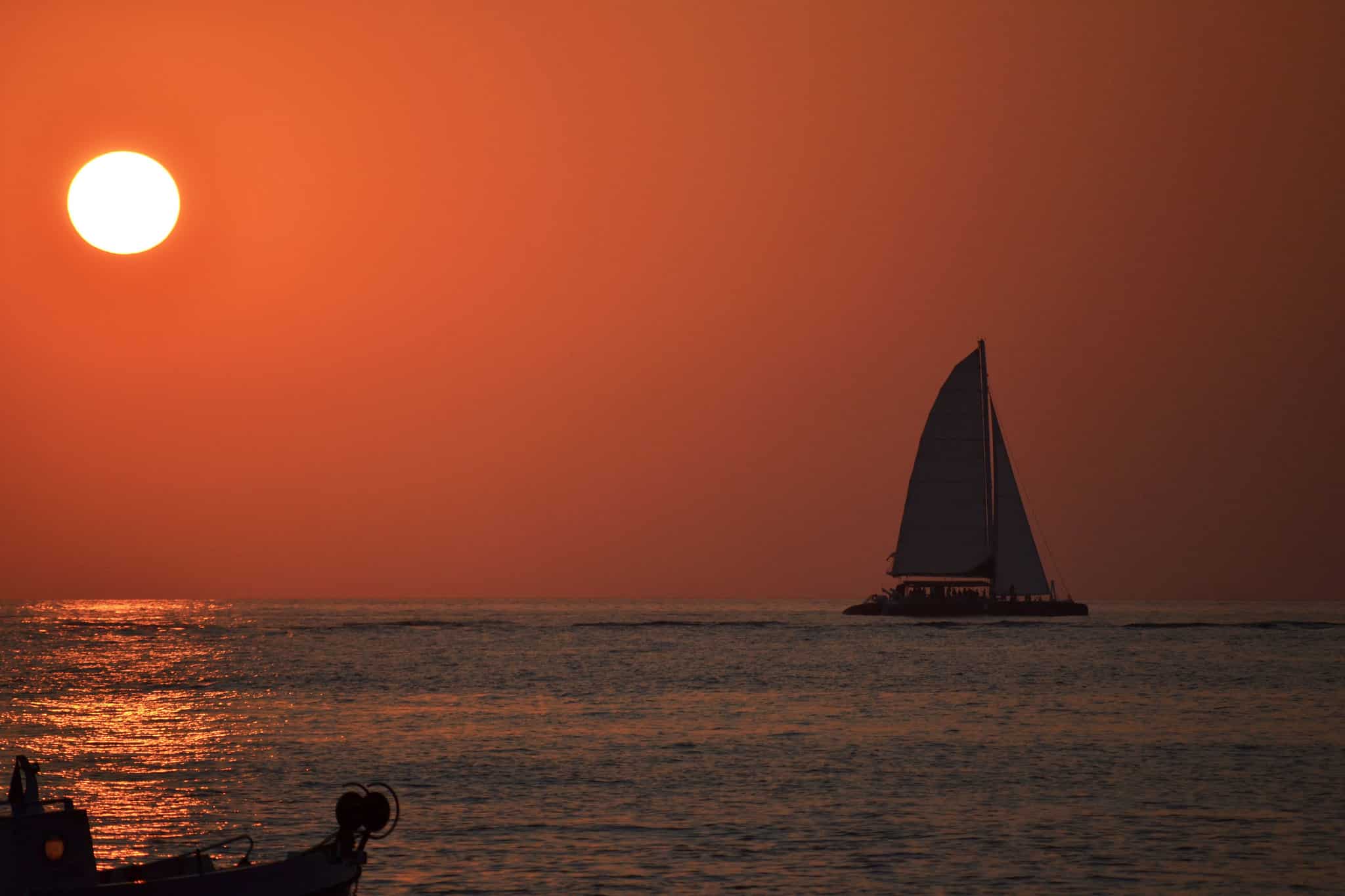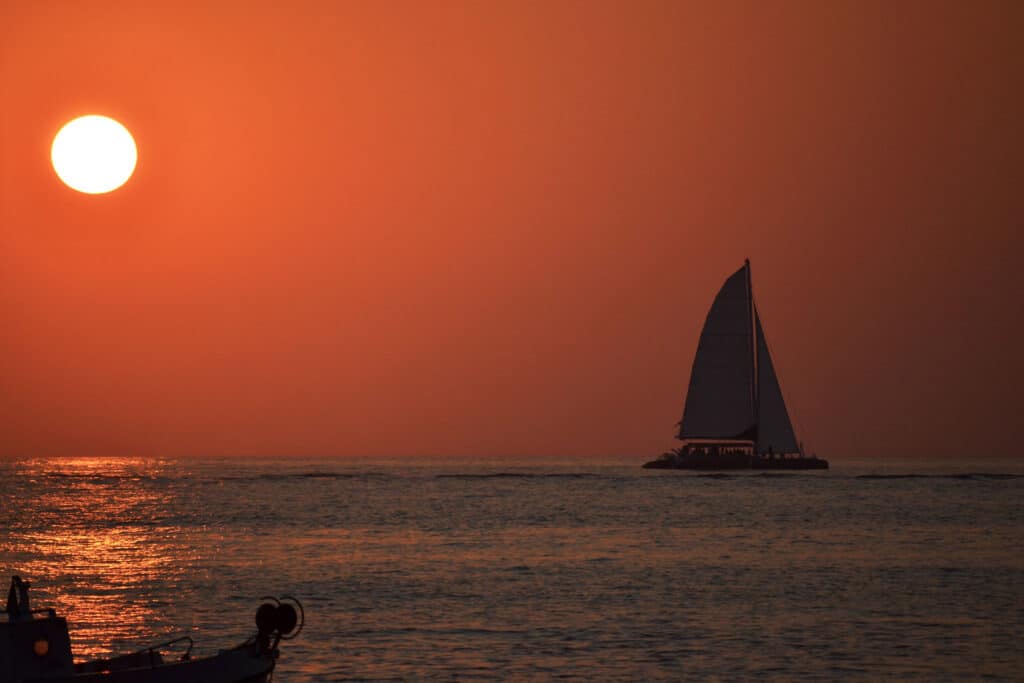 This magnificent sunset cruise is one of the most incredible ways to soak up the island at the best time of the day. Enjoy the sunset with some local wine in hand, stunning views surrounding you, and the ultimate romantic atmosphere.
Honeymooners and couples love this tour since it offers a unique vibe in a unique setting. It also provides you with a typical Greek dinner and unlimited local drinks to enjoy as the sun sets.
This tour is generally limited to fourteen people, so it is known as a small group tour, making it more intimate and memorable. Plus, you get to enjoy a host of fun activities such as snorkelling, swimming, and soaking in the hot springs too.
More info: HERE
4. Santorini Luxury Caldera Cruise – for a luxurious experience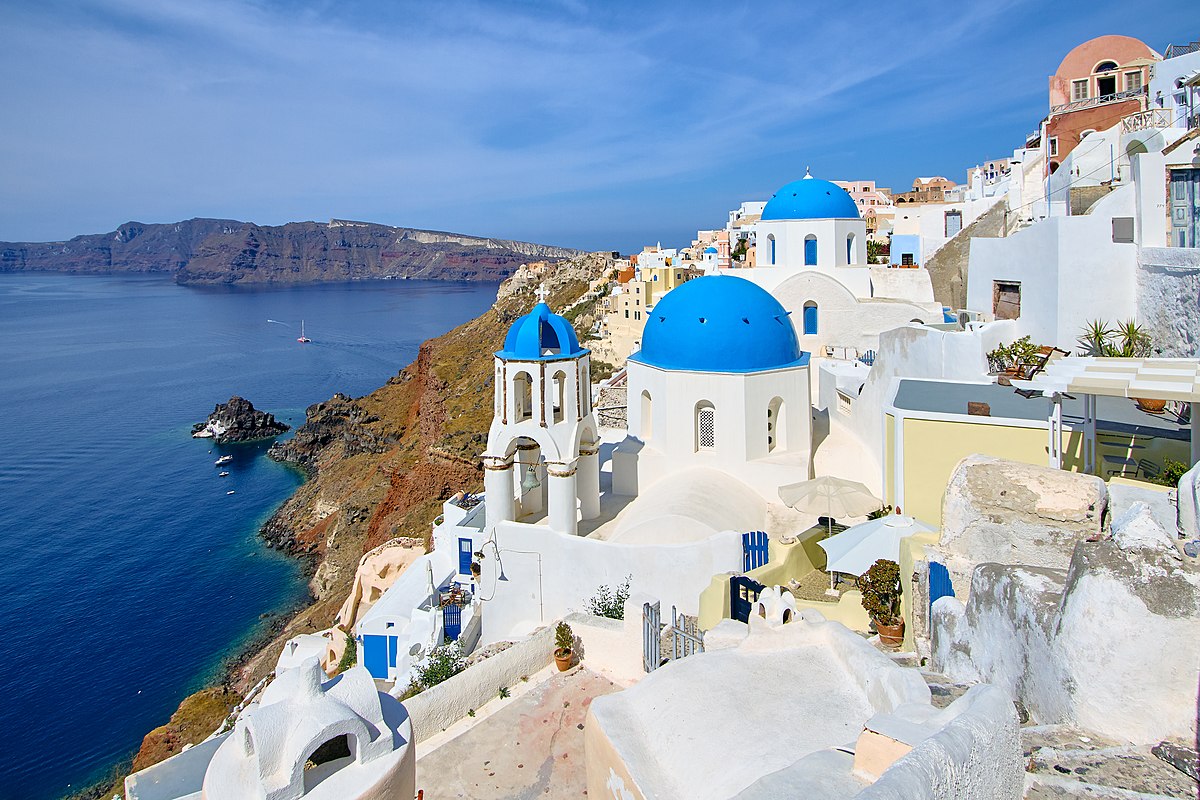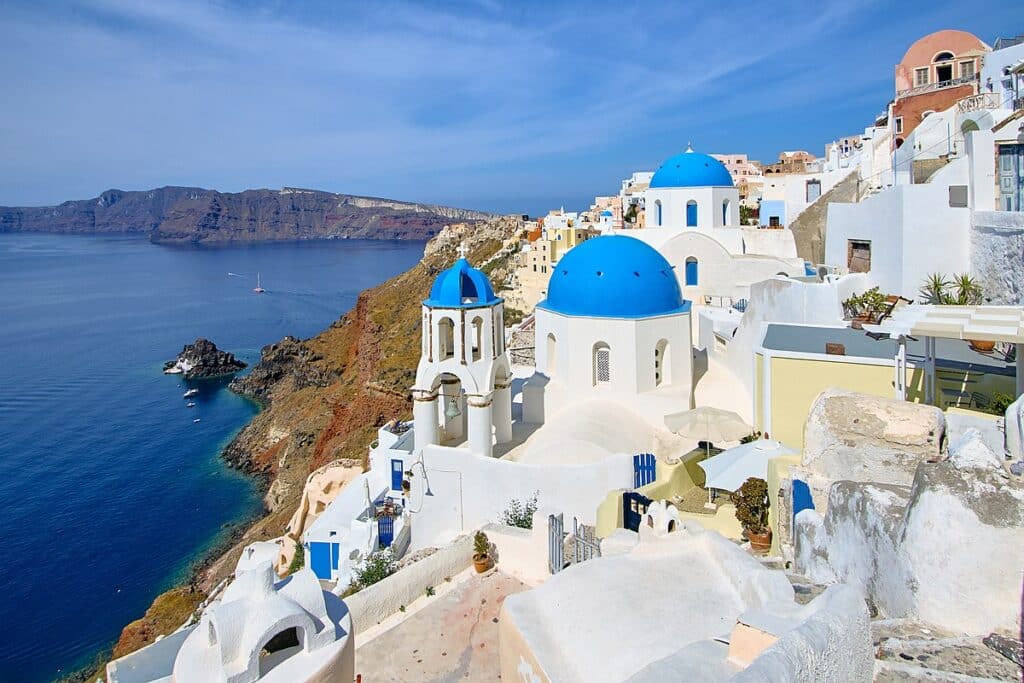 If you seek luxury, this beautiful cruise cannot be overlooked when searching for the best boat tours in Santorini.
Not only will you sail aboard a deluxe catamaran, but you will enjoy a full Greek dinner or Greek lunch as well as complimentary local wine and Greek beer for the duration of your trip.
On tour, you will get to dip into the volcanic hot springs, swim, snorkel, and sunbathe at the most colourful beaches, and witness one of the most stunning sunsets if you sail in the evening. This one is not to be missed if you want to take it all in; try some local food and be adventurous too.
More info: HERE
3. Private Catamaran Cruise – for that something special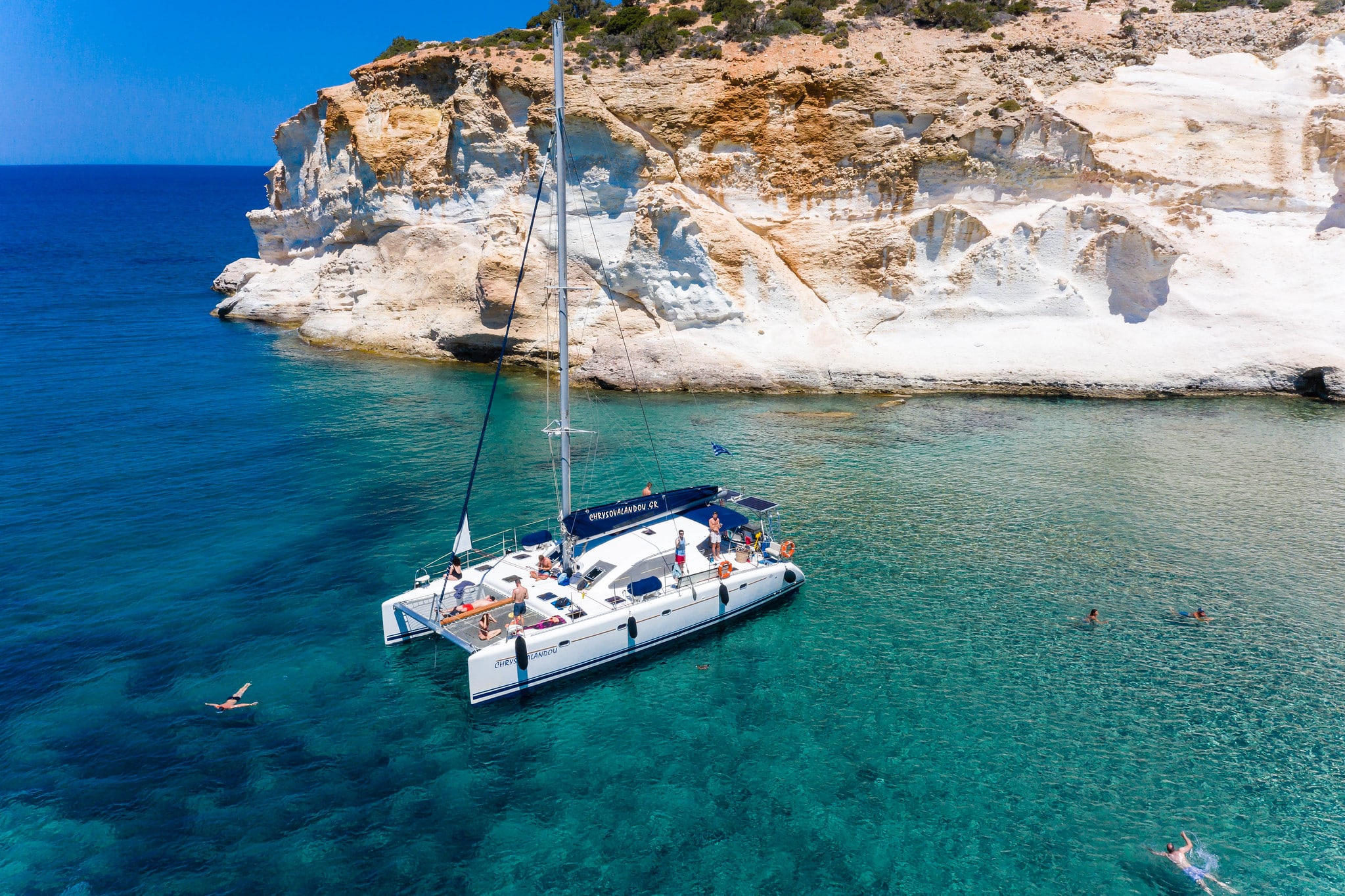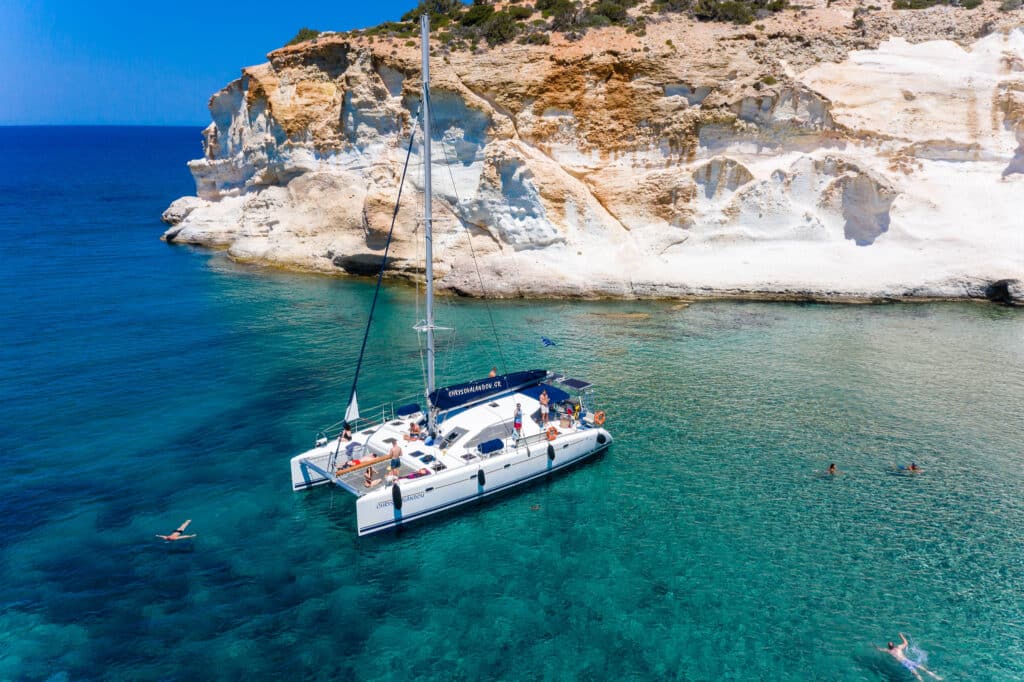 For those seeking something extra special, this half-day private tour is one to look out for. As part of your private tour, you will go to Santorini's volcano, witness the cliffs of Oia, enjoy a multi-course Greek dinner, and visit secluded bays and natural hot springs.
Being onboard your private catamaran means you have plenty of space to stretch out and soak in the stunning views with a glass of local wine.
In addition, you will have the opportunity to go snorkelling and swim in the deep, sulphur-rich waters, and at the end of the day, you can sit back and relax in front of Santorini's famous sunset.
More info: HERE
2. Volcanic Islands Cruise with Hot Spring Visit – one of the most popular tours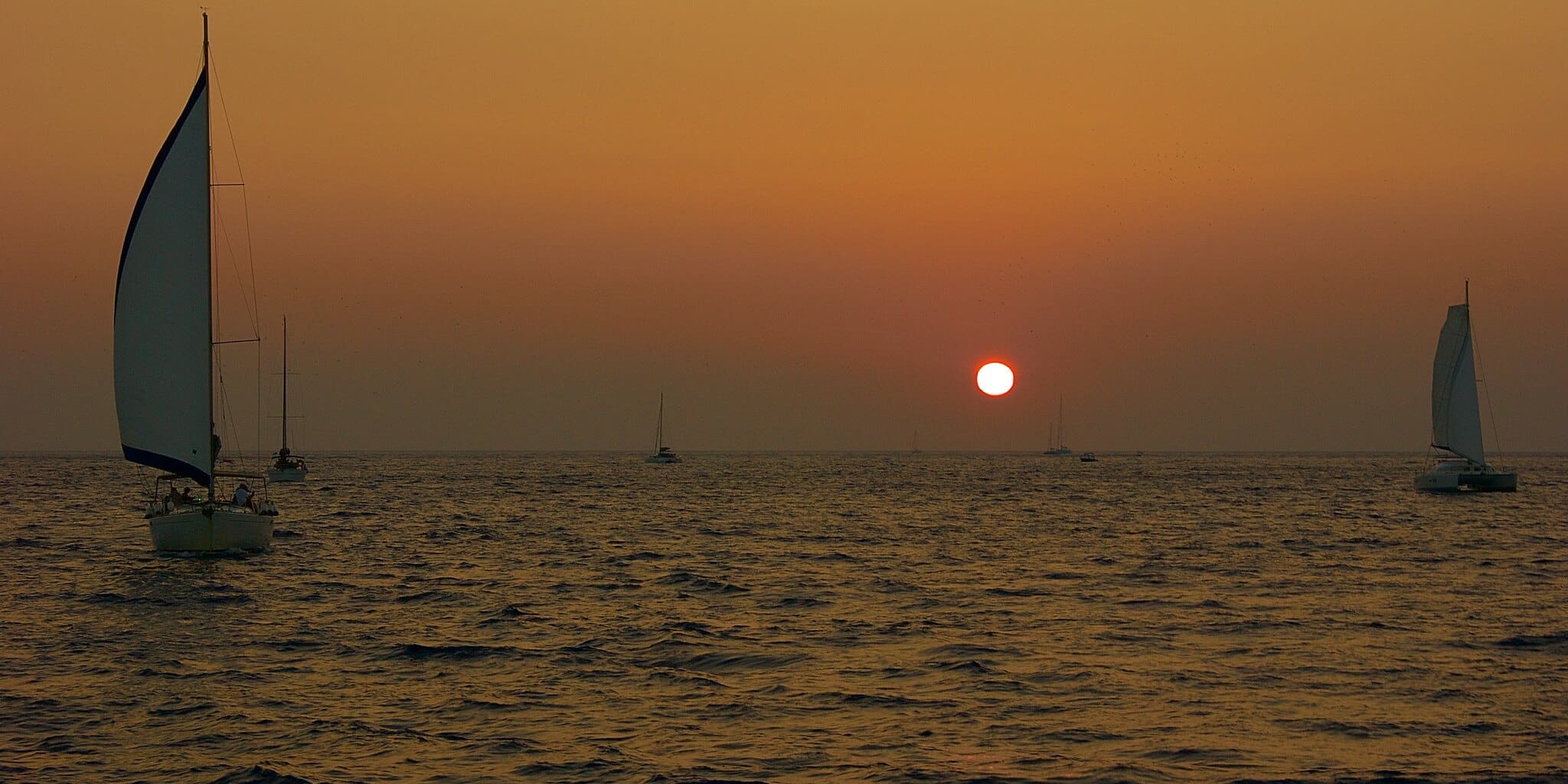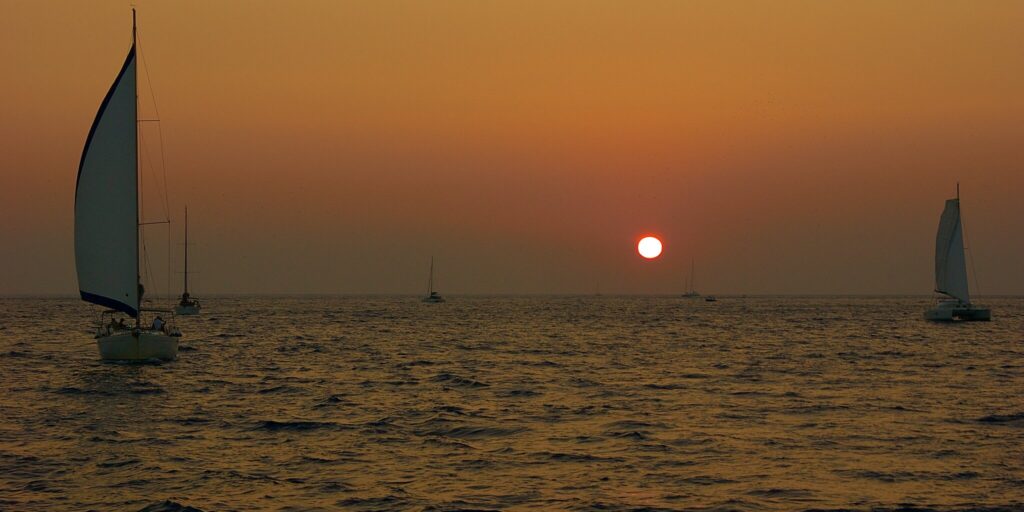 This day tour is one of the best boat tours in Santorini. So you have plenty of time to relax and enjoy your surroundings. Since this is a rather sought-after tour, we recommend booking days in advance. The tour can last up to 10 hours, so you are in for an awesome trip.
You can expect to visit a host of volcanic islands after leaving Athinios Port, including lots of free time at the traditional caldera villages of Oia and Thirassia. Furthermore, you'll hike to the active volcano, swim blue waters, and take a dip in the hot springs at Nea Kameni.
You will soak up some fantastic views along the way, making this one of the best trips you can hope for.
More info: HERE
1. Santorini Volcano and Hot Springs Tour – one of the best boat tours in Santorini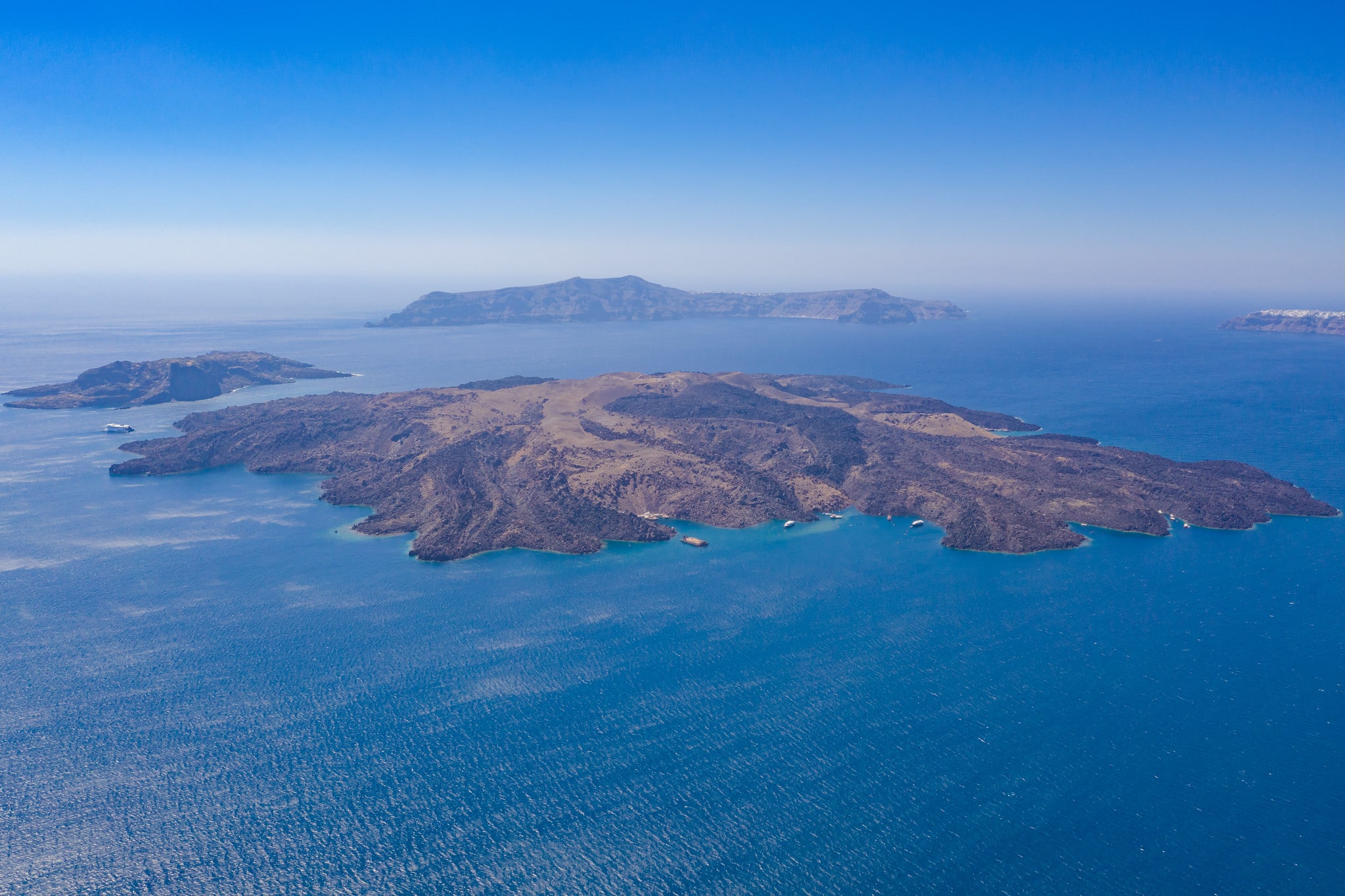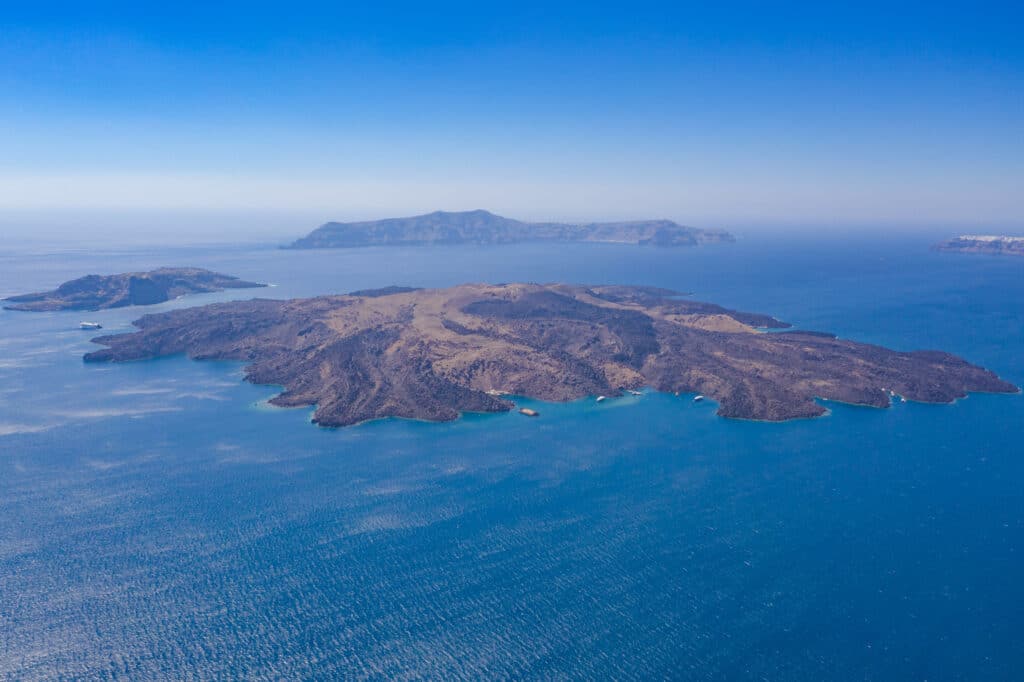 This has to be one of Santorini's most popular boat tours. It takes in all of what makes the island famous: its volcanic landscape and hot springs.
On this tour, you will explore the volcano, which is amazingly still an active volcano. It is an experience of a lifetime and provides the opportunity to spend 30 minutes soaking in the rejuvenating thermal springs.
Along the way, your amazing crew will point out the famous caldera cliffs and the old port of Fira as you sail towards the volcano. Once there, you will embark on a hike to the crater with a local guide.
This three-hour trip packs a punch and is a fantastic way for adventurous people to enjoy the Santorini caldera.
More info: HERE
Other notable mentions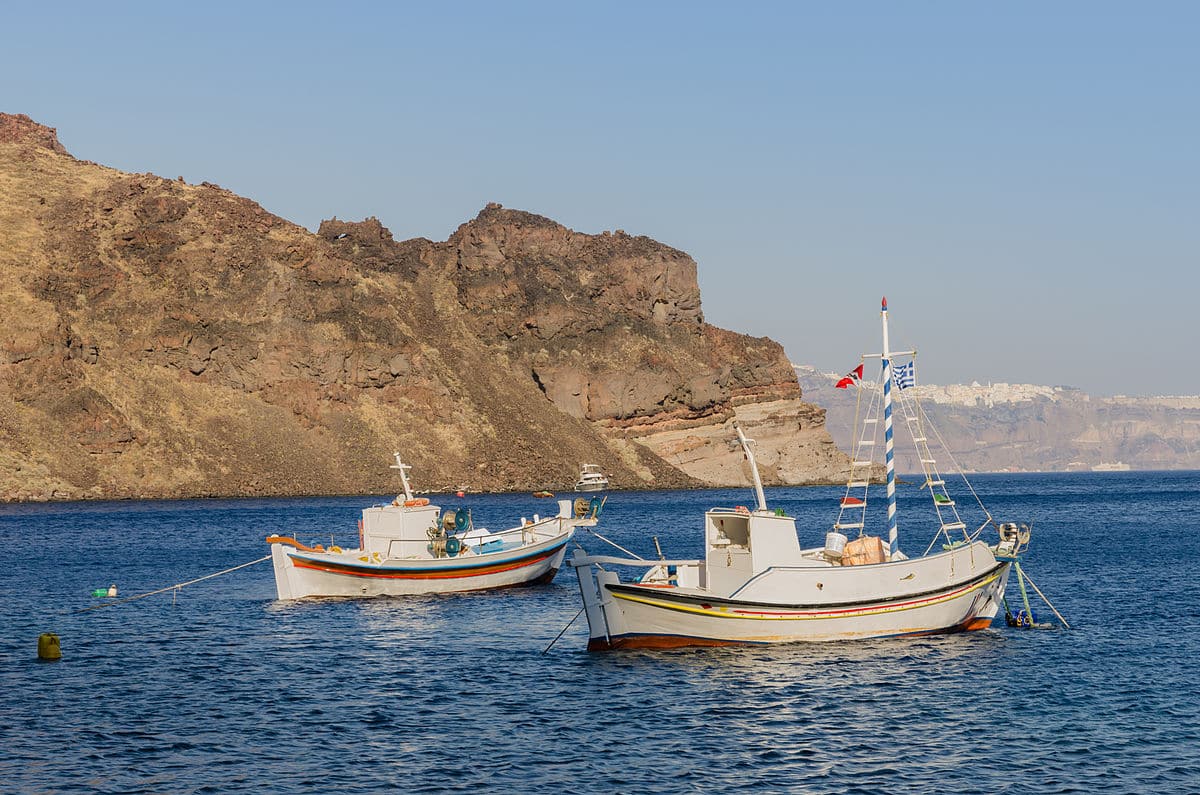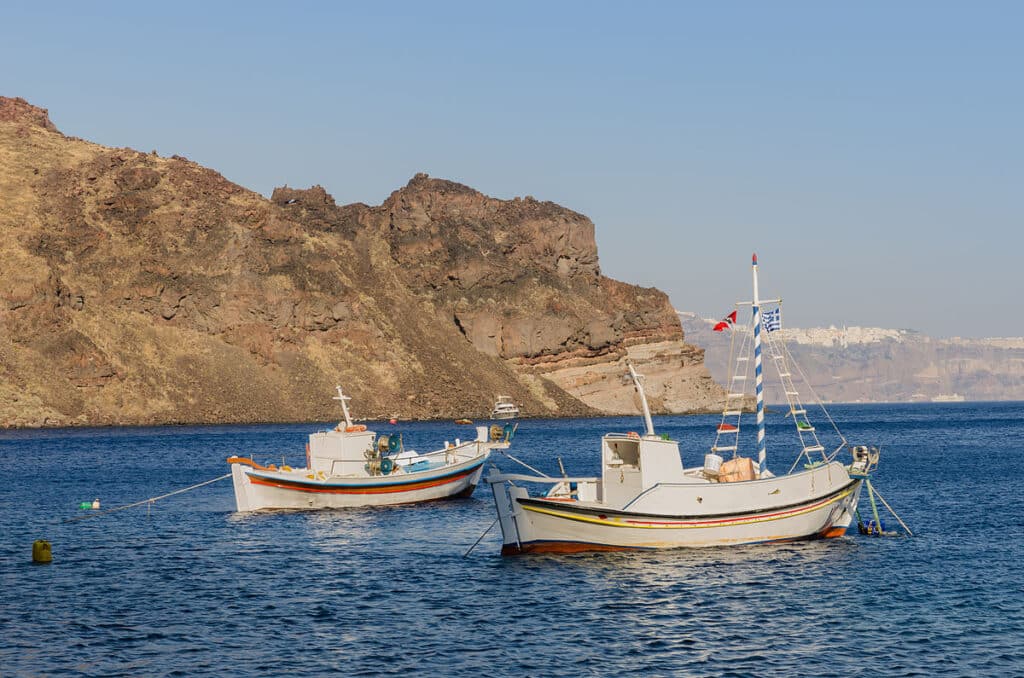 Santorini Fishing Tours: This is a must if you love fishing and adventure, as it combines swimming, snorkelling, and fishing in one-of-a-kind destinations in the area.
Private Motor Yacht Cruise: This half- or full-day cruise features all the best gems of the island, as well as an onboard BBQ lunch and plenty of time for exclusive sightseeing.
Santorini Volcano Tour: For those with limited time who don't want to miss out on seeing and hiking the famous volcano, with an added trip to the nearby hot springs thrown in. You might even catch some volcanic activity.
Private Sunset Cruise: This private tour takes in the best beaches for swimming and hot springs. You'll have free time to enjoy the water and an onboard romantic Greek meal at sunset. These impressive boat tours in Santorini promise a lovely time.
FAQs about the best boat tours in Santorini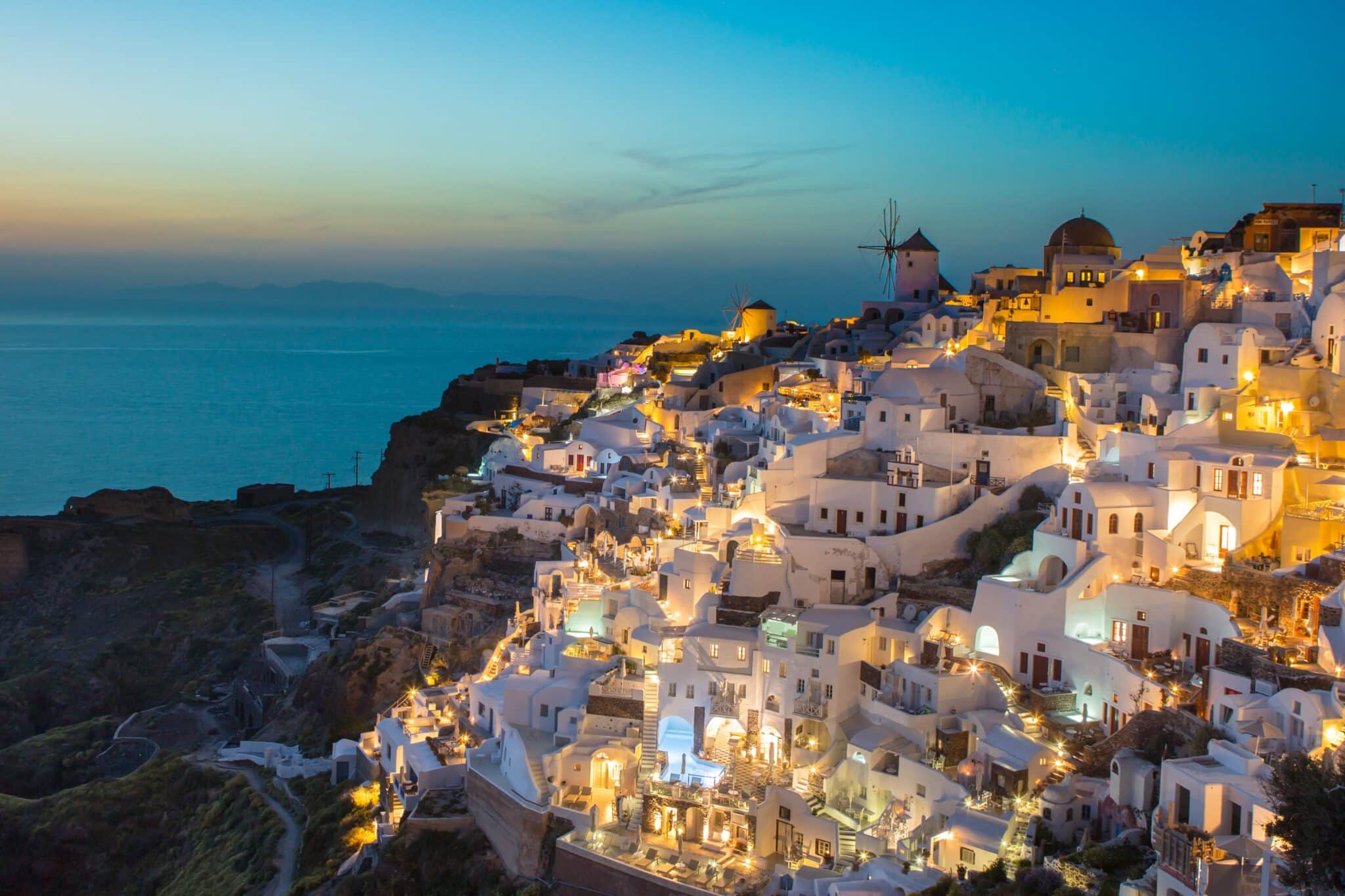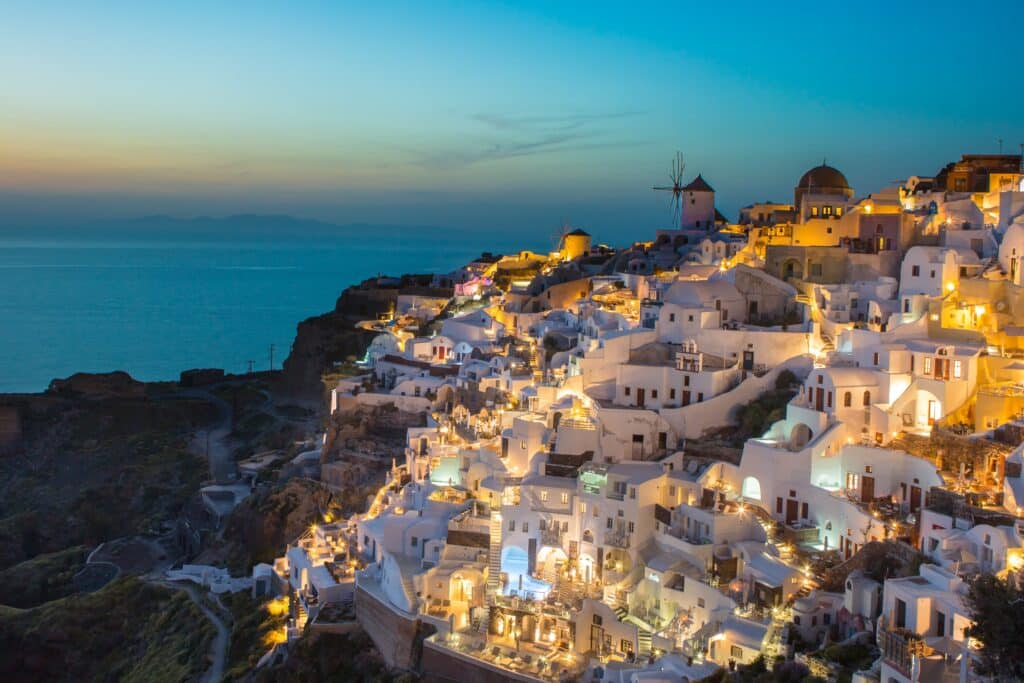 What to pack for your Santorini boat tour?
Packing recommendations include swimwear, a change of clothes, towels, hiking footwear, sunscreen, and a hat. Bring some snacks if your meals are not included.
What to see on a sailing cruise in Santorini?
You will witness the stunning caldera villages, the Oia cliffs, the Red and White Beach, the hot springs, and the incredible Santorini volcano.
How much is it to rent a boat in Santorini?
You can expect to pay €350 for a five-hour rental. This allows up to six passengers and does not require you to have a license.
Now that we have reached the end of our list of the best boat tours in Santorini, we are sure you will be inspired to add these to your bucket list.