California is known as the 'Golden State', boasting endless hours of sunshine and stunning coastlines. For those who want to make the most of an evening, these are the five places to watch sunsets in California.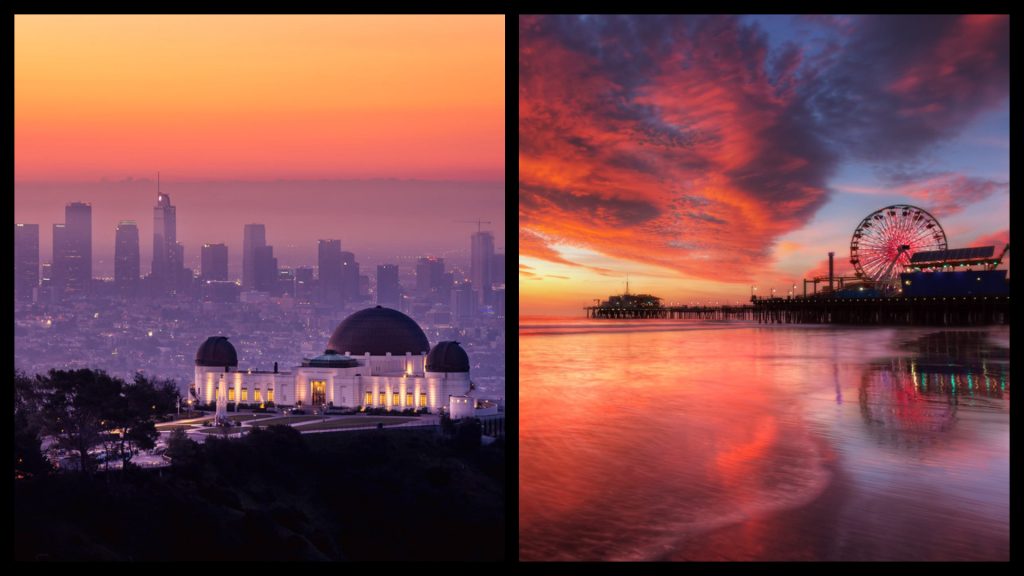 Whether you want to end the perfect day with a stunning vista or are planning a romantic experience, these are the top five places to watch sunsets in California.
Located on the west coast of the United States, California is known for many things, from its celebrity residents and mighty Hollywood sign to its laid back beach-bum atmosphere.
5. Huntington Beach – for surfing before sunset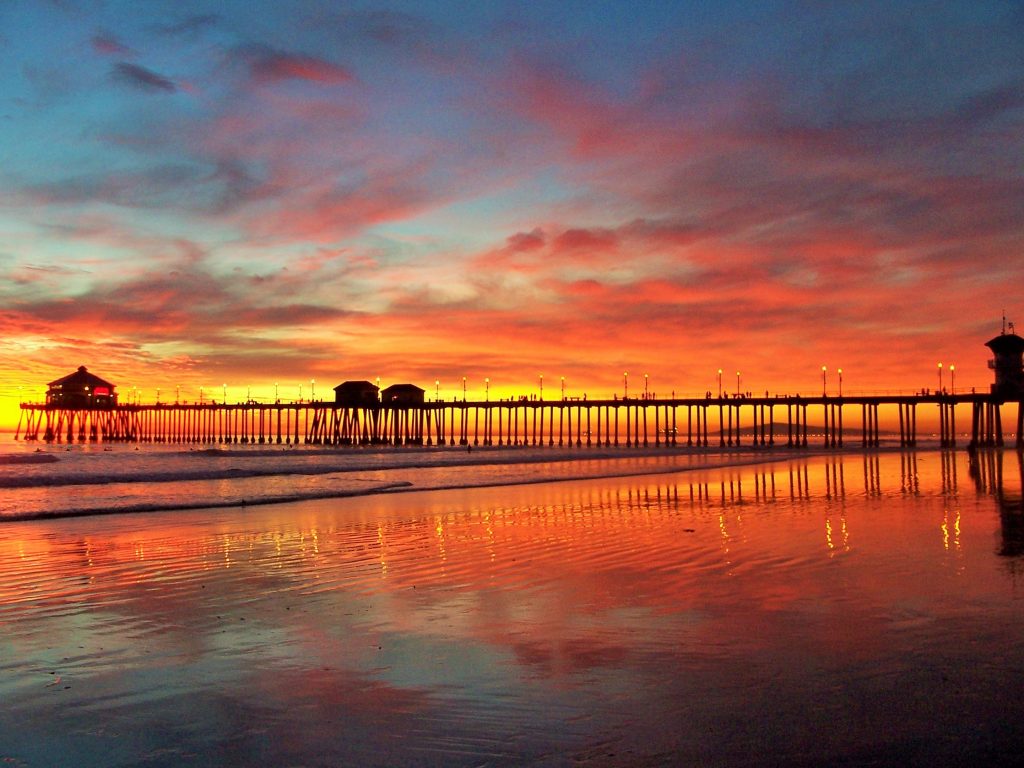 Huntington Beach is a coastal city in California that is known for its endless beaches. Favoured by surfers who populate the main stretch (Huntington City Beach), this is the perfect town for those who like to live life with their toes in the sand.
Stroll along the pier before dusk and enjoy watching the sun sink lower and lower until it traces the horizon. The sky is likely to bring its A-game here, too, so expect candyfloss colours and dreamy palettes of red, orange, and yellow.
After the sky spectacle has come and gone, wander into town, where you'll find laid-back local bars filled with all of the city's coolest inhabitants.
Address: Huntington Beach, CA 92648, United States
4. Dillon Beach – the privately-owned beach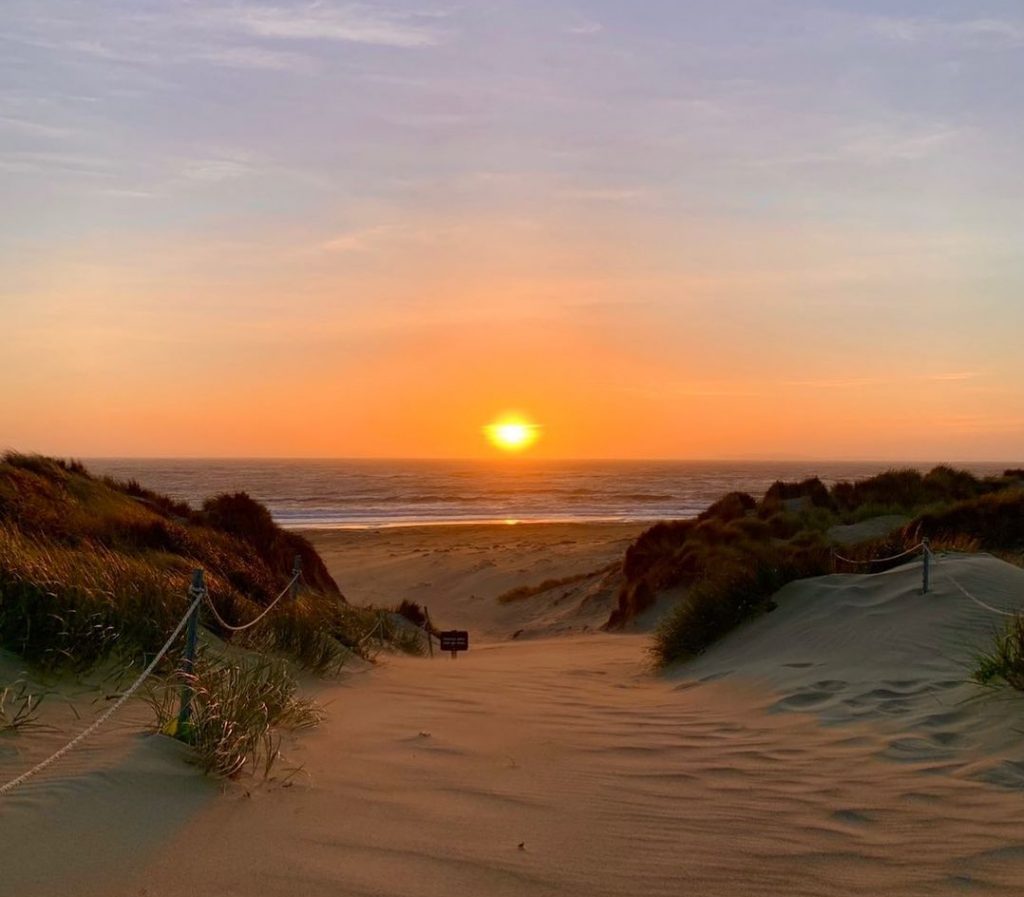 Dillon Beach is a small but spectacular privately-owned beach in California. The beach is located in the eponymous town, Dillon Beach, in Marin County.
Although this beach is private, guests are welcome to visit and enjoy the scenic setting for a small fee. Both surf-fiends and families looking to splash around visit Dillon Beach, depending on the conditions that day.
The resort is ripe with a surf shop, cabins to rent, and a cafe, meaning once you arrive, you'll be catered for throughout your visit. At sunset, the sky comes alive here.
Given that it's private property, it will be less crowded than other prime viewing spots; this makes Dillon Beach one of the best places to watch sunsets in California.
Address: 1 Beach Ave, Dillon Beach, CA 94929, United States
3. Pfeiffer Beach – the hidden gem
Pfeiffer Beach is located along the coast of Bir Sur. This hidden gem is a favourite of locals who take a spin down Highway 1, dodging all of the usual vistas and viewpoints to enjoy the sunset in seclusion.
Keep an eye out for Sycamore Canyon Road south of Big Sur Station; here, you will find access to Pfeiffer Beach.
Perhaps most notably, the beach has keyhole-shaped erosion in the rocks, and when you catch the sunset just right, golden light beams through this opening. It's a sight for sore eyes, without a doubt!
Address: California 93920, United States
2. Santa Monica Pier – an iconic spot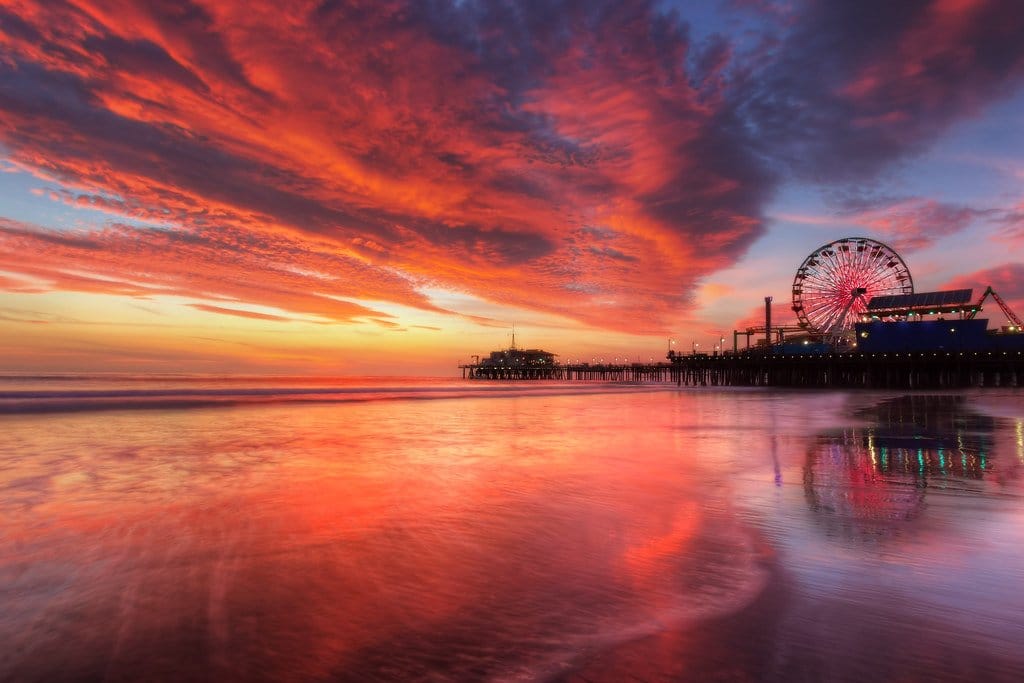 Santa Monica Pier is arguably one of the most popular destinations to watch sunsets in California.
Home to an all-American fairground, complete with a Ferris Wheel and rollercoaster, this iconic setting makes for an ideal place to watch the sun go down.
We suggest starting in the early afternoon with a walk along the beach. After, enjoy some fun at the fair before watching the sunset.
Many people enjoy the sky dance from the sand with a cold drink in hand or even slip into the sea to cool off while the sun takes its slumber.
Address: Santa Monica Pier, Santa Monica, CA 90401, United States
1. Griffith Observatory – for views over LA
There are many places to catch a magnificent sunset in California and a lot of scenic drives in LA, but way up there as one of the best has got to be Griffith Observatory in Los Angeles, U.S.A.
This setting is ideal for those who want to peer over the lights of Los Angeles, which sleep below this elevated observatory. From here, the Hollywood sign and city are visible. Not to mention the golden sun, which can turn the sky to psychedelic pinks with hues of blues.
This is also one of the most romantic outdoor settings in Los Angeles. So, bring a picnic blanket and some treats, as well as your biggest crush, and it's sure to be a sunset to remember.
This is a must add to your Los Angeles bucket list.
Address: 2800 E Observatory Rd, Los Angeles, CA 90027, United States