Full of history and culture, Florence is a truly magical city with something new to discover on every street corner. If you're planning a trip to the city, here are some great places to stay.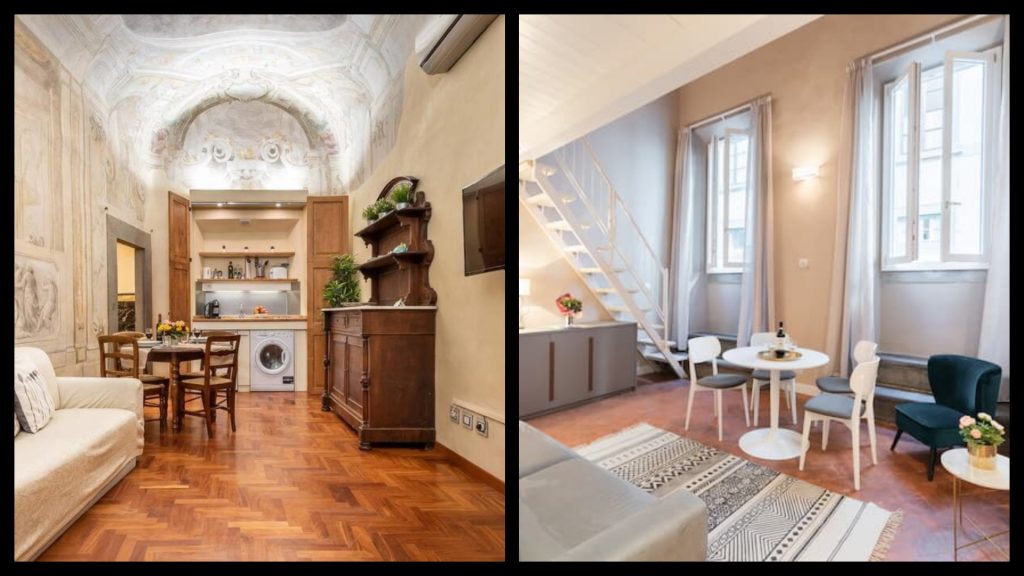 To make the most of your time in one of Italy's most historic cities, these are the ten best Airbnbs in Florence, Italy.
From Renaissance architecture and artwork, including Michelangelo's David and Botticelli's Birth of Venus, to snazzy Italian restaurants and quaint little gelaterias, Florence is a treasure trove of Italian culture. The vast amount of things to do means you can also explore Florence with kids!
And, thankfully, Florence is home to some fantastic places to stay that encapsulate the unique feel of this picturesque city. Whether you are here for the weekend or travelling through on a Northern Italy and Switzerland itinerary, Florence is a must-visit. So, here are the ten best Airbnbs in Florence, Italy.
10. Tuscan Apt in the heart of Florence – a modern apartment close to the main attractions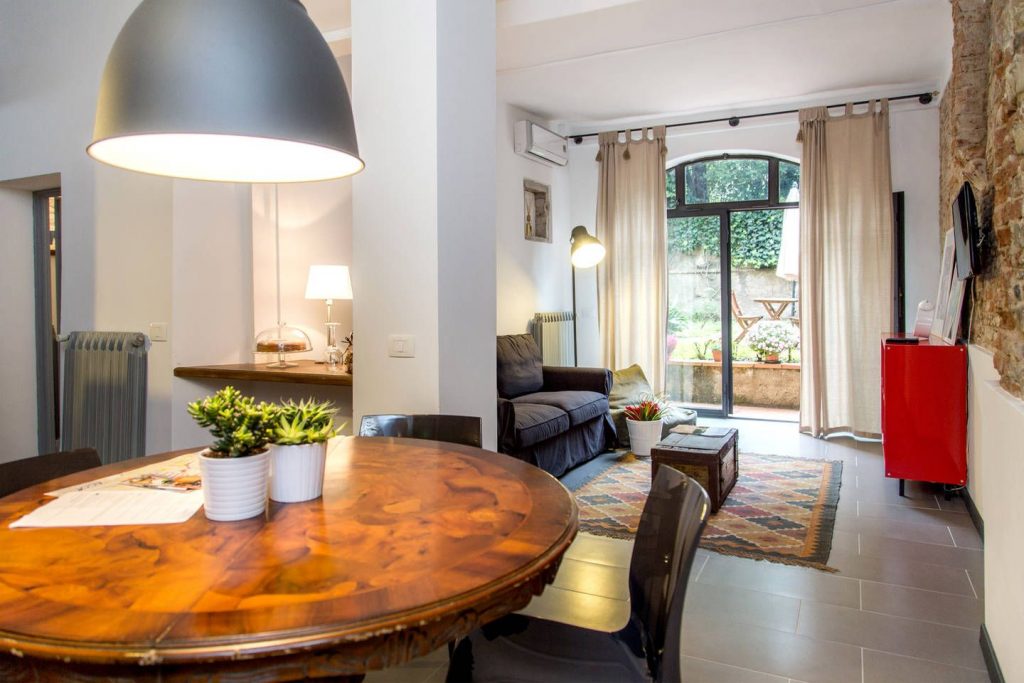 As the name suggests, this beautiful Airbnb can be found right at the heart of Florence.
With high ceilings and a modern open planning design, this is the perfect place for a quiet retreat in the city. Accommodating four guests, the apartment has one bedroom and a sofa bed that sleeps two guests.
Book: HERE
9. Botticelli's apartment – paying homage to the city's artistic history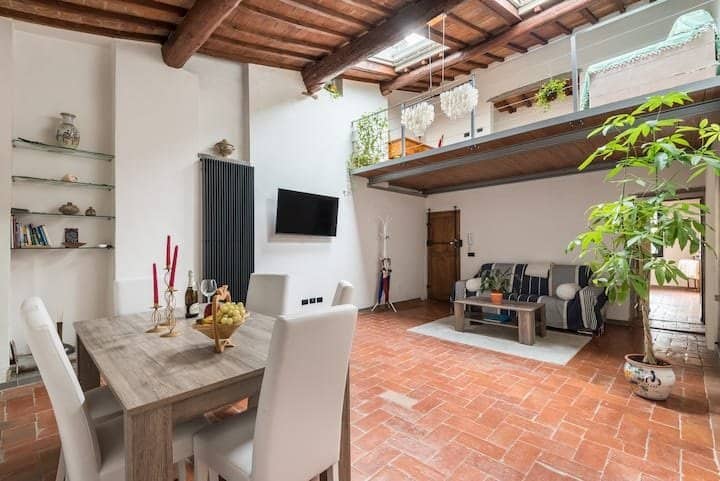 In a nod to the artistic history and feel of the city, Boticelli's apartment can be found just around the corner from the final resting place of the artist himself.
This unique and modern loft apartment is one of the best Airbnbs in Florence, Italy, and exactly the kind of place you could imagine an artist residing.
Book: HERE
8. Luminoso appartamento dall'atmosfera sospesa in palazzo storico del centro – where history and modernity collide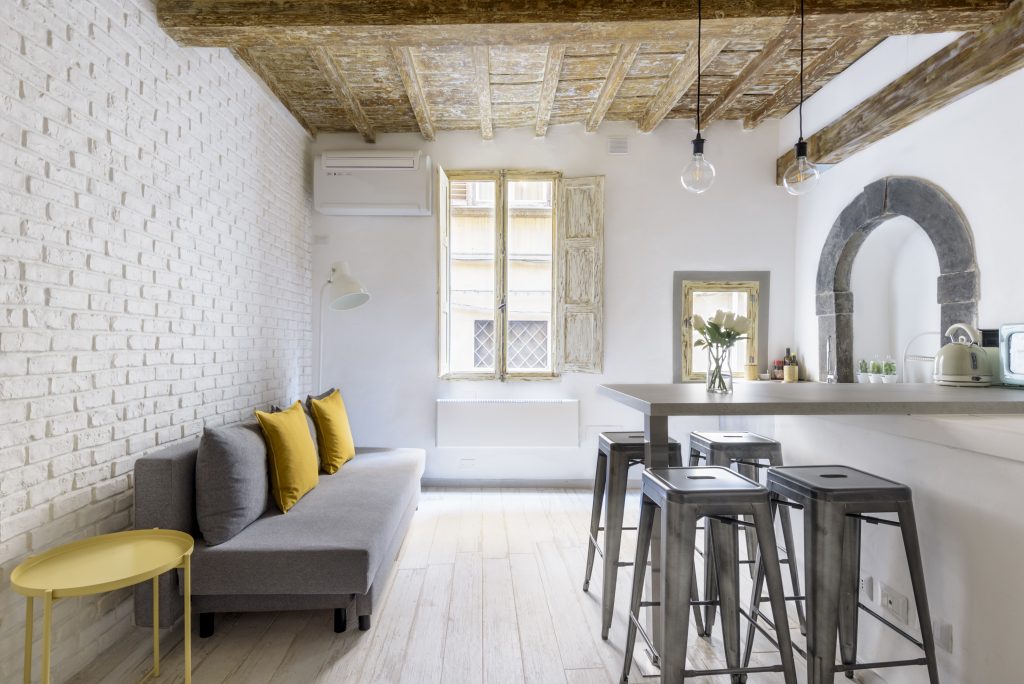 Modern, bright, and airy, this gorgeous apartment in the city centre accommodates four guests.
Finished with modern and minimalist features, you would easily forget that this apartment is housed inside one of the city's most historic buildings.
Book: HERE
7. Studio flat in XVI century building in the centre – a little piece of Florentine history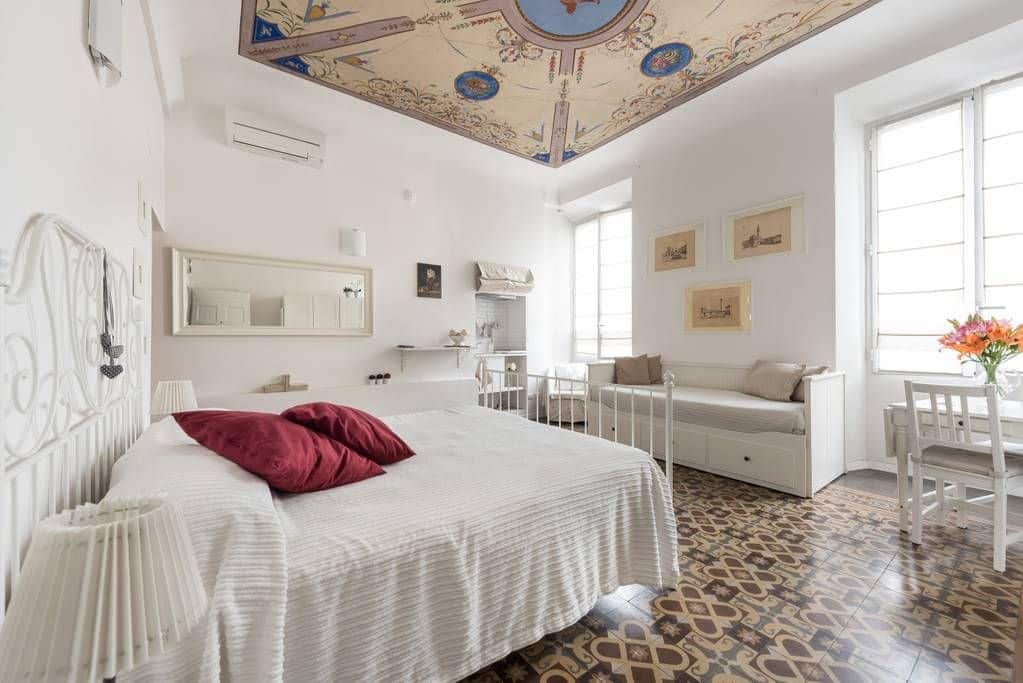 The features of this gorgeous studio flat give off the feeling of Florences' Renaissance past. Modern yet classic, this late 1500s residence includes frescos and antique floors.
Offering an insight into the city's long history, this Airbnb is housed in one of the first examples of the modular buildings of the Middle Ages.
Book: HERE
6. Petit Studio Florence close to the Dome – close to all the main attractions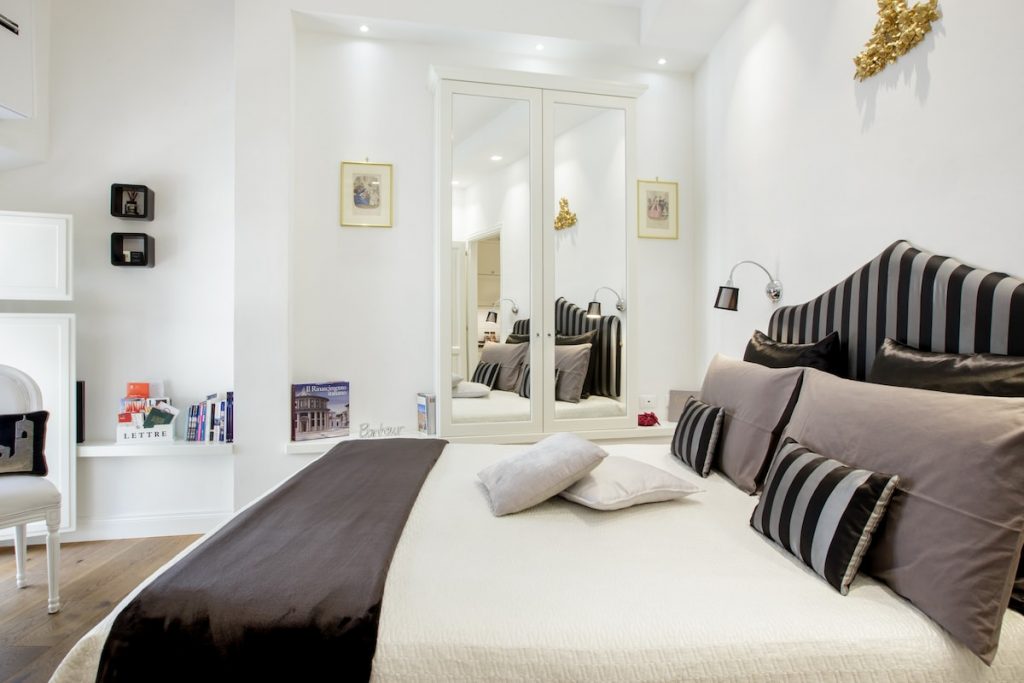 If you want to be right at the heart of the action, then this petite studio is the one for you.
Accommodating two guests, this Airbnb is certainly not the most extravagant in the city. However, it offers a quaint and peaceful feel, making it the perfect place to relax after a day of exploring and getting a start on your Florence itinerary.
Book: HERE
5. La Casa sui Tetti dell'Oltrarno – for modern attic rooms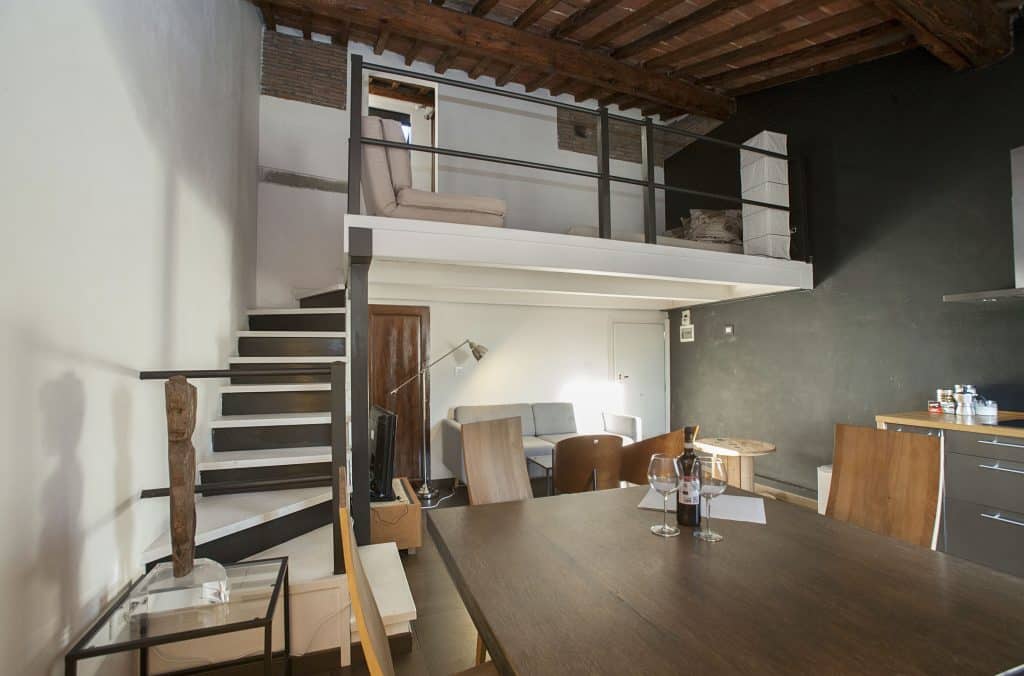 This sleek and modern apartment contrasts strikingly with the Florentine history on its doorstep.
Defined edges, dark painted walls, and wooden table tops add to the modern feel. Sleeping four guests across two bedrooms, this is the perfect Airbnb for families or couples.
Book: HERE
4. Scala Apartments Borgo Pinti – one of the best Airbnbs in Florence, Italy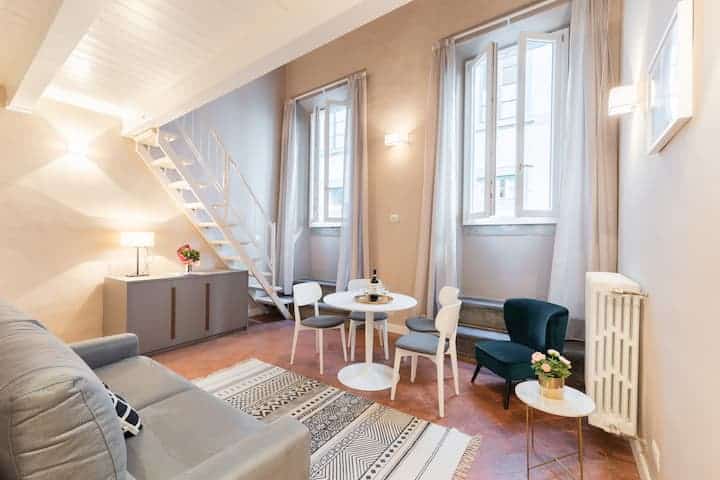 This cute and cosy Airbnb boasts high ceilings and large windows that make the room much larger than it actually is.
Set in the vibrant Santa Croce Square area, this gorgeous apartment has two bedrooms, a bathroom, and a comfy double sofa bed in the living area.
Book: HERE
3. Diladdarno: The Only Flame In Town – feel right at home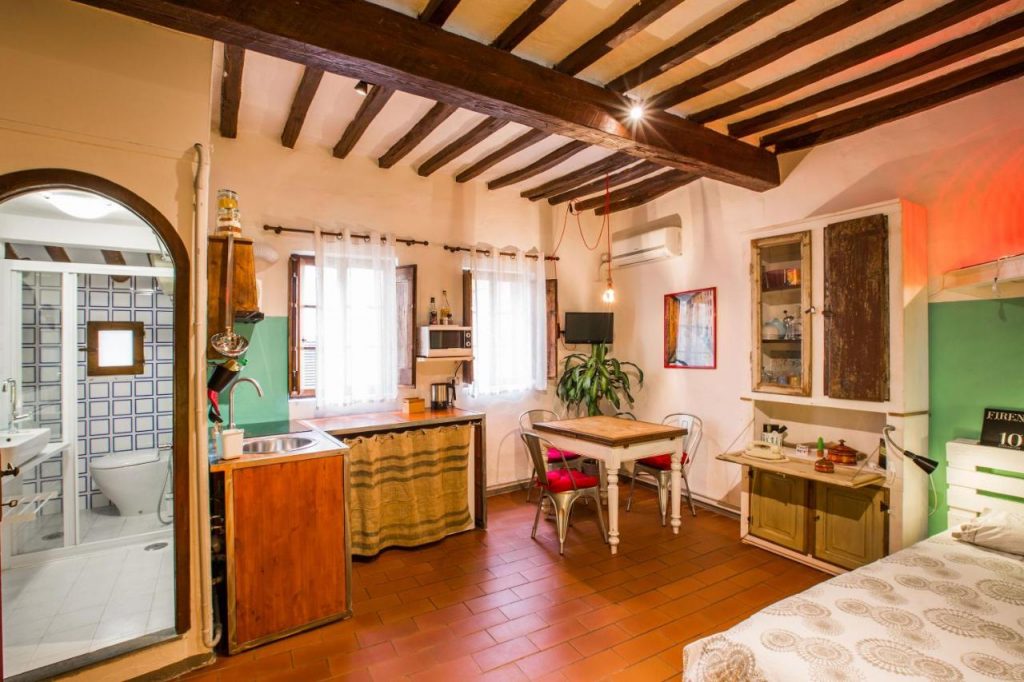 You can find this charming apartment right at the heart of Florence, between Palazzo Pitti and Ponte Vecchio.
Encompassing 320 sq ft (30 sq m), this lovely Airbnb is sure to make you feel right at home. It sleeps three guests and has all the amenities you could need for a comfortable stay.
Book: HERE
2. Small flat overlooking Duomo and Medici chapels – small and charming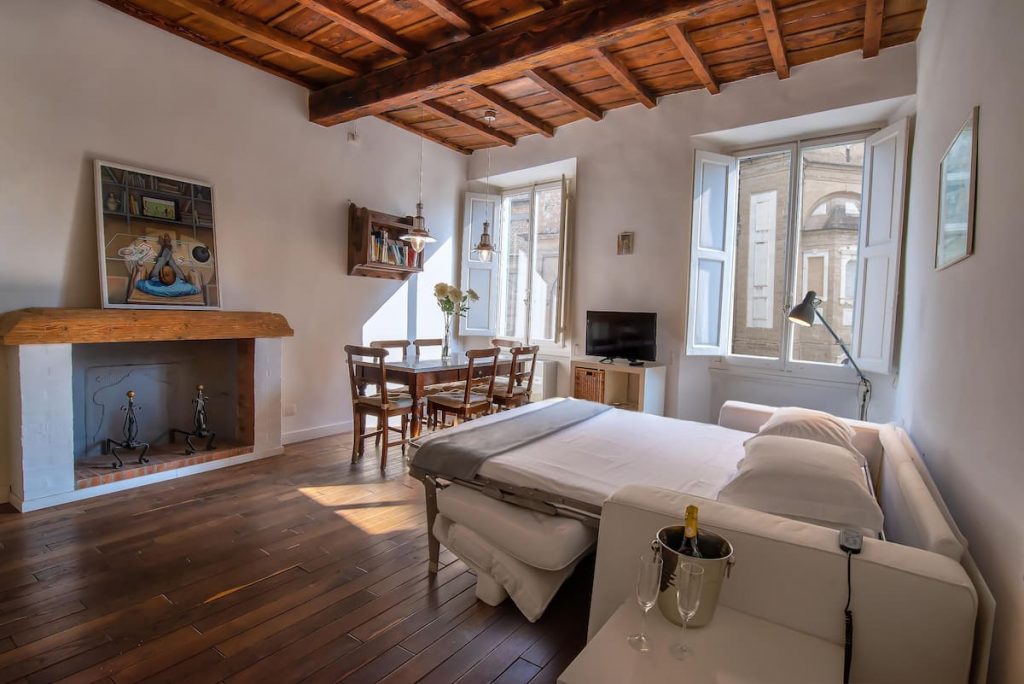 This small and charming apartment offers up some of the best views in the city. The wooden slat roofs add to the charm, especially on a sunny day when you can have the windows wide open.
Sleeping two guests, the sofa bed folds up to allow for more space in the daytime, meaning you'll have plenty of room to move around.
Book: HERE
1. Ponte Vecchio Luxury Apartment – for an elegant Florentine feel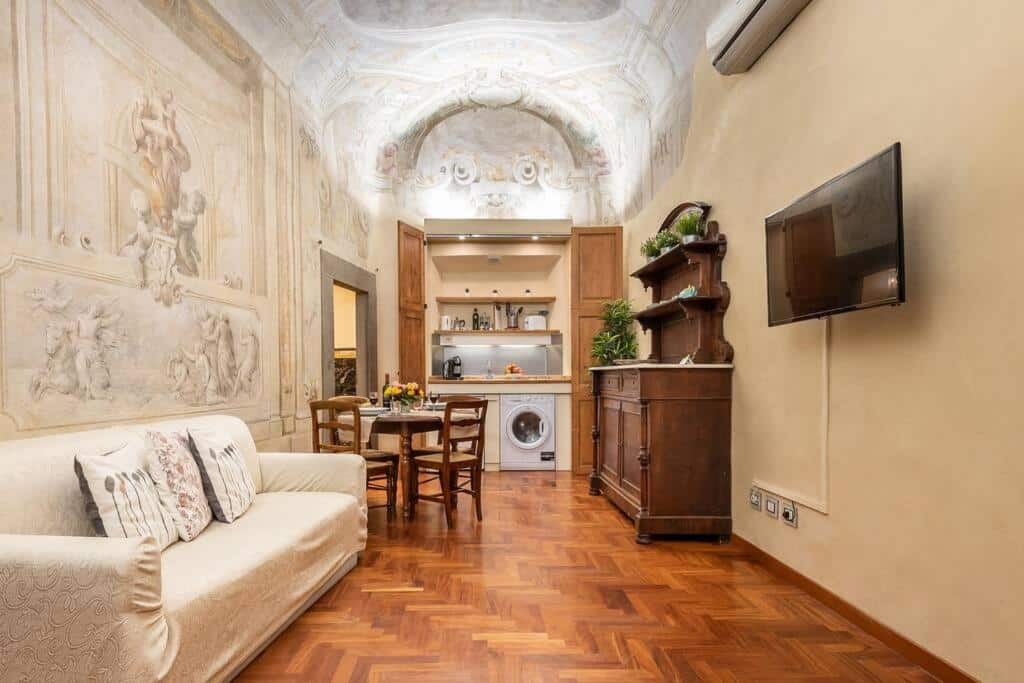 Now, if you're looking for a truly opulent Italian experience in this historic city, then the Ponte Vecchio Luxury Apartment is the one for you.
Undoubtedly one of the best Airbnbs in Florence, Italy, the extravagant design of this place will make you feel like you've wandered into a museum or art gallery.
Book: HERE