Find your inner zen and relax to your heart's content at the most incredible Airbnbs in Byron Bay.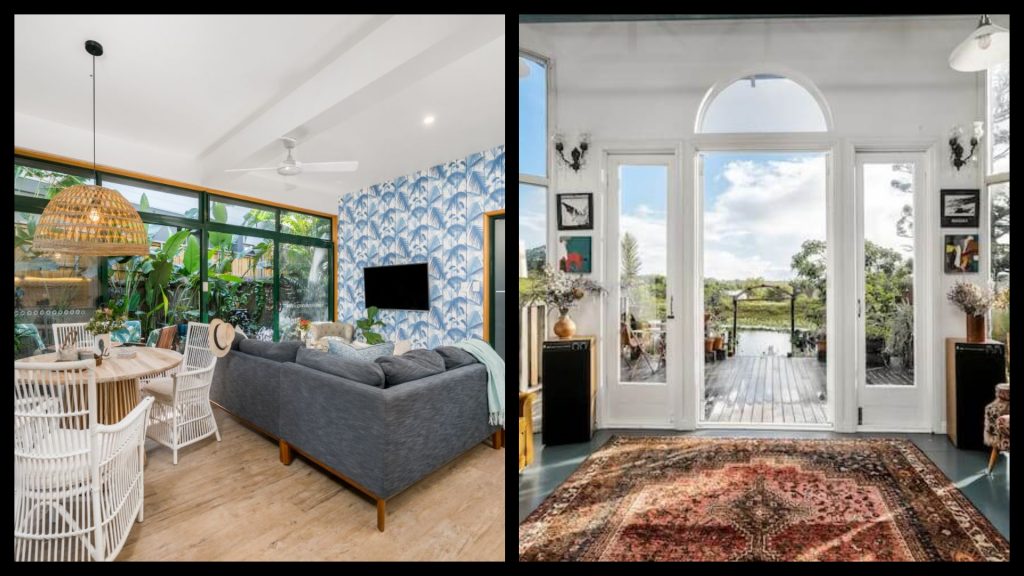 Airbnb is a great way to experience a new place and live like a local. With a huge range of options to choose from when it comes to Airbnbs in Byron Bay, it can be difficult to choose just one.
So, we've narrowed it down to the ten most incredible Airbnbs in Byron Bay to help you decide!
The Airbnb scene in Byron Bay offers rustic retreats, beautiful beachside cabins, and magnificent havens situated in the heart of the town. Enjoy all the magic that Byron Bay has to offer by staying in one of our favourite Airbnbs.
So pack your bags; here are the ten most incredible Airbnbs in Byron Bay.
10. The Lake House – experience the 'real' Byron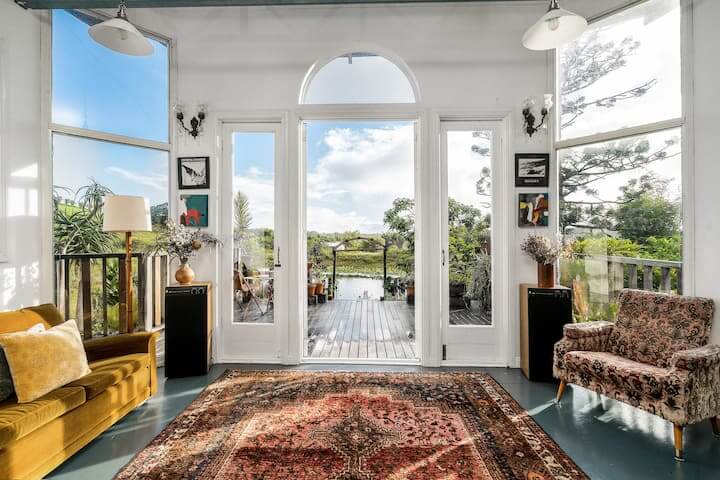 Although located a couple of kilometres from the town, this Airbnb showcases the local's way of life in Byron Bay. Thus, there is no better place to start on our list of the most incredible Airbnbs in Byron Bay.
Located on a ten-acre farm, this two-bed property lets guests relax in this rustic and bespoke cottage. There is a quaint spring-fed lake that is perfect for those looking to start their day with a morning dip!
More info: HERE
9. Seahaven Studio – for enviable views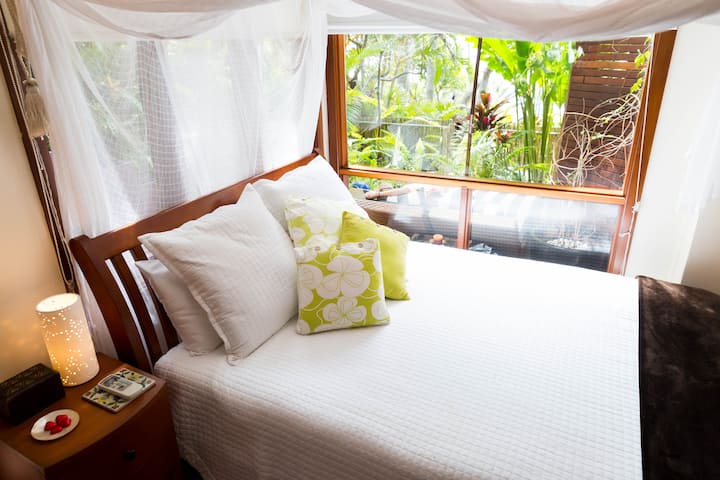 Located at the foot of the historic Cape Byron Lighthouse, the most eastern point in Australia, is this tropical studio.
This one-bed studio is hidden amidst a tropical garden while also offering spectacular views of Wategos Beach. The host's attention to detail allows guests to feel at home here.
More info: HERE
8. Byron Bay Studio – a tranquil oasis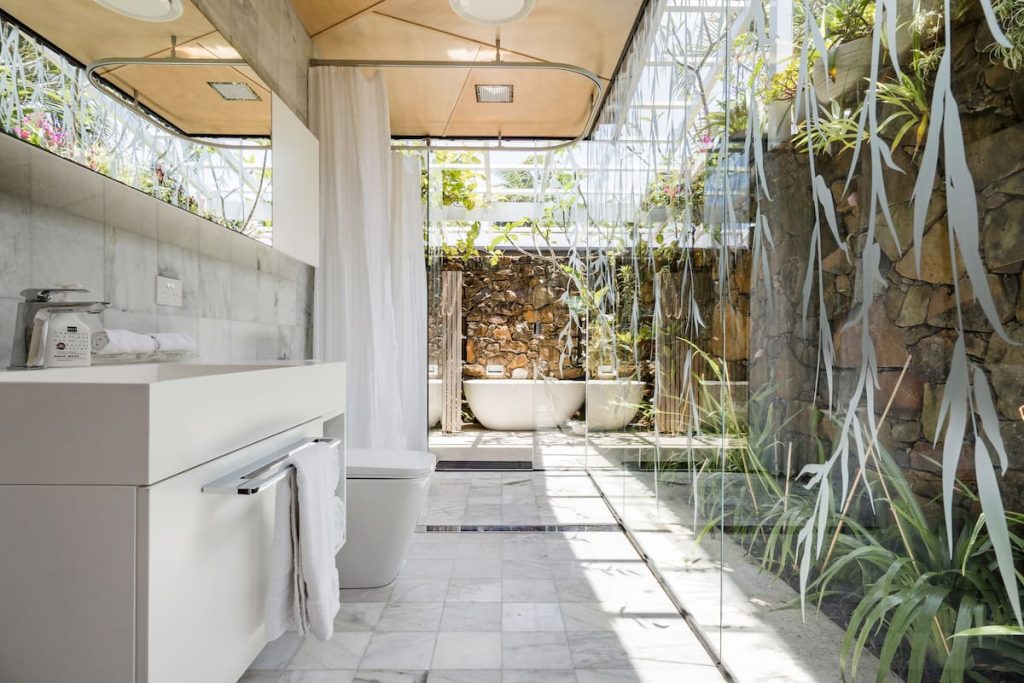 This studio property is a brilliant place for a romantic retreat without being too far away from all the action.
This guest suite steps out onto a leafy garden patio with an alfresco soaking tub that is magical at night. The bathroom is a stunning aspect of this oasis, as floor to ceiling windows bring nature into this spa-inspired bathroom.
More info: HERE
7. Pineapple Cottage – private swimming pool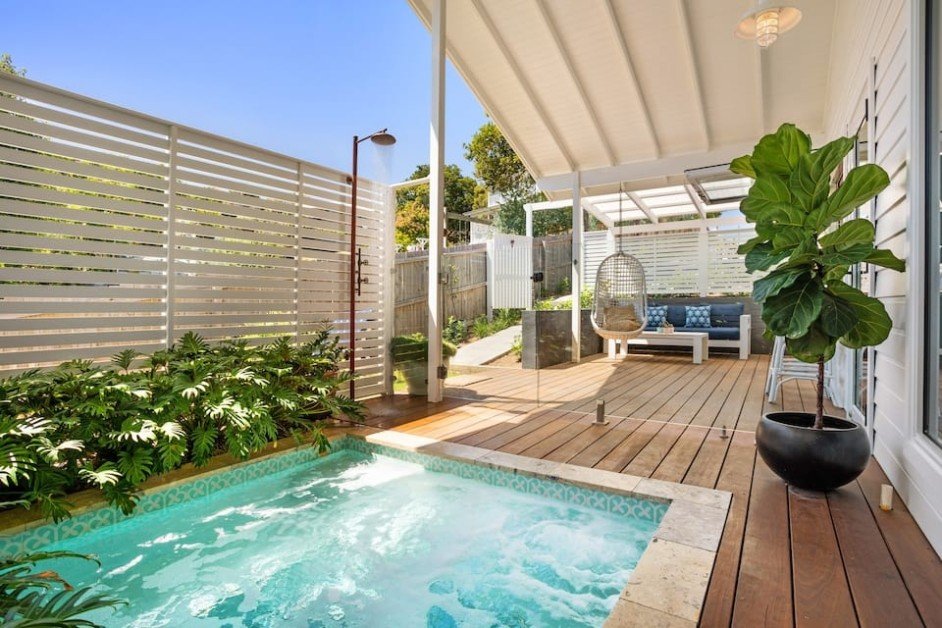 Enjoy the ultimate family getaway at this beautiful Airbnb conveniently located near all local amenities.
This property seamlessly combines indoor and outdoor living through the ingenious use of architecture. So curl up with a book on the comfortable swing or spend some time splashing about in your very own small swimming pool.
More info: HERE
6. The Bungalow – a quiet sanctuary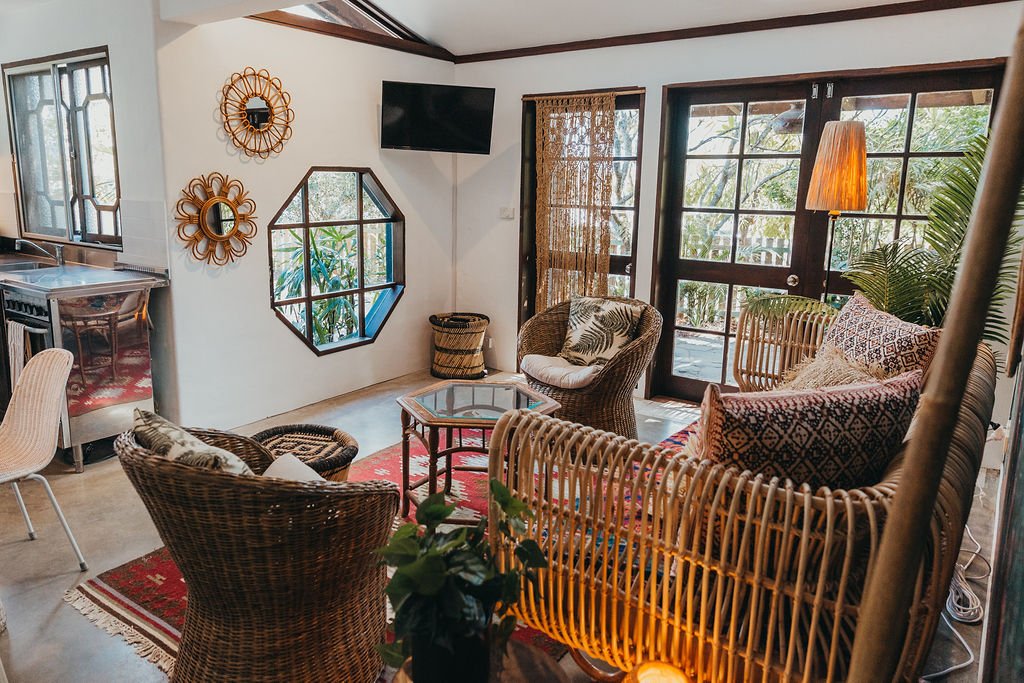 This ground floor two-bedroom apartment offers all the luxuries that come with living in Byron Bay, including embracing the outdoor lifestyle.
Relax and unwind in the tropical garden or enjoy a shower outdoors. This Airbnb is located at the top of a hill and, as such, offers unrivalled views of Byron Bay.
More info: HERE
5. April Sun Villa – a beachfront villa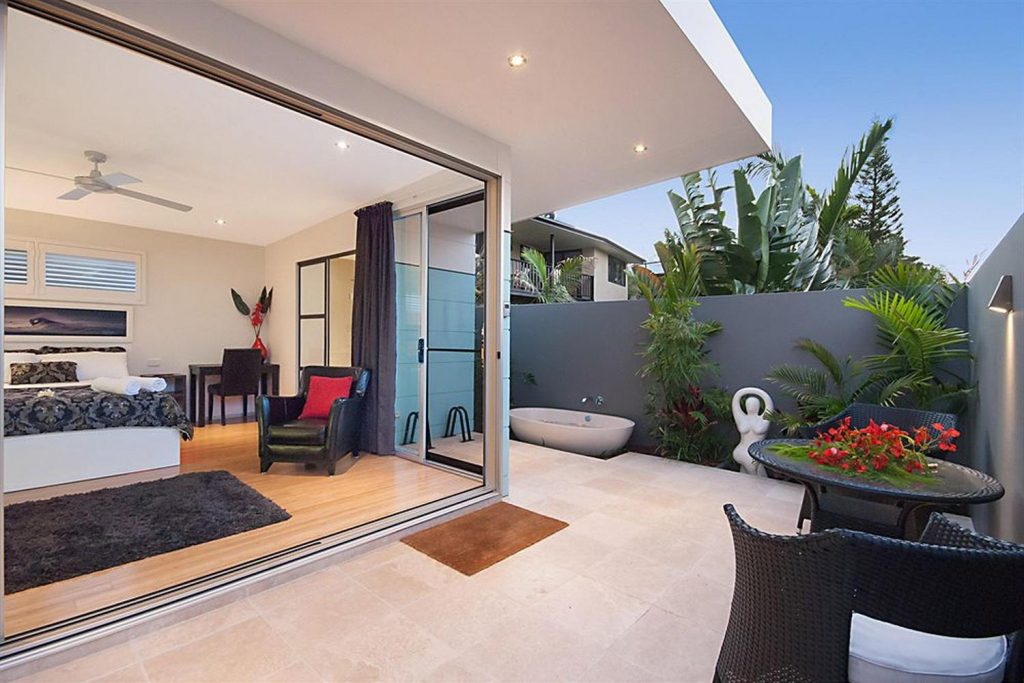 If you're looking for a romantic getaway unlike any other, then this is the Airbnb for you.
Guests have their very own Bali private bath, as well as access to a luxurious outdoor heated pool and BBQ area. The villa is located in the heart of Byron and is one of the few Airbnbs that has direct access to the beach.
More info: HERE
4. The Treehouse – a rainforest escape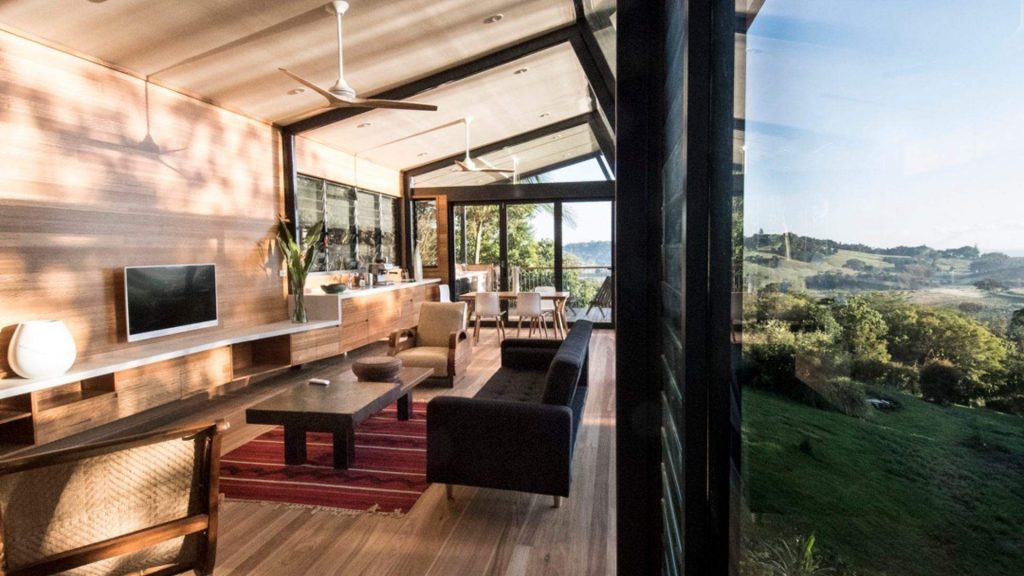 Perched high amongst the trees of the tropical rainforest is one of the most incredible Airbnbs in Byron Bay.
This one-bedroom home sleeps two and offers breathtaking views of the surrounding Australian hinterland. Although located in the treetops, this Airbnb is just a short ten-minute drive to the beach and town.
More info: HERE
3. Aitutaki – luxurious and tropical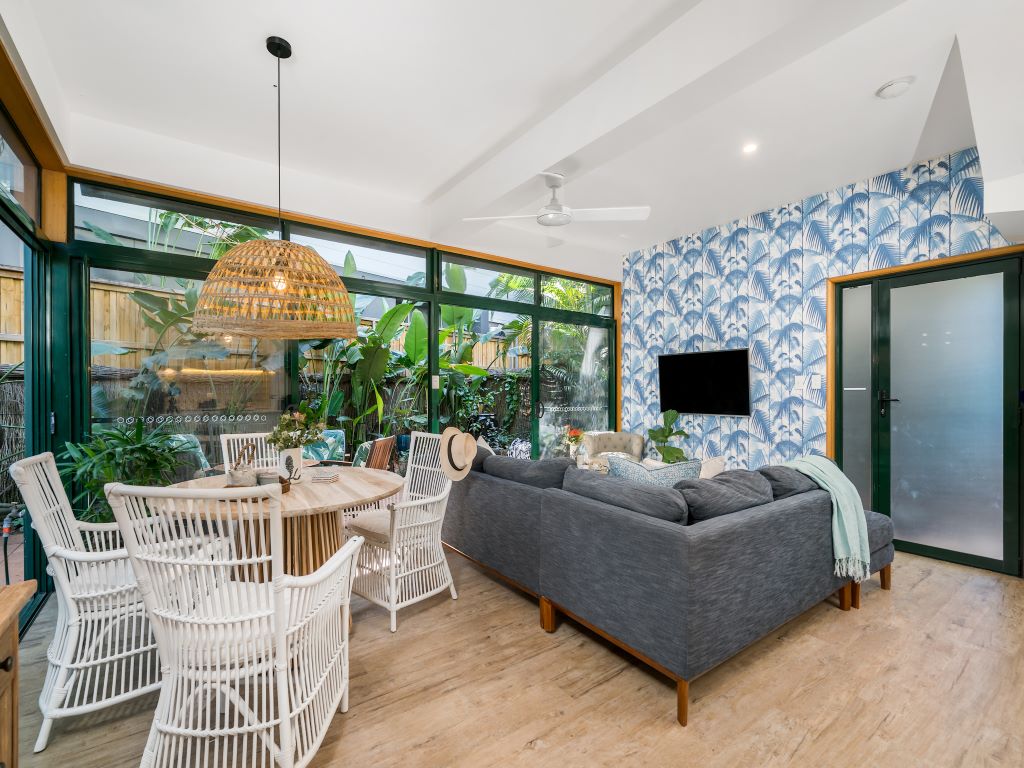 Just a stone's throw away from the gorgeous beach is this freestanding villa. Nestled in a resort complex, this villa has access to a beautiful outdoor heated pool.
Four people can sleep comfortably across two bedrooms situated above the treetops – keep your eyes peeled for the resident kookaburras and water dragons.
More info: HERE
2. Jonson St Penthouse – located in the heart of the town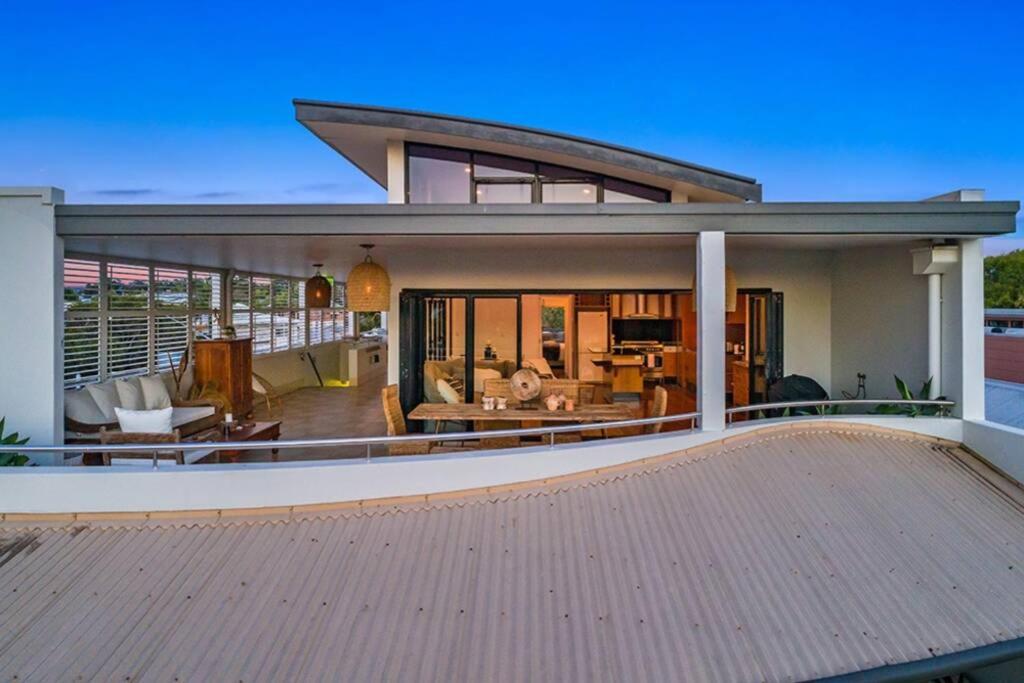 This penthouse apartment is a romantic getaway for couples looking to enjoy a taste of Byron.
Located just five minutes from the beach, this Airbnb is perfectly situated amongst bustling restaurants and bars. Enjoy views from the balcony, which comes stocked with a BBQ perfect for hosting gatherings.
More info: HERE
1. Luxury Loft – one of the most incredible Airbnbs in Byron Bay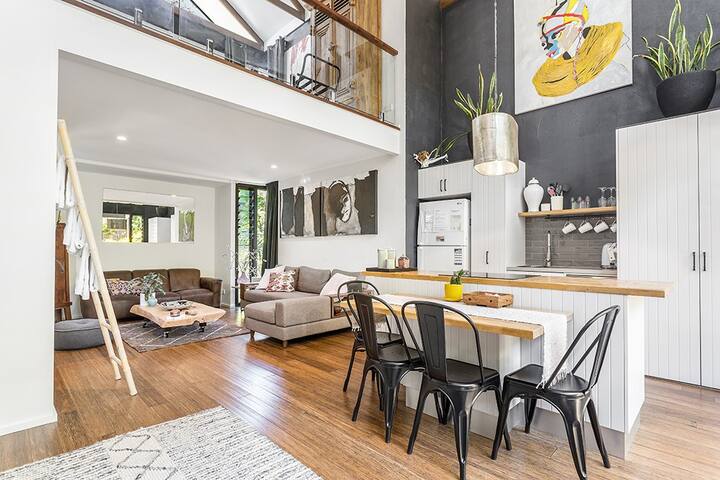 Located just a short stroll from the centre of the town is this incredible Airbnb that sleeps three.
With exposed rafter ceilings, unique architecture, and state of the art kitchen, this property offers everything you might possibly need and more. Relax in the outdoor stone set in the tropical gardens of this building after exploring Byron on a bike.
More info: HERE