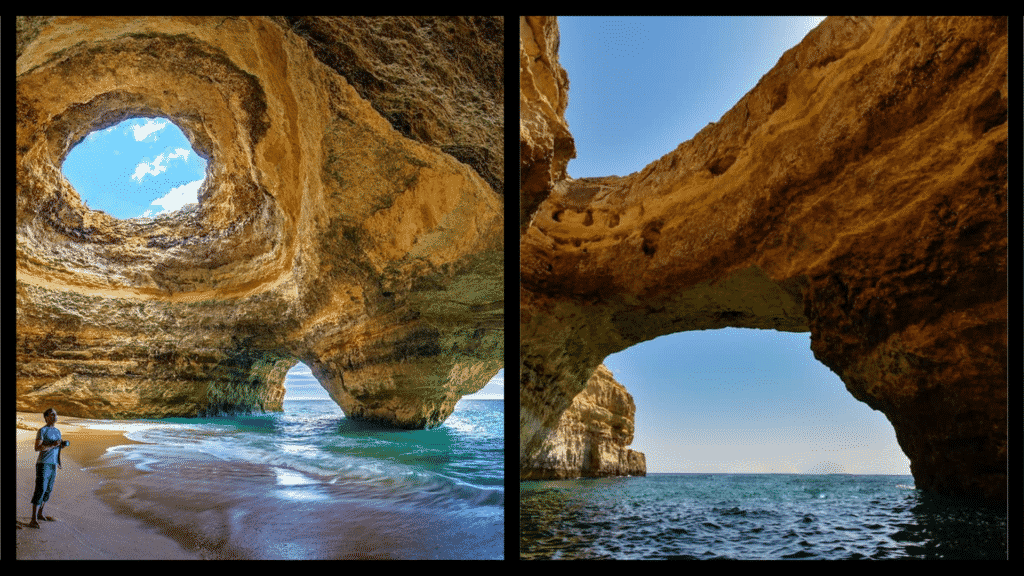 The Portuguese coastline is dotted with hidden coves that can be explored by sea or by land. Today we're counting down the top ten incredible caves in Portugal you need to visit.
This long, thin country on the southwest coast of Europe provides plenty of opportunities to escape to the coast. From the breathtaking beaches of the Algarve to the sunny seasides close to Porto and Lisbon, you'll be spoilt for choice when it comes to breathing in the sea air.
So, if you want to discover some of the hidden parts of Portugal's stunning coastline, then listen up. Here are ten beautiful caves in Portugal you need to visit.
10. Vale de Centeanes Beach, Carvoeiro – easy to explore when the tide is out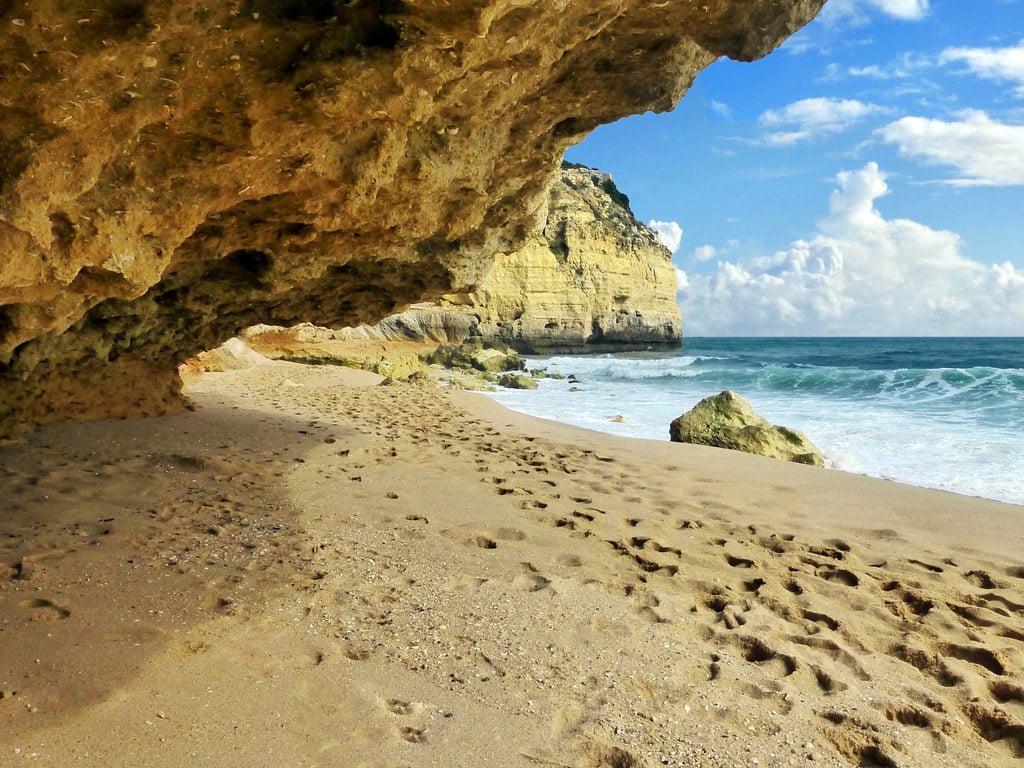 Vale de Centeanes Beach on the beautiful Algarve coastline is home to some of the most incredible caves in Portugal you need to visit.
The beautiful beach is just a 20-minute walk from the town of Carvoeiro. Accessible by land, these caves can be explored from the beach when the tide is out.
Address: Sitiu Praia de Vale Centeanes, Carvoeiro, Portugal
9. Gruta do Escoural, Montemor-o-Novo – a must for history buffs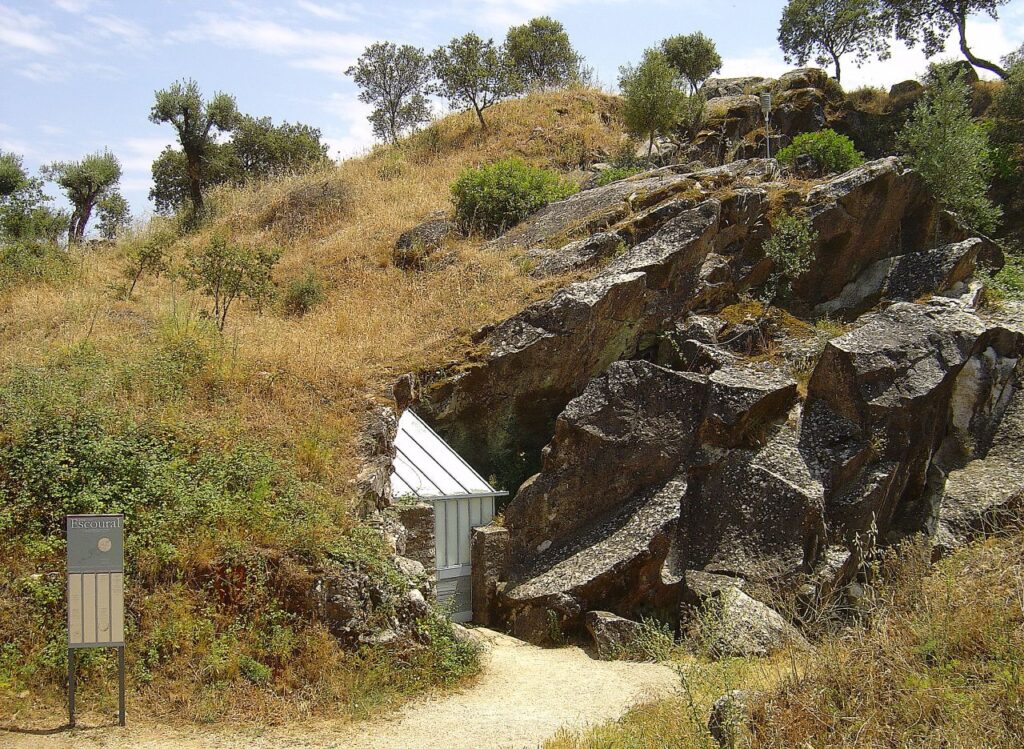 Known for its Paleolithic-era rock art, the incredible Gruta do Escoural in Montemor-o-Novo is one of Portugal's most fascinating historical landmarks.
With evidence of human occupation dating back to 50,000 years B.C.E., this is a truly remarkable sight.
Address: M370, 7050-556, Portugal
8. Elefante, Lagos – perhaps one of the most famous Portuguese landmarks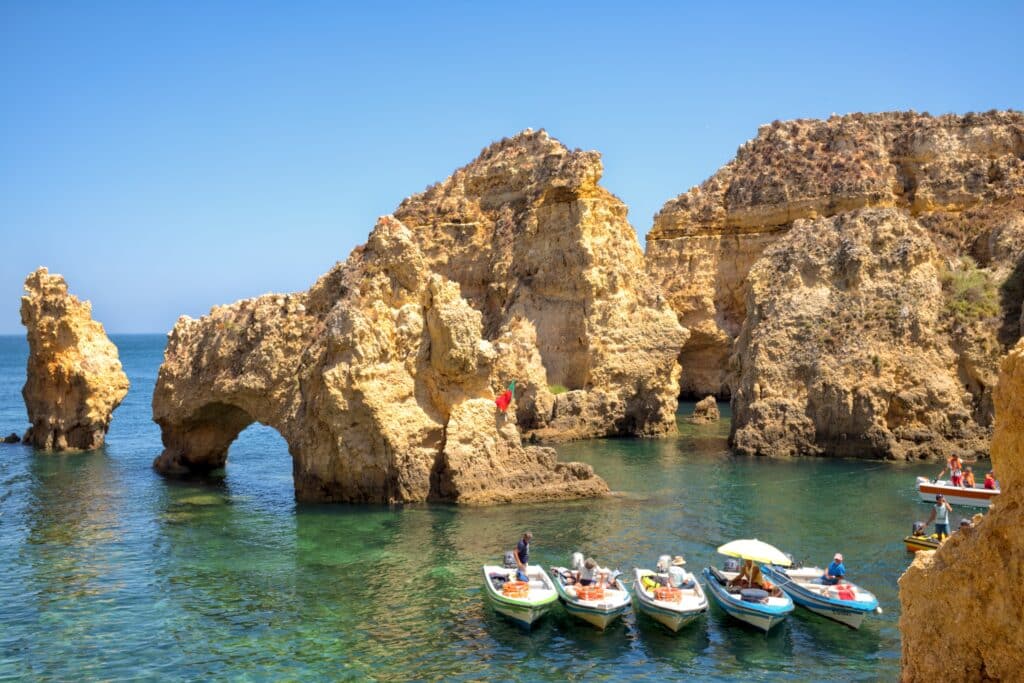 Elefante, or the Elephant Rock, in Lagos is one of the most famous and distinctive landmarks of the Algarve coast.
Recognisable for its resemblance to an elephant, as the name suggests, this incredible rock formation is a popular spot on many boat tours from the area.
Located in Ponta da Piedade in Lagos, Elefante one of the most amazing caves in the area.
Address: Ponta da Piedade, Lagos, Portugal
7. Algar do Carvão, Azores – an incredible volcanic cave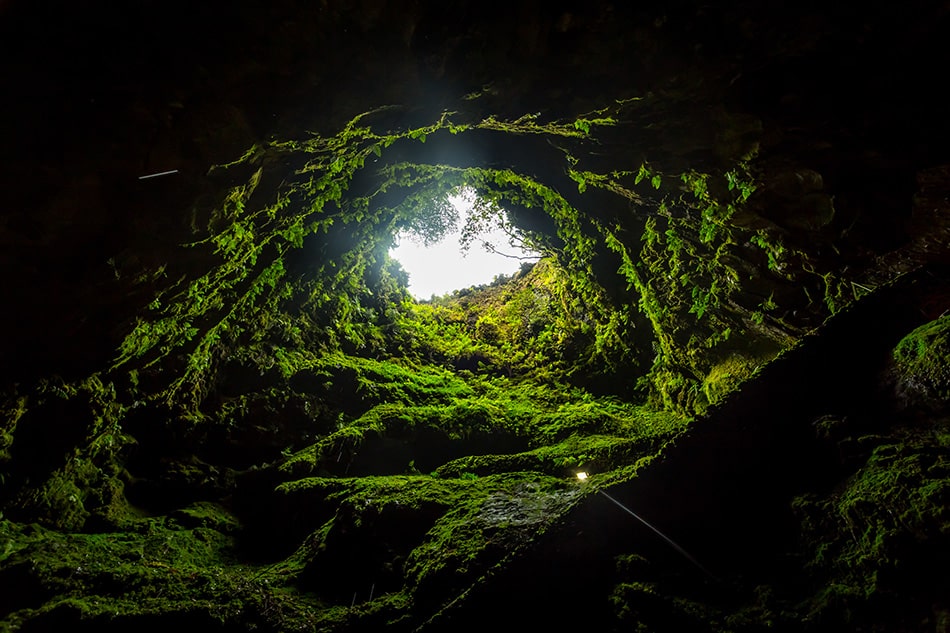 Located off the mainland on the island of Terceira in the Portuguese archipelago of the Azores, Algar do Carvão translates to Cavern of Coal.
Formed by a great eruption known as the Pico Alto, this volcanic cave is a true natural wonder.
Address: Porto Judeu, 9700-000 Angra do Heroísmo, Portugal
6. Gruta do Capitão, Lagoa – difficult to access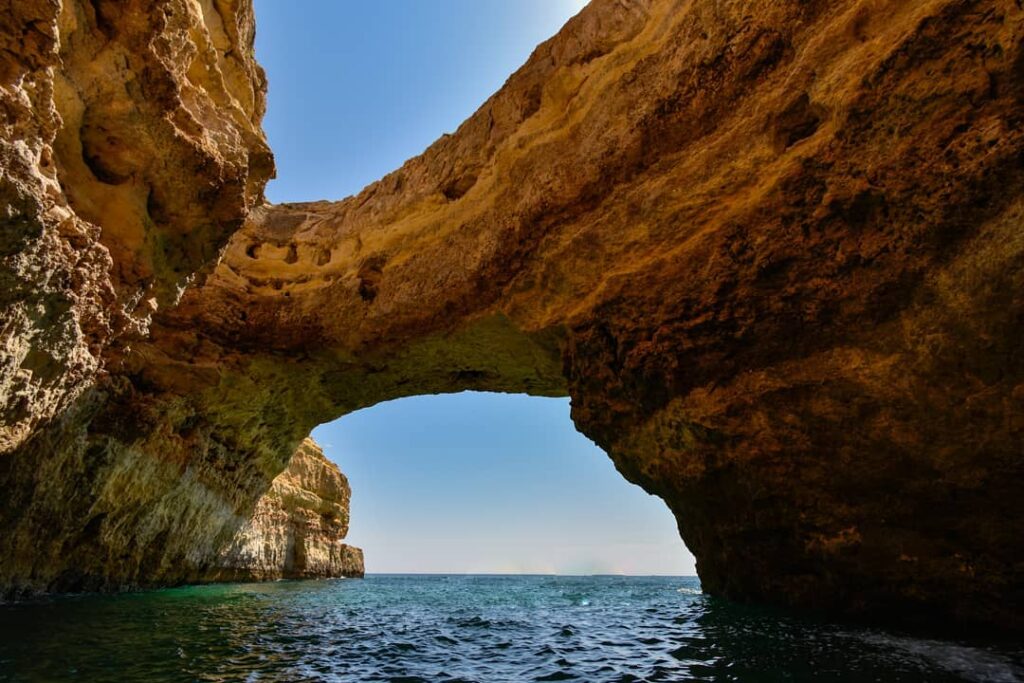 Located between Carvoeiro and Armação de Pêra, Gruta do Capitão is otherwise known as the Captain's Cave.
This cave is notoriously difficult to access and can only be accessed by boat. Thus, if you want to visit this stunning cave, we recommend booking a guided boat tour.
Address: Praia da Estaquinha, Lagoa
5. Arcos de Marinha, Lagoa – one of the coolest caves in Portugal you need to visit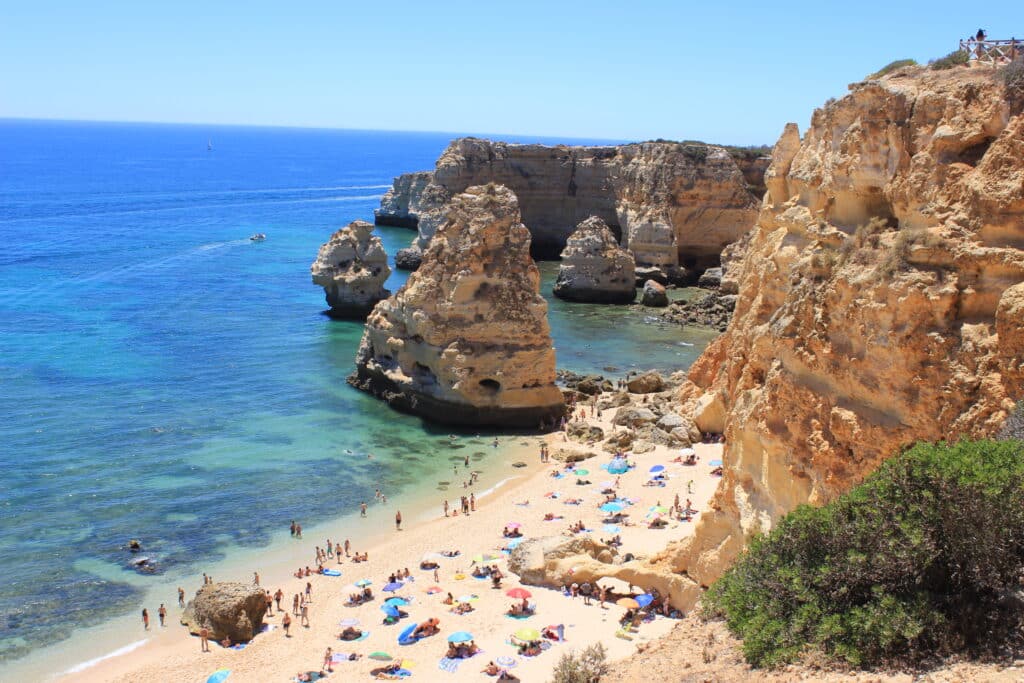 Praia da Marinha is one of the most beautiful beaches in Portugal, and the stunning Arcos de Marinha are part of the appeal.
The stunning rock formations here comprise two sandy-coloured arches that make the perfect Instagram picture.
Address: Praia Marinha, Estr. da Marinha, Estr. da Caramujeira, 8400-407 Lagoa, Portugal
4. Caves of Mira de Aire, Mira – discover an underground world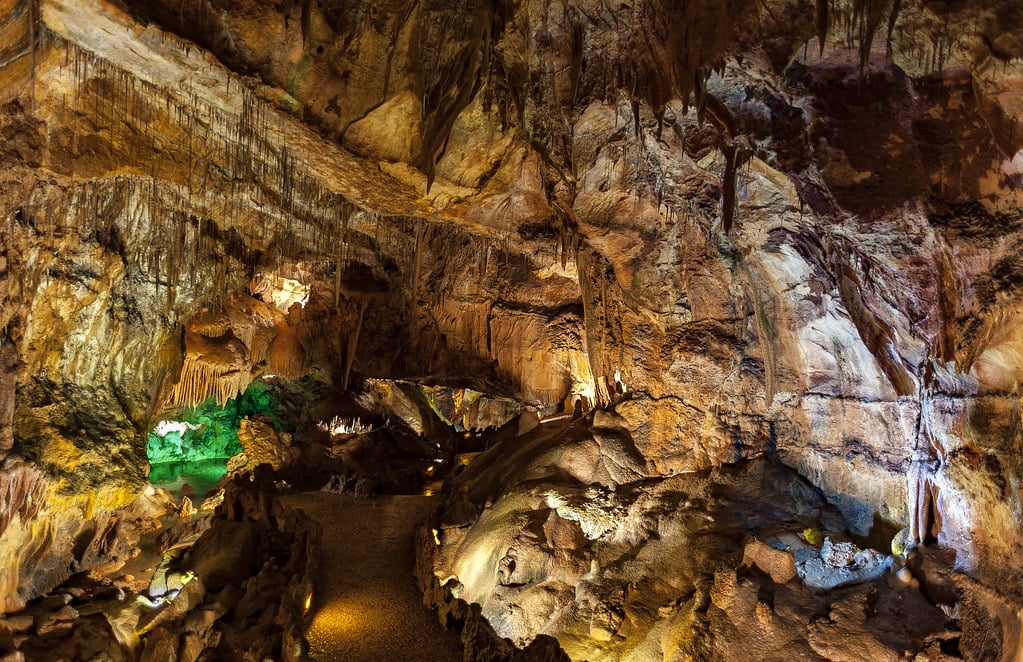 Part of the Seven Natural Wonders of Portugal, the Caves of Mira de Aire is a must-visit.
Popular with tourists and families, these incredible caves include underground rivers and lakes and incredible stalactite and stalagmite formations.
Address: Av. Dr. Luciano Justo Ramos 470, 2485-050 Mira de Aire, Portugal
3. São Vicente Caves, Madeira Island – incredible volcanic caves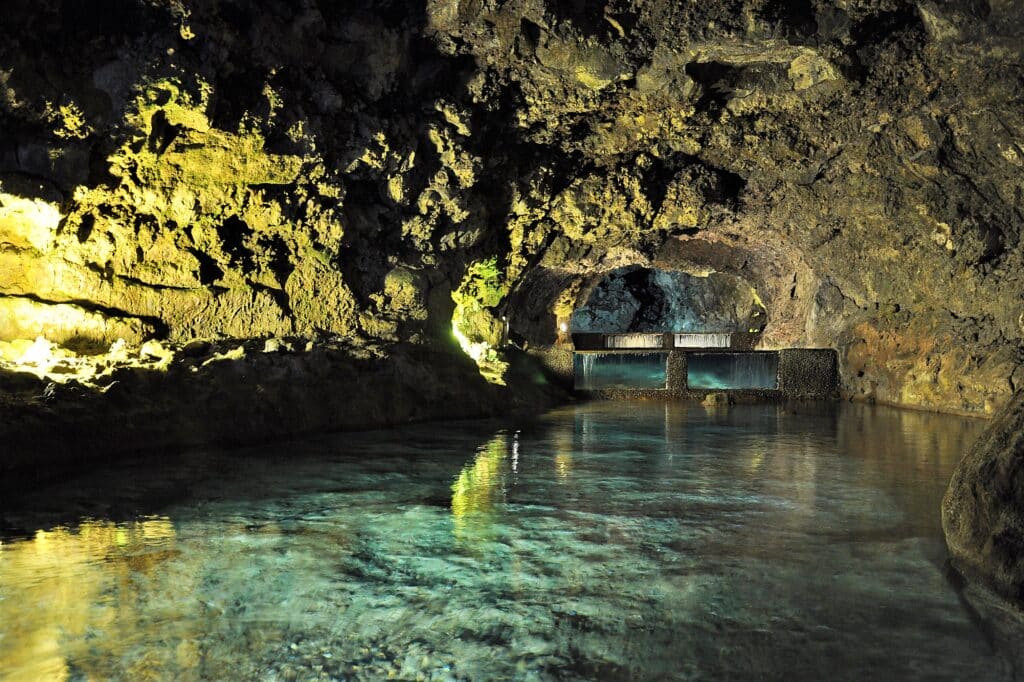 Formed by a volcanic eruption 890 thousand years ago, the amazing São Vicente Caves are an incredible natural attraction.
Open to the public, you can learn all about the natural phenomena that caused the formation of these fantastic caves.
Address: Sao Vicente, Portugal
2. Zorreira Cave, Carvoeiro – a stunning sea cave close to Carvoeiro Beach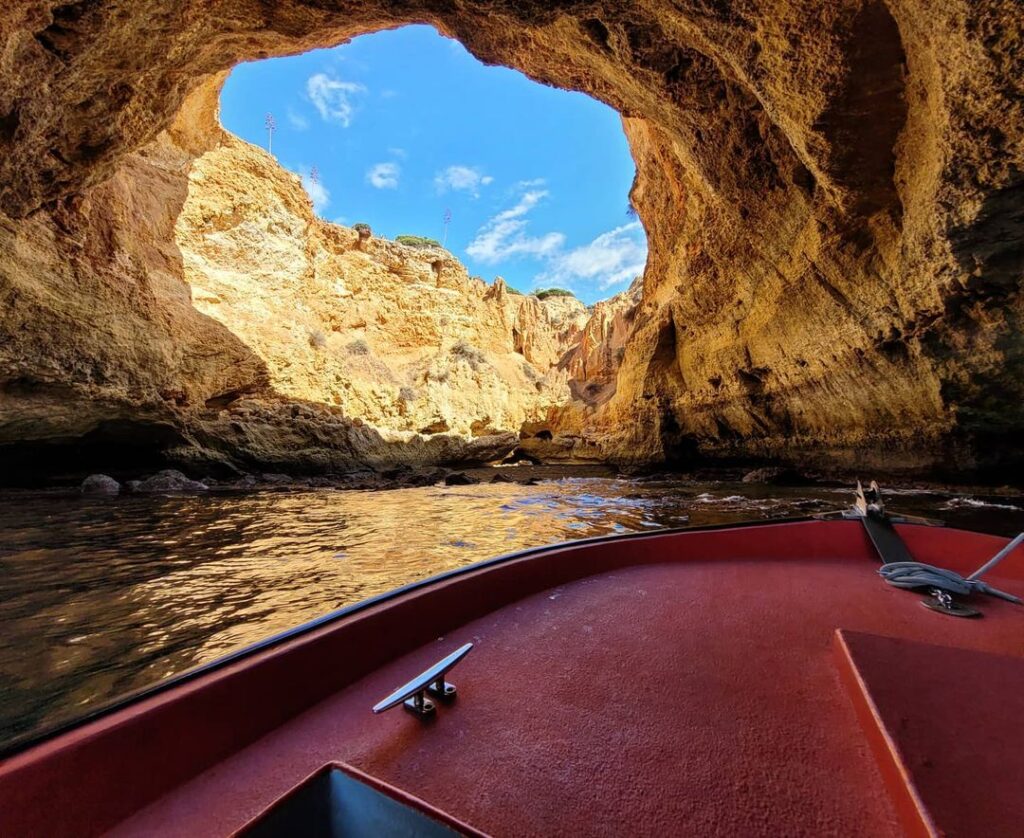 Located close to the iconic Benagil Cave, which is the next cave on our list, is the stunning Zorreira Cave.
Located close to Carvoeiro Beach, this amazing sea cave is accessible by boat. Many boat tours that take visitors to the Benagil Cave will also include a trip here!
Address: Largo da Praia do, 8400-513 Carvoeiro, Portugal
1. Benagil Cave, Carvoeiro – a breathtaking Portuguese cave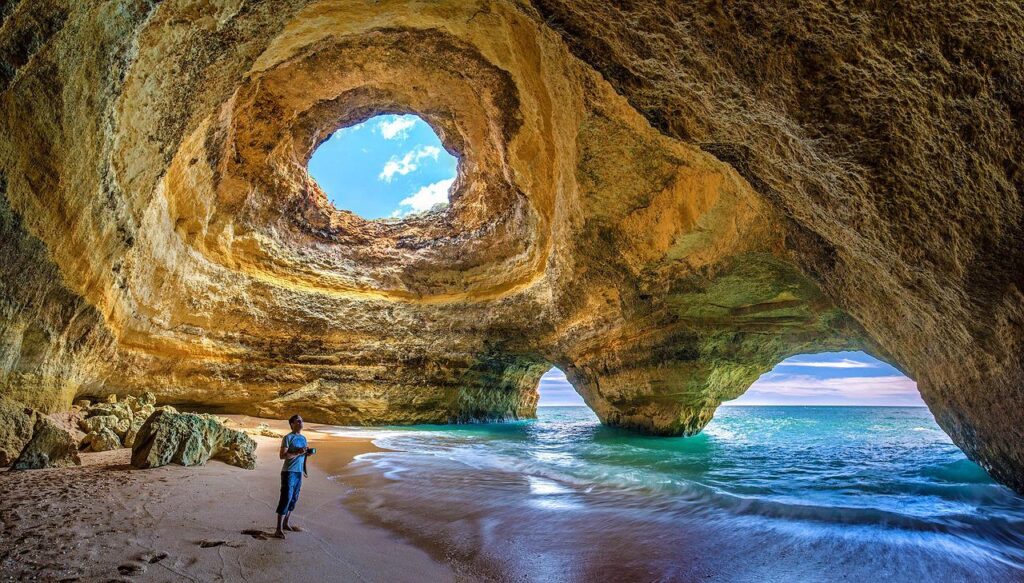 Topping our list of incredible caves in Portugal you need to visit is the iconic Benagil Cave. Located on the Algarve coast, this stunning sea cave is popular among tourists visiting the Benagil Beach area.
Many will try to swim, kayak, or paddleboard out to this natural wonder from Benagil Beach. However, the safest way to visit the Benagil Cave is by boat.
Luckily, there are plenty of daily boat tours in the summer season from nearby beaches, Armação de Pêra, Lagos, Faro, and Albufeira daily.
As the most famous cave on the southern coast, make sure to snap that iconic Instagram shot before you leave!
Address: Benagil Cave, 8400-401 Lagoa, Portugal
Notable mentions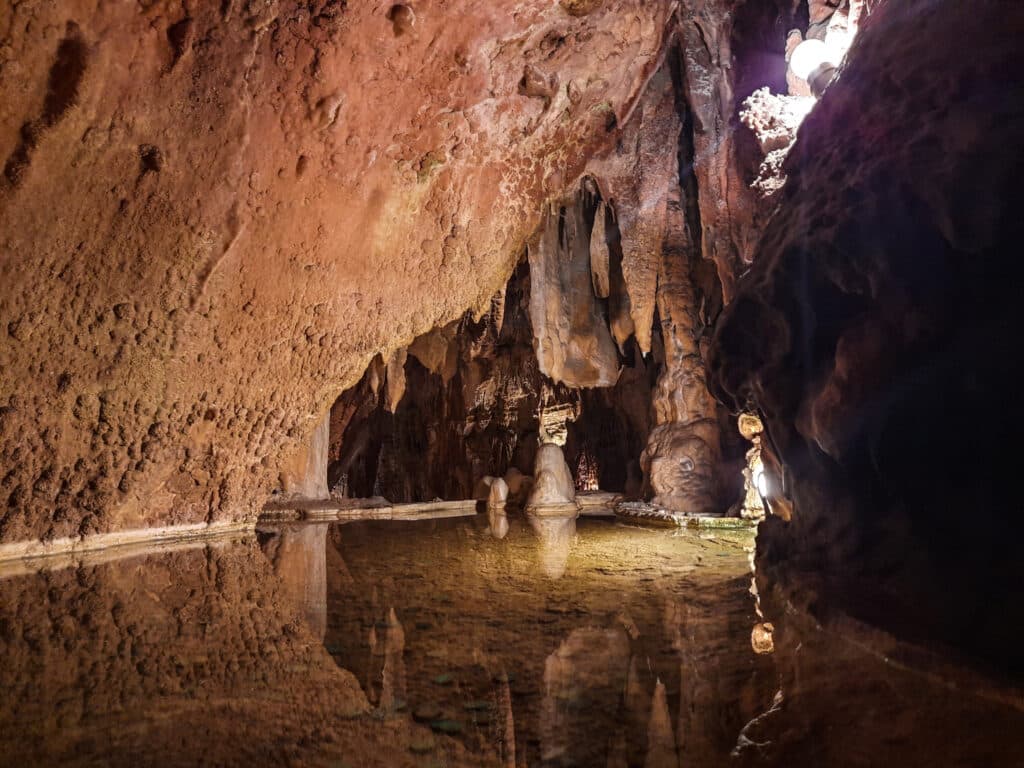 Marinha Beach: Home to a wide range of stunning rock formations and offering crystal clear blue waters, this sandy beach is home to some stunning caves.
Santo Antonio Caves: For those with an interest in history, the Santo Antonio Caves are a must-visit. Formed over 50,000 years ago, you can see awesome rock formations and stunning stalagmites and stalactites inside the Santo Antonio Caves.
Arrábida Natural Park: Located in the south of the Setúbal Peninsula, Arrábida Natural Park is a perfect spot for caving. Some of the absolute highlights of this experience is the awe-inspiring natural formations formed over millions of years.
FAQs about the most incredible caves in Portugal
Does Portugal have caves?
Yes! There are plenty of sea caves and underground caves all over Portugal.
How do you get to the Benagil Caves in Portugal?
One of the easiest ways to get to the Benagil Caves is by booking on to one of the many boat tours offered.
How old is the Benagil Cave?
It is believed the Benagil Cave began to form over 20 million years ago.