Experience Scotland in style by luxury camping. Stay at one of the most amazing places for glamping in Scotland with a hot tub.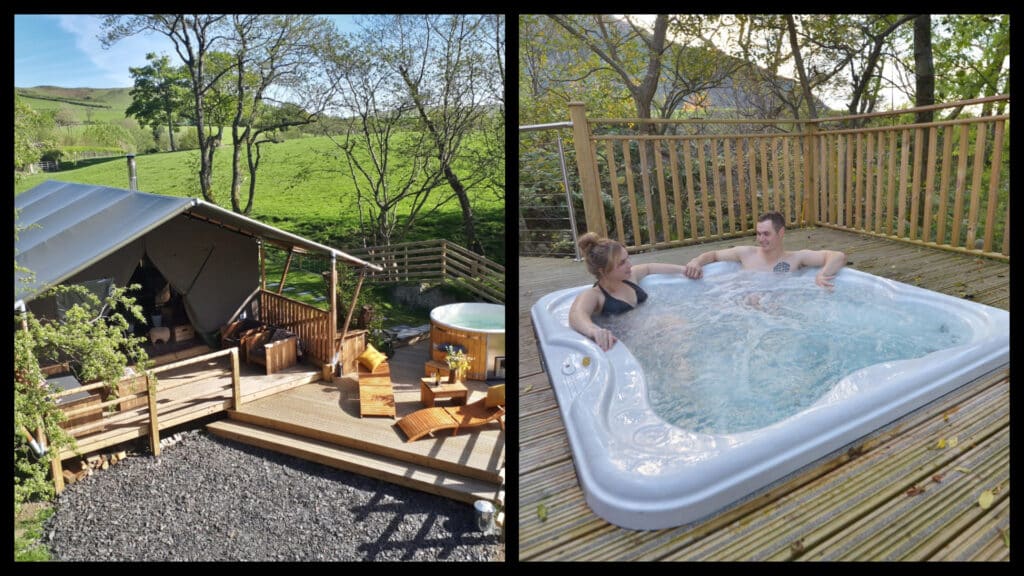 Glamping is one of the best things to do in the Scottish borders. There's nothing quite puts the glam in glamping holidays as a luxurious hot tub does. We have made the planning process easy with a list of the most amazing places for glamping in Scotland with a hot tub.
Whether you're looking for a romantic getaway or perhaps a holiday with friends, then a glamping experience in Scotland needs to be top of your bucket list. Just imagine relaxing in a hot tub with the magnificent Scottish landscape as a backdrop – pure magical!
Here are the top ten most amazing places for glamping in Scotland with a hot tub that you just need to experience!
The World Bucket List's top tips for visiting the best glamping spots in Scotland with a hot tub
Glamping in Scotland is popular, and even more so those with a hot tub. As such, we would advise booking in advance and early to secure the best places.
Make sure you pack the appropriate clothing and towels for your hot tub experience.
It is important to keep in line with all proper hygienic practices when getting into a hot tub, such as showring beforehand.
Make sure to set the temperature to how you like it to enhance your experience as much as possible.
Most importantly, enjoy the relaxation! Zone out and just be in the moment and enjoy your stay in Scotland.
10. The Loft Glamping & Camping (East Grange Farm) – for dark skies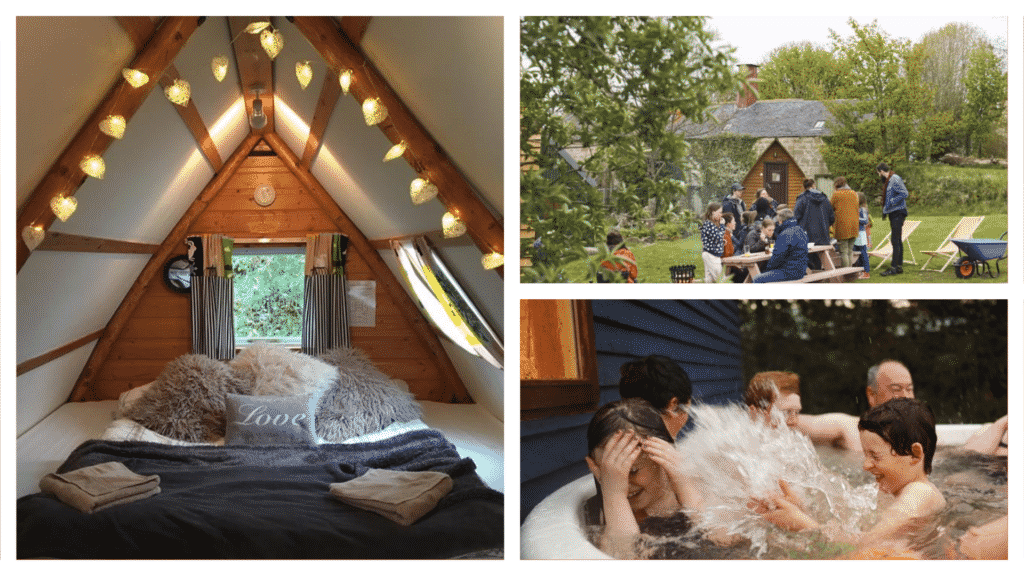 Those who enjoy admiring the spectacular constellations that light up the night sky should make a beeline for this epic glamping experience.
Home to a large variety of glamping options, including wigwams and cabins, this is perfect for groups of friends looking to get away from the hustle and bustle of life.
A wood-fired hot tub is a great place to make a wish on a shooting star. If you're particularly lucky, you might spot the Northern Lights dance across the night sky from your accommodation below.
More info: HERE
Address: East Grange Farm, Kinloss, Forres IV36 2UD, United Kingdom
9. Lough Tay Highland Lodges – enjoy a relaxing break in a geodesic glamping dome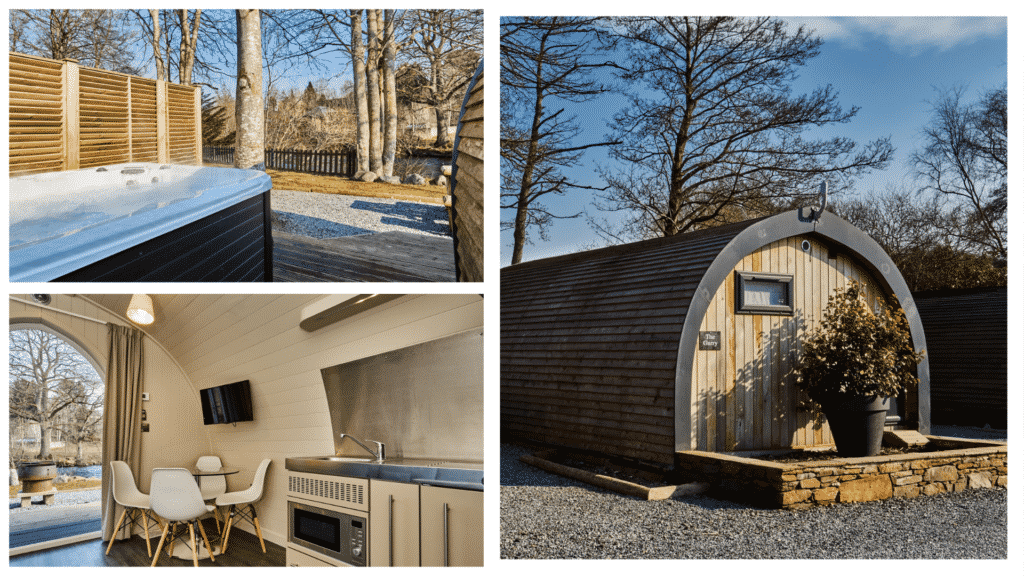 For a unique glamping experience in Scotland, Loch Tay Highland Lodges is the place to head. Home to a collection of beautiful geodesic glamping domes that combined make up the scenic dome village.
The beautiful views from the domes overlook the picturesque Loch Tay and Ben Lawler's Mountain. Outside the spectacular glamping domes are your very own private fire pit and a wood-burning stove – perfect if you're after an evening of cuddles under the night sky.
More info: HERE
Address: Milton Morenish, Estate, Killin FK21 8TY, United Kingdom
Read more: The World Bucket List's choices for ten amazing places for glamping in Scotland
8. Hilly Cow Wigwams – one of the best glamping breaks in Scotland with friends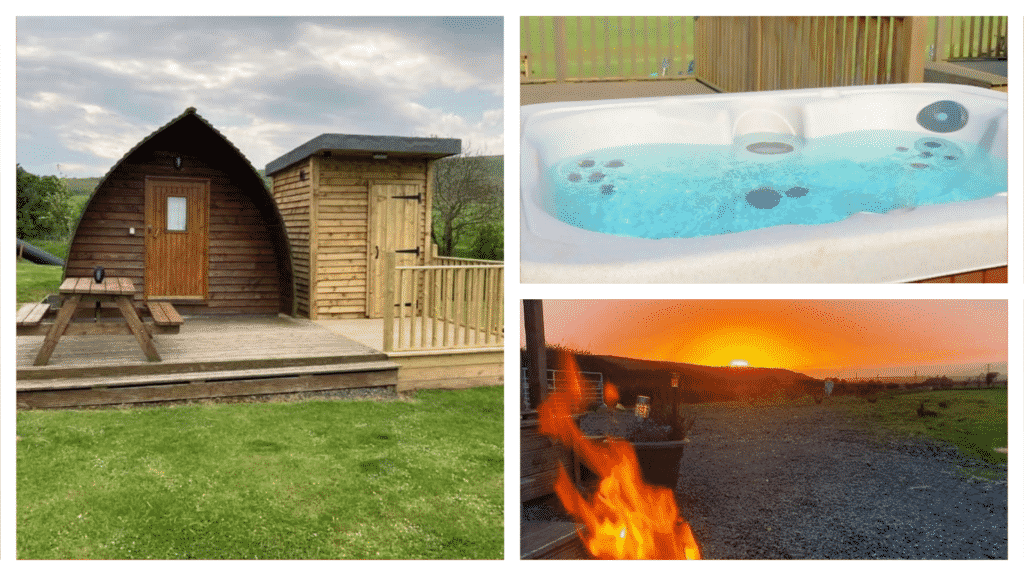 Hilly Cow Wigwams is the ideal glamping experience set on a working farm, conveniently located near Edinburgh. If there's a special celebration coming up, then why not book out multiple wigwams, so all your friends can enjoy?
Each wigwam is heated, so this is an ideal glamping experience. There is an onsite amenity block with a games room and kitchen area. The deluxe wigwams have a hot tub, making for an incredible experience in the Scottish countryside.
More info: HERE
Address: Leyden Farm, Leyden Rd, Kirknewton EH27 8DQ, United Kingdom
7. Roulette Retreat – for a copper hot tub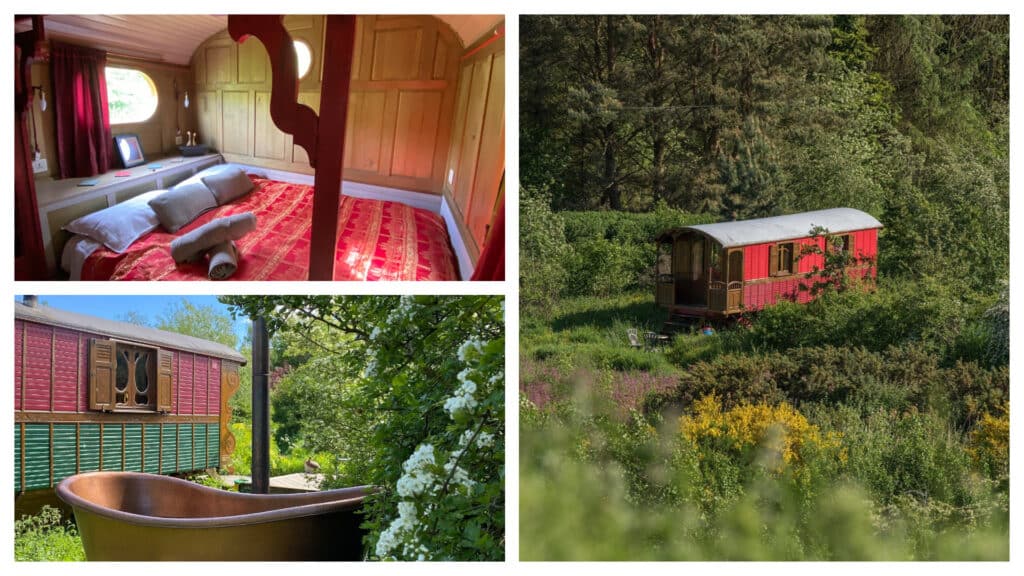 A zen-style camper is nestled beneath beautiful Scottish trees and tucked away in the corner of a meadow. Roulette Retreat has a secret, eco, copper hot tub, which will indulge your alone time.
This picturesque place for glamping in Scotland with a hot tub is decorated in magnificent gold and red decor. There are gorgeous portholes where the sun's rays dance through at sunrise and sunset.
For ideas across the water for something just as enchanting, check out this piece on the top 10 best fairy-tale forest lodges in Ireland. Or, check out this piece on 10 incredible holiday cottages with hot tubs in Ireland.
More info: HERE
Address: Bowden Mill, Melrose TD6 0SU, United Kingdom
6. Loch Ken Eco Bothies – for one of the best glamping holidays about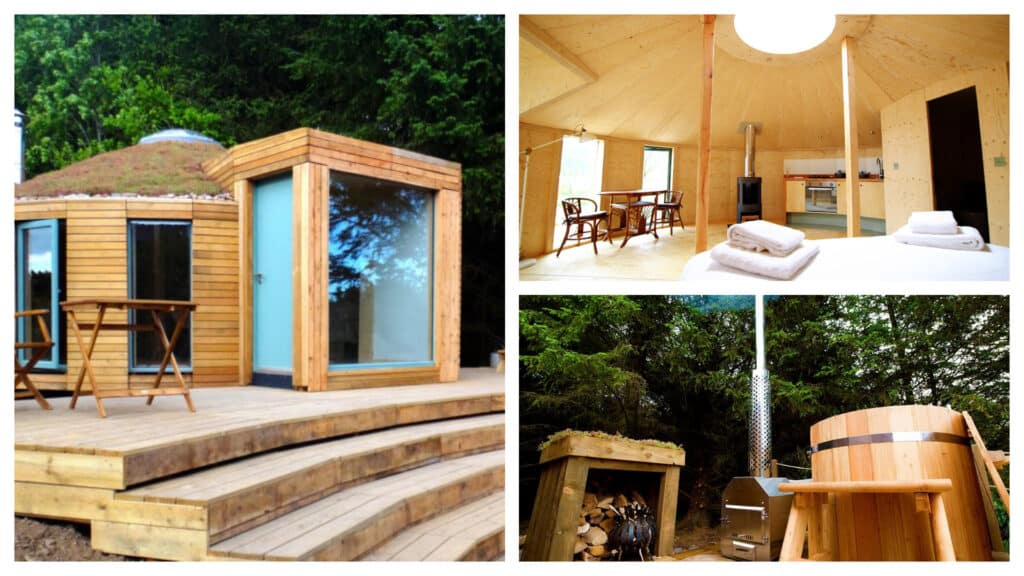 If you're planning an off-grid holiday, then why not do it in style at the Otter Eco Yurt? Nestled on its own private decking, complete with a hot tub and a small private lake, is a glamping location worth heading to.
This eco-cabin is built with complete luxury in mind; think soft Egyptian cotton sheets, bespoke decor and a beautiful outdoor dining area. This secluded and serene location is perfect for a romantic getaway where you are surrounded by nothing but love and beauty.
More info: HERE
Address: Loch Ken, Shirmers Bridge, Parton, Castle Douglas DG7 3NQ, United Kingdom
5. Riverbeds Lodge – a micro cabin glamping experience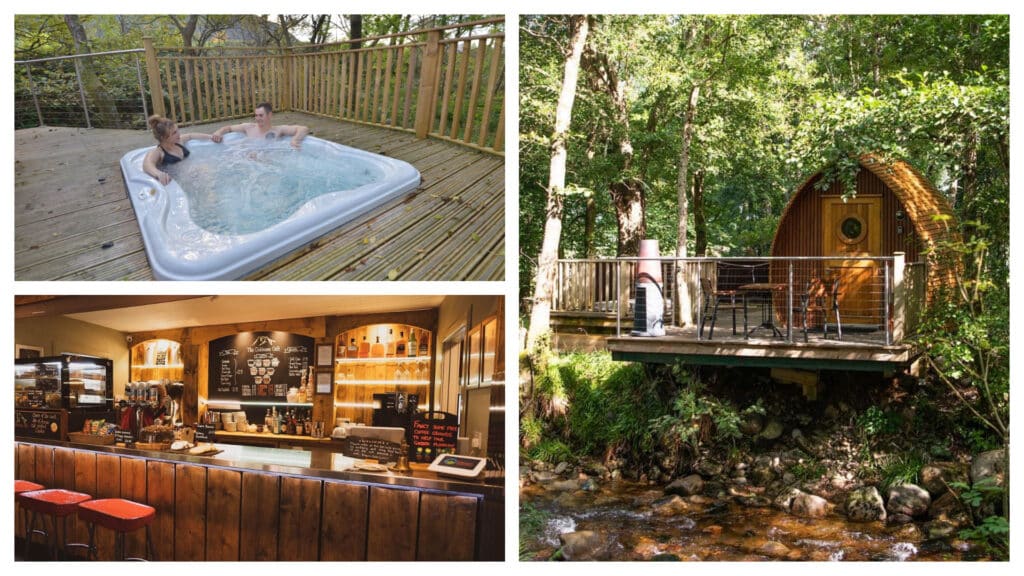 Great things come in small packages, which is true at Riverbeds Wee Lodges. Located amongst the trees and overhanging the river with a hot tub on the deck outside is a truly memorable Scottish glamping experience.
Only 129 sq ft (12 sq m), each cabin feels completely spacious and luxurious. Each lodge has a bedroom, kitchenette and ensuite shower room. Did we mention the jaw-dropping location?
More info: HERE
Address: Woodlands, Glencoe, Ballachulish PH49 4AA, United Kingdom
Read: Our review of the top five places for glamping in County Donegal, Ireland
4. Airpods – the perfect romantic getaway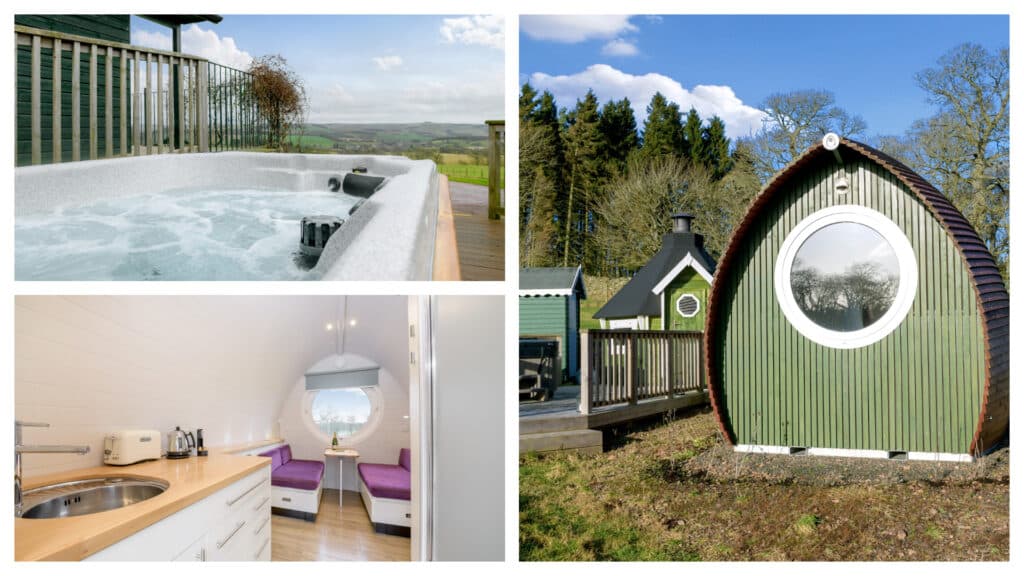 This romantic and quirky hideaway is ideal for a couple looking to enjoy each other's company. Set on acres of organic farmland and home to cute animals like alpacas, ponies, donkeys, and goats, this is an amazing place for glamping in Scotland.
These quirky pods each have their own private hot tub, making them all the more romantic. The Hawthorn Pod even has mood lighting, a sound system, and a porthole, which is perfect for watching the night sky.
Just across the water, check out this article on the most romantic cottages for two with a hot tub in Northern Ireland.
More info: HERE
Address: Airhouse, Oxton, Lauder TD2 6PX, United Kingdom
3. Stouslie Snugs – nestled in the rolling Scottish hills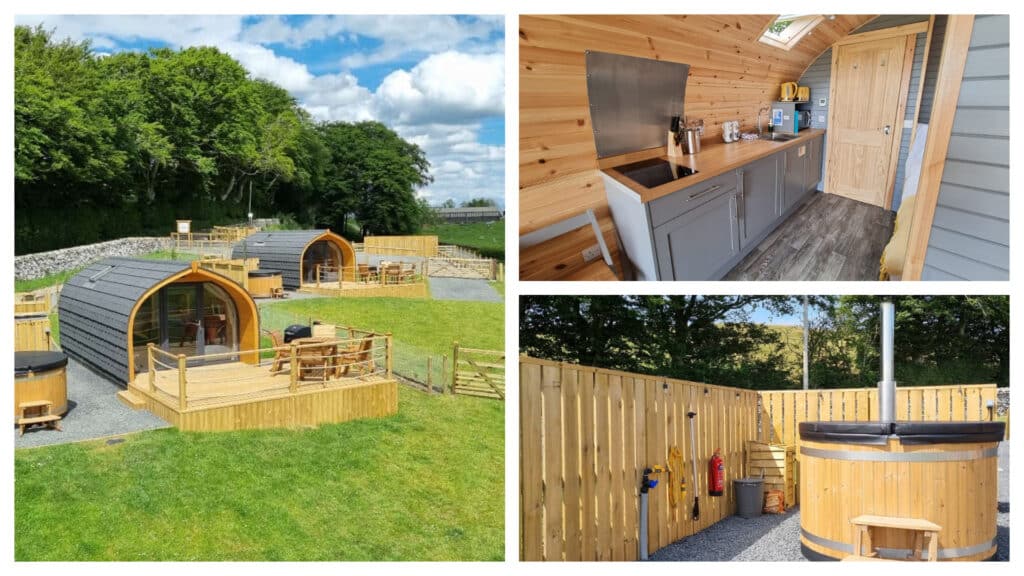 This glamping location is set in Scotland's hidden gem, the Scottish Borders region. Steeped in history, adventure, culture, and activities, the Scottish Borders make a picture-perfect backdrop to this unique glamping experience.
Each glamping snug is full of all the comforts one would expect from a luxurious glamping experience. Outside, there is a private hot tub, an enclosed garden, and, of course, a BBQ for those sunny evenings.
More info: HERE
Address: Stouslie Farm House, Hawick TD9 7NX, United Kingdom
Related: Check out five amazing things about living in Scotland
2. The Saw Mill – a once in a lifetime experience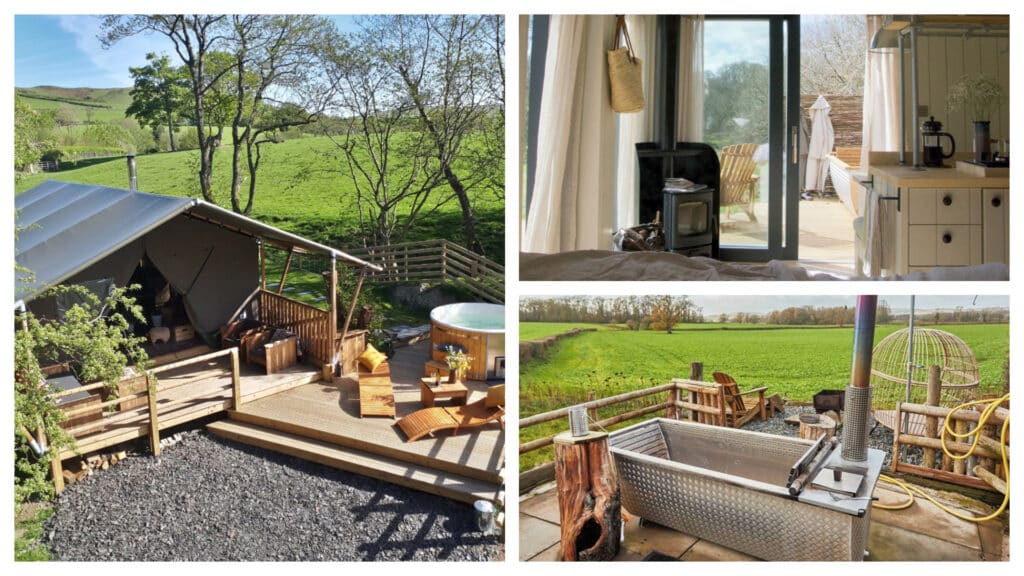 Awake to the sounds of the birds and the rippling of an old mill stream each morning at this once in a lifetime glamping experience in Scotland.
This glamping experience takes place across two magical locations, a forester's seed store cabin and a safari caravan.
Soak in the outdoor hot tub while enjoying music from the record player. Create your very own woodfired pizza before making your way to bed by following the string of lights through the woods. This is also dog-friendly!
More info: HERE
Address: Glen Dye Estate Office Bridge of Dye Steading, Strachan, Banchory AB31 6LT, United Kingdom
1. Highland Heights – one of the most amazing places for glamping in Scotland with a hot tub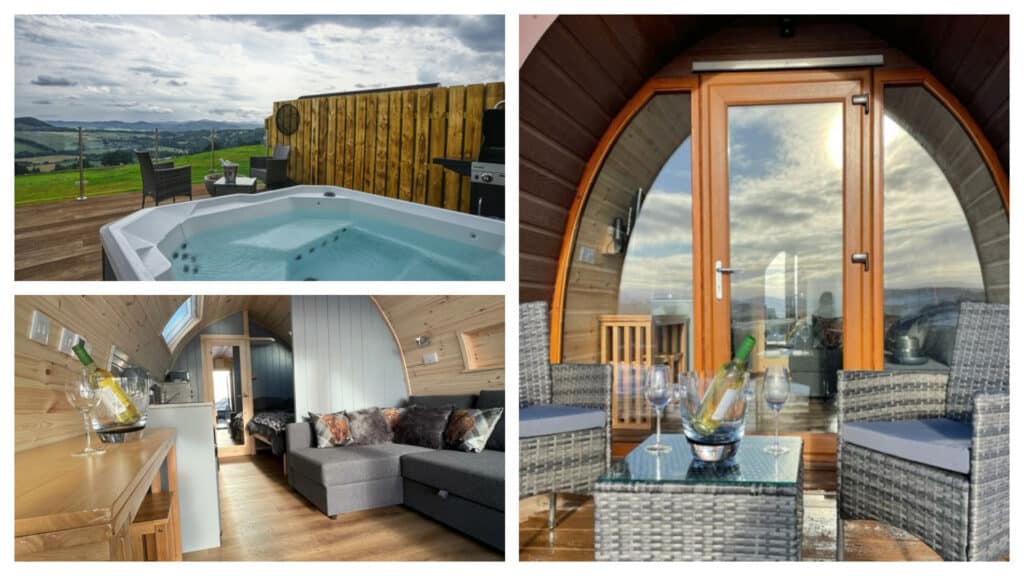 The most perfect spot for glamping in Scotland with a hot tub has to be Highland Heights, situated at the foot of Ben Wyvis. Complete with underfloor heating, these glamping pods have everything you need to make your glamping experience unforgettable.
Choose to relax in your very own private hot tub, or if you need a little more rest, then be sure to head to the luxury clear light sauna. This truly magical highland setting should be a must on everyone's Scottish bucket list.
More info: HERE
Address: Strathpeffer IV14 9AE, United Kingdom
Notable mentions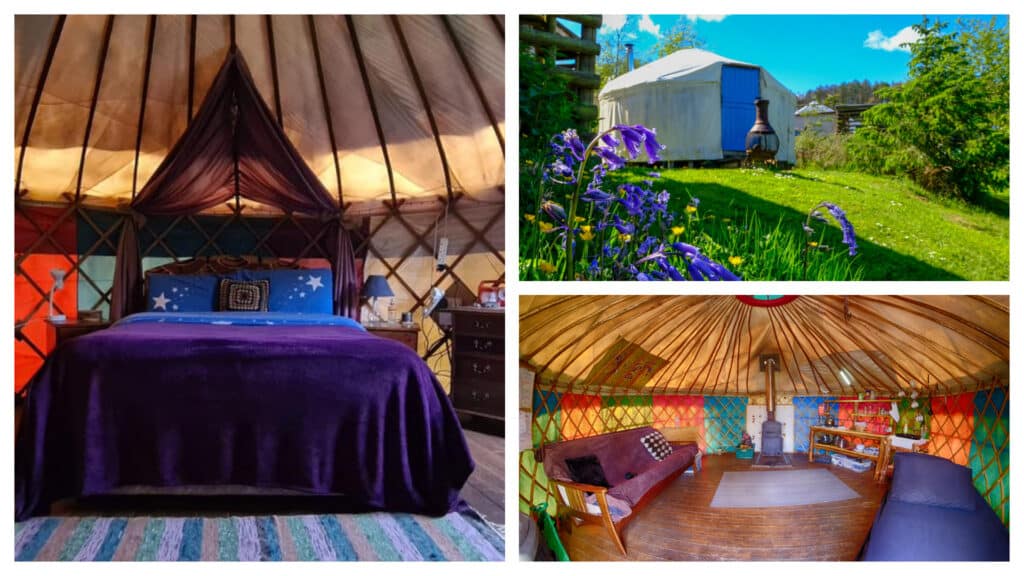 Drummohr Camping: Located just outside of Edinburgh, this glamorous camping escape is one of the most popular glamping retreats in Scotland.
Kendoon Cabin: Kendoon Cabin is a one of the most beautiful wooden cabins located on the shores of Loch Kendoon. Alongside a hot tub, you can enjoy stunning views of Loch Kendoon from Kendoon Cabin.
Cove Farm: For the ultimate in glamping holidays, we recommend booking into Cove Farm on the East Lothian and Berwickshire coast lines. Offering spectacular views and all the amenities you could need, this is the perfect family or couples retreat.
Marthrown of Mabie: Set in the stunning Mabie Forest, Marthtown of Mabie is the perfect place for luxury glamping. Close to the popular town of Dumfries, this is the ideal base from which to explore the surrounding area.
Your questions answered about the best places for glamping in Scotland with a hot tub
Read our article on the ten best places for glamping in Scotland with a hot tub and are still left with some questions? Not to worry! In this section, we have put together a few of the most commonly asked questions about this topic to us and from online.
Where are the best places for glamping in Scotland?
Choosing where to book a glamping holiday in Scotland depends on what you're after. There are plenty of great glamping sites all across the country. So, narrowing down exactly what you want from your experience will help you decide where to stay.
Why book a glamping break in Scotland?
Scotland is full of beautiful scenery and fascinating history. One of the best ways to immerse yourself in the landscape is glamping!
Is Scotland safe?
In general, yes. However, you should always read on the specific location you plan to visit and undertake some safety precautions when travelling to somewhere new.
NEXT: If we have piqued your interest about visiting Scotland, here is our definitive Scotland Bucket List