If you fancy taking your pet on a trip to Scotland, then these ten pet-friendly hotels are an ideal choice to ensure a great holiday for the whole family.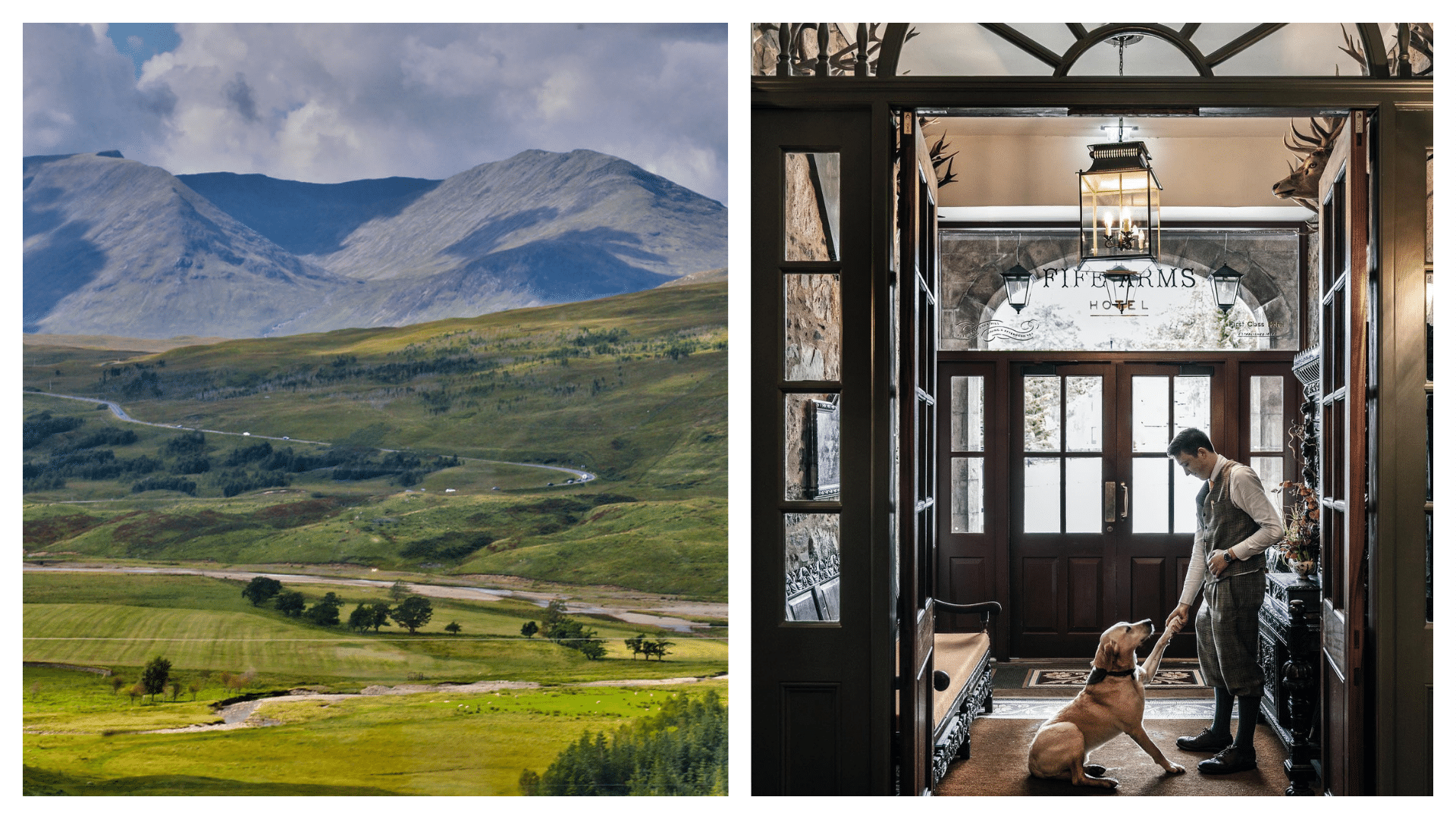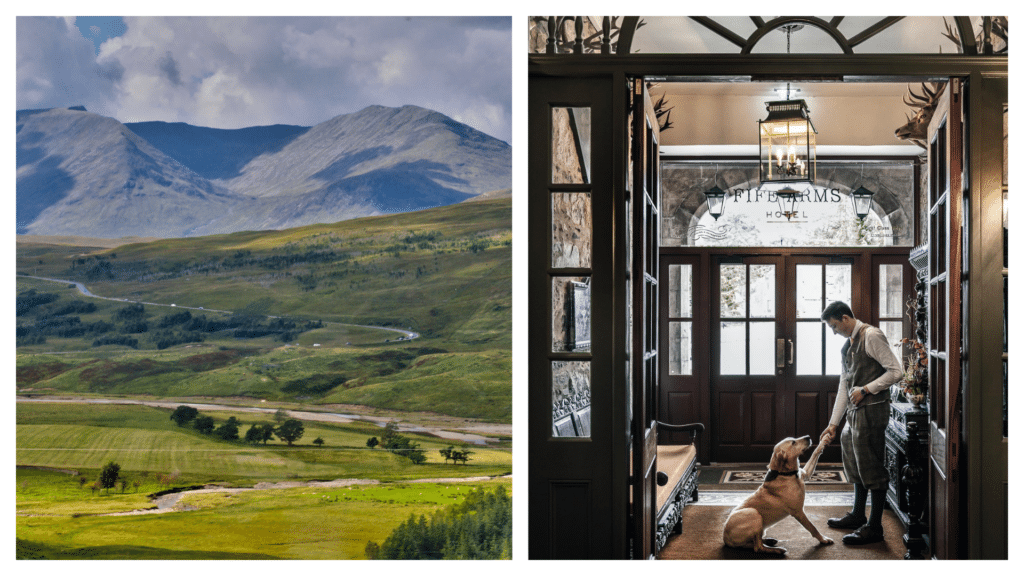 Many of us have dogs and other pets that we consider a big part of the family, and it breaks our hearts to leave them behind when going away.
Luckily, in recent years, more and more hotels have become pet-friendly, offering pet-friendly bedrooms and other fantastic facilities for our furry companions.
Scotland is an ideal destination for you and your pet since you and your four-legged friend can enjoy a range of pet-friendly hotels, sandy beaches, and fabulous walks.
So, with that in mind, here is our rundown of the top ten pet-friendly hotels in Scotland.
Best pet-friendly hotels in Scotland – our tips and advice
Never leave booking until the last minute. Booking in advance will help you secure the best deal for your stay.
Booking.com is the best site for booking pet-friendly hotels in Scotland.
Always consult online reviews of hotels before you commit to your booking.
Ensure your chosen hotel is in a convenient location for all you plan to see and do during your stay.
The rundown – the best pet-friendly hotels in Scotland
Where to stay in Scotland with a pet – the best places to choose in Scotland for pets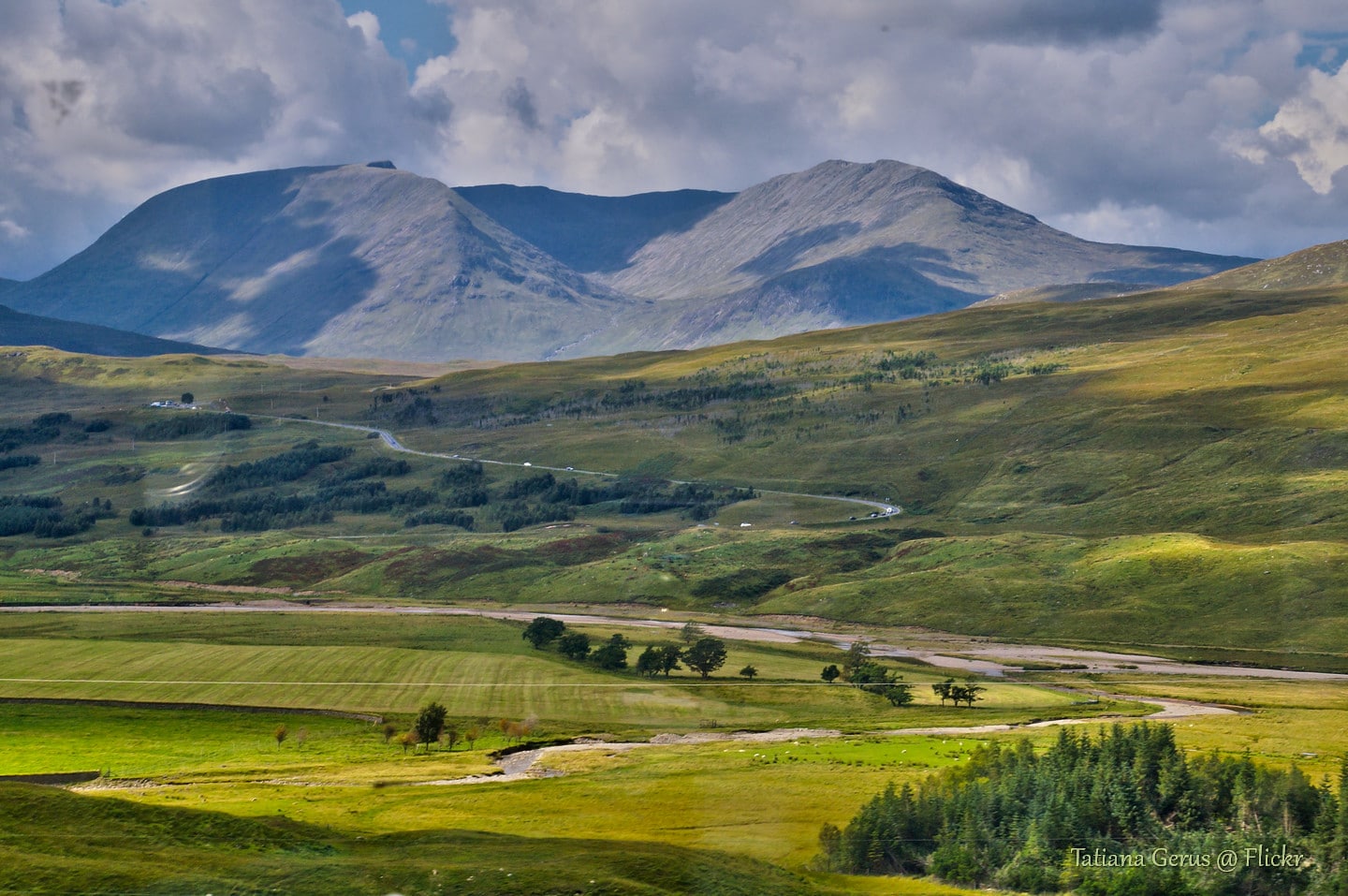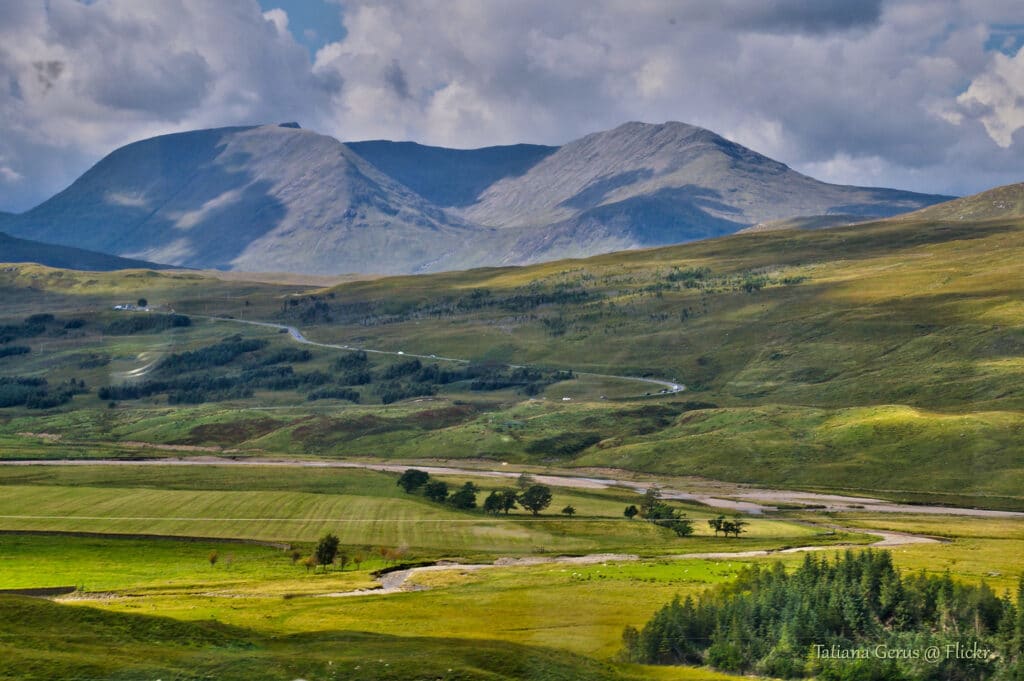 The Highlands: The Highlands in the country's north are famous for a reason. The natural beauty here is outstanding; there are plenty of rivers, hills, and beaches to explore.
Isle of Skye: There are plenty of dog-friendly pubs and hotels on the Isle of Skye, as well as the islands of Harris and Lewis. The welcoming atmosphere is second to none here.
The Cairngorms National Park: With plenty of villages to discover, big mountains to be climbed, and woodlands to be explored, staying close to the Cairngorms National Park is a great idea.
Loch Lomond National Park: Staying near this famous Scottish national park is ideal for your furry friend since you can spend your days enjoying the adventurous trails and lovely views.
Aberdeenshire: This is the ultimate region if you are a history buff and fancy seeing Scottish castles. This region has the most castles in the UK, and most of the grounds and trails are dog-friendly.
1. The Gleneagles – ideal for a luxurious getaway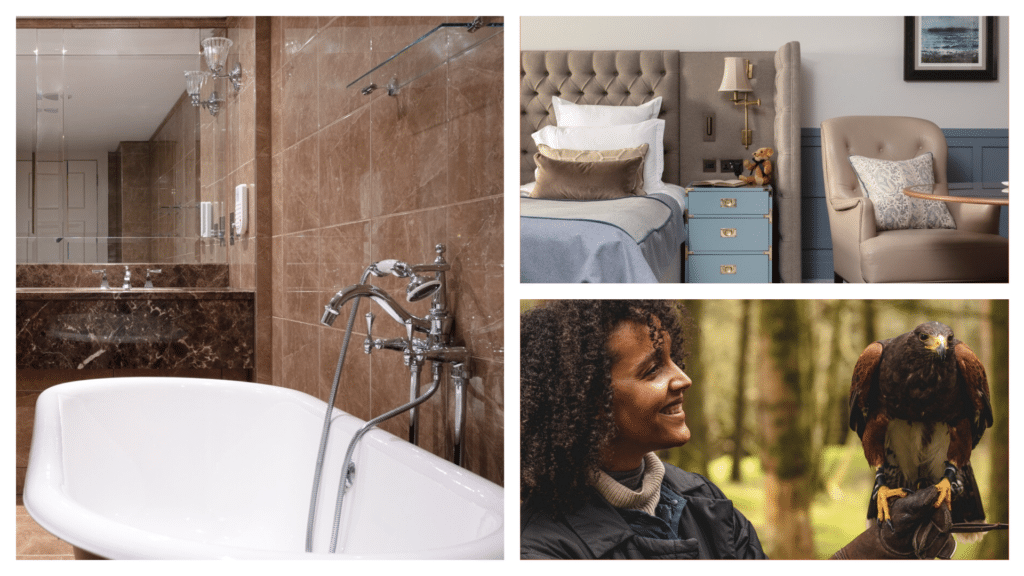 Overview: This luxury hotel in Scotland needs no introduction since it is as well-known as they come, but the best thing is, both you and your furry friend can enjoy some luxury here, as the Gleneagles is one of the most pet-friendly hotels in Scotland.
The hotel is close to: Gleneagles Golf Course, Auchterarder Golf Club
IN HIGH DEMAND: This is one of the most well-known high-end hotels in Scotland for golf enthusiasts, foodies, and nature lovers, and the fact that it is pet-friendly means it is very popular and often booked up. So don't wait until the last minute.
The hotel is perfect for: A luxury spa and golf break
Key features here include:
Exceptional spa and wellness centre
World-famous golf courses
Four fine-dining restaurants
Activities such as horse riding, off-road driving, and even dog training
Dogs up to the size of a labrador are welcomed at extra cost and will be provided with comfy dog beds and other extras
Address: Gleneagles Hotel, The Auchterarder PH3 1NF, United Kingdom
2. Loch Fyne Hotel & Spa – a peaceful retreat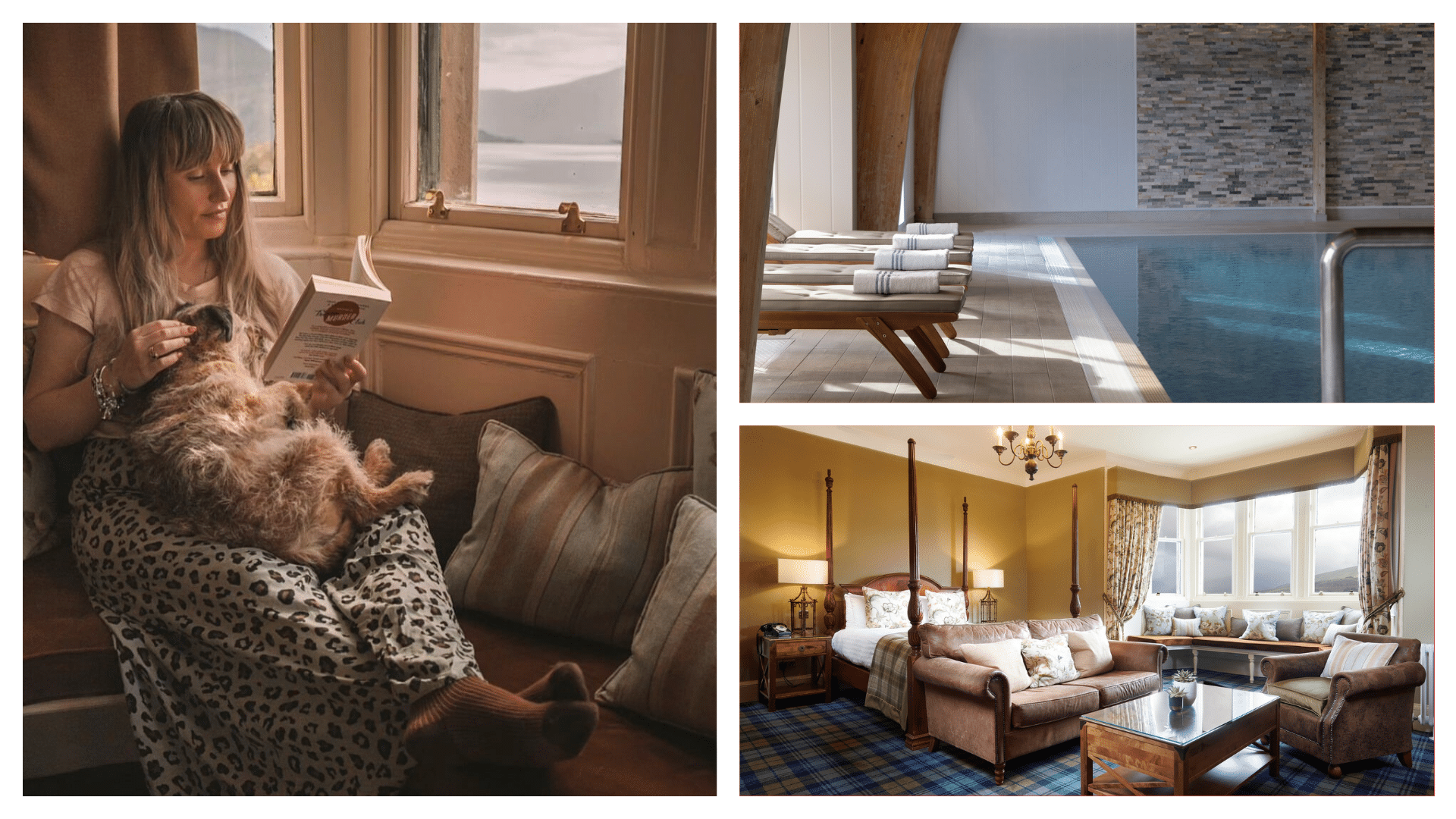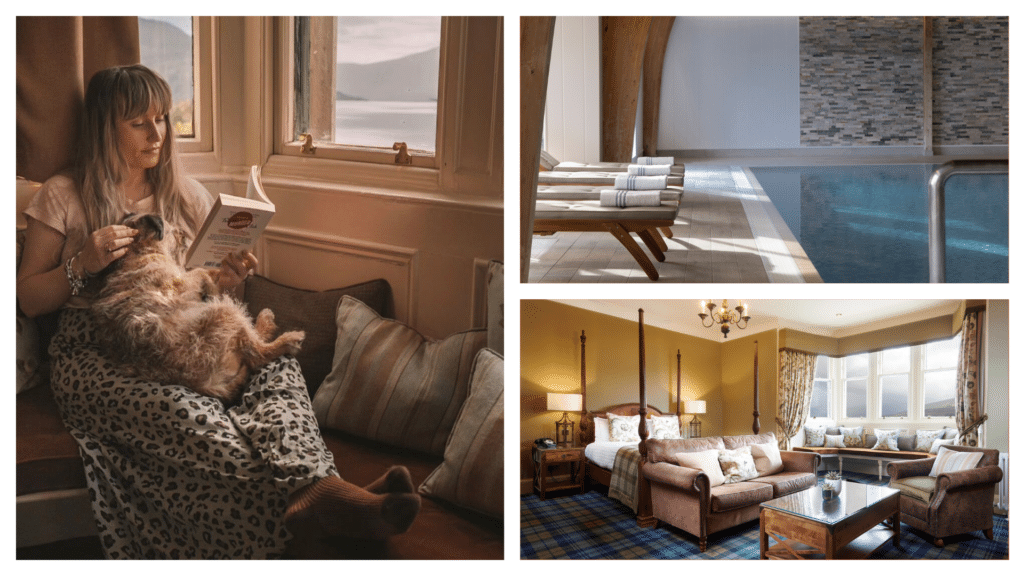 Overview: As well as having a fantastic spa to relax in when the day is done, there are plenty of activities to undertake in the area, which is ideal for taking your dog to. The hotel is ideally located by Loch Fyne and offers exceptional views across the lake to the Cowal Hills.
The hotel is close to: Loch Lomond & Trossachs National Park
The hotel is perfect for: A lakeside escape
Key features here include:
An onsite brewery, Fyne Ales
An outdoor hot tub
A fantastic spa with a wide range of treatments
AA Rosette-awarded restaurant serving fresh seafood and local produce
Dogs are well-catered for in every guest room, and there are plenty of great trails in the area
Address: Inveraray PA32 8XT, United Kingdom
3. Old Course Hotel, St Andrews – one of the best pet-friendly hotels in Scotland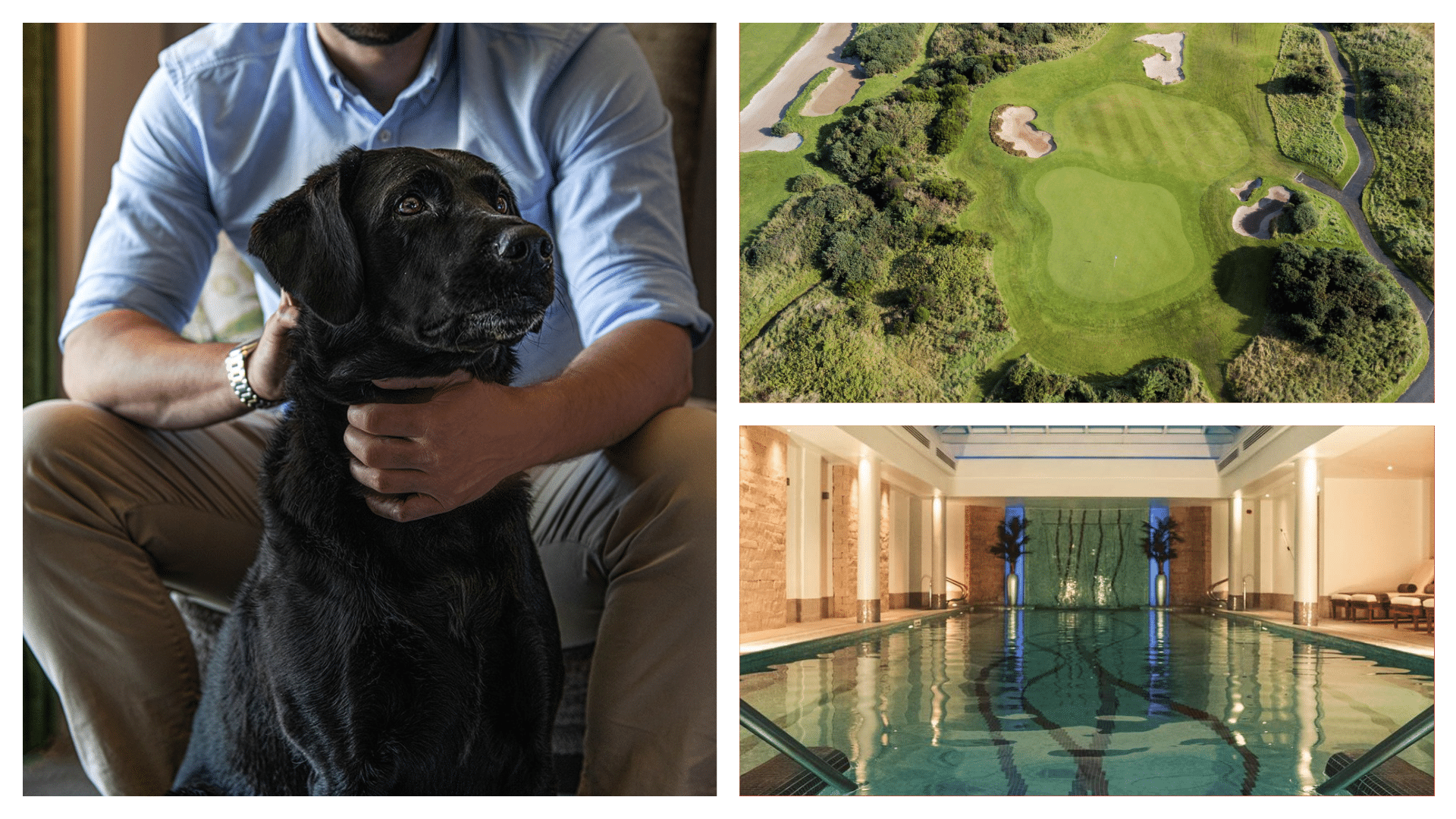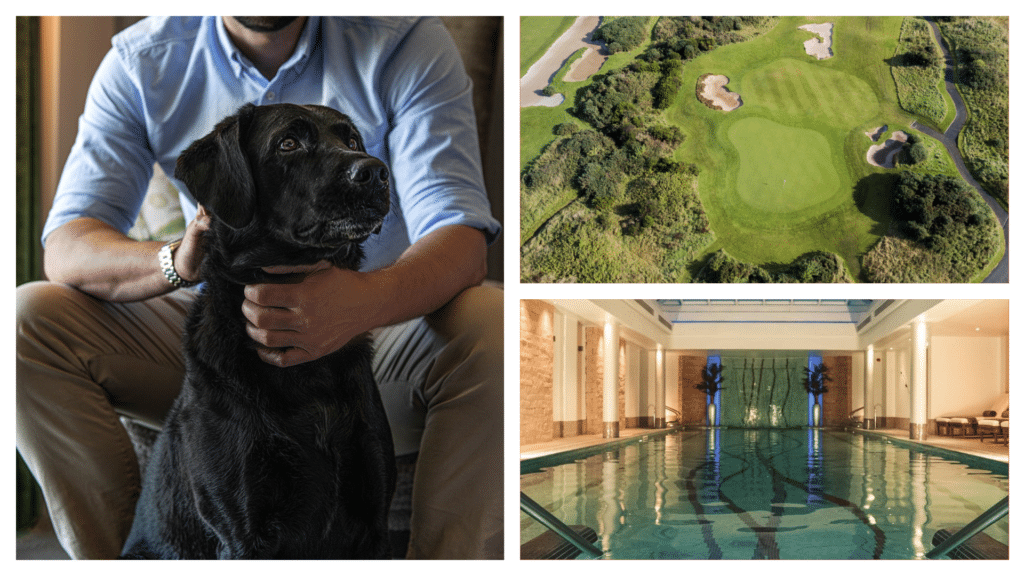 Overview: One of Scotland's most exceptional pet-friendly hotels is Old Course Hotel St Andrews, well-known for its golfing heritage. This five-star golf resort has everything you could ask for, including dog-friendly rooms, fun activities, and lots of history.
The hotel is close to: St Andrews, Dundee
IN HIGH DEMAND: Don't miss out on booking a stay at the Old Course Hotel, as it is one of the top-rated hotels in Scotland that is pet-friendly and has exceptional facilities and activities.
The hotel is perfect for: Golf, history, and relaxation
Key features here include:
An award-winning spa
World-renowned onsite 18-hole golf course
Exceptional fine dining options
A traditional pub serving pub food and its own ale
Dog-friendly bedrooms, with bed and toys
Address: Old Station Rd, St Andrews KY16 9SP, United Kingdom
4. The Kirkwall Hotel, Orkney – for a traditional Scottish experience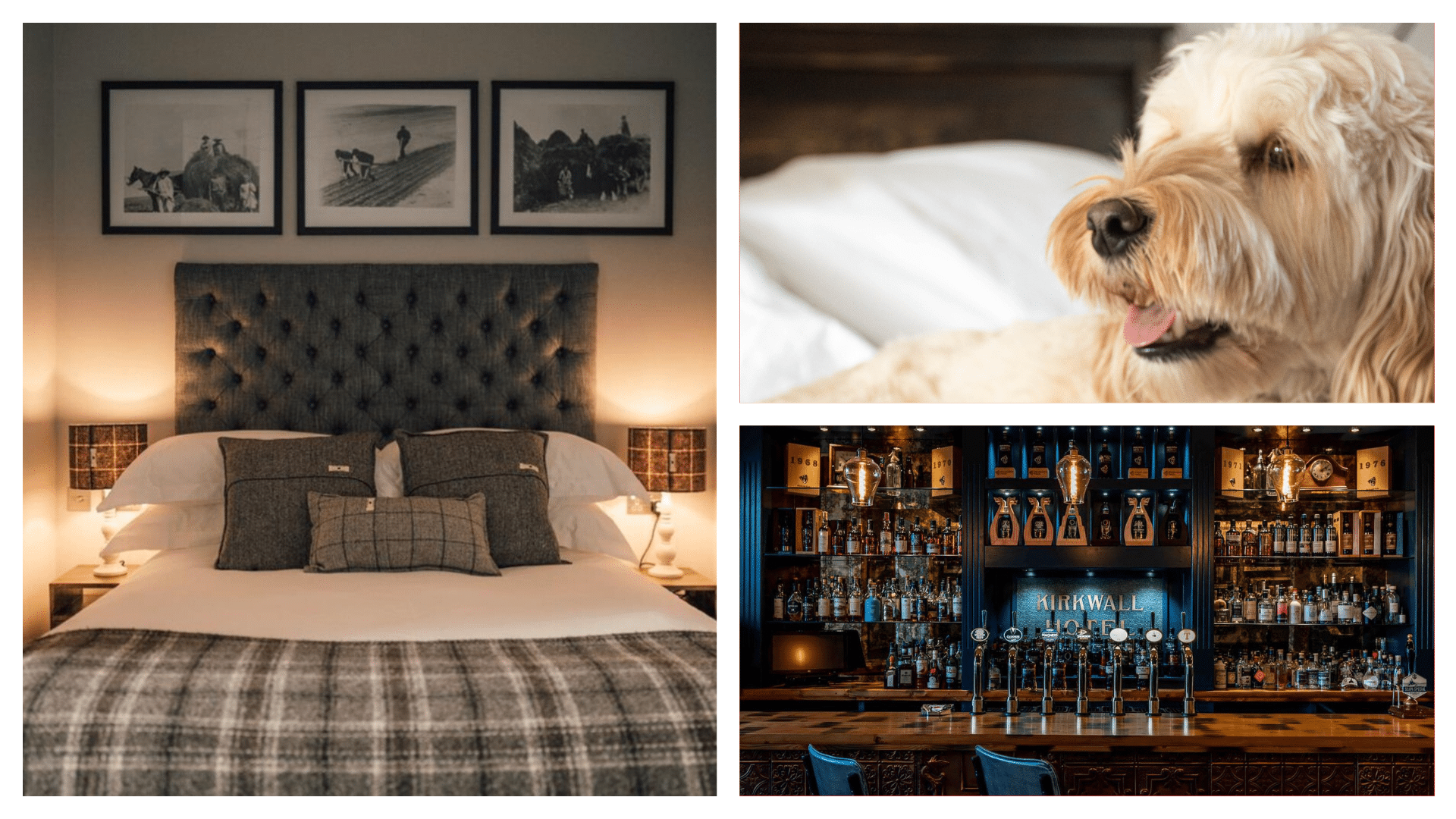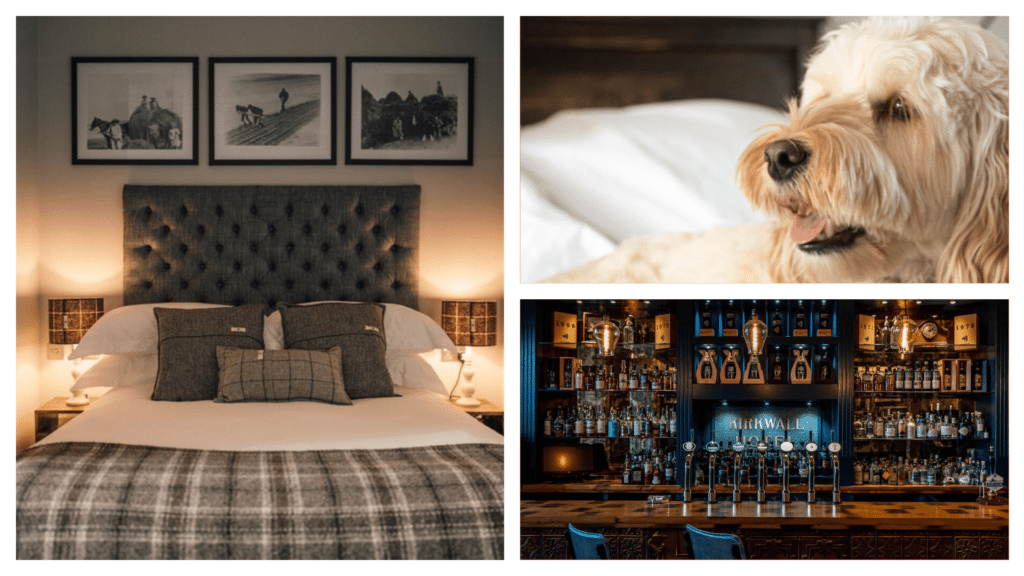 Overview: From the outside, this hotel oozes character and heritage, but step inside this Victorian building, and the modern side emerges. This fantastic pet-friendly hotel on the Orkney Islands is an ideal place to take your four-legged friend on an island retreat with lots to do.
The hotel is close to: Kirkwall
The hotel is perfect for: A traditional island retreat
Key features here include:
A hearty Scottish breakfast made with local produce
Very close to an array of historical attractions in Kirkwall
Dog-friendly rooms, including dog beds and special treats
An onsite bar featuring local whiskies and Orkney Ales
Plenty of bright working-from-home areas for your remote working needs
Address: Harbour St, Kirkwall KW15 1LE, United Kingdom
5. The Fife Arms – for a very local experience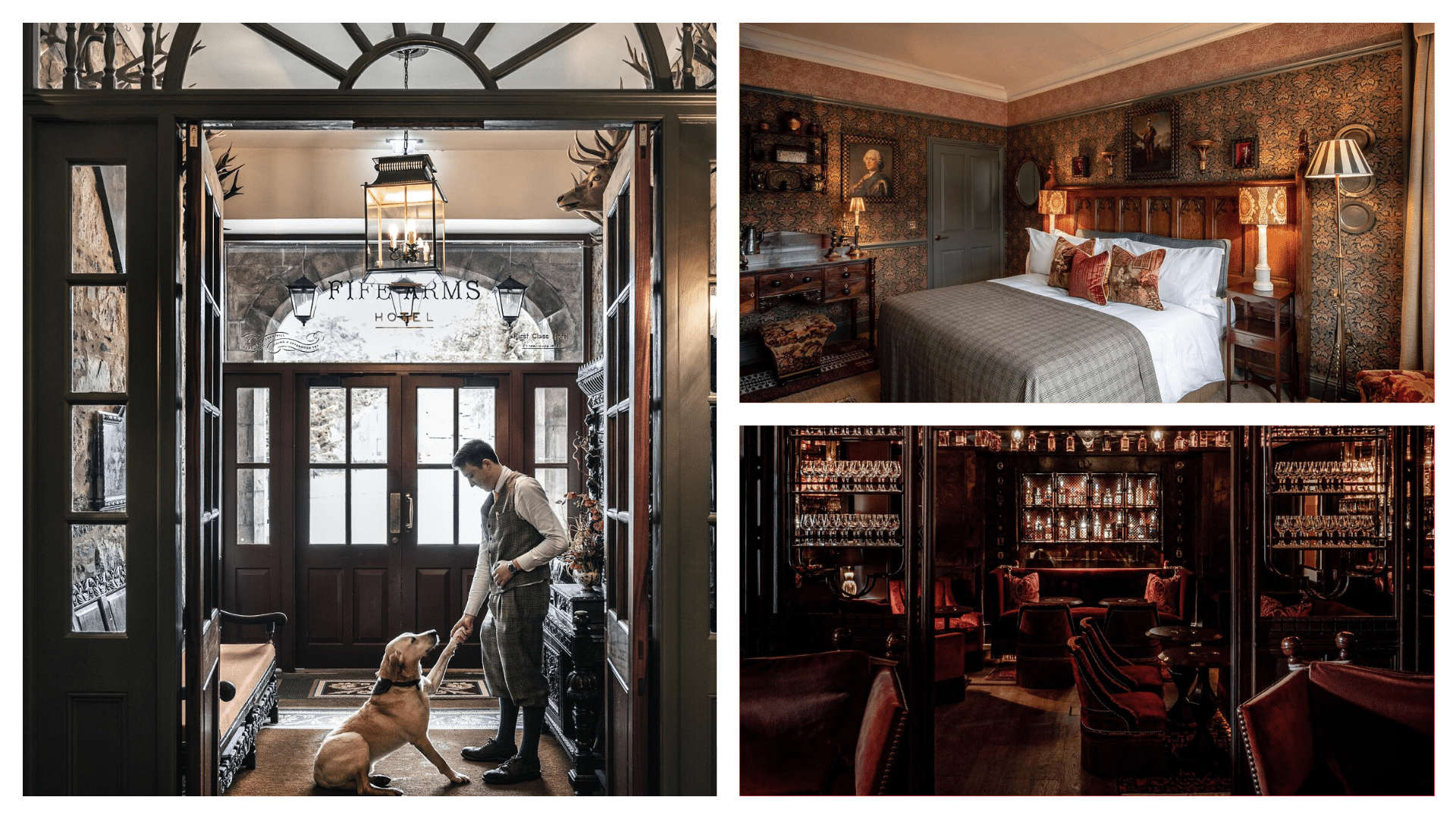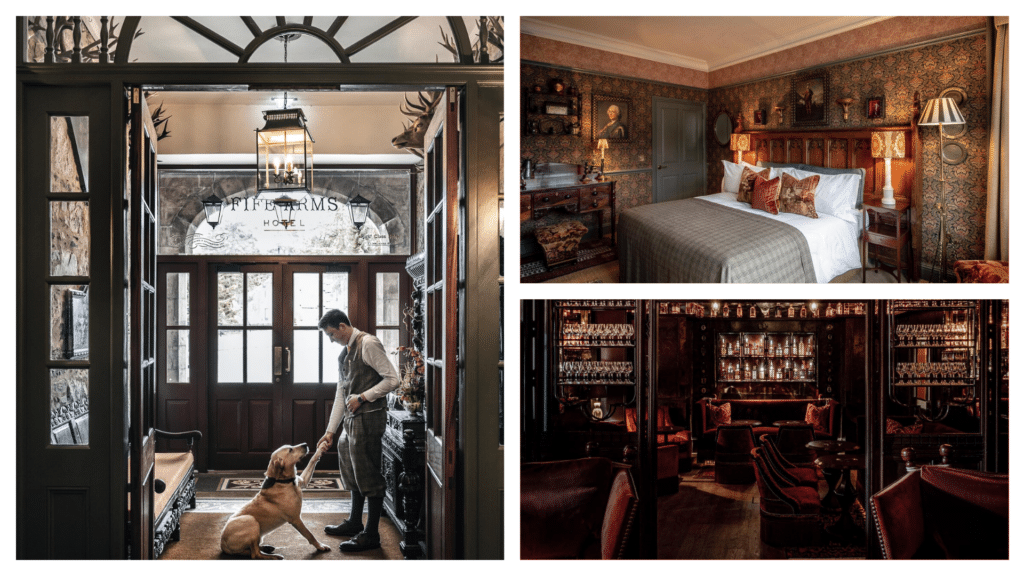 Overview: This is one of the most eye-catching hotels in Scotland. Listed as a category B building, it is a real Braemar landmark. This hotel has an exciting history, and the dog-friendly rooms feature antiques, artefacts, and intriguing artworks that tell its story.
The hotel is close to: Braemar
The hotel is perfect for: A social and lively stay
Key features here include:
Live entertainment and regular events
The Flying Stag Bar, which allows dogs to join their owners
Treatment rooms for relaxation
Local hearty grub which is to die for
Bertie's Whiskey Bar for those whiskey lovers
Address: Mar Rd, Braemar, Ballater AB35 5YN, United Kingdom
6. Douneside House Hotel – for a cosy home away from home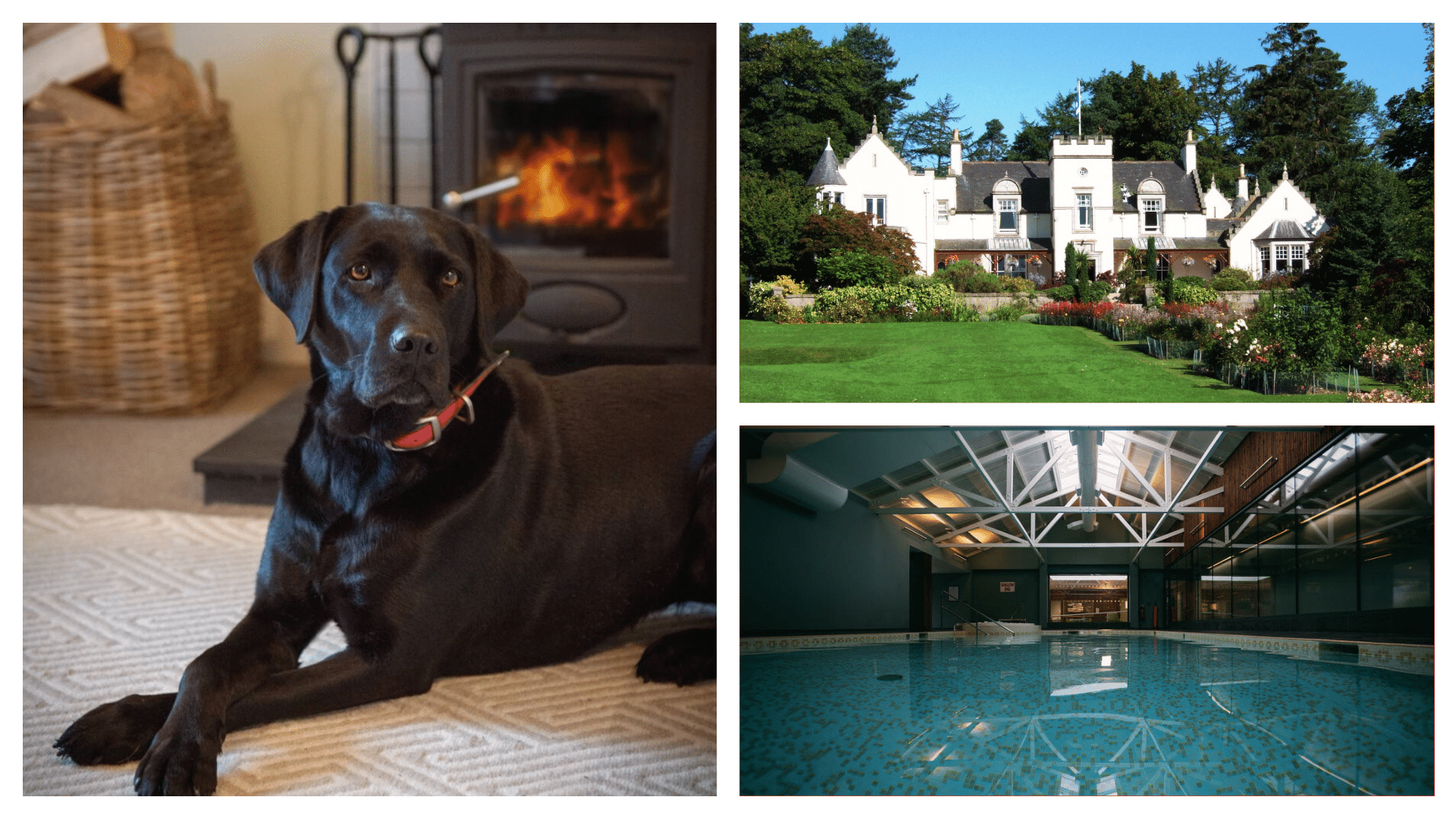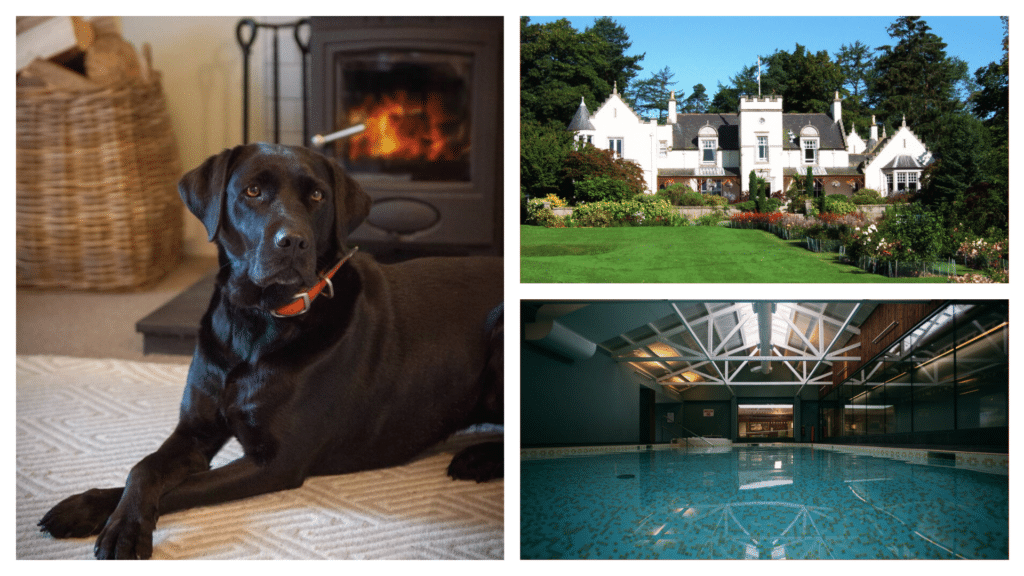 Overview: Douneside House Hotel is a fantastic option for those looking for a countryside escape, with 17 acres of beautiful gardens to explore, delightful views to see, and traditional homemade food to sample.
Here, you can stay in a pet-friendly apartment or pet-friendly cottage, which is such a treat.
The hotel is close to: Tarland
The hotel is perfect for: A country cottage retreat
Key features here include:
A pet-friendly holiday apartment to make you feel at home
The cosy three-bedroom, dog-friendly Alpha Cottage
Access to a fully equipped health club with pool, gym, sauna, and steam room
Onsite tennis court, mini-golf course, playgrounds, and much more
Award-winning 3 AA Rosette restaurant
Address: Tarland, Aboyne AB34 4UL, United Kingdom
7. Kilcamb Lodge Hotel – an award-winning, pet-friendly hotel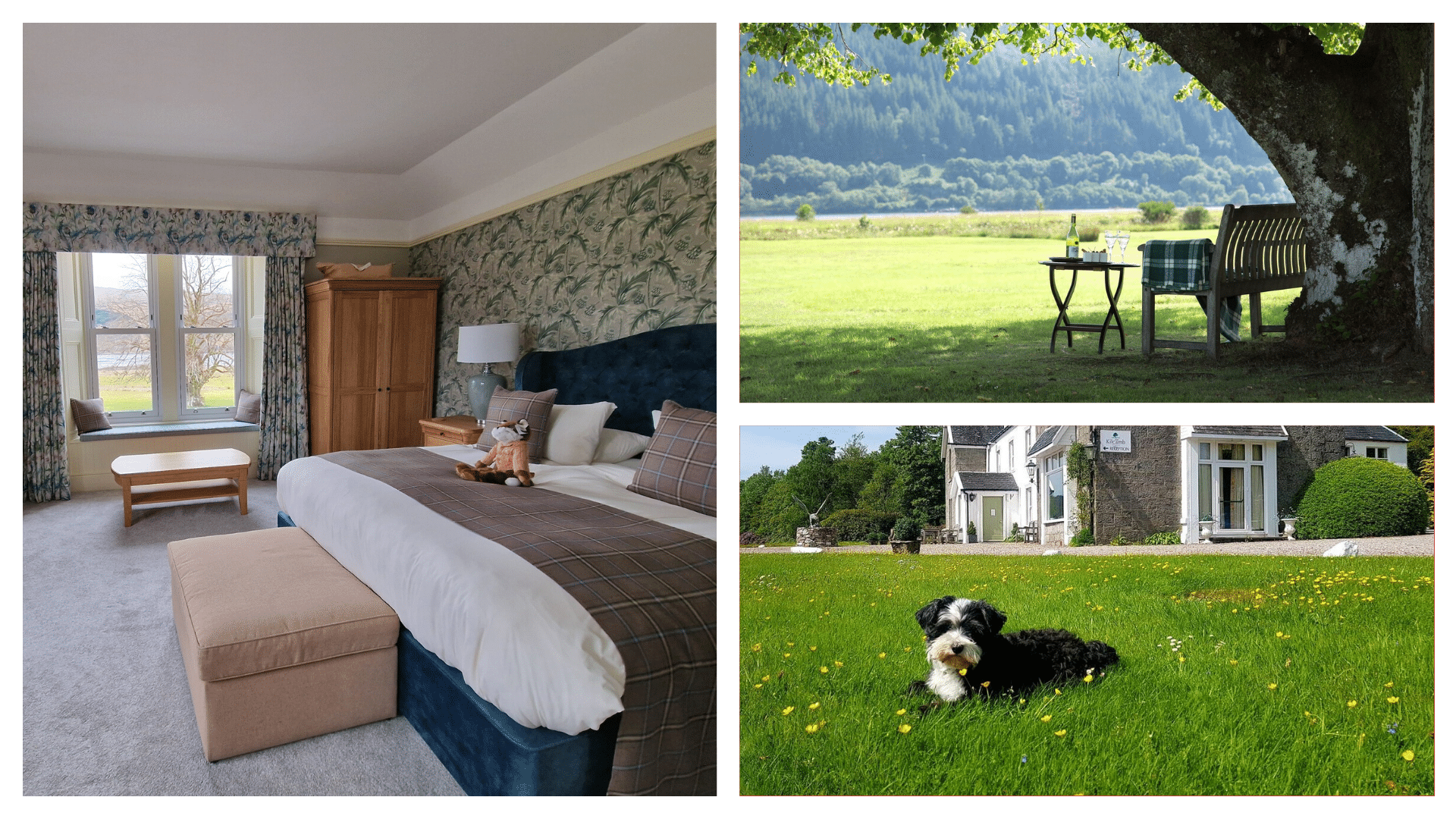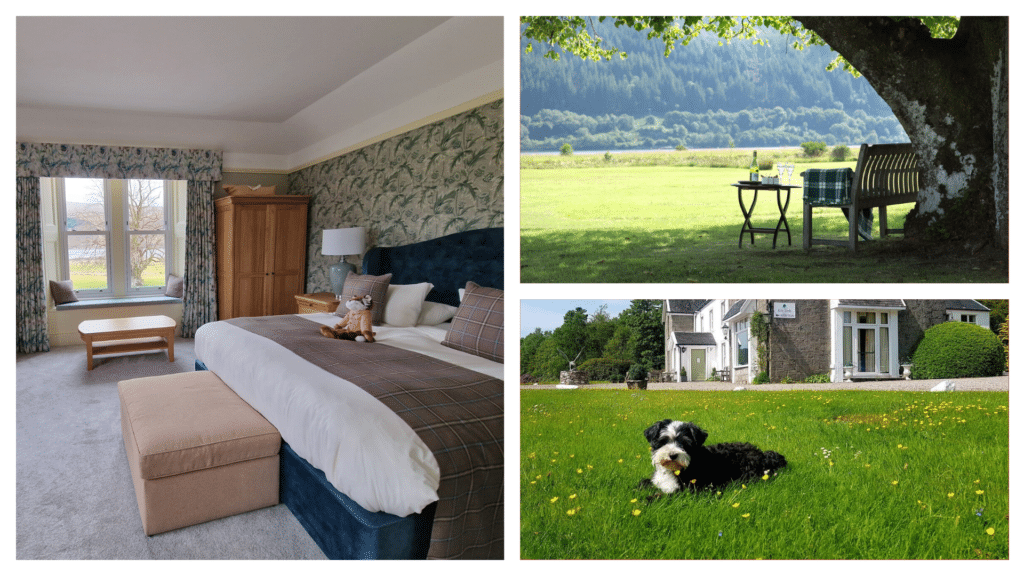 Overview: The Scottish Highlands are world famous, and this is one of the best dog-friendly hotels in the area, right on the shores of Loch Sunart, an ideal base for exploring the wild Scottish nature.
The hotel is close to: The Highlands, Loch Sunart
The hotel is perfect for: To explore the Scottish Highlands
Key features here include:
22 acres of natural private meadow
Near Ben Nevis and the Glenfinnan Museum and Distillery
An abundance of wildlife in the area
Winner of the UK's best pet-friendly hotel in 2017
Your dog receives a bed, food, toys, treats, a towel, and more
Address: A861, Strontian, Acharacle PH36 4HY, United Kingdom
8. Scarista House, Isle of Harris – one of the best seaside hotels for dogs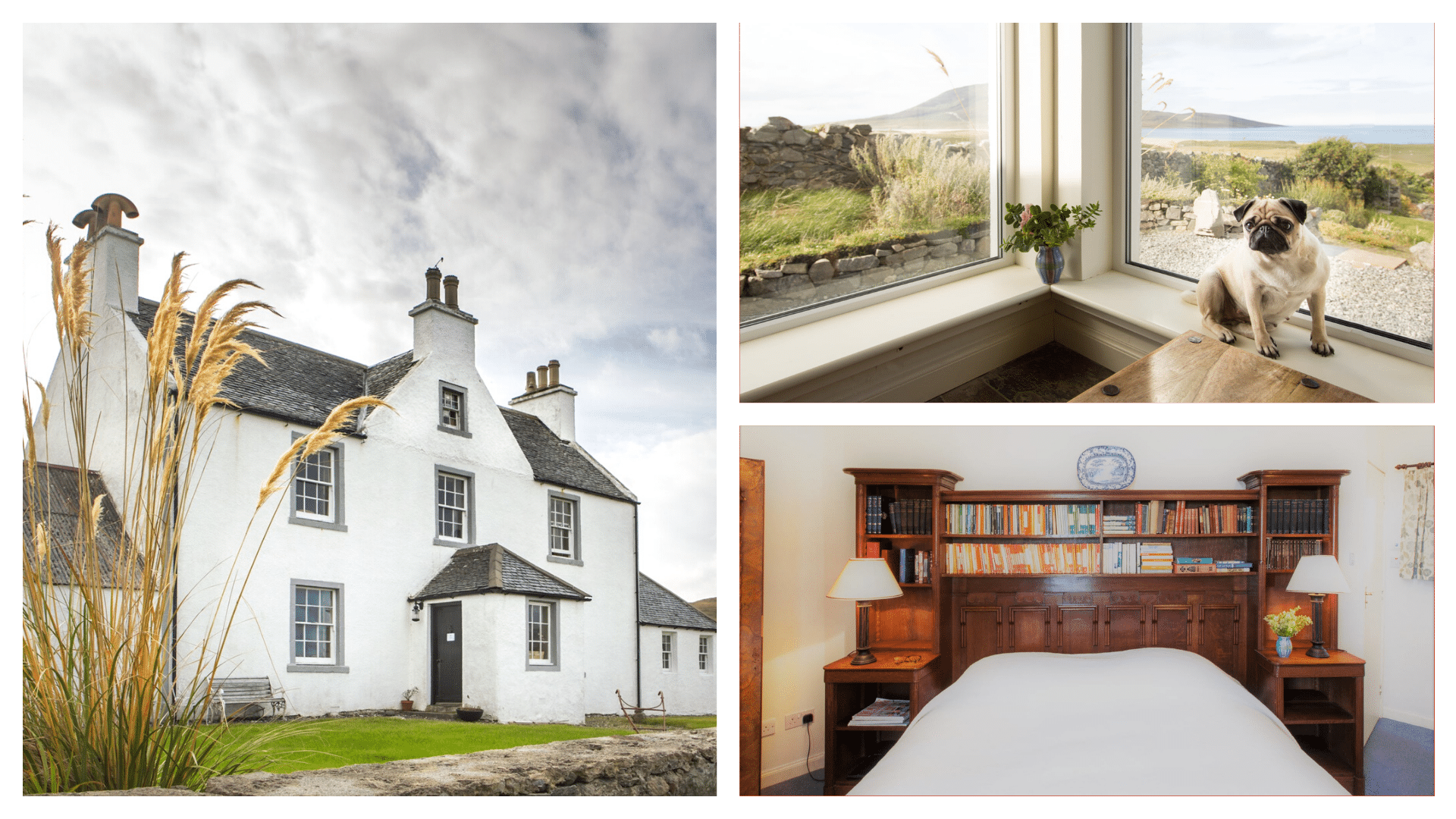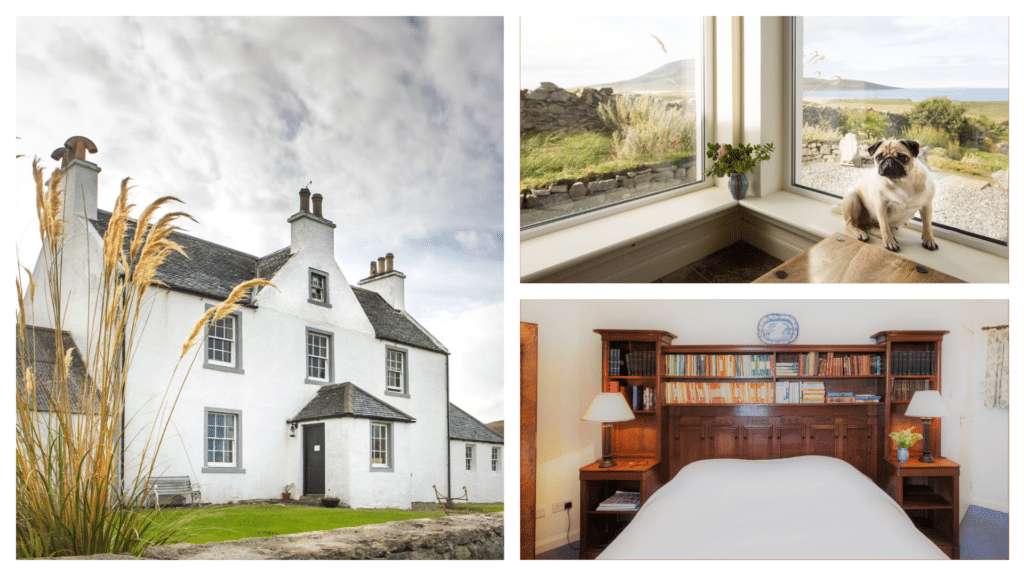 Overview: This small and quaint hotel offers a fantastic remote breakaway to the tranquil Isle of Harris, and by staying at Scarista House, you won't need to leave your dog at home.
Overlooking one of the most stunning beaches in the area, this is an ideal place to let your furry friend run to their heart's content.
The hotel is close to: the Isle of Harris
The hotel is perfect for: A remote beachside escape
Key features here include:
A traditional hotel with cosy rooms and open fires
Sea and mountain views, as well as a long stretch of beach
A dog-friendly, self-catering cottage to feel at home
The ideal place for outdoor activities and visiting local handweavers
Serving up organic, wild, natural produce in their restaurants
Address: Isle of Harris HS3 3HX, United Kingdom
9. The Inn at Kingsbarns – inexpensive pet-friendly accommodation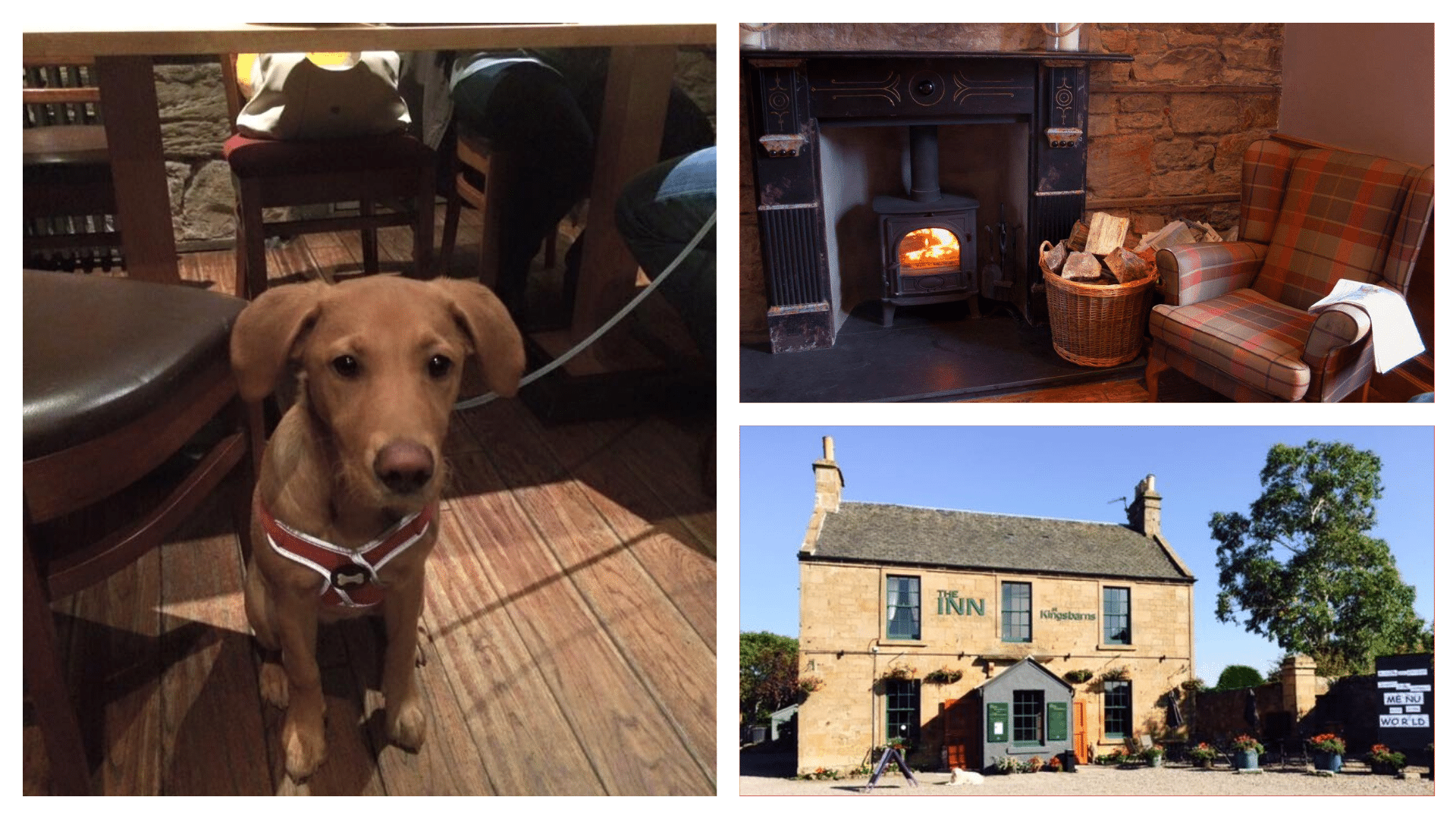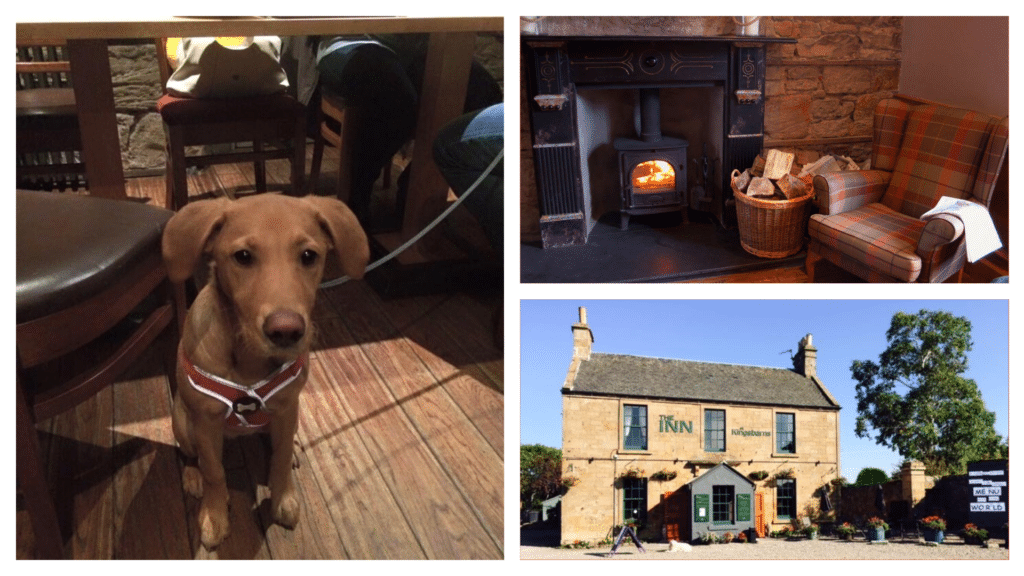 Overview: This well-located traditional hotel near the golfing haven of St Andrews is one of the best dog-friendly hotels in the region, with plenty to offer you and your pup.
If you are an avid golfer and don't fancy leaving your pet behind, this is an ideal place to enjoy some great golfing opportunities, and your pet will have plenty to keep them entertained, too.
The hotel is close to: Kingsbarns Golf Links, Kingsbarn Distillery, Kingsbarns Beach, St Andrews
The hotel is perfect for: A comfortable, laid-back stay near St Andrews
Key features here include:
Daily cooked breakfast included in all room rates
Dog essentials provided for your travel companion
Bespoke weekends for golfers arranged
A traditional restaurant where your pet is welcome
A great location not far from Dundee and Edinburgh Airport
Address: 5 Main St, Kingsbarns, St Andrews KY16 8TA, United Kingdom
10. Novotel Glasgow – ideally located in the city centre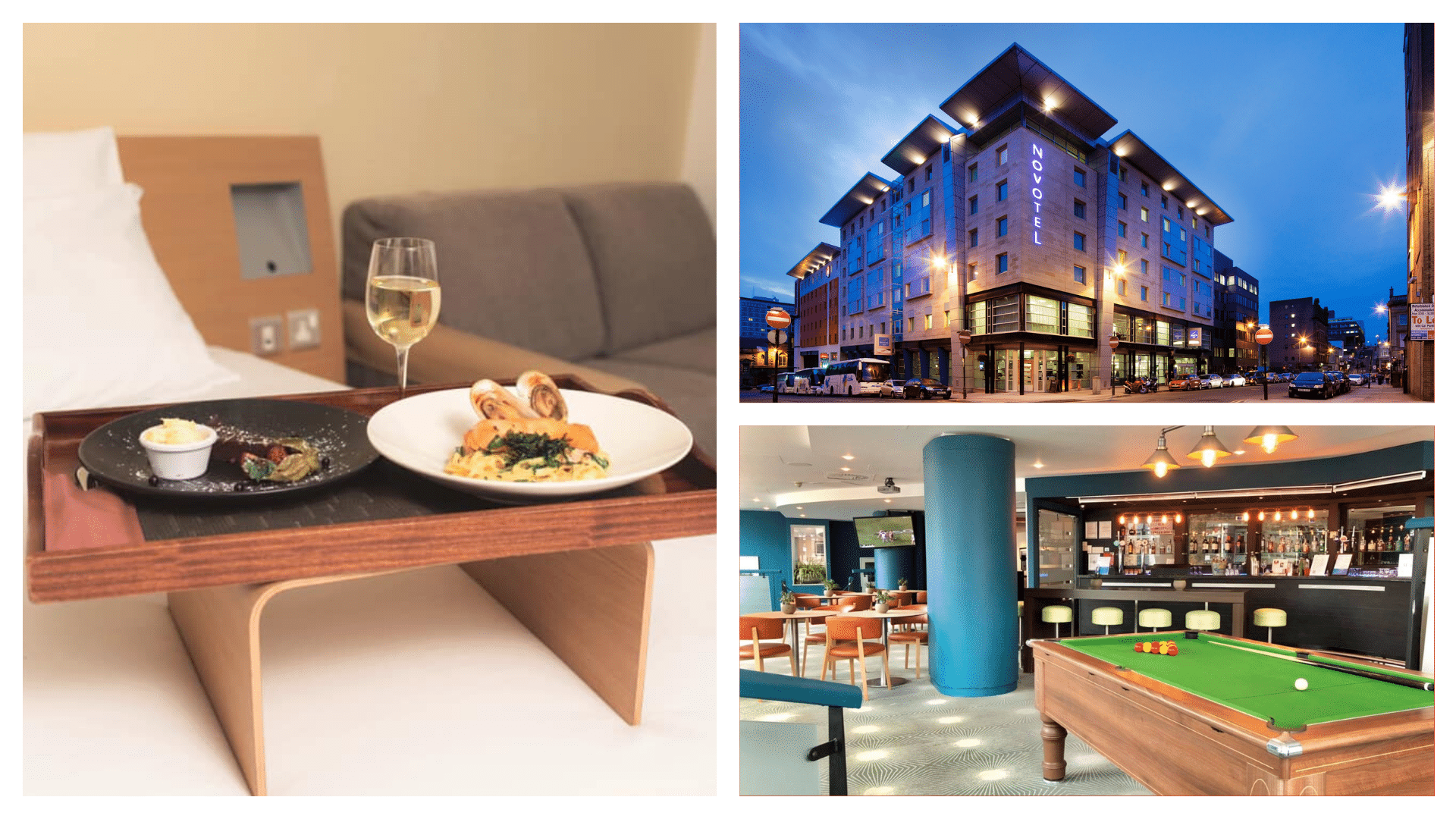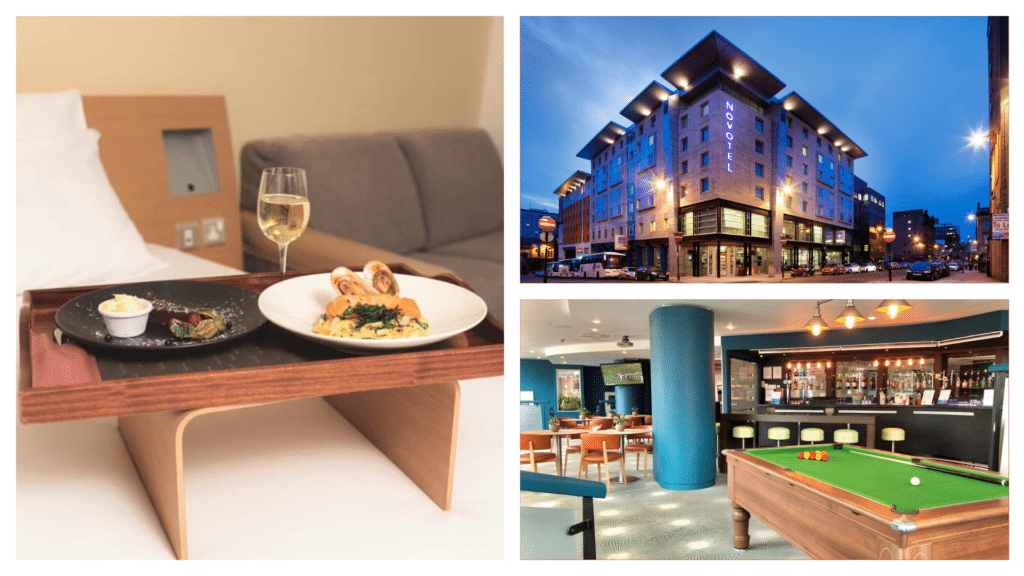 Overview: While Scotland is famous for its rugged nature, its cities cannot be missed, and Glasgow is a thriving city with lots to offer, including a range of dog-friendly cafes and restaurants.
This is one of the best hotels in Glasgow, which caters to you and your four-legged friend, making it a popular choice.
The hotel is close to: Kings Theatre and Kelvingrove Art Gallery
HIGH DEMAND: This is one of the best central hotels in Glasgow that welcomes pets, so book in advance not to miss out on a city break with your furry friend.
The hotel is perfect for: A city break
Key features here include:
A rooftop gym with a sauna and steam room
Walking distance to plenty of the city's attractions
Gourmet bar/lounge for tasty food and drinks
A dedicated children's area with Xbox and toys
Located next to lots of dog-friendly eateries and bars
Address: 181 Pitt St, Glasgow G2 4DT, United Kingdom
Notable mentions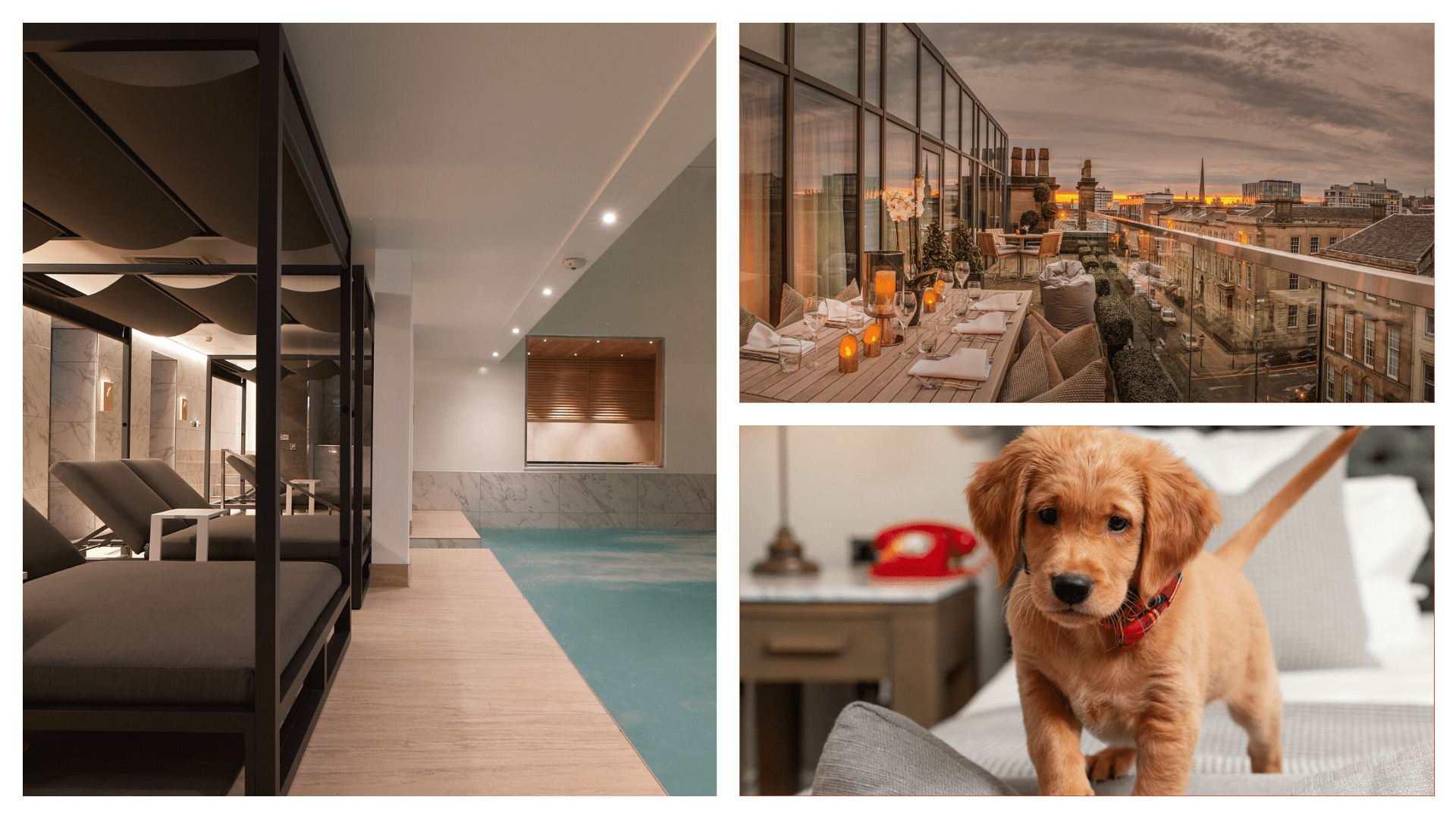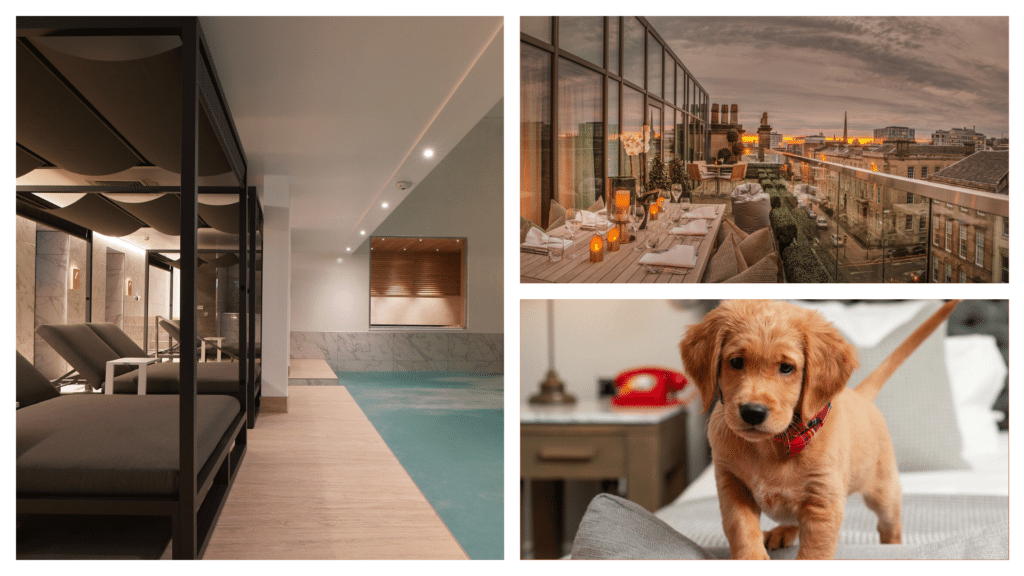 Your questions answered about pet-friendly hotels in Scotland
If you've still got questions, don't worry. In this section, we answer some of our readers' most frequently asked questions about pet-friendly hotels in Scotland.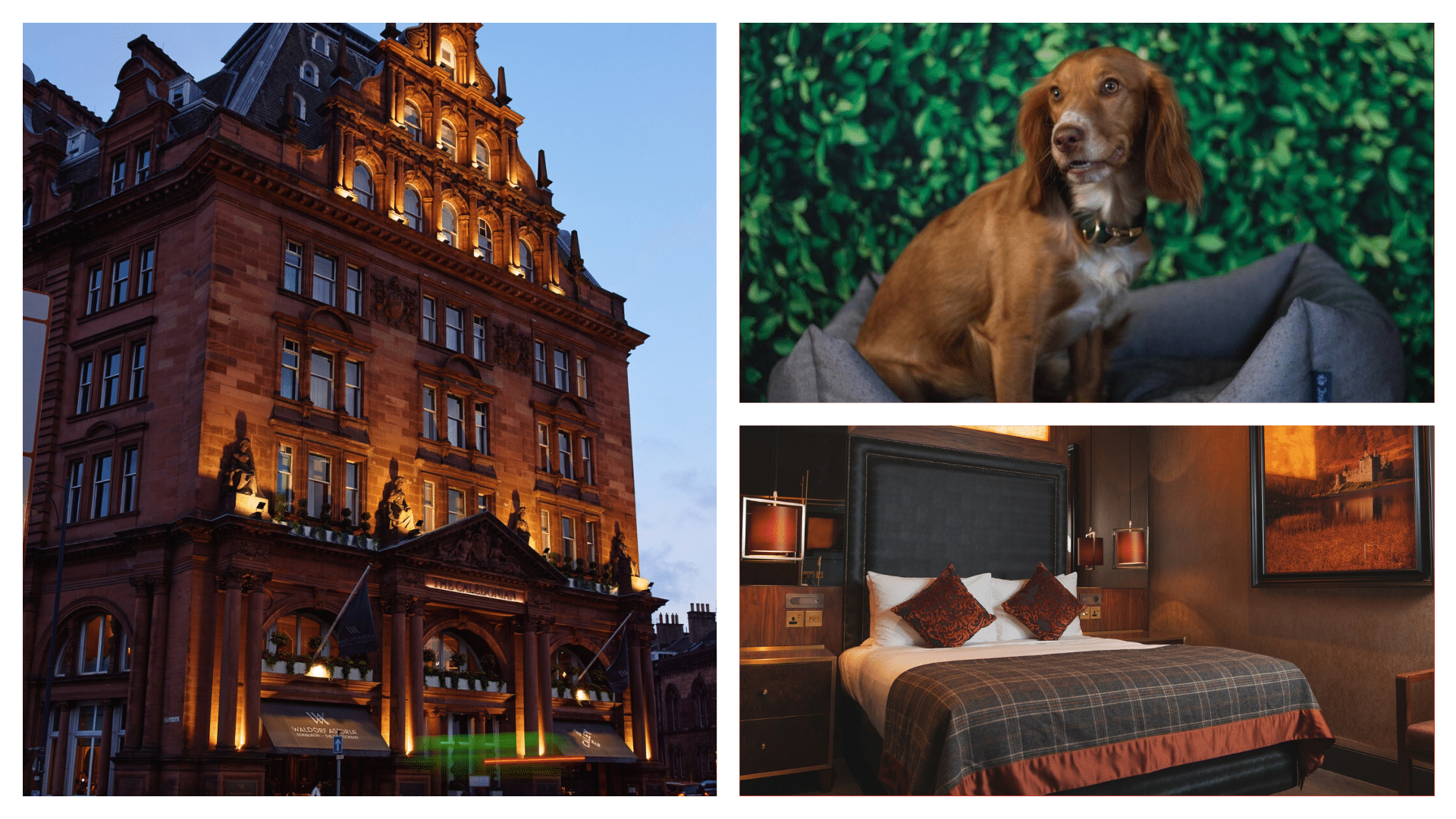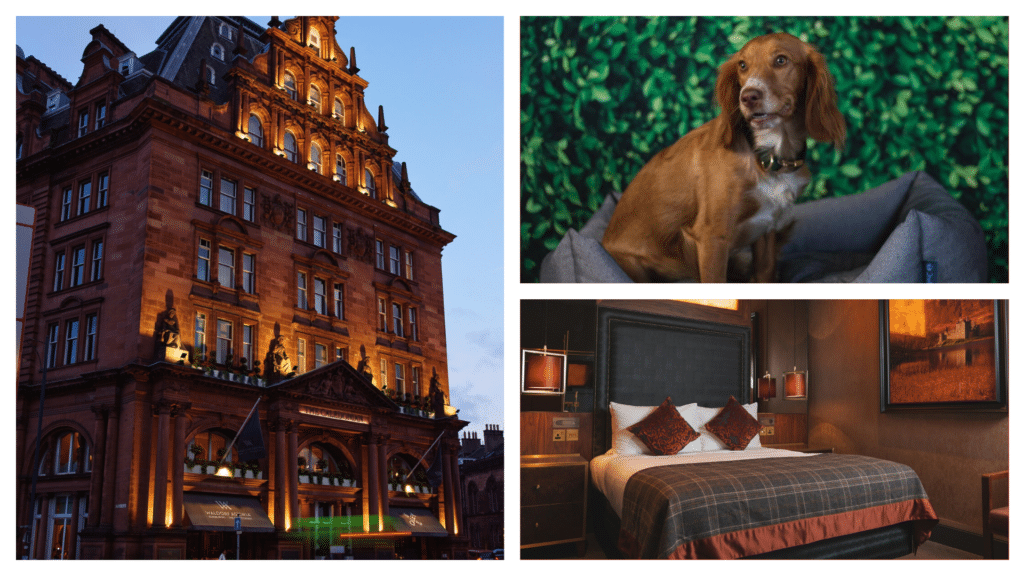 Where can I stay with my dog in Scotland?
There are endless regions in Scotland suitable for dogs, with many pet-friendly hotel options, including near Loch Lomond and Cairngorms National Parks.
Are dogs allowed in Scottish castles?
Castle Sween and Dunnottar Castle are two dog-friendly castles, but while some castles allow dogs to walk the grounds, others strictly forbid them in any area, so check beforehand.
Are dogs allowed at Gleneagles?
Yes, Gleneagles is one of the best pet-friendly hotels in Scotland; all their rooms and suites are pet-friendly and have extra facilities for your canine companion.
So, now you have reviewed the ten best dog-friendly hotels in Scotland, there is no reason not to take your furry friend along with you on your next trip to bonny Scotland – they will love it!
MORE ON SCOTLAND STAYS:
Dog-friendly hotels in Scotland
Amazing places for glamping in Scotland
WHAT TO DO IN SCOTLAND: