Bali is an Indonesian paradise visited by and travelled through by many. From Ubud to Canggu and beyond, visitors of Bali are in for an absolute treat.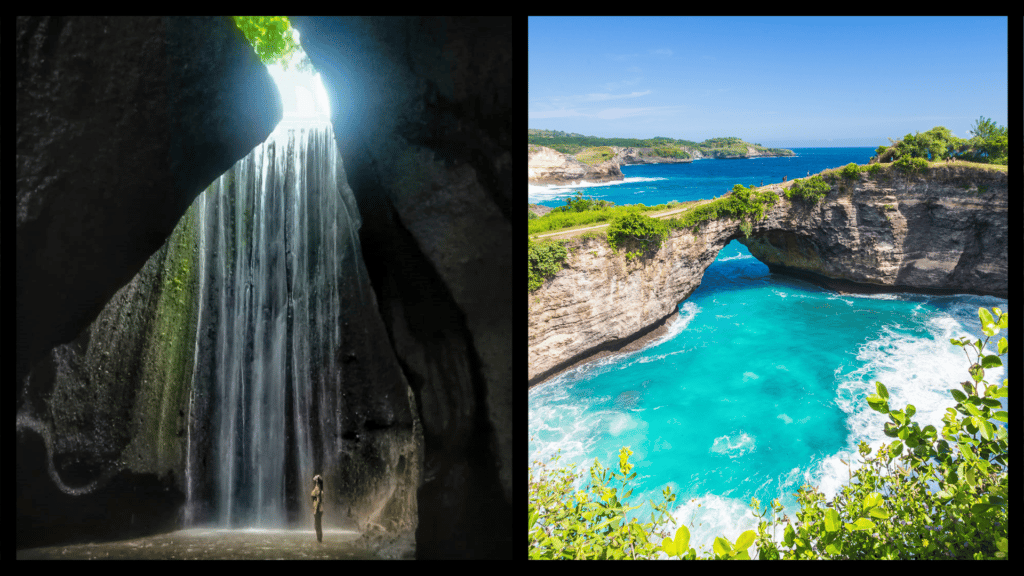 There are many reasons why people travel to Bali, Indonesia. From the yoga retreats and wellness centres to the stunning artefacts and beaches, it is a corner of the world like no other.
Sometimes, you need to visit the big tourist attractions and sights when visiting a certain place. However, nothing beats getting off the tourist trail, skipping the crowds, and discovering the true secret spots that a place has on offer.
From the lesser travelled but just as beautiful islands to the best spots to discover Bali's marine life, let's take a look at the top five hidden gems in Bali that you need to put on your bucket list.
5. Nusa Penida − an unbelievably stunning island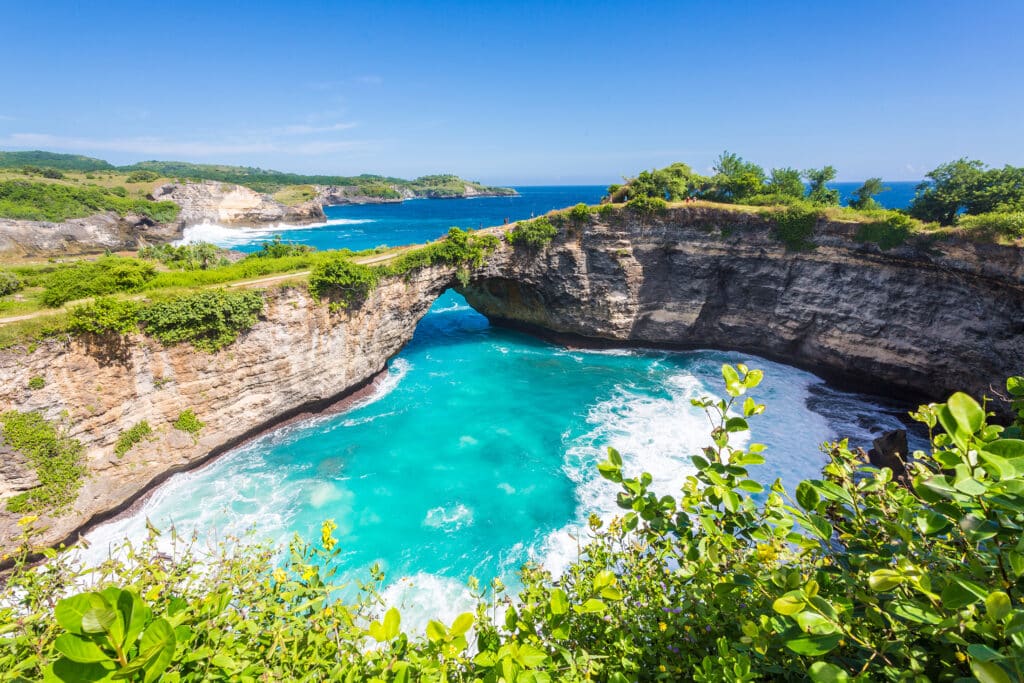 Nusa Penida is an island located off the southeast of the island of Bali. It is a truly stunning island with so much to uncover and explore.
While many flock to the three Gili islands when visiting Bali as they are filled with party vibes and stunning scenes, sometimes Nusa Penida can be overlooked.
Nusa Penida still has many visitors eager to snap pictures at the famous dinosaur-shaped Kelingking beach. Still, the rest of the island has many other beautiful aspects to explore.
If you're into scuba diving, Nusa Penida should be at the top of your list, as huge reef manta rays are commonly spotted here.
Swimming amongst these rays as their 16 ft (5 m) wingspan swoops above you is a memorable experience like no other.
Address: Nusa Penida, Klungkung Regency, Bali, Indonesia
4. Pinggan Village − sunrise and sunset paradise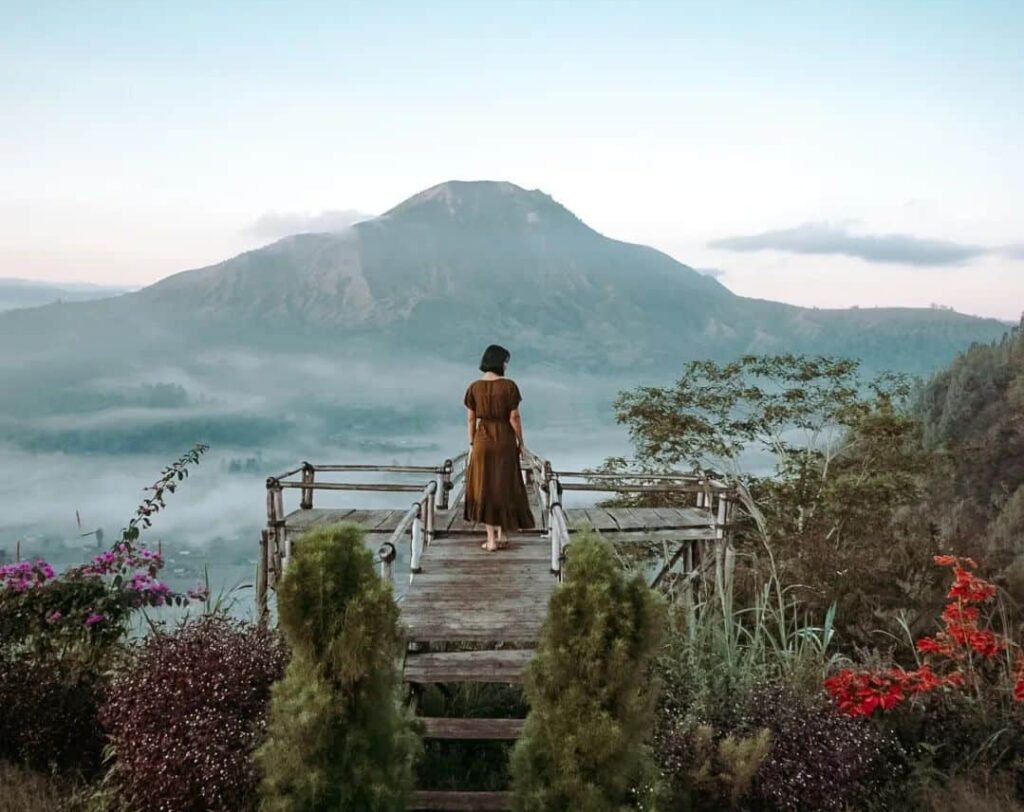 Pinggan Village is located on the slopes of Mount Batur in Kintamani, about an hour's drive from the frequently visited town of Ubud.
It is one of the hidden gems in Bali you cannot miss. Pinggan Village is a photographer's dream come true as the panoramic views are unparalleled. Head to the Pinggan viewpoint for sunrise or sunset, and we promise you won't be disappointed.
While many visit Pinggan Village for a day trip, it's well worth spending a night here to truly soak up what's on offer at this secret spot.
Address: Kintamani, Bangli Regency, Bali, Indonesia
3. Melasti Beach − one of Bali's most secluded beaches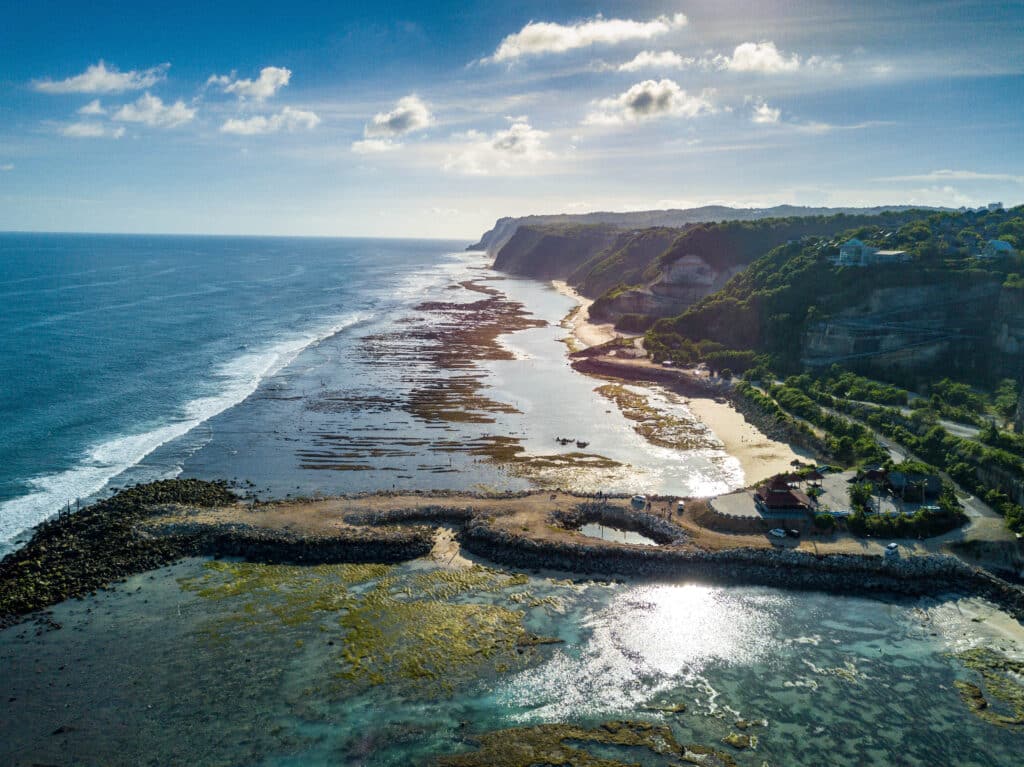 Melasti Beach is one of the most beautiful beaches in Bali and is also one of the most overlooked. This stunning stretch of sand sits on the southern coast of the island and is about an hour's drive from Canggu.
If what you're looking for are white sand beaches and beautiful scenery, you have to make your way to Melasti Beach.
Address: Jl. Melasti Ungasan, Ungasan, Kec. Kuta Sel., Kabupaten Badung, Bali 80361, Indonesia
2. Tukad Cepung Waterfall − at one with nature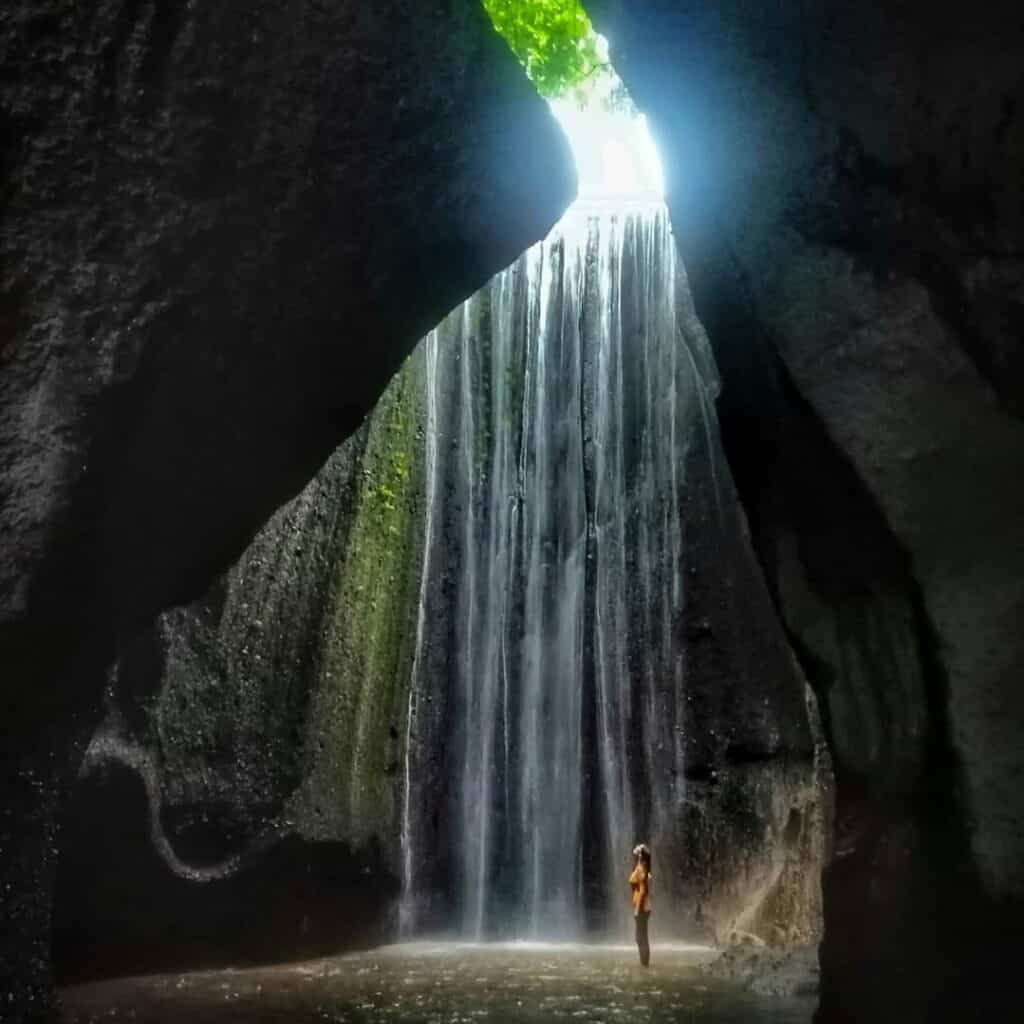 Tukad Cepung Waterfall sits within a stunning and secluded cave. This waterfall is one of the best hidden gems in Bali that you need to make a priority during your visit.
The way the light shines into the cave with the water pouring down will be one of the most tranquil experiences you can have. Hence why we had to include Tukad Cepung Waterfall on our list of incredible Bali hidden gems.
It truly is a peaceful feeling like no other to experience this natural wonder, and it is one of the most spectacular waterfalls you'll ever see.
Address: Central parkir waterfall tukad cepung, Jl. Tembuku, Tembuku, Kec. Tembuku, Kabupaten Bangli, Bali 80671, Indonesia
1. Jatiluwih Rice Terraces − lesser travelled rice paddies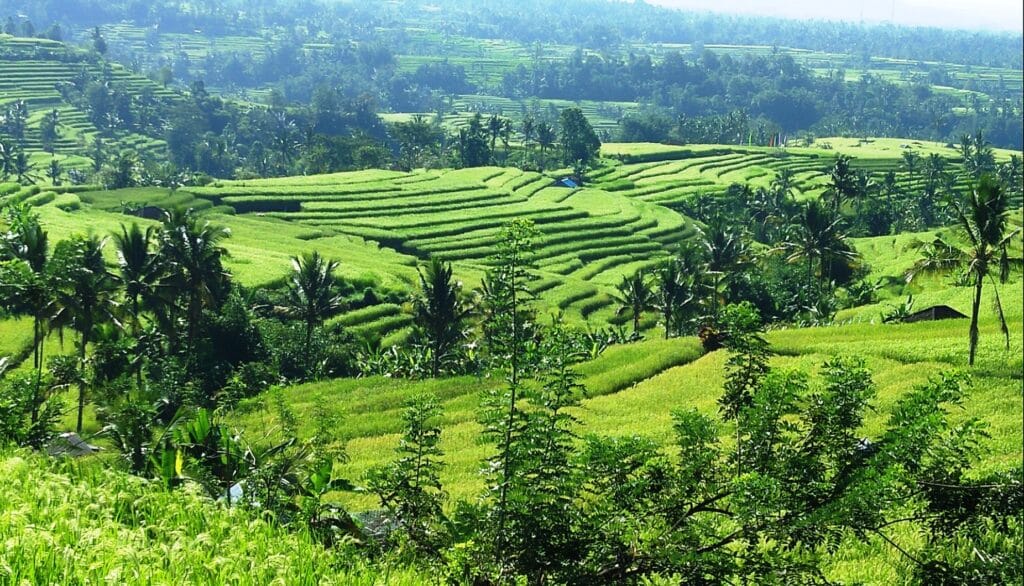 At the top of our list of the best hidden gems in Bali is the Jatiluwih Rice Terraces. One of the main things people love to do when visiting Bali is visit the rice terraces.
Most tourists flock to the popular Tegalalang Rice Terraces near Ubud, but Jatiluwih in the middle of Bali near Ganung Batukaru are equally beautiful and much less travelled.
This dramatic and exotic landscape is truly a sight to behold. Picture luscious greenery as far as the eye can see, lush forests, rice terraces, and a stunning mountainous backdrop. This is one hidden gem in Bali that you need to explore.
Address: Jatiluwih Rice Terraces, Village, Jl. Jatiluwih Kawan No.Desa, Jatiluwih, Kec. Penebel, Kabupaten Tabanan, Bali 82152, Indonesia
Notable mentions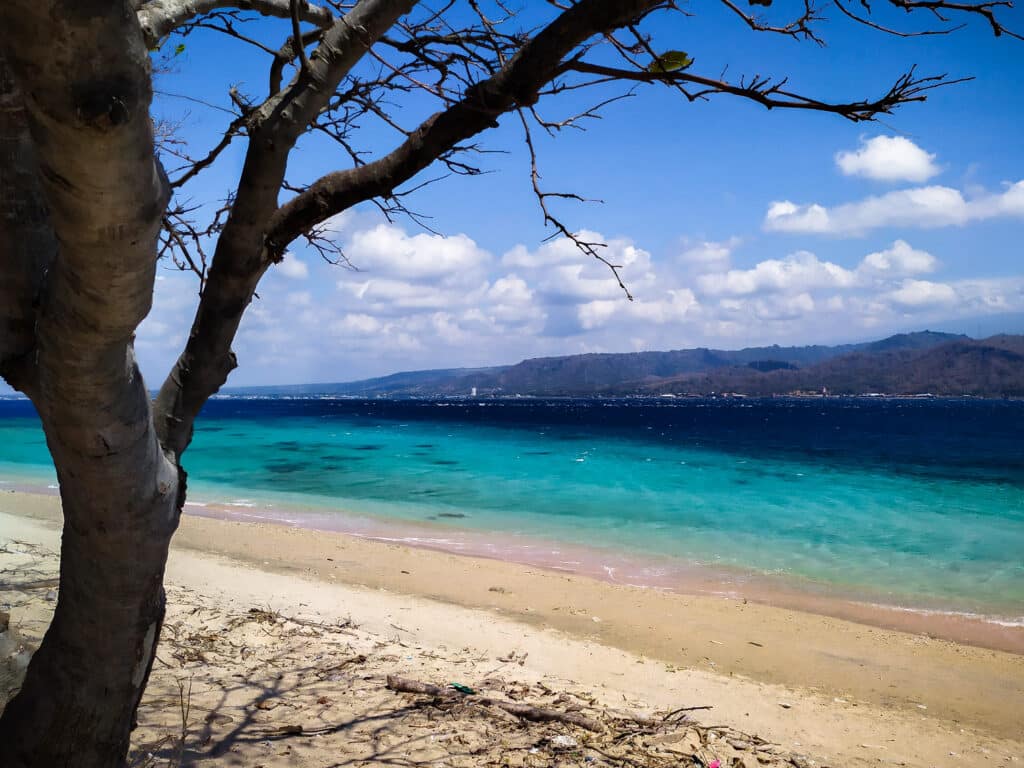 West Bali National Park: While West Bali National Park is a famous place, there are lots of little hidden gems throughout it.
Balian: Balian is a black sand beach that is almost completely devoid of tourists. It's well worth a visit.
Nusa Dua: Visit the hidden rock cliff in Nusa Dua for one of the most stunning natural wonders Bali has to offer.
Kanto Lampo Waterfall: The Kanto Lampo Waterfall is a beautiful place to relax and dive in. Here, you have stunning blue waters and spectacular views.
Bhuana Sari: There are so many beautiful waterfalls to explore in Bali, and this one shouldn't be missed.
Amed: Amed is Bali's best-kept secret. This is one of the greatest fishing villages unexplored by tourists.
Munduk Waterfall: Munduk Waterfall is one of the most stunning secret waterfalls in North Bali. While you're there, you should check out Munduk Village.
FAQs about the best hidden gems in Bali
How many days do you need in Bali?
You'll need at least a week to discover the best parts of Bali. From swimming in the turquoise waters of the many beautiful beaches and stunning waterfalls to checking out the Nusa Islands in East Bali and more, you'll definitely want at least a week!
Which part of Bali is best for a honeymoon?
South Kuta has some incredible resorts that are perfect for a honeymoon. Four Season Resort Bali is often a top choice.
Where is the bluest water in Bali?
Crystal Bay off of Nusa Penida is aptly named for its crystal clear blue waters. There are many stunning beaches in Bali that boast beautifully blue waters.