Thai street food is some of the best in the world, so let's take a look at the top ten you need to try on your next visit.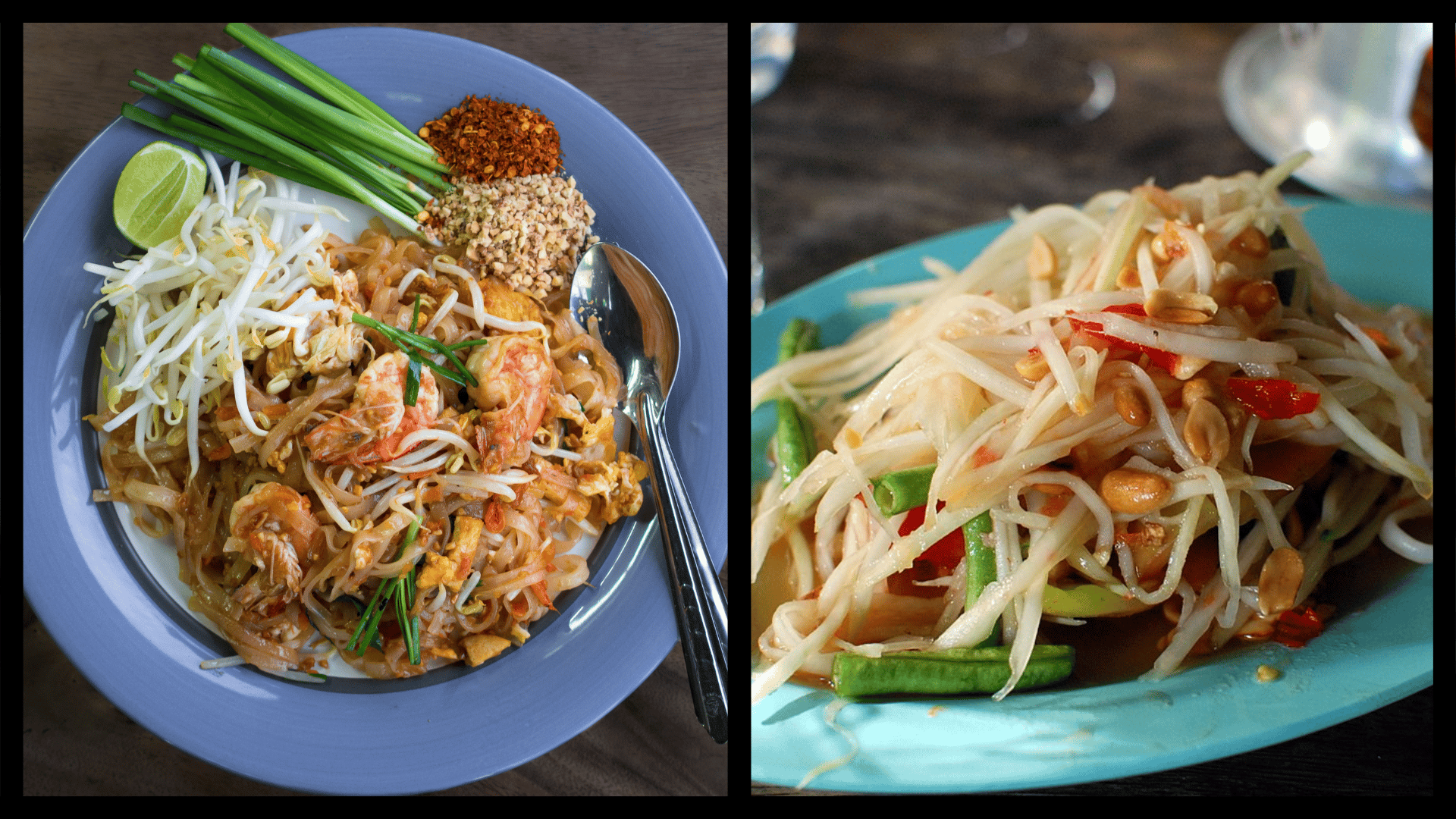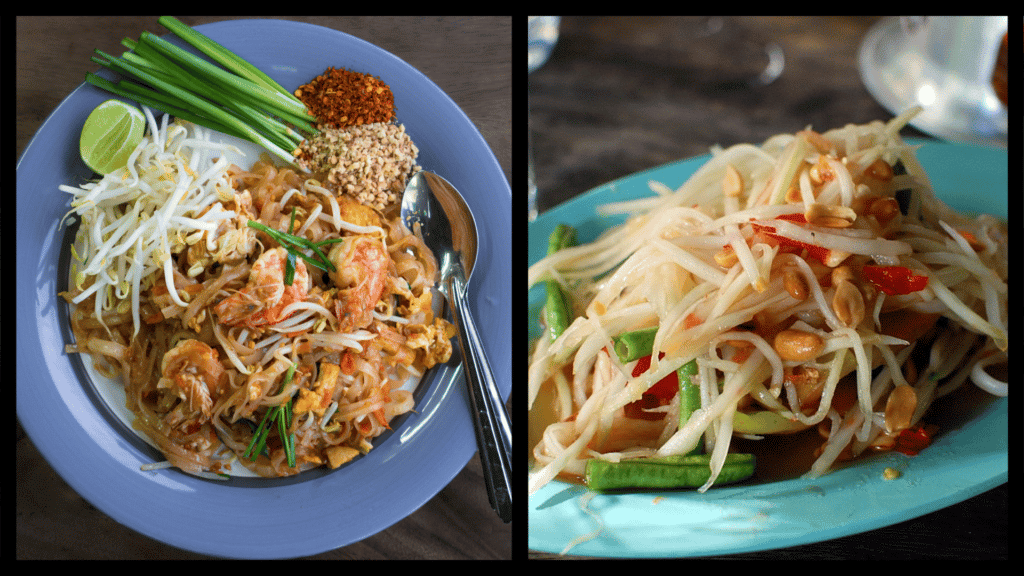 No matter what region or city you visit in the so-called 'Land of Smiles', the streets are sure to be filled with some of the tastiest, most flavoursome and most irresistible street food you will ever eat in your life.
A mix of spices cooked on an open flame in a wok that has created so many tasty dishes for years, there is something about it that just makes the whole experience that much better.
The best Thai restaurants you'll find when visiting are always on the streets. Thai street food vendors are often creating these dishes in such a small space, and the results are always amazing.
Let's take a look at ten epic Thai street foods you should definitely try on your next visit.
10. Pad Krapow – a tasty dish that you could eat every day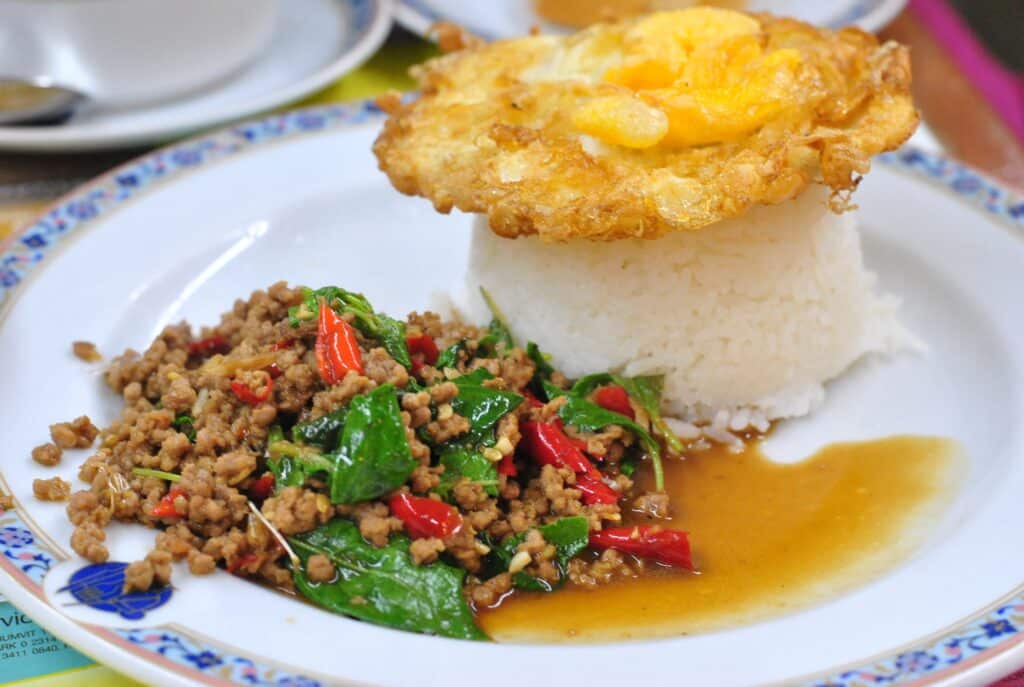 Pad Krapow is a classic Thai dish that is so simple yet so delicious. The dish is made with minced protein of your choice most commonly pork (Pad Krapow Moo), chicken (Pad Krapow Gai), or beef (Pad Krapow Neua).
Most people opt for a fried egg on top of this dish. Luckily for vegetarians, it tastes just as good with minced tofu.
Combing chilli, garlic, shallots, oyster sauce, soy sauce and Thai holy basil, this is a delicious dish that you can recreate quite easily at home.
9. Morning Glory – delicious food as a main or a side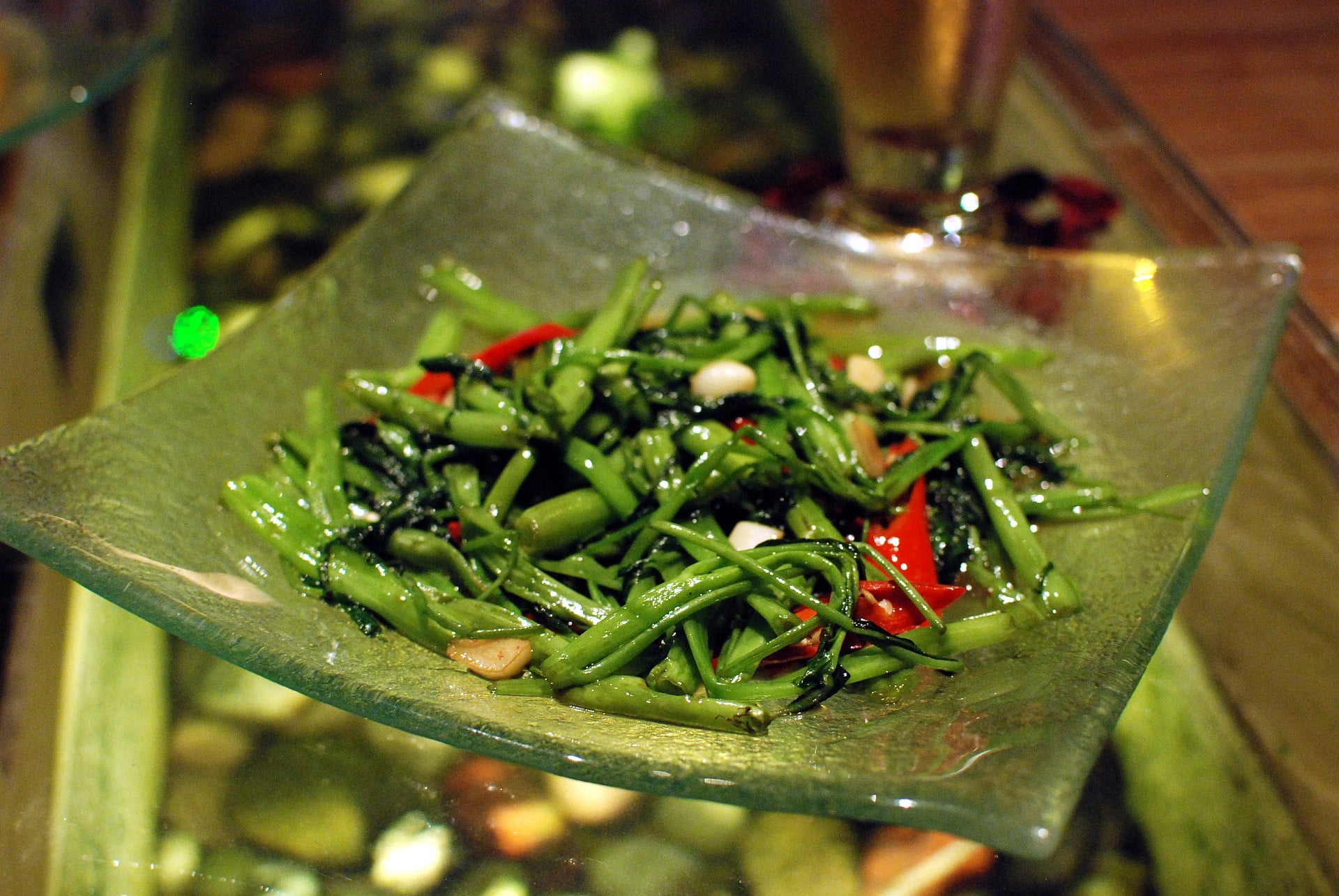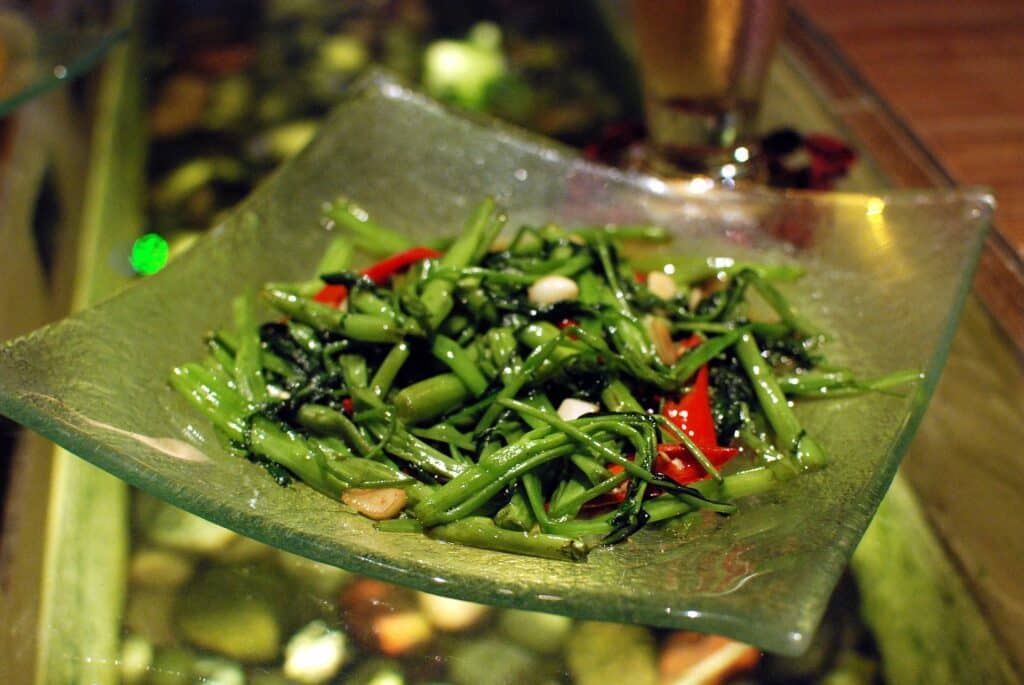 Pad Pak Boong, or Morning Glory, is a Thai vegetable that is often fried with chilli, garlic, oyster sauce and soy sauce to make a delicious side dish or a main meal if it's served with steamed white rice. Despite the funny name, this stuff is so tasty.
If you eat at any street food stalls in Thailand, dry chilli flakes, fish sauce, and chilli oil will always be on the table to accompany your dish.
8. Guay Teow – Thai noodle soup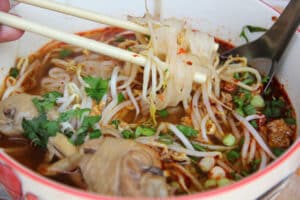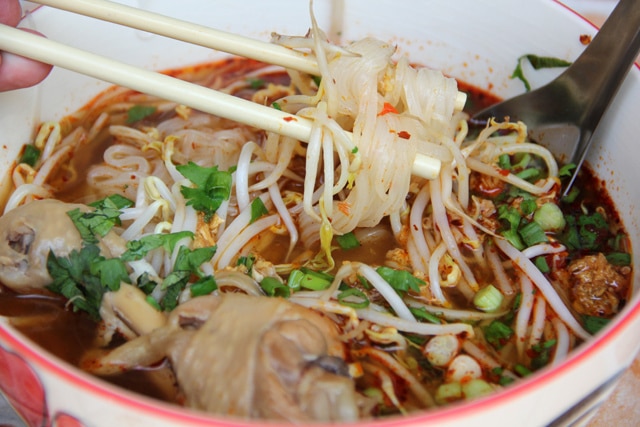 One of the most popular Thai street foods is Guay Teow, or noodle soup. You'll find big bubbling pots of different noodle soups all over the country, and they always taste so good.
The pots contain broth, noodles, and meat, and beansprouts and chilli will often be added as a garnish for serving. If you're staying in Thailand for any length of time, you'll live off this stuff.
7. Thai curries – curries are always some of the most popular dishes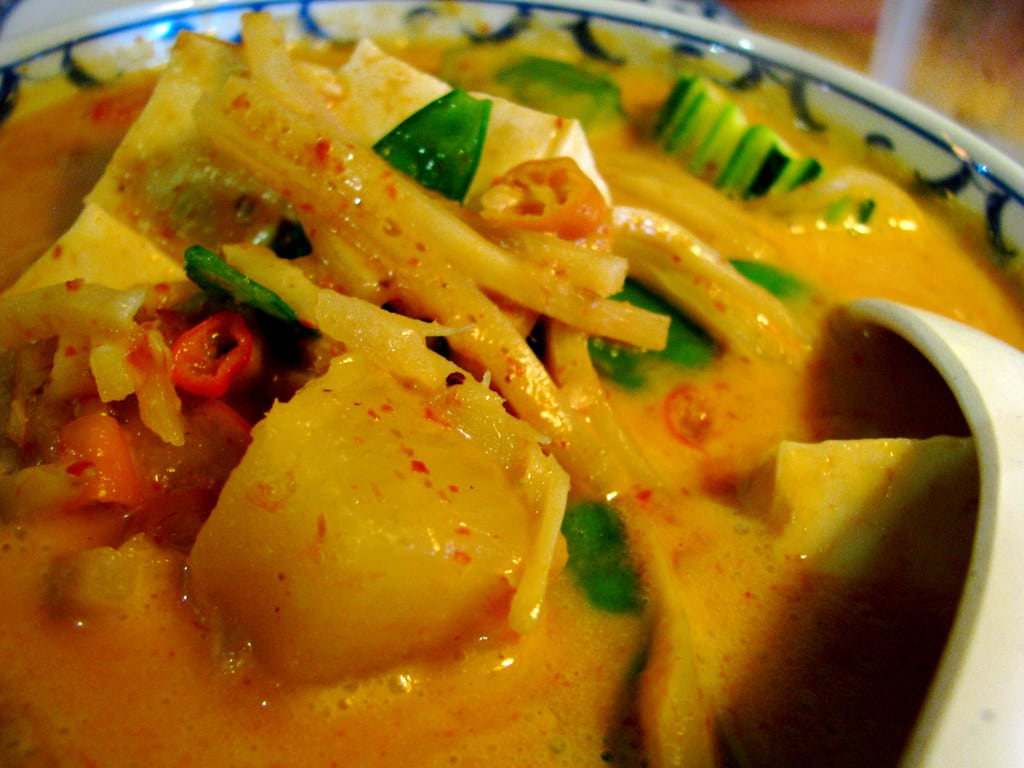 You won't find a street food market in Thailand that doesn't have an abundance of Thai curries.
Yellow curry, green curry, Massaman, and Panaeng; these Thai curries all contain similar ingredients but have their own distinct taste.
Massaman is always a hit with tourists. It's made with peanuts, red curry paste, star anise, and, of course, coconut milk. Served over jasmine rice, Thai curries are to die for.
6. Tom Yum Goong – street vendors are the best Thai restaurants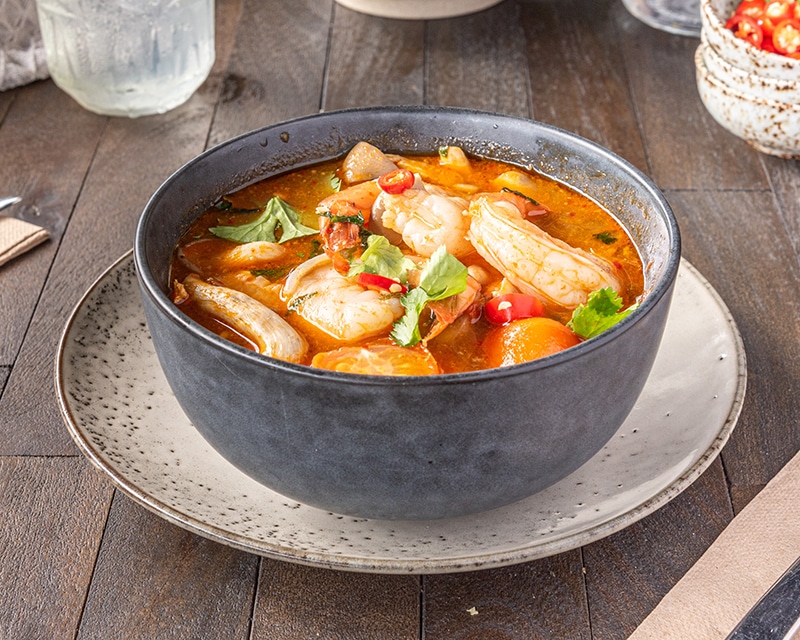 This is a Thai hot and sour soup with prawns. This is one of the best Thai street foods that you definitely need to try.
A beautifully hearty meal, each spoonful of this Thai soup bursts with fresh ingredients and flavour. It's probably one of the biggest comfort food in the country.
It is made up of kaffir lime leaves, fish sauce, green chilli, fresh lemongrass, and, most commonly, fresh shrimp.
5. Pad See Ew – a very popular Thai street food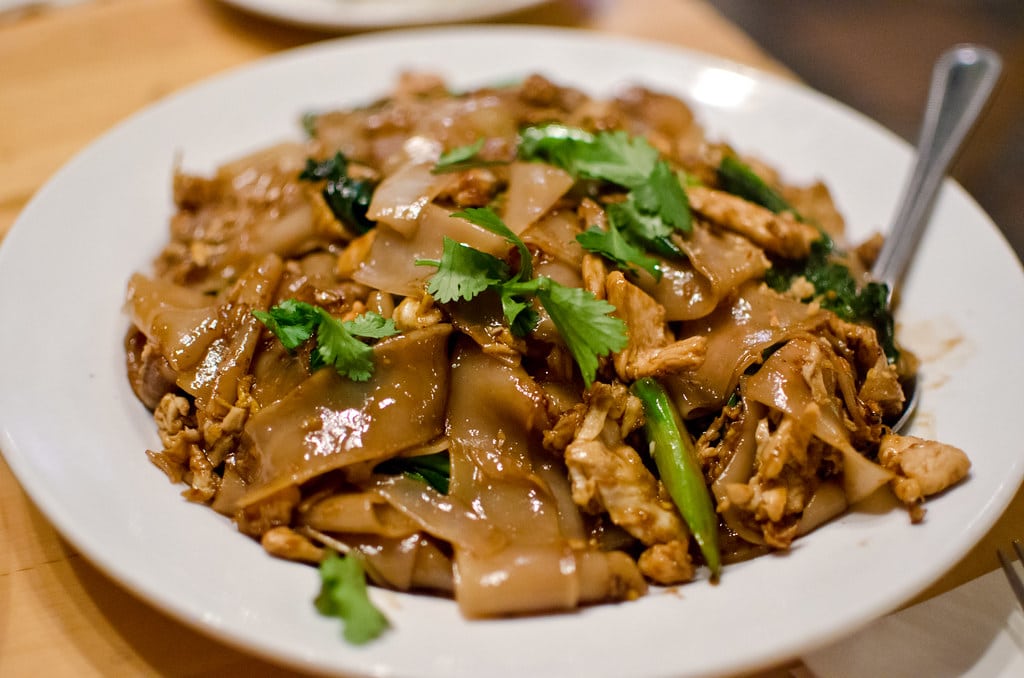 Pad See Ew is a stir-fried noodle dish with soy sauce. It incorporates a number of fresh vegetables.
The origins of this dish can be traced back to China, and it proves to be an extremely popular dish amongst both locals and tourists in Thailand.
4. Pad Kee Mao – have it with a cold beer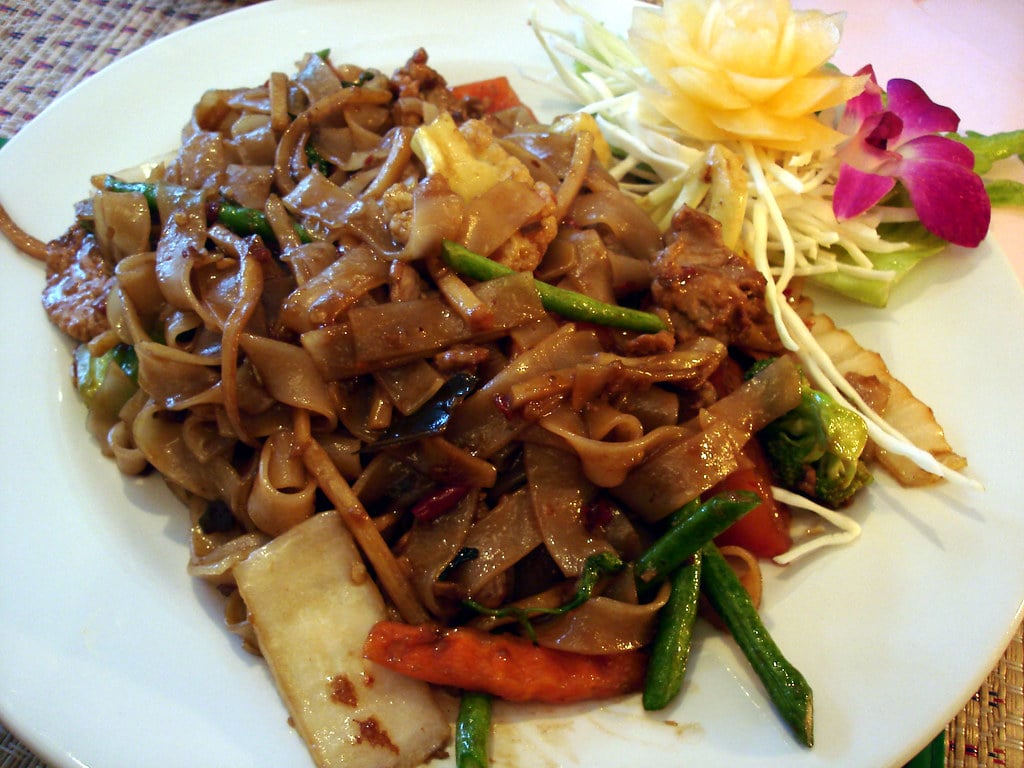 You might have heard of 'Drunken noodles' before, and that's the direct translation of Pad Kee Mao. 'Mao' is the Thai word for drunk.
Pad Kee Mao are large, flat noodles that you might know as Drunken Noodles. The theory goes that this dish should always be served with an ice-cold beer. Apparently, it's also great for hangovers!
This dish contains a lot of the classic elements of Thai food, like soy sauce, fish sauce, oyster sauce, garlic and chilli. It also contains white and green onions and, most commonly, chicken.
3. Mango Sticky Rice – a tasty Thai dessert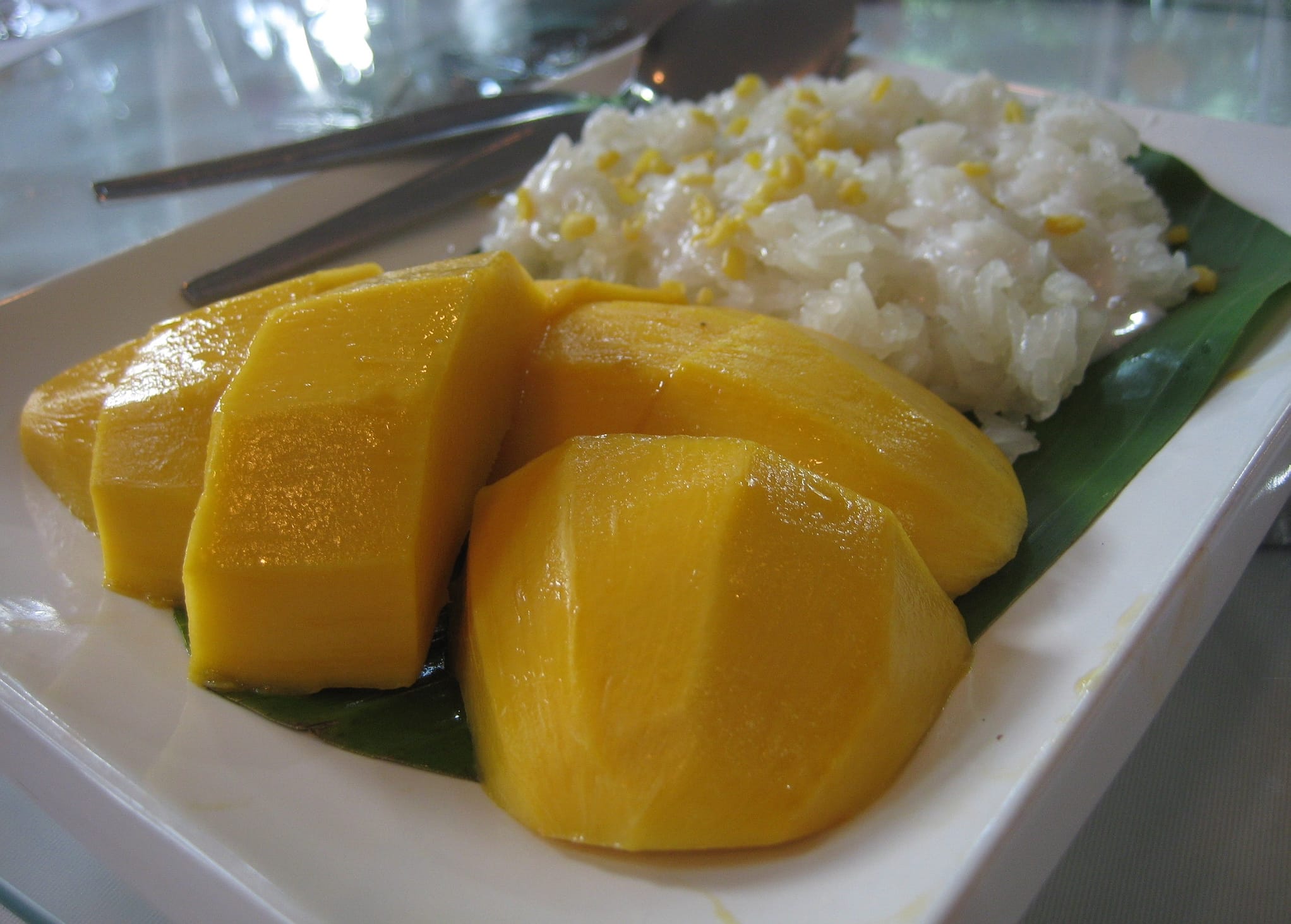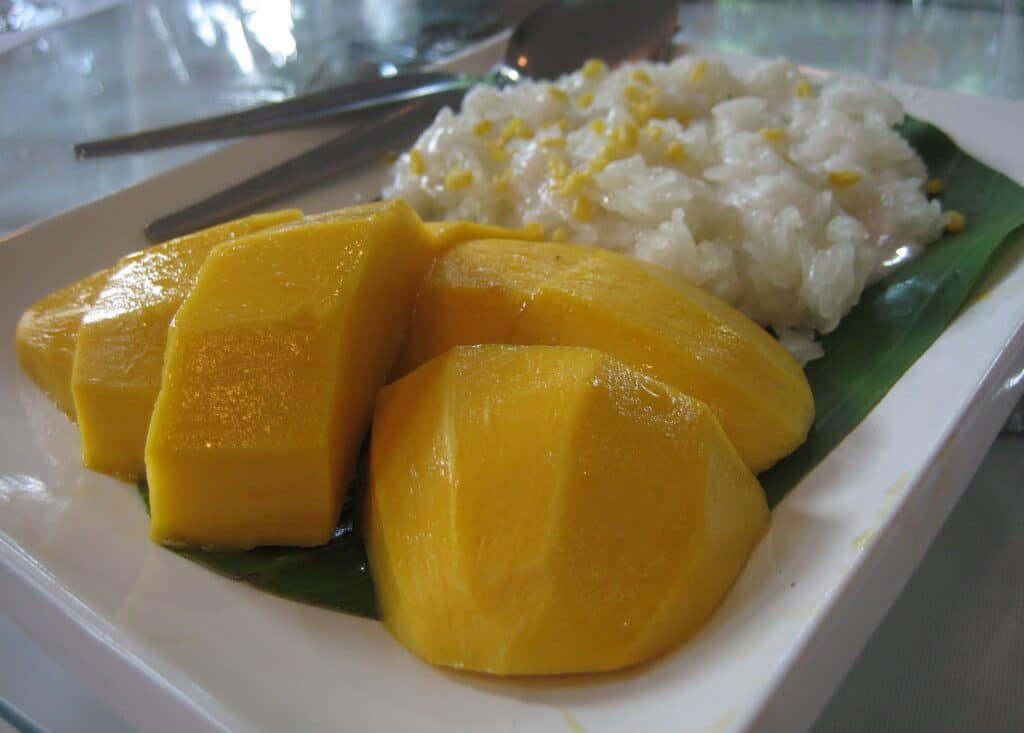 If there's one thing that Thai people know how to incorporate into any dish, it's rice. Mango Sticky Rice is made up of a bed of sticky rice, also known as glutinous rice, topped with coconut milk, brown sugar, and fresh mango slices.
It then usually comes wrapped in banana leaves. Thai food always contains only the freshest ingredients, and you can always taste the quality!
2. Pad Thai – a delicious balance of flavours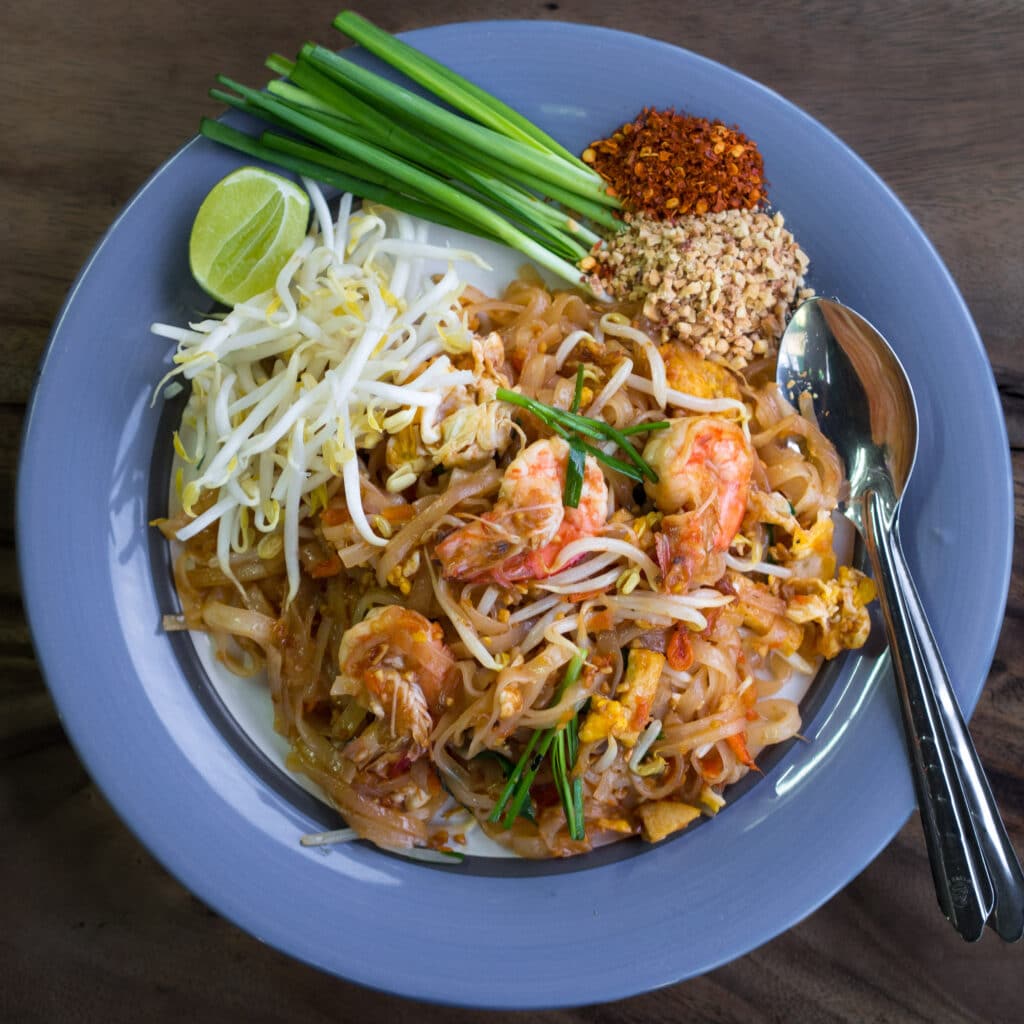 Pad Thai is known as the national dish of Thailand. However, it is perhaps more popular with tourists and visitors than it is with the natives.
It's one of the most popular Thai street foods amongst visitors and contains stir-fried rice or egg noodles traditionally served with chicken, prawns, or both, and the sauce is a mixture of sweet, savoury, and sour.
A key ingredient in the dish that gives it its distinction is crushed peanuts.
1. Som Tam – a mix of aromatic ingredients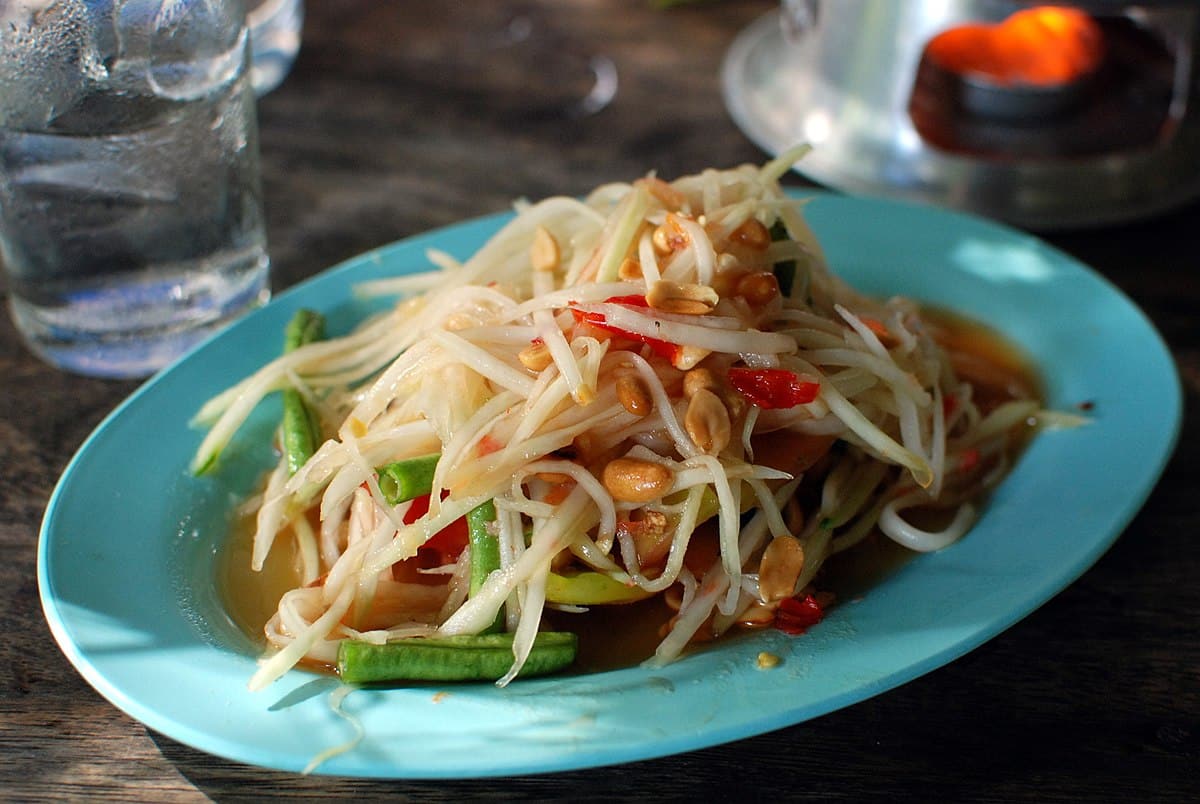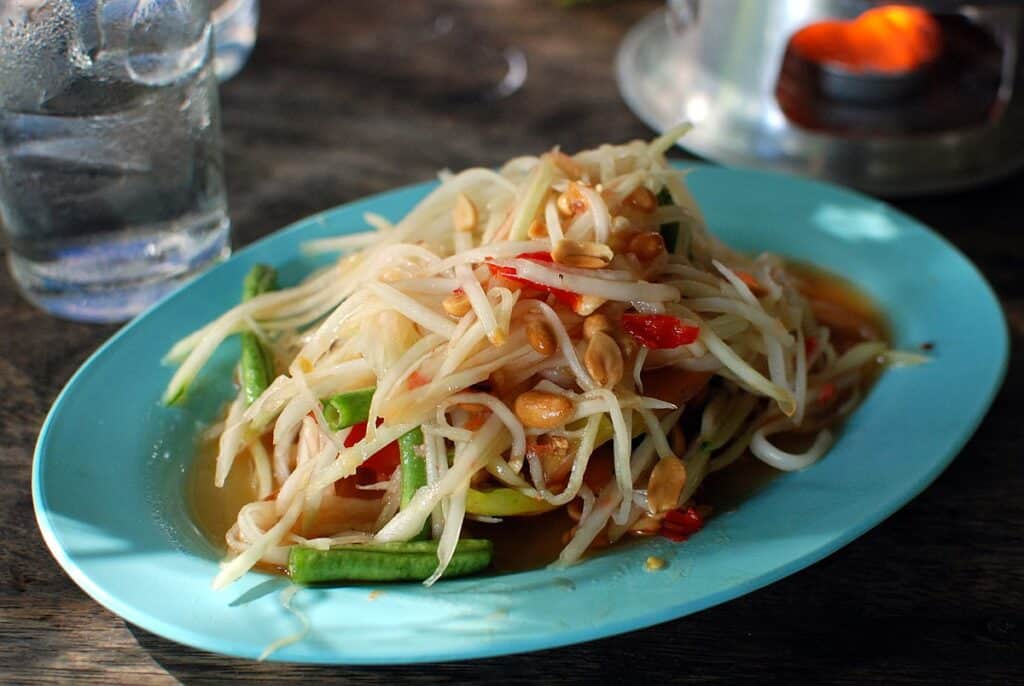 Otherwise known as Papaya salad, you've probably heard of this dish even if you haven't been to Thailand.
A delicious and refreshing traditional Thai salad, it contains chillies, garlic, lime juice, fish sauce, shredded green papaya, green beans, shredded carrot and dried shrimp.
Thai people almost always order Som Tam with their food, so you should definitely try it during your visit. The insanely affordable price of all of these delicious dishes is a bonus as well.
If you liked this article, read the best cities for street food in the world.
Notable mentions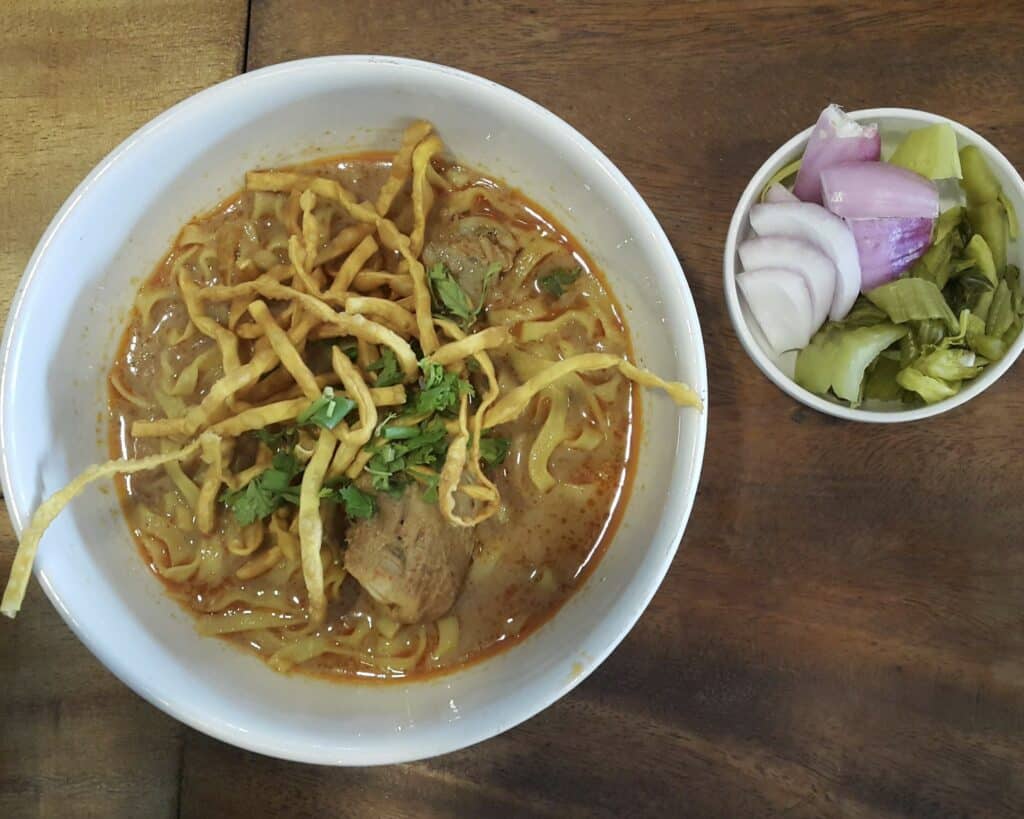 Gai Pad Med Mamuang: Otherwise known as Thai Cashew Chicken, this is a tasty dish that combines tender chicken and roasted cashews along with a simple sauce.
Moo ping: Moo ping is a classic Thai street food dish that you'll always find at night markets. It's basically grilled pork skewers. It's a great snack for when you're hungry in the markets but want to take your time choosing.
Khao Soi: Khao Soi is a delicious Northern Thai dish that you will always find on the streets in Chiang Mai. It's a rich curry noodle dish that combines chicken or beef in a coconut curry broth with boiled egg noodles with chilli and lime.
FAQs about Thai street food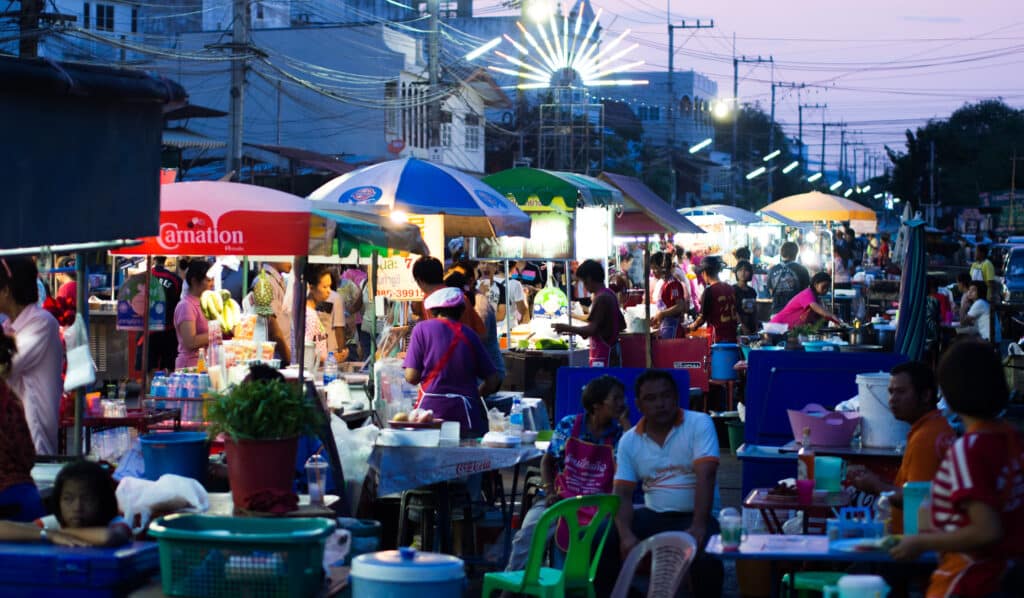 What makes Thai street food Special?
Thai food is so unique because it often combines opposing flavours. For example, you'll often find hot and spicy food made together with light, citrus and sweetness.
Is street food safe to eat in Thailand?
Yes! Thai street food is delicious, and you should definitely try it when visiting. When travelling to a different country, our stomachs might not be ready for the different ingredients and spices used in the food, which can cause us to get sick.
If you think a street food vendor looks unhygienic, it's best to avoid it. However, most vendors are clean and serve delicious and safe food.
What do Thai people eat for breakfast?
Thai people often eat and combination of sweet and savoury food for breakfast, like Jok (porridge), Khao Tom (rice soup), or Kai Jeow (omelette).