Street food in Vietnam is one of the highlights of Southeast Asia, and here are the dishes that will put a smile on your face.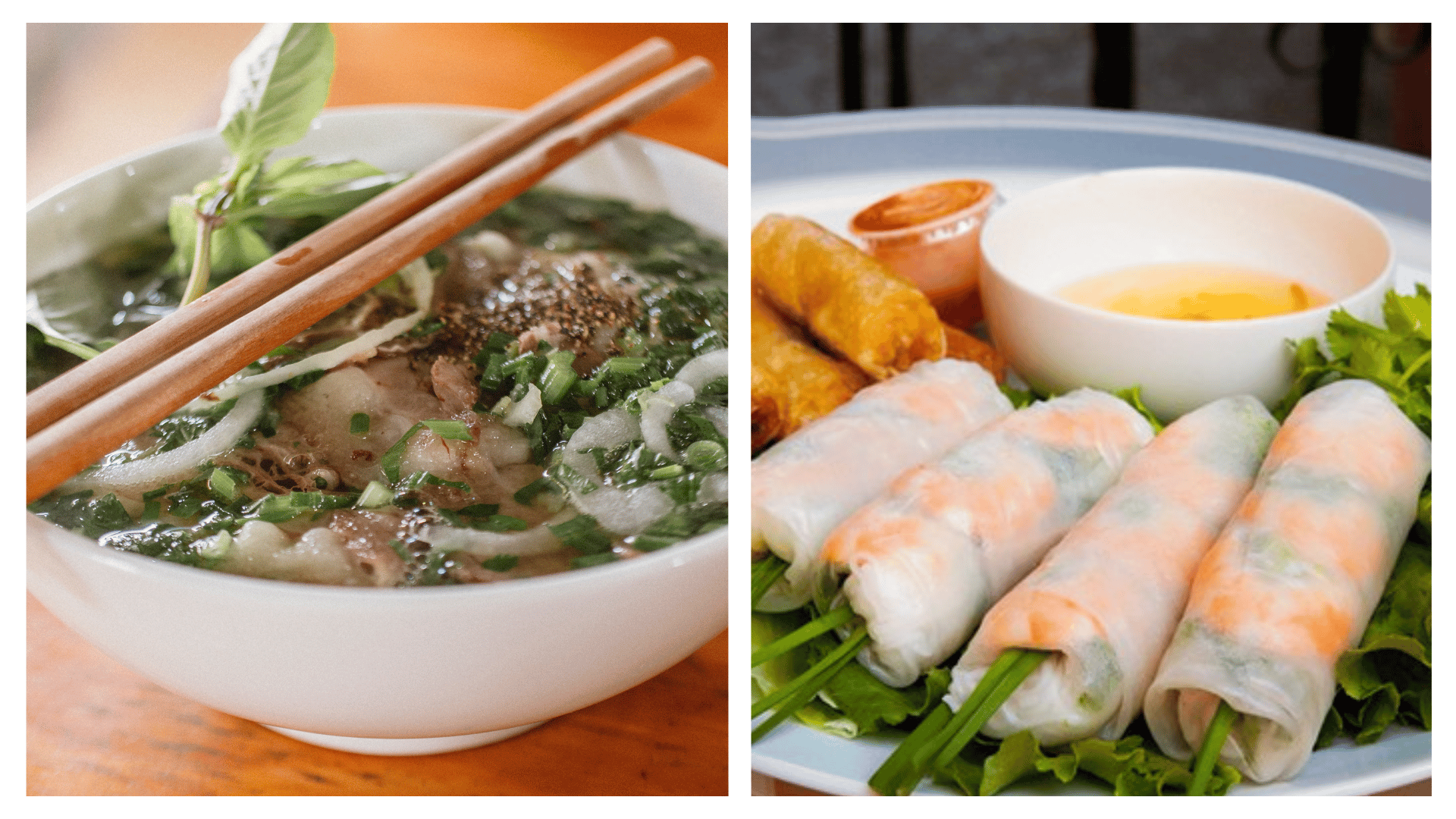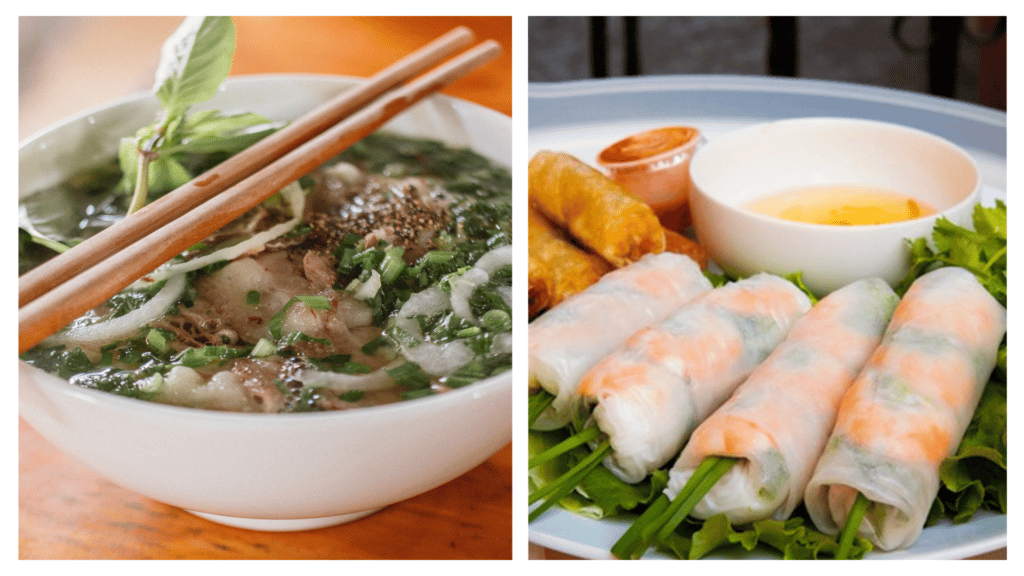 Not only is Vietnamese food famous worldwide for being delicious and healthy, but if you get it from the source, you will be pleasantly surprised at how cheap it is.
Vietnamese street food has a wide variety; you can find anything from fishy dishes to beef dishes, sticky rice, and tasty desserts for the sweet tooths out there.
If food is your thing, you cannot miss out on indulging in these famous dishes, which can be found everywhere around Vietnam.
So, take note of these ten dishes you need to try.
10. Banh Mi Op La – the Vietnamese egg sandwich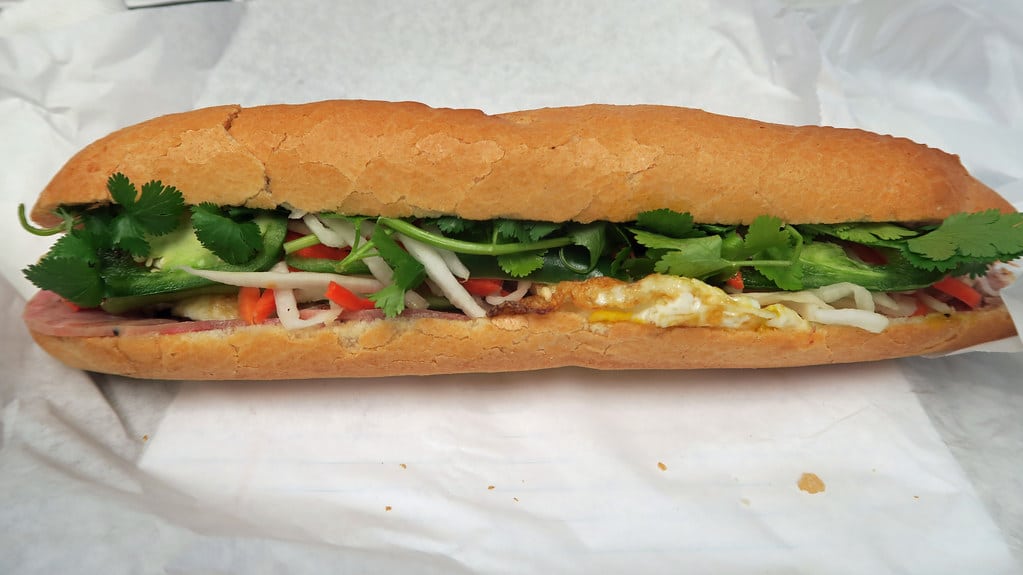 This fried egg sandwich is a fantastic breakfast and translates as 'sunny side up bread'. The fresh and crispy baguette in this savoury dish is another symbol of the French influence, which can be seen in plenty of other dishes we will mention further along. Don't miss this one!
9. Banh Trang Nuong – the Vietnamese pizza with a twist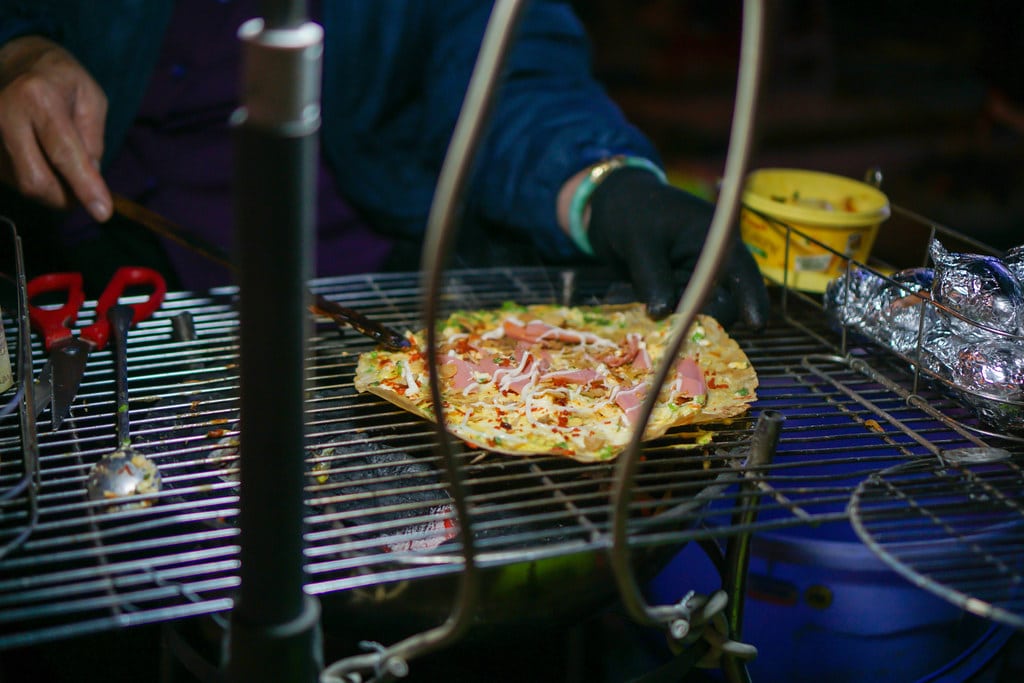 If you want to try something that stands out on its own, you need to give the Vietnamese pizza a go, but don't expect it to be the same as what you get from Italy.
This Da Lat speciality is made up using a base of rice paper, grilled to perfection and topped with whatever you want – even quail eggs.
8. Goi Cuon – light and airy summer rolls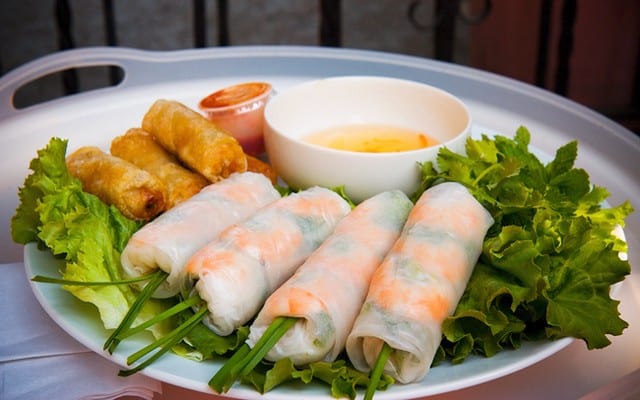 These fresh spring rolls, also known as summer rolls, are an absolute must when tasting the best street food in Vietnam.
The light appetiser consists of pork, prawn, and vegetable as well as rice vermicelli, all wrapped up like a parcel in Vietnamese rice paper. This fantastic snack is widely popular throughout the world too.
7. Banh Xeo – the Vietnamese crepe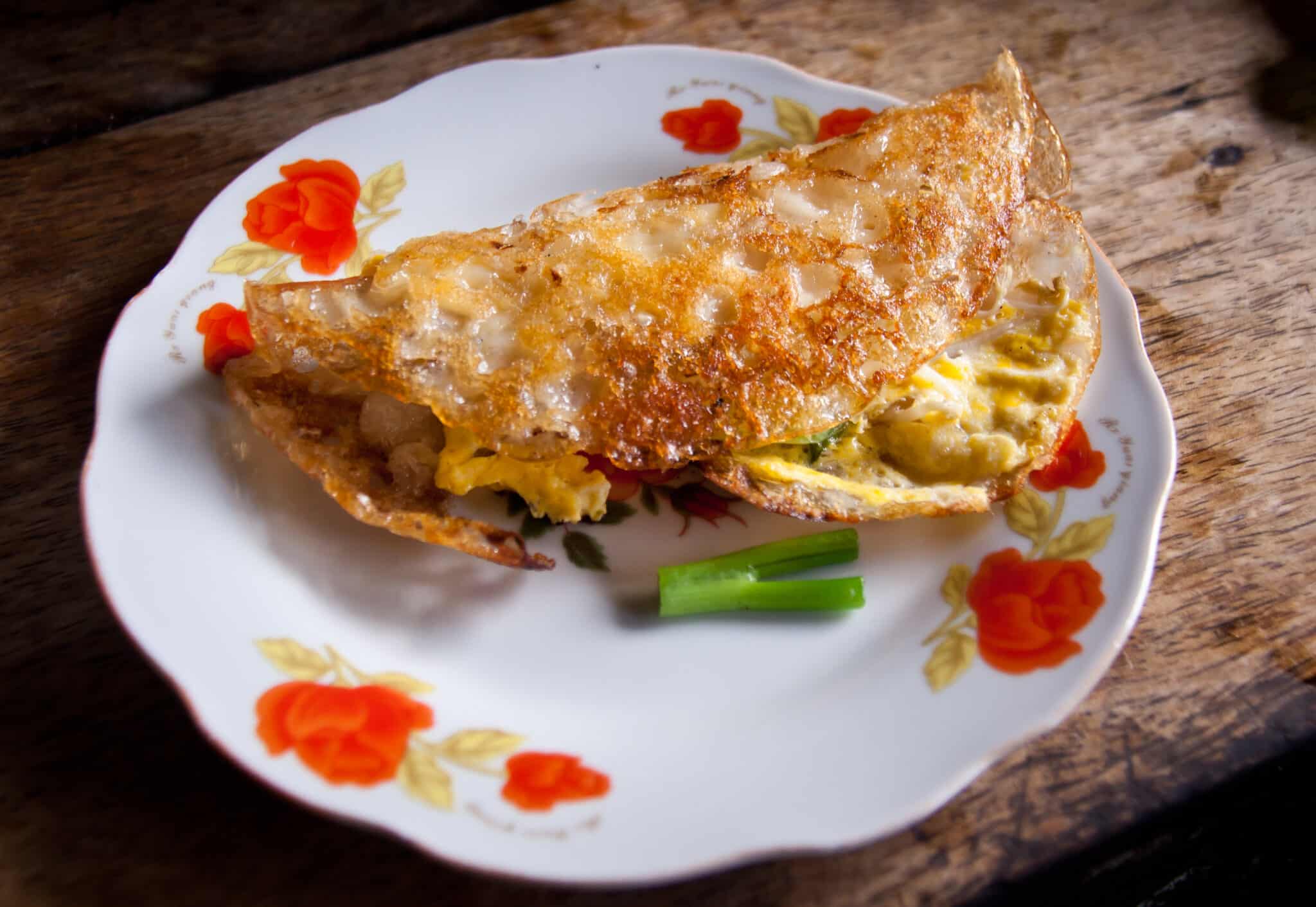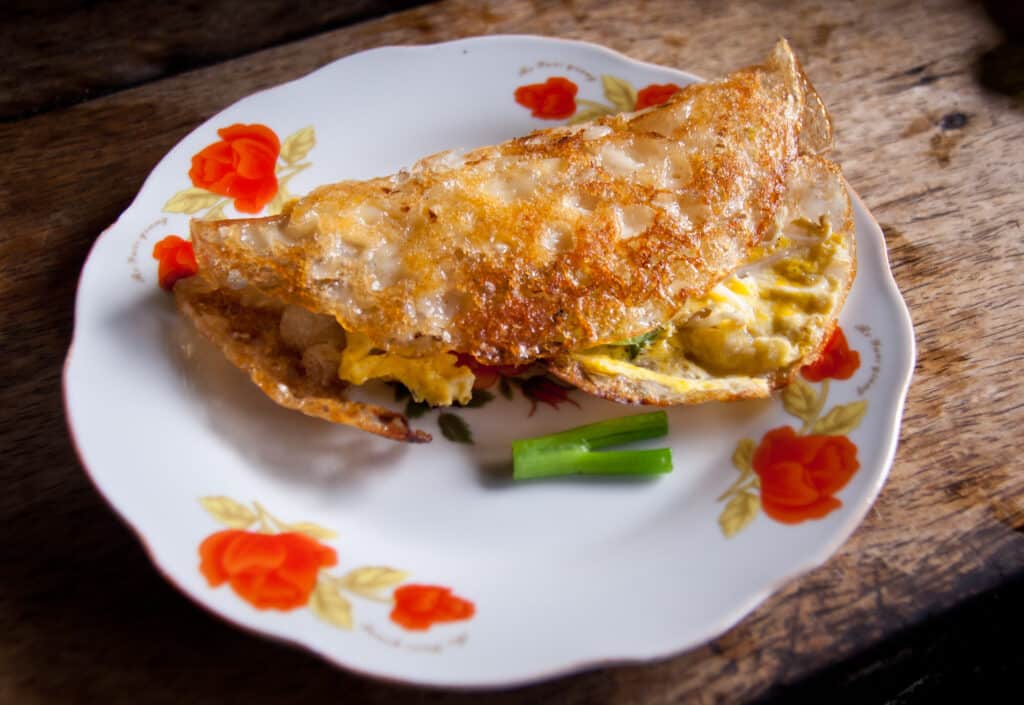 This savoury Vietnamese crepe is one of the most popular dishes in Vietnam, and you need to try it.
It is made of rice flour, water and turmeric powder and can be full of anything you want, such as pork, mung beans, bean sprouts, prawns and green onion, making it a favourite street food in Vietnam.
6. Banh Goi – deep-fried and addictive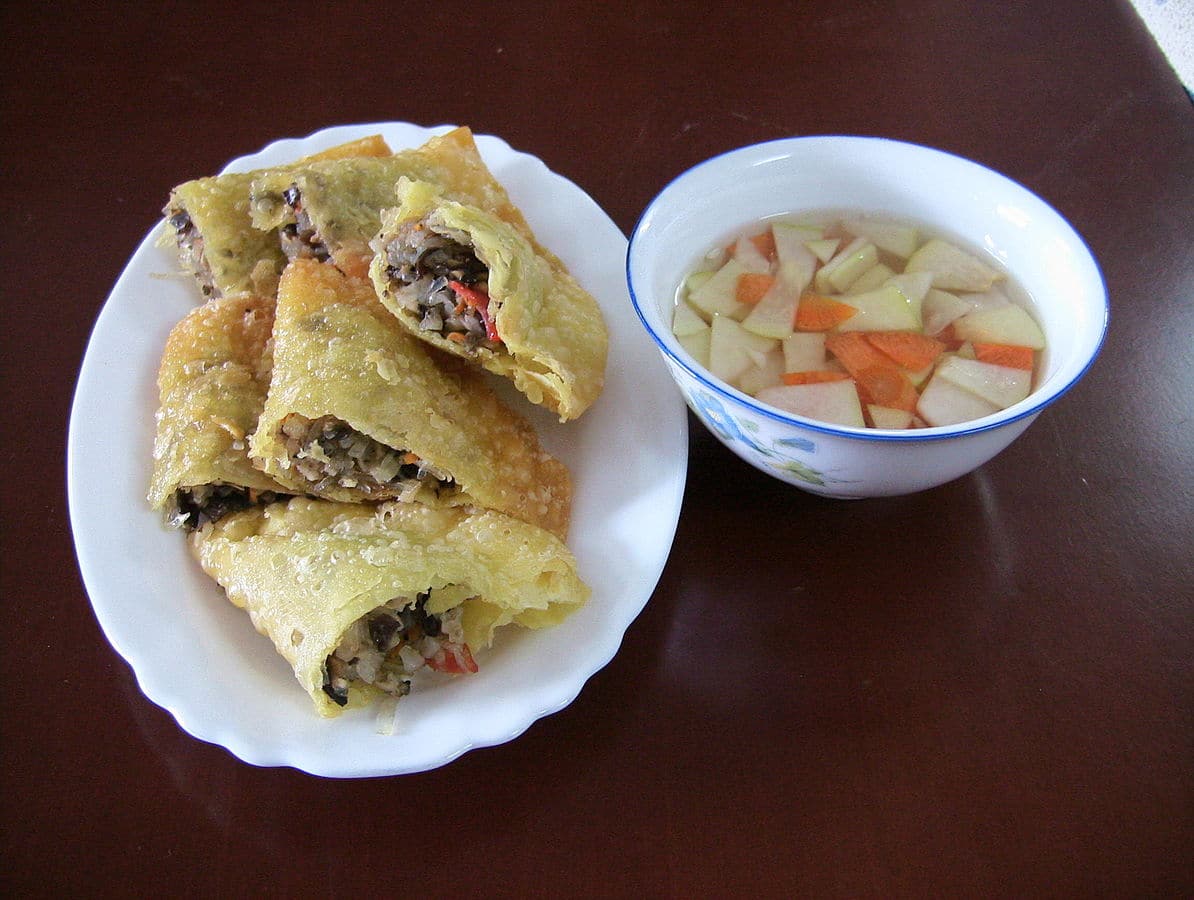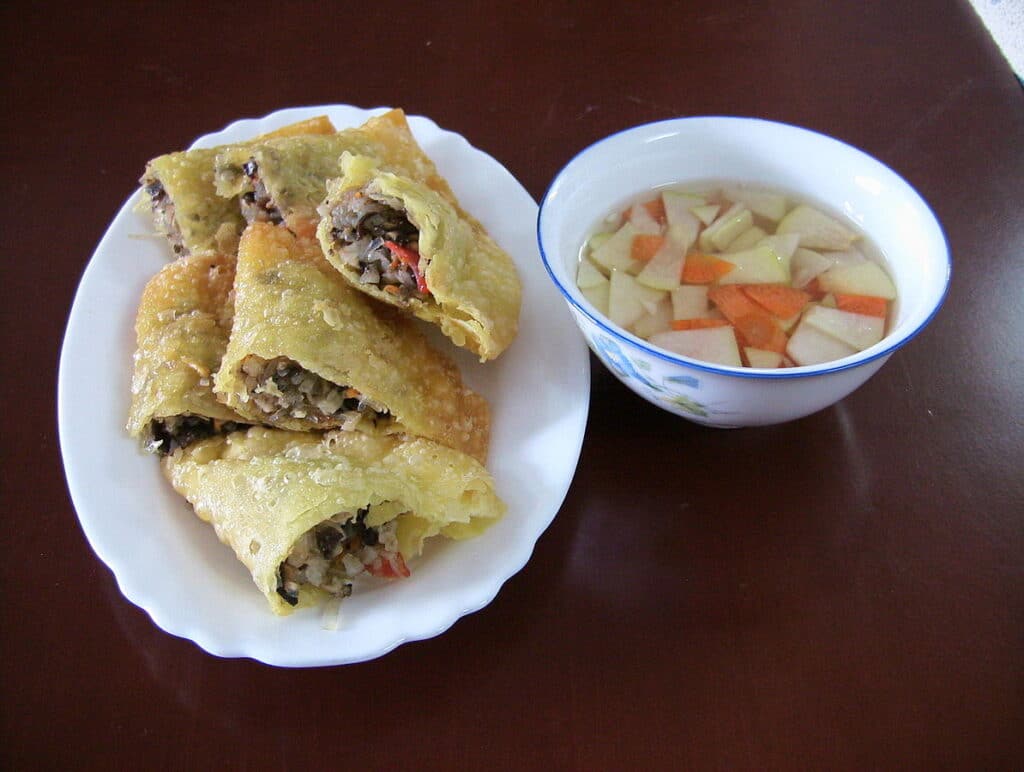 While many of the dishes mentioned here are healthy, this is the exception since it is deep-fried to crispy perfection.
This popular food of Vietnam consists of a light pastry stuffed full of mushrooms, glass noodles, and minced pork and is served alongside one of Vietnam's signature dipping sauces.
5. Nem Ran – the signature spring rolls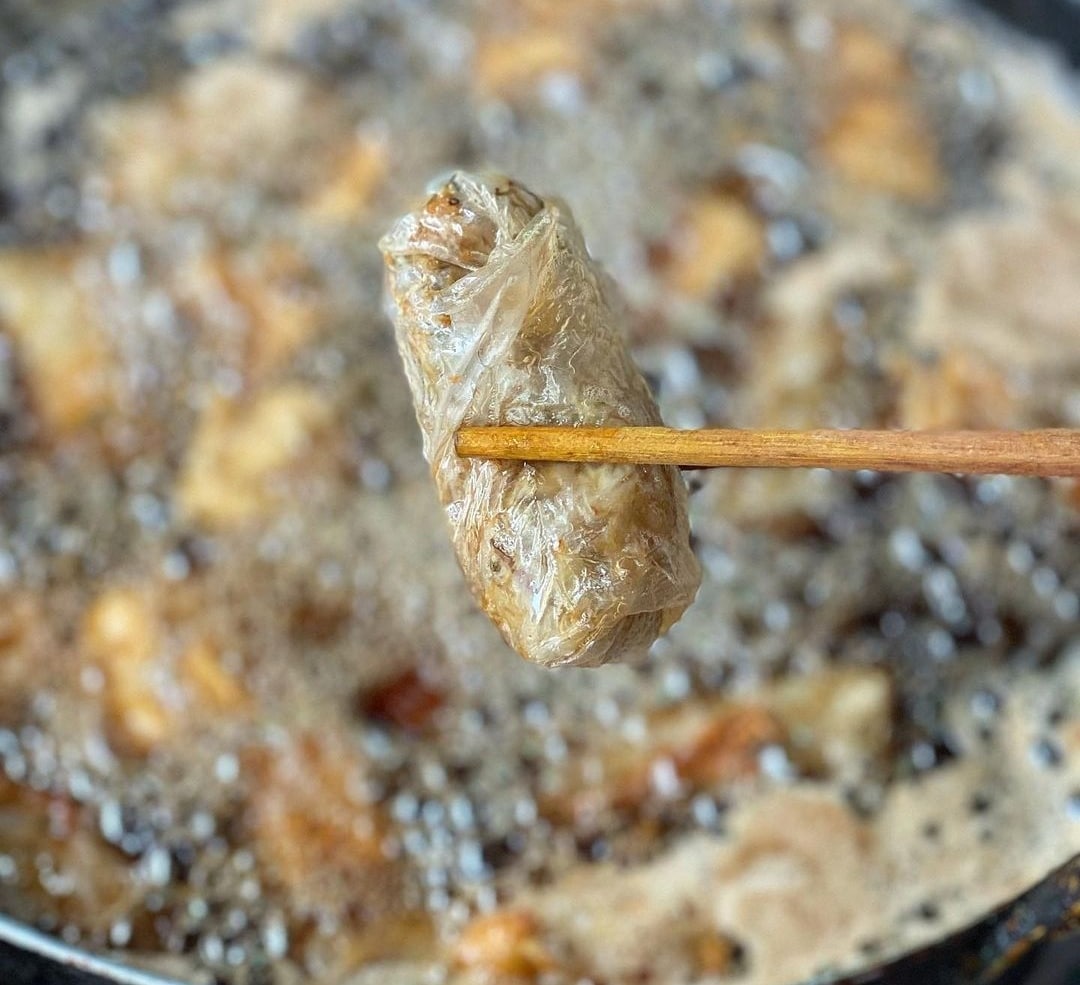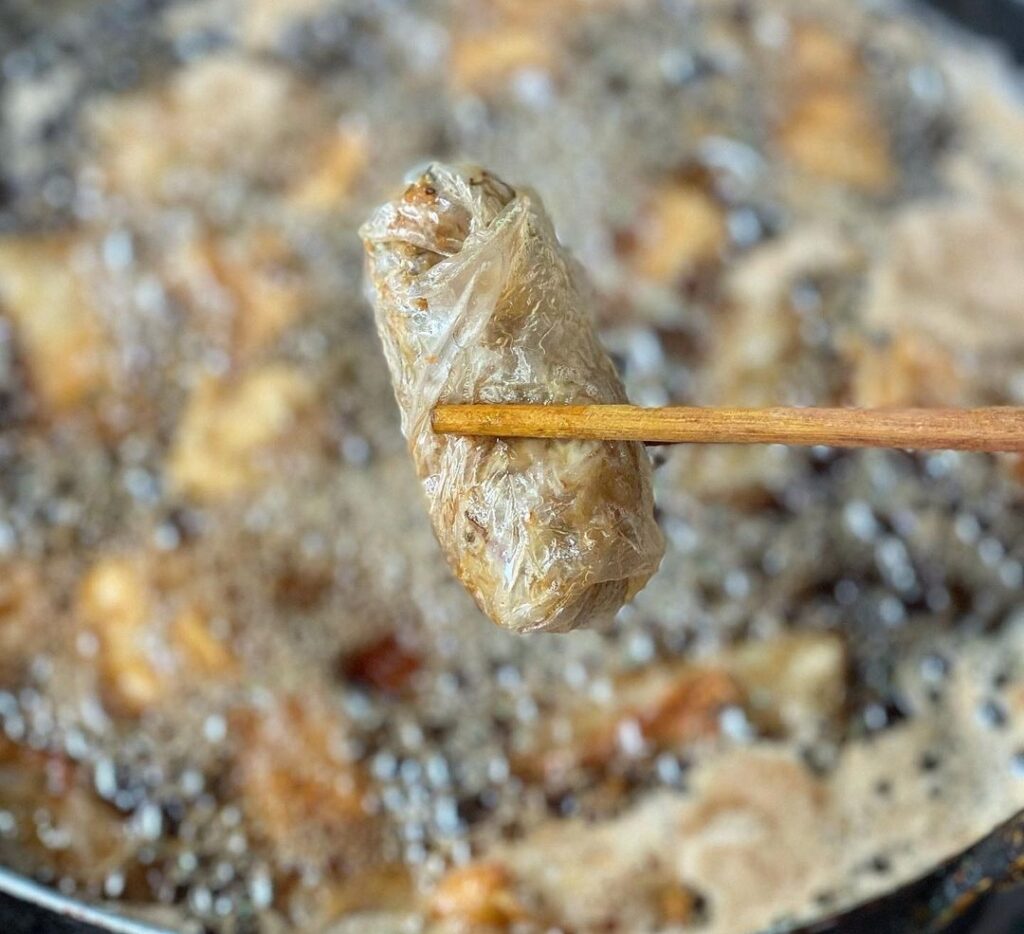 If you are a lover of Vietnamese food, chances are you have had their signature spring rolls at least once since they can be found everywhere in Vietnam and abroad.
This authentic Vietnamese dish is crispy and fried and consists of glass noodles and whatever else you desire, served with a tasty dip made up of lime juice, fish sauce, lemon juice and chilli.
4. Bun Bo Nam Bo – a beef noodle dish not to be missed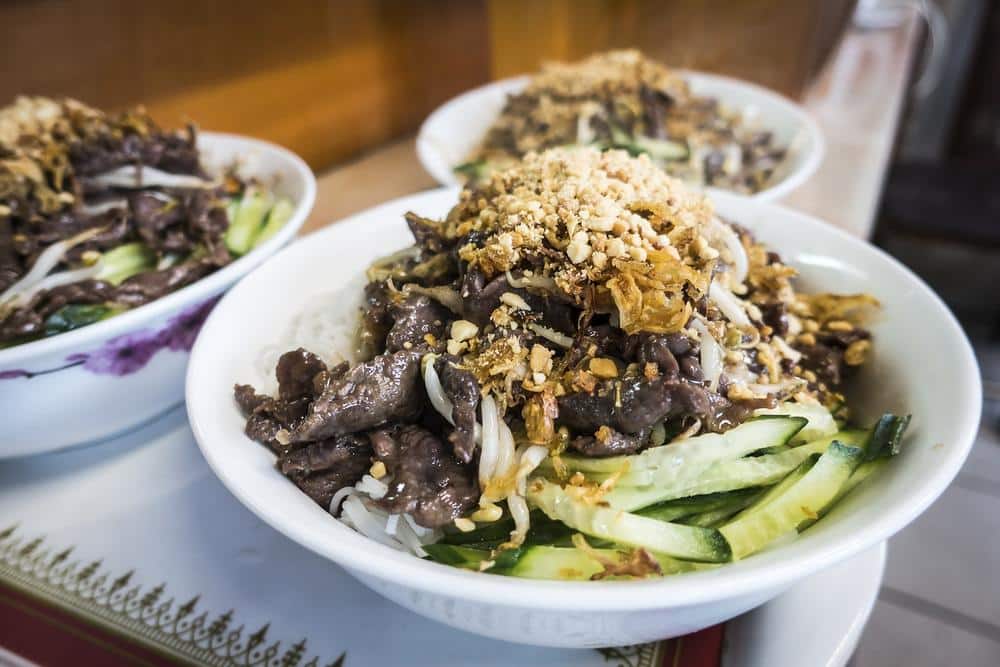 The name of this dish is a direct translation of what it is and where it comes from – a beef noodle dish from southern Vietnam and one of the must-try dishes regarding street food in Vietnam.
This savoury dish consists of rice noodles, lettuce, beef, bean sprouts, onions and fresh herbs, all doused in sweet fish sauce.
3. Bun Cha – street food speciality in Hanoi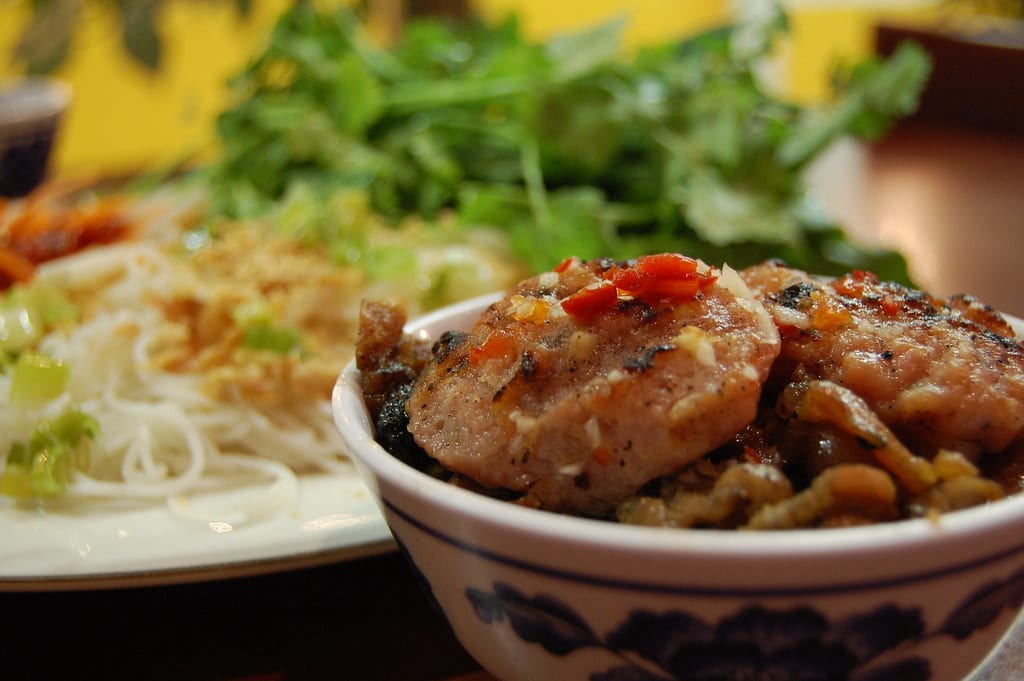 This Hanoi speciality is a hit with locals and can be found at Bun Cha-specific food vendors, who serve nothing but this delicious grilled pork and noodles.
This generous help ensures you won't go hungry for the rest of the day, so be sure to have an appetite when ordering a bowl of Bun Cha.
2. Banh Mi – the Vietnamese sandwich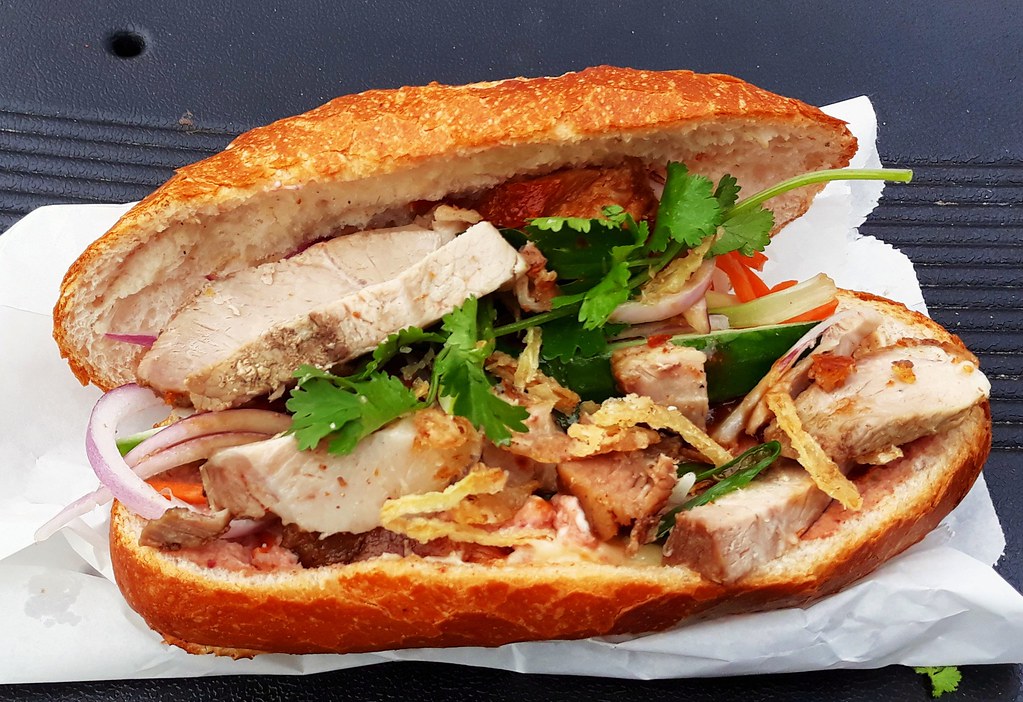 This incredible Vietnamese sandwich puts Subway to shame. It can be found and tailored to your liking everywhere in the country.
This flavoursome and cheap snack is a favourite among locals and backpackers since it is cheap and very filling. This snack is an iconic influence from Vietnam's French colonial period.
1. Pho – the most famous street food of Vietnam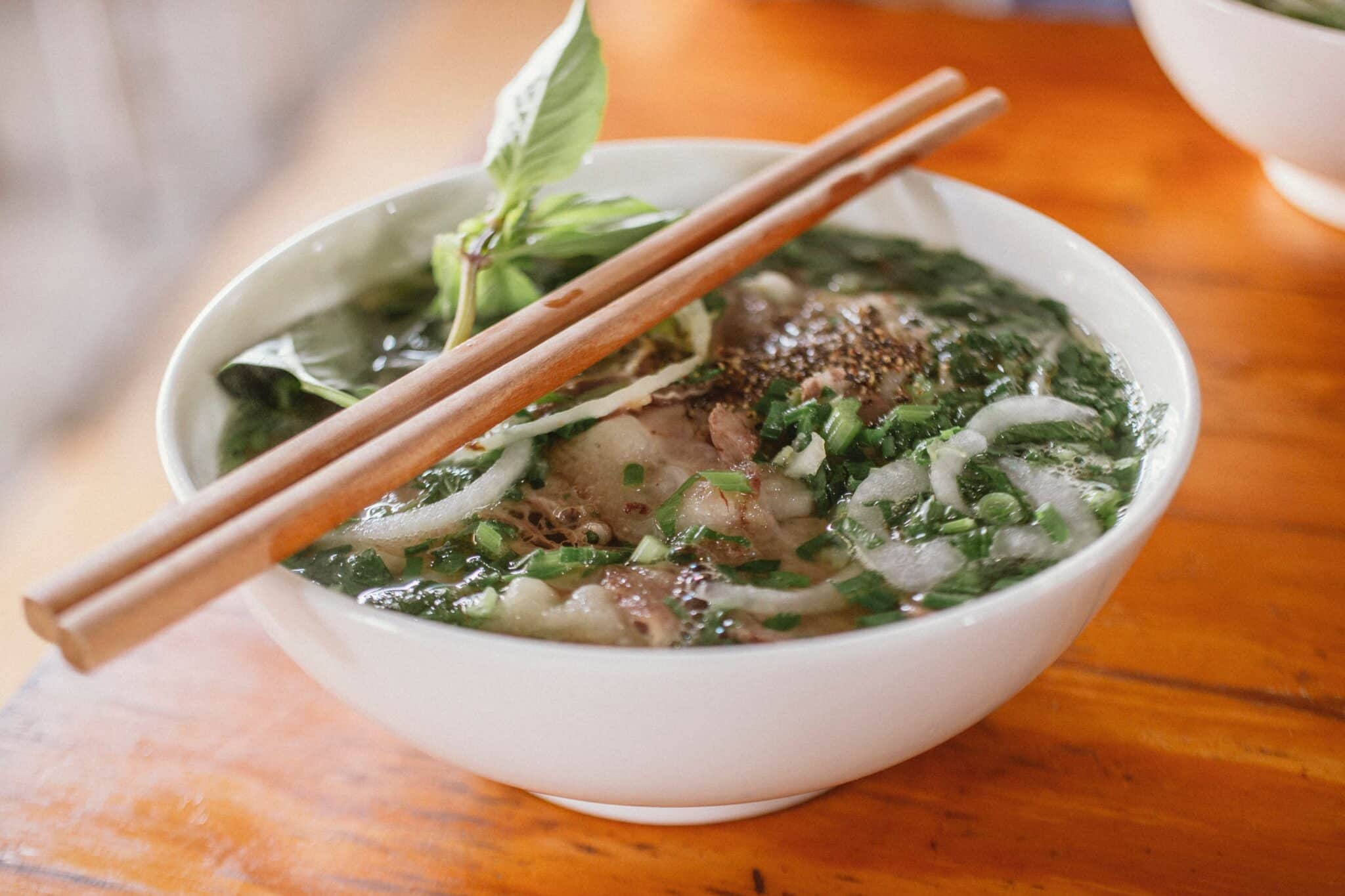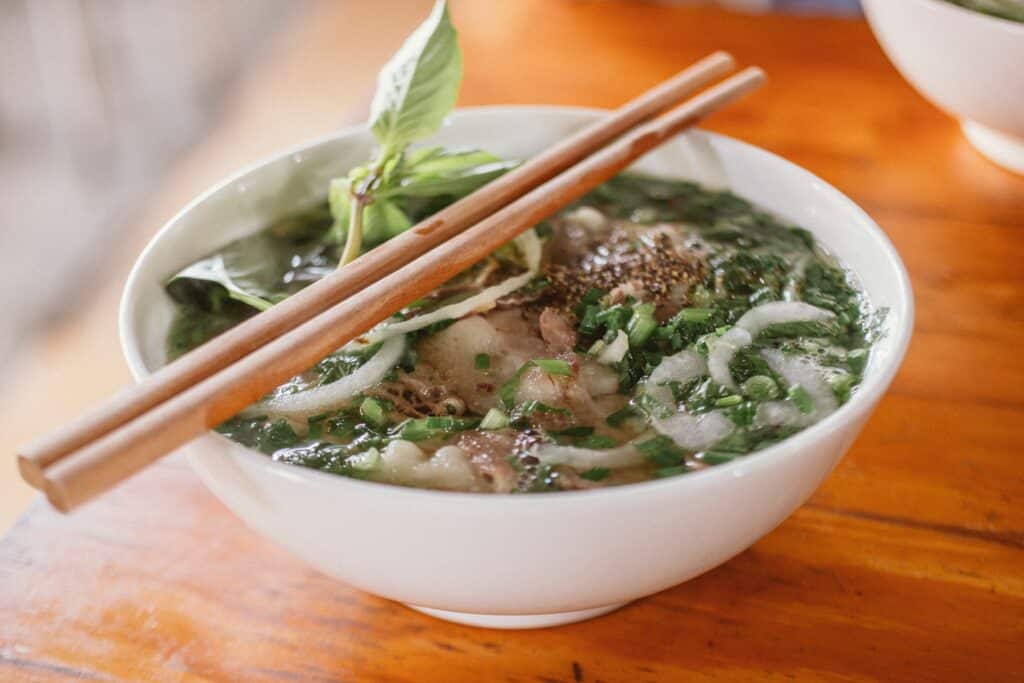 Regarding street food in Vietnam, this Vietnamese noodle soup has to be the most popular and well-known. It is a delicious herb and meat-flavoured noodle soup that is so tasty you can find restaurants worldwide dedicated to it.
Nothing beats a steaming hot bowl of Pho (pronounced 'Fuh') in Vietnam made with all the key ingredients, like chewy rice noodles, strips of meat, and beansprouts. This is a favourite street food of Southeast Asia for sure.
Notable mentions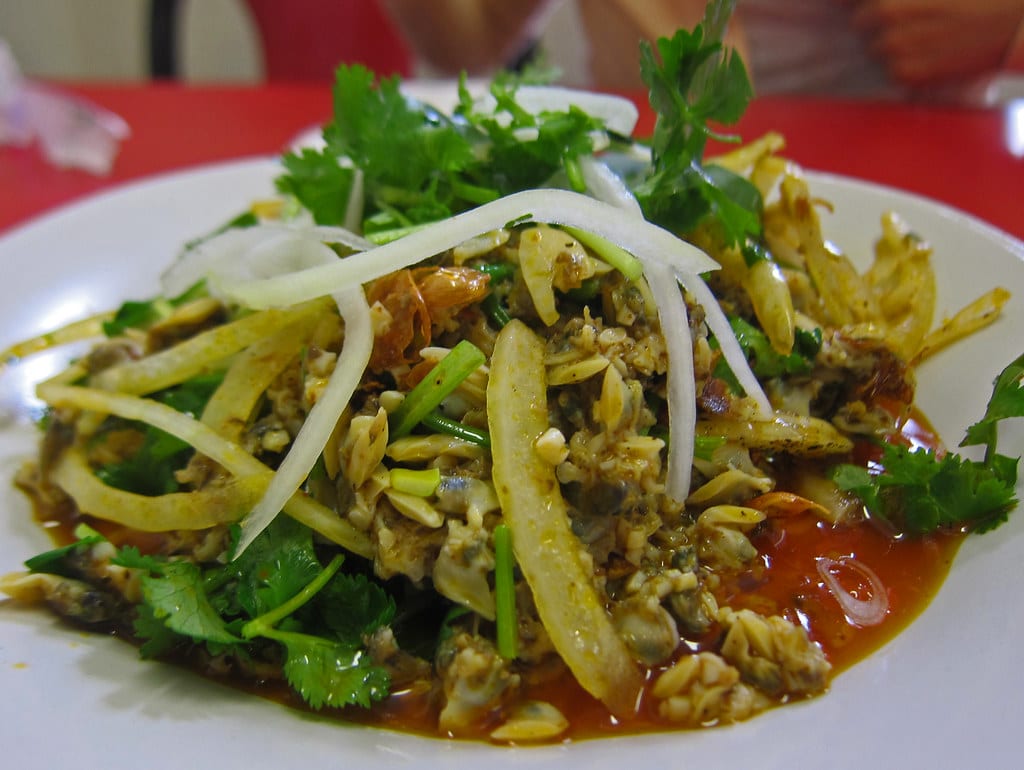 Banh Trang Tron: This popular dish is a rice paper salad with fresh herbs and zesty flavours. It is a very refreshing street food in Vietnam.
Cau Lau: This Vietnamese noodle dish is a speciality of Hoi An in the centre of the country. It consists of pork and vegetables on a bed of signature rice noodles.
Bun Mam: Known as Vietnamese vermicelli soup or Vietnamese gumbo, this thick noodle soup originates in the Mekong Delta. It features fish sauce, shrimp and shrimp paste.
Banh Troi: Sweet tooths will love these Vietnamese rice dumplings. They are made of sticky rice filled with a sweet centre. They can also be topped with coconut shavings and sesame seeds.
Banh Beo: These are Vietnamese steamed rice cakes topped with dried shrimp, spring onion oil, croutons, and fish sauce. This is one of the most delicious street foods.
Banh Bao: A Vietnamese take on bao buns, these are steamed pork buns with a fluffy exterior and delicious savoury filling. You will see them being sold by many street food vendors.
FAQs about the street food of Vietnam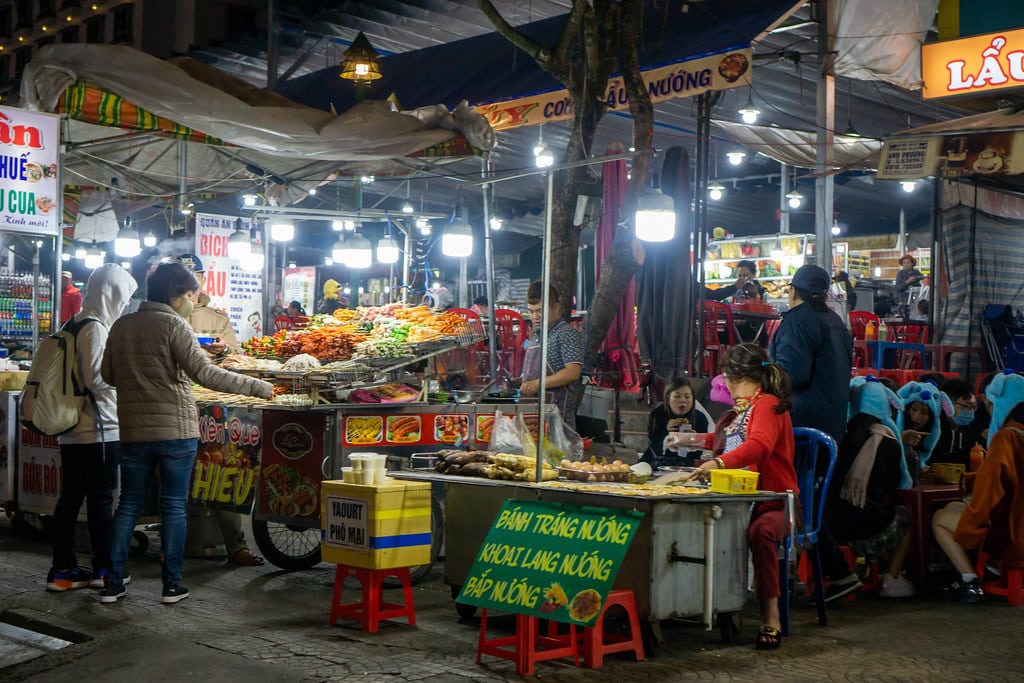 What is the most famous street food in Vietnam?
Pho or Banh Mi have to be two of the most famous foods you can find all over Vietnam.
Is street food popular in Vietnam?
Yes, street food is a huge part of Vietnamese culture. You will find a host of incredible dishes on every street corner.
What food is Vietnam most known for?
Of course, Vietnam is well known for its delicious Nem Ran (Vietnamese Spring Rolls) and Pho (Noodle Soup). Vietnamese coffee with condensed milk is also a famous beverage in Vietnam.
So, if this didn't make your stomach rumble, we don't know what will. Now that you have seen what variety lies in the street food of Vietnam and which dishes you absolutely must try, why not book a trip and indulge to your heart's content?