Have you ever asked yourself, 'How dangerous is skydiving?'. Read on for safety information and the best places in the world to skydive.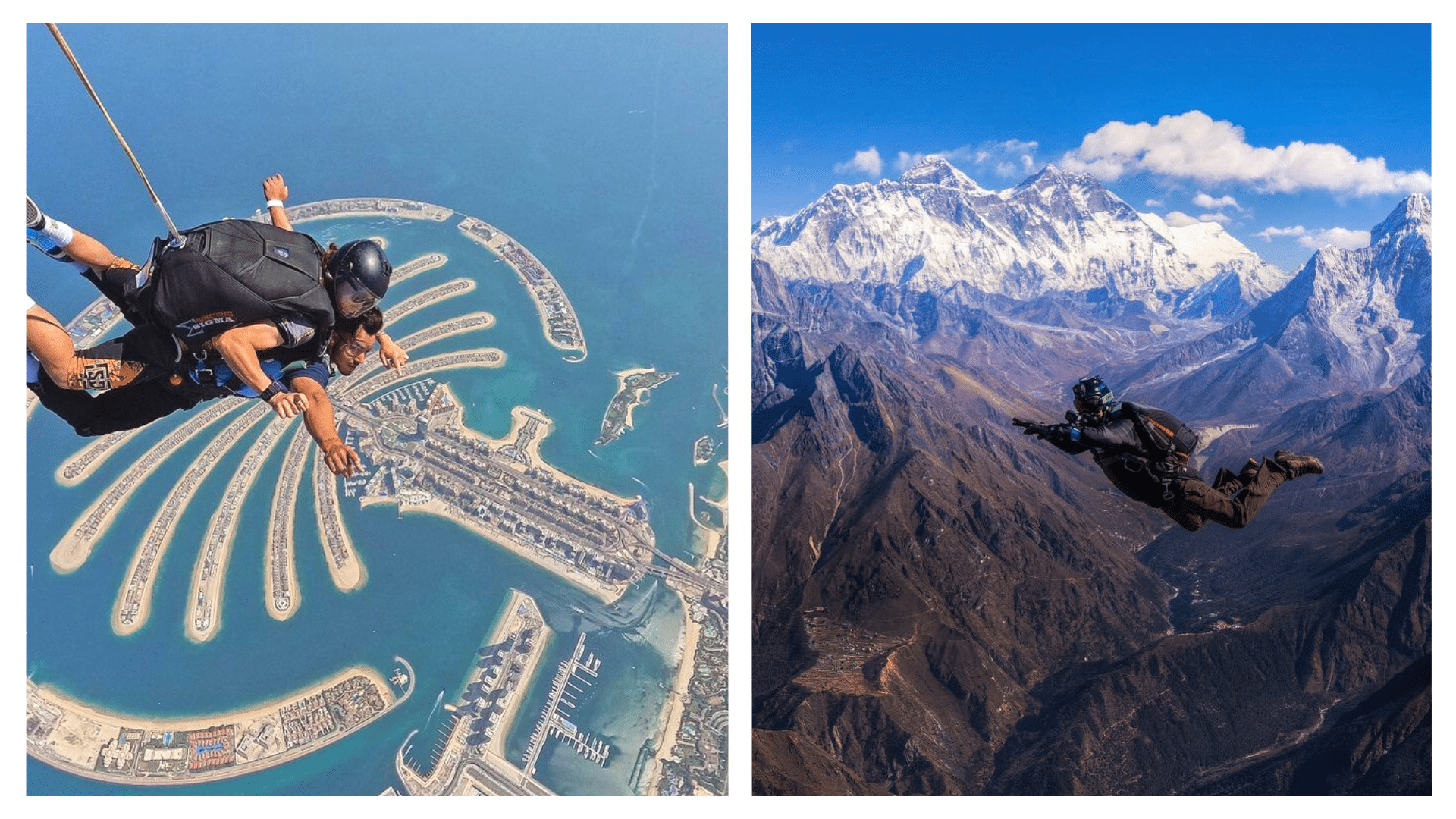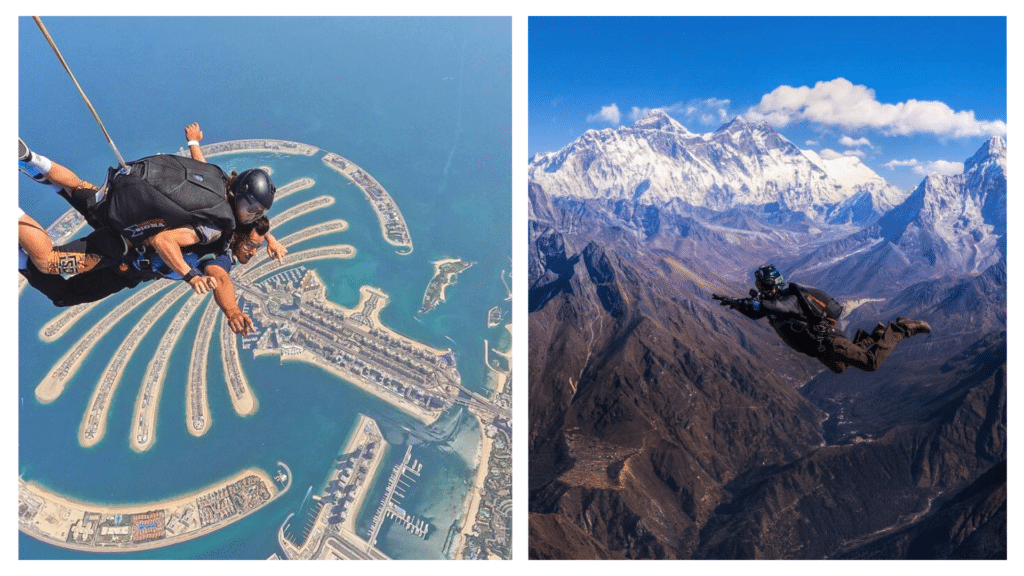 Skydiving is one of the most thrilling sports in the world, and it's certainly not one for the fainthearted. This extreme activity involves jumping from a moving aircraft and freefalling through the sky before landing by parachute.
Before deciding to undertake a skydive, lots of people wonder how safe it is. The good news is that the risks involved with skydiving are next to none!
Ever thought about trying out one of the most adrenaline-pinching activities of all time but found yourself wondering, how dangerous is skydiving? Well, in this article, we'll inspire you to abandon any fears with these ten prime skydiving locations.
WBL's fun facts about skydiving:
The first successful parachute jump ever recorded was by André-Jacques Garnerin in 1779.
Different skydivers fall at different speeds depending on weight and air resistance.
Skydiving doesn't feel like falling but more like flying or floating.
In 2022, 103-year-old skydiver Ruth Larsson set the Guinness World Record as the oldest-ever skydiver.
Skydiving is safer than driving a car. Tandem skydiving is the safest way to try out this extreme sport.
How dangerous is skydiving? – stats and figures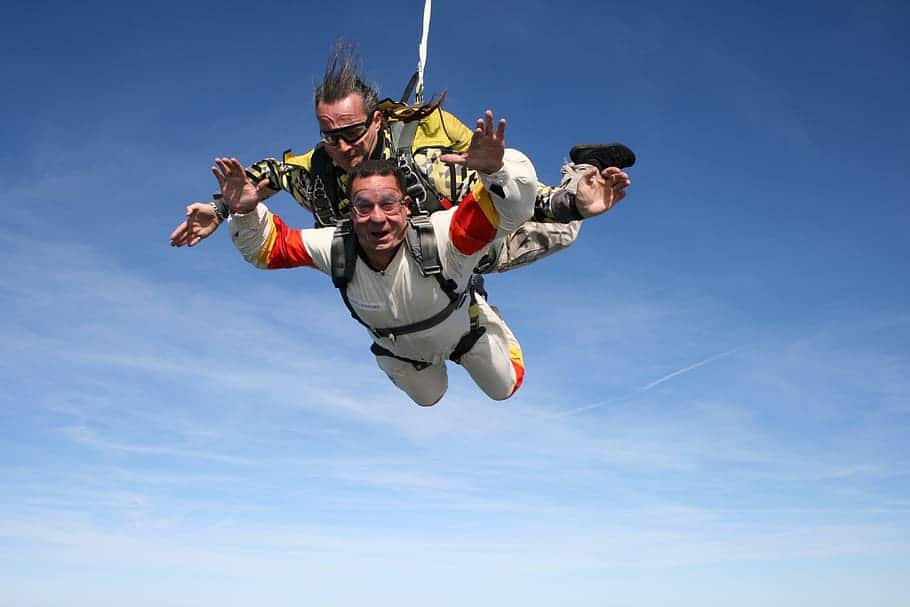 Before we get into the top ten list, let's take a look at the burning question, how dangerous is skydiving?
Firstly, skydiving safety depends largely on your own research of qualified, properly equipped skydiving schools and an experienced instructor in your location of choice.
The reality is that any accidents or fatalities as a result of tandem skydiving are a result of simple human error. As such, when you choose the right company, you'll find yourself in safe skydiving hands.
To put things into perspective, in the US, there were just 0.28 skydiving fatalities per 100,000 jumps in 2021. In the UK, there have been zero tandem fatalities in the last 20 years. Overall, skydiving poses very little risk. 
In fact, it was recently posed that you're more likely to die by a lightning strike or a bee sting! Now, let's take a look at the ten best places in the world for skydiving.
10. Blue Hole, Belize – a breathtaking skydive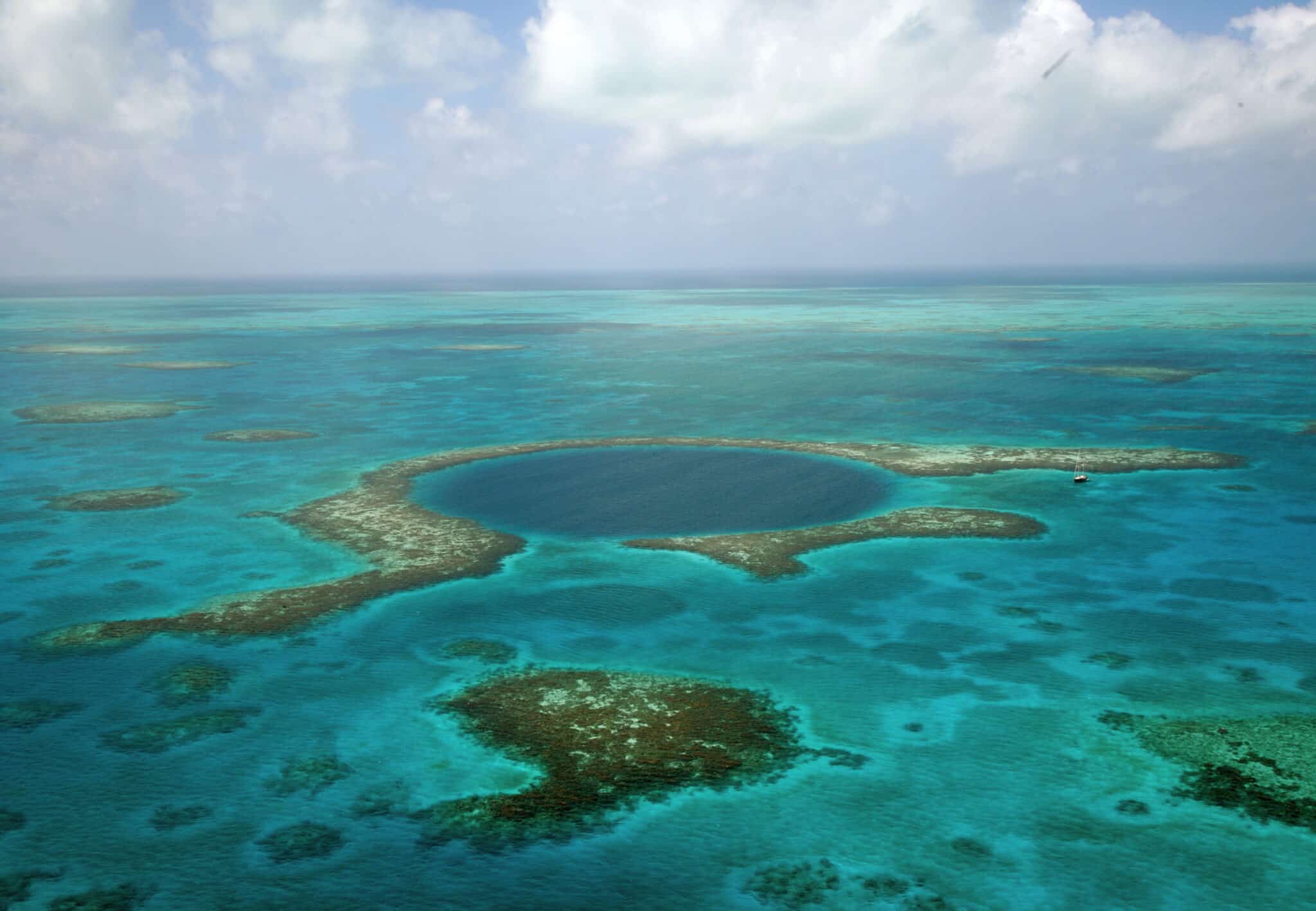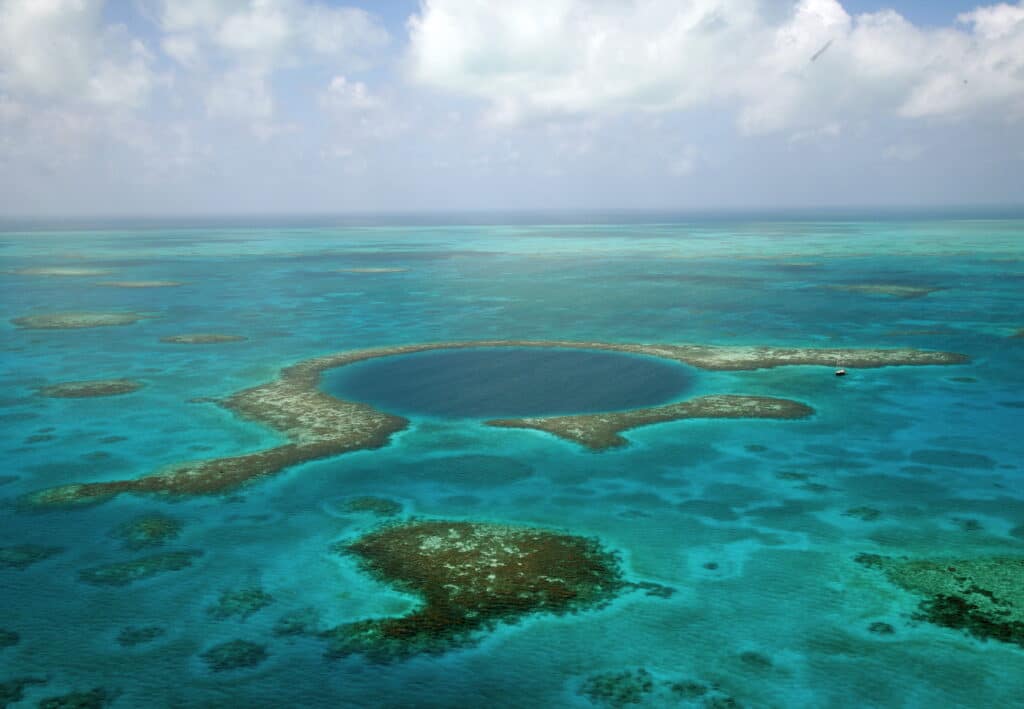 One of the most sought-after skydives and one of the most picture-perfect in the world is the Blue Hole skydive in Belize.
The Great Blue Hole of Belize is a ginormous marine sinkhole off the coast of Belize that will simply take your breath away. This is a unique skydive because it requires a water landing.
9. Pattaya, Thailand – for reasonably priced diving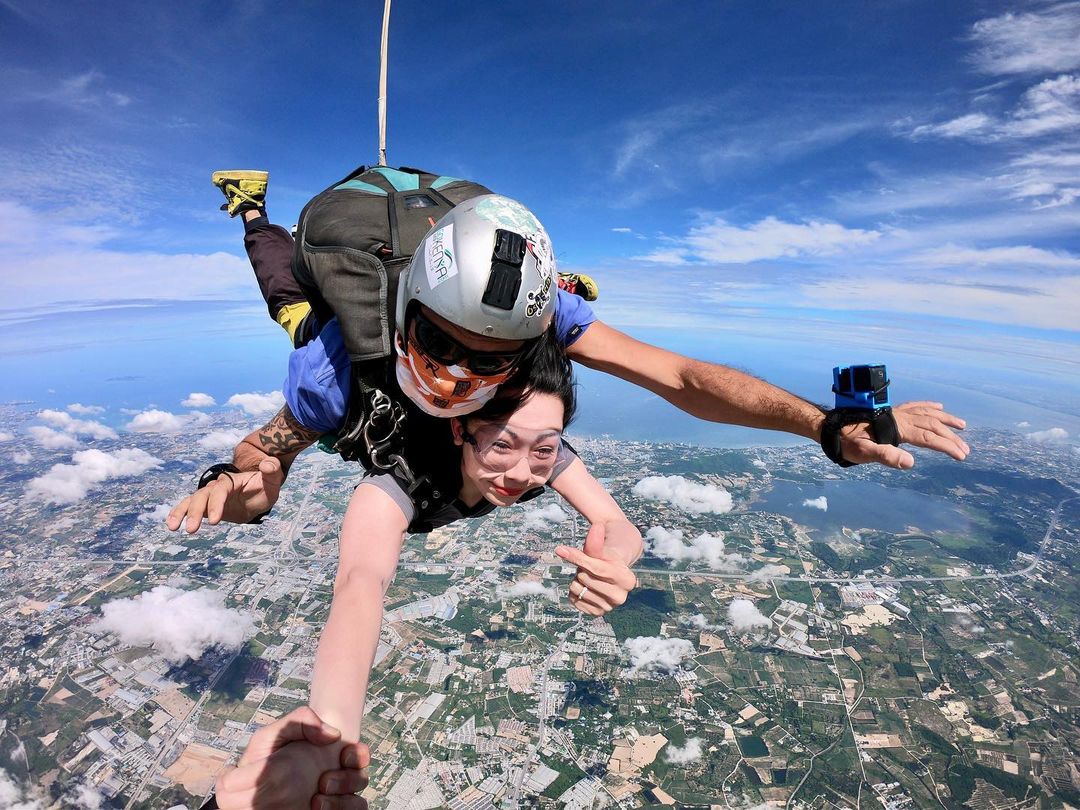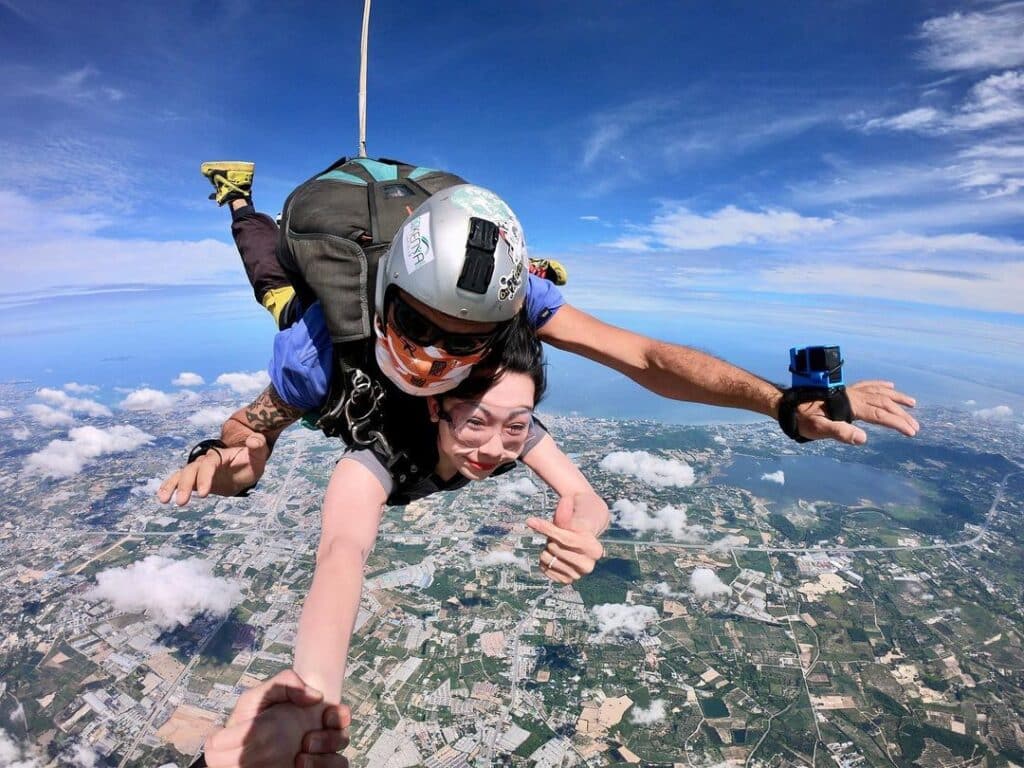 Thailand is one of the best countries you can skydive in, with reasonable prices and excellent safety measures in place. So, if you're still asking yourself, how dangerous is skydiving? Thailand is an excellent choice for safe diving.
Pattaya is a coastal city located o the east coast of the Gulf of Thailand. Renowned for its crystal-clear waters, this is one stunning location for extreme sports like skydiving.
8. Dubai, United Arab Emirates – a manmade palm tree landing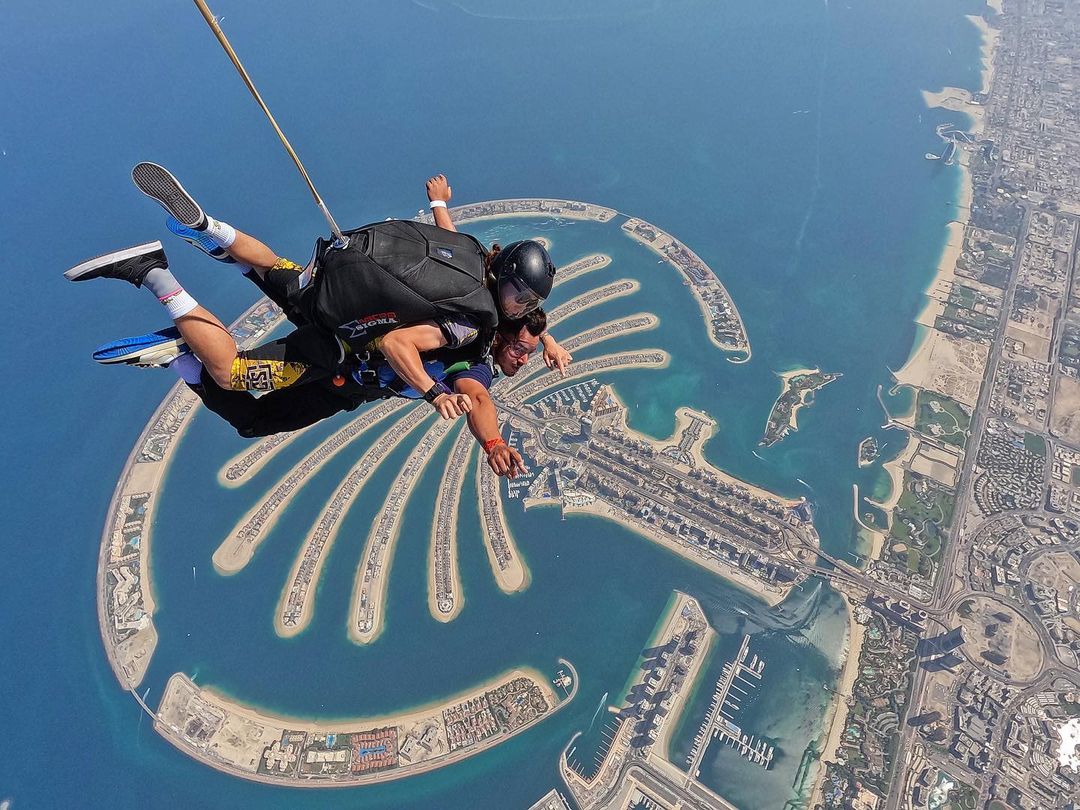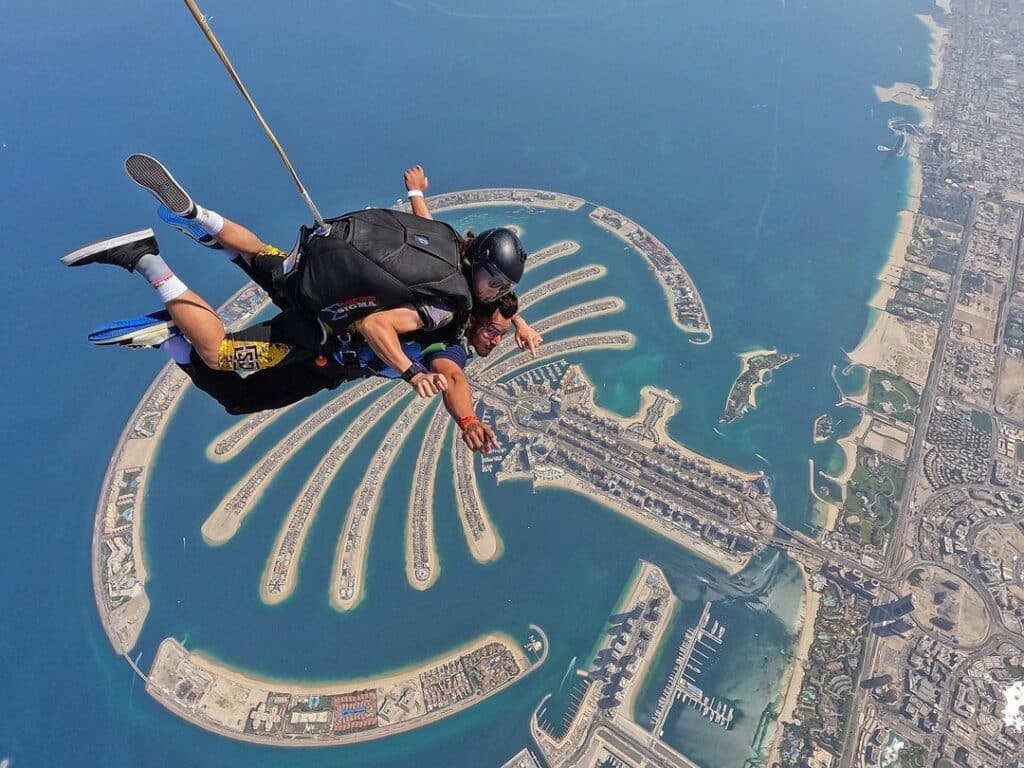 Skydiving in Dubai is something entirely different from anything you have ever experienced before. This is because you'll be freefalling thousands of feet over stunning but artificial land below.
The Palm Jumeirah Island Drop Zone Is a manmade island designed in the shape of a Palm tree, surrounded by the ocean.
Skydive Dubai is the leading skydiving company there and will teach you everything you need to know.
7. Everest Skydive, Nepal – the ultimate thrill jump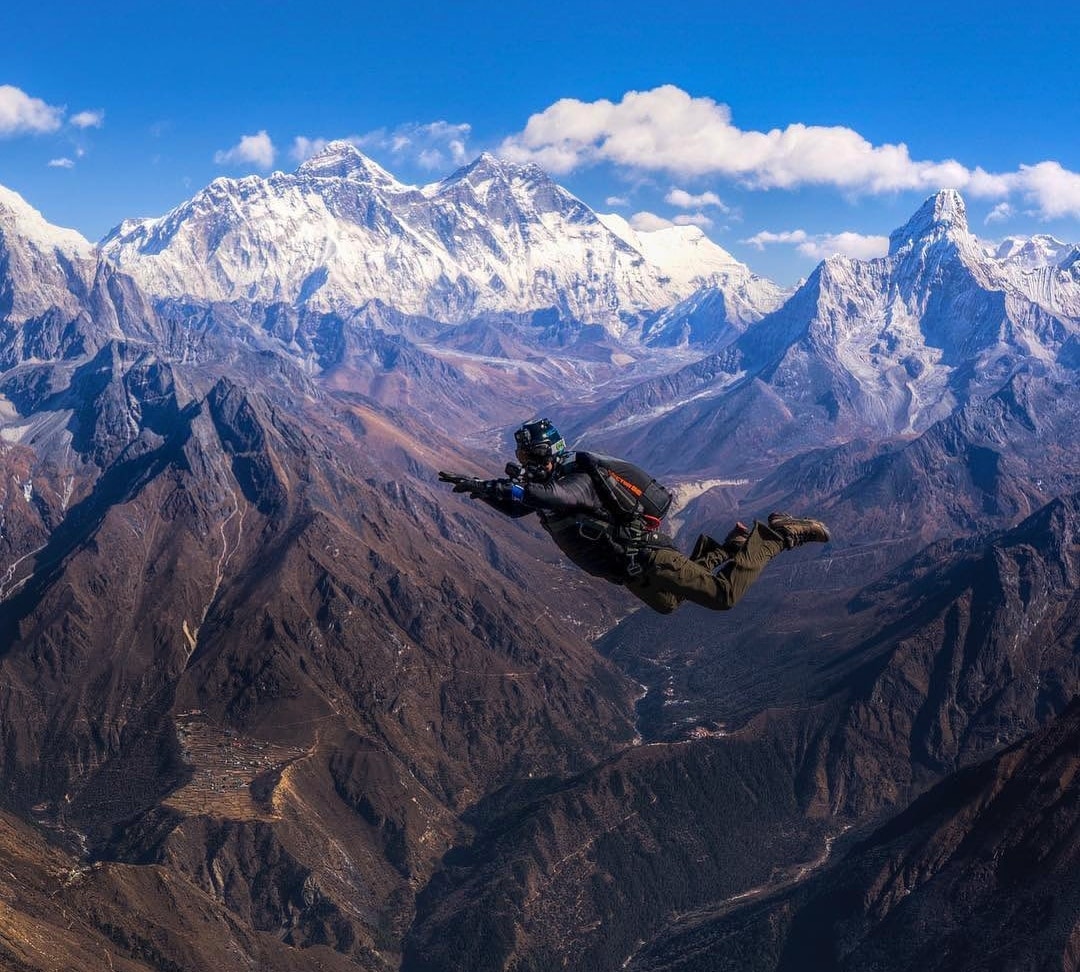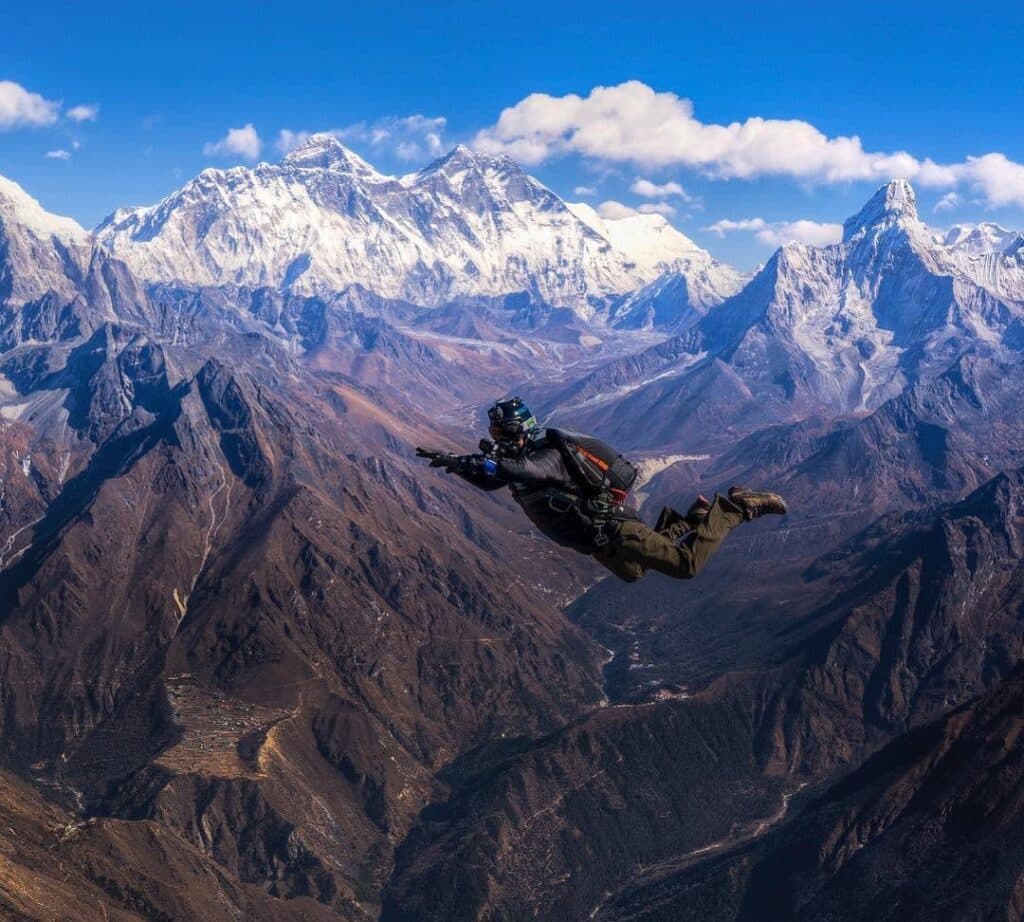 We all know that Mount Everest is a famous climbing destination, but did you know that you can skydive in the Himalayas?
Those who dare take on this ultimate adventure jump from a mind-bending height of 23,000 ft, just below Everest, from an AS350 B3 chopper.
On this dive, you can enjoy breathtaking views of the world's highest peak and the equally monumental sister peaks – a real adventurer's dream come true.
6. Interlaken, Switzerland – dive amidst the Alps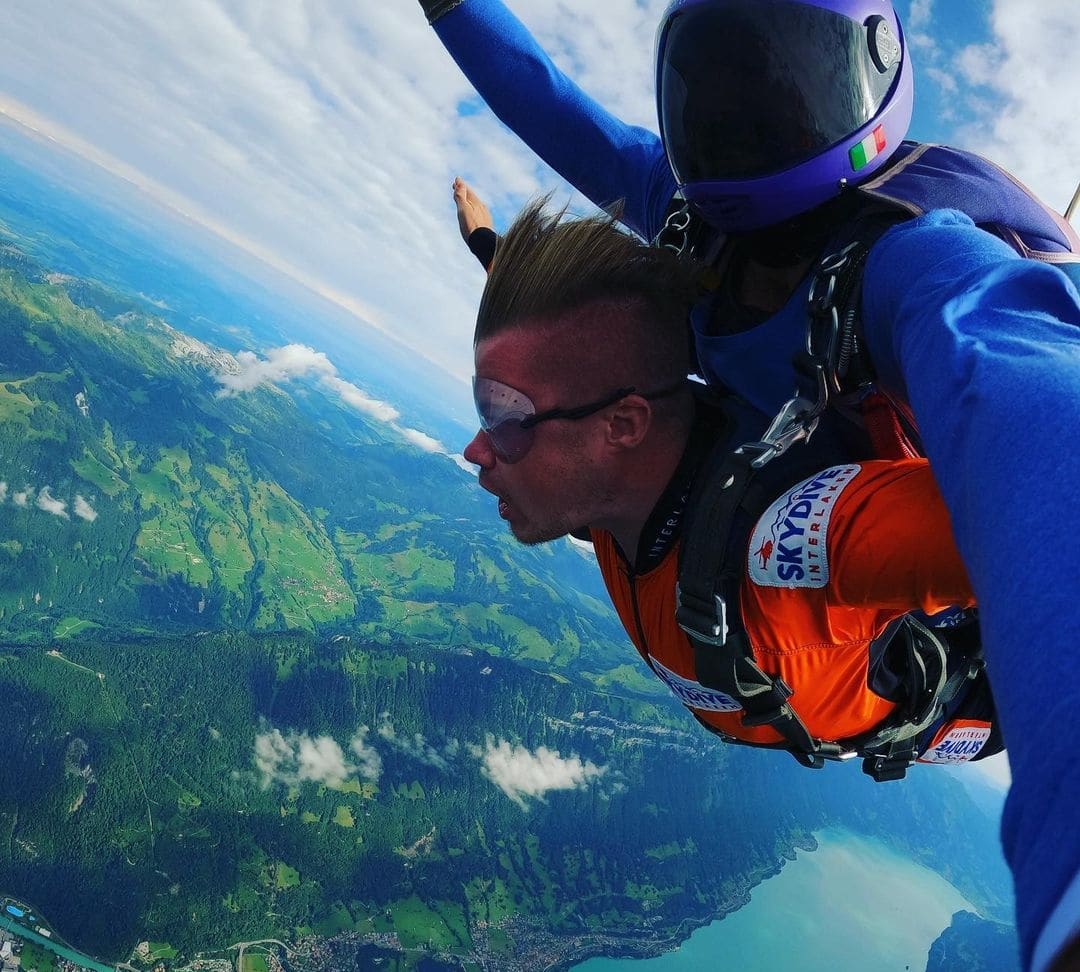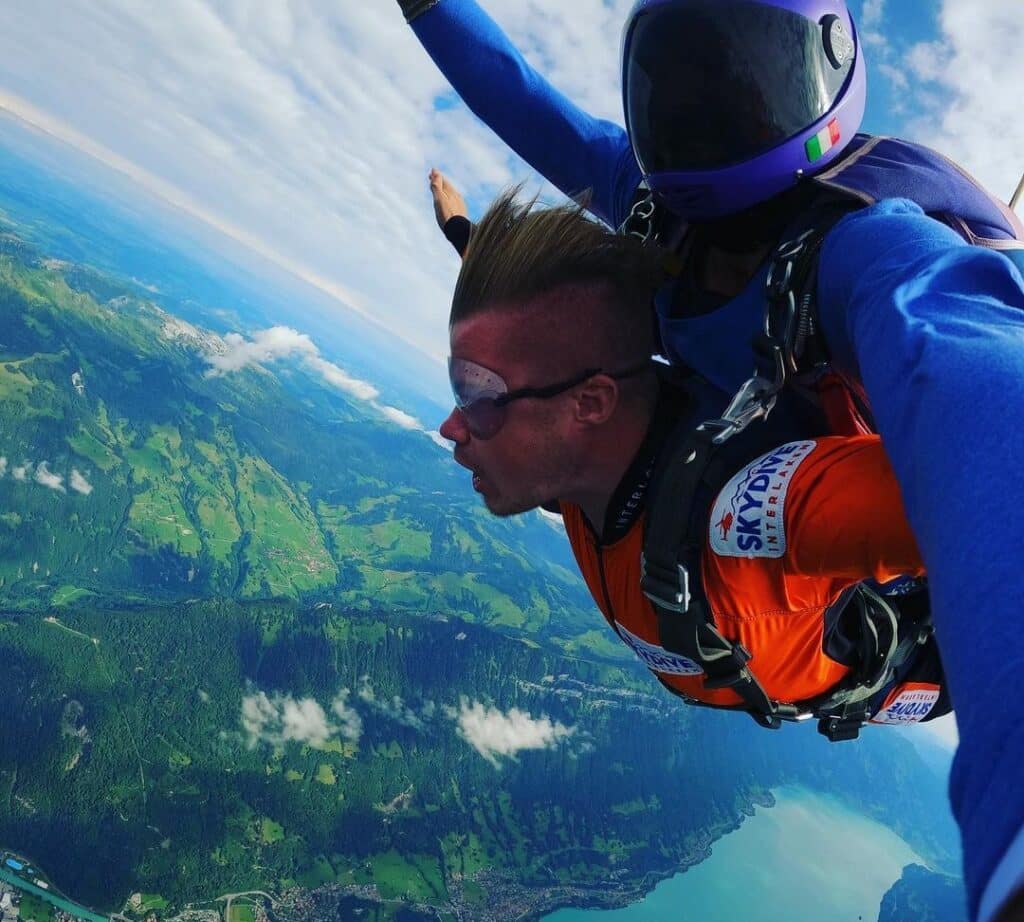 There are several special skydiving locations in Switzerland, but Interlaken amidst the Swiss Alps is one of the most beautiful.
Enjoy stunning views of the Swiss Alps during your adrenaline-pumping flight up to altitude, followed by a heart-racing 45-second freefall back down to earth.
5. Victoria Falls, Zambia – one of the most mesmerising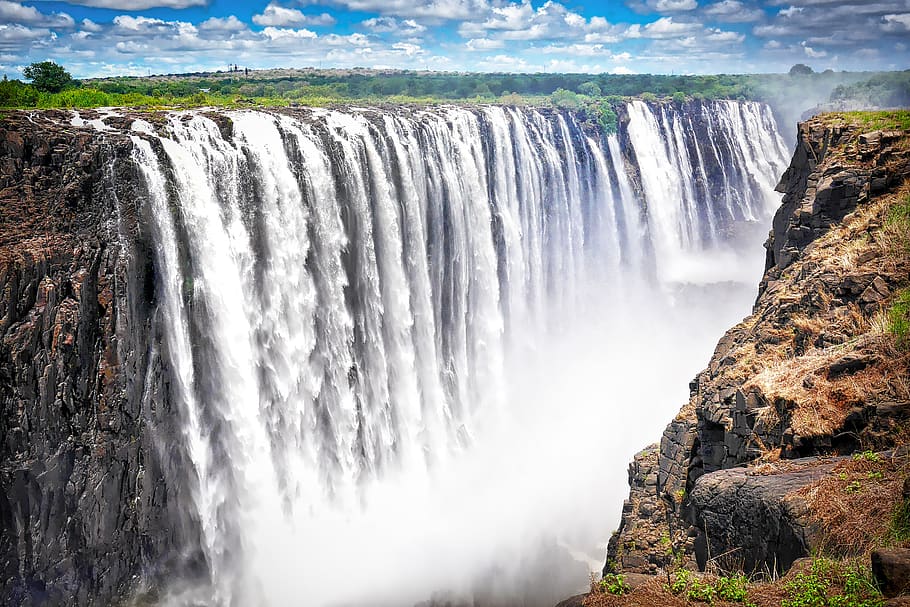 Victoria Falls is the largest waterfall in the world. Can you imagine skydiving over the world's largest falls? Well, it's possible!
Locals refer to this waterfall as 'Mosi-o-Tunya', meaning 'the smoke that thunders'. This is because the noise of the rushing water can be heard from miles away.
With this dive, fly over Victoria Falls to altitude before taking the leap of faith over the Zambezi River.
4. Wollongong, Australia – a beautiful coastal dive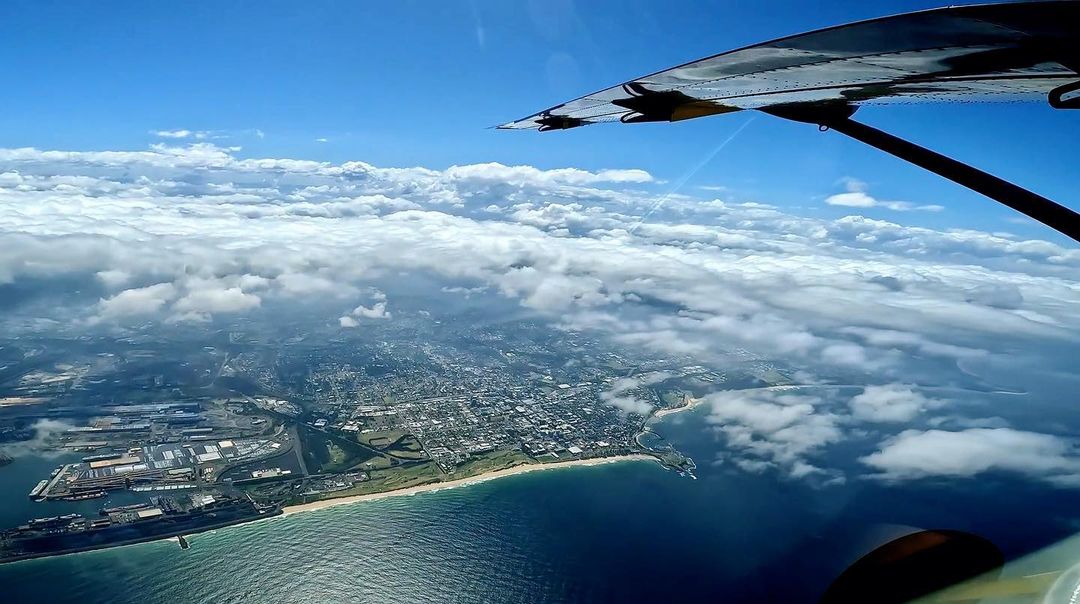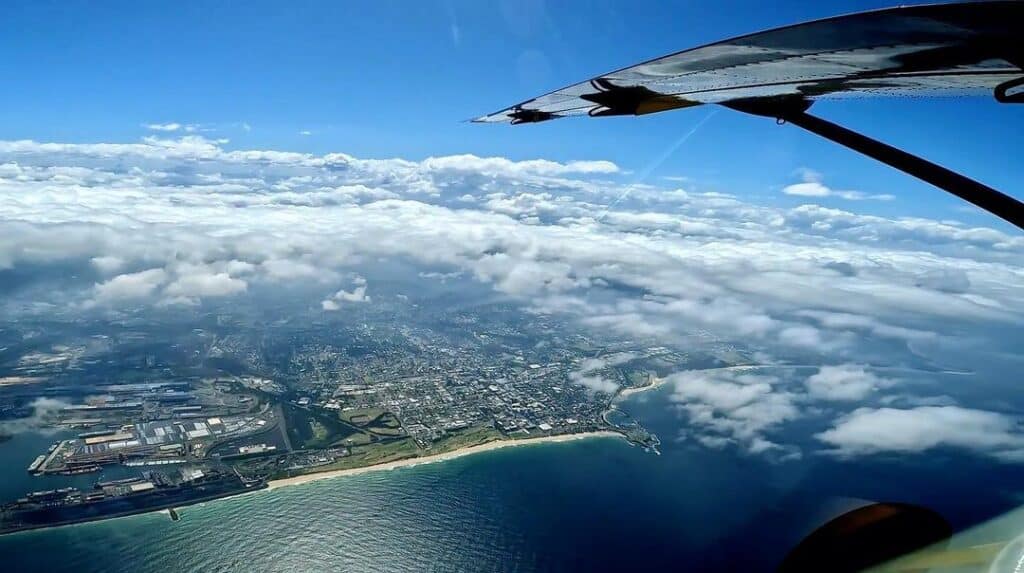 Another great destination for skydiving is Wollongong Beach in Australia. 
This is the only beach skydive you can undertake in the greater Sydney area, and while you think you might have experienced Sydney at its best on street level, this jump will shock you with a whole new experience.
3. Denarau Island, Fiji – freefall above crystal clear waters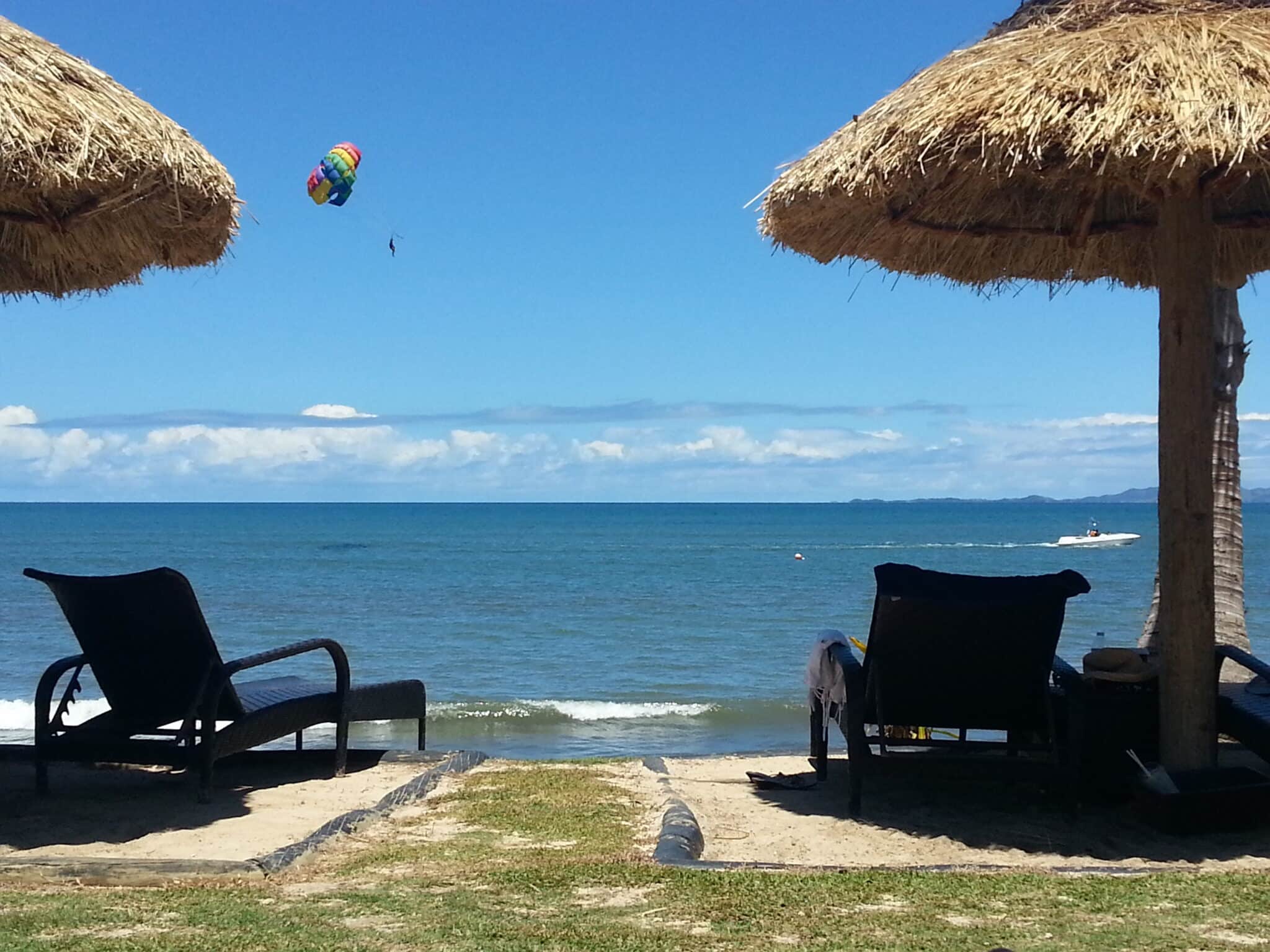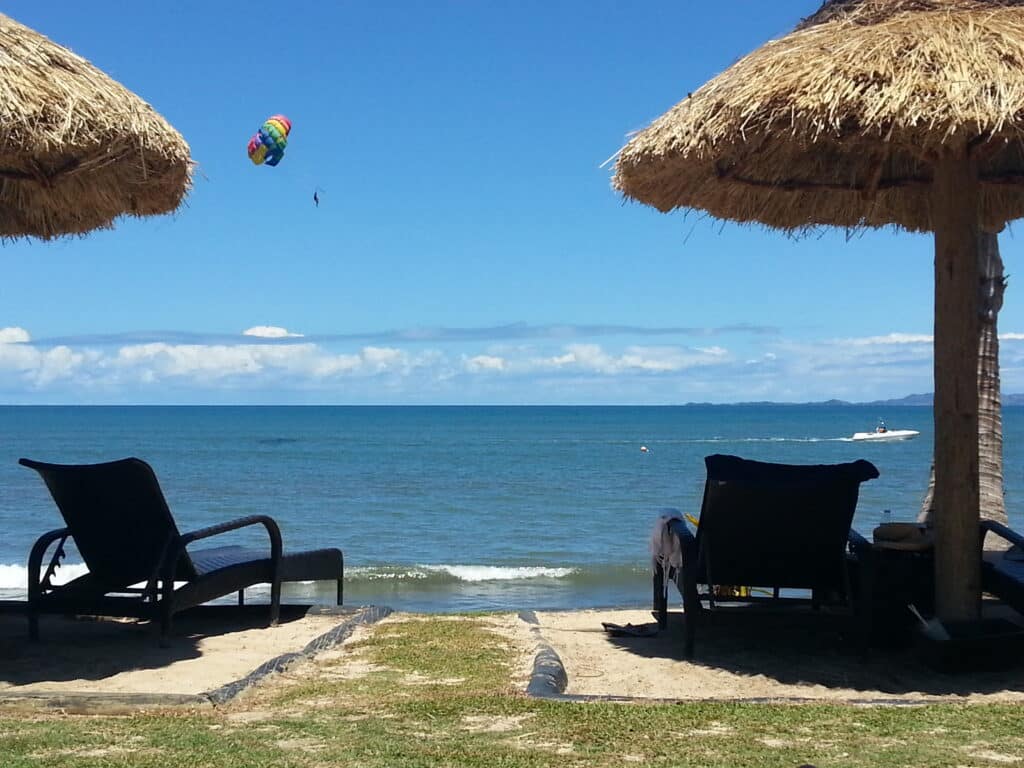 Fiji is one of the most stunning places on earth. From the crystal clear waters to the fascinating wildlife of the coral reef, this is something really special to experience from above.
2. Grand Canyon, United States – a memorable dive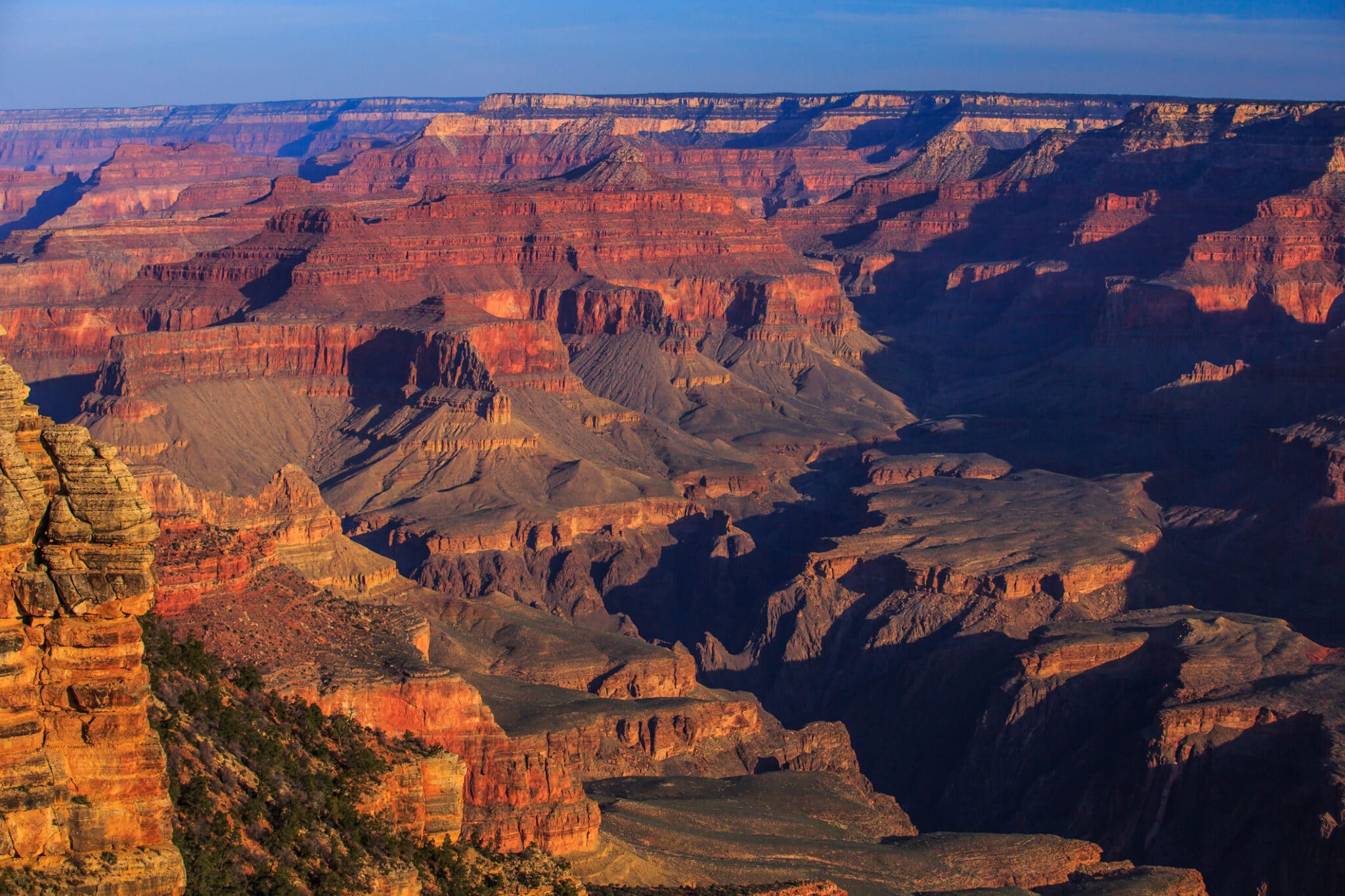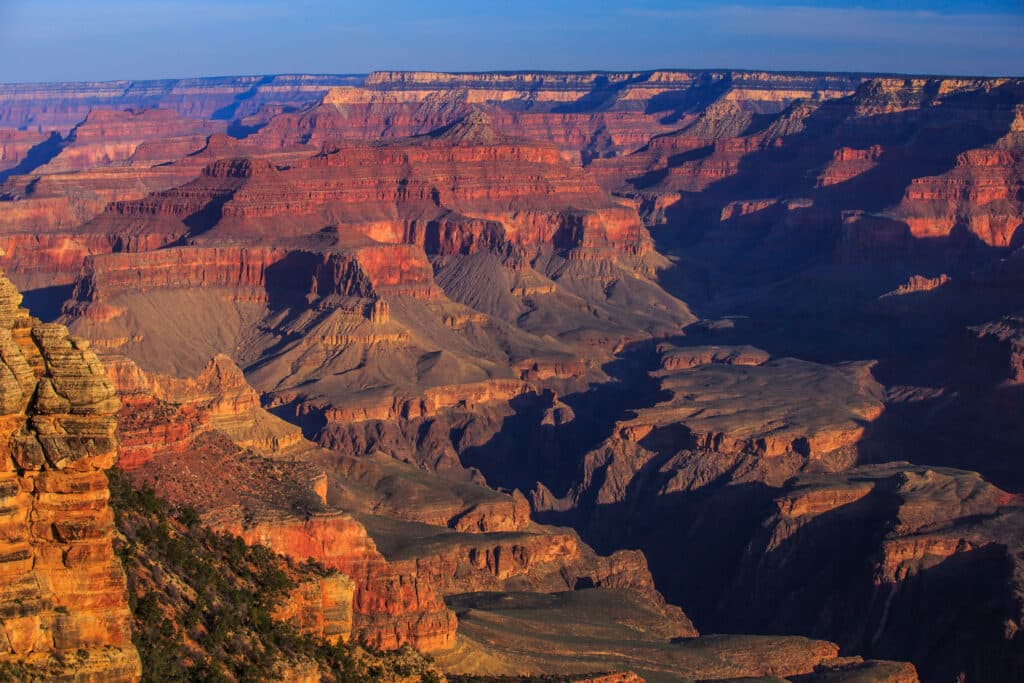 To see the Grand Canyon up close and in real life is like something straight out of a Wes Anderson movie. When you see pictures of it, it just doesn't look real.
If you fancy a dive over one of the world's most incredible natural wonders, why not check out skydiving over the backdrop of the Grand Canyon in the US? 
1. Franz Josef Glacier, New Zealand – one of the best in the world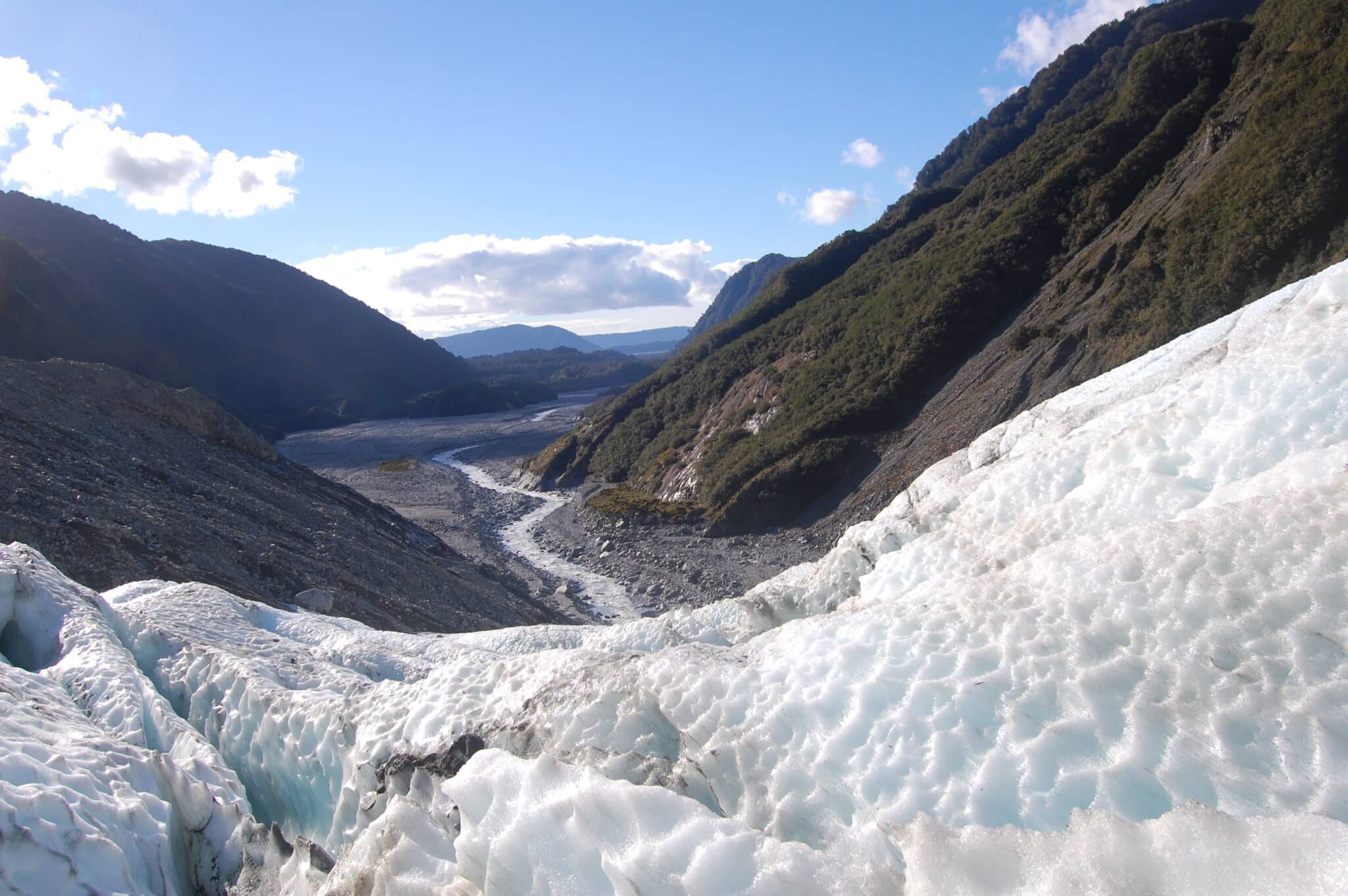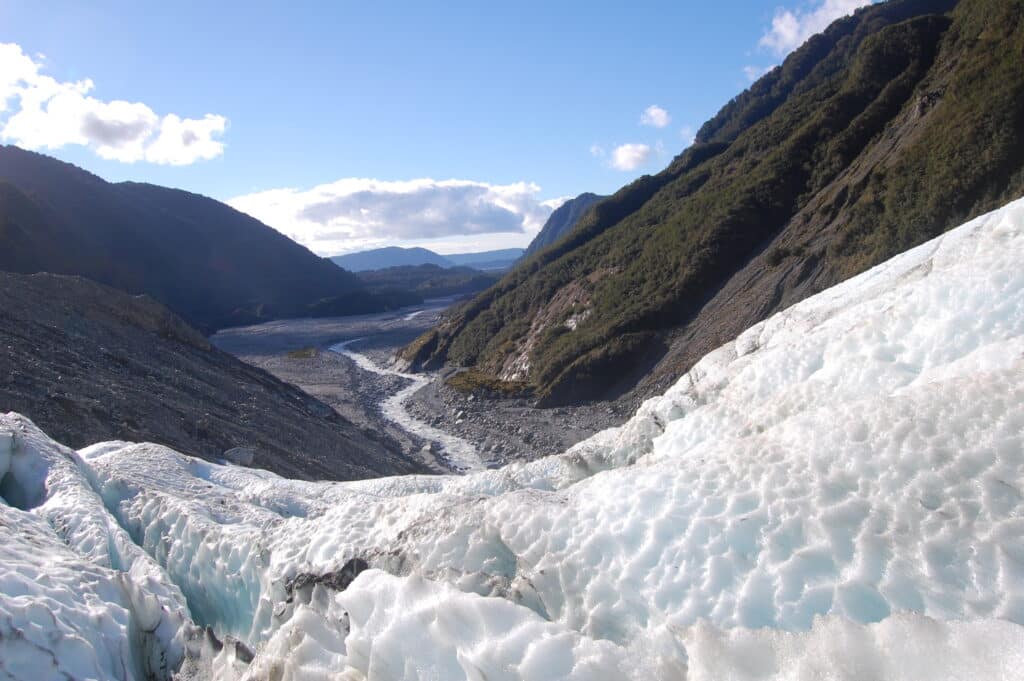 A list of the best skydiving locations around the world wouldn't be complete without a Kiwi entry, and the Franz Josef Glacier is our New Zealand pick.
New Zealand's highest skydive at 20,000 ft, it is in no doubt that this is one of the most mind-blowing skydives imaginable. To book this dive, Skydive Franz & Fox Glacier is the only skydive in Franz Josef Glacier.
Conclusion
When you look at skydiving safety statistics from across the world, like the United States Parachute Association (USPA), the Federal Aviation Administration, and the British Parachute Association, you will soon find that the safety record of skydiving around the world is a testament to the safety of the sport.
With thorough training, fatal skydiving accidents are extremely rare. You have a very small risk of injury, whether it's sprains, fractures, or in extreme cases, fatalities. It is often compared to the same risk as scuba diving.
Safety is a top priority for diving schools around the world. So if you're thinking of taking on tandem skydives in some breathtaking locations around the world, consider our list of stunning locations above.
Notable mentions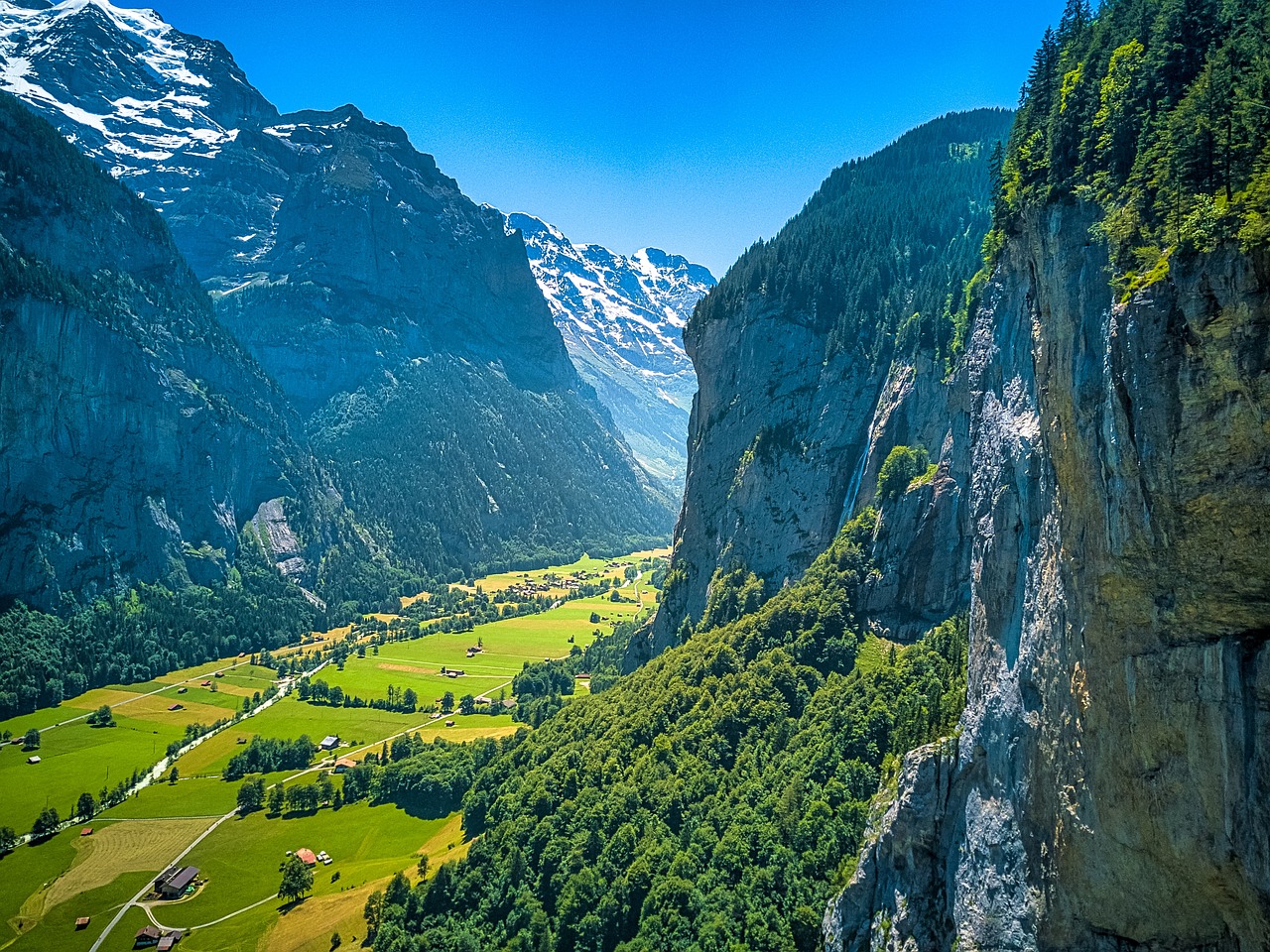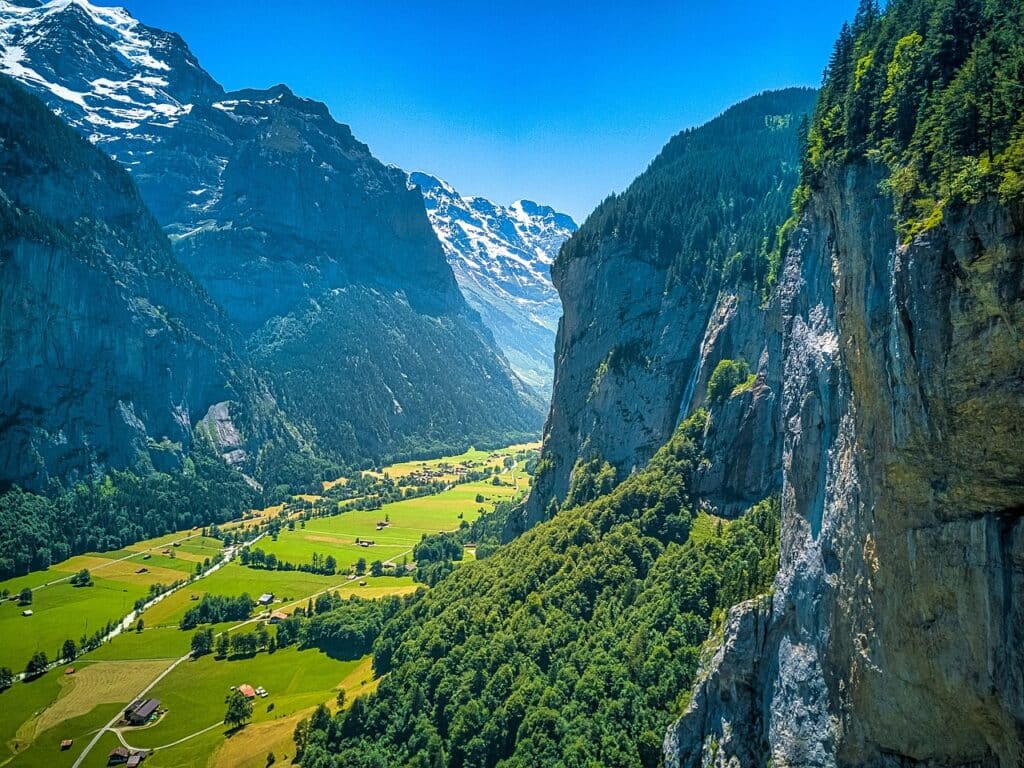 Lauterbrunnen, Switzerland: Taking you over the breathtaking Glaciers of the Eiger, skydiving over Lauterbrunnen is one of the best Swiss skydives out there.
Las Vegas, USA: With views of Nevada's Lake Mead, Hoover Dam, and, of course, the iconic Las Vegas strip, this is one American skydive you won't soon forget.
Namib Desert, Namibia: Taking a skydive over the Namib desert, widely considered the oldest desert in the world, is a thrilling and magical experience.
Your questions answered about the safety of skydiving 
If you've read our article on skydiving and still have some questions left unanswered, never worry! We have compiled a list of the most commonly asked questions both to us and from online about the topic.
How often does skydiving go wrong?
The short and quick answer to this question is hardly ever. Unfortunately, the main reason for a skydive going wrong is caused by advanced human error or chance accidents, like faulty skydiving equipment.
Is it hard to breathe when skydiving?
No! This is a common misconception, but it's actually almost as easy to breathe when skydiving as it is when standing on the ground below.
What is the cause of most skydiving accidents?
As we already mentioned, the majority of skydiving accidents are caused by human error or chance malfunction, like faulty parachutes or other equipment.
Legal Disclaimer
We cover articles relating to many activities. Some of our articles showcase gaming and gambling as activities. While we do not take money for bets or own any gambling venues, we feel it is important that our readers know the risks of such venues or sites that we may mention in our articles. Gambling involves risk. Please only gamble with funds that you can comfortably afford to lose. See our legal disclaimer for more info.