There are so many fun and exciting things to do in Canada at Halloween, and these are the best places to be to celebrate the festivities.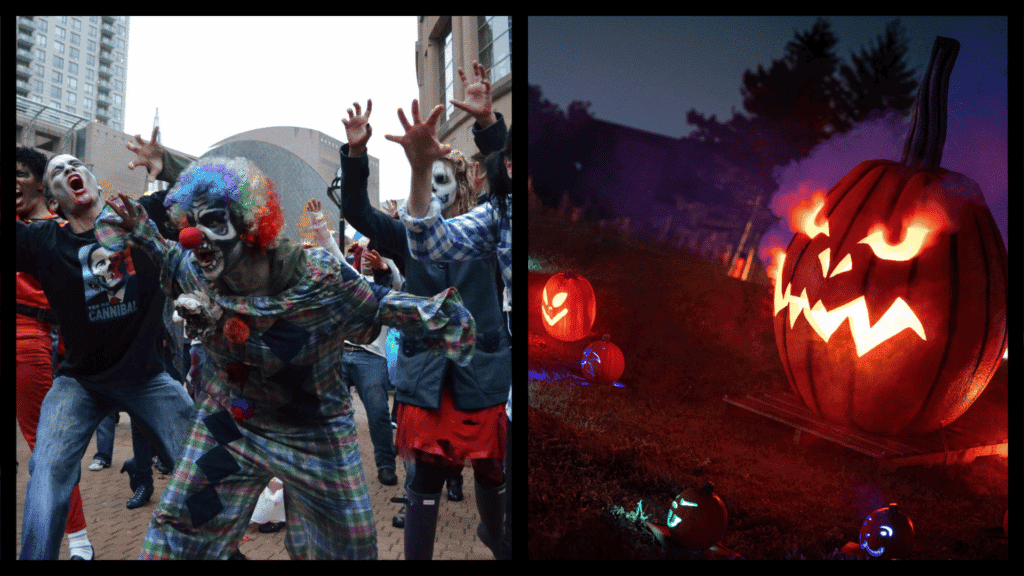 Halloween might traditionally be a Celtic festival with Christian origins, but that does not mean Canadians don't go to town whenever the time comes to ward off harmful spirits and dress in all kinds of disguises.
The celebration of Halloween was brought to Canada by Irish and Scottish immigrants who introduced Celtic customs and rituals, which are still widely followed today.
These days it is common to see carved pumpkins, ghost tours, corn mazes, bonfires, and even Halloween-themed drinks for sale at coffee shops when the month of October comes to Canada.
So, if you plan to be there at this spooky time of year, here are the top five cities to celebrate Halloween in Canada.
The World Bucket List's top tips for the best cities to celebrate Halloween in Canada
If it is your intention to visit the best cities to celebrate Halloween in Canada, here are five tips to help you along the way:
The best way to get the most out of your Halloween experience would be the embrace the local traditions, such as the Dia de los Muertos celebrations in Victoria.
Head to the Halloween parties! Find the themed parties, bar crawls and pub parties to drink the night away.
On the alternative, if you are trick-or-treating with family, make sure to seek out the safer and family-friendly neighbourhoods throughout the cities.
Look out for the haunted sites or historical landmarks scattered throughout these Canadian cities and take part in the ghost tours.
Get stuck into the Halloween-themed treats, deserts and candies found in bakeries, stories, and indeed whilst you are trick-or-treating!
5. Victoria, British Columbia – BC's most haunted city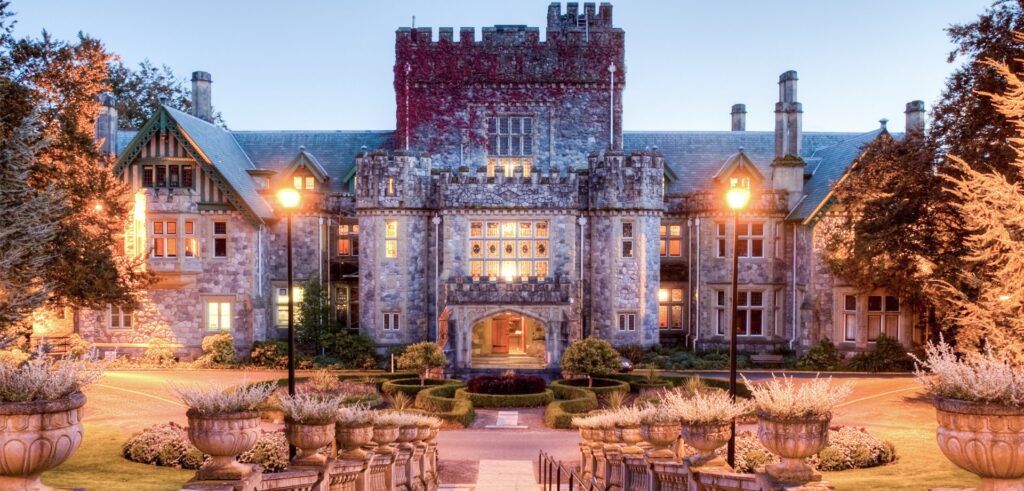 Victoria is a city on Vancouver Island in British Columbia, which is a fantastic place to discover any time of the year. Yet, at Halloween, there are so many cool and crazy activities to undertake, some of which you may never have heard of before.
If you want to participate in something unique, try your hand at some Haunted Night Ziplining, which combines adventure and terror, complete with spooky souls and ghost stories galore.
Victoria is an easily walkable city, making it an excellent place for trick or treating from house to house, trying out some pumpkin pie at the local bakeries or wandering through the most haunted part of the city – Bastion Square and Helmcken Alley.
Related: Halloween in Salem: 5 ways to celebrate like a witch
4. Montreal, Quebec – one of the best cities to celebrate Halloween in Canada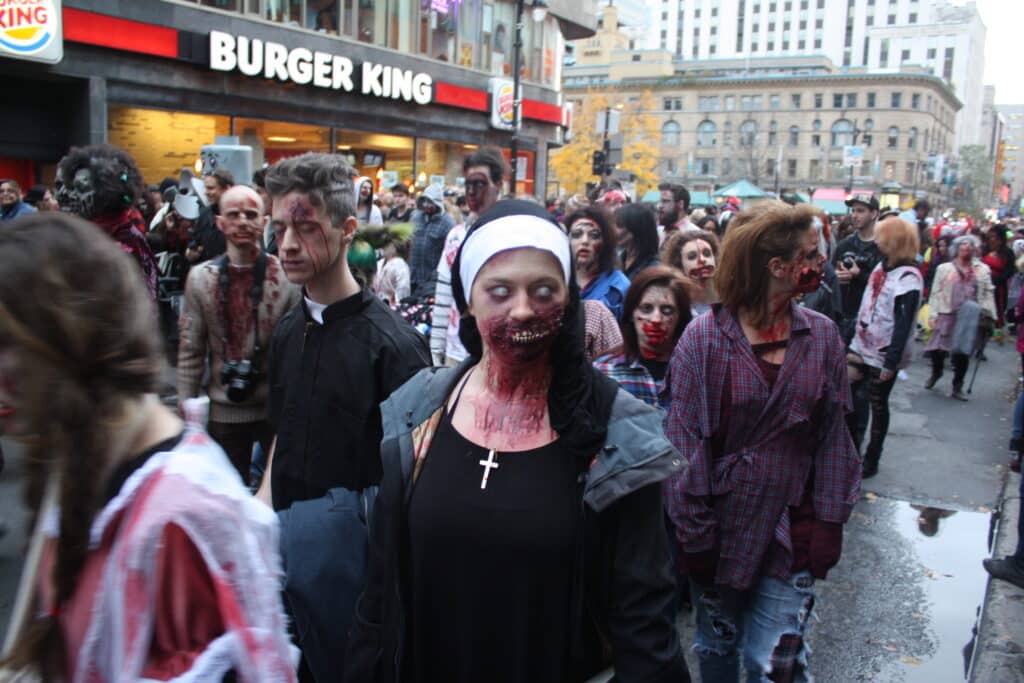 One of the most fun cities to celebrate Halloween in Canada has to be Montreal, in the province of Quebec. Suppose Halloween is a holiday that gets you excited.
In that case, you can be sure to enjoy a variety of events in Montreal, such as the quirky Spasm Film Festival, where you can witness filming screenings with a twist or even take part in the Montreal Zombie Walk, which is one of the largest of its kind on the continent.
Another spooky option in this exciting city includes attending the Fright Fest at La Ronde, which sees this popular amusement park turn scary during the Halloween season.
While kids of all ages can take on some fun rides during the day, the evening activities are best suited to older children and adults, so be sure not to miss out on this.
3. Edmonton, Alberta – the city with endless spooky options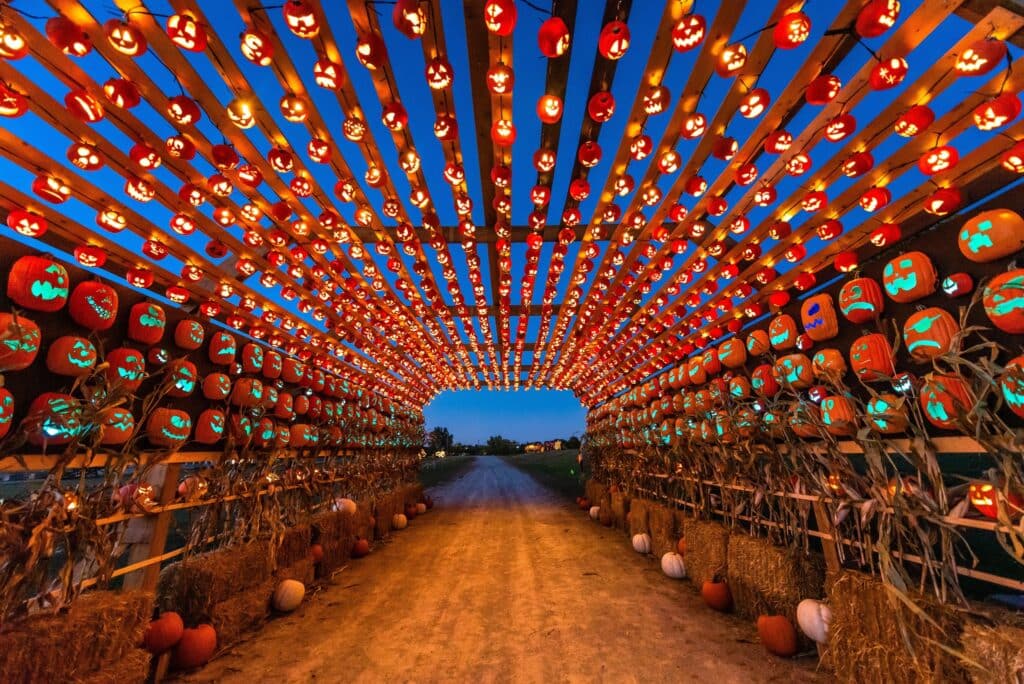 Edmonton is one of Canada's ultimate cities to celebrate Halloween, and we don't even know where to begin.
Options include taking Canada's favourite ghost tour, a haunted ghost train, getting lost in a corn maze, visiting Halloween Alley, visiting the 6000 hand-carved pumpkins at Pumpkins After Dark or even visiting Boo at the Zoo.
If none of that takes your fancy, don't worry; there are many more options, such as spending the night at a haunted hotel, visiting a Halloween Market or enjoying the Haunted Pumpkin Festival.
Whatever you decide to do, Edmonton is a fantastic place for Halloween; the choices are endless.
Read more: With winter coming right after Halloween, have a look at our article on the top 10 reasons to visit Canada in the winter
2. Toronto, Ontario – the best city for the whole family
Toronto is a vast city, meaning there will be plenty of events around Halloween in the various neighbourhoods.
Don't miss the Halloween Haunt at Canadas Wonderland, Toronto After Dark Film Festival, and Toronto Symphony Orchestras Psycho if you want to do something unique.
There are many local Halloween parties and kid-friendly events that take place around the city too, so it is a city that caters to all ages, as long as you crave something spooky.
Also, keep an eye out for the Halloween-themed drinks and baked goods at bakeries, cafes and breweries around the city.
Read: The World Bucket List's advice on what to do with your pumpkins after Halloween
1. Vancouver, British Columbia – the origin of Halloween in Canada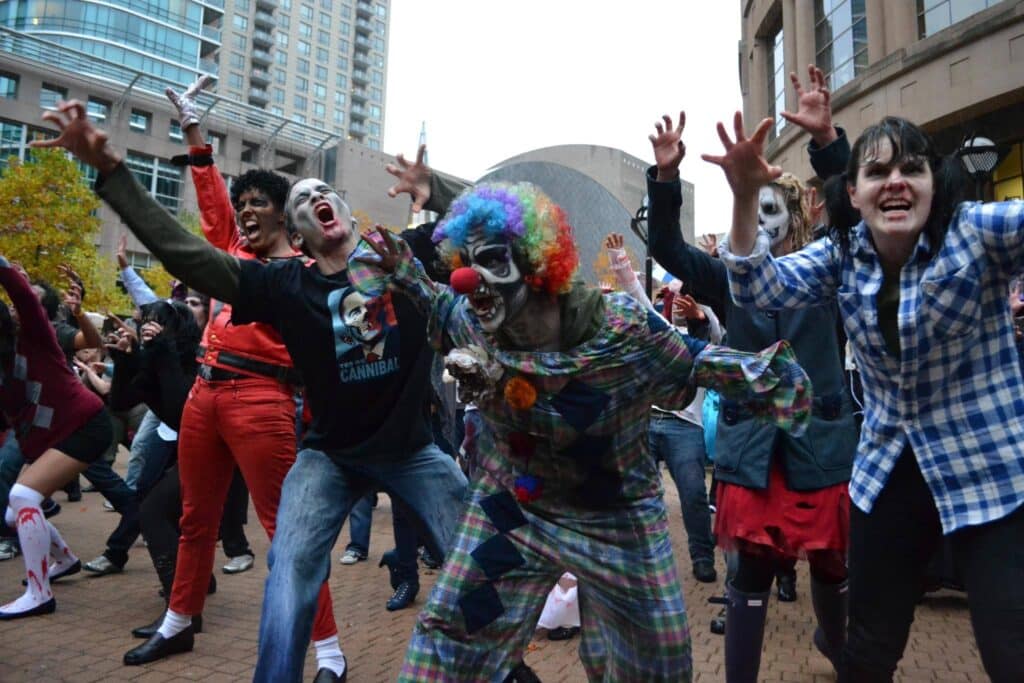 Believe it or not, the first record of dressing up in costume around Halloween time in Canada was said to have happened in Vancouver in 1898, so of course, this has to be one of the best cities to celebrate Halloween in Canada.
You can expect events such as the Vancouver Halloween Parade & Expo, Parade of Lost Souls, Cougar Creeks House of Horrors, and Fright nights at Playland and Haunted Village events.
This city always has something going on during the year, and Halloween is taken seriously here with the array of events that take place.
There will be plenty of creatively decorated houses to wander around and see, as well as fireworks, bonfires and trick or treat for the kids. So if Halloween is your thing, you need to go to Vancouver!
Notable mentions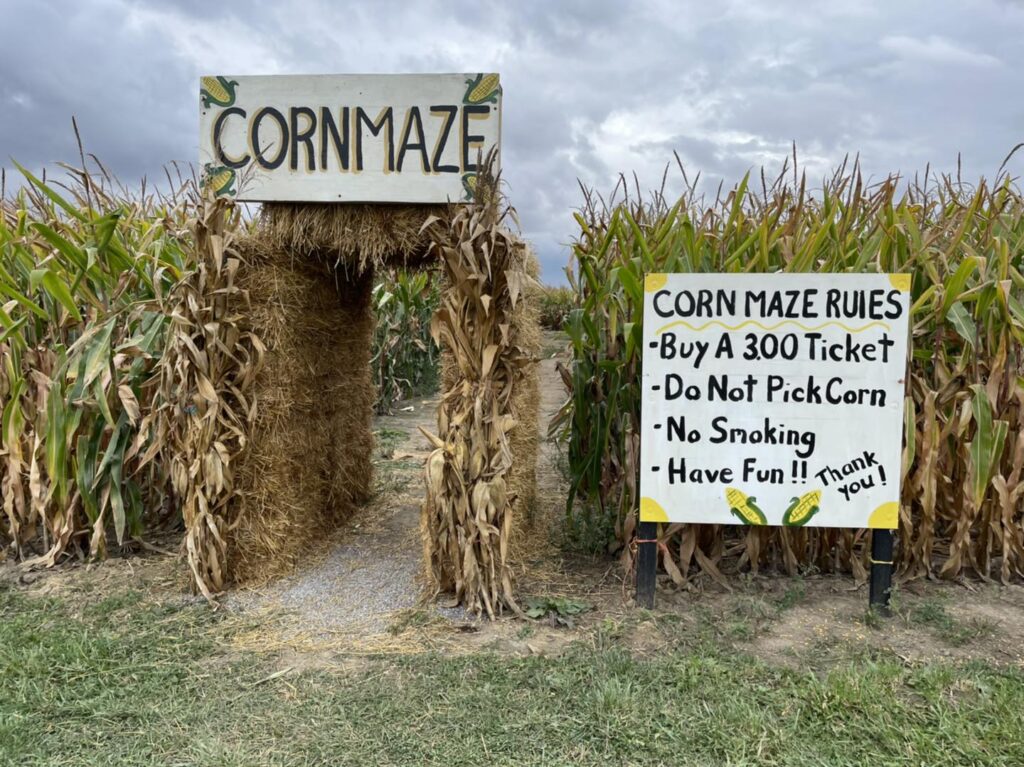 Ottawa: The city of Ottawa in Ontario hosts a pumpkin carving contest, Pumpkin Fest and even a Haunted Drive Through experience at Wesley Clover Park's Campgrounds. There are also a number of fun Corn Mazes for Halloween.
Calgary: Some adults-only events in Calgary include Scream Fest and Ghosts & Gourmet, while kids can enjoy Harvest Lights and Pumpkins After Dark.
Winnipeg: The city of Winnipeg should be considered for Halloween, given that it has some significant events, such as the Six Pines Haunted Attraction and Deer Meadow Farms Forbidden Forest.
Halifax: Halifax in Nova Scotia offers dedicated ghost walks, plenty of options for pumpkin carving, the Hellifax Film Festival and even a Beary Scary Bear Ball hosted by the Halifax Bears.
Your questions answered about the best cities to celebrate Halloween in Canada
If you still have some unanswered questions regarding this topic, you have come to the right place! In this section we have you covered, as we have put together some of the most commonly asked questions regarding the best cities to celebrate Halloween in Canada to us and from online.
Do Canadians carve pumpkins for Halloween?
Yes, carving pumpkins is a fun activity which Canadians take seriously, and you will spot some very creative pumpkins around town, no matter where you are.
Did Halloween originate in Canada?
Halloween is a Celtic festivity brought to Canada by Scottish and Irish immigrants in the 1800s. It is a Christian festival.
How do they celebrate Halloween in Canada?
Ghost tours, haunted houses, pumpkin carvings, bonfires, and Halloween parties are common ways Canadians like to celebrate Halloween.
Halloween has been celebrated for centuries with more than just corn mazes, candy apples and pumpkin pie, and in Canada, you can be sure to have many spooky events to attend, especially if you consider these five best cities to celebrate Halloween in Canada
NEXT: Check out WBL's article on the top 5 ways to celebrate HALLOWEEN in MANCHESTER