A Canadian winter experience is like no other, and we are excited to share our list of things to do here during the winter season.
While many of us love to escape winter and instead choose far-flung destinations offering tropical weather, Canada is one of the countries that is a joy to visit at any time of the year, especially in winter.
This is because the Canadians have a great outlook on the colder months and have plenty of activities on offer to embrace the winter days.
With incredible cities to explore and fun winter sports to take part in, such as cross-country skiing, freestyle skiing, or downhill skiing, Canada is consistently a top destination for a winter getaway, but let us tell you more.
So, let's check out the ten reasons to visit Canada in winter.
10. Dog sledding in Canmore – a family-friendly activity
This typical Canadian winter activity is a must for all the family and will ensure a once-in-a-lifetime experience.
So, dress in plenty of clothing layers and cosy up on the sled, which will take you through the Canadian winter wonderland of the Rocky Mountains and Canmore in Banff National Park.
9. Attend the Montreal Light Festival – a vibrant festival to attend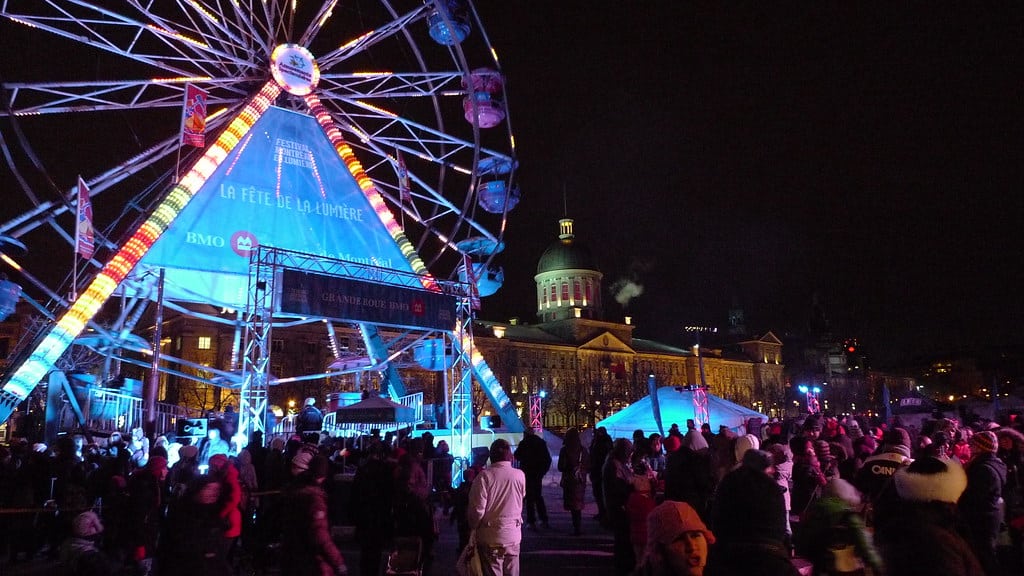 This is one of the year's most significant events and is undoubtedly an event not to overlook if you are in Montreal during winter.
The Montreal Light Festival is one of the top reasons to visit Canada in the winter when you can witness the city transformed into a colourful fiesta.
8. Take on a new adventure – the options are endless
One of the best reasons to visit Canada in winter is to try out an adventure you may never get the chance to, such as climbing a frozen waterfall, doing an ice walk, going ski-dooing, or even ice hiking.
Canadians know how to embrace the coldest months by making it as fun as possible; this is a great chance to get involved. Another option would be to undertake any of the best hikes in Jasper National Park.
7. Go ice skating on a frozen lake – a surreal winter activity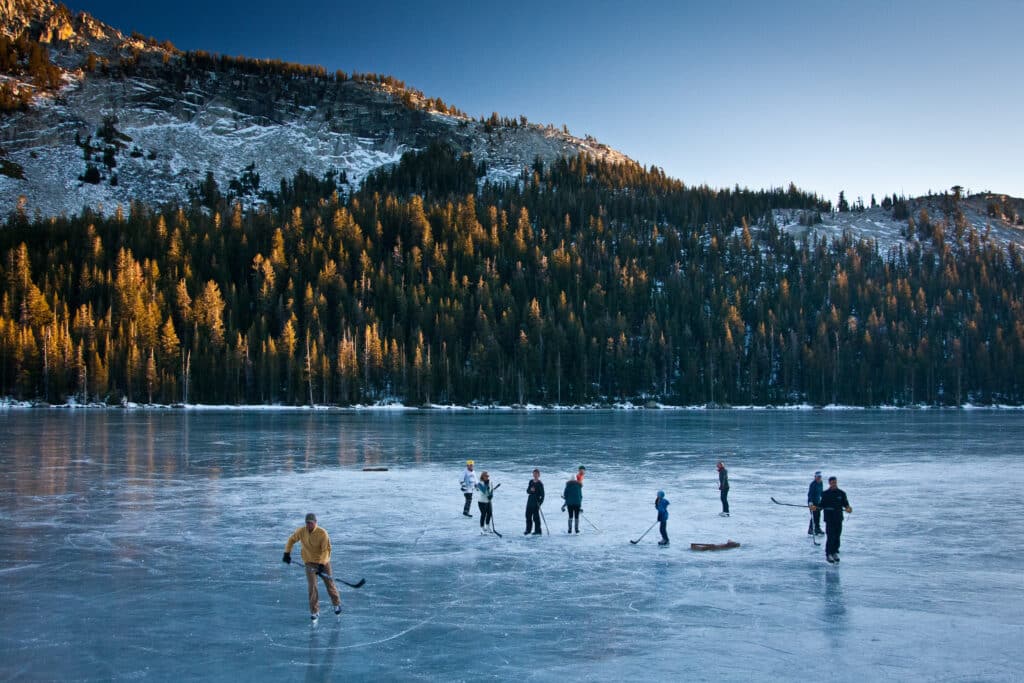 Frozen lakes are quite the norm in Canada, so there are always chances to go ice skating during the winter. If you come from a lesser cold country, this will be an incredible opportunity to give it a go.
Nothing beats dressing up in layers and warm jackets and heading out on the natural ice rink to spend time in nature the Canadian way!
6. Witness a frozen Niagara Falls – an incredible sight to see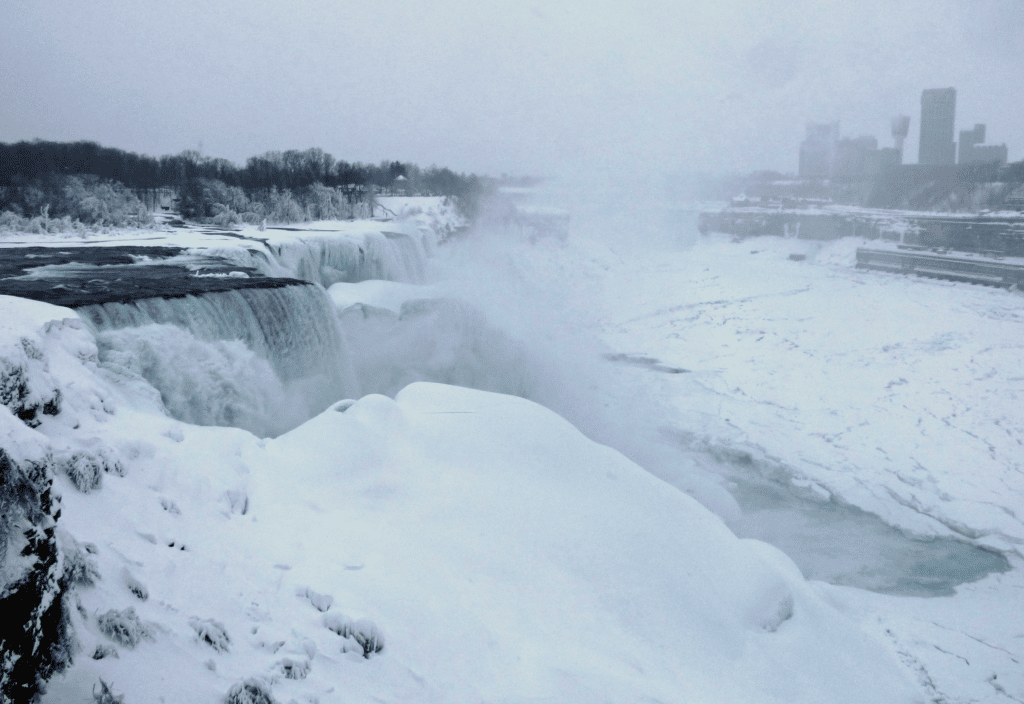 Not many times of the year can you witness this remarkable sight, so if you find yourself in the Niagara area, you NEED to see Niagara Falls frozen over.
As well as being an excellent Canadian winter experience, it is a great chance to beat the crowds and see the falls in the low season.
5. Visit the cities – a wide range of exciting destinations
Canada boasts some of the most vibrant cities in the world, such as Toronto, Vancouver, Edmonton, Halifax, and Victoria. So, if you are looking for something fun to do during winter, make sure to explore these cities.
You will forget all about the chilly temperature with underground malls to discover exciting tourist attractions. Canada's extraordinary cities are also some of the best places to see the Northern Lights in the country. Just before winter ends, check out the five best cities to celebrate Halloween in Canada.
4. Christmas markets – a joyful way to embrace the cold weather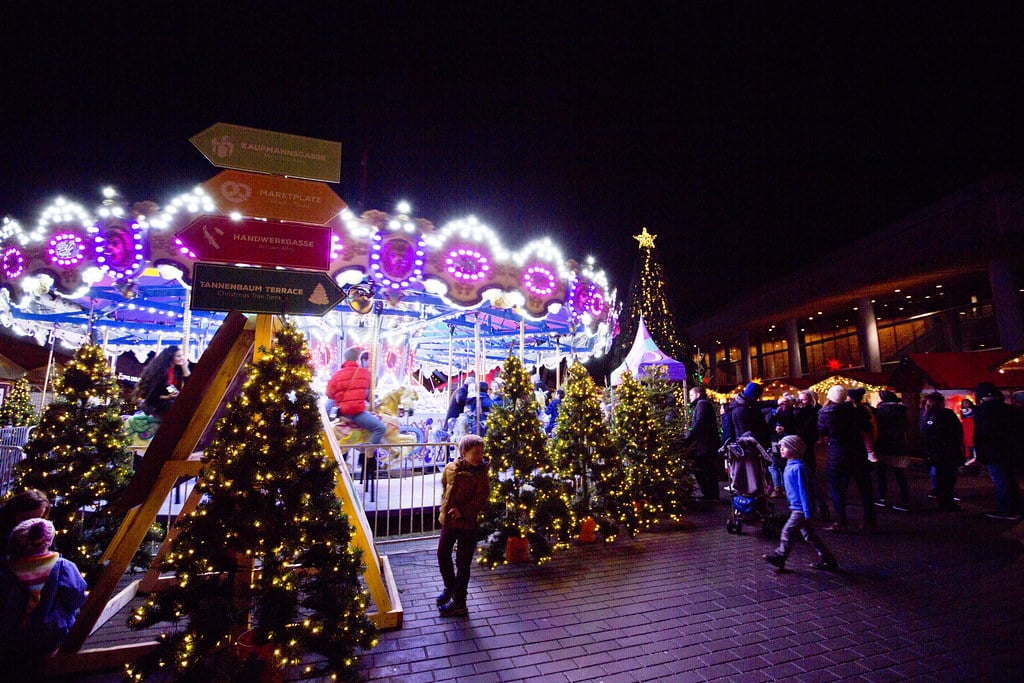 If you are lucky enough to be in Canada around Christmastime, you cannot miss out on visiting the Christmas markets and meeting Santa.
There are festive markets all over the country, with some of the best beings and plenty of unique activities to do in Vancouver, Banff, Quebec City, and Toronto. Grab some hot poutine and mulled wine and enjoy this joyful experience.
3. Go ice fishing – an absolute Canadian pastime on the many frozen lakes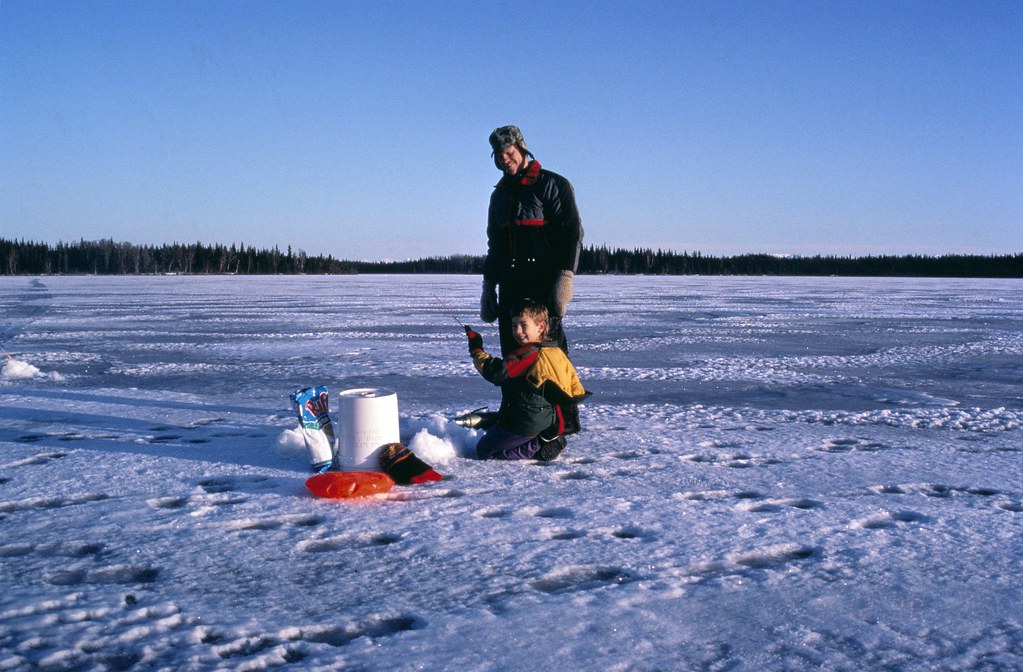 Ice fishing is one of those typical Canadian winter activities. It is one of the top reasons to visit Canada in winter, especially if you want to experience something unique.
Many Canadians spend their winter days sitting together around an open hole on a frozen body of ice, with Lake Simcoe in Ontario being a popular location.
2. Go ziplining – for winter adventure seekers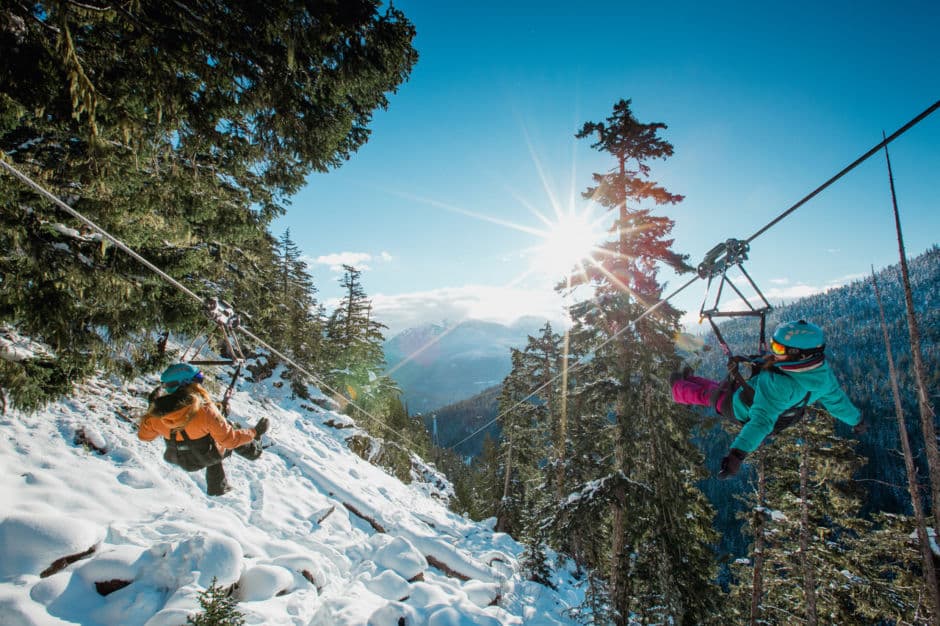 If you thought ziplining was a summer activity, think again because you can enjoy a thrilling winter experience in Whistler, British Columbia.
The zipline here will take you between the awesome snowy mountain peaks in one of the most incredible parts of the country. A real winter highlight for the adventurous! There are plenty of cabins in Saskatchewan that you can stay at.
1. Winter sports – a popular winter activity in Canada
Skiing, snowboarding, snowshoeing, and tobogganing are some of the most popular winter sports you can take part in during the winter season in Canada.
There are plenty of ski resorts to choose from around Canada, the best being Alberta, British Colombia, and Quebec City.
Notable mentions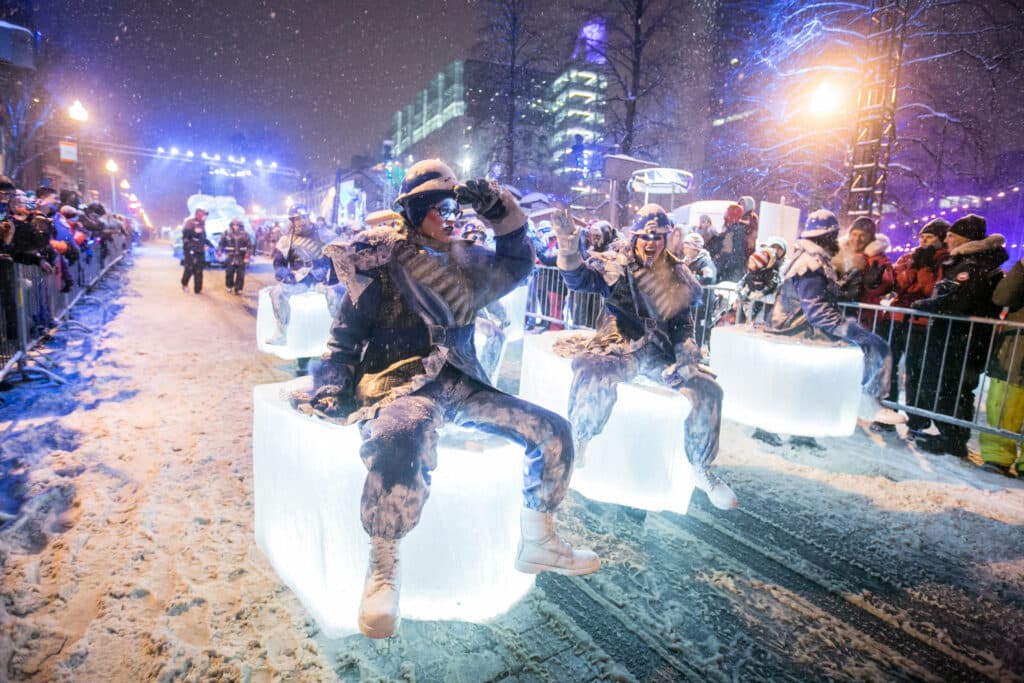 Attend a hockey game: Hockey is Canada's national sport, and attending a hockey game is one of the most extraordinary things to do when visiting the country.
Visit the Toronto Islands: Due to the permanent residents of the islands, the ferry goes all year round, making this a magical area to explore during the winter season.
Try ice wine: Niagara on the Lake is the place to try ice wine, a beverage that makes Canada a top producer worldwide.
Visit the ice castles: One of the main reasons to visit Canada in the winter is to witness the ice castles in Edmonton, one of the few places you can experience this.
Carnaval du Québec: One of Canada's biggest winter festivals, you need to include Carnaval du Québec on your winter holiday list.
Experience the Northern Lights: Head to northern Canada to experience polar bears and the Northern Lights. Just expect incredibly cold temperatures and plenty of snow!
FAQs about the top reasons to visit Canada in winter
What are the winter months in Canada?
Winter falls between December and February, just like in many parts of Europe.
How cold are Canadian winters?
You can expect average winter temperatures of between -6 C to -12 C (21.2 F to 10.4 F), while it can get even colder in the prairies and other regions when the wind chill is present.
What to wear while visiting Canada in winter?
Layers are a must during winter in Canada. Pack a base layer, warm layer, waterproof layer, and even a windbreaker, which can get you through any weather.
So, there it is; if you were wondering what kind of adventures await you in Canada during the winter months, now you have more than a few incredible choices to keep you and your family entertained.
So, could Canada be on the list for your upcoming winter holiday?