Bali and yoga go hand in hand, which is why we are bringing you the ultimate yoga retreats in Bali. This way, you can make the most out of your relaxing time away.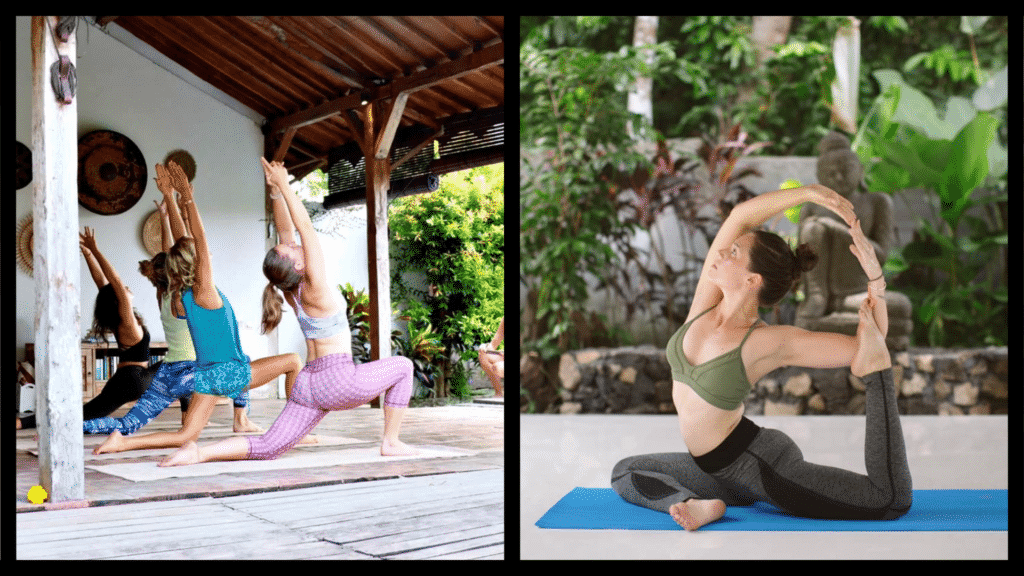 We can't think of a better place to jet off to for some daily yoga practice and relaxation than Bali in Indonesia. One thing is for sure: this island is an absolute haven for yogis.
So, if you are planning a trip to this stunning island, and fancy some time out, then checking out a yoga retreat in Bali is just the ticket.
Read on to discover our top ten picks for the ultimate relaxing yoga retreats in Bali you need to experience.
10. Blooming Lotus Yoga – the place to indulge in all aspects of yoga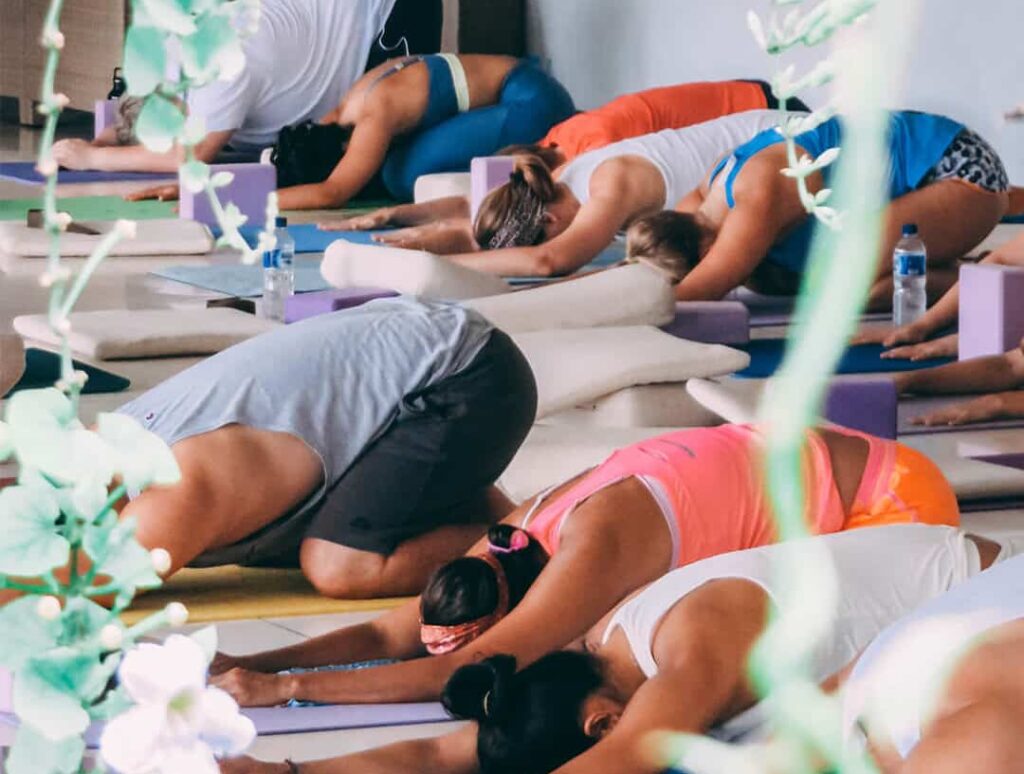 With four and seven-day yoga retreats to choose from, you can have the experience of a lifetime at this tropical paradise, which focuses on asana (postures), breathwork, and a meditation session, all provided by the top class, experienced teachers.
Their retreats aim to help you master your body, mind, and soul so you can go back to your everyday life feeling fulfilled after learning new skills, which makes it a popular yoga retreat in Bali.
Address: Br. Mawang Kaja, Lodtunduh, Ubud, Gianyar Regency, Bali 80571, Indonesia
9. Pineapple House – the original surf and yoga hideout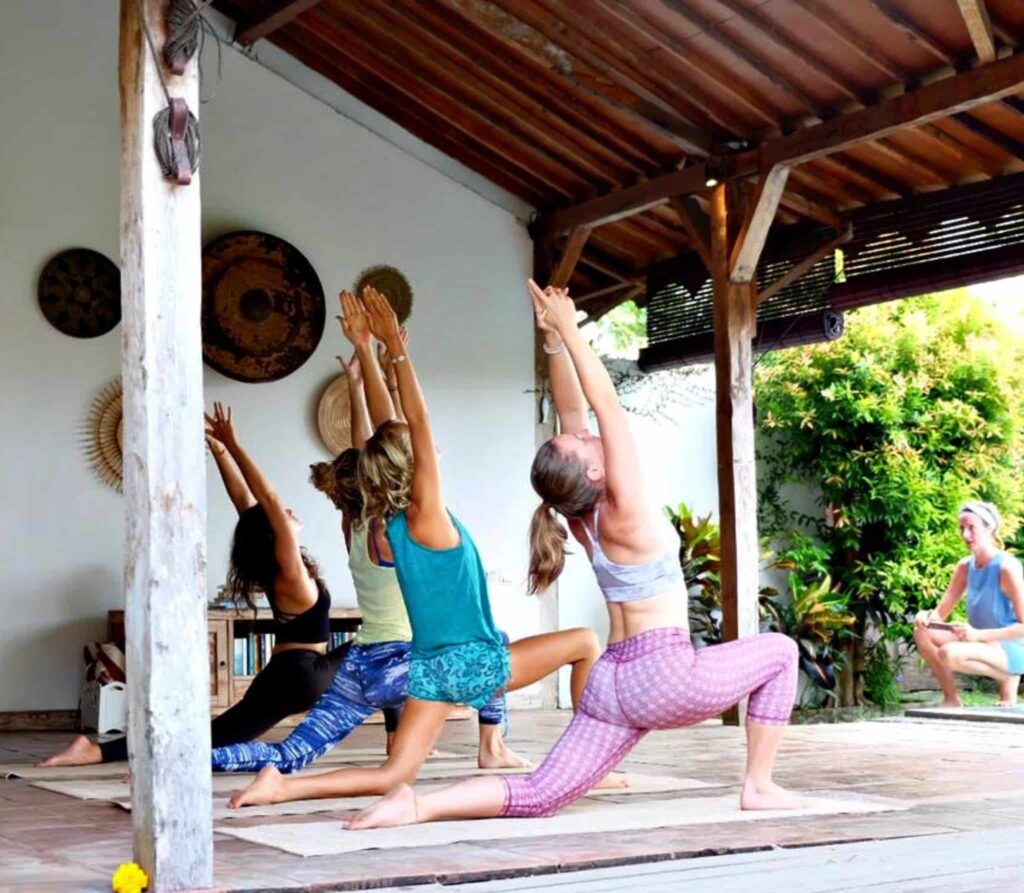 Featuring a range of yoga retreats, including Surf and Yoga, Yoga and Wellness, and Simply Yoga, Pineapple House has hit the nail on the head when it comes to providing an awesome yoga retreat in Bali.
This retreat hideaway in Canggu is inspiring, relaxing, and truly atmospheric, making them the original surf and yoga hideout on the island. So, you can take advantage of surf lessons alongside your daily yoga sessions.
Address: Jl. Subak Sari No.15, Canggu, Kec. Kuta Utara, Kabupaten Badung, Bali 80361, Indonesia
8. Azadi Retreat – a custom-built retreat centre focusing on yoga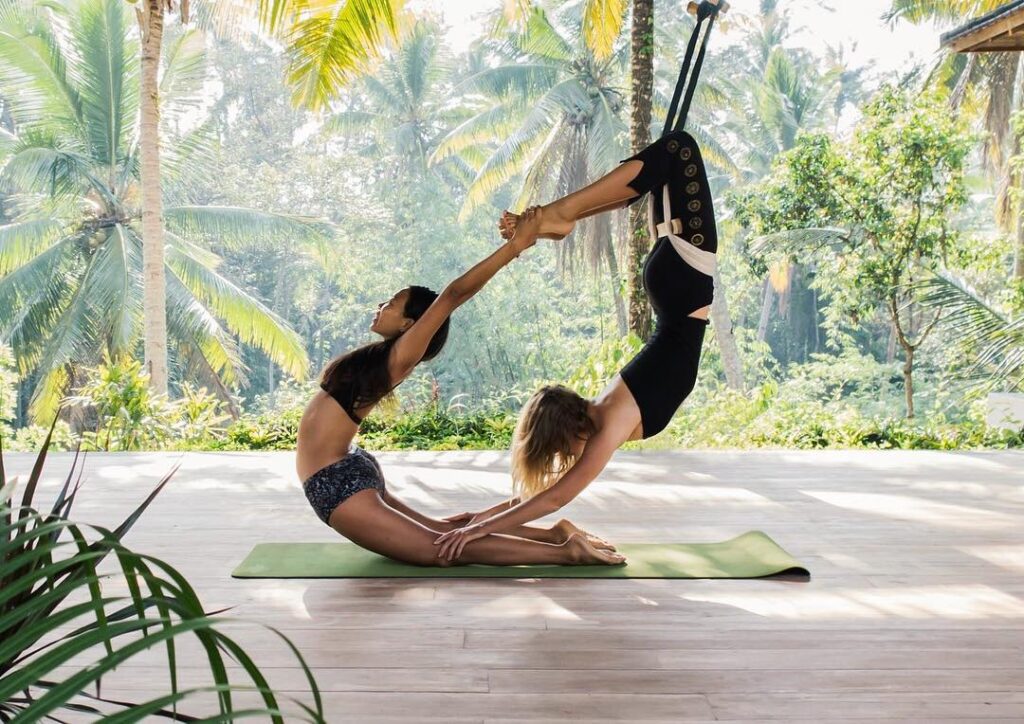 Azadi Retreat is a custom-built retreat centre, set in amongst the expansive rice fields in the yoga centre of Ubud, which has everything you could want or need.
From a spa and swimming pool to keep yourself fit and active to healthy food and luxury accommodation, nothing has gone amiss here. Azadi Retreat is the perfect retreat in the heart of Bali.
Address: Banjar Laplapan, Pejeng Kawan, Kecamatan Ubud, Kabupaten Gianyar, Bali 80552, Indonesia
7. Soulshine Bali – home of the Soulrocker yoga retreat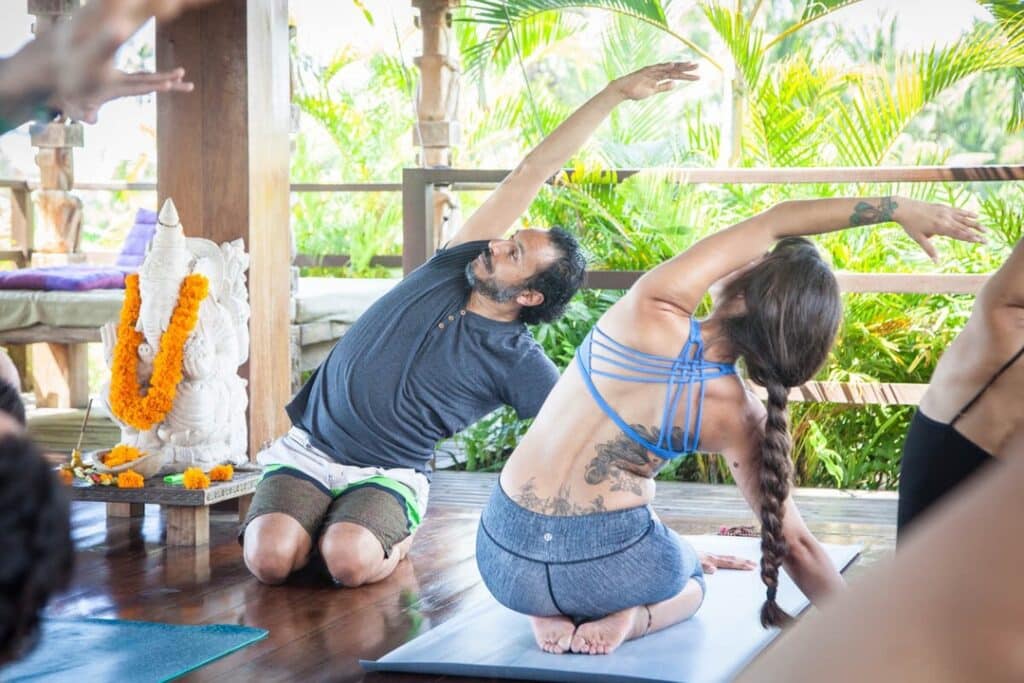 This hotel and yoga retreat of dreams has been recognised by some of the world's top magazines, and you will know why when you arrive.
They hold a variety of retreats, including the Soulrocker Yoga and Music Retreat, aiming to mix well-being and mindfulness with having fun, which makes them so unique.
Address: Jl. Raya Mas Jl. Ambarwati No.1, Ubud, Kecamatan Ubud, Kabupaten Gianyar, Bali 80571, Indonesia
6. Bagus Jati – for a well-being experience in nature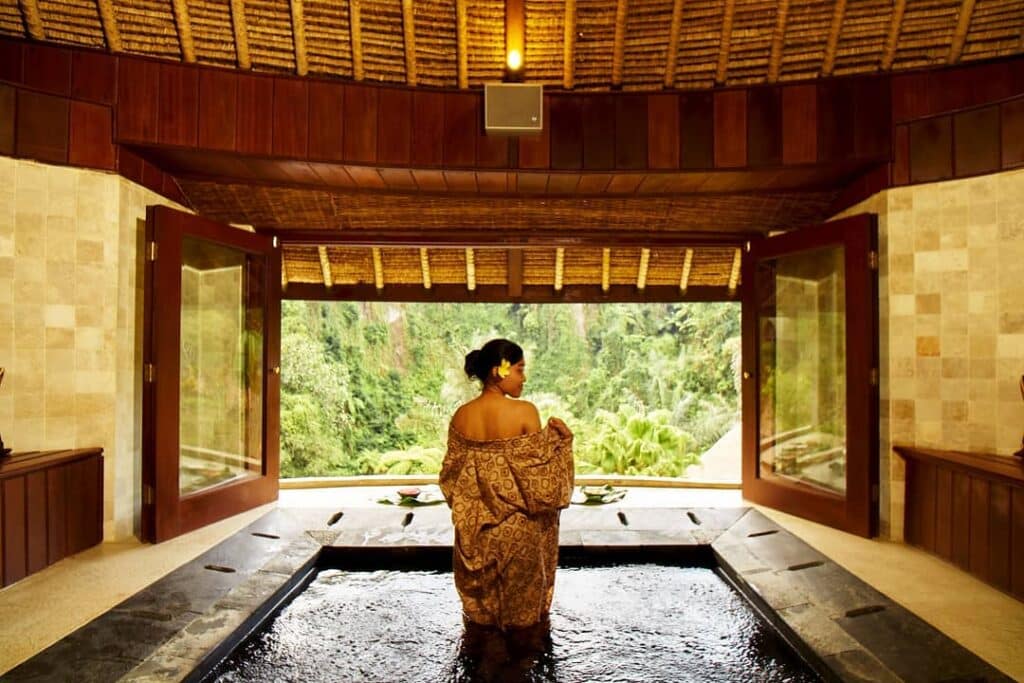 The Bagus Jati Health and Wellbeing Retreat is surrounded by tropical forests in Ubud, Bali. It is set amongst five hectares of hillside gardens, encouraging the union with nature.
Here, you can choose from a host of world-class health and well-being retreats, whatever your mind, body, or soul needs.
Address: Banjar Jati Desa Sebatu, Taro, Kec. Tegallalang, Kabupaten Gianyar, Bali 80571, Indonesia
5. The Chillhouse Canggu – the place to indulge in yoga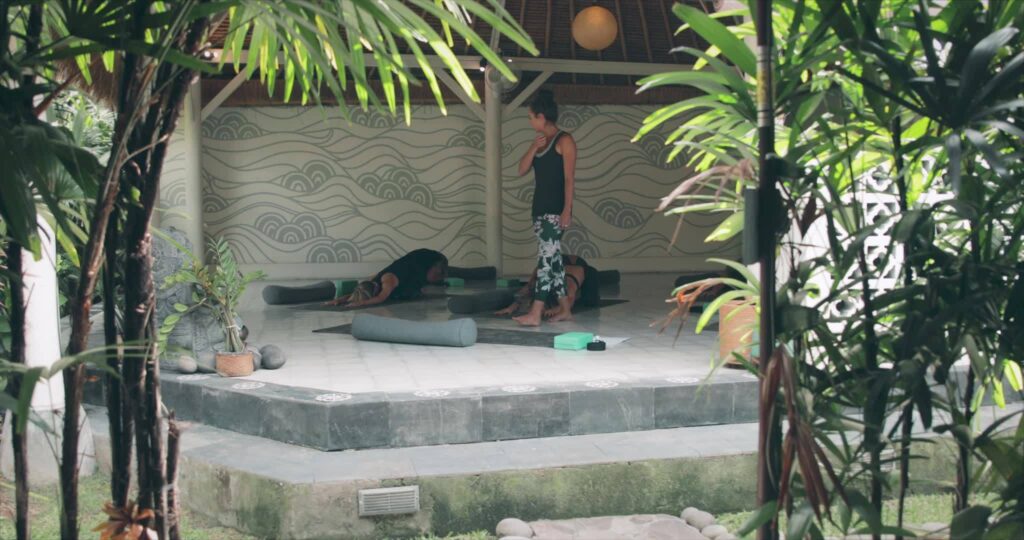 Located on the southern shores of Bali, among the iconic Balinese rice paddies, you will find The Chillhouse Surf and Yoga Retreat.
This yoga retreat offers a rich bohemian vibe, yoga classes, organic food, and endless surfing opportunities, all within a lush setting in Canggu.
Address: Banjar Pipitan, Jl. Kubu Manyar No.22, Canggu, Kec. Kuta Utara, Kabupaten Badung, Bali 80361, Indonesia
4. Pelan Pelan Bali – combining tranquillity with activity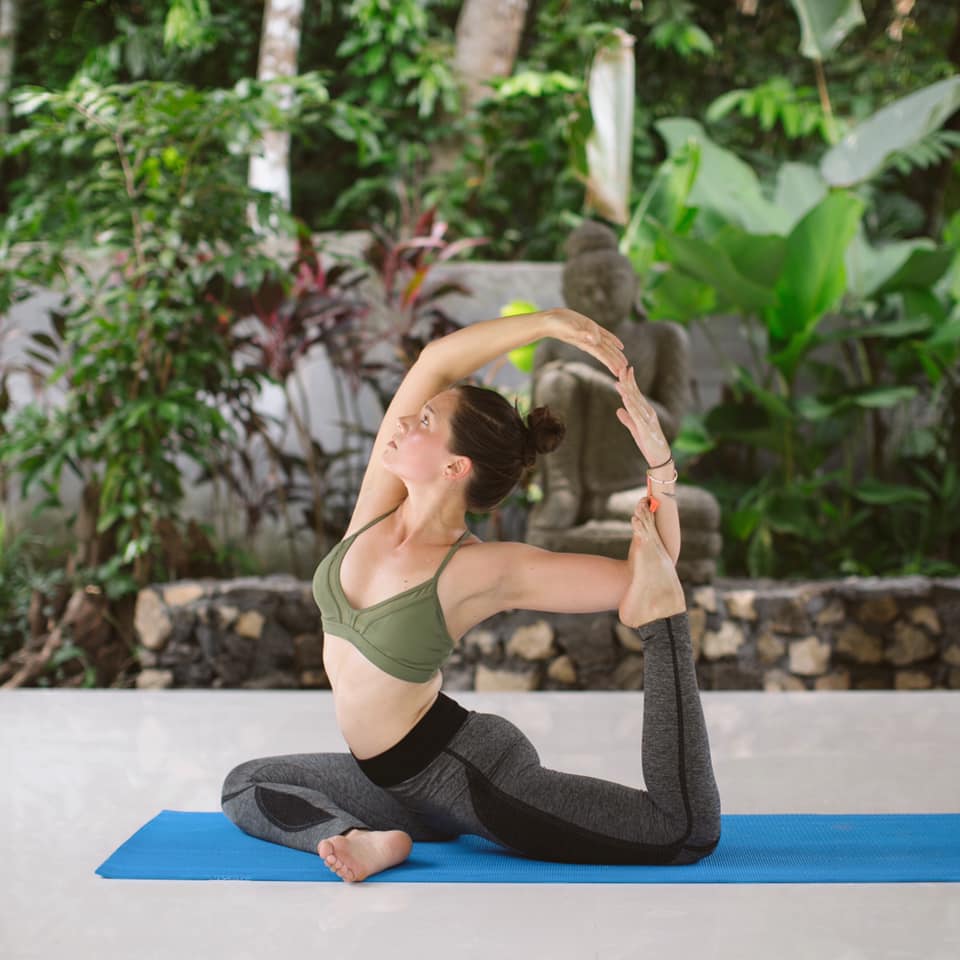 This yoga retreat with a twist offers yoga combined with surfing, which is an amazing idea for anyone looking for a sense of balance between relaxation, mindfulness, nature, and activity.
Pelan Pelan Bali is located in Canggu, and they aim to introduce you to the chilled Balinese way of life with their motto: "Forget everything, just for today".
Address: Banjar Batan Tanjung, Cemagi, Mengwi, Badung Canggu, Cemagi, Kec. Mengwi, Kabupaten Badung, Bali 80361, Indonesia
3. Firefly Resort – a popular and affordable yoga retreat in Bali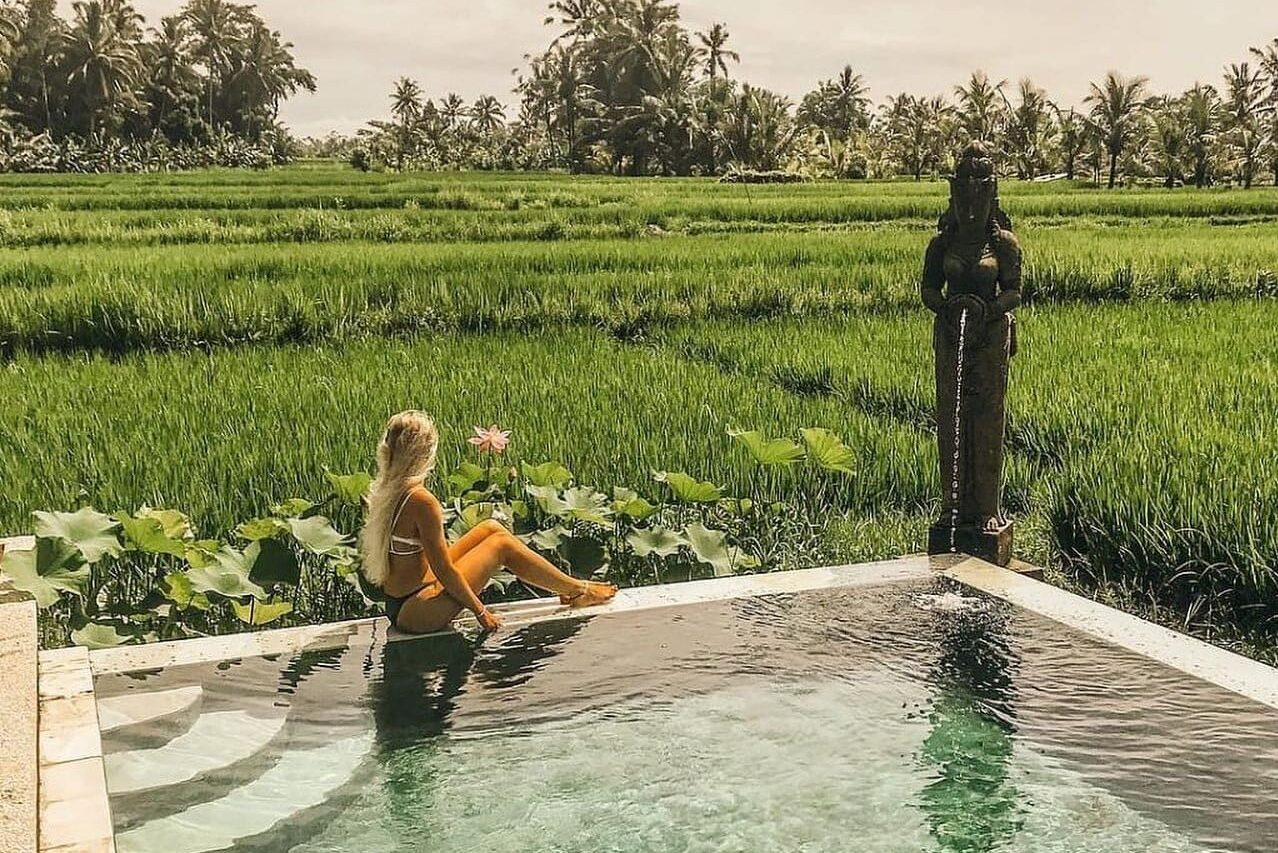 Firefly Resort yoga retreat in Bali offers a budget retreat for those looking for an affordable option without lacking in quality.
You will be treated to organic and healthy meals, with one coconut per day given for free, as well as daily yoga classes, cooking classes, and visits to traditional Balinese farms. Firefly Resort is one of the most magical retreat experiences to escape daily life.
Address: Jl. Suweta No.Br, Bentuyung Sakti, Kecamatan Ubud, Kabupaten Gianyar, Bali 80571, Indonesia
2. The Yoga Barn – for a relaxing retreat in a renowned location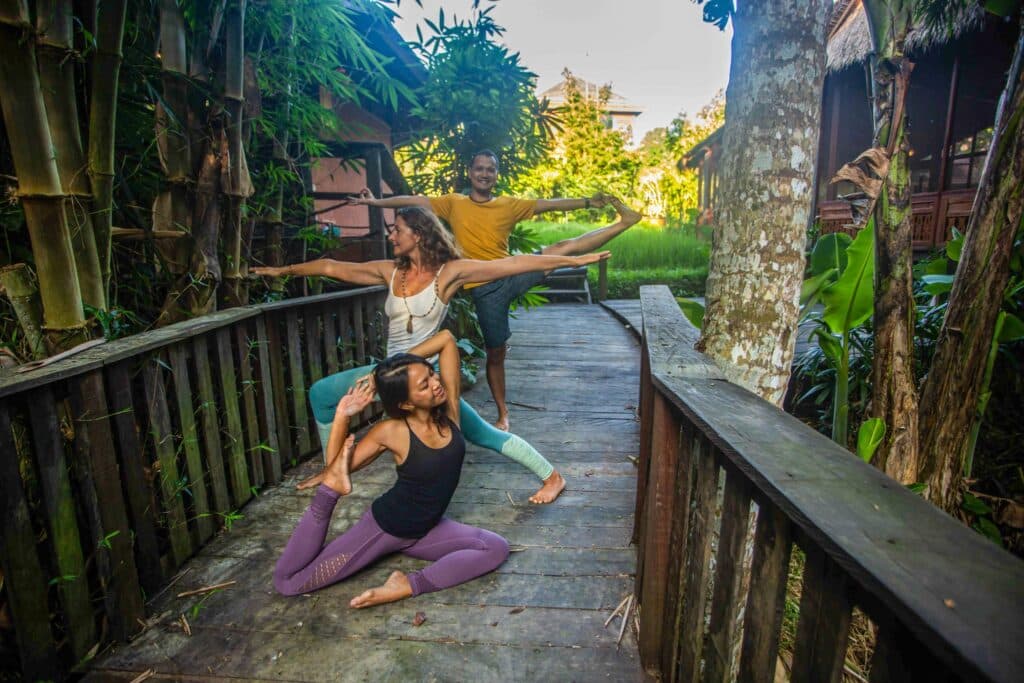 This popular yoga studio in Bali offers everything from masterclasses and yoga teacher training to the ultimate yoga retreats.
Retreat packages include an unlimited class pass, a wellness session, a Balinese massage, two dance class pass, and, of course, a healthy breakfast, and amazing accommodation for seven days.
Address: Jl. Hanoman Jl. Raya Pengosekan Ubud, Peliatan, Kecamatan Ubud, Kabupaten Gianyar, Bali 80571, Indonesia
1. Fivelements Puri – for an award-winning yoga experience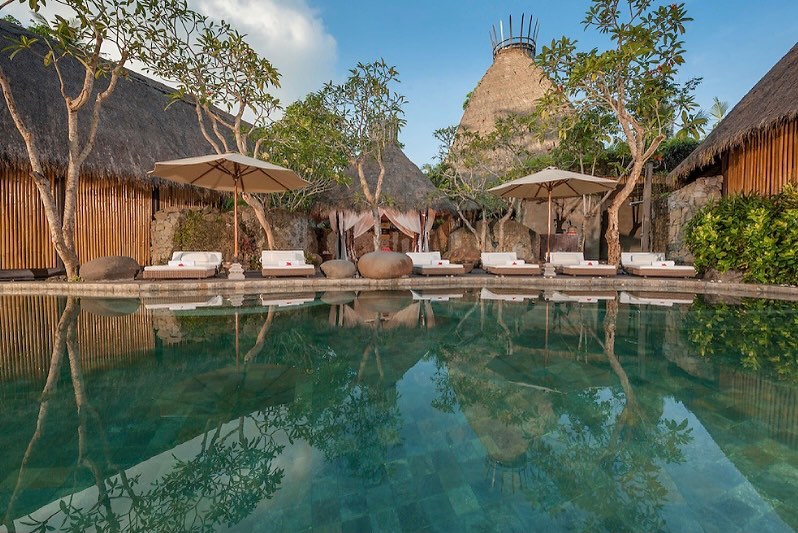 This five-star hotel incorporates an award-winning eco-friendly wellness retreat, making it a fantastic yoga retreat in Bali.
Here, you can find ultimate relaxation and integration into the Balinese culture with daily yoga classes, vegan meals, and sacred traditions.
Address: Mambal, Abiansemal, Badung Regency, Bali 80352, Indonesia
Notable Mentions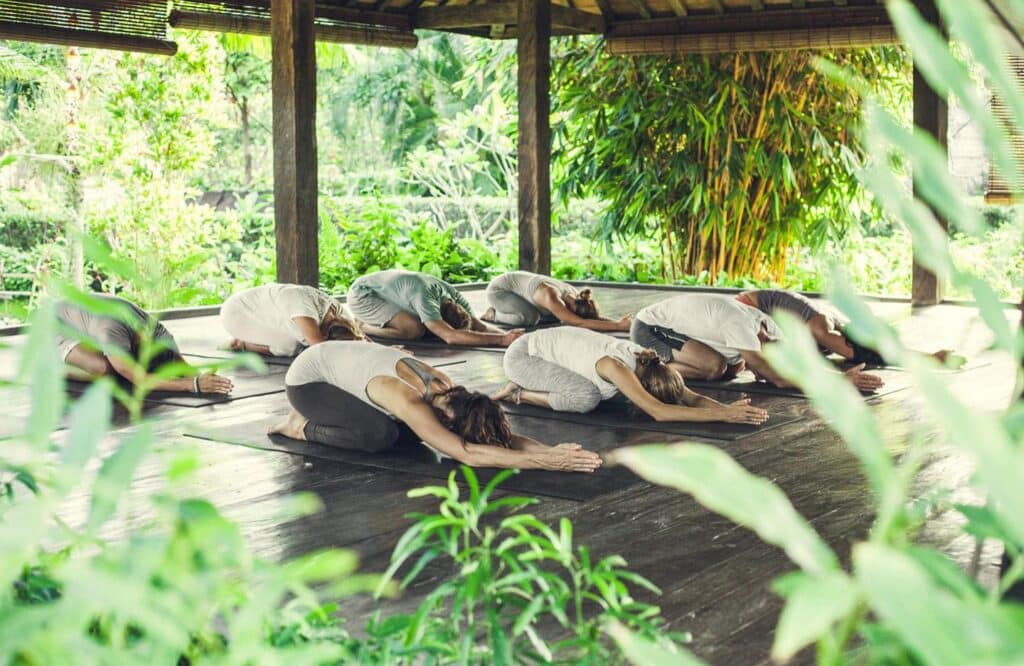 Desa Seni: A renowned yoga retreat in Bali, accredited by Yoga Alliance and offering to help you step up your practice.
The Palm Tree House: The ultimate health retreat combining yoga and surfing, other daily activities, and spa treatments.
Floating Leaf Eco-Retreat:This eco-luxury retreat is known as one of Asia's best places to practice yoga.
Udara Bali: Udara Bali offers 24 yoga classes varying in style, as well as Balinese and Hot Stone massages for the ultimate relaxation and rejuvenation.
Blue Karma: Blue Karma is located in Ubud and is one of the most luxury yoga retreats in Bali. Blue Karma offer a wide range of classes and styles of yoga, as well as an outdoor swimming pool. So, you can enjoy a true Balinese experience.
Samyama Meditation Center: The yoga and guided meditation retreat at Samyama Meditation Center offers a wide variety of programmes and wellness packages. This is sure to be a truly unforgettable experience in beautiful surroundings.
Bali Yoga School: Bali Yoga School is the perfect retreat for those who want to elevate their wellness practices. Taking a holistic approach, Bali Yoga School will teach you all you need to know through a variety of yoga classes and private yoga sessions.
FAQs about yoga retreats in Bali
Is Bali safe?
Bali is generally safe, but there can be problems with pickpocketing, petty theft, and aggressive monkeys (no, seriously). The island is also prone to natural disasters.
How to get around Bali?
The absolute best way to get around Bali is by scooter, but you can also opt for buses or taxis, as well as bicycles for local journeys.
What is there to do in Bali?
In Bali, you can enjoy the spiritual vibes of Ubud and the history and temples around the island. You can also visit the fantastic beaches and the party area of Kuta.