You might be wondering if you should visit Tokyo in Winter. It's understandable. Winter is the coldest time of year, and many of us would prefer to sit at home with a hot cup of our favourite beverage rather than brave the elements.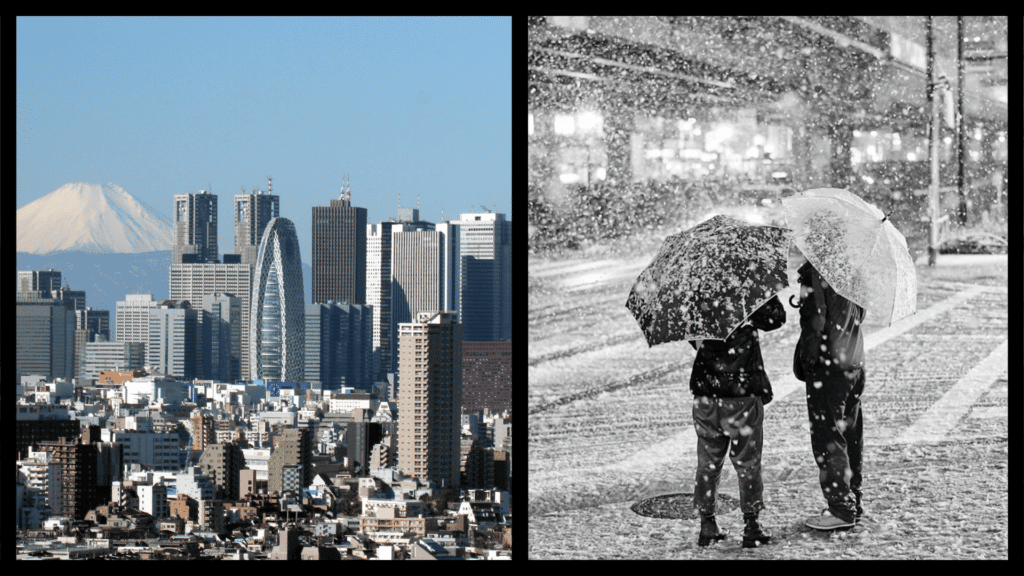 We can tell you from our experience that Tokyo in winter is absolutely worth visiting. It might even be the best season to go!
There are so many unique and interesting places in the world you can visit, and Tokyo is certainly one of them. While Japan itself has a lot to offer, you could easily spend a couple of weeks or more exploring the delights of Tokyo.
When visiting Tokyo in winter, you can expect temperatures between five and 12 C (41 – 54 F). This is very manageable with a couple of extra layers or a warm coat. It's also much less likely to rain in winter compared to other seasons, which is a bonus!
If you need more convincing than that, keep reading for our top ten reasons to visit Tokyo in winter!
10. Fewer Tourists – the perfect time to go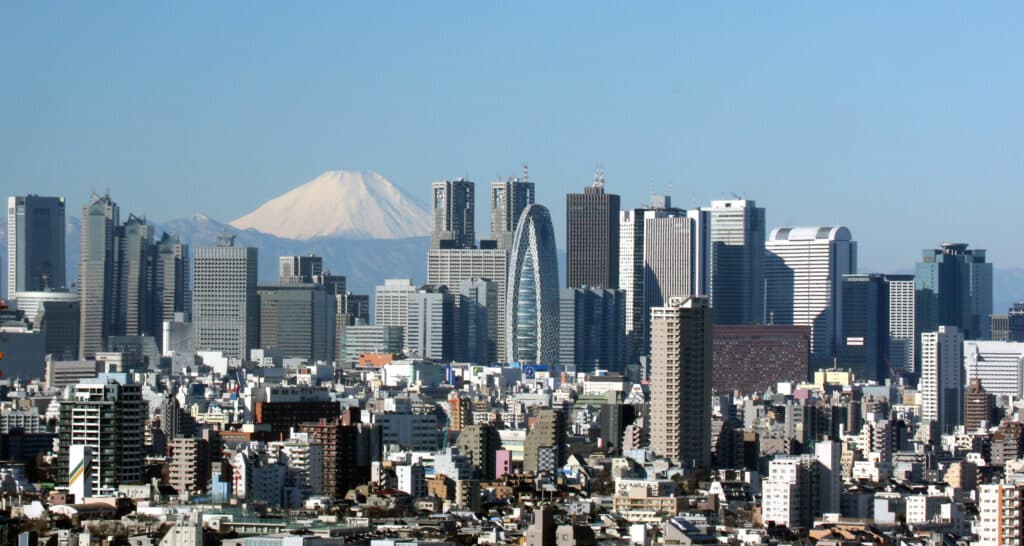 You may be interested to know that Tokyo is the most populated city in the world with an estimated 37.46 million residents as of 2018. It's also a hugely popular destination with international travellers.
One of the benefits of travelling to Tokyo in winter is that you are guaranteed to have fewer tourists. This means less time spent queuing at major tourist attractions and more time enjoying your holiday. You can also expect cheaper hotel rates as an added bonus!
9. Festive Illuminations – a sight to see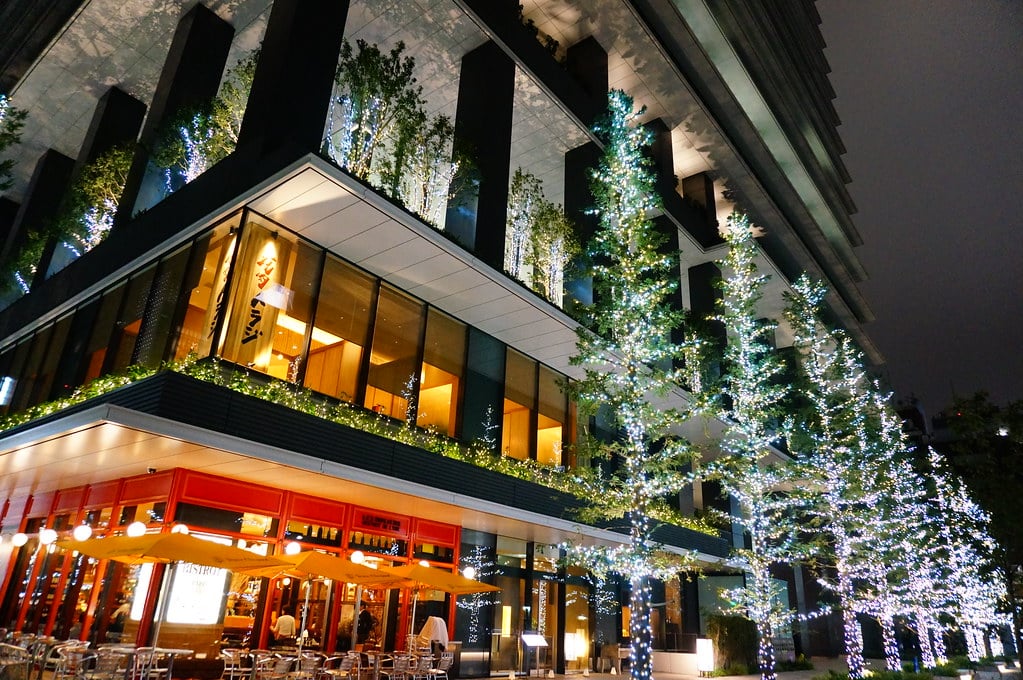 Japan's two major religions are Shinto and Buddhism, which don't traditionally celebrate Christmas. This certainly doesn't stop them from getting into the Christmas spirit, though!
The illumination of lights throughout Tokyo in winter truly is a sight to behold. For us, this might just make it the most magical time of year to visit.
While there are many displays throughout the city, the illuminations at Marunouchi Naka-Dori are considered some of the most charming. Marunouchi Naka-Dori is just a short 5-minute walk from Tokyo station.
We also really recommend visiting the illuminations at Ometusando, which is commonly referred to as Tokyo's "Champs-Elysees". It's a really beautiful location to take some great photos.
8. Take a dip in an onsen – a unique experience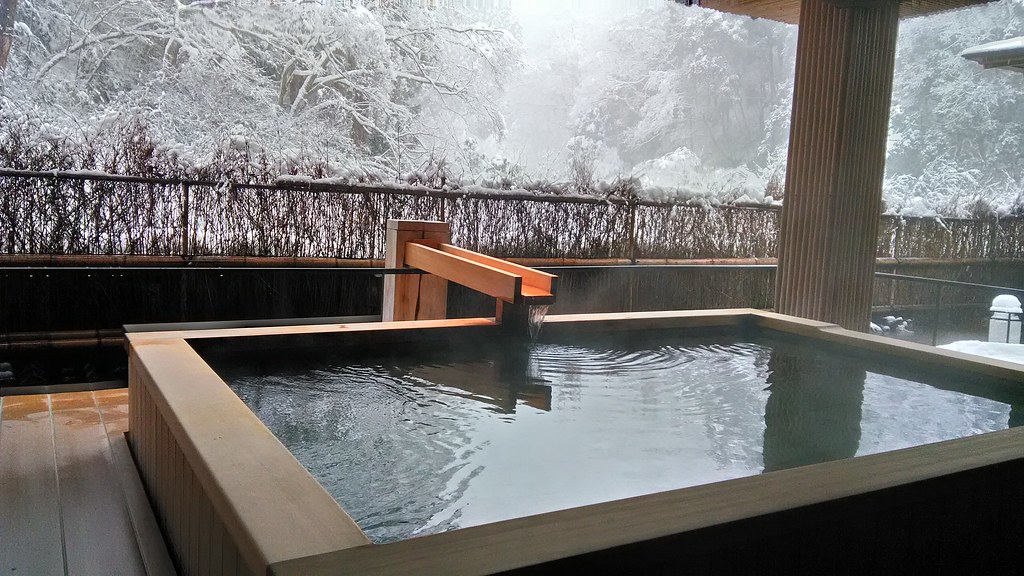 What is an onsen, you might ask? Well, we can tell you that onsen is the Japanese word for hot spring. We can also tell you that visiting Tokyo in winter might just be the perfect excuse to experience these natural wonders!
Apart from warming your bones during winter, taking a dip in an onsen also has numerous health benefits. They can relieve pain, treat skin problems, reduce stress, and help you sleep better.
You'll often find that onsens are communal. However, if you prefer a more private experience, we recommend checking out Spa LaQua at Tokyo Dome.
Address: Tokyo Dome, Bunkyo, Tokyo city
7. Visit a Shrine or Temple for Hatsumōde – a cultural must
Hatsumōde is an annual tradition where people all over Japan visit a shrine or temple at the beginning of the new year. It's a tradition that dates back as far as the year 794 AD.
You have over 4000 shrines and temples to choose from in Tokyo; however, we suggest visiting Meiji Shrine.
It has been known to have as many as 3 million visitors in the first few days of hatsumōde. This might sound a little bit too busy, but it will certainly help give you a feel for how important this tradition is in Japan.
Address: Meiji Shrine, Shibuya, Tokyo city
6. Winter Festivals – a festive activity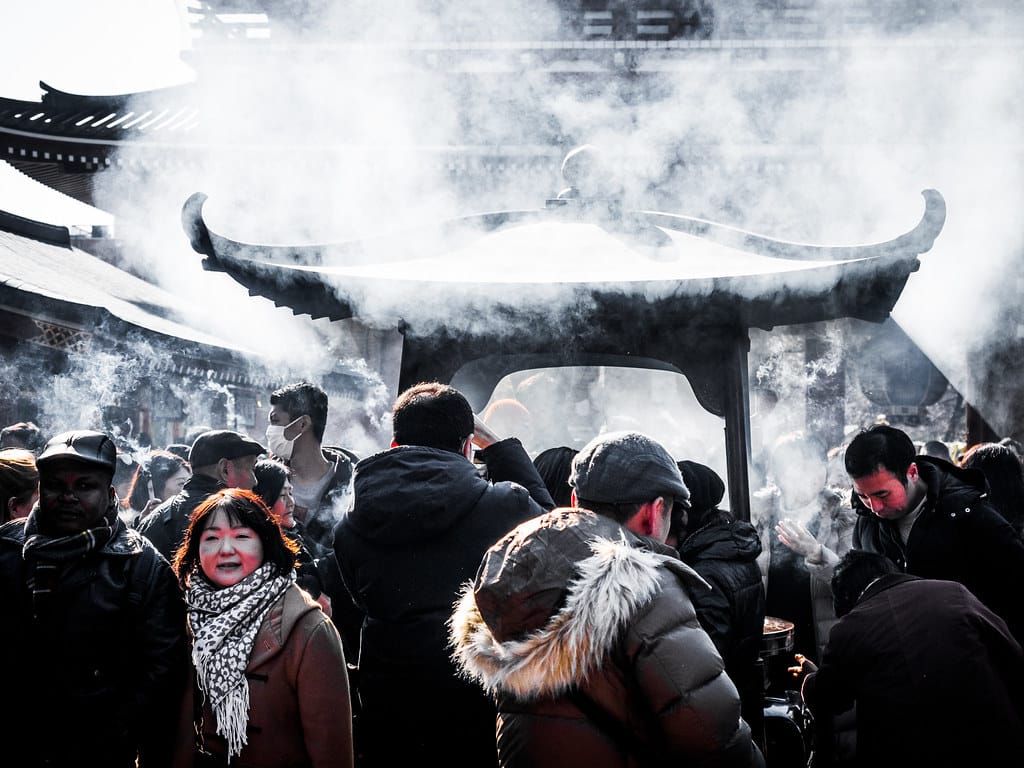 The Japanese love festivals, and Tokyo in winter is no exception. There are a number of festivals taking place during the winter months, but the most important of all is known as Setsubun.
Setsubun marks the end of the winter season and during this period people throw roasted soybeans to drive away demons known as oni. Many shrines and temples in Tokyo will hold bean-throwing ceremonies and you are welcome to join in on the festivities.
We highly recommend visiting Senso-ji temple for Setsubun. Senso-ji is one of the most iconic temples in Tokyo. It also happens to be Tokyo's oldest temple!
Address: Senso-ji, Asakusa, Tokyo city
5. Winter comfort foods – Japanese favourites
With the changing seasons from autumn to winter, you'll find the locals reaching for their favourite winter comfort foods.
One such comfort food is sukiyaki. This is a hot pot dish of thinly sliced beef, spring onions and sweet soy sauce broth served with rice. It's the perfect hearty meal for a winter day.
Some restaurants will make this dish with wagyu beef which will be a little more expensive, but it will be so worth it! Wagyu beef is one of the most luxurious kinds of beef in the world.
It's known as a marbled beef which just melts in your mouth. It has to be tasted to believe how good it is!
4. Fukubukuro – a lucky purchase
Another popular new year tradition in Japan is to buy fukubukuro. These are essentially lucky bags that thousands of merchants sell throughout Japan in the new year.
Merchants fill the bags with random goodies at discounted prices, and Japanese people will queue outside their stores for hours waiting to get their hands on them!
3. Plum blossom festival – a sight to see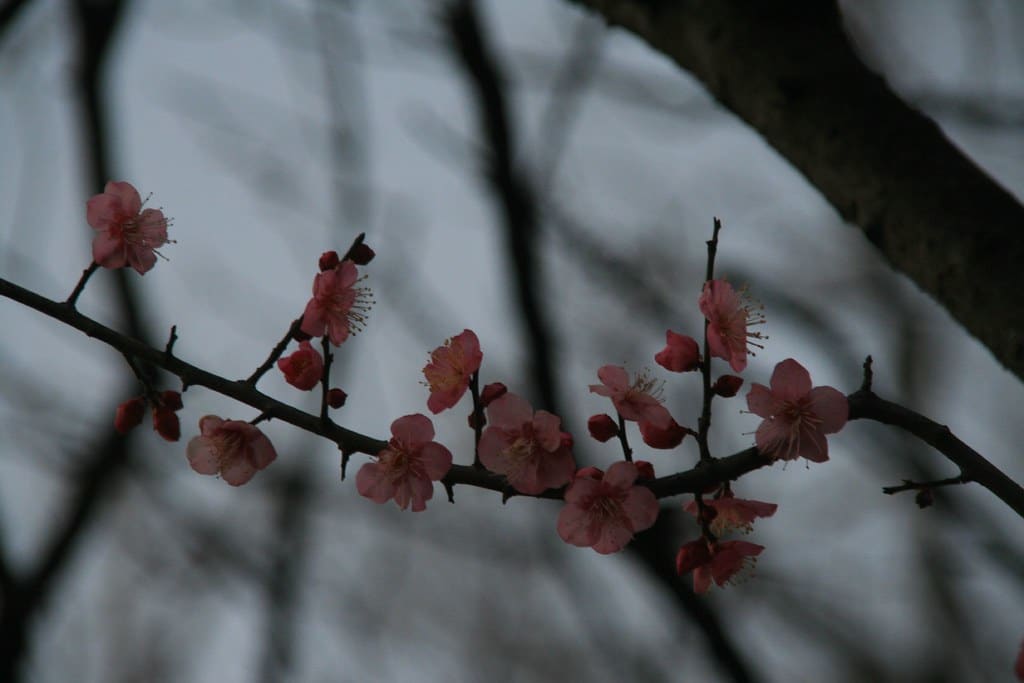 Everyone knows about the famous cherry blossom festival in spring. Not so many know about the equally as beautiful plum blossom festival in winter.
Known in Japan as Mito Ume Matsuri, the first plum blossoms start to appear in mid-February. Unlike the cherry blossoms, which only bloom for around ten days, the plum blossoms bloom for about a month.
This gives you a much better chance of actually being able to view them! There are many places in Tokyo to witness this event, but one of the best places is Hanegi Park.
It has approximately 650 plum trees and is in a very central location. It's just a five-minute walk from Umegaoka Station (Odakyu Line).
Address: Hanegi Park, Setagaya, Tokyo city.
2. Sumo Tournament – a must in Tokyo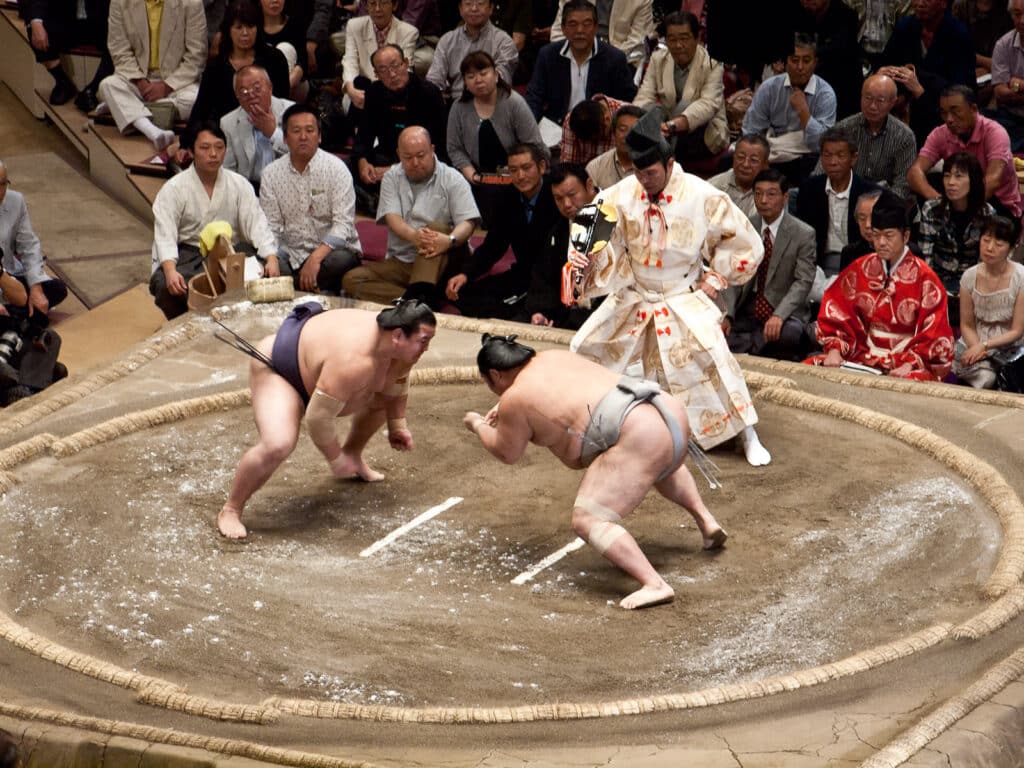 You might be surprised to learn that there are only six sumo tournaments throughout the year in Japan. They only last around 15 days, and out of these six tournaments, three are held in Tokyo.
We're delighted to inform you that one of these tournaments is held during winter in Tokyo. Sumo wrestling is one of the world's oldest sports dating back over 2000 years, and is still performed in exactly the same way it was when it first began.
The atmosphere at a sumo match is electric and gives you a first-class look into ancient Japanese culture. This is an event that should not be missed if you're lucky enough to have the chance to go.
Address: Ryogoku Kokugikan National Sumo Arena, Yokoami, Tokyo city.
1. See Mt. Fuji from Tokyo Skytree – an incredible view
Last but not least is one of the world's most famous mountains, Mt. Fuji. Mt. Fuji is approximately 2 hours from Tokyo by bullet train and our top place to visit in Japan in winter.
People often travel much closer than Tokyo to see it. However, Mt. Fuji is notorious for being difficult to view due to weather conditions.
Mt. Fuji is easily accessible if you have a Japan Rail Pass for the bullet train, and thanks to the crisp, clear blue skies of Tokyo in winter, you will have a good chance of seeing this snow-capped beauty from Tokyo Skytree. As an added bonus, you can also visit the Pokémon store at Tokyo Skytree!
Address: Tokyo Skytree, Sumida, Tokyo city.
Notable mentions
Shopping: Shops have their biggest sales during the winter period. Make sure to visit Shinjuku and grab yourself a bargain!
Hot Sake: Sake is most commonly served at room temperature. You'll find a nice cup of hot sake more comforting on a winter day in Tokyo. Ensure to consult our article about customs and traditions in Japan for drinking etiquette.
Christmas Markets: There are numerous Christmas markets to visit throughout the city. You'll find lots of little stalls serving Japanese sweet treats and Christmas ornaments. You'll find Tokyo's oldest Christmas markets at Oyane Plaza in Roppongi Hills.
FAQs about Tokyo in winter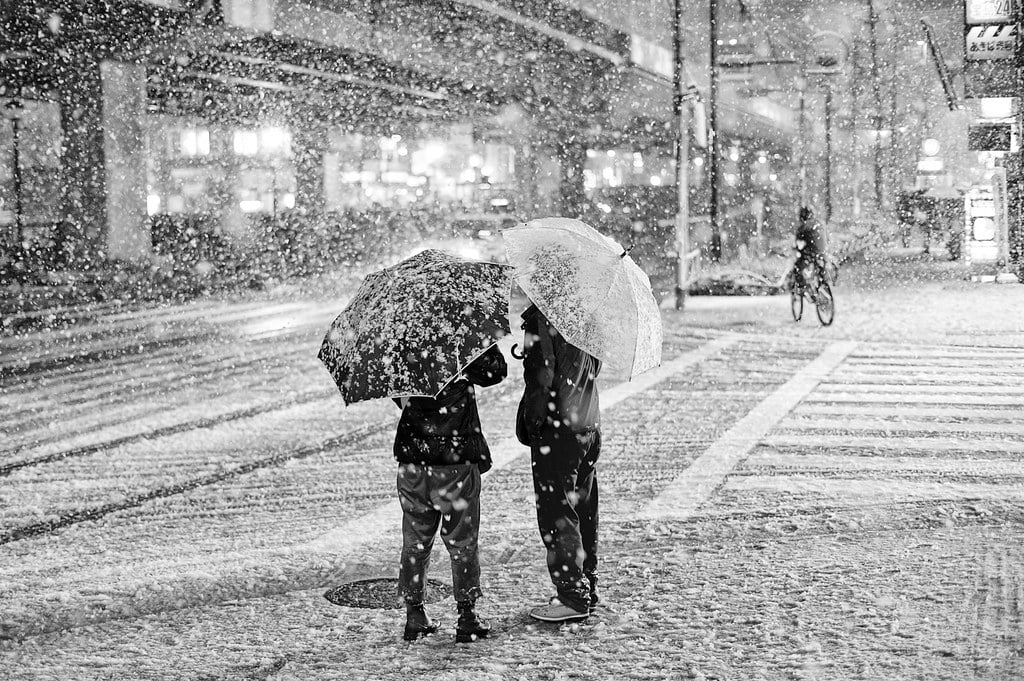 When is winter in Tokyo?
As Japan is in the Northern hemisphere, the winter months are from December to February.
Does it snow in Tokyo?
It will normally snow a couple of times a year in Tokyo. Since the temperature rarely falls below 0 C (32 F) in Tokyo, it's unlikely that the snow will accumulate on the ground.
How often does it rain in winter?
In winter, it rains on average about three days per month. This is about half the amount it rains every other month of the year.
We hope you enjoyed our top ten reasons to visit Tokyo in winter. As you can see, there are many great reasons why you should seriously consider visiting Tokyo during winter.
Matane! (see you again)