Banff, Alberta, is a dream winter travel destination, and you will be blown away by the fantastic things you can do there. So, sit back and take note.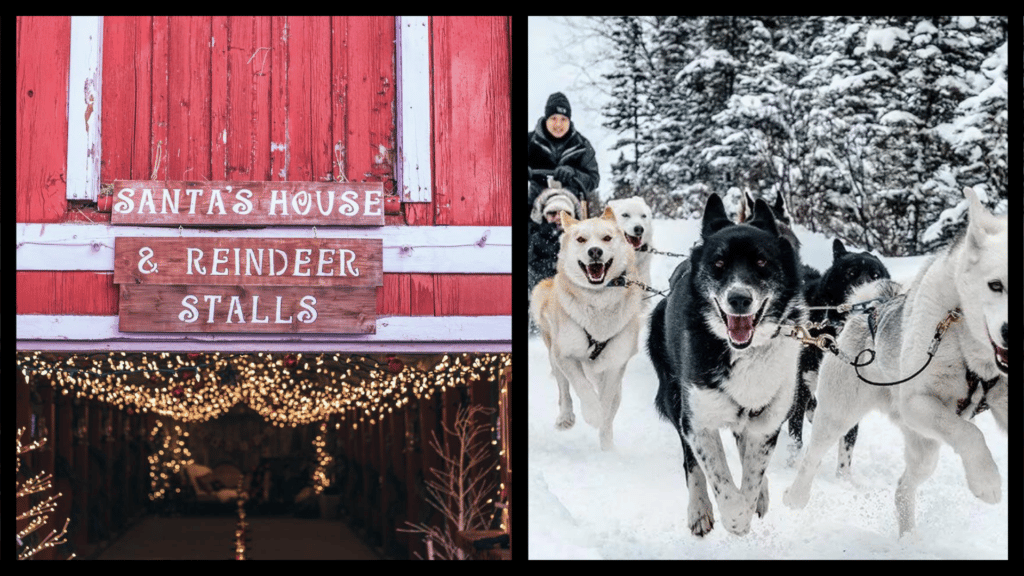 Banff is a charming alpine town in the province of Alberta, Canada – a prime destination for the winter months.
You can undertake a range of fantastic activities within the stunning Banff National Park, not to mention incredible spectacular views, hiking trails and idyllic lakes to discover, making Banff an excellent destination for winter travel.
While there are endless things to keep you occupied in this hot spot during the winter, we have some fantastic suggestions you should consider. Let's look at the ten best things to do in Banff in winter.
10. Enjoy Banff Christmas Market – a memorable festive event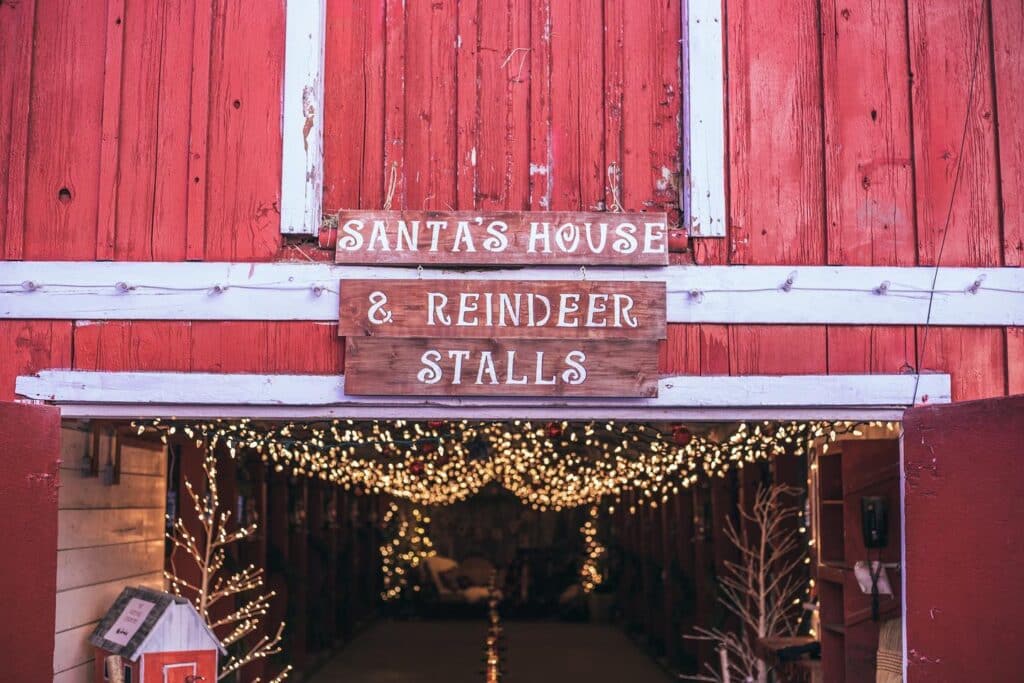 If you are lucky enough to take your winter trip during November/December, you will have the chance to visit the festive Christmas Market in Banff.
Here you can grab some souvenirs, enjoy live music, visit the reindeer stables, try local food and mulled wine, and meet Santa himself.
Address: 100 Sundance Rd, Banff, AB T1L 1B9, Canada
9. Take a soak in the hot springs – the best way to unwind
What better way to enjoy a winter's day than to rid those layers and take a soak in Banff Upper Hot Springs?
As the only hot springs in Banff National Park, this popular attraction has been a hit with travellers for over a hundred years and makes for a perfect way to soothe aching muscles.
Address: 1 Mountain Ave, Banff, AB T1L 1K2, Canada
8. Take the Banff Gondola – a delightful way to take in the views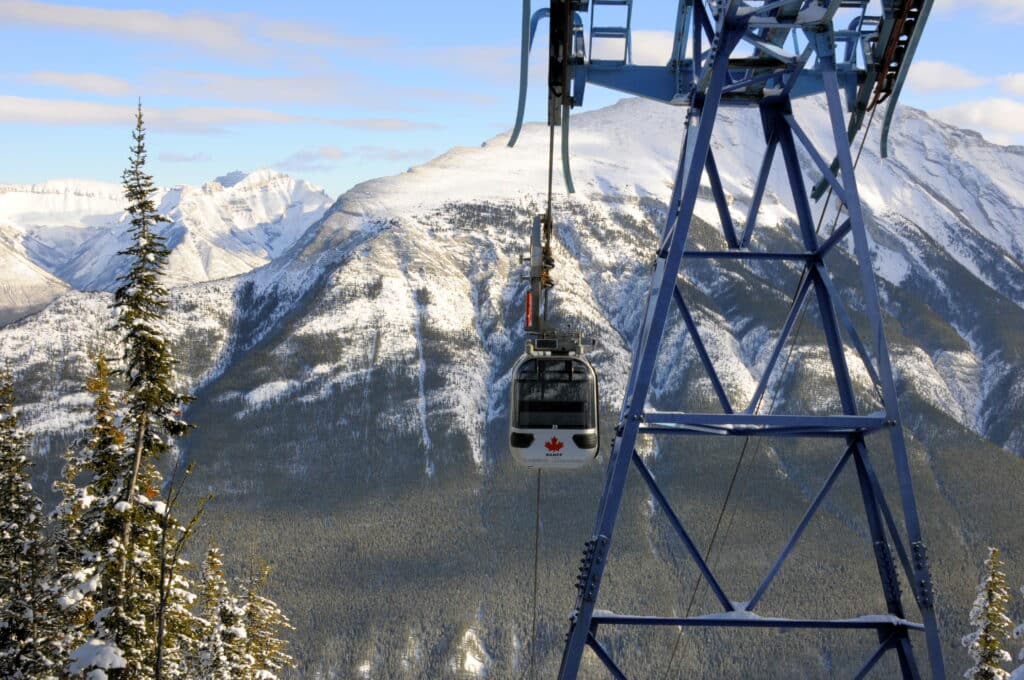 Every travel guide will urge you to take the Banff Gondola with promising panoramic views, and we must agree.
One of the best things to do in Banff in winter is to make your way up the mountain, where you will have the chance to walk along the Sulphur Mountain boardwalk or sit by the fire pit on the rooftop observation deck.
Address: 100 Mountain Ave, Banff, AB T1L 1B2, Canada
7. Horse-drawn sleigh ride – take a dream winter ride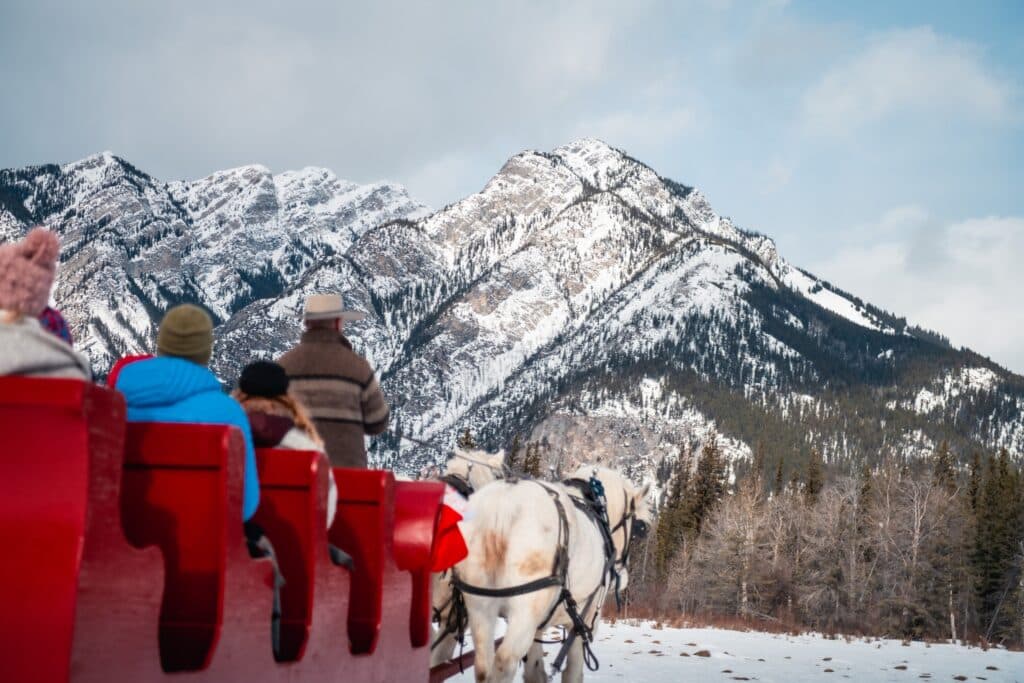 What screams winter vacation more than a horse-drawn sleigh ride? A dream winter activity when in Banff!
These sleigh rides are a delightful way to cosy up, sit back, and take in the insane backdrops of areas such as Lake Louise as you witness snowcapped Mount Rundle and Cascade Mountain views.
6. Christmas at a castle – celebrating the holidays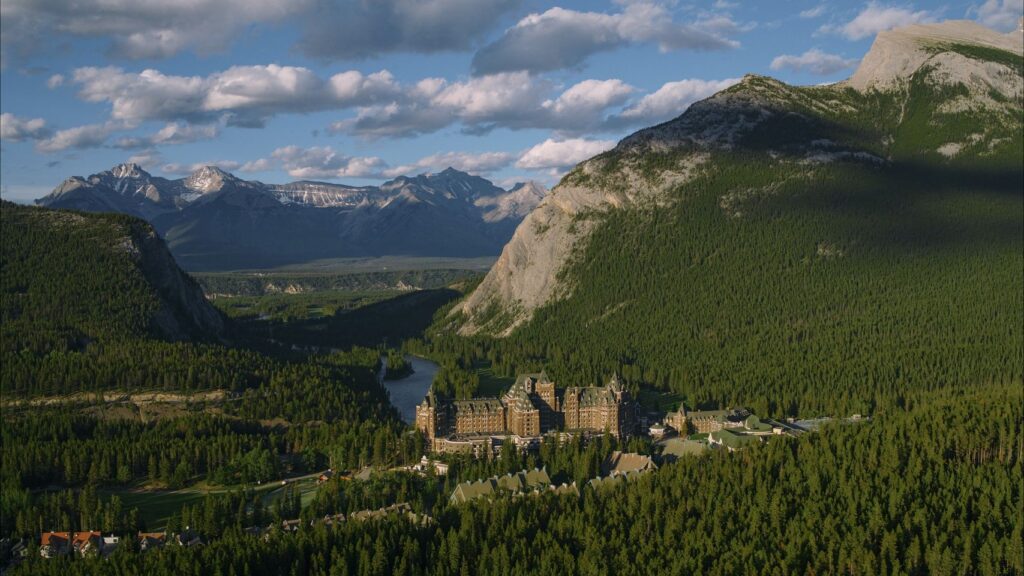 For a Christmas you will remember for years to come, you need to experience the festivities at The Fairmont Banff Springs – one of the most magical hotels you will see.
With a host of special events during December and the chance to meet Santa, staying at The Fairmont will be a dream come true.
Address: 405 Spray Ave, Banff, AB T1L 1J4, Canada
5. Grotto Canyon Ice Walk – witness incredible frozen surroundings
This excellent winter activity is a fantastic choice to escape the crowds.
While not as famous as Johnston Canyon, Grotto Canyon, located in Canmore, offers a spectacular view of frozen waterfalls and a stunning walk along the frozen creek and canyon, making for ideal photo opportunities.
Address: Alberta T0L 0C8, Canada
4. Visit the lakes – marvel at Banff's best lakes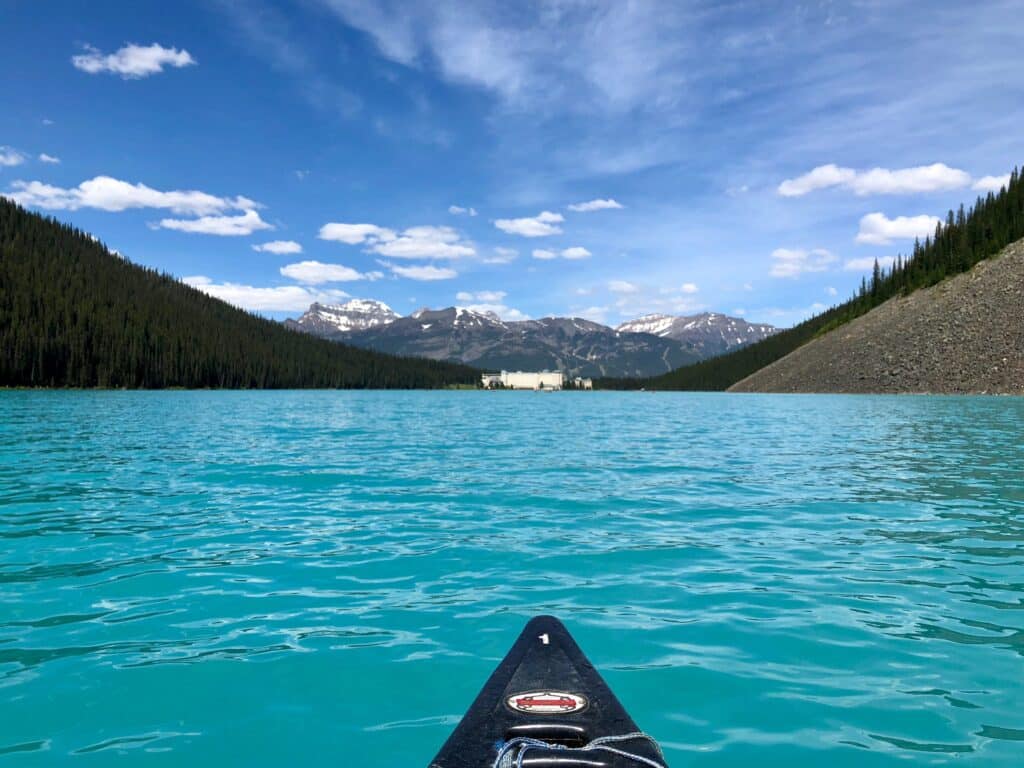 With incredible lakes such as Lake Louise and Lake Minnewanka on your doorstep surrounded by snow-capped mountains, there will be plenty of opportunities to see one or both of them while in Banff during the winter months.
If you have more time, why not enjoy a visit to the Vermillion Lakes and Abraham Lake, close to Banff?
3. Winter hiking – hiking for all levels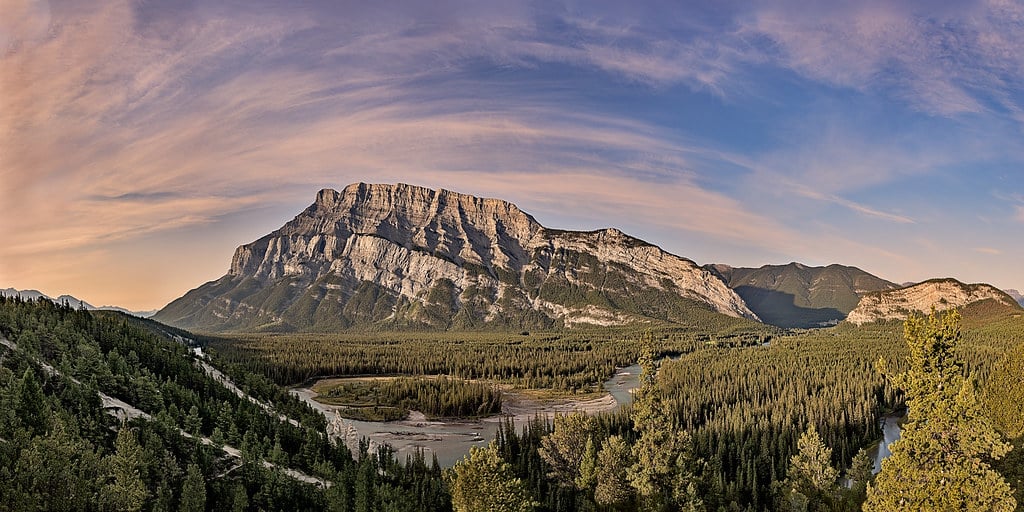 If you thought hiking during winter was not possible, then think again. Banff is a great place to take on some epic hiking trails, such as the Banff Hoodoos Trail or the Tunnel Mountain trail, given that you have proper winter boots and warm clothes and are fully prepared.
Alternatively, you can give snowshoeing a go, which is something that you may take a shine to.
2. Dogsledding – an authentic Canadian experience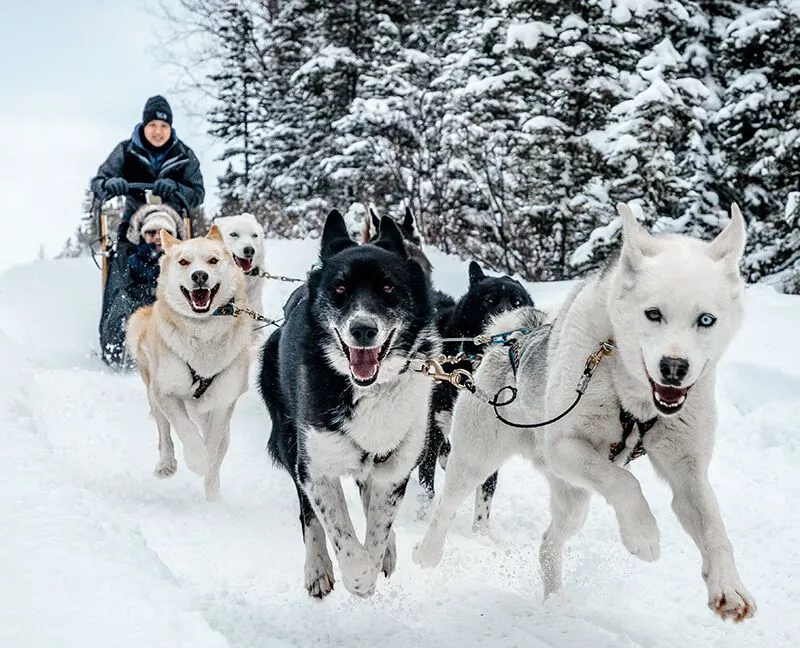 One of the best things to do in Banff in winter, especially for families, with kids over two, is dogsledding. Not only is this an authentic Canadian experience, but it is a winter experience you will remember for years to come.
Just make sure to dress warmly to combat the cold weather. Snowy Owl Sled Dog Tours is a great company for this activity.
Address: 829 10 St, Canmore, AB T1W 0C3, Canada
1. Go skiing – the number one thing to do during winter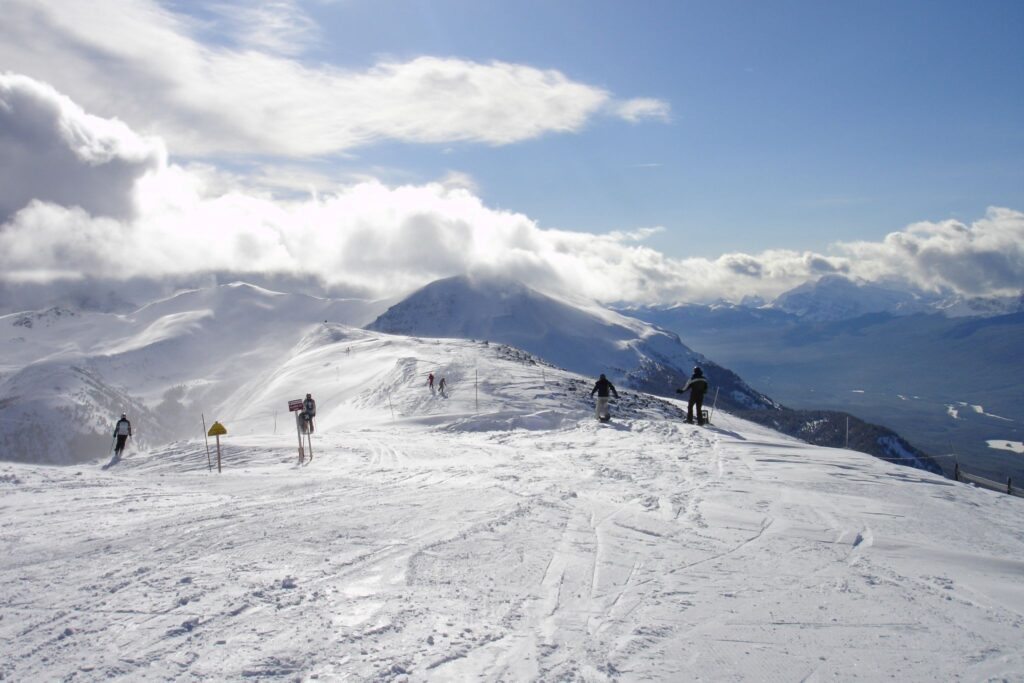 Banff National Park features three world-class ski resorts, so this is our number one choice for something to do in Banff in winter.
Grab a Skibig3 lift pass to get access to Banff Sunshine, Lake Louise and Mt Norquay ski resorts, all of which offer incredible skiing experiences and beautiful views.
Notable mentions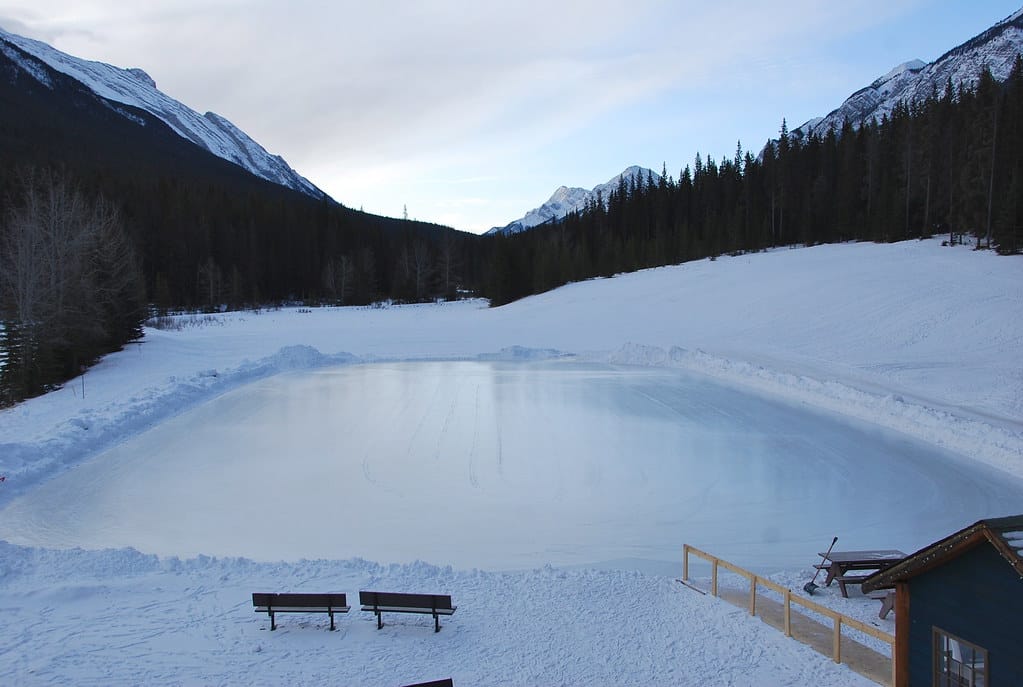 Attend the Winter Festival: If you visit Banff in January, you must witness these incredible ice sculptures, which international ice carvers have carefully created.
Go ice climbing: This is a great adventure if you are looking for a challenge, and Banff is an ideal place to try out this sport, with plenty of ice-climbing tours to join.
Go tubing: If it's a fantastic family activity you are searching for, go to Lake Louise Ski Resort or Mt Norquay for a day of tubing, and if you hold a Lake Louise season pass, it is free.
Tobogganing: With many tobogganing hills to choose from, you will have many chances to try a d=fun family winter activity in and around Banff.
Take a helicopter ride: Alpine Helicopters offer awesome helicopter rides with amazing views, the perfect winter activity.
Go ice-skating: It is Canada, after all. Skates are available to rent at Fairmont Chateau Lake Louise to skate on the beautiful frozen lake in winter. A warm hot chocolate afterwards makes it all the better.
FAQs about the best things to do in Banff in winter
How to pack for Banff in winter?
One of the key things to note for packing is that layers are a must. Packing a base layer, a waterproof layer and carrying an additional layer of clothing will help keep you flexible with the Banff winter weather.
Where is Banff National Park?
This is, in fact, Canada's oldest National Park, located in the Alberta Rocky Mountains, just a two-hour drive from Calgary airport.
Where to stay in Banff in winter?
From rustic lodges and backpacker hostels to fancy ski resorts and budget-friendly vacation rentals, Banff has a wide range of accommodations to suit everyone.
So, there it is, our Canadian travel inspiration for the upcoming winter months. If you find yourself in Banff during this time, don't miss out on these ten best things to do in Banff in winter for a trip to remember.