Data reveals Wizz Air was the most delayed major airline during the summer of 2022, with two-thirds (66%) of flights failing to arrive on time
TUI Airways had the second most delays in June, July and August of last year, with more than 15,000 flights arriving late (61%)
Lufthansa was the third most delayed airline, with 49% of flights delayed
Air Portugal and EasyJet also feature in the top five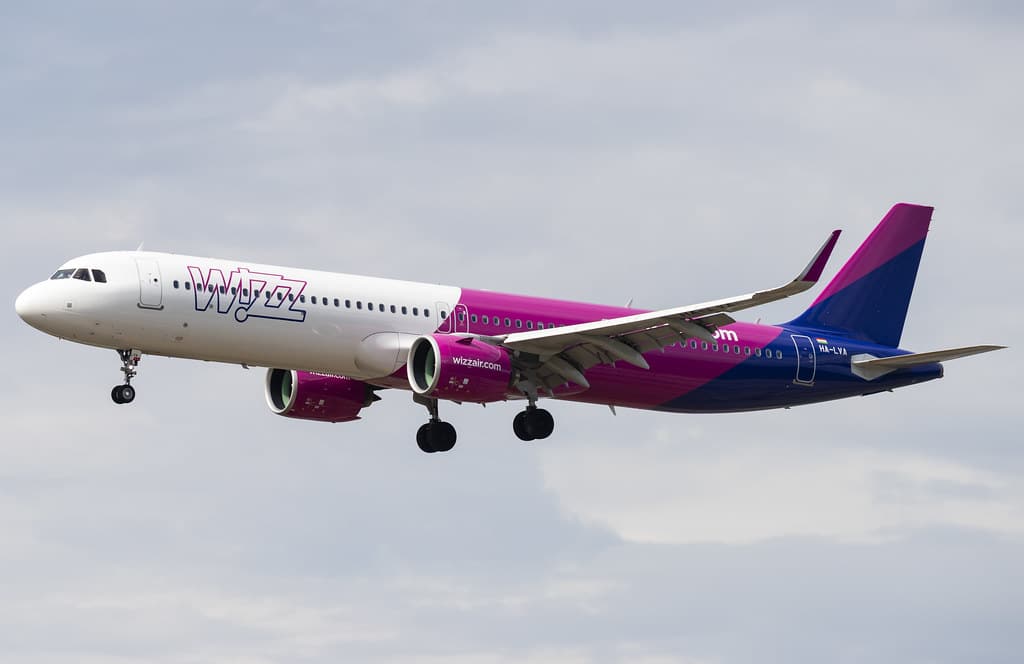 February is one of the busiest times of the year for booking summer holidays, and new research from Forbes Advisor, the price comparison and financial guidance platform, has revealed the airline's holidaymakers might wish to avoid if they want to start their holidays on time this summer.
The study analysed Civil Aviation Authority data on more than 385,000 flights in and out of the UK during the peak summer holiday months of June, July and August last year.
It found that Wizz Air is the airline whose flights are most likely to be delayed. The Hungarian carrier made more than 15,000 flights in and out of the UK during the period measured, and two-thirds (66%) arrived at least 15 minutes late. In addition, the airline had the longest average delay of all airlines included in the study, with flights on average running nearly an hour late (55 minutes).
TUI Airways is the second most delayed airline on the list – during the summer of 2022, it made 24,970 flights in and out of the UK, and 15,340 of them, or 61.3%, were delayed by at least 15 minutes. Average delays across all flights at the travel company during June, July and August was 46 minutes.
Lufthansa is the airline third most likely to be delayed after around half (49.3%) of its flights to and from the UK arrived more than 15 minutes late during summer 2022. However, its average delay is considerably lower than others in the top three, at just 23 minutes.
The fourth most delayed airline of summer 2022 was Air Portugal. One of the smaller companies in the analysis having made 2,161 flights to and from the UK in June, July and August of last year, but still nearly half (48.5%) were delayed, leading to an average delay time of 25 minutes.
Fifth-ranked EasyJet made the most flights of any carrier in the list, recording 90,988 over the three months. In total, 44,144, or 47.8%, failed to arrive on time, with an average delay of 29 minutes.
Ryanair placed sixth in the list with delays for 47% of its flights in summer 2022 and had an average delay time of 29 minutes. Air France came in seventh on 45.3% delays, Jet2 was just below in eighth on 45.1%, while British Airways (44%) and Virgin Atlantic (41%) ranked ninth and tenth, respectively.
The top ten most delayed airlines during summer 2022
| | | | | |
| --- | --- | --- | --- | --- |
| Airline Name | Total Flights in Jun/Jul/Aug 2022 | Number Delayed Over 15 Mins | Average Mins Flight Delay | Percent Delayed Over 15 Mins |
| WIZZ AIR | 15,384 | 10,431 | 55.46 | 65.6% |
| TUI AIRWAYS | 24,970 | 15,340 | 46.10 | 61.3% |
| LUFTHANSA | 6,584 | 3,336 | 23.15 | 49.3% |
| AIR PORTUGAL | 2,161 | 1,061 | 25.51 | 48.5% |
| EASYJET | 90,988 | 44,144 | 29.32 | 47.8% |
| RYANAIR | 73,250 | 34,657 | 29.32 | 47.1% |
| AIR FRANCE | 2,828 | 1,292 | 24.20 | 45.3% |
| JET2.COM | 35,720 | 16,160 | 31.20 | 45.1% |
| BRITISH AIRWAYS | 60,955 | 27,469 | 26.31 | 44.3% |
| VIRGIN ATLANTIC AIRWAYS | 5,368 | 2,259 | 25.08 | 41.6% |
Source: Forbes Advisor UK
Commenting on the study, Laura Howard, travel insurance expert at Forbes Advisor said:
"While our data is retrospective, it serves as a useful reminder for holidaymakers of 2023 to understand their rights around all-too-frequent flight delays and cancellations.
"For medium-haul flights, such as to Spain, Portugal or Greece, the airline has a duty of care to passengers delayed for more than three hours – no matter the cause. This could include free food and drink vouchers or an overnight hotel stay where appropriate.
"If your flight arrives at its destination more than three hours late – and it was the fault of the airline – you could be in line for compensation of £350 per person. And if you are delayed for more than five hours and no longer wish to travel, you are entitled to a full refund.
"However, for complete protection against cancelled and delayed flights, you will need a comprehensive travel insurance policy – which will also pay out for other unforeseen events such as emergency medical treatment while abroad, repatriation (getting you home), lost or damaged belongings and cancelling due to illness.
"Policies are inexpensive compared to the cost of a holiday and making the purchase at the point of booking will offer the best protection should you need to cancel your trip.
"Always check the small print however, as terms and conditions around flight delays vary – although it's often possible to boost cover in return for a slightly higher premium."
Press release by Forbes Advisor UK