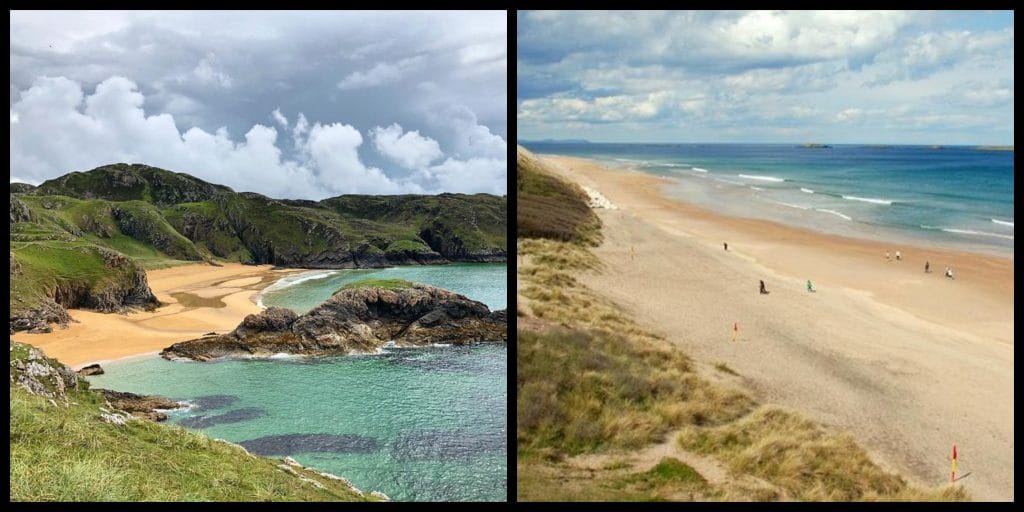 The island of Ireland is blessed with being surrounded by oceans and seas. Thus, Ireland has countless beautiful beaches ready to be explored. Here are the 10 best and most beautiful beaches in Ireland.
With the Atlantic Ocean, the Celtic Sea and the Irish Sea surrounding Ireland, there is no shortage of beautiful beaches to explore on an Irish road trip. From the wild west coast of Ireland to the sunny South-East, and Ireland's Ancient East, there is an absolute array of beautiful and magical beaches to discover.
The beauty of Irish beaches is that there is a beach for whatever activity your heart desires. Whether it be surfing the wild Atlantic waves on Ireland's west coast, snorkelling amongst the pristine waters, building sandcastles on the golden sand, or having a picnic while listening to the sounds of the sea; there is something for you!
With the sand between your toes and the wind in your hair, there is nothing quite like the beaches of Ireland. Picking the best and most beautiful beaches in Ireland is close to impossible, but here are our top 10 beaches in Ireland!
10. Whiterocks Beach, Co. Antrim – a haven for water sports enthusiasts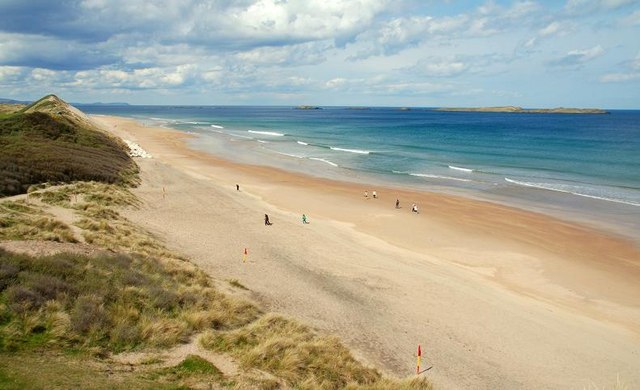 This beautiful beach is nestled under stunning limestone cliffs. Over the years these cliffs have been eroded in parts to form sea caves and arches.
These magnificent formations, most notably Elephant Rock and the Wishing Arch, have been an inspiration for international photographers. The dramatic views of the cliffs alongside Dunluce Castle makes surfing here spectacular!
Address: Portrush, BT56 8DF
9. Inchydoney Beach, Co. Cork – one of the best surf spots in Ireland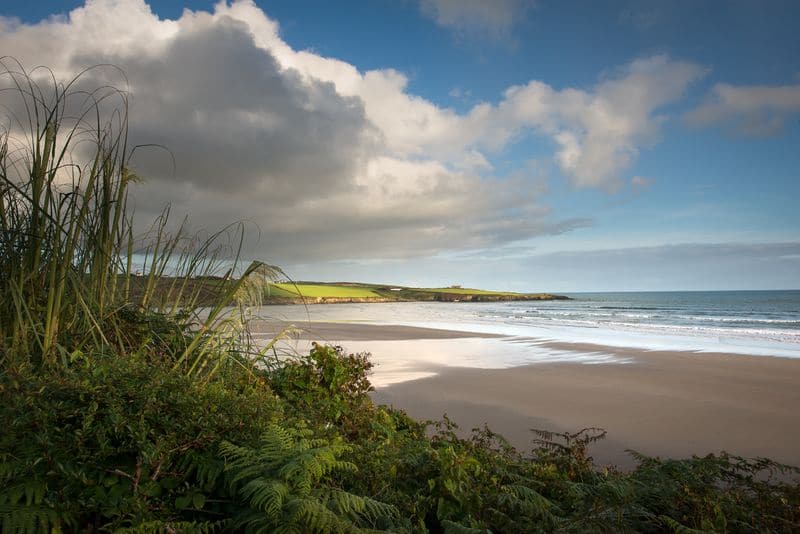 The pale and pristine sand of the beautiful Inchydoney Beach is a popular blue flag beach in West Cork. Renowned as one of the most family-friendly beaches in Ireland, this magnificent beach is one of the best places to learn to surf in Ireland.
Address: P85 AT27, Inchydoney Island, Inchydoney, Co. Cork, P85 AT27, Ireland
8. Dollymount Strand, Co. Dublin – a 5km haven
Popular with kite-surfers and walkers this 5km beach has unrivalled views of Dublin Bay and the iconic Poolbeg Chimneys. It is the perfect spot to look out to sea and watch the ships and ferries as they continue on their journey. This National Nature Reserve has rolling sand dunes situated behind it making it even more beautiful.
Address: Clontarf, Dublin, Ireland
7. Badgers Cove, Co. Waterford – a secluded paradise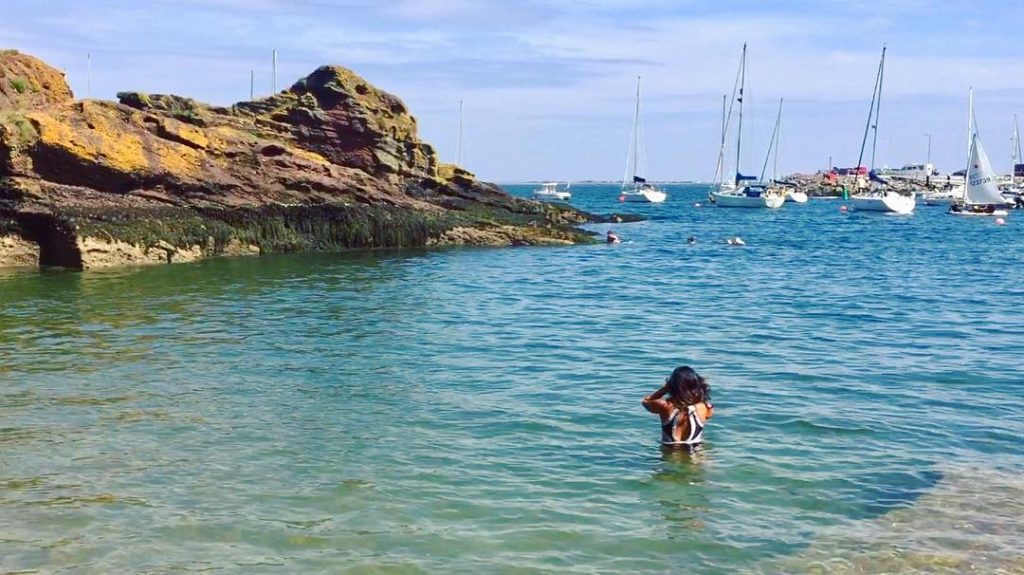 Situated in the seaside town of Dunmore East, Badgers Cove is a beautiful sandy cove with gorgeous golden sand. These crystal-clear waters are almost always calm as the cove is quite sheltered, so, it is perfect for all levels of swimming!
The local kids can be found jumping from the rocks into the waters below here at high tide or kayaking along the beautiful shoreline.
Address: Dunmore East, Co. Waterford, Ireland
6. Murder Hole, Co. Donegal – Ireland's most mysterious secret beach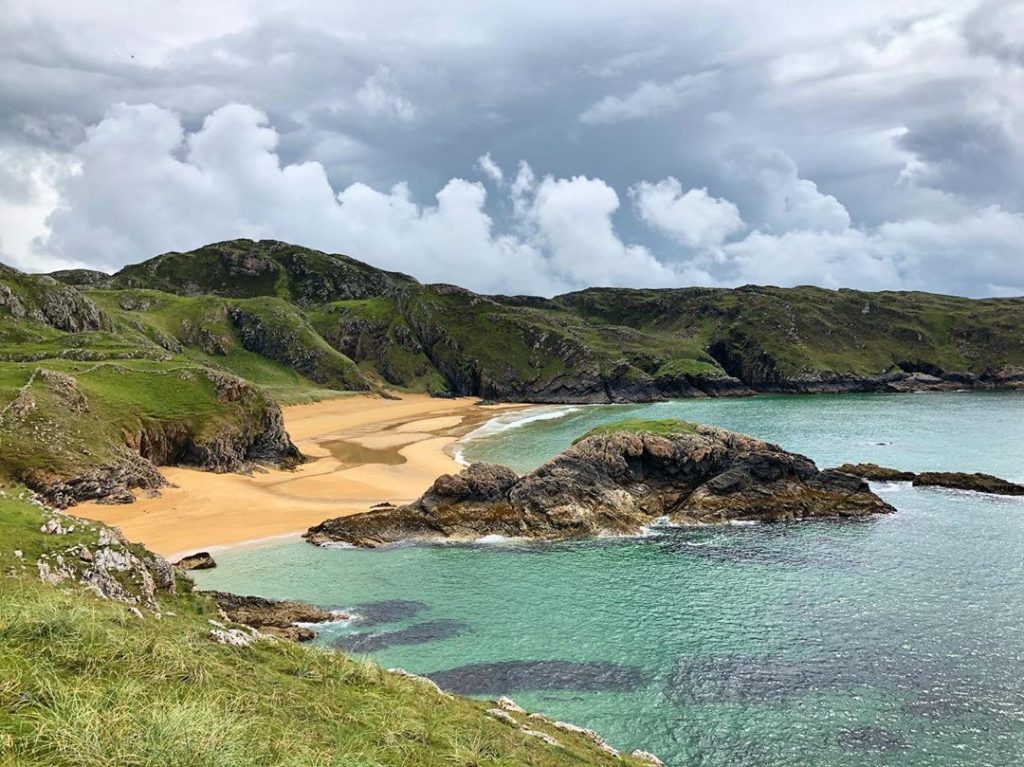 One of the most hidden but definitely the most beautiful beaches in Ireland, Murder Hole in Co. Donegal, is a trek to get to, but it is definitely worth it!
With the beautiful small caves and breath-taking cliffs, this hidden cove is an absolute paradise, Although, it is not a beach for swimming at due to the strong riptides, it is one of the most beautiful beaches in the world for a quiet stroll.
In keeping with the theme of beaches and Donegal, check out where Bundoran ranks on the list of the best places to surf in the world.
Address: Sheephaven Bay, Ireland
5. Fanore Beach, Co. Clare – a golden Irish dream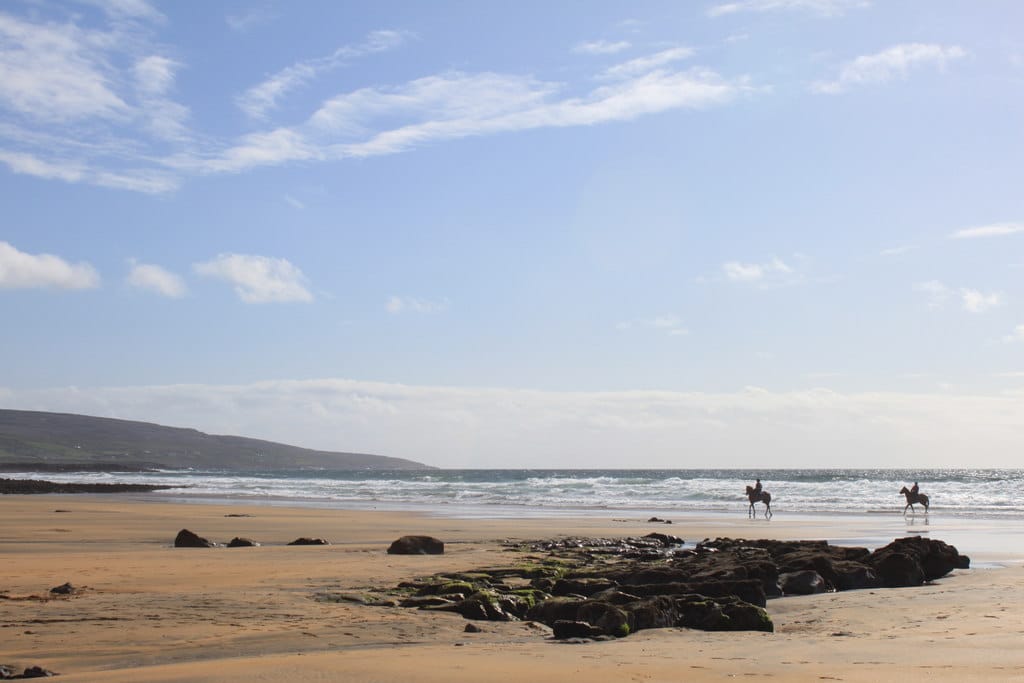 A popular swimming spot on the west coast of Clare has beautiful warm golden sand of which it is named after. With a backdrop of the bare limestone of the Burren, this beautiful beach has unrivalled views of the Atlantic Ocean. The Atlantic gives rise to magnificent rolling waves which are perfect for surfing!
Address: Fanore More, Co. Clare, Ireland
4. Glanleam Beach, Co. Kerry – a sunseekers delight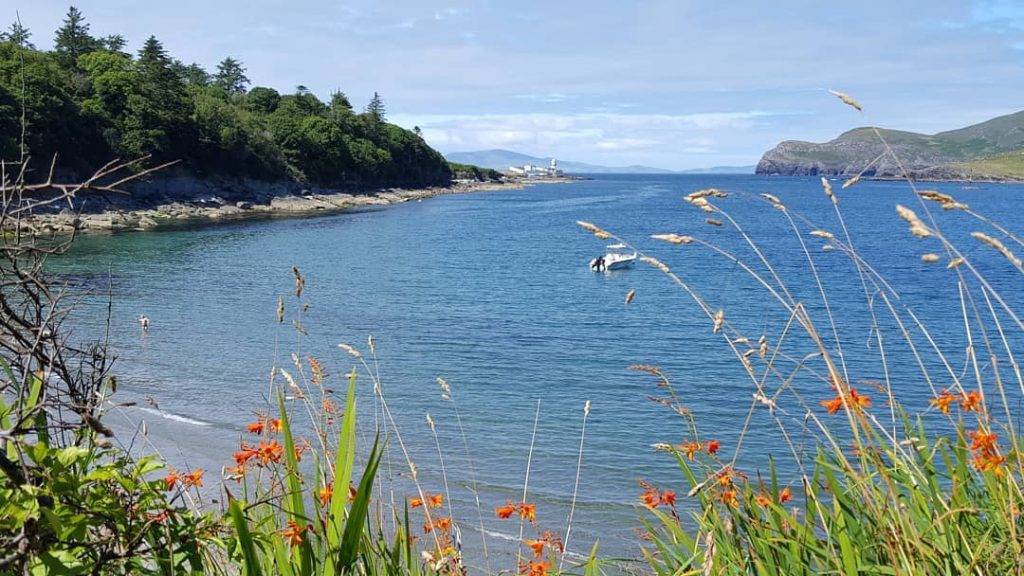 On a sunny day, this Valentia Island beach turns into a Mediterranean delight. This charming beach has clear and shallow waters which make it a perfect spot for some kayaking or swimming. Overlooked by subtropical gardens this beach truly feels like it is in another country.
Address: Unnamed Road, Glanleam, Co. Kerry, Ireland
3. Castlegregory Beach, Co. Kerry – one of the best beaches in Ireland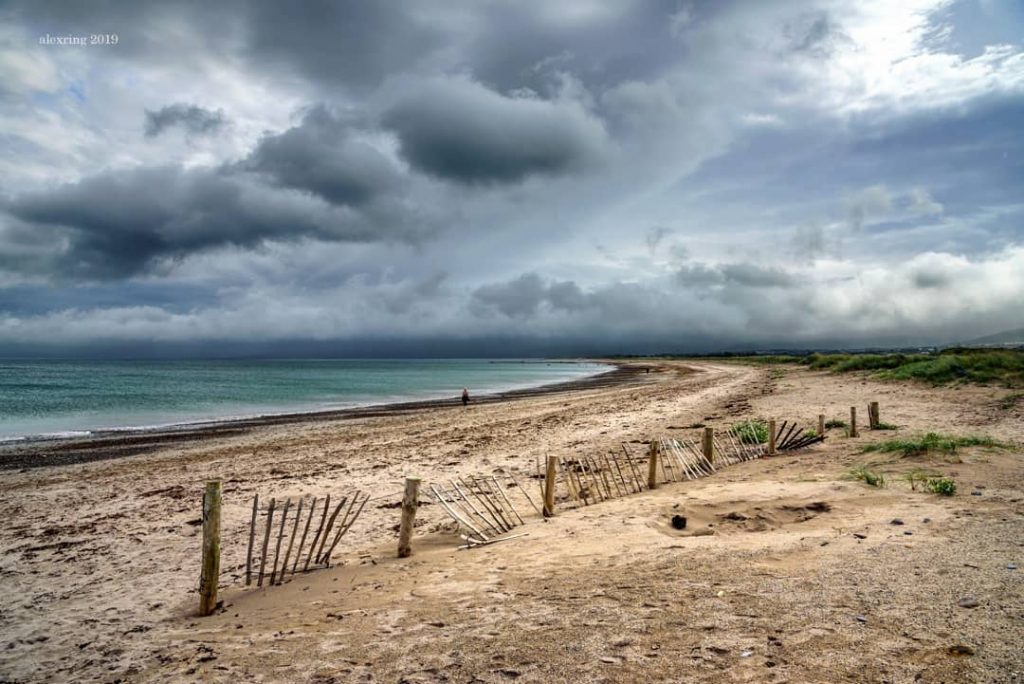 This beautiful beach is situated in an idyllic and sheltered bay in West Kerry and has been described by National Geographic as "the most beautiful place on earth."
Continuing on for 5km this beach is one of the best beaches in Ireland for a sunset stroll. Many surfers and bodyboarders flock to this beach for its beautiful Atlantic waves.
Address: Castlegregory, Co. Kerry, Ireland
2. Tramore, Co. Waterford – a little piece of heaven
Tramore, meaning "big beach" in Irish, is one of Ireland's most loved beaches. The stunning Atlantic waves along with the weather that comes with being in the sunny South-East make this beach an absolute paradise for beach lovers and thrill-seekers alike.
From surfing to windsurfing and angling galore on offer here this little piece of heaven is undoubtedly one of the best beaches in Ireland.
Address: Tramore West, Tramore, Co. Waterford, Ireland
1. Keem Bay, Co. Mayo – one of the best and most beautiful beaches in the world

Achill Island is home to many beautiful beaches, but the best of the lot is definitely Keem Bay. This horseshoe-shaped bay is surrounded by high cliffs makes this beach a photographer's dream.
Once home to a basking shark fishery, these majestic creatures can often be found swimming in the bay. These crystal-clear waters make it perfect for snorkelling and exploring the waters below.
Address: Keel West, Keem, Co. Mayo, Ireland