Christmas just got a whole lot more delicious now that we have these delightful Italian Christmas cake recipes to add to our festive menu.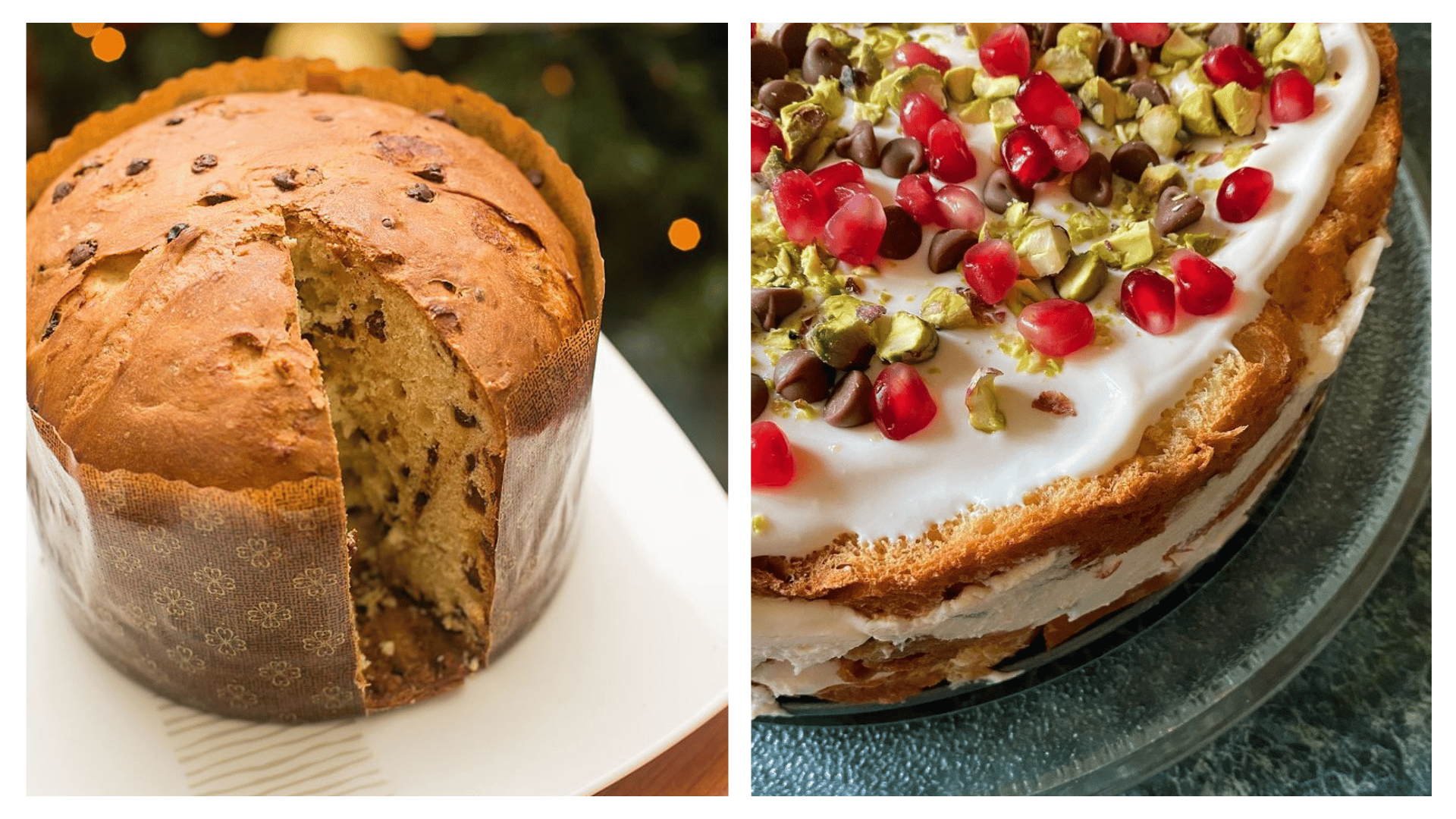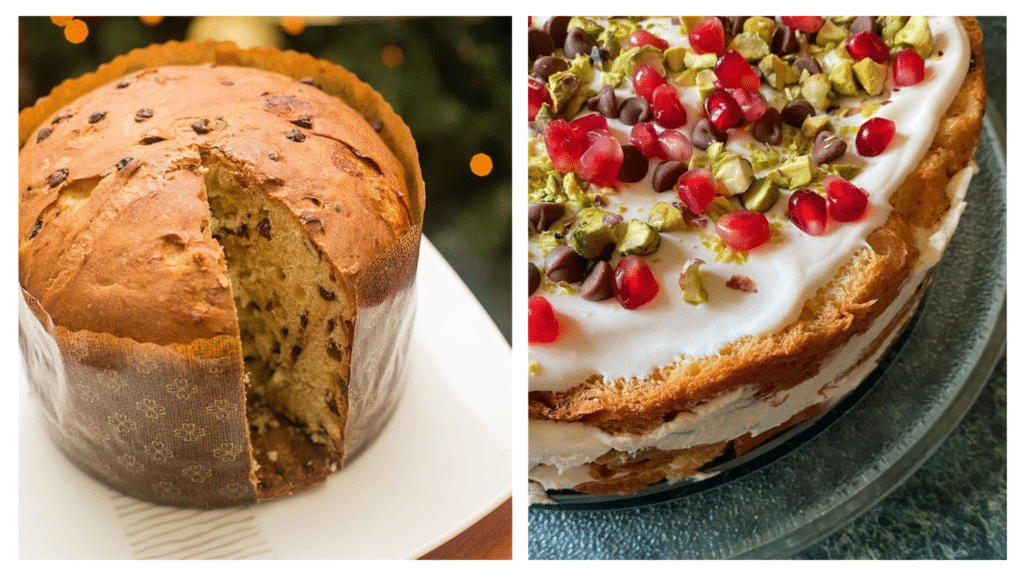 Not only are Italians world famous for their incredible dishes like pizza, pasta, and gelato, as well as delectable coffee and refreshing drinks, but they are well known for their tasty desserts too, so it is no wonder many people are opting to bake an Italian Christmas cake this festive season.
So, if you fancy something sweet, captivating and satisfying this Christmas, look at these five best Italian Christmas cake recipes for 2022, which will be a hit at the dinner table.
5. Italian Chocolate Nut Christmas Cake – a traditional indulgence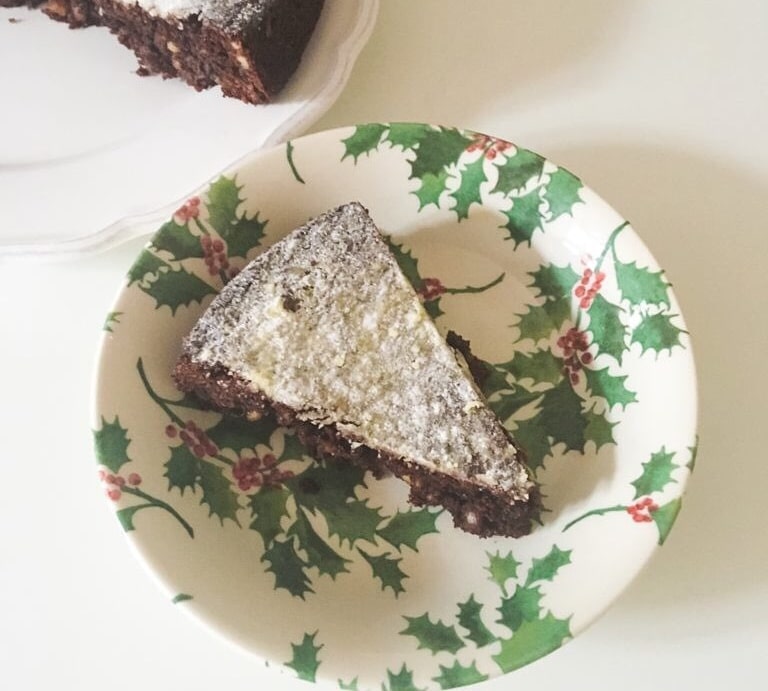 Originating from the Italian region of Tuscany, this decadent chocolate cake is ideal with a glass of sweet Italian wine.
The best thing is this indulgent recipe takes just fifty minutes to prepare and just over an hour to cook. So, let us show you how to get started.
Ingredients:
225g dark chocolate pieces
5 large eggs
1 large orange
25g icing sugar
25g unsalted butter
225g walnuts & 225g hazelnuts
Five drops of vanilla extract
65ml brandy
1tsp cinnamon
200g caster sugar
Method:
Butter the cake tin to begin with.
Blend the nuts in a food processor, adding the pieces of dark chocolate to the mixture.
Add the vanilla extract, brandy, cinnamon, sugar, and melted butter in a mixing bowl and stir in the egg yolks slowly. Lastly, add in the orange peel for that burst of zestiness.
Whisk the egg whites and fold them slowly into the mixture, ensuring plenty of air is created once the combination is created, add to the tin and place in the oven for an hour at gas mark 4, 180 C (350 F).
When it is ready, let it cool on a wire rack. This delicious cake can be stored in the fridge for up to two weeks.
4. Panettone Gelato Cake – the Italian Ice cream cake
This incredible recipe is a great way to enjoy a classic Panettone recipe but with added ice cream filling. But, of course, you could say it's a fancy ice cream cake with much more flavour, so let us show you how to make it this Christmas.
Ingredients:
5 eggs
250g granulated sugar
1kg Panettone
500g mascarpone cheese
2 cups prosecco
500g vanilla ice cream & 500g coffee ice cream
Method:
Start with the Italian sweet bread called Panettone and begin by slicing off the top.
Remove the inside of the loaf and keep this to the side.
Create the filling by beating the egg yolks with the sugar and separately mix the mascarpone cheese, to loosen it, and then add both mixtures together.
Spoon or brush the prosecco onto the inside of the loaf and the inside of the lid.
Take three bowls, each with the left-over Panettone and mix one with vanilla ice cream, one with coffee ice cream and one with the mascarpone cream mixture.
Place one layer of ice cream filling at the bottom and top, with the layer of mascarpone cream placed in the middle and finish with the last bowl of ice cream as the top layer.
Place the panettone lid back on, put the cake in a bag and leave it in the freezer for 24-48 hours.
3. Italian Christmas Pudding Cake – a no-bake Christmas cake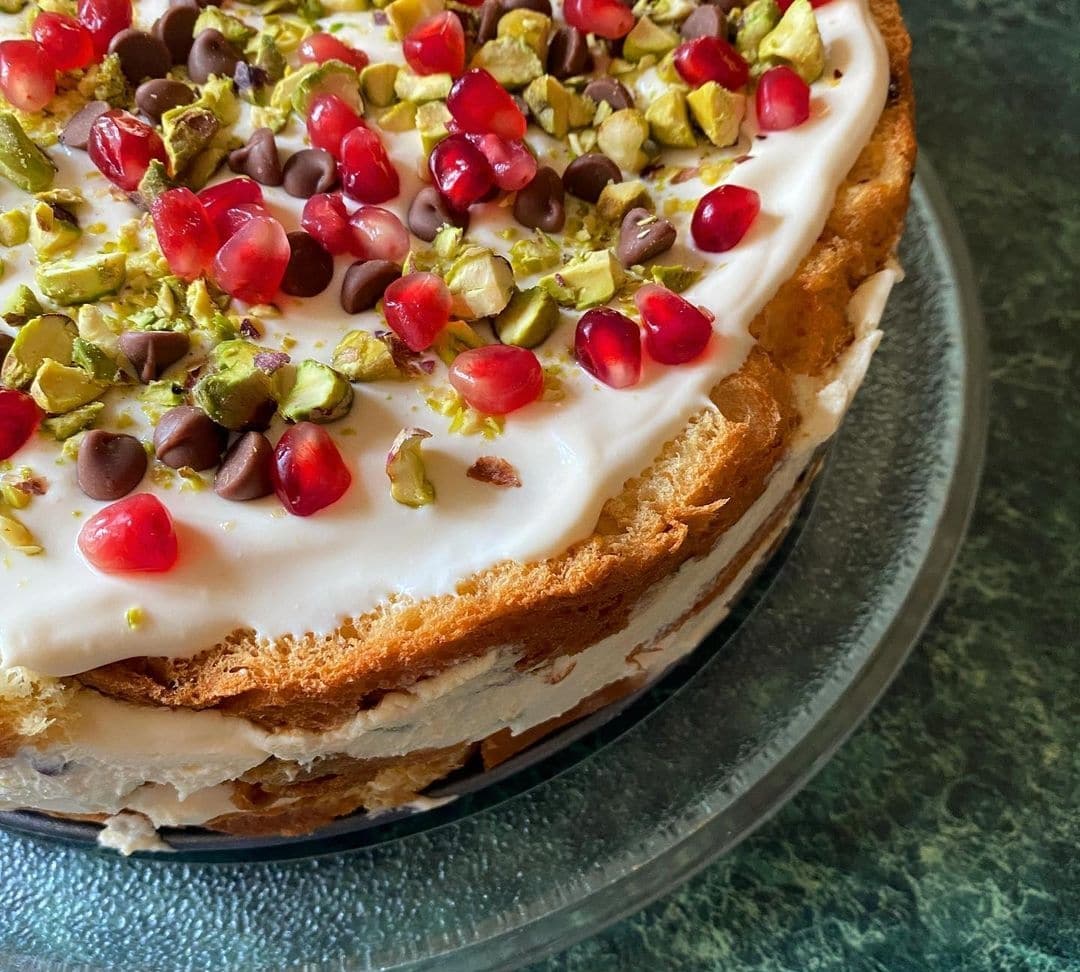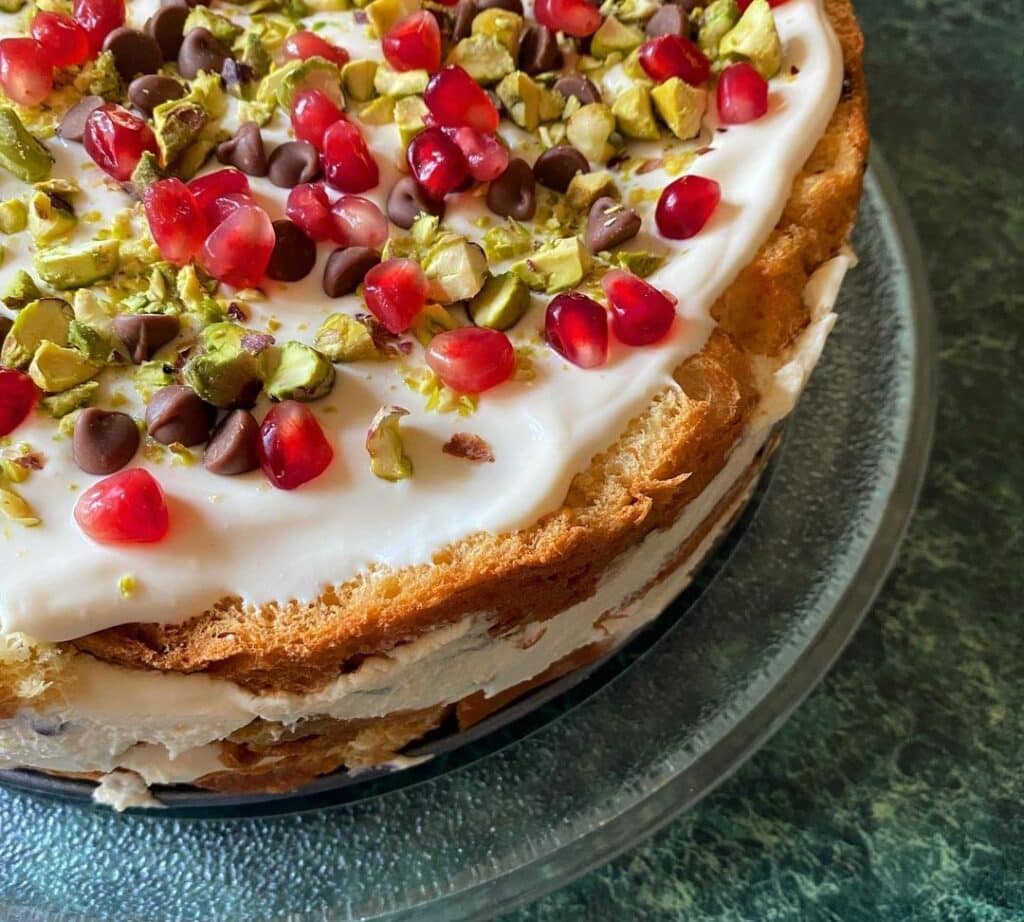 This glorious cake is not only easy to create but also takes no cooking time, making it a winner for Christmas time. So let us unveil the easy-to-follow recipe right here.
Ingredients:
625g panettone
6 tbsp Tuaca
2 eggs
75gcaster sugar
500g mascarpone
250ml double cream
125ml marsala
75g marrons glacés, chopped
125g chocolate chips
100g chopped pistachios
2 tbsp pomegranate seeds
Method:
Start by cutting the Panettone into slices and placing them at the base of the cake tin, drizzled in Tuaca.
Whisk the eggs and sugar, slowly adding the mascarpone, double cream and marsala. Save a cupful of this in the fridge for later on.
Crumble the marrons glacés in with the bowl of mascarpone cream mixture, followed by the chocolate chips and the chopped pistachios.
Use more sliced Panettone to cover the cream filling and drizzle with more Tuaca.
Place the other half of the cream mixture and top with another layer of Panettone, covering the cream, and drizzle over the last two tablespoons of Tuaca.
Cover tightly with cling film and put in the fridge overnight or for up to two days.
2. Italian Christmas Cream Cake – a succulent festive dessert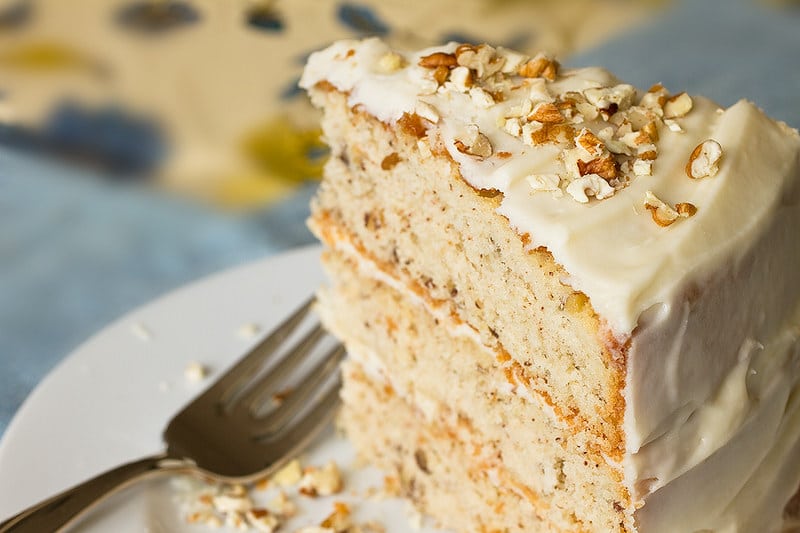 This rich and creamy Italian Christmas cake is irresistible for many reasons, so add this to your menu for Christmas 2022. Here is what you will need to recreate it in your own home.
Ingredients:
1 cup buttermilk
One teaspoon of baking soda
½ cup butter
½ cup shortening
2 cups white sugar
Five large eggs
One teaspoon of vanilla extract
1 cup flaked coconut
One teaspoon of baking powder
2 cups all-purpose flour
Frosting:
225g cream cheese
½ cup butter
1 teaspoon of vanilla extract
4 cups confectioners' sugar
2 tbsp light cream
½ cup chopped walnuts
1 cup coconut flakes
Method:
Grease your tree cake tins and preheat your oven to 350F (175C) before mixing your buttermilk and baking soda in a bowl.
Beat the butter, sugar and shortening together and add the eggs, buttermilk mixture, coconut, vanilla and flour.
Add the mixture to the three cake tins and place in the oven for 35 minutes before cooling thoroughly on a wire rack.
For the frosting: Mix cream cheese, butter, vanilla, and sugar in a bowl before mixing in the cream little by little. Add in the walnuts and coconut—spread frosting between the layers and on the top/sides of the cake.
1. Traditional Panettone – the classic Italian Christmas cake recipe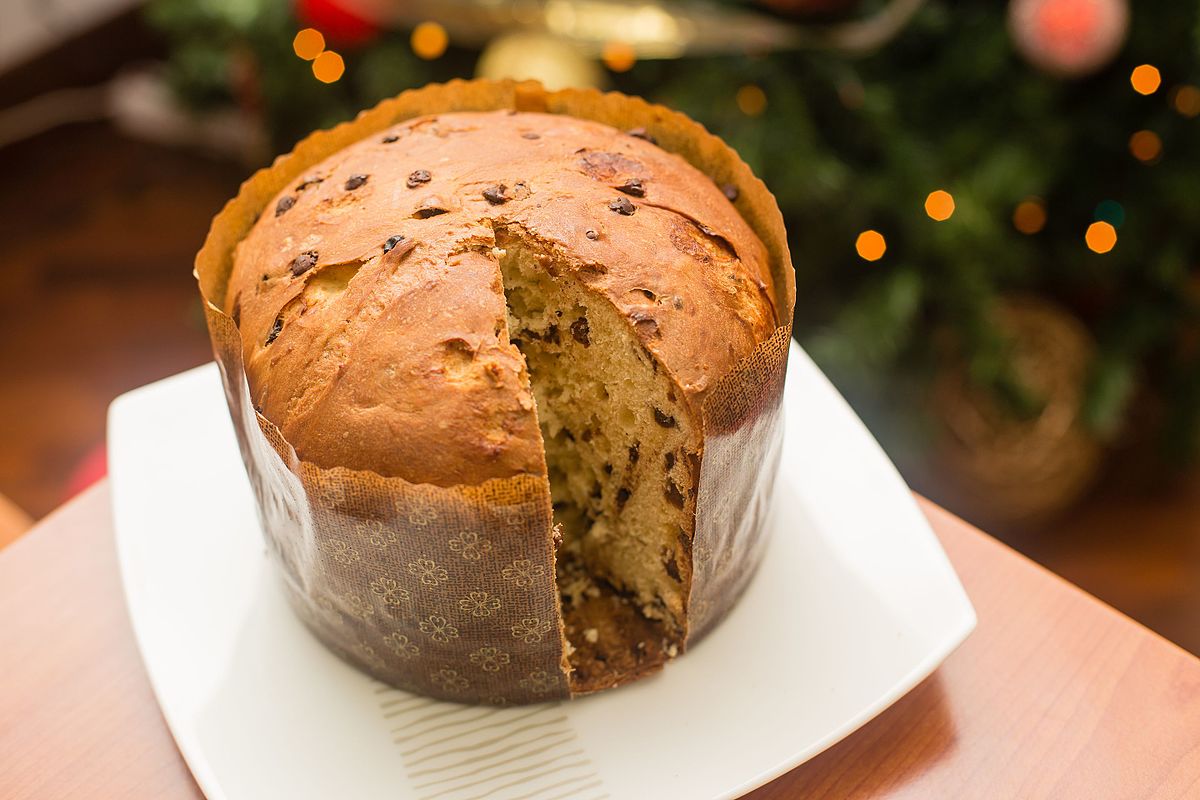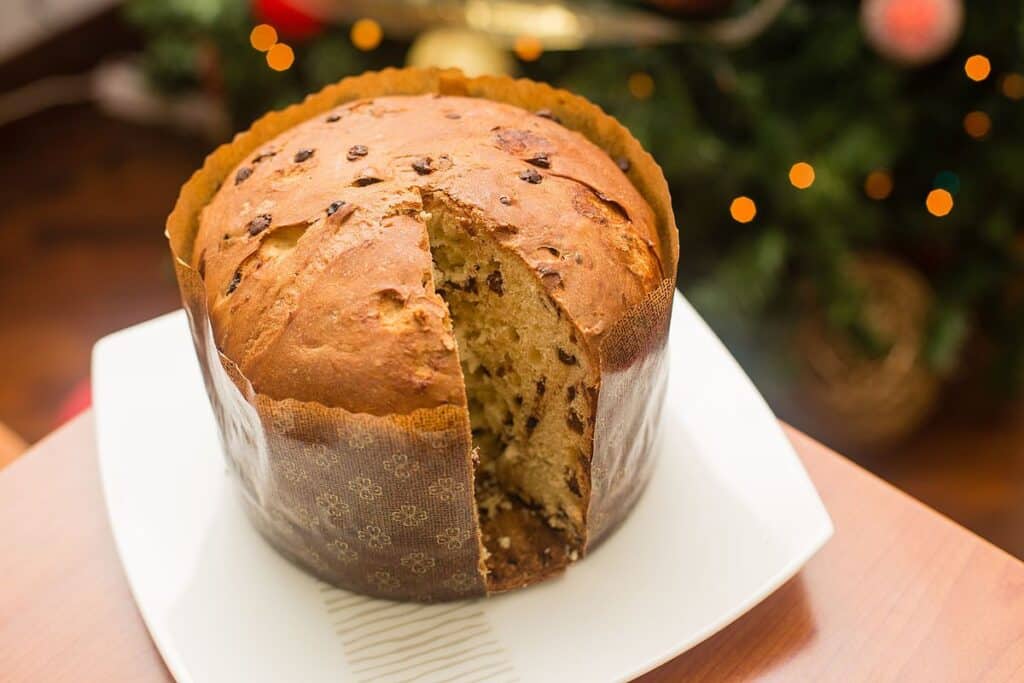 This is the most famous sweet bread, which originates from Milan, and is the classic Italian Christmas cake you need to recreate at home this year.
Ingredients:
390g Flour
150ml Milk
63g Sugar
¾ tsp Salt
2 Eggs
2tsp Yeast
85g Unsalted Butter
2 tsp Vanilla Extract
Zest 1 orange & 1 lemon
200g Raisins
60g candied orange and lemon peel
50g Diced Apricots
Method:
To make this easy Italian Christmas cake, prepare the dough by mixing warm milk, water, eggs, sugar, yeast and salt.
After one hour of proofing, add butter and knead the dough before adding the dried fruits to make this festive bread.
Place in a ball and proof until the dough doubles in size (around 2-4 hours).
Bake for 30 minutes at 350F (176C) and a further 30 minutes at 325F (162C), and finally hang it upside down until it is thoroughly cooled.
Notable mentions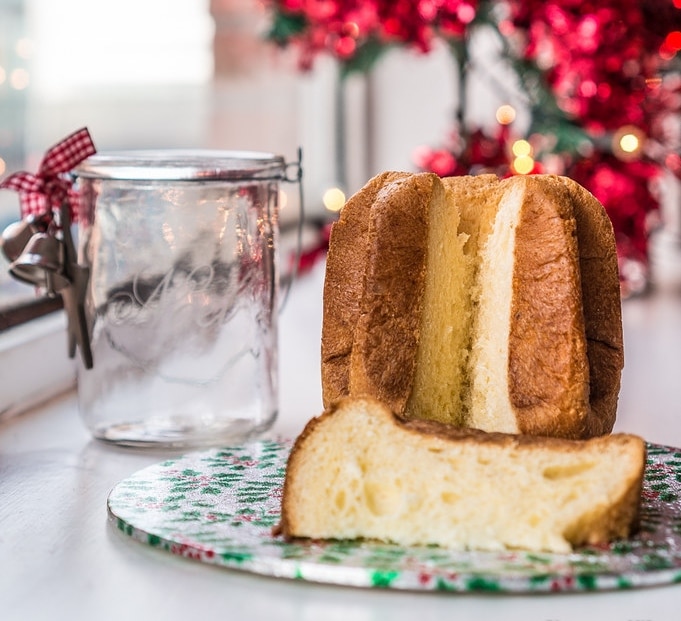 Mini chocolate panettone: These mini versions of the classic Italian Christmas cake have added chocolate and are delicious festive treats.
Pizzelle Della Nonna: This popular holiday treat is a crispy, wafer-like cookie filled with vanilla, anise, chocolate and almond.
Pandoro Christmas tree cake: This is a softer, fluffier version of the Panettone with a unique festive shape.
Italian nut nougat: This nutty delicacy is very sweet and tasty, ideally paired with a hot cup of coffee.
FAQs about Italian Christmas cake
How do you pronounce Panettone?
It is pronounced 'Pa-nay-toe-nay'.
What is the best sugar to use in a Christmas cake?
Brown sugar is popular as it reduces moisture and adds flavour to Christmas cakes.
What do Italians eat for Christmas?
Panettone, Italian cheeses, cured meats, eel, special pasta, spit-roasted pig, roast goat, and stuffed turkey are some of the best Italian Christmas foods.