Discover culinary treasures in the home of Spain's national dish with our guide to the top ten places for the best paella in Valencia.
Valencia takes centre stage in the vibrant tapestry of Spanish gastronomy, offering a symphony of flavours that captivates both locals and tourists.
At the heart of this culinary spectacle is the iconic dish – paella. With its origins deeply rooted in tradition, Valencia's paella is a celebration of local ingredients, skilful techniques, and a rich cultural history.
Join us as we embark on a gastronomic journey through the narrow streets and bustling markets to discover the top ten places for the best paella in this enchanting Spanish city.
The World Bucket List's top facts about paella valenciana:
Paella valenciana originated in the Valencia region of Spain and is considered the original and traditional paella recipe.
The dish traditionally includes rabbit, chicken, white beans, and a variety of green vegetables. Saffron gives the dish its distinctive yellow colour.
The paella is cooked in a wide, shallow pan called a "paellera" over an open flame.
The socarrat, a crispy layer of rice at the bottom of the pan, is revered in traditional paella cooking.
Paella valenciana does not contain seafood; that is a variation known as paella de mariscos.
10. Restaurante La Albufera – nature's influence on your plate
Named after the famous lagoon, Albufera offers paella that mirrors the region's natural beauty. Fresh ingredients, including prawns and mussels from the lagoon, bring the flavours of Valencia's climate to your plate.
Address: Plaça de la Sequiota, 5, 46012 El Palmar, Valencia, Spain
9. Socarrat – crispy goodness in every bite
For aficionados of the perfect socarrat, this eponymous restaurant is a mecca. The chefs here have mastered the art of delivering paella that delights with a crispy texture in every mouthful – a testament to the skill and precision that defines Valencian cuisine.
Address: C/ de Pere de València, 19, 46022 València, Valencia, Spain
8. Bon Aire – a breath of fresh paella
True to its name, Bon Aire offers a breath of fresh air in the paella scene. The dish here is a celebration of simplicity – a canvas of rice, local vegetables, and a perfect blend of spices that allows the true essence of the ingredients to shine.
Address: Carrer de Cabdet, 41, 46012 València, Valencia, Spain
7. El Racó de la Paella – tradition takes centre stage
A charming enclave dedicated to preserving the essence of Valencian cuisine, El Racó de la Paella delivers tradition on a plate. Locally sourced ingredients, including rabbit, duck, and the essential bomba rice, come together to create a culinary masterpiece.
Address: Carrer de Mossèn Rausell, 17, 46015 València, Valencia, Spain
Tucked away along the serene shores of the Albufera lagoon, La Barraca de Toni Montoliu is a hidden gem. Here, authenticity reigns supreme, with the wooden spoon stirring in the background and the unmistakable aroma of saffron permeating the air.
Address: Partida de l'Ermita, Polígon, 1, Parcel·la 25, 46133, Valencia, Spain
SEE ALSO: Top 5 restaurants for the best PAELLA in BARCELONA.
5. El Palmar – gateway to paella paradise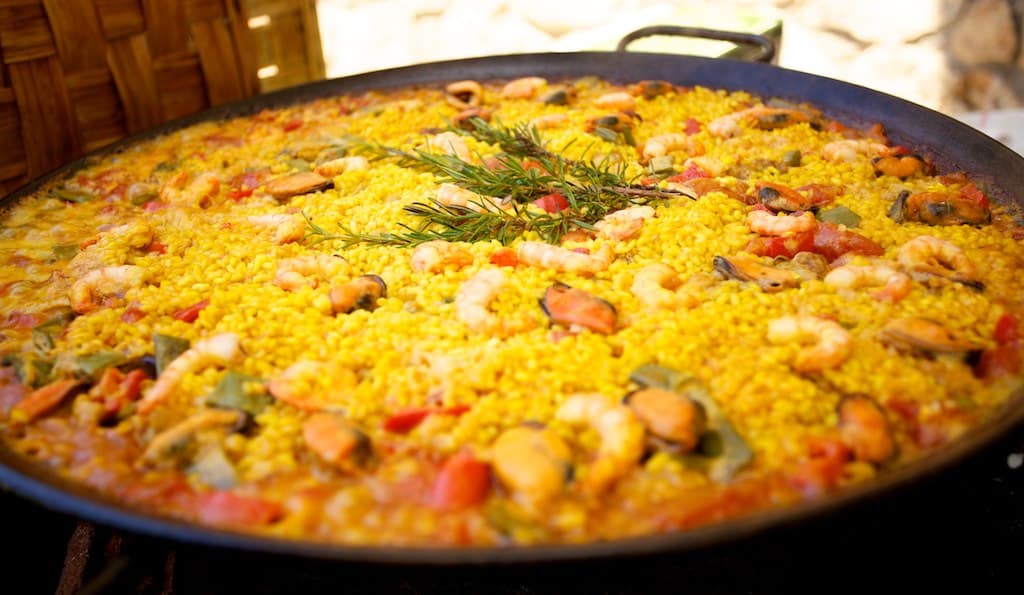 Venture to El Palmar for an immersive experience in the heart of paella paradise. The local beans, fresh seafood sourced from the Albufera lagoon, and the magical touch of saffron transport diners to the very roots of this cherished dish.
Address: Carrer dels Redolins, 4, 46012 València, Valencia, Spain
4. Casa Roberto – a gastronomic haven in the heart of Valencia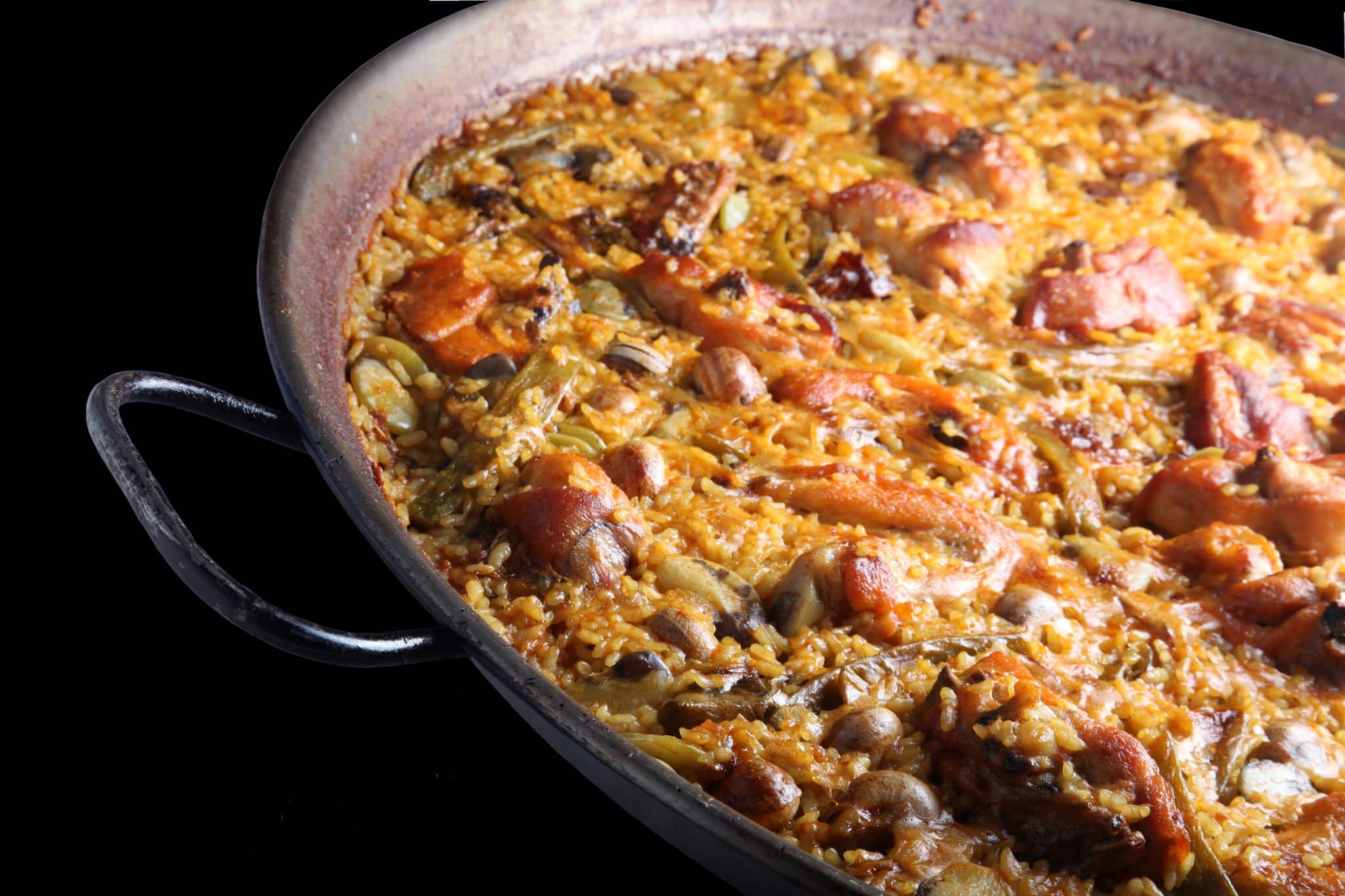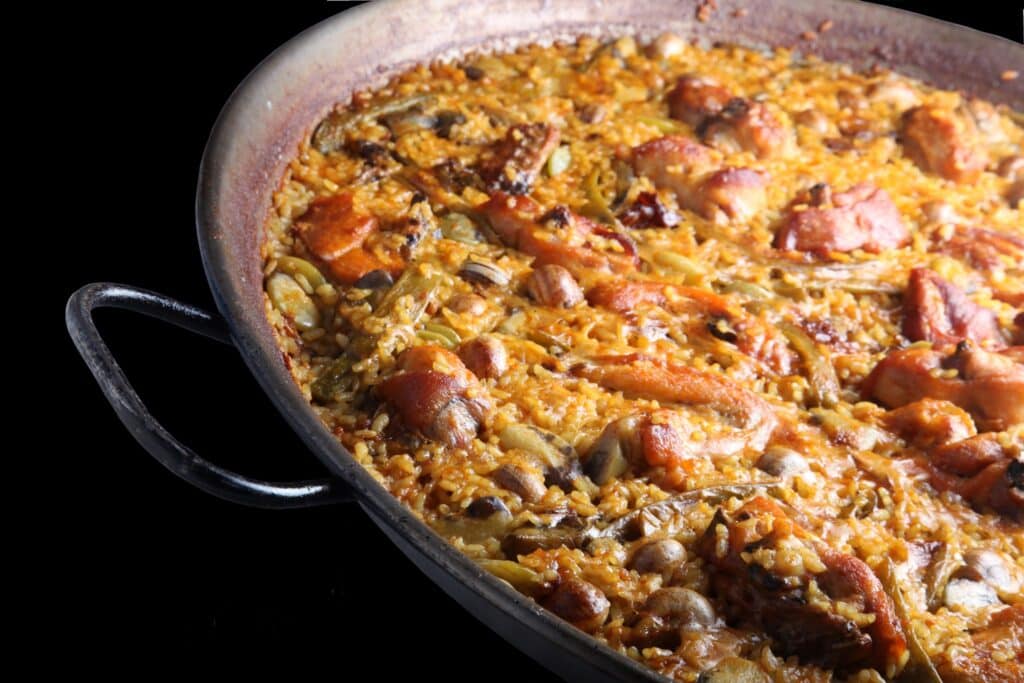 Nestled amidst the lively pulse of Valencia, Casa Roberto beckons gastronomes with a menu that reads like a love letter to local ingredients. The paella valenciana, a staple on their menu, boasts a perfect amalgamation of rabbit, chicken, and green beans.
Address: Carrer del Mestre Gozalbo, 19, 46005 València, Valencia, Spain
3. Restaurante Levante – a fusion of tradition and innovation
At Restaurante Levante, the culinary journey takes an exciting turn as tradition meets innovation. The chef's deft hands weave together traditional recipes and innovative twists, resulting in a symphony of flavours that beckon both purists and adventurers.
Address: Av. de Manuel de Falla, 12, 46015 València, Valencia, Spain
2. La Pepica – seafood extravaganza by the sea
Overlooking the azure Mediterranean, La Pepica offers a sensory feast with its seafood paella.
The menu, a treasure trove of Spanish delights, pales in comparison to the masterpiece that is the seafood paella – a harmonious blend of prawns, mussels, and saffron-infused rice.
Address: Passeig de Neptú, 6, BAJO;DUP 6-8, 46011 Valencia, Spain
1. Casa Carmela – a timeless classic that transcends generations
In the heart of Valencia, Casa Carmela stands as a testament to time-honoured culinary excellence.
This revered establishment has mastered the art of crafting authentic Valencian paella, a dish that pays homage to tradition with its medley of fresh seafood, rabbit, and locally sourced vegetables.
Address: C/ d'Isabel de Villena, 155, 46011 València, Valencia, Spain
Notable mentions
Navarro: Navarro is revered for its creative takes on all types of Mediterranean food, including a paella that locals and visitors swear by.
Puerta del Mar Valencia: Though this restaurant stays true to its name with delectable seafood dishes, this is a fantastic restaurant for traditional paella valenciana too.
El Rincón del Mercado: With an extensive menu dedicated to rice dishes, this restaurant promises a culinary journey through the diverse world of rice, showcasing the grain's versatility in every delicious bite.
Your questions answered about the best paella in Valencia
What is the most famous Spanish dish in Valencia?
The most famous Spanish dish in Valencia is paella. Originating in the region, traditional Valencian paella is a delectable combination of rabbit, chicken, and locally sourced vegetables, embodying the essence of Valencian culinary heritage.
What is Valencia famous for?
Valencia is renowned for its annual Las Fallas festival, a vibrant celebration of art and tradition. The city also stands out for its architectural marvels, like the futuristic City of Arts and Sciences, and is globally acclaimed for paella.
What food is Barcelona known for?
Barcelona is celebrated for its diverse tapas culture, featuring small, shareable dishes like patatas bravas and exquisite seafood options.
Additionally, the city is famous for Catalan specialities such as butifarra (sausage) and crema catalana (a crème brûlée-like dessert), contributing to the unique and enticing culinary scene in Barcelona.