If there is one winter activity you need to tick off your travel bucket list, it is observing the northern lights in Finland, and here is your ultimate guide to making it a reality. Have your camera at the ready.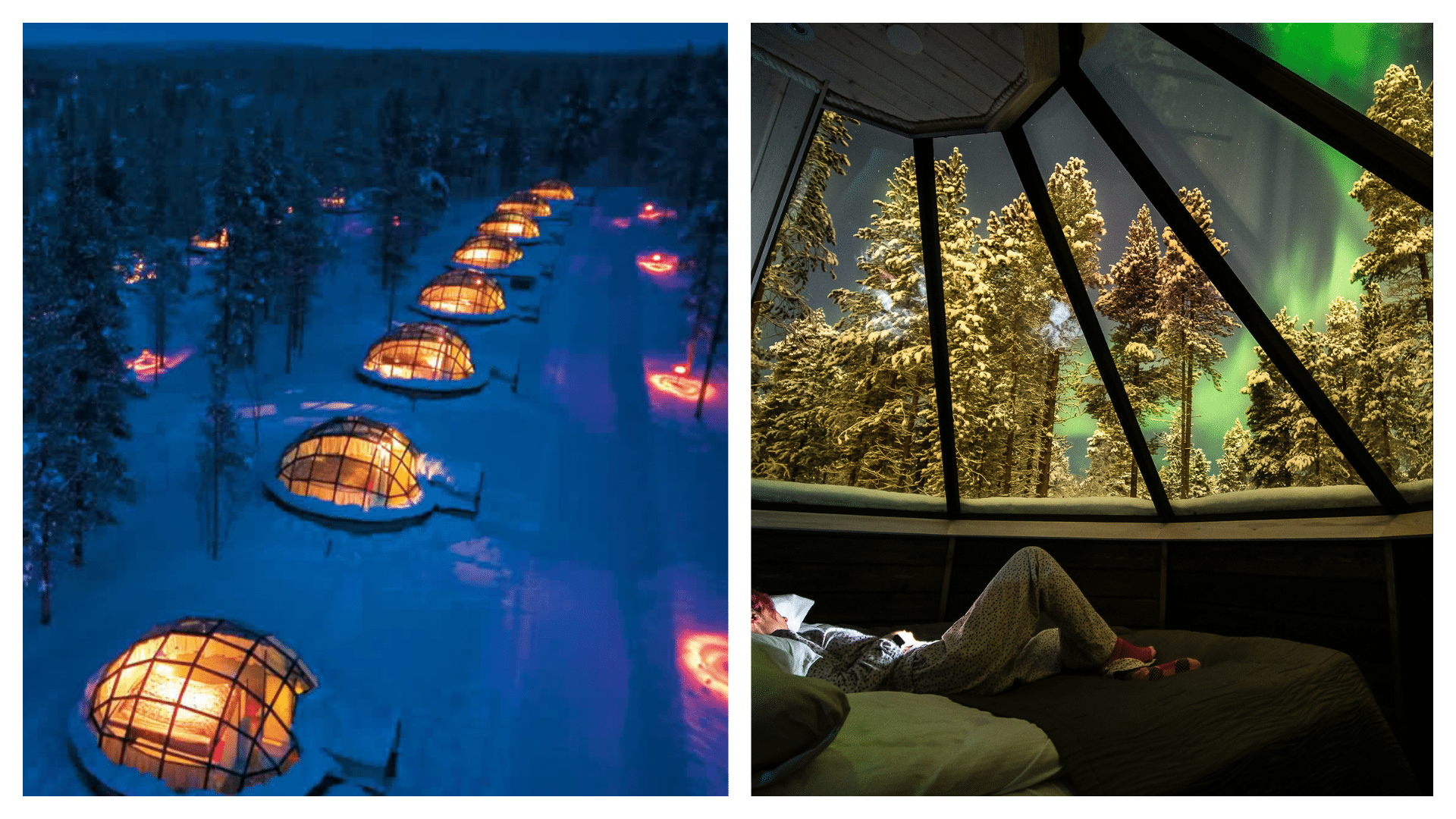 There is nothing quite like feasting your eyes on one of nature's best wonders, the aurora borealis. Finland is one of the best destinations to observe this natural phenomenon.
Not only does Finland provide an excellent backdrop for viewing the dancing skies, but you can take advantage of the fact that some of the best remote locations in the country are free from light pollution, making Finland a top spot for seeing the northern lights.
Northern lights in Finland – the best time to go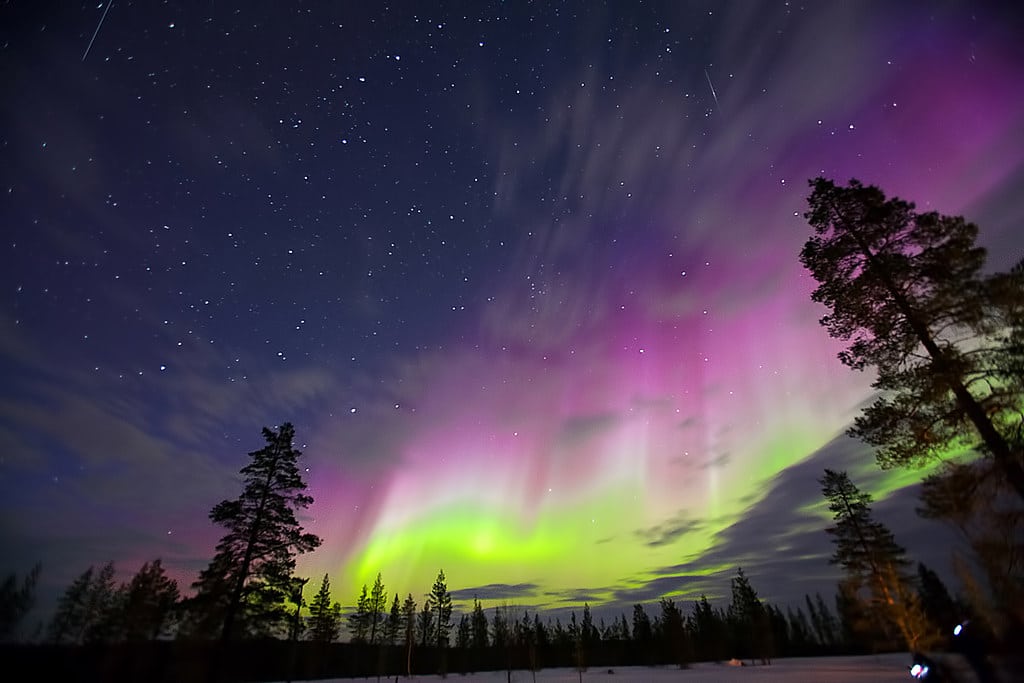 Winter in Finland is exceptional, with plenty of outdoor activities, a winter wonderland landscape, and the chance to visit Santa's Village in Lapland. Of course, it is also an excellent place to observe the northern lights, making Finland a perfect winter destination. 
Knowing the best time to see the aurora when planning a winter trip to Finland is crucial, so you don't miss out; let us give you the lowdown. 
While this solar phenomenon can be spotted from August to April, the best chances to see them in all their dancing glory are between December and March. To have even higher chances, you will need complete darkness, no light pollution, and, of course, a clear sky.
The best place to see the northern lights in Finland is way up north in Lapland, an area familiar to many who associate it with being the home of Santa and his reindeer.
This region has excellent hotels, ski resorts, and frozen lakes, making it a perfect winter destination for fun winter activities such as aurora hunting. 
Where to stay – the best locations in Finland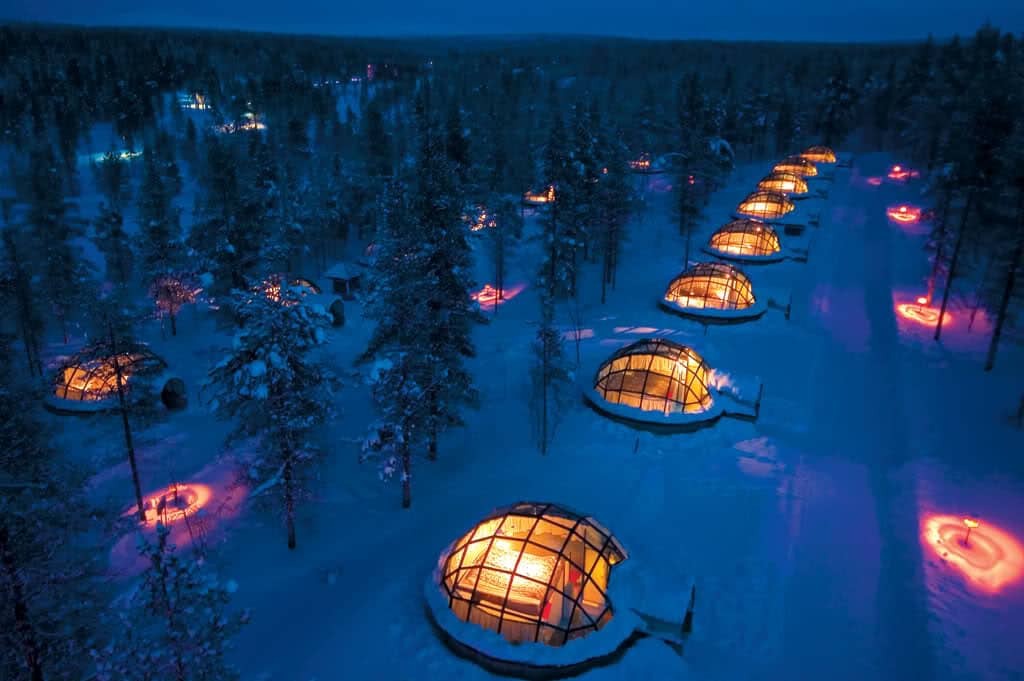 The north of the country is the best place to see the northern lights in Finland. Here you will have plenty of cosy hotels, aurora villages, fun winter activities, and tour companies who are on hand to give you the best aurora experience. 
Here are a few of the best places to stay in Lapland if you want to observe the night sky: 
Rovaniemi is the capital of Lapland and makes an excellent base for exploring the surrounding areas. It is ideal for those wanting a small city vibe, bustling activity, and nightlife, while being close enough to visit some remote locations for aurora hunting. 
Kemi is another excellent option: a small port town just north of Oulu. The northern lights can be seen from here 100 days per year, but it is still advised to venture further into nature to have the best chance to see them without any light pollution.
Oulu is one of the best places in the world to see the aurora, and if you have a dark cloudless sky, you could be in luck. This active city is full of culture and fun activities, but when planning to see the northern lights, try to get out of the city to find clearer skies. 
Kakslauttanen Arctic Resort is one of the most unique places to observe the aurora borealis since you will be staying in fascinating igloos, allowing you to feel closer to nature than ever.
Saariselkä is home to the Urho Kekkonen National Park. This area experiences the northern lights on average 200 days a year.
Ivalo, a town in Finnish Lapland, the Arctic Circle, offers a small-town rustic vibe. The nearby Hammastunturi Wilderness Area has very little light pollution, while the resort of Kakslauttanen is just thirty minutes from Ivalo's airport.
Things to know – our top tips for seeing the northern lights in Finland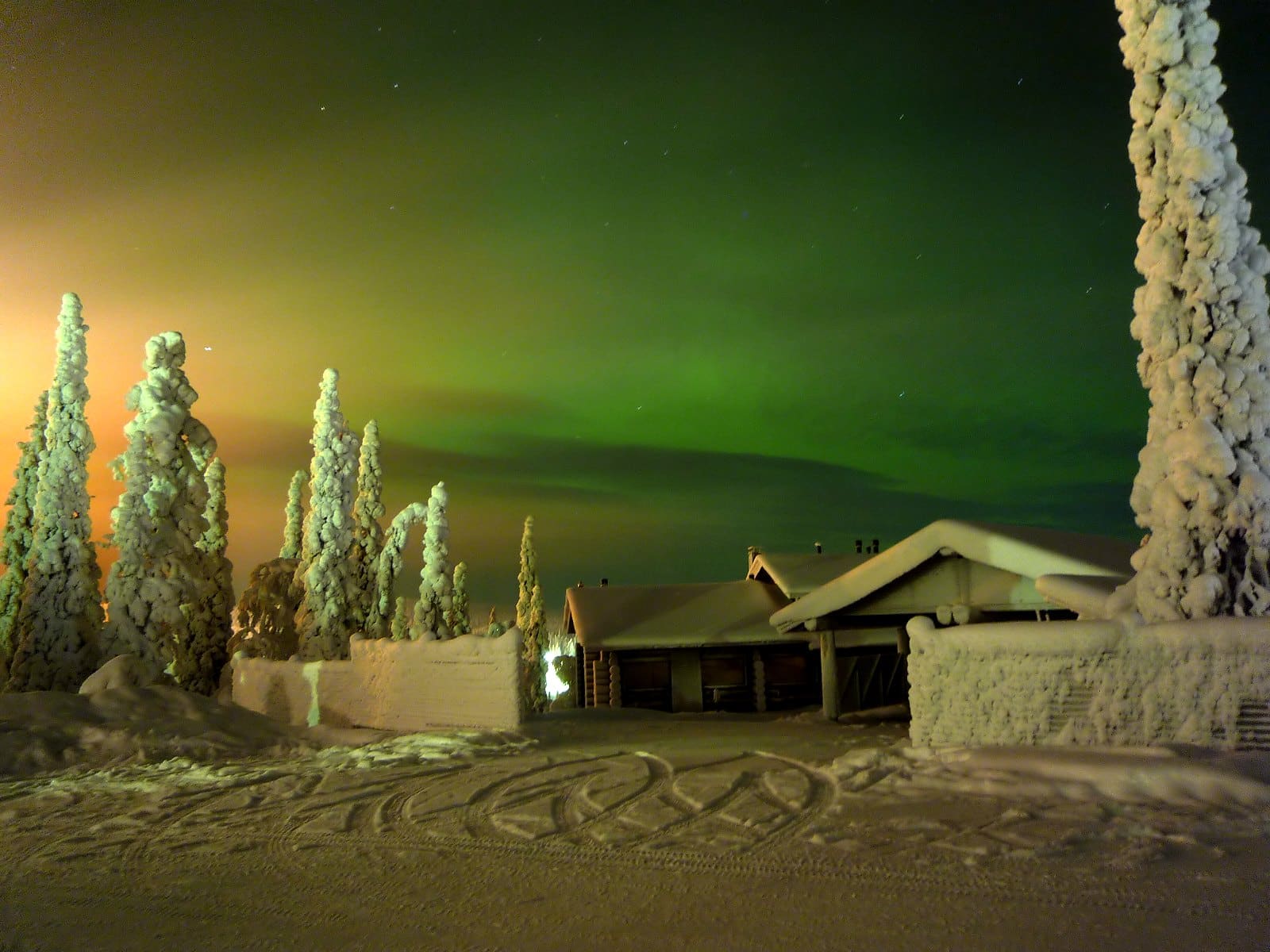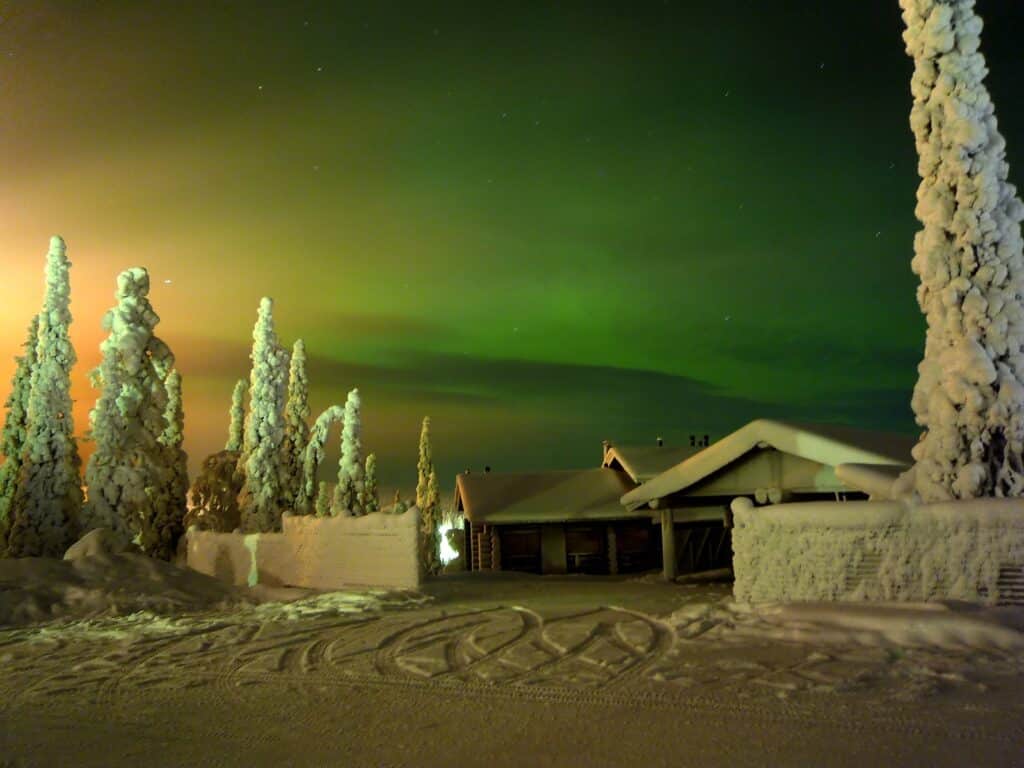 The best time of day to see the northern lights in Finland is when the sky is at its darkest, either at midnight or a few hours either side of midnight. 
The Sami people are Europe's indigenous people who originate in the northernmost parts of Sweden, Finland, and Norway, so don't miss out on learning about their fascinating culture while in Lapland. And remember to travel sustainably.
Santa's Village is located close to Rovaniemi and thrives at Christmas time, making this an excellent place for families who want to enjoy a festive getaway and see the northern lights in Finland. Keep an eye out for Santa Claus!
You can sign up for free alerts from the Finnish Meteorologic Institute, which update you on the probability of seeing the aurora, which is a great way to plan your sighting.
During the winter, you can expect the temperature to range from zero to -30 C (32 – -22 F), so be prepared with plenty of layers and warm clothing. Keep an eye on the forecasting, too.
Fun daytime activities in northern Finland include husky dog sledging, sauna and ice bath combinations, skiing, snowshoeing, and much more.
Notable mentions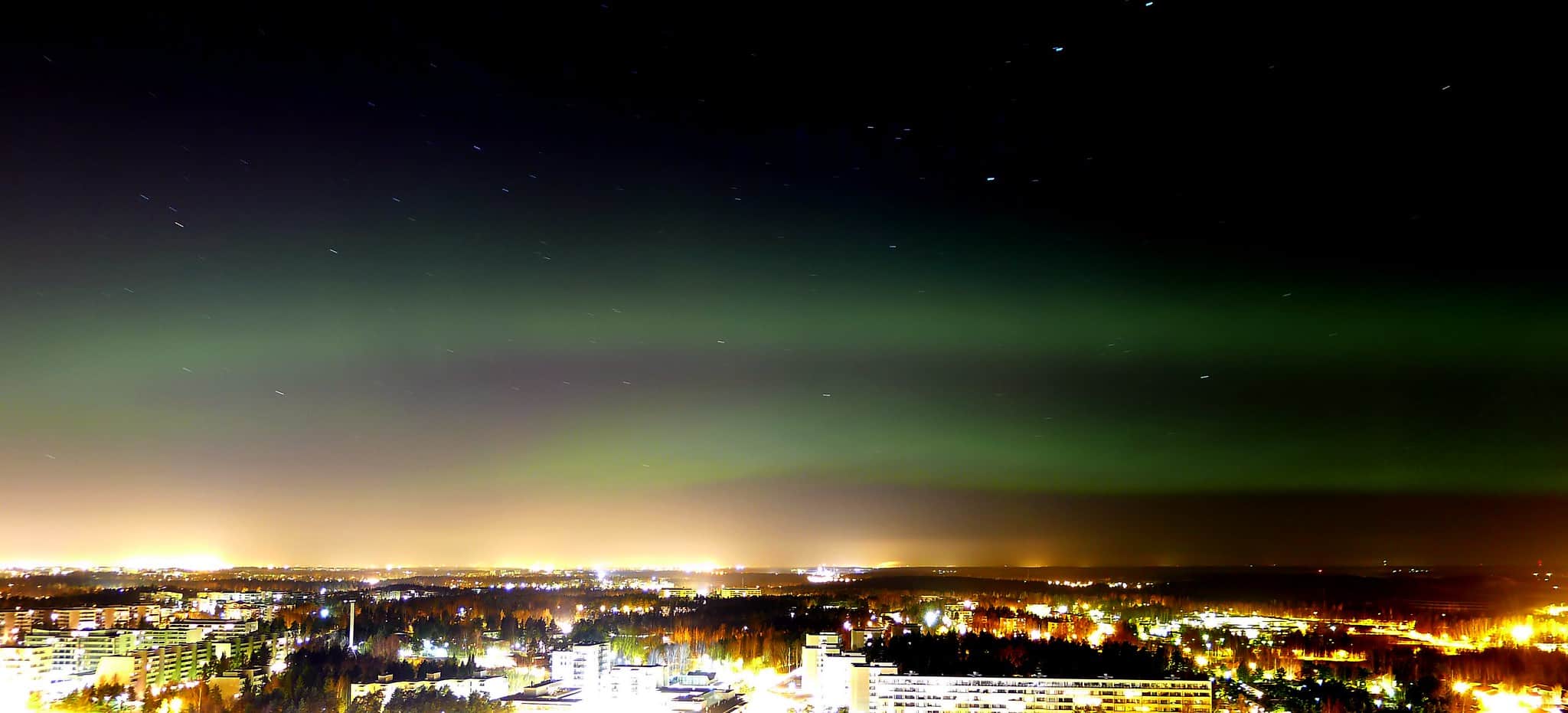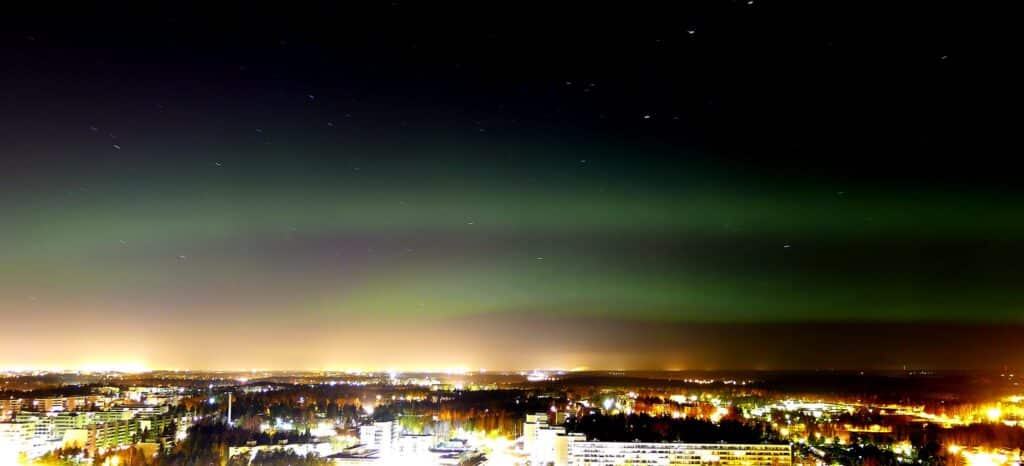 The location of Finland – one of the friendliest countries in Europe – in the middle of the aurora zone means it is not obstructed by clouds or fog like other regions, making it a prime location for northern lights tours. 
August and September are great times to avoid crowds, get lower prices and still have a chance to see the aurora borealis as the winter season begins.
The Arktikum Museum in Rovaniemi gives you a great insight into the Arctic Region and in-depth information about the northern lights, making it a great place to learn more. 
While northern Finland is the best place to see the aurora borealis, keep your eyes peeled in Helsinki and find a high point of the city as they can be spotted here on occasion too. 
Many resorts offer log cabins and even glass igloos with outdoor jacuzzies to spend a night in the wilderness in Finnish national parks. Marvel at the earth's atmosphere in comfort through the glass ceilings.
FAQs about the northern lights in Finland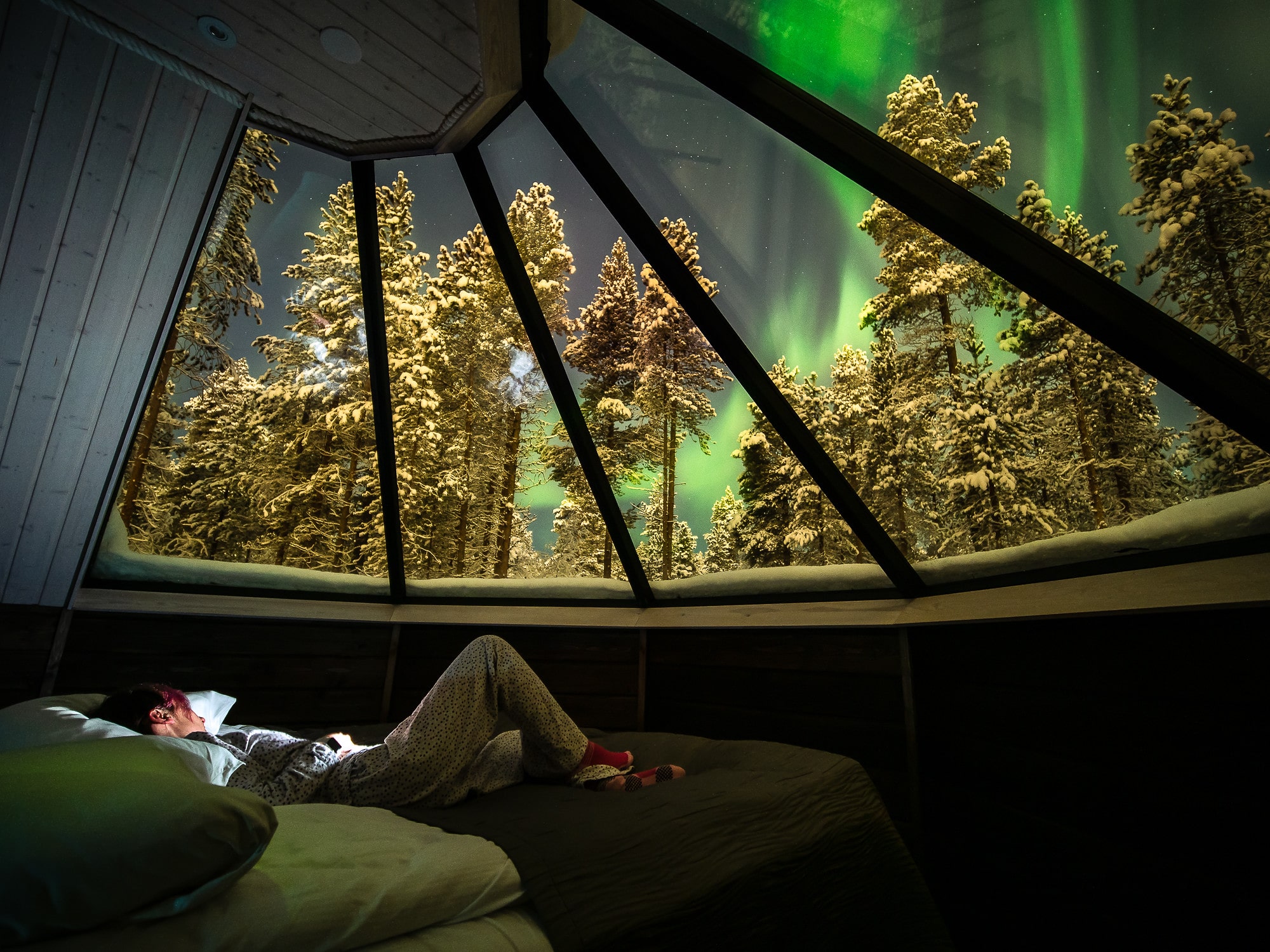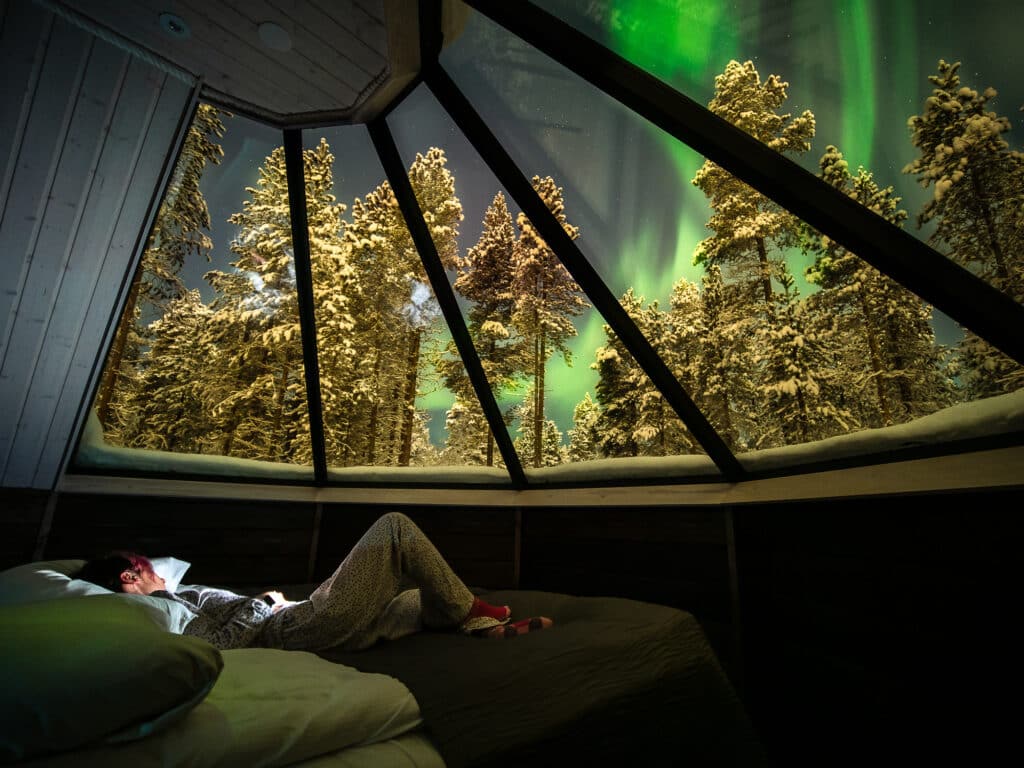 Can you see the northern lights every night in Finland?
From late August to April, you can see the northern lights in Finland every day, as long as there is a clear sky, no light pollution, and complete darkness. 
What month is best to see the northern lights in Finland?
December and January are the deep winter months in Finland, which make it a great time to see the lights in all their glory. Unfortunately, these are also the coldest months, so always dress accordingly when venturing out into nature for aurora hunting. 
We also recommend September and October. During these months, there is a high level of geomagnetic activity, which means more solar storms. Furthermore, lack of snow means the lights reflect beautifully on the water.
What time of night is best for northern lights in Finland?
Midnight or a few hours either side of midnight is the best time to view the northern lights in Finland since this is the darkest time of the night. 
We cannot recommend Finland enough for its wide range of fun winter activities, excellent tours, and unique accommodations. It's one of the best locations worldwide for observing the northern lights. So, what are you waiting for?