Fancy adding a splash of colour to your aquarium? Let us help you out. You'll be spoilt for choice with these 30 coolest fish species.
When it comes to curating your perfect aquarium, the choice of fish can make all the difference.
From the regal Discus to the captivating Cardinal Tetra, the world of fishkeeping offers a myriad of options for your aquarium pets.
In this article, we will journey through our top 30 favourite coolest fish species that will breathe life and colour into your aquarium. Join us as we explore the unique traits of each one to make sure you're choosing the right fish for your tank or aquarium.
The World Bucket List's top tips for tank and aquarium care:
Always research your fish thoroughly to ensure different breeds get along well together.
Cleaning your tank properly is essential to the survival of your aquarium pets.
Before you add any fish to your tank, establish a nitrogen cycle to ensure the tank can process waste efficiently.
Don't skimp out on a quality filtration system. Choose a filtration system that suits your tank size.
Observe your fish regularly to watch out for any aggressive behaviours or illnesses that need attention.
30. The Congo Tetra – eye-catching iridescent scales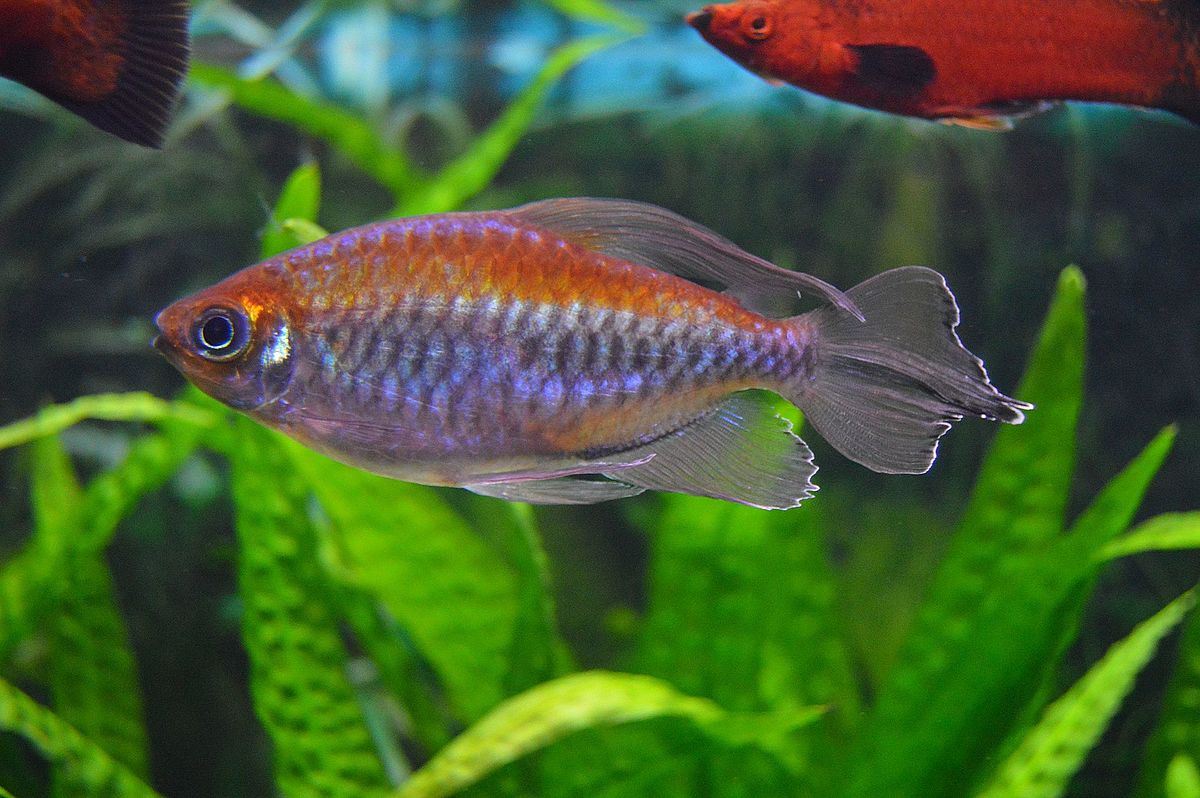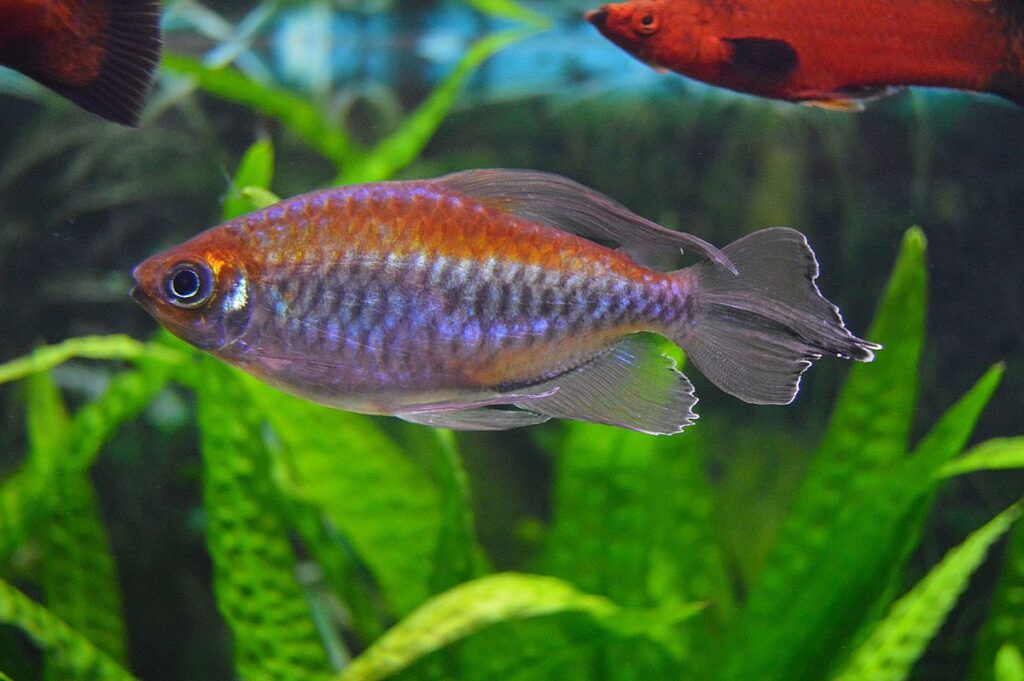 Kicking off our list is the Congo Tetra, a shimmering jewel among aquarium fish. With its iridescent scales and playful nature, these fish bring a touch of Africa's rivers to your tank. However, they do best in groups, so ensure you have plenty of them for a visually stunning display.
29. The Jaguar Cichlid – one of the coolest fish for your tank
Jaguar Cichlids have striking patterns that might remind you of a certain big cat of the same name. These freshwater fish add a touch of the wild side to your aquarium.
Beware, though, they can be quite territorial, so it's essential to provide ample space and consider compatible tankmates.
28. The Red Shoulder Dwarf Cichlid – a fiery addition
The Red Shoulder Dwarf Cichlid is known for its fiery red markings and manageable size, making it suitable for smaller tanks. These little fireballs have big personalities and thrive in well-planted setups.
27. The Pearl Gourami – grace and beauty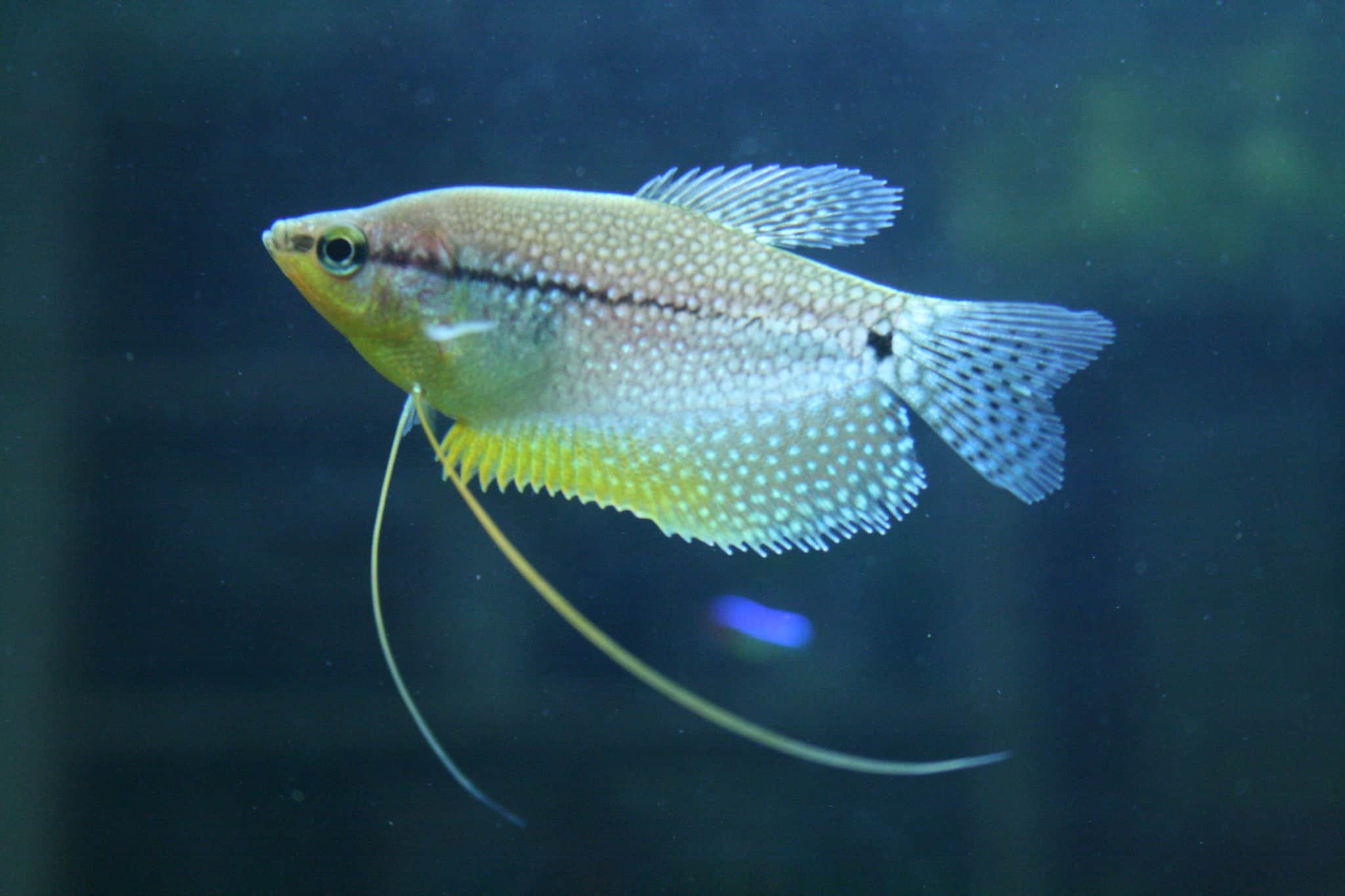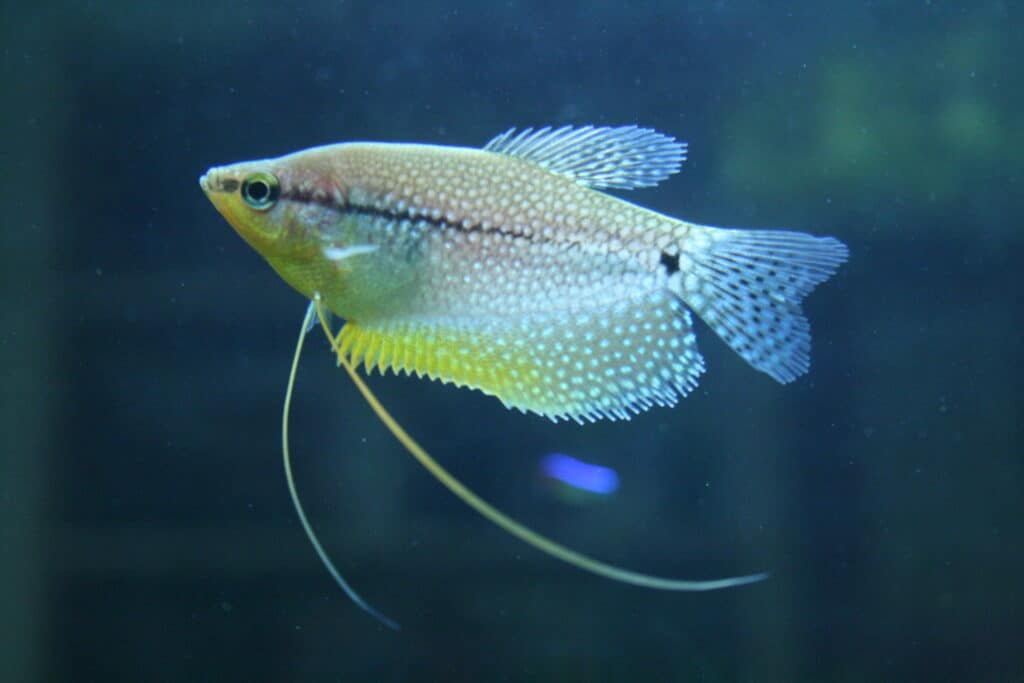 With its pearl-like spots and serene demeanour, the Pearl Gourami is an elegant addition to any community tank.
These fish add a touch of grace and beauty to your aquatic world, but they can be shy, so ensure they have plenty of hiding spots.
26. The Duboisi Cichlid – stand out stripes
Duboisi Cichlids stand out with their bold black and white stripes. They are generally hardy and easy to care for, making them a fantastic choice for aquarists of all levels. Keep them in a species-specific tank or with peaceful cichlid companions.
25. The Green Terror Cichlid − captivating but aggressive
Despite its intimidating name, the Green Terror Cichlid is a captivating fish with vivid colours and fascinating behaviour. However, they can be aggressive fish, so consider housing them with equally assertive tankmates.
RELATED READ: Top 5 UNUSUAL fish BEHAVIOURS and characteristics.
24. The Jewel Cichlid – striking patterns and colours
Jewel Cichlids are known for their jewel-like colouration and striking patterns. They can be territorial, so plan your tank's layout and inhabitants carefully to prevent conflicts.
23. The Peacock Cichlid – add a touch of harmony to your tank
Peacock Cichlids dazzle with their radiant colours and peaceful disposition compared to other cichlids. They add a touch of elegance and harmony to your tank, making them a popular choice among aquarists.
22. The Rainbow Kribensis – for a burst of colour
Rainbow Kribensis, with their iridescent hues, add a burst of colour to your aquarium. They are relatively easy to care for and can coexist harmoniously with other peaceful community fish.
21. The Florida Flag Fish – a practical but beautiful choice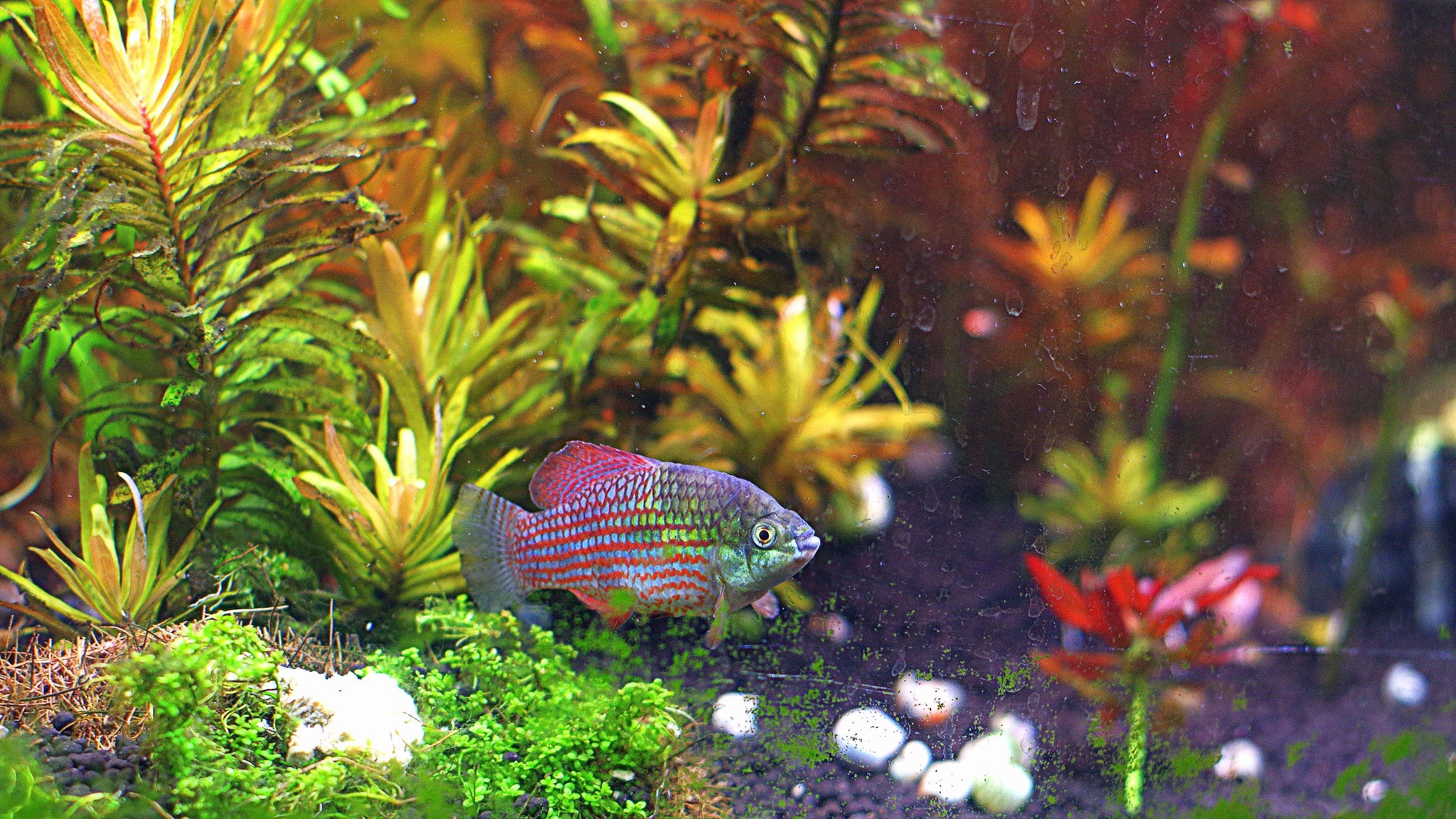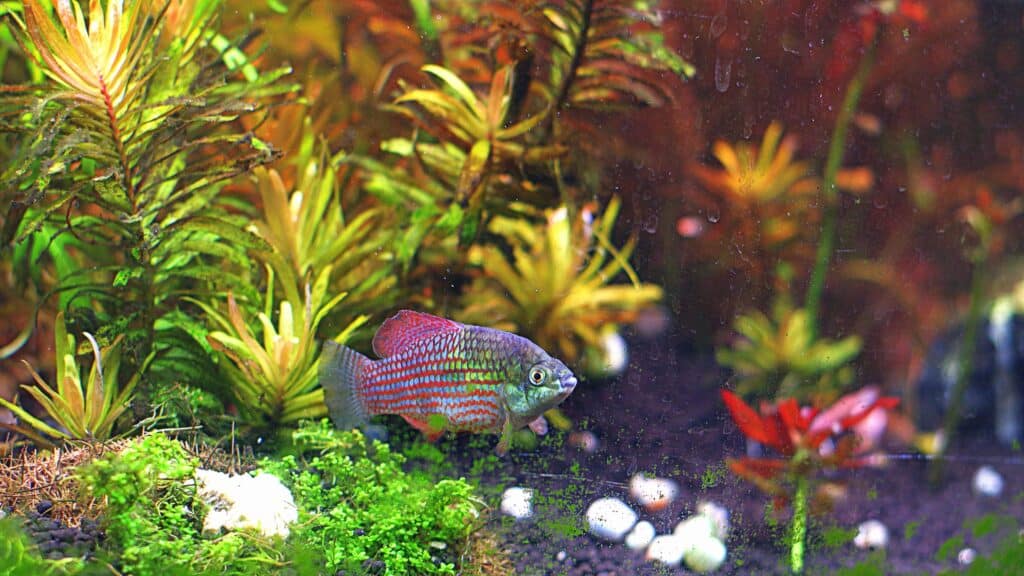 An excellent choice for keeping algae in check, the Florida Flag Fish is both attractive and practical. They are known for their vibrant colours and are an ideal addition to a well-balanced tank.
20. The Fancy Guppy – the beginner fish
Fancy Guppies, with their flowing tails and vivid colours, are popular among beginners. These prolific breeders add a sense of joy and dynamism to your aquarium, but be prepared for a growing population if not separated by gender.
19. The Celestial Pearl Danio – small wonders
Also known as the Galaxy Rasbora, the Celestial Pearl Danio charms with its celestial-like patterns and peaceful demeanour. These small wonders are perfect for nano tanks and can thrive in a well-maintained setup.
18. The Salvini Cichlid – beauty and personality
Salvini Cichlids sport fiery colours and an assertive personality. They are best suited for semi-aggressive setups, as their territorial nature can lead to disputes with tankmates.
17. The Harlequin Rasboras – a peaceful fish
Harlequin Rasboras have a distinctive triangular patch of colour that makes them unique. They are peaceful schooling fish that bring a sense of unity and elegance to your freshwater fish tank.
They thrive when kept in a group, so ensure they have companions of their own kind and consider the tank size when incorporating them into the fold.
16. The Electric Yellow Lab – a vibrant aquarium delight
Electric Yellow Labs, also known as Yellow Labs, are beloved for their bright yellow colouration and peaceful disposition. These cichlids are well-suited for community setups and can coexist with various tankmates.
RELATED READ: Top 10 cutest fish breeds, ranked in order.
15. The Cherry Barb – lively personalities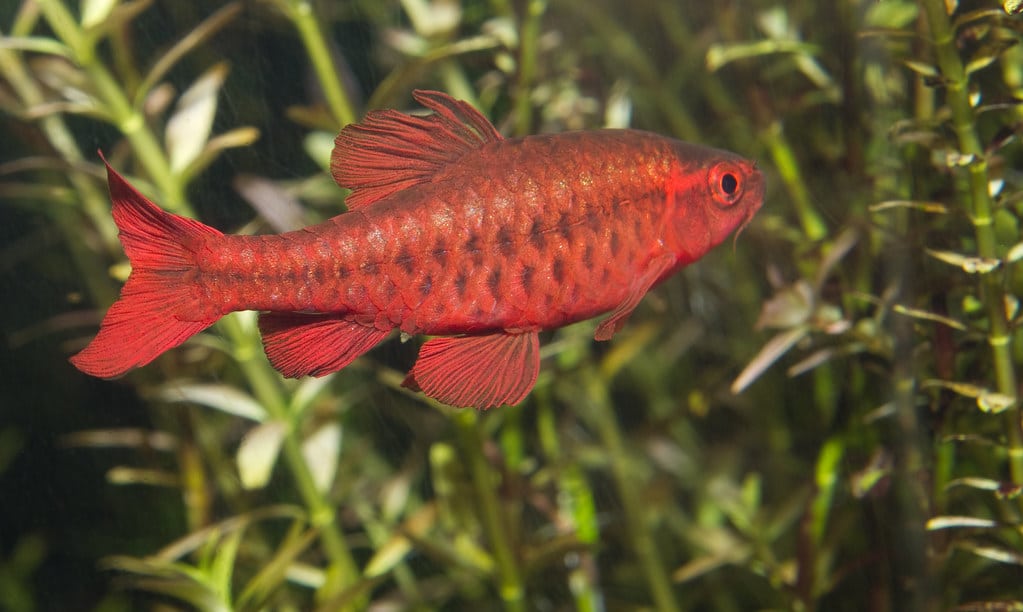 Cherry Barbs are known for their vibrant red colouration and lively personalities. These schooling fish thrive in the company of their own kind and bring a dynamic energy to your aquarium.
14. The Flowerhorn Cichlid – known for its distinctive hump
The Flowerhorn Cichlid is a striking and controversial fish known for its distinctive hump on the head. While some find their unique appearance captivating, others consider it an acquired taste. These fish can be aggressive, so it's essential to house them with care.
13. The Bluefin Notho – aka Killifish
Bluefin Nothos, also called Killifish, are small yet stunning fish with vivid blue fins. Be aware that due to their short lifespan and specific breeding habits, they require special care.
12. The Endler's Livebearer – miniature marvels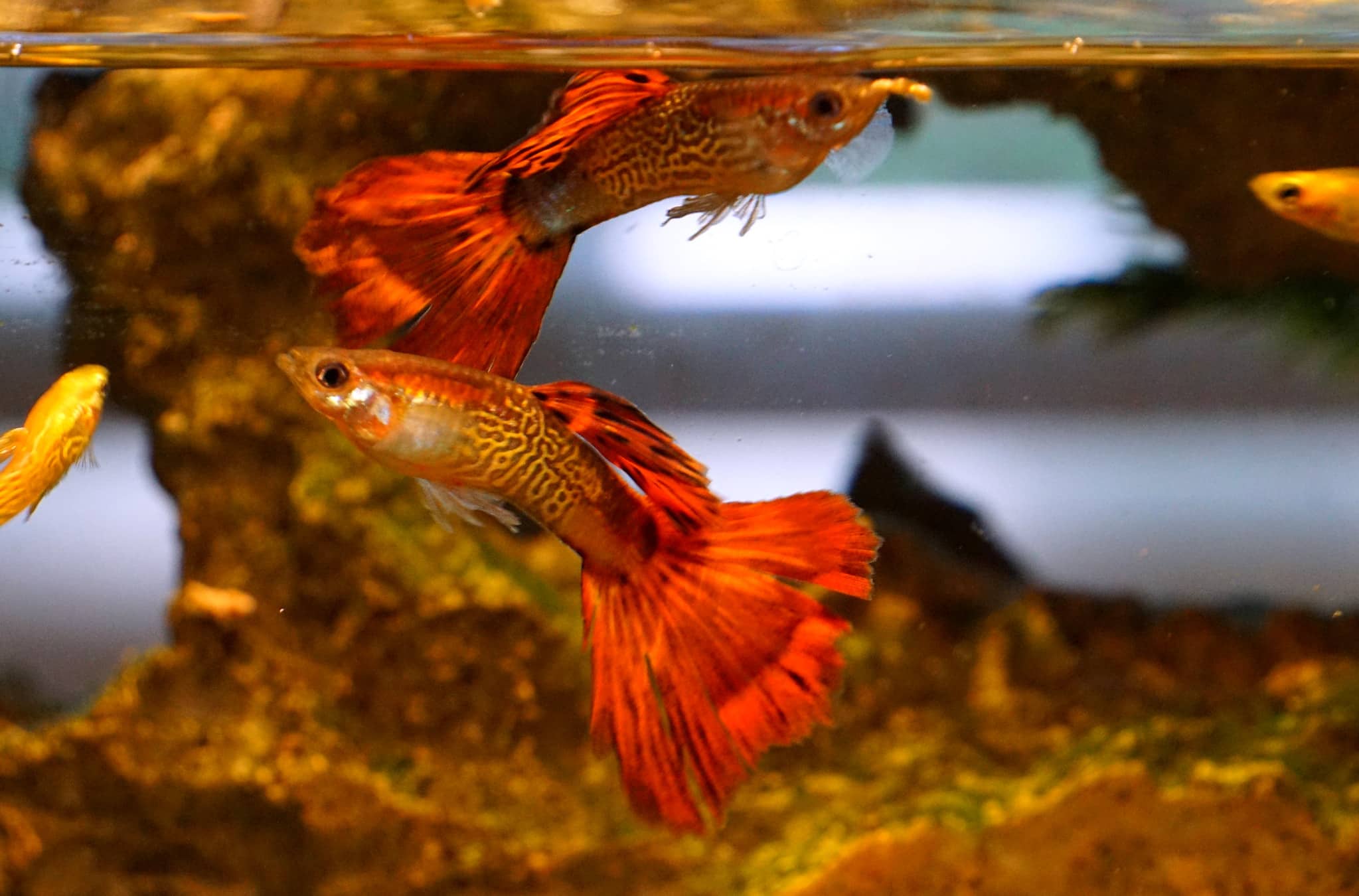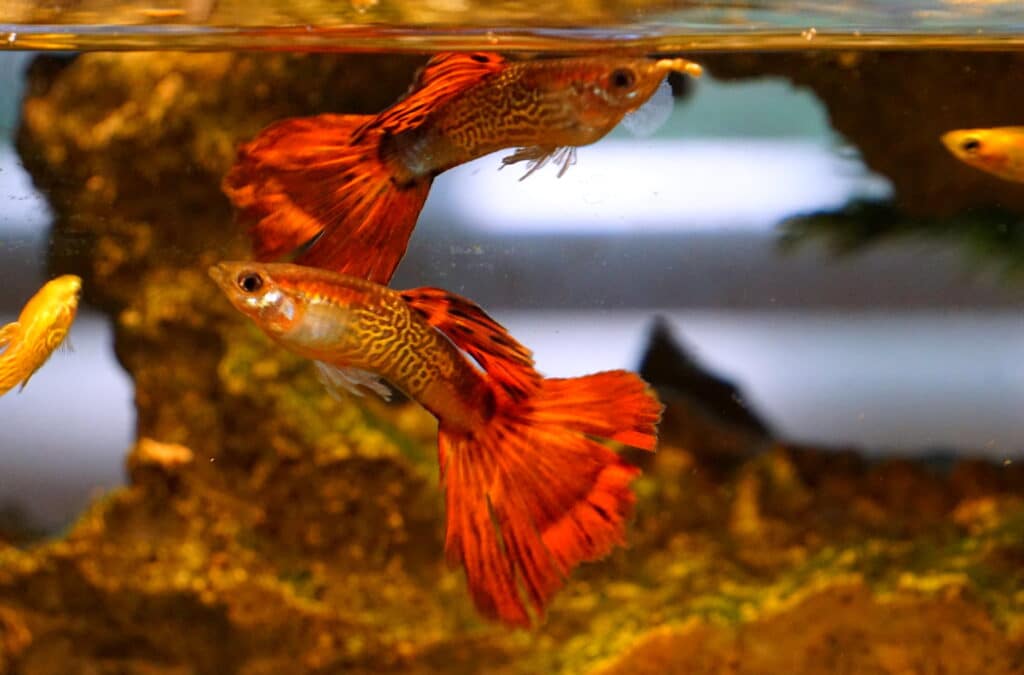 Endler's Livebearers are miniature marvels with striking colours and patterns. While they are visually captivating, they can interbreed with other livebearers, so keeping them separate from similar species is crucial.
11. The Paradise Fish – exotic additions to your tank
Paradise Fish, also known as Macropodus opercularis, are known for their vibrant colours and unique personalities.
They might add a splash of colour to your tank, but they can also be territorial, so be mindful of tankmates.
10. The Bosemani Rainbow – one of the coolest fish out there
Bosemani Rainbows are living rainbows with their vivid colours and graceful movements. They are peaceful and easy to care for, making them a favourite among aquarists who seek a dash of colour in their aquarium.
They are also known for being speedy swimmers, adding a bit of life to your tank.
9. The Jack Dempsey Cichlid – fish with a backstory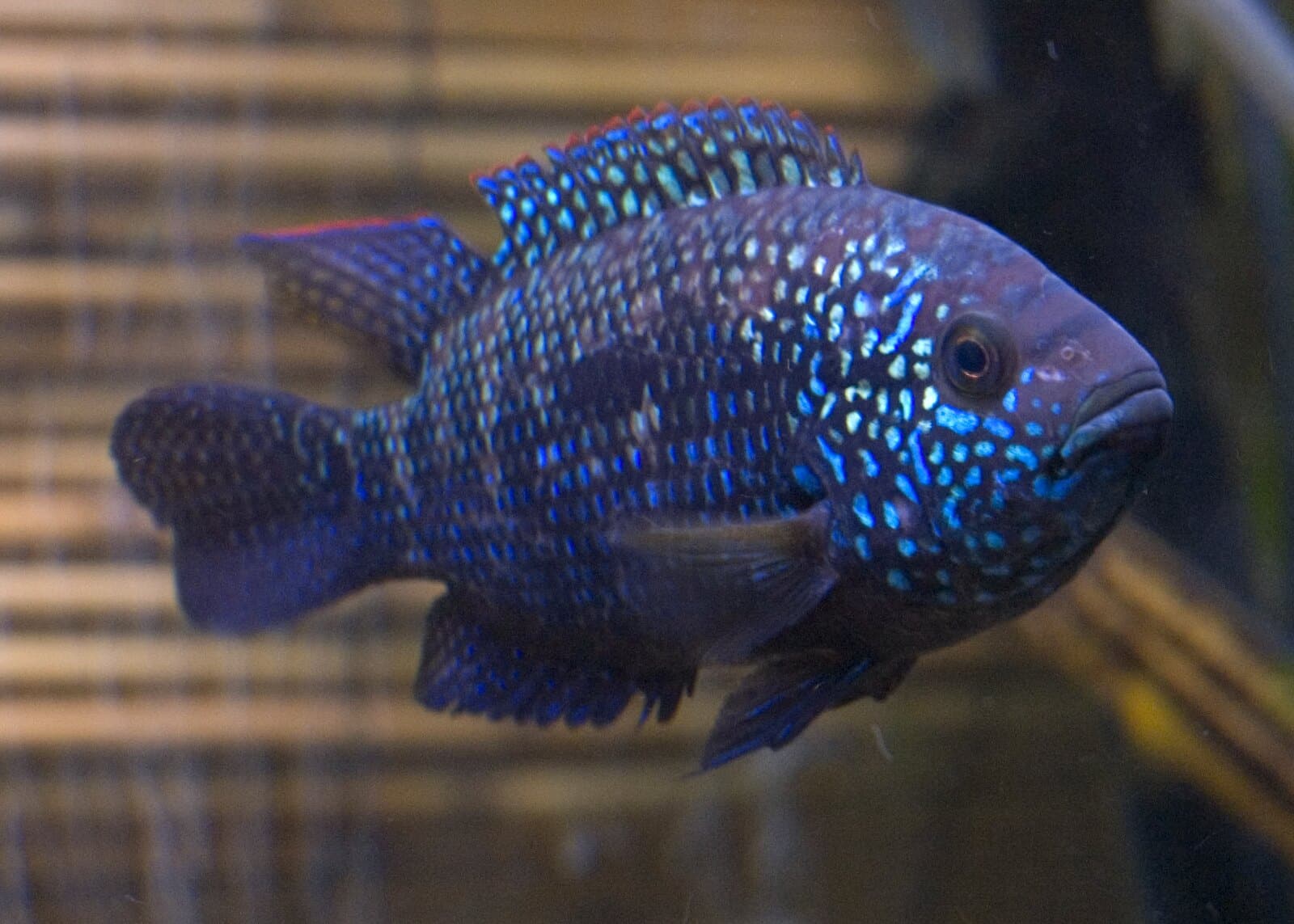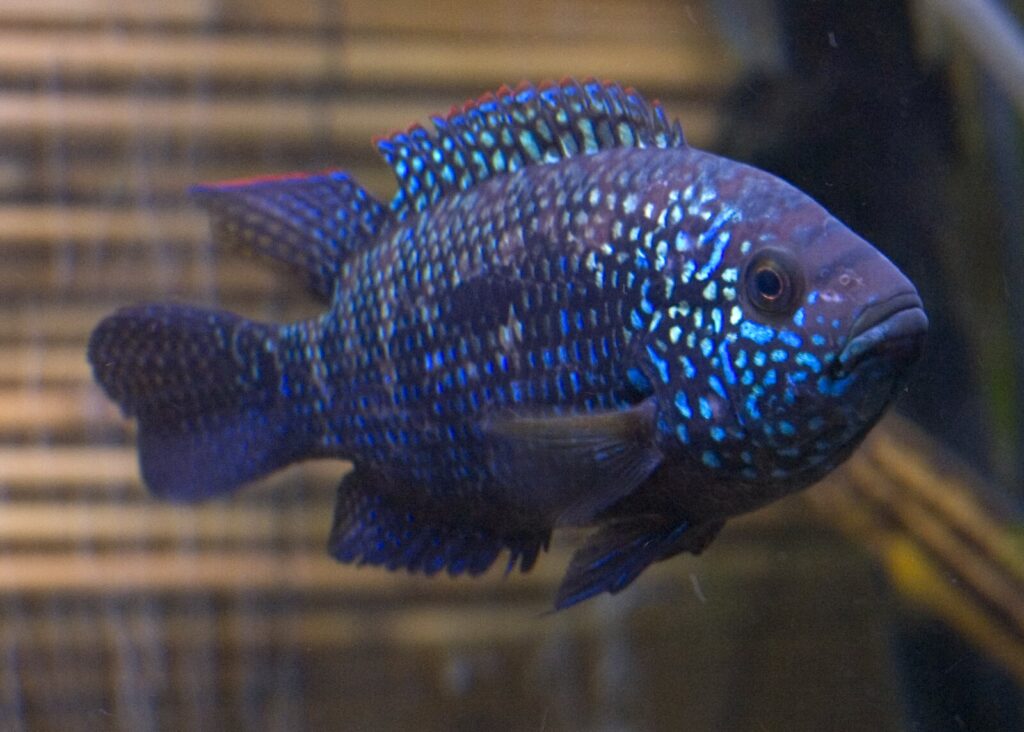 Named after the legendary boxer, Jack Dempsey Cichlids are formidable and stunning in equal measure.
However, their aggressive tendencies make them best suited for experienced aquarists who can provide the right environment and tankmates.
8. The Dwarf Gourami – elaborate patterns
Dwarf Gouramis are tiny yet captivating fish with striking colours and elaborate fin patterns.
7. The Neon Tetra – a timeless classic
The Neon Tetra is a timeless classic known for its radiant blue and red stripes. These peaceful schooling fish create a mesmerising effect when kept in groups, but they can be sensitive to water quality and fluctuations.
6. The Cardinal Tetra – easily recognisable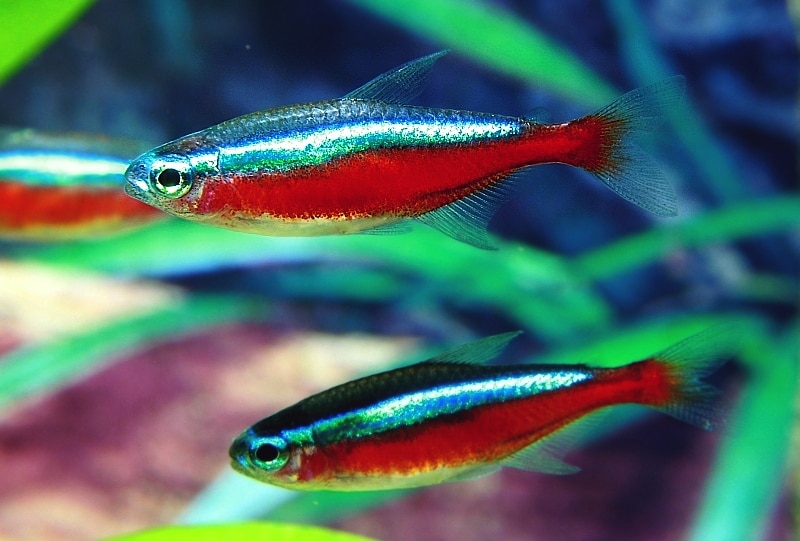 Cardinal Tetras are close cousins of Neon Tetras but are recognised by their larger size and more vibrant red colouration. These stunning fish are an excellent choice for any community tank but may be more delicate than their smaller relatives.
5. The Betta Fish – can be tricky tankmates
Bettas, also known as Siamese Fighting Fish, are famed for their flowing fins and captivating personalities. While Betta fish are beautiful and relatively low-maintenance, they can be aggressive and should be housed alone or with carefully chosen tankmates.
4. The German Blue Ram – striking and memorable
The German Blue Ram is a striking cichlid species with a beautiful electric blue colouration. They are peaceful compared to many other cichlids and are a favourite for smaller tanks due to their manageable size.
Their sociable nature means they can be kept in pairs, but they may be sensitive to water quality, so regular maintenance is essential.
3. The Discus – the 'king of the aquarium'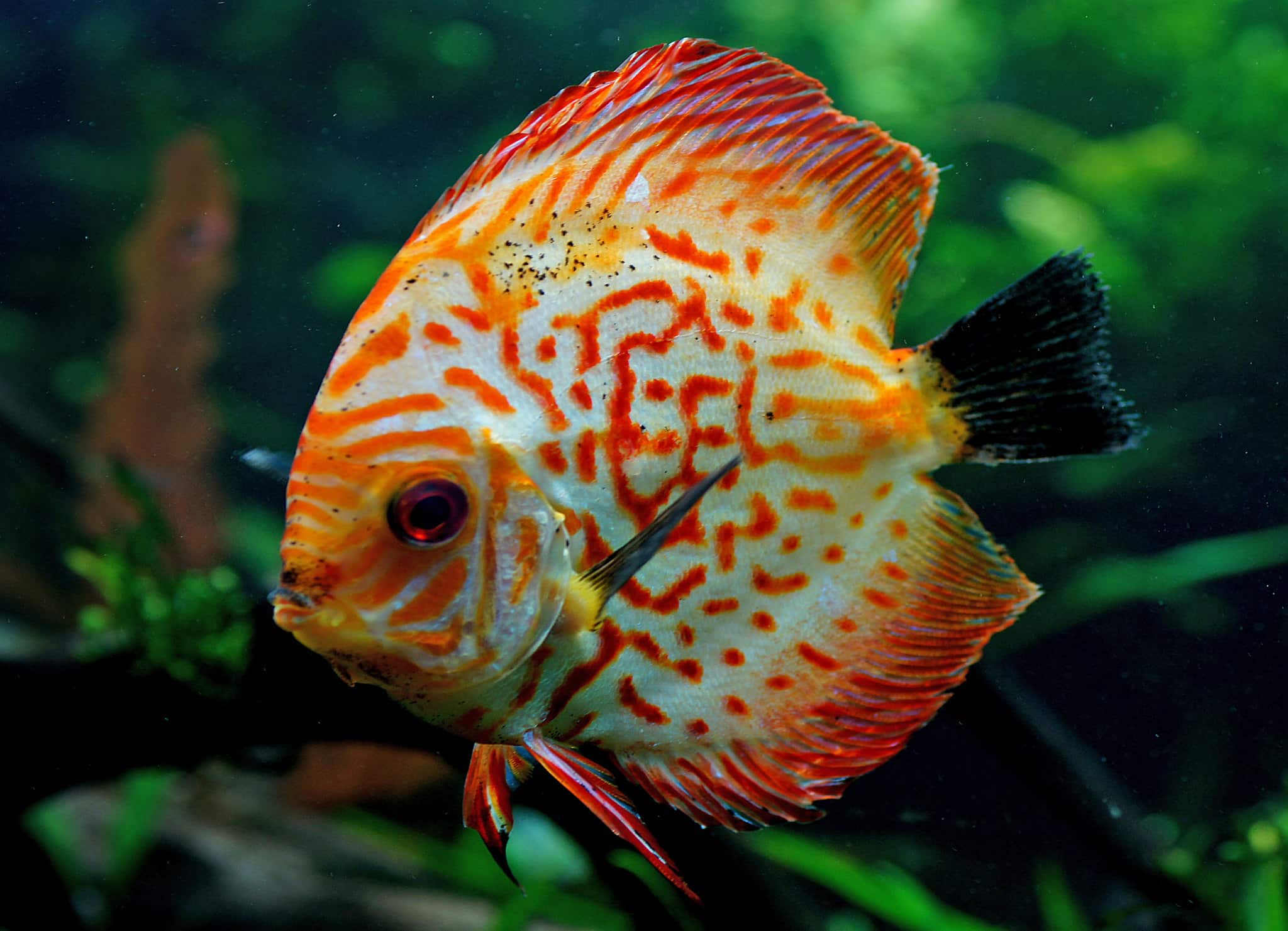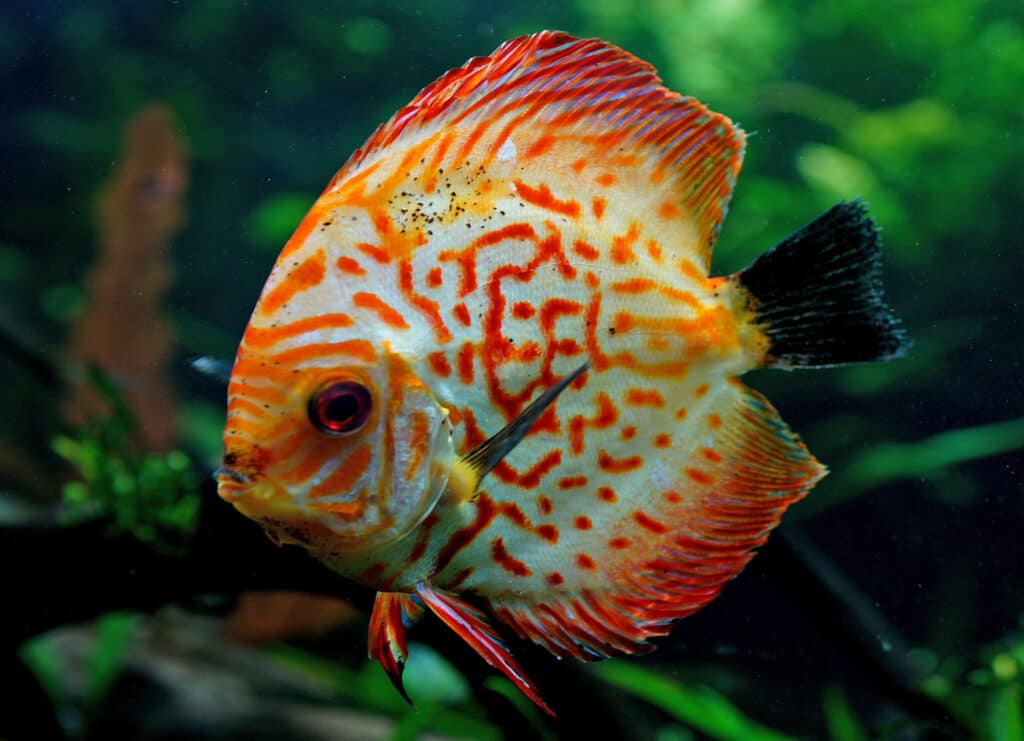 Discus, often called the "king of the aquarium", boasts an array of vibrant and mesmerising colour patterns.
These graceful fish are renowned for being challenging to keep due to their specific care requirements, including stable water parameters and higher temperatures.
2. The Electric Blue Hap – dazzling colouration
Electric Blue Haps, also known as Sciaenochromis fryeri, are African cichlids celebrated for their dazzling electric blue colouration.
These striking fish are relatively hardy and can thrive in a well-maintained aquarium. However, they can be aggressive, particularly towards fish of a similar colour, so choose tankmates carefully to avoid conflicts.
1. Angelfish – it's in the name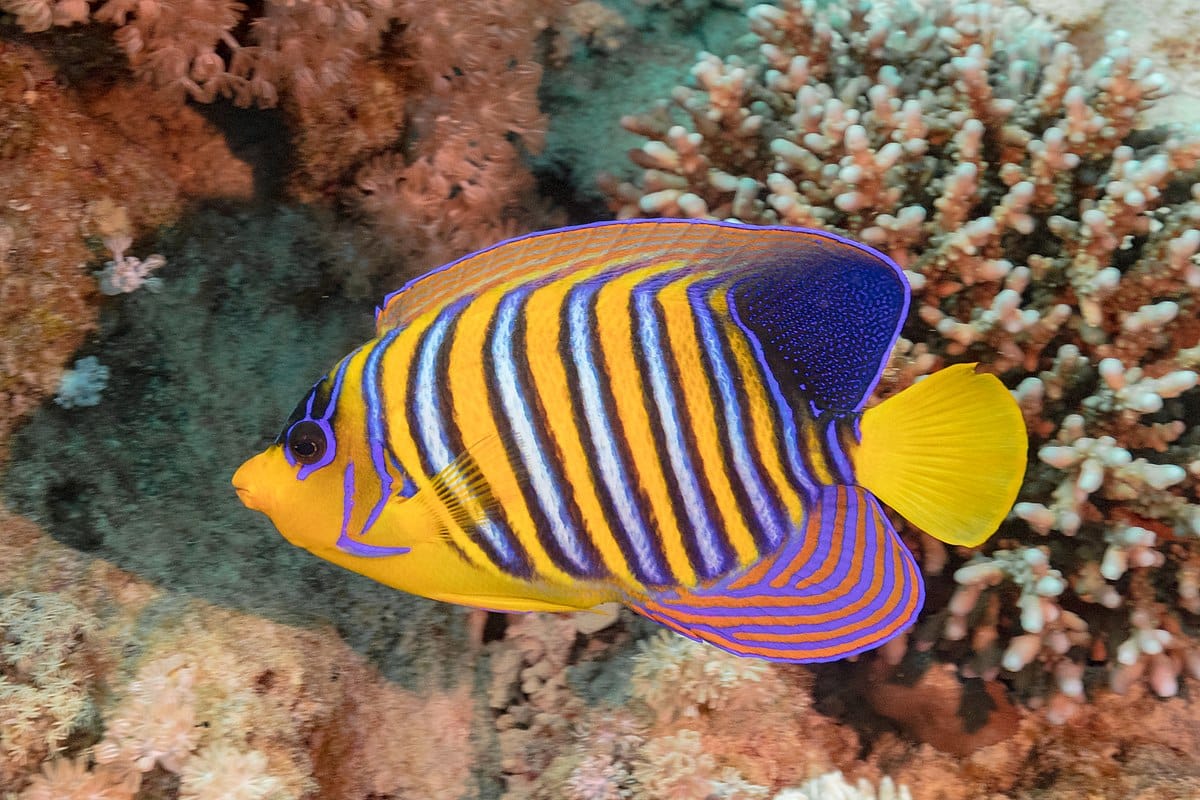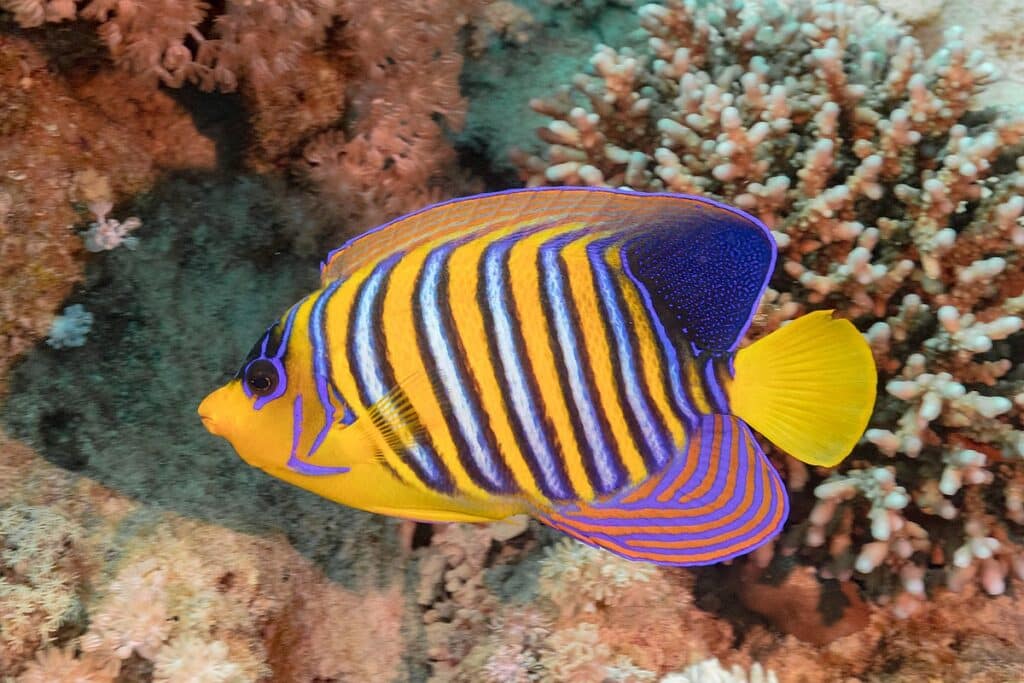 Known for their elegant appearance and unique shape, angelfish can be a stunning addition to your tank. They come in various colour variations, making them a versatile choice for aquarists.
MORE INSPIRATION: Aquarium Wonders: 10 colourful FISH SPECIES for your tank.
Notable mentions
Swordtails: With their distinctive weapon-like tails, Swordtails are another great choice. They are easy to care for and can be kept with a wide range of tank mates.
Arowanas: These large, predatory fish are renowned for their prehistoric appearance and majestic presence. However, they require spacious tanks and experienced aquarists to provide proper care.
Clownfish: Bring Finding Nemo to your tank with the beautiful Clownfish. All Clownfish are born male, but some will become females, so bear this in mind when choosing tankmates.
Honey Gourami: Honey Gourami are relatively easy to care for and have a peaceful nature. They can be fed flakes and pellets, as well as frozen foods.
African Butterflyfish: These incredible fish can leap into the air, certainly bringing some liveliness to your tank. They get their name from the appearance of their fins.
Your questions answered about the coolest fish for your tank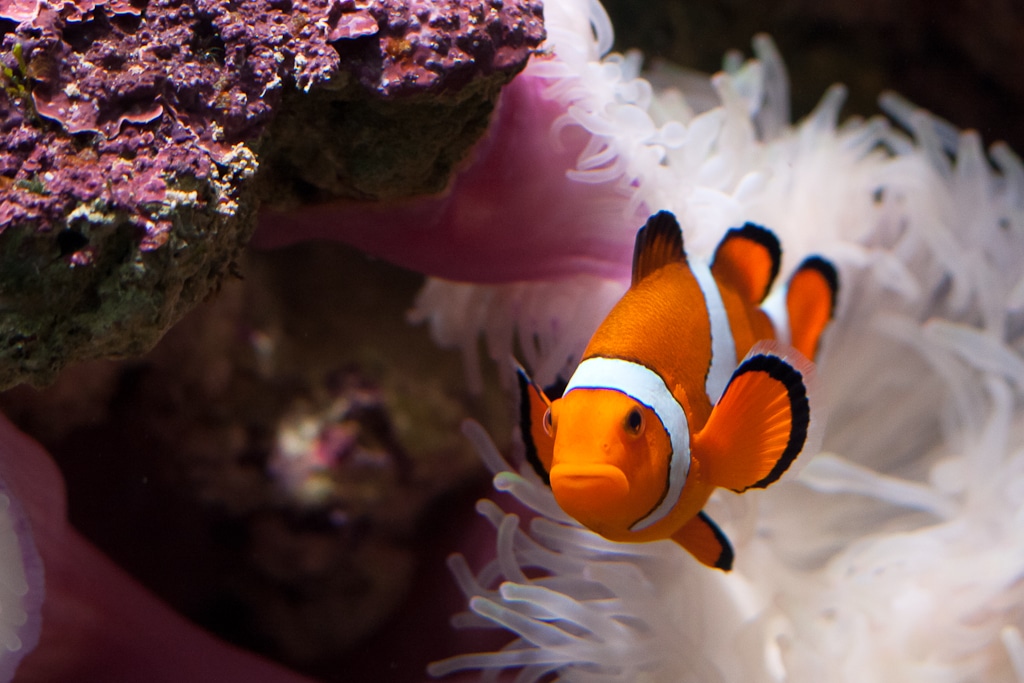 What is the most colourful fish?
The Manadarinfish is widely considered the most colourful fish in the world, thanks to its unique patterns and mesmerising colouration.
What is the coolest fish to have?
Our list above outlines some of the coolest fish to consider for your aquarium.
What are the coolest freshwater aquarium fish?
All of the fish we have mentioned above are freshwater fish, so take a look at their colours and behaviours and choose the best ones for you. Some of our favourites are the Electric Blue Hap and the German Blue Ram.